April, 4, 2014
Apr 4
10:30
AM ET
We've done something different with Friday's Big 12 mailbag. From now on, we'll be including Twitter questions with the regular mailbag submissions. To send a mailbag question via Twitter going forward, simply include the hashtag #big12mailbag. You can also still send in questions and comments to the mailbag
here
, too.
To the 'bag...
@Jake_Trotter both TCU QB commits have attended most of the spring practices. Chances Sawyer or Muelstein takes the reins right away? #mbag

— mk (@mulloy_k) April 3, 2014
Trotter:
Right away? Very little chance. The TCU coaching staff seems to be relatively content with the way
Trevone Boykin
has performed in the new offense this spring. Down the line, Foster Sawyer or Grayson Muehlstein could get a shot, especially if Boykin struggles or the offense bogs down like it did last year. But I feel fairly confident Boykin will open as TCU's starter.
@Jake_Trotter going into the spring game at OU, who is the biggest sleeper we should pay attention to on offense?

— Sean Holmes (@seanathon09) April 3, 2014
Trotter:
I don't think there's any doubt that running back
Alex Ross
has created the most buzz this spring among the young offensive players not named
Trevor Knight
. The assumption around Norman was
Keith Ford
would swiftly win the starting job after contributing to the running back rotation ahead of Ross last season despite being a year younger. But Ross has turned heads in the Sooners' closed scrimmages, and is carving out a role in the OU backfield, whether he starts or not.
@Jake_Trotter @ESPN_Big12 A lot of big recruits have Tech pretty high on their list. What's the likelihood that Tech can grab some of them?

— Stephen Borcik (@SBorcik) April 3, 2014
Trotter:
I got out of the business of predicting verbal commitments a long time ago. But I will say this: having
Jarrett Stidham
, the nation's No. 1 dual-threat QB, already on board is going to make a huge difference for the Red Raiders in a bunch of these battles. He will prove to be an invaluable recruiter, and should sway several high-profile prospects out there to give Texas Tech a second and third look it might not get otherwise.
@ESPN_Big12 if Walsh starts against FSU and OSU loses do you see daxx or Rouldoph take the starting position first?

— Gerald Tracy III (@GeraldTracyIII) April 3, 2014
Trotter:
Odds are the Cowboys lose to the defending national champs no matter who they start at quarterback. I doubt
J.W. Walsh
would lose the job (assuming he starts) based on that one game alone.
Daxx Garman
has been impressive this spring, and I love the potential of
Mason Rudolph
. But it could take a while for either to unseat Walsh, whose experience trumps all right now.
@Jake_Trotter @ESPN_Big12 Other than Flowers, which OU freshman do you see having the most immediate impact next year?

— Carter J (@carterj1982) April 3, 2014
Trotter:
The three guys I'd be watching for would be safety
Steven Parker II
, slot receiver
Michiah Quick
and running back
Joe Mixon
. The Sooners are in good shape at safety, but blue-chip true freshmen like Parker II have a history of playing immediately in the secondary in the Bob Stoops era.
Sterling Shepard
is going to need help at receiver, and Quick has the explosiveness to break into the rotation right away. Mixon was one of the best running back recruits in the country, and is probably too talented to redshirt.
YK Lee in Fort Wort, Texas, writes:
On College Football Live, comments were made that the Big 12 champ (if OU or Baylor) would be in trouble for the playoffs due to non-conference schedules. But no mention was made of Alabama's non-conference schedule, which includes an FCS team. Why does ESPN seem to have a bone to pick against the Big 12?
Trotter:
Are we seriously going to do this every week? To recap from last Friday, here's who else Alabama has scheduled out-of-conference the last five years: West Virginia, Virginia Tech, Michigan, Penn State and Clemson. Alabama also plays in the toughest conference in college football. There's just no comparison between Alabama's schedule and Baylor's. And while I didn't see it, I'm sure the gist of the College Football Live segment was to point out that a one-loss Baylor has virtually no shot of advancing to the College Football Playoff against, say, a second SEC team with the same record, due to the Bears' lackluster non-conference scheduling, which includes just one opponent (Duke) from the Pac-12, SEC, Big Ten or ACC up to 2019.
ImFasterThanYa writes:
Will a Big 12 ref throw a flag when I run through the end zone after scoring a touchdown because it takes several steps for me to turn off the engines?
Trotter:
Tyreek Hill
could score as many touchdowns as Forest Gump did that one year for Alabama. As you imply, the Oklahoma State transfer can flat out fly.
Katie in Sugar Land, Texas, writes:
I love the new Big 12, but I feel we need more rivalries. Texas-Oklahoma is a staple of the conference. But what else is there? After all, great rivalries are the major mark of a great conference.
Trotter:
Bedlam has become a great rivalry. But you're right, conference realignment has pretty much destroyed all the other notable ones in the league (Texas-Texas A&M, Oklahoma-Nebraska, Kansas-Missouri, Texas Tech-Texas A&M, Kansas State-Nebraska). This has really hurt the league, but what can be done? College football rivalries aren't forged overnight.
April, 4, 2014
Apr 4
9:00
AM ET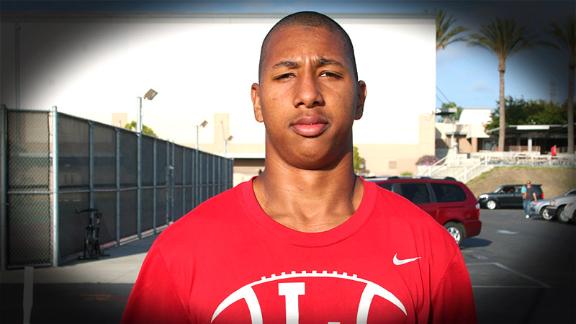 Throughout this recruiting cycle, RecruitingNation will profile a number of ESPN 300 prospects in the 2015 class, including an inside look at the prospect, his recruitment, a scouting report and what college program could benefit when he ultimately makes his decision.
Unlike a number of ESPN Junior 300 prospects,
Keisean Lucier-South
didn't grow up dreaming of becoming a football star. In fact, he had to be convinced that it was the best path for him.
Lucier-South began playing sports at an early age, but it was always basketball that grabbed the majority of his attention and passion. It became his primary sport when he was 5 years old, and even though he picked up football only a few years later, the gridiron couldn't captivate his imagination quite like the court.
But a conversation before his sophomore season between his head coach and defensive coordinator -- a conversation he wasn't initially involved in -- turned things around for Lucier-South.
To continue reading this article you must be an Insider
April, 3, 2014
Apr 3
12:00
PM ET
April, 3, 2014
Apr 3
11:25
AM ET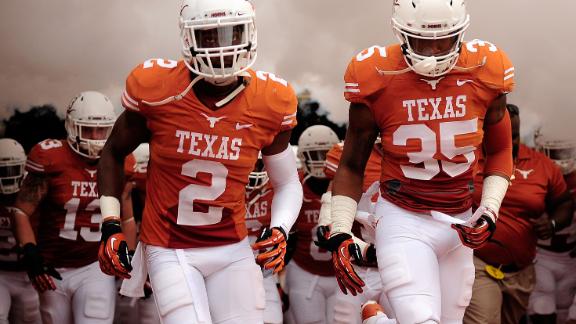 While some hoary traditionalists might view rivalry games as the gleeful and irrational cornerstone of college football and fundamental to the uniqueness of the sport, that might just be sentimental tripe. College football is now more about branding and business models and expanding a market.
At least, that's what Texas athletic director Steve Patterson told us Tuesday when asked about the Longhorns facing state rival Texas A&M for a 119th time after a two-year hiatus due to the Aggies leaving the Big 12 for the SEC.
"There's a lot of great tradition with Texas A&M," he said. "At some point in time, does it make some business sense, some branding sense, to play again? I don't know. It's not at the top of my list. I'm really more focused on how we grow the footprint of the department."
So "great tradition," something some benighted college football fans might value, loses out to "business sense," "branding sense" and growing "the footprint of the department." That last phrase refers to something such as playing a game in, say, China.
Not exactly a quote that makes you want to sing a fight song.
Yet Patterson's thinking also makes sense, at least if we cast away our sentimentality and enter into his high-stakes field. For one, branding is bigger than tradition these days. If you Google "college football tradition," you get 33 million results. If you Google "college football brand," you get 108 million.
April, 3, 2014
Apr 3
9:00
AM ET
Last year, just a pair of true freshmen received votes for Big 12 Defensive Freshman of the Year honors: Iowa State cornerback
Nigel Tribune
and the winner of the award, Oklahoma linebacker
Dominique Alexander
.

This year, the immediate impact from the incoming freshman class could be much greater. Collectively, the league signed 11 defensive players ranked in the ESPN 300. And several could vie for time from the moment they step on campus.
But who among them will make the biggest impact? There are some notable contenders.
Nigel Bethel II
was the gem of the Texas Tech recruiting class, and he fits the profile of an instant-impact recruit. A four-star signee out of Miami whom Tech flipped from the University of Miami late in the recruiting window, Bethel II brings a level of speed the Red Raiders just don't possess elsewhere on defense. Given that two-year starter
Bruce Jones
is gone, the opportunity for playing time at corner is there for Bethel, too.
Playing-time opportunities are also there for Oklahoma State linebacker
Gyasi Akem
. The Cowboys graduated three key linebackers, including starters
Shaun Lewis
and
Caleb Lavey
. With the lone returning starter,
Ryan Simmons
, moving to the middle this spring, the Cowboys have a hole on the weak side. Akem, who was Oklahoma State's top defensive signee, has the closing speed and physicality to help fill it.

Steven Parker II
, Oklahoma's top defensive recruit, also might carve out a role rather quickly. The safety out of Jenks, Okla., could help the Sooners replace another safety from Jenks (
Gabe Lynn
). Oklahoma has some other intriguing young defenders vying for time at the back end of their defense, notably
Ahmad Thomas
and
Hatari Byrd
. But Parker has the potential to make an immediate impression.
West Virginia, meanwhile, returns both its starting cornerbacks in
Ishmael Banks
and
Daryl Worley
, who started as a true freshman. But it won't be easy keeping
Dravon Henry
off the field. Henry, the top-ranked player from the state of Pennsylvania this year, had offers from Alabama, Florida State and Ohio State before picking the Mountaineers. He is a ball hawk who will bring a playmaking reputation to the West Virginia secondary when he gets his chance. That might come sooner, rather than later.
Henry, Parker, Akem and Bethel are all elite prospects. But the top-rated defensive signee in the Big 12 this year is Texas defensive end
Derick Roberson
, who was the No. 78 overall recruit in the ESPN 300. Even though he's still slight, Roberson can get after the quarterback. The Longhorns are in terrific shape at one end with returning All-Big 12 performer
Cedric Reed
. Roberson has the skill set to break into the rotation on the other side in the fall.
Among a few others, any of the five above could make a huge splash next season. So we put it to you in a poll: Of Akem, Bethel II, Henry, Parker II and Roberson, which true freshman defender will have biggest impact in 2014?
April, 3, 2014
Apr 3
5:30
AM ET
1. Texas athletic director Steve Patterson made a compelling case Tuesday for the value of participating in college athletics, echoing Big Ten commissioner Jim Delany. They both said, in so many words, if you want to go pro, go pro; let college athletics be college athletics. I hope the difference is maintained, too. There is room to provide more benefits to college athletes without professionalizing them. But once an employer-employee relationship is established, the rules will change. Whether they can change without rendering college athletics unrecognizable, ay, there's the rub.
2. Oregon has won 60 consecutive games when leading at the half, the longest streak in the FBS. Oklahoma is second at 42. Both are perennial national contenders with explosive offenses that can quickly make a game one-sided. But here's the surprise: Kansas State is third on the list at 39 games. In the five seasons since Bill Snyder returned to the sideline, Kansas State (42-22, .656) has been good, but not dominant. Without dominance, I'd guess the streak has a lot to do with Snyder, mental toughness and a lack of mistakes.
3. Speaking of Oklahoma, did you see the Sooners' April Fool's tweet that
Blake Bell
had returned to quarterback? The surprise is that Bell actually finished last season with a higher efficiency rating (132.20) than the player replacing him, freshman
Trevor Knight
(125.00). What that tells you is how much Knight improved over the course of the year. He shredded Alabama for 348 yards and four touchdowns in the Allstate Sugar Bowl. In the last three games, Knight went 49-of-71 for 547 yards with 2 interceptions and 5 touchdowns for an efficiency of 151.34. That's why Bell is a tight end.
April, 2, 2014
Apr 2
12:00
PM ET
April, 1, 2014
Apr 1
6:12
PM ET
AUSTIN, Texas -- In his meeting with reporters Tuesday, Texas athletic director Steve Patterson addressed a wide range of topics on Longhorn and college athletics. His comments on Texas A&M got understandable attention (
you can find those here
), but Patterson was far more passionate when it came to the topic of the Northwestern labor lawsuit.
As a college administrator who's also been a pro sports executive and general manager, Patterson has experience on both sides of the fence here on professionals vs. amateurs.
While Patterson does support the push to raise student-athlete compensation to full cost of attendance, that's about as far as he'll go. Patterson is not on board with the Northwestern football players' attempt to unionize.
Here's what Patterson had to say when asked if student-athletes should be considered employees:
"When you get into an NLRB process, the presumption is that the plaintiffs are employees and you have to overcome the assumption they are employees. I think it probably was some smart lawyering on the part of the plaintiff's side, in the path they took and the way they classified it.
"The reality is, though, professional athletics is something completely different. And if you want to go play minor league baseball out of high school, on your way up to the majors, you can make that decision. You can go ride the bus from Biloxi to Beloit, and stay in the hotels that they stay in, and you cannot get an education and you can live on $12,000 a year, if you decide that's a better existence and a better path to a long-term outcome for your career in baseball and after baseball.
"Even if the one percent of the student-athletes that go to the pros go there, their average career is four years. So they have a half a century, on average, after they're done. And what are you going to do with that second half-century of their life? If you want to decide that's a better life, then come to the University of Texas -- even if Augie [Garrido] might get on your tail a little occasionally. God bless you, go do it, knock yourself out.
"If you're a football player coming out of high school that decides you want to go to the pros, go take your issue with Roger Goodell and the owners and the union. That's your place to go if you want to go play professional football, if you want to be an employee.
"If you want to go play professional basketball, go to the D-League, knock yourself out. And then go in the draft to the NBA. That's your place if you want to be an employee, if you want to be a professional.
"This is not your place. And this is a free country, you can make that choice all day long. Knock yourself out. This is student-athlete athletics."
That stance seems to falls closely in line with what Big Ten commissioner Jim Delany and other executives have offered on the topic of paying players.
For the record, Texas coach Charlie Strong said when he was hired in January that paying players is something to "look at" due to the large revenues of football, but also argued the value of a scholarship gets underappreciated.
"If we develop them the right way," Strong said then, "their payday will be in the end, because they're going to have a chance to compete on the next level."
April, 1, 2014
Apr 1
2:01
PM ET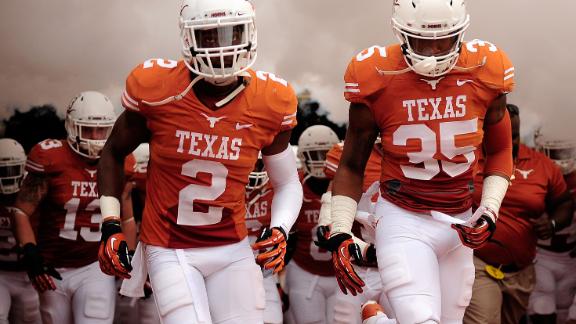 AUSTIN, Texas -- Texas athletic director Steve Patterson said Tuesday that he's not looking to schedule a nonconference football matchup against Texas A&M, at least not in the short term, because he's more concerned about expanding the Longhorns' brand with more opportunities for games outside the United States.
"There's a lot of great tradition with Texas A&M. At some point in time, does it make some business sense, some branding sense to play again? I don't know," Patterson said. "It's not at the top of my list. I'm really more focused on how we grow the footprint of the department."
The first-year athletic director has already scheduled a men's basketball game against Washington in China for 2015, and the program will participate in a three-city basketball event with Michigan State, North Carolina and Florida in 2018.
Patterson is focused on finding similar opportunities for Texas football, and for that reason he's in no hurry to reunite with Texas A&M.
He sees Texas as being in a unique position to grow its international brand and said it's essential to use athletics as a platform to tell the university's story.
"They shouldn't be done for junketeering purposes," Patterson said. "They should be done in a fashion that grows the profile and the interest of the university of a broad scale internationally."
April, 1, 2014
Apr 1
10:30
AM ET
It's Take Two Tuesday again, when we give our takes on a burning question in the Big 12.
Today's Take Two topic: Which Texas player making a healthy return is more critical to the Longhorns' fate in 2014 -- quarterback
David Ash
or running back
Johnathan Gray
?
Take 1: Brandon Chatmon
[+] Enlarge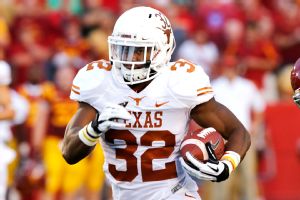 David K Purdy/Getty ImagesJohnathan Gray's return to health would be big news for the Longhorns.
Ideally both players would return to good health and have the opportunity to become critical pieces of the Texas offense this fall.
But Gray's return to good health could be the most important development of the offseason for the Longhorns, even if he doesn't return to full health until the bulk of Big 12 Conference play.
Why?
Gray is, quite simply, a special talent. And the Longhorns offense wants to become one of the most physical units in the conference, which means they will want to lean on the running game in Charlie Strong's first year in Austin, Texas.
We've seen how terrific quarterback play can transform a team's destiny but Gray has similar ability as a running back. The Longhorns have several other talented running backs, including
Malcolm Brown
, but Gray bring traits to the table, along with his quick feet and vision, that are simply difficult to match. And defend.
The Longhorns have never lost a game when Gray had at least 20 carries including wins over Oklahoma and Kansas State in 2013. His 1,481 rushing yards during the past two seasons is the highest total among returning Big 12 running backs. He's touched the ball on 17.6 percent of UT's offensive plays since his freshman season, a team high.
Those numbers reveal Gray is a unique talent who could be the centerpiece of any offense and be consistently productive when healthy. Gray is a proven playmaker, so health could be the only thing standing between him and a breakout season for Strong's Longhorns.
Take 2: Jake Trotter
[+] Enlarge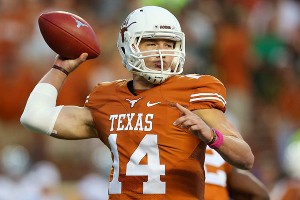 Ronald Martinez/Getty ImagesDavid Ash has all the tools to be a winning QB.
When healthy, Gray is one of the best backs in the Big 12. When healthy and on his game, Gray is one of the best in the country.
But the Longhorns have a better than adequate replacement for Gray in Brown. After Gray suffered the Achilles injury last season, Brown stepped in and rushed for more than 100 yards in Texas' final three games. Brown might not have Gray's full upside. But he's more than capable of producing like an all-conference running back.
Quarterback for the Longhorns is a different story. The Longhorns currently have no proven replacement for Ash on the roster.
Sure,
Max Wittek
could – and probably will – wind up transferring to Texas. And yes, Wittek was a highly touted prospect coming out of high school three years ago. But Wittek has yet to achieve something that Ash has already 14 times in his career – and that's win a game as a starting quarterback.
True, Ash has endured his share of forgettable moments. He's yet to play well against Oklahoma. He's been prone to the occasional, inexplicably awful performance (see TCU 2012, among others).
But other times, Ash has looked like the best player on the field. He was clutch leading the Longhorns to come-from-behind wins against Oklahoma State and Oregon State two seasons ago. He played at a high level in the first half against Kansas State last season before being pulled due to the recurring concussion issues.
With size, athleticism, experience and arm strength, Ash has the tools to be a winning quarterback at Texas. And right now, he's the closest thing the Longhorns have got to that.
March, 31, 2014
Mar 31
1:30
PM ET
AUSTIN, Texas –
Jerrod Heard
has the date on his mind and on his calendar.
"June 3," Heard said. "Then it's showtime."
The soon-to-be Texas quarterback was one of five Longhorns signees who returned to Austin to compete at the Texas Relays. It's one of his final visits before he makes the big move. It was a weekend off from a spring semester that can't end soon enough. There are classes to complete and diplomas to collect, but the Texas campus is where they all want to be.
"It's a teaser," running back signee
D'Onta Foreman
said, "because we're ready to graduate, ready to get up here and compete for a spot and be with our teammates and family for the next four years."
[+] Enlarge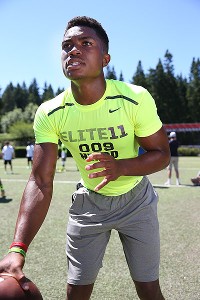 Tom Hauck for Student SportsTexas signee Jerrod Heard worked out with quarterback guru George Whitfield on spring break.
It's hard to appreciate in the heat of the annual January and February recruiting flurry, but the uncertainty of the coaching change couldn't have been easy to navigate for Texas' commitments.
All five competing over the weekend -- Heard, Foreman, his twin brother
Armanti Foreman
,
John Bonney
and
Donald Catalon
-- committed to play for Mack Brown and watched that plan shatter in December. Charlie Strong rode in and inspired hope, but there was no way he could pick up all the pieces for these prospects in so little time.
Signing with Texas required patience, trust and, to some extent, a leap of faith. But they stuck with their pledges, and soon they'll be back on the 40 Acres for good.
Heard is doing everything he can to prepare. He spent spring break in San Diego working with a handful of college quarterbacks with renowned quarterback coach George Whitfield.
The Denton Guyer star is dedicated to detail, and Whitfield is a pro at pointing out the little flaws. Heard is focused on improving his accuracy in any possible way, from how he holds the ball and bends his wrist to the balance in his legs.
"I think the smaller the things you can try to perfect, the more I can use my ability as a runner and thrower," Heard said.
From an offensive standpoint, he's comfortable with what's coming next for Texas. At Guyer, he operated an offense that borrowed heavily from Oklahoma State's concepts and playbook. That will make working under offensive coordinator Joe Wickline easier, and Heard likes the guru reputation that assistant head coach and quarterbacks coach Shawn Watson brings.
As for how Strong is changing the Horns, Heard isn't afraid of the head coach's emphasis on discipline.
"That's really going to mold us together. I'm all for it and really like it," Heard said. "I think that's why they're starting out with the discipline, and I think that's really going to change the team. We're really going to shock a lot of people this year."
Bonney has been able to witness the effects firsthand. By attending spring practice this month, the Houston Lamar safety received a clearer understanding of what it will be like to play for the new staff. One comment certainly got Bonney's attention in his conversations with Strong.
"He says the defense is going to win the games this year for him," Bonney said. "... That really struck a chord with me."
Landing Bonney was a bit of a close call for Texas after he took official visits to Baylor and Auburn. Looking back, he said those trips were motivated by uncertainty. Watching defensive coordinator Vance Bedford and secondary coach Chris Vaughn in practice answered some of his biggest questions.
"They're really cool," Bonney said. "Coach Vaughn is more of a talker; he likes to coach you up that way, loves giving you visual things. Coach Bedford is so smart. It feels like he knows just about everything. I've been in meetings and his teaching film was real cool, real cerebral. You get the best of both worlds with those two."
Bonney knows his best shot at playing in 2014 are on special teams and in nickel packages. Catalon doesn't expect many carries as a backup to
Malcolm Brown
and
Johnathan Gray
, but the Houston Eisenhower back does hope to help out.
For him, sticking with Texas wasn't a tough call. New running backs coach Tommie Robinson recruited Catalon while at USC. That familiarity made all the difference in staying put, and Strong sealed the deal.
"I like Coach Strong. He wants to win and he's about business," Catalon said. "The players they already have are good. It's not like we have to rebuild. We just have to get to know the coaches."
Armanti and D'Onta Foreman made the Texas coaches sweat in January when they nearly took a visit to Missouri, but the Texas City brothers say now they would've ended up in burnt orange no matter what.
They have big dreams for 2014. Armanti wants to play receiver and also line up on defense in certain packages, and he'd like a shot at returning kicks. D'Onta wants to stick at running back but is open to any position if that doesn't work out. They want to contribute from Day 1.
They got to ponder these dreams again on Friday while playing pool in the players' lounge at Texas' football facility. Like the rest of the signees back in town, they took a chance on a program they'd long loved and a coach they hardly knew.
But they saw what he did at Louisville, and they know what needs to be done at Texas.
"I feel like he can come here and help us be a great team like that," Armanti Foreman said, "and hopefully even better."
March, 31, 2014
Mar 31
12:00
PM ET
Missed this last week: Paul Rhoads' son is taking Fred Hoiberg's daughter to
prom
!
March, 31, 2014
Mar 31
9:00
AM ET
Pro day season has come and gone. Draft-eligible players returned to school this month and hit the weight room and practice field to give NFL scouts a taste of their potential. Here's a rundown of how the Big 12's top draft prospects fared as well as a few who surprised.

TCU (March 6)
Big name:
CB
Jason Verrett
. A total of 26 NFL teams had reps at the Horned Frogs' pro day, and you know many of them came for Verrett. He didn't look to improve his 40 time from the NFL combine (4.38), but he did show off a 39 ½-inch vertical and benched 19 reps.
Sleeper:
QB
Casey Pachall
. While he'll have to answer lots of questions about his off-field issues, Pachall's on-field work at pro day was encouraging. He checked in at 6-foot-3½ and 216 pounds, ran his 40 in the mid-4.9s and completed 62 of 72 passes, according to the Fort Worth Star-Telegram.

Kansas State (March 11)
Big name:
S
Ty Zimmerman
. Though 20 Kansas State players worked out at pro day, Zimmerman was not one of them. He's still recovering from labrum surgery and reportedly plans to hold a workout next month to show his progress.
Sleeper:
OT
Cornelius Lucas
. Hard to project how things will play out for Lucas, a mammoth tackle at 6-8 and 316 pounds, after he discovered a stress fracture in his left foot at the NFL combine. He's supposed to be out up to eight weeks but plans to work out along with Zimmerman on April 28.

Oklahoma (March 12)
Big name:
CB
Aaron Colvin
. The Sooners had 28 NFL organization represented at their pro day, but a few key players were still on the mend. Colvin, who suffered a torn ACL at the Senior Bowl, did not work out but hopes to be running again by late April and vowed his recovery is ahead of schedule.
Sleeper:
C
Gabe Ikard
. While Ikard elected to stand by his combine numbers, which were strong for his position group, he did use the pro day to show in position drills just how athletic an interior lineman he can be for an NFL club. Running back
Damien Williams
also made a solid impression, and receiver
Jalen Saunders
drew mixed reviews after poor shuttle times.

Oklahoma State (March 13)
Big name:
CB
Justin Gilbert
.
The Steelers have the No. 15 pick, so it made sense that Mike Tomlin and his GM were among the many coaches in Stillwater to scout Gilbert. He stood by his 4.37 in the 40 from the NFL combine but did agility drills and reportedly wowed in his position drills. He's a first-rounder, no doubt.
Sleeper:
WR
Josh Stewart
. Well, OK, he's not much of a sleeper. But Stewart had work to do to raise his stock, and pro day should've helped. He improved his 40 slightly, from 4.69 at the combine to 4.59 at pro day, and showed what he can do as a receiver and returner. Safety
Daytawion Lowe
also made a good impression.

Texas Tech (March 14)
Big name:
TE
Jace Amaro
. The All-America tight end tried to secure a spot in the first round with improvements in the 40 (4.68) and vertical, and at 6-5 and 266 pounds he evoked comparisons to
Vernon Davis
from one 49ers scout.
Sleeper:
CB
Bruce Jones
. He's undersized at 5-7 and 183 pounds, but Jones did grab some attention at pro day with a run of a 4.5-second 40 time and team-best vertical of 41 inches.

Kansas (March 14)
Big name:
RB
James Sims
. A dozen scouts showed up for the Jayhawks' pro day, and the highlight was probably Sims busting off a run of 4.56 seconds in the 40. The 6-foot, 205-pound back was not invited to the NFL combine and told the Lawrence Journal-World he felt good about the numbers he put up.

Baylor (March 19)
Big names:
OT
Cyril Richardson
, RB
Lache Seastrunk
, S
Ahmad Dixon
. Richardson shed 20 pounds after his senior season, which had to encourage NFL scouts, and he did nothing at his pro day to diminish his chances of being a top-50 pick. Seastrunk was as explosive as expected, with a time of 4.37 in the 40 and a 4.36 second shuttle, and tried to show off his pass-catching ability. Dixon ran a 4.64 in the 40 at the NFL combine and improved that to 4.48 at pro day.
Sleeper:
TE
Jordan Najvar
. At nearly 6-6 and 280 pounds, Najvar certainly has the size to make the NFL. His speed had been a question mark, but his reported best for pro day was 4.86 seconds in the 40.

West Virginia (March 21)
Big name:
RB
Charles Sims
. A nice showing at the NFL combine (40 time: 4.48) meant Sims needed only to do positional drills, and he drew good reviews for his pass-catching ability despite small hands.
Sleeper:
DE
Will Clarke
. Knowing it's possible he'll be asked to play outside linebacker in an NFL scheme, Clarke worked out at both end and linebacker on pro day and tried to show what he can bring to pass coverage as a nearly 6-6, 268-pound defender.

Iowa State (March 25)
Big name:
LB
Jeremiah George
. After a subpar showing at the combine, George had a nice day in front of 30 NFL officials. He hit 4.69 in the 40-yard dash, posted a big improvement in his broad jump and was solid in positional work.
Sleeper:
CB Jeremy Reeves. How's this for a success story? Reeves played at ISU from 2010-12, missed last season with a pectoral injury and showed up to pro day to prove he's still got it. He had a crazy good day: 4.29-second 40, 43-inch vertical, 11½-foot broad jump. The New York Jets signed him on Friday.

Texas (March 26)
Big name:
DE
Jackson Jeffcoat
. Like most other top prospects, Jeffcoat stuck with his NFL combine testing numbers. The 6-3, 253-pound end demonstrated his coverage ability in position drills amid talk that he might have to be a 3-4 outside linebacker at the next level.
Sleeper:
CB
Carrington Byndom
. Questions about the three-year starter's speed were put to rest when he ran his 40 in 4.37 seconds. Byndom was happy with his positional drills and is starting to line up meetings.
All Access Wired: Chris Vaughn
BIG 12 SCOREBOARD
Saturday, 8/30
Sunday, 8/31