September, 14, 2014
Sep 14
12:51
AM ET
By
ESPN.com staff
| ESPN.com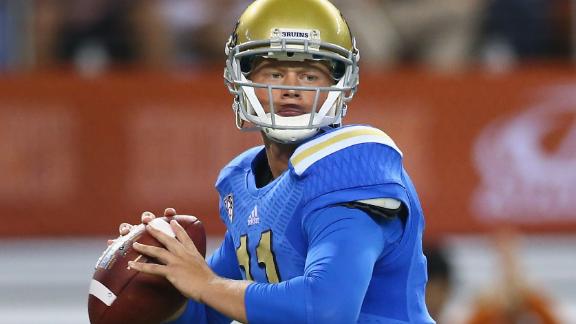 Jerry Neuheisel
came off the bench to replace an injured
Brett Hundley
and lead the Bruins to a come-from-behind 20-17 win over Texas.
September, 13, 2014
Sep 13
11:39
PM ET
Associated Press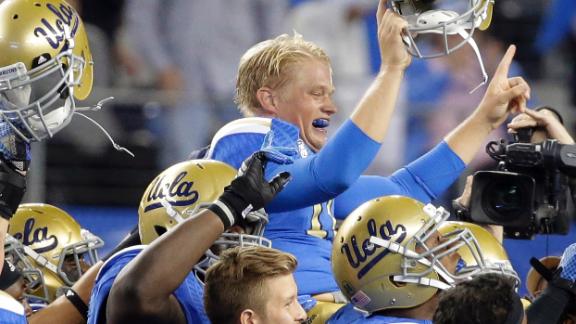 ARLINGTON, Texas -- UCLA backup quarterback Jerry Neuheisel threw two touchdown passes, including a 33-yarder to Jordan Payton with 3 minutes left, and the No. 12 Bruins avoided an upset with a 20-17 win over Texas on Saturday night.
The go-ahead score for the Bruins (3-0) came on the first play after Ishmael Adams' 58-yard punt return when he was helped by a crushing open-field block.
Neuheisel completed 23 of 30 passes for 178 yards after Brett Hundley injured his left elbow in the first quarter.
Texas (1-2), which started the game with a big blunder, had gone ahead when Tyrone Swoopes hit John Harris for an 8-yard TD with 5:13 left. The Longhorns then forced a fumble, but went three-and-out before punting the ball to Adams.
Swoopes threw for 196 yards and two touchdowns in his second start for concussion-plagued David Ash.
September, 13, 2014
Sep 13
9:33
PM ET
ARLINGTON, Texas -- The result of the pregame coin toss before kicking off against Texas was a bizarre win-win for No. 12 UCLA.
When UCLA won the toss, its captains elected to defer to the second half. The game official then turned to Texas' two pregame captains, defensive tackle
Desmond Jackson
and running back
Malcolm Brown
, and asked them what they wanted.
"Defense," Jackson told the official.
The referees then turned off the stadium mic to give Jackson an explanation of their options. Jackson turned to Brown, nodded and chose to start the game on defense.
That decision means UCLA received not only the opening kickoff but will also get the ball to start the third quarter.
As you can imagine, Texas coach Charlie Strong was not too happy with the miscommunication that led to Texas giving up an extra possession, and UCLA coach Jim Mora appeared to be just as surprised.
The Bruins drove 26 yards on six plays to open the game but were forced to punt. But thanks to the Longhorns' goof, they'll get a chance to rectify that in the second half.
September, 13, 2014
Sep 13
8:00
AM ET
In Week 3 of Big 12 action, Oklahoma and Texas Tech will take on the SEC; West Virginia, TCU and Iowa State will challenge the Big Ten; Kansas will go on the road in the ACC; and Texas will attempt to bounce back against the Pac-12.
How the league fares in those seven games against Power 5 conference opponents will be the major storyline today in the Big 12:
West Virginia at Maryland, noon ET (Big Ten Network):
The Terrapins slaughtered West Virginia 37-0 last season. The Mountaineers, however, didn't have quarterback
Clint Trickett
in that game. Trickett ranks fourth nationally with a 75.3 completion percentage, and his favorite target,
Kevin White
, is tied for fourth in the country with 19 receptions.
Arkansas at Texas Tech, 3:30 p.m. ET (ABC):
After starting fast last year, the Red Raiders are off to a sluggish beginning in Kliff Kingsbury's second season. Only Oregon State has committed more penalties than the Red Raiders, who have 25 through two games. These two old Southwest Conference foes have met 35 times, but haven't played since 1991.
[+] Enlarge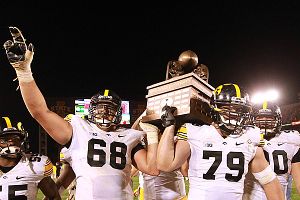 Reese Strickland/USA Today SportsIowa State has a chance to get its season on track and win back the Cy-Hawk Trophy on Saturday.
Iowa State at Iowa, 3:30 p.m. ET (ESPN):
Iowa All-American left tackle
Brandon Scherff
is out for the Cy-Hawk series with an undisclosed knee injury. The Hawkeyes had struggled to move the ball with Scherff in narrow wins over Northern Iowa and Ball State.
Kansas at Duke, 3:30 p.m. ET (ACC Regional Sports Network):
Kansas hasn't won a road game since beating UTEP in El Paso the second week of the 2009 season. The Jayhawks' 34 points last week, however, tied the highest scoring total of the Charlie Weis era, and their 6.3 yards per play against Southeast Missouri State was the program's best game average in three years.
Minnesota at TCU, 4 p.m. ET (FS1):
The Gophers are one of the only Big Ten teams off to a positive start, but injuries have piled up. Minnesota is hopeful quarterback
Mitch Leidner
will be able to go after injuring his knee against Middle Tennessee last weekend.
UTSA at Oklahoma State, 7 p.m. ET (Fox Sports Regional):
Quarterback
Daxx Garman
is expected to make his first career start after taking his first competitive snap in five years during last week's win over Missouri State. The Roadrunners are still looking for the program's first win over a Power 5 conference opponent.
Texas vs. No. 12 UCLA (Arlington, Texas), 8 p.m. ET (FOX):
The Longhorns were woeful on both sides of the ball in a 41-7 loss to BYU last weekend, and this doesn't have the look of a favorable matchup. According to ESPN Stats & Info, Texas has allowed the fourth-most rushing yards (777) in the FBS to opposing QBs since the start of last season. Excluding sacks, UCLA's
Brett Hundley
has run for the sixth-most yards by a quarterback (1,057) during the same span.
Tennessee at No. 4 Oklahoma, 8 p.m. ET (ABC):
This is the first regular-season matchup between these teams, which are in the top 10 in the FBS in all-time wins. Recent history, however, favors the Sooners. Bob Stoops is 88-5 at home with Oklahoma, while Tennessee hasn't won three games to begin a season since 2004.
September, 13, 2014
Sep 13
8:00
AM ET
Wyoming at No. 2 Oregon
Time:
2 p.m. ET
TV:
Pac-12 Networks
Heisman contender Marcus Mariota will look to get his team off to a quick start over Wyoming. A week after defeating MSU in convincing fashion, the Ducks will attempt to make another big statement as they prepare for conference play. The Cowboys are led by first-year coach Craig Bohl, who gained notoriety by leading North Dakota State to national relevance in his 10 years at the helm of that program.
Illinois at Washington
Time:
4 p.m. ET
TV:
Fox
Washington will attempt to pick up its third win of the season but considering how lackluster the first two were, this game will need to be a bit of a statement for the Huskies. Quarterback Cyler Miles will look to improve the Washington passing game so the Huskies won't be pigeonholed into being one-dimensional this season. Meanwhile, the Huskies defense will look to bend and not break as cornerback Marcus Peters will be sitting out for his one-game suspension due to his sideline behavior against Eastern Washington.
Army at No. 15 Stanford
Time:
5 p.m. ET
TV:
Pac-12 Networks
Stanford hasn't lost consecutive games since the 2009 season and the Cardinal will look to extend that streak when Army visits The Farm this weekend. Stanford needs to limit turnovers and penalties -- two issues that plagued the team in its loss to USC -- while quarterback Kevin Hogan will attempt to keep the offense moving and finishing. Against USC, the Cardinal came away with just 10 points on nine trips inside the Trojans' 35-yard line.
Portland State at Washington State
Time:
8 p.m. ET
TV:
Pac-12 Networks
The Cougars will be playing in their home stadium for the first time in 2014 when they welcome PSU to Pullman. Washington State needs a win badly; its 0-2 start is far from what was expected in Year 3 of the
Mike Leach
regime.
No. 9 USC at Boston College
Time:
8 p.m. ET
TV:
ESPN/WatchESPN
Hashtag:
#USCvsBC
USC will make a cross-country trip after its huge win over Stanford last weekend. The Trojans will be without linebacker Hayes Pullard for the first half due to a targeting penalty during the Stanford game. Leonard Williams and the rest of the USC defense will face dual-threat QB and Florida transfer Tyler Murphy.
Side note:
Boston College will be wearing special red bandana tribute uniforms Saturday. It's a cool gesture and one that I suggest you learn more about. Take some time to check out the story of former BC lacrosse player Welles Crowther -- "The Man in the Red Bandana" -- before the game.
Watch the feature and read more here
.
No. 12 UCLA vs. Texas
Time:
8:15 p.m. ET
TV:
Fox
The Bruins are trying to piece together their first complete performance in their trip to Arlington, Texas, this weekend. Brett Hundley presents quite the challenge for Texas, who has struggled with dual threat quarterbacks this year, already giving up 181 passing yards and 99 rushing yards to BYU quarterback Taysom Hill. Defensively, UCLA won't be facing Texas' best -- starting QB David Ash is out with concussion symptoms and Texas coach Charlie Strong has suspended both starting offensive tackles (among others).
No. 16 Arizona State at Colorado
Time:
10 p.m. ET
TV:
ESPNU/WatchESPN
Hashtag:
#ASUvsCOLO
The Sun Devils and Buffs open their Pac-12 slates with one another this weekend. Taylor Kelly, D.J. Foster and the rest of the ASU offense will attempt to put up big offensive numbers against Colorado, which has given up 34.5 points per game this season. But at home, Colorado will attempt to break the streak -- the Buffs haven't beaten a ranked opponent in their last 14 attempts.
Nevada at Arizona
Time:
11 p.m. ET
TV:
Pac-12 Networks
Quarterback Anu Solomon will look to get the Wildcats off to a 3-0 start as Arizona welcomes Nevada to Arizona Stadium. "We're not good enough to play poorly and still win," coach Rich Rodriguez said earlier this week. It's a pretty obvious lesson, one that he watched play out as Nevada took down Washington State last weekend. "We know there are some games where we can make mistakes and it will really cost you. In some games you can make a few more and still be in it. That's not where we are at yet."
Byes:
California
,
Oregon State
,
Utah
September, 12, 2014
Sep 12
5:30
PM ET
In today's Twitter mailbag, we mostly discuss the monster upcoming weekend for the Big 12, which takes on seven opponents from Power 5 conferences. To the 'bag:
@Jake_Trotter do you see @OU_CoachStoops going to the @nfl ?

— Cody Tolbert (@C_Tolbert1) September 12, 2014
@Jake_Trotter: You're referencing an NFL.com report this week that suggested Bob Stoops would be a hot commodity for NFL coaching jobs after the season. Anything is possible. But my thinking is that if Stoops wanted to leave, he would have been gone already. Over the years, he has resisted overtures from the Cleveland Browns, Ohio State, Notre Dame, Florida (twice) and the Denver Broncos. If he's turning those kind of jobs down, what job out there would he take? The Dallas Cowboys? Maybe. But my money would be on Stoops retiring as the coach at Oklahoma.
@Jake_Trotter where does the Big 12 rank in the Power 5? How can they move up?

— Wade Howard (@jwadehoward) September 12, 2014
Trotter: I would place the Big 12 behind the SEC and Pac-12. But a strong case could be made for the league as the third-best conference, especially with a successful weekend that includes games against seven Power 5 conference opponents.
@Jake_Trotter Rank the three RBs at OU at this point. I know it's early but Pat Jones ranked them Ford, Perine, and Ross.

— Sam Philbeck (@SamPhilbeck25) September 12, 2014
Trotter: I have them ranked exactly the same. There has been a lot of hype with Samaje Perine, and rightfully so. But I think Keith Ford is the best all-around back.
@Jake_Trotter How many conference wins does Charlie Strong need to calm the fan base?

— Johnny (@johnny_323) September 12, 2014
Trotter: I'm not sure he's going to be able to do anything this season to completely calm the fan base. After all the injuries, suspensions and dismissals, this roster has been completely ravaged. I think Texas is staring down the barrel of a 2-4 start, which, before the season, would have seemed like a worst-case scenario. I will be interested to see, though, if Texas can make improvement over the second half of the season. That would bode well for 2015, which is when the pressure will begin to mount on Strong and his staff.
@Jake_Trotter Will Texas be a top 10 program in 3 years?

— Sean Delmonaco (@Hockey_Chi) September 12, 2014
Trotter: At blue-chip programs like Texas, the switch can flip quickly. Oklahoma was in worse shape in 1998 than Texas is now. And the Sooners won a national title two years later. The Longhorns could be a top-10 team as soon as next season. But first, they're going to have to find an answer at quarterback, which has plagued this program since Colt McCoy was behind center.
@Jake_Trotter is TCU ranked with a convincing win tomorrow?

— Chip Hanna (@chiphanna) September 12, 2014
Trotter: Probably not. It's not like Minnesota is Michigan State. And there are too many other teams ahead in the polls. But a win would definitely snag the Frogs more votes.
@Jake_Trotter If TCU beats Minnesota, how does that change their perception going forward?

— DCinAZ (@DCinAZ) September 12, 2014
Trotter: When did Minnesota become the bastion of college football? This would be a very solid win for TCU. But the Gophers were picked in the preseason to finish fifth in the Big Ten West.
@Jake_Trotter what can we do to get BYU in the big 12?

— Martin borg (@Martyaborg) September 12, 2014
Trotter: Write a letter to your affiliated Big 12 athletic director and president. Because right now, none of them have given any indication they are interested in expansion.
@Jake_Trotter is the Big 12 being stubborn to not expand?

— Creek (@alancreekmore) September 12, 2014
Trotter: Oh, maybe a little. But you have to remember, this was a league that teetered on the edge of extinction for a couple of years. The Big 12 is enjoying this newfound stability as well as the money it's raking in with these new TV contracts. What is the motivation for them to expand?
@Jake_Trotter does Rudolph lose his redshirt now that Walsh is out

— Gerald Tracy III (@GeraldTracyCRFF) September 12, 2014
Trotter: Assuming that J.W. Walsh is out for the year -- and I've been told that he is -- I think they have to. The Cowboys don't want to be in a situation where Daxx Garman gets injured, and they have to bring in Mason Rudolph in a critical moment with him having zero college experience. Plus, playing Rudolph will give them a chance to determine whether he might be the quarterback of the future. They could always come back and redshirt him next season when Walsh returns to the fray.
@Jake_Trotter Does WVU finally make their way back to the polls for the first time since 2012 with a win against Maryland tomorrow?

— Country Roads (@CountryRoads2) September 12, 2014
Trotter: This would be a huge win for the Mountaineers. But I don't think it would be enough to push them into the Top 25. A win against Oklahoma the following week would do it.
@Jake_Trotter any solution in sight for Tech's rather porous defense?

— Andy Dobbins (@adobbins29) September 12, 2014
Trotter: I like Matt Wallerstedt's ploy of using more players. If you are lacking in standouts, at least keep the players you do have fresh for the fourth quarter when stops are at a premium. Personnel wise, the Red Raiders need their JUCO additions to start making bigger impacts. That would give the defense a boost.
@Jake_Trotter odds the Big 12 this weekend takes a beating the way the B1G did last weekend?

— Kalman K. (@KalmanKreit) September 12, 2014
Trotter: It's possible. Oklahoma losing to Tennessee would really be the only stunner. Maryland, Minnesota, UCLA, Arkansas, UTSA, Duke, Iowa are all more than capable of defeating their Big 12 counterparts..
September, 12, 2014
Sep 12
1:00
PM ET
Although we're just two weeks into the 2014 season, go-to targets are starting to emerge across the Big 12. West Virginia's
Kevin White
looks like he could fill a playmaking void and Texas Tech's
Bradley Marquez
has stepped his play up in his final season.
Here's a closer look at the Big 12's leading receivers in several key stats, with the help of ESPN Stats and Information.
[+] Enlarge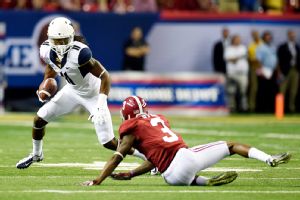 John David Mercer/USA TODAY SportsWest Virginia's Kevin White has been targeted more than any other Big 12 receiver.
Total targets
Kevin White, West Virginia, 26

Jakeem Grant, Texas Tech, 21

John Harris, Texas, 20

Sterling Shepard, Oklahoma, 19

(Bradley Marquez, Texas Tech, 18
It's clear White has developed a high level of trust with quarterback
Clint Trickett
and the Mountaineers are trying to get the ball in the hands of the 6-foot-3, 210-pound senior. … Texas' John Harris is the surprise name on the list as he has emerged as a go-to target in a struggling Longhorns attack. … As Iowa State searches for someone to replace
Quenton Bundrage
, no Cyclone has double-digit targets through two games.
Yards per target
Kolby Listenbee, TCU, 32.6

Jhajuan Seales, Oklahoma State, 20.8

Sterling Shepard, Oklahoma, 16.7

KD Cannon, Baylor, 15.4

Nick Harwell, Kansas, 14.9
TCU has only played one game, but it would be a surprise if Listenbee is not a major part of the offense. He proved to be a legitimate deep threat in the Horned Frogs' season opener two weeks ago, and that skill will make quarterback
Trevone Boykin
and his dynamic running ability even more lethal. … Shepard's appearance on this list shows the Sooners plan to use him to keep defenses honest while they attempt to establish a physical running game.
Yards after catch
Kevin White, West Virginia, 147

Bradley Marquez, Texas Tech, 103

Brandon Sheperd, Oklahoma State, 98

Sterling Shepard, Oklahoma, 92

Jakeem Grant, Texas Tech, 87
White is starting to fulfill the hype that accompanied him when he arrived as a junior college transfer before the 2013 season. He combines terrific size with run-after-catch ability. He'll be in the mix for All-Big 12 honors if he remains consistent. … Seeing Marquez, not Grant, lead the Red Raiders in yards after the catch is a surprise, but it shows his versatility and overall importance to Tech's passing game.
Third-down receptions
Davion Hall, Baylor, 6

Kevin White, West Virginia, 4

John Harris, Texas, 4

Bradley Marquez, Texas Tech, 4

Five receivers tied with 3
Hall has a high third-down reception rate but only three of his six receptions have resulted in first down conversions. The Bears have made a point to get him the ball in space, with 7 of his 11 receptions coming within 10 yards of the line of scrimmage. … It's early, but Harris, White and Marquez appear to have separated themselves as go-to receivers in their offenses.
Percentage of receptions for a first down or touchdown
Nick Harwell, Kansas, 100 percent

Kolby Listenbee, TCU, 100 percent

Ja'Juan Story, TCU, 100 percent

KD Cannon, Baylor, 87.5 percent

Tyler Lockett, Kansas State, 85.7 percent
Harwell was solid in his first game as a Jayhawk with four receptions for 46 yards and two touchdowns. He'll be a major part of KU's offense. … Listenbee and Story have five receptions combined so it remains to be seen if their ability to make key plays continues throughout the season. … Lockett should be a staple on this list with his ability to change games each time he touches the ball.
September, 12, 2014
Sep 12
9:00
AM ET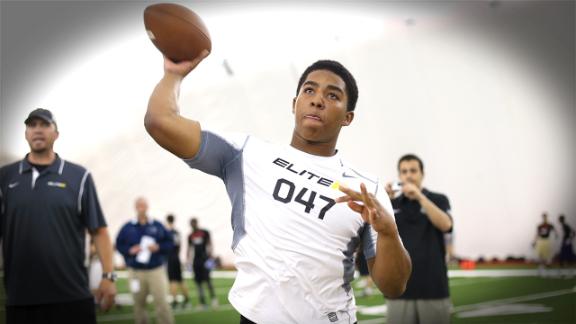 After a quiet week, the Big 12 is expected to have a monster week with top recruits spread throughout Texas and Oklahoma. September was expected to be a big month for recruiting within the conference, and it can jump start during or immediately after the weekend games.
Look for these three games to draw players:
Tennessee at Oklahoma
September, 11, 2014
Sep 11
4:00
PM ET
Caleb Benenoch
has a secret he's hesitant to share with his UCLA teammates: When UCLA marched into his home state in 2010 and stunned Texas,
34-12
, he couldn't handle it.
"I don't know if the guys know this," Benenoch said, "but I actually cried."
Back then, he was a sophomore at Seven Lakes High in Katy, Texas. Today, Benenoch is UCLA's sophomore starting right tackle. He can't wait to face the Texas program he'd sworn he'd always love, no matter where he went to college.
Benenoch is expecting as many as 30 family members and friends at AT&T Stadium in Dallas on Saturday night when the No. 12 Bruins meet a Texas team that, considering its current offensive line woes, could have definitely used him. And Benenoch hopes, somewhere in Nigeria, his father is watching.
The lineman's road to Los Angeles and to this game wasn't exactly conventional. Benenoch is the son of Nigerian ministers and emigrated with his family to the United States when he was 8. He started playing football at 9 by accident – his mother thought she'd signed him up for fútbol.
[+] Enlarge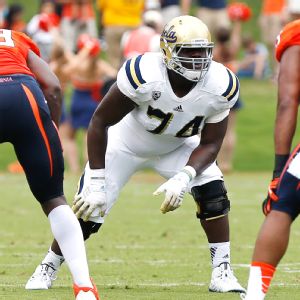 Geoff Burke/USA TODAY SportsUCLA sophomore Caleb Benenoch will take on the team he loved as a child on Saturday in Arlington, Texas.
While Esther Benenoch raised four children in Katy, her husband remained in Nigeria. David Benenoch is the founder and bishop of The Communion Church, a Pentecostal service started in 1989 and headquartered in Lagos.
"It takes a very strong family. It's not easy to do," Benenoch said of the distance separating his kin. "I know for them it's not easy to do, and I appreciate them a lot."
His father's work takes him all over Africa and Europe, with regular stops back in Katy. Growing up, Caleb went to Nigeria during a few summer breaks for one-month visits.
In 2010, before his sophomore year, he came back from Nigeria measuring 6-foot-5 and tipping the scales at 300 pounds, to the bewilderment of his coaches and buddies.
"Everybody was saying, 'Did you eat the kids back there?'" Benenoch said.
Once he hit that growth spurt, football became easier. He put on 20 more pounds and they all starting calling him "Bear." When his brother, Josh Benenoch, walked on to play defensive back at Baylor in 2011, Caleb couldn't wait for his turn. He'd told friends that, one day, Mack Brown would walk into their high school and recruit him.
His father kept up with calls and video chats, but didn't know much about football. When Caleb did get to show off his game tapes, he usually had some explaining to do. Dad didn't understand why the big boys play up front.
"He'd always ask me, 'Why aren't you the one carrying the ball? Why aren't you the one passing the ball? Why aren't you scoring?'" Benenoch said. "After the games, you see all the dads line up, win or loss. I didn't have that. That drove me to work harder."
This was new territory for the Benenoch family, especially when Caleb's recruitment began. Michigan State offered a scholarship after his junior season, so he committed early without ever visiting. Then Brown made a push.
At a Texas camp in June, Brown extended an offer and his staff successfully persuaded Benenoch to reopen his recruitment. In the months that followed, he seemed a lock to end up a Longhorn.
"People don't say no to UT very often," Benenoch said that summer. "I love UT. I've loved them since I was little. I'll love them regardless of whether I go there or not."
Oklahoma, Baylor and Texas A&M all made strong pushes that fall, but a November official visit to UCLA swayed him in a way he never anticipated. Another factor that quietly weighed heavily: Rival coaches convinced him Brown wasn't going to be in Austin much longer. Benenoch didn't enjoy watching the coaching shakeup from afar this winter.
"I wasn't happy it turned out the way it did. He's a great guy, a great coach and I didn't want him to leave," Benenoch said of Brown. "It was very crazy for me, because I grew up watching him and he was the guy I wanted to play for."
UCLA coaches weren't lying, either, when they promised immediate playing time. Benenoch started nine games as a freshman last season – one play briefly went viral for
this punch against USC
– and has settled into the right tackle job.
This Texas game has been circled on his calendar ever since his December 2012 commitment.
"This is one of the reasons I picked UCLA," he said. "Going back and beating those guys would be a lot of fun."
So much has changed for Benenoch in the past few years, but one thing hasn't: His father still hasn't attended one of his games.
Benenoch sends his father photos and videos. The faraway minister has caught a few UCLA games on TV. Maybe he'll get a chance to watch this one, a prime-time game on a big stage, his son taking the field against their once-beloved Longhorns.
"Hopefully he'll come to one before I graduate," Benenoch said. "I know he's really happy for me. And I think he understands how big a deal playing tackle is now."
September, 11, 2014
Sep 11
2:30
PM ET
Our weekly effort to identify one player poised for a breakout on each Big 12 team hit on a couple nice performances last week, most notably Kansas' DeAndre Mann, Baylor's
Davion Hall
and Oklahoma's
Blake Bell
. We will give it another try this week. Here are 10 players worth keeping an eye on this weekend.
Baylor RB Silas Nacita:
After rushing for three touchdowns in his first two games at Baylor, the Cornell transfer is a feel-good story who is making the most of his carries. The Bears will still divvy out their snaps evenly among a loaded backfield against Buffalo, but expect to see a little more of Nacita and perhaps another score.
West Virginia CB Daryl Worley:
We are big believers in Worley over here on the Big 12 blog. He could be an All-Big 12 player by the end of the season. But let's see if he can show up big against Maryland receivers
Stefon Diggs
and
Deon Long
. After what the Terps did to WVU last season, he is one of the many defenders who needs a big day.
[+] Enlarge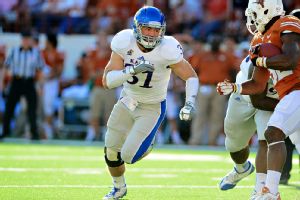 John Albright/Icon SMIKansas needs a big game from linebacker Ben Heeney if it hopes to win at Duke.
Kansas LB Ben Heeney:
Your best players should step up in your biggest games, and this road trip to Duke is a big one. A win against the defending ACC Coastal Division champ would stop KU's 27-game road losing streak. The Jayhawks' tackling machine will make a game-changing play or two this week.
Texas Tech WR Bradley Marquez:
He has been killer through two games (217 receiving yards, 5 TDs) and he will be one of the difference-makers in what could be a closer-than-expected meeting with Arkansas. If Marquez and
Jakeem Grant
can help
Davis Webb
get in a rhythm, they will help make up for whatever struggles Tech's defense faces.
Iowa State DE Cory Morrissey:
Morrissey, the Cyclones' best defensive lineman, was looking forward to his faceoff with Iowa's All-America lineman
Brandon Scherff
. If reports of Scherff having knee surgery are accurate, the Hawkeyes will have to adjust and Morrissey will have to take advantage.
TCU DT Chucky Hunter:
Minnesota's offensive line has allowed two sacks this season, but TCU's defensive line is an underrated bunch led by the run-stuffing Hunter and some rising defensive ends. The Gophers have quarterback issues this week and will try to pound the run with
David Cobb
. TCU needs Hunter's best on Saturday.
Oklahoma State WR Brandon Sheperd:
Quarterback
Daxx Garman
spread his targets around fairly evenly last week, but expect to see more deep shots against a UTSA defense that gave up an 85-yard touchdown pass on its first play against Arizona last week. Sheperd broke out last week when Garman entered the game, and could be in for another nice day.
Texas WR Marcus Johnson:
Texas has struggled to get the ball in the hands of one of its best playmaking receivers. Johnson has three catches for 26 yards and will need to do a lot more than that against UCLA if
Jaxon Shipley
(head injury) is indeed ruled out.
Tyrone Swoopes
should take more shots downfield this week, and though
John Harris
has become the go-to, Johnson needs to get back in the mix.
Oklahoma LB Caleb Gastelum:
Who doesn't love this guy? After earning his scholarship last week, the former walk-on has become a force in the middle. Expect another solid showing against Tennessee and its exciting freshman running back
Jalen Hurd
. Gastelum has a nose for the ball and is building an impressive reputation. He will show up against the Vols.
September, 11, 2014
Sep 11
10:15
AM ET
This weekend figures to be one of the biggest in Big 12 history, as the league will face an unprecedented seven nonconference opponents from Power 5 conferences.

Coming off its Sugar Bowl win over Alabama, Oklahoma will try to strike another blow for the Big 12 against the SEC when it welcomes Tennessee to Norman. Texas Tech will play host to another Big 12-SEC matchup in a meeting with old Southwest Conference rival Arkansas.
The Big 12 will also be pitted against the Big Ten in three separate games. West Virginia travels to new Big Ten member Maryland, Iowa State goes to instate rival Iowa, and TCU will play Minnesota in just the second ever meeting between the two programs.
Kansas will test its revamped offense at defending ACC Coastal Division champion Duke. And Texas will take on one of the preseason favorites to win the Pac-12 in UCLA.
With so many losable games, Saturday could be a disaster for the Big 12, as it was for the Big Ten last weekend, when Michigan State, Ohio State and Michigan all fell in marquee matchups.
On the other hand, Saturday is an opportunity for the Big 12 to deliver another statement about its legitimacy in the playoff era.
But how will the league fare? We put the question to you in our weekly Big 12 poll.
September, 11, 2014
Sep 11
9:00
AM ET
Why Oklahoma will win:
The Sooners have a decisive advantage in the trenches, highlighted by a powerful running game and a swarming defensive front seven. Bob Stoops is also 88-5 at home and will be looking to send another message to his friends in the SEC.
Oklahoma 44, Tennessee 16
– Jake Trotter
Why Tennessee will keep it close:
The Vols appear to be on the upswing under Butch Jones' better recruiting. UT has several receivers with size (four receivers 6-foot-3 or taller) and could try to test the coverage ability of OU's secondary. If the Vols are able to force mental mistakes from
Trevor Knight
, all bets are off.
Oklahoma 35, Tennessee 21
–
Brandon Chatmon
Why UCLA will win:
Quarterback
Tyrone Swoopes
actually played alright in his first career start last week -- and
Texas
still couldn't score. With the offensive line and receiving corps completely decimated, the Longhorns have what amounts to a popgun offense. UCLA counters with quarterback
Brett Hundley
, who entered the season on the short list of Heisman contenders.
UCLA 28, Texas 9
– Trotter
Why Texas will keep it close:
Defense. Until Swoopes and a patchwork offensive line get some momentum, Texas' defense will have to win the day. They'll get pressure on Hundley, but they'll need turnovers. The Longhorns played three quarters of solid defense against
BYU
. If they can wreak havoc for four, this game could be close late.
UCLA 27, Texas 17
-Max Olson
Upset special:
The
Cyclones
showed it is too early to write them off during a close loss to
Kansas State
. Meanwhile,
Iowa
hasn't looked like an elite team during its first two games. There were times the Cyclones were dominating K-State, and ISU could carry that momentum into a win over its rival.
Iowa State 31, Iowa 27
–
Chatmon
MORE UNANIMOUS PICKS
Baylor over Buffalo 56-20:
Buffalo is going to black out its stadium, but the Bears will light it up in
Bryce Petty
's return. —
Chatmon
West Virginia over Maryland 28-26:
The Terrapins hammered the Mountaineers 37-0 last season, but this is a completely different West Virginia team manned by a completely different quarterback in
Clint Trickett
, who is completing 75 percent of his passes.
– Trotter
Texas Tech over Arkansas 38-24:
Tech cleans up its penalty problems, and
Davis Webb
picks apart a D that gave up nearly 600 yards against
Auburn
.
– Olson
Duke over Kansas 38-24:
Kansas looked good in the first 45 minutes of its win over Southeast Missouri, but Duke quarterback
Anthony Boone
will prove simply too much for the Jayhawks. —
Chatmon
TCU over Minnesota 17-13:
A close game finally goes the Horned Frogs' way. Minnesota's uncertain QB situation is the difference-maker, and TCU's underappreciated defense steps up.
– Olson
Oklahoma State over UTSA 42-24:
Having a full week to tailor the offense around the arm of quarterback
Daxx Garman
should do wonders for the Oklahoma State offense.
– Trotter
College Football Minute
BIG 12 SCOREBOARD
Thursday, 9/18
Saturday, 9/20