December, 12, 2014
Dec 12
9:00
AM ET
We had some debates along the way, but this year's all-conference team seemed easier to assemble than in most years.
There are still a ton of deserving players who did not crack the first team (our second-team choices come later today), but all in all this is a loaded squad of standouts, and nearly every Big 12 team had at least two players make the cut.
Here's the 2014 ESPN.com All-Big 12 Team:
Offense
QB Trevone Boykin, TCU:
Boykin emerged as one of the nation's best and led TCU to a Big 12 co-title with 3,714 passing yards and Big 12-high 39 total TDs.
RB Samaje Perine, Oklahoma:
The true freshman rumbled for 1,579 yards and 21 TDs, including the best rushing game (427 yards) in FBS history.
RB Shock Linwood, Baylor:
The power back behind Baylor's speed attack, Linwood surpassed 1,200 yards in his first season as a starter.
WR Kevin White, West Virginia:
The Biletnikoff Award finalist was a breakout star, racking up 102 catches for 1,318 yards and nine TDs.
WR Corey Coleman, Baylor:
Led the Bears with 969 receiving yards, 17 yards per catch and 10 scores despite missing the first three games of the season.
WR Sterling Shepard, Oklahoma:
Injuries derailed his last five games, but Shepard still put up 957 yards as the Sooners' go-to guy.
TE E.J. Bibbs, Iowa State:
Bibbs led all tight ends nationally with eight TDs and was a matchup nightmare in Mark Mangino's offense.
OL Spencer Drango, Baylor:
The All-American was dominant again after recovering from back injury with 30-plus knockdown blocks.
OL Quinton Spain, West Virginia:
The mammoth guard was impressive again despite playing through injuries throughout the season.
OL B.J. Finney, Kansas State:
The Rimington Trophy finalist wrapped up his career as a 51-game starter with another terrific season.
OL Tyrus Thompson, Oklahoma:
Oklahoma's left tackle elevated his game during his senior year and brings exceptional size and strength.
OL Le'Raven Clark, Texas Tech:
All-Big 12 for the second year in a row after he anchored a Tech offensive line that gave up just 13 sacks.
AP Tyler Lockett, Kansas State:
Lockett broke dad Kevin Lockett's records while finishing No. 4 nationally in receiving and adding two punt-return TDs.
K Josh Lambert, West Virginia:
The Groza Award finalist led the FBS with 27 made field goals, including two game winners.
KR Alex Ross, Oklahoma:
Ross went for 30-plus yards on 9 of 22 returns, including scores of 91 and 100 yards.
Defense
DE Shawn Oakman, Baylor:
A 6-foot-8 beast, Oakman created problems (10 sacks, 18.5 TFLs) with his length and aggression.
DE Emmanuel Ogbah, Oklahoma State:
Ogbah broke out big with 11 sacks, including two-sack performances versus Florida State and TCU.
DT Malcom Brown, Texas:
He was a disruptive force in the middle who produced 6.5 sacks and 14 tackles for loss.
DT Andrew Billings, Baylor:
The sophomore helped Oakman upgrade BU's defensive line while finishing with 11.5 TFLs.
LB Paul Dawson, TCU:
Dawson made
big play after big play for the Frogs, logging at least one TFL in TCU's final eight games.
LB Ben Heeney, Kansas:
The sideline-to-sideline stud capped off his KU career with 127 tackles, including 88 solo stops.
LB Eric Striker, Oklahoma:
Striker created problems off the edge in one-on-one battles and finished with 7.5 sacks.
DB Quandre Diggs, Texas:
Diggs did it all. He hit, covered and tackled while playing a key role as the heart of UT's defense.
DB Chris Hackett, TCU:
The junior showed up big in big games, grabbing six interceptions and 73 stops.
DB Karl Joseph, West Virginia:
Joseph blossomed into a complete safety while remaining among the conference's most physical defenders.
DB Dante Barnett, Kansas State:
Sliding right into the void left by Ty Zimmerman, Barnett became a playmaker on the back end for KSU.
P Trevor Pardula, Kansas:
Yes, Pardula had plenty of chances, but 44.25 yards/punt average and 38.9 punting average are nothing to sneeze at.
PR Tyreek Hill, Oklahoma State:
The Cowboys don't go bowling without Hill, whose blazing speed helped beat KU, ISU and OU.
December, 12, 2014
Dec 12
8:00
AM ET
December, 11, 2014
Dec 11
11:00
PM ET
Wisconsin landed a four-star running back on Thursday despite not having a head coach. Plus, Nebraska is already impressing rival recruiters with its effort on trail.


December, 11, 2014
Dec 11
2:00
PM ET
Postseason honors and the future of the Big 12 highlight this week's mailbag. To submit questions for next week's mailbag,
click here
.
Chris J. in Houston, Texas, writes:
Does the Big 12 need Texas to be good? Wouldn't that take away from the other schools that are rising in the Big 12? Realistically, could you see Texas becoming a team like Nebraska for the next 10-15 years? Don't you think the fans of Baylor, TCU and KSU would love for Texas to be a perennial loser?
Brandon Chatmon:
It would be good for the Big 12, and college football in general, if the Longhorns are good. Why? Because it's good for college football when the nation's iconic programs are good. But I also understand why the rest of the league would find joy in the Longhorns' struggle. I don't see UT becoming Nebraska for the next 10-15 years, however. There's simply too much talent in Texas for that to happen, and I think Charlie Strong has the Longhorns on the right track. In fact, as soon as I saw the coaching staff Strong was putting together, I felt like if you want to beat Texas, you better beat them now. So if you're hoping to bask in UT's failure, you might be disappointed.
Corey in Allen, Texas, writes:
How is that Texas Tech's
Pete Robertson
-- who led the Big 12 in sacks -- is not on the All-Big 12 first-team defense?
Ben Heeney
and
Paul Dawson
are definitely deserving, but
Eric Striker
was not as dominant a player this year as Robertson was.
BC:
I wish I knew. I'm not the type of guy who holds a lack of team success against Robertson. He was exceptional with 12 sacks and 14.5 tackles for loss this season. I don't know what else he could have done to earn first-team All-Big 12 honors. I've been in his corner all season long, but I understand why the coaches preferred to reward players on teams that had winning seasons.
Alec in Iowa writes:
Why do you think Texas receiver
John Harris
didn't get any conference honor? He had over 1,000 yards receiving and had seven TDs. I just don't understand. He even could've been first team over
Sterling Shepard
.
BC:
I was just as surprised as you to see the coaches did not have Harris on the second team. Only three Big 12 receivers had 1,000 receiving yards and Harris was one of them. He should have been a second-team selection, no question about it, but I think Kansas State's
Tyler Lockett
, West Virginia's
Kevin White
and Oklahoma's Shepard on the first team was the right choice.
David in Austin, Texas, writes:
Were the All-Big 12 voters upset at the Texas defense this season or was the offensive ineptitude held against them? Significantly better in passing defense than the rest of the conference, yet the secondary is barely represented.
BC:
I don't think either of those reasons are behind the Longhorns' secondary, specifically
Quandre Diggs
, getting snubbed for first-team honors. But I felt like Diggs earned a spot on the first team. He was excellent on one of the Big 12's best defenses, and he did so many different things for UT as a senior. He should have been a first-teamer.
Brian in Manhattan, Kansas, writes:
What really annoyed me last weekend was that all of the "analysts" criticized the Big 12 for not having a conference championship, but they never acknowledged that we couldn't have one due to just being at 10 teams. Would they have been happier if we had a "watered"-down conference with more/weaker teams so that we could get that game or would the Big 12 then be perceived as being too weak and again punished? What would it take for the Big 12 to get a waiver to have a championship game? Projecting ahead, will the Big 12 get a waiver, expand, do both or do neither?
BC:
You make a good point, Brian. If the Big 12 adds teams just to add teams, that opens up the conference to be criticized for a lack of overall depth. Adding two teams strikes me as a complete overreaction to being left out of the College Football Playoff. Not to mention the Big 12 did have a championship game with Baylor knocking off Kansas State, albeit at McLane Stadium instead of a neutral field, but the committee didn't seem to value BU's double-digit win over a Top 10 team on the final day of the season. If the committee didn't care about that, why would they care about a Big 12 championship game? Anyway, I think the Big 12's immediate move will be to try to get the NCAA to approve a waiver and consider adding a conference title game with 10 teams.
Larry Slaughter in Salt Rock, West Virginia, writes:
With the amount of players returning, and the new crop coming in, do you believe that WVU has a chance to improve again this coming season?
BC:
Holgorsen has the Mountaineers moving in the right direction. Things are going well on the recruiting trail with three ESPN 300 prospects on the
commit list
and 24 total pledges. It also seemed like this season showed that the overall depth on the roster is on the rise, particularly when WVU lost multiple cornerbacks to injury during the game but still upset Baylor. I wouldn't be shocked if WVU wins six or seven conference games in 2015, particularly if
Skyler Howard
or
William Crest
can be the answer behind center.
December, 11, 2014
Dec 11
9:30
AM ET
As far as invites go, this one is pretty coveted. Four of the Big 12's best are in Orlando as nominees for The Home Depot College Football Awards on Thursday night (ESPN, 7 p.m. ET). Here's a closer look at each player, their competition and our take on why they could take home a trophy.
Fred Biletnikoff Award: WR Kevin White, West Virginia
[+] Enlarge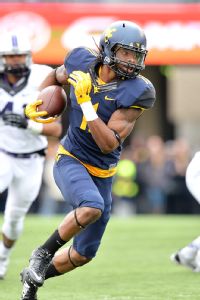 Scott Clarke/ESPN ImagesKevin White is among college football leaders in receptions and receiving yards.
Competition:
Amari Cooper
, Alabama;
Rashard Higgins
, Colorado State
Last Big 12 winner:
Justin Blackmon
, 2011
The case for White:
Well, it's hard to envision Cooper, one of three finalists for the Heisman Trophy, not taking home this honor. He's the No. 1 player for the No. 1 team in the country. So that's fair. But let's not let that diminish what White achieved this season. A year after catching 35 passes, White was good for 102 receptions and 1,318 receiving yards this fall, and he still has a chance to break WVU's single-season record. White was the first FBS receiver to reach 1,000 yards (needing just seven games) after surpassing 100 in all seven of those games. He found the end zone in eight games, recorded double-digit catch totals in five and made West Virginia's offense move with big plays and reliability.
Lou Groza Award: K Josh Lambert, West Virginia
Competition:
Roberto Aguayo
, Florida State;
Brad Craddock
, Maryland
Last Big 12 winner:
Dan Bailey
, 2010
The case for Lambert:
Aguayo is probably the odds-on favorite to win, which is no surprise. He won the Groza last year and hit 25 of 27 field goals this season for a Florida State team that constantly played in close games. Lambert has had a great season, too, and no FBS team needed their kicker more. With Lambert, WVU led the country in field goal makes (27) and attempts (36). He nailed two game-winning kicks on the road, a 47-yarder at Maryland and a 55-yarder to stun Texas Tech in Lubbock. No kicker in the nation had more makes from 40-plus (11) and 50-plus (four) than the Mountaineers' trusty junior.
Davey O'Brien Award: QB Trevone Boykin, TCU
Competition:
Marcus Mariota
, Oregon;
Dak Prescott
, Mississippi State
Last Big 12 winner:
Robert Griffin
III, 2011
The case for Boykin:
The element of surprise. There isn't a more improved quarterback in the country than TCU's star junior. We expected Mariota to have a Heisman-caliber season, and he did just that. Prescott wasn't an unknown on the national radar. Boykin was. He wasn't supposed to finish No. 3 in the nation in total offense. He was supposed to play receiver. Mariota will be a lock for this one, but Boykin's personal transformation and phenomenal numbers, to go along with the stunning success of 11-1 TCU, make him a more than worthy recipient. (Plus, you know, O'Brien was a Horned Frog, too.)
Outland Trophy: DT Malcom Brown, Texas
Competition:
Brandon Scherff
, Iowa;
Reese Dismukes
, Auburn
Last Big 12 winner:
Ndamukong Suh
, 2009
The case for Brown:
He didn't receive in-season acclaim on par with Suh,
Aaron Donald
,
Glenn Dorsey
or other defensive tackles who've won this award. But Brown is as good as it gets, an unstoppable three-tech defensive tackle who racked up 14 tackles for loss and 6.5 sacks despite commanding near-constant double-teams. He's the most important cog for a Texas team that finished No. 1 in the Big 12 in total defense, and what Brown consistently brings against the run and the pass make him a terrifying force. Of these four Big 12 nominees, Brown might have the best chance of taking home some hardware on Thursday night.
December, 10, 2014
Dec 10
4:00
PM ET
The Big 12 released its All-Big 12 honors on Wednesday with TCU sweeping the biggest individual honors, as voted on by the league's coaches.
Here's the rundown of the individual honors and first team: (You can find the entire list including the second team and honorable mention
here
.)
Coach of the Year:
Gary Patterson, TCU
Offensive Player of the Year:
QB
Trevone Boykin
, TCU
Defensive Player of the Year:
LB
Paul Dawson
, TCU
Special Teams Player of the Year:
PR
Tyler Lockett
, Kansas State
Offensive Freshman of the Year:
RB
Samaje Perine
, Oklahoma
Defensive Freshman of the Year:
S
Kamari Cotton-Moya
, Iowa State
Offensive Newcomer of the Year:
ATH
Tyreek Hill
, Oklahoma State
Defensive Newcomer of the Year:
DE Shaq Riddick, West Virginia
Co-offensive Lineman of the Year:
T
Spencer Drango
, Baylor and C B.J. Finney, Kansas State
Defensive Lineman of the Year:
DE
Emmanuel Ogbah
, Oklahoma State
All-Big 12 First team
Offense
QB Trevone Boykin, TCU, Jr.
RB Samaje Perine, Oklahoma, Fr.
RB
Shock Linwood
, Baylor, Soph.
FB
Glenn Gronkowski
, Kansas State, Soph.
WR Tyler Lockett, Kansas State, Sr.
WR
Sterling Shepard
, Oklahoma, Jr.
WR
Kevin White
, West Virginia, Sr.
TE
E.J. Bibbs
, Iowa State, Sr.
OL Spencer Drango, Baylor, Sr.
OL B.J. Finney, Kansas State, Sr.
OL
Daryl Williams
, Oklahoma, Sr.
OL
Tyrus Thompson
, Oklahoma, Sr.
OL Le'Raven Clark, Texas Tech, Jr.
K
Jaden Oberkrom
, TCU, Jr.
KR/PR Tyler Lockett, Kansas State, Sr.
Defense
DL
Andrew Billings
, Baylor, Soph.
DL
Shawn Oakman
, Baylor, Jr.
DL
Ryan Mueller
, Kansas State, Sr.
DL Emmanuel Ogbah, Oklahoma State, Soph.
DL
Malcom Brown
, Texas, Jr.
LB
Ben Heeney
, Kansas, Sr.
LB
Eric Striker
, Oklahoma, Jr.
LB Paul Dawson, TCU, Sr.
DB
JaCorey Shepherd
, Kansas, Sr.
DB
Randall Evans
, Kansas State, Sr.
DB
Zack Sanchez
, Oklahoma, Soph.
DB
Chris Hackett
, TCU, Jr.
DB
Karl Joseph
, West Virginia, Jr.
P
Trevor Pardula
, Kansas, Sr.
Thoughts and observations
Lockett, Drango and Mueller are the only back-to-back first-team selections.
TCU's sweep of the Coach of the Year, Offensive Player of the Year and Defensive Player of the Year was well-deserved. Patterson did an exceptional job, both in the offseason with his hires of Doug Meacham and Sonny Cumbie, as well as during the season with TCU's defense. Boykin is a no-brainer and would have won the most-improved award if there was one. Dawson had plenty of competitors for DPOY including Billings, Ogbah, Striker, Brown and Oakman. But it's hard to go wrong with Dawson, who consistently showed up big in TCU's biggest games.
The biggest surprise was Ogbah as defensive lineman of the year. I've been on the Ogbah bandwagon since before the season began but Texas' Brown was the guy I expected to walk away with that honor.
If the OPOY is not Boykin who could it possibly be? Boykin's honor joins Perine as the Offensive Freshman of the Year as the easiest picks.
Riddick is a good choice for Defensive Newcomer of the Year, although I felt like K-State's Danzel McDaniel deserved that honor. Both are quality options so no major beef with Riddick getting the nod.
It's good to see Cotton-Moya get the recognition he deserved. He's been good for Paul Rhoads' team all season. The redshirt freshman led the Cyclones with 77 tackles including 55 solo stops.
It was a bit of a surprise to see Mueller on the first team after his production dropped as a senior. He had 11.5 sacks in 2013 before recording 5.5 sacks this season.
Lastly, I'm not a fan of more than 11 first-teamers on offense or defense, make a decision and live with that decision. It cheapens the honor when you add spots to fit people into the team.
December, 10, 2014
Dec 10
11:57
AM ET

Mariota
We'll have to wait until Jan. 12 to find out which team will the inaugural College Football Playoff.
On Saturday night, we'll learn if Oregon's Marcus Mariota will become the latest quarterback to win the Heisman Trophy, college football's most revered individual award.
On Thursday night, we'll find out the winners of college football's other top individual honors at the Home Depot College Football Awards (7 p.m. ET on ESPN) at the Walt Disney World Resort in Lake Buena Vista, Florida.
Here's a look at the hardware that's up for grabs, the finalists for each and who should win:
Chuck Bednarik Award (defensive player of the year)
Finalists: Vic Beasley, Clemson; Joey Bosa, Ohio State; Scooby Wright III, Arizona
Who should win: Wright

Who will win: Wright
Talk about Scooby snacks. Wright, who has already won the Bronko Nagurski Award as the country's top defensive player, ranks in the top five among FBS players with 153 total tackles, 27 tackles for loss, 14 sacks and six forced fumbles. He's trying to become the first FBS player since 1999 to finish in the top five in tackles, tackles for loss and sacks.
Biletnikoff Award (outstanding receiver)
December, 10, 2014
Dec 10
10:00
AM ET
The Big 12 finished the regular season with a sour taste in its mouth, as TCU and Baylor both missed out on the College Football Playoff. Fortunately, there are still bowl games to play, which means additional opportunities for recruits to watch seven conference teams compete one last time this year.
Here's a look at the Big 12 recruiting superlatives, based on what took place in recruiting this season.
To continue reading this article you must be an Insider
December, 10, 2014
Dec 10
9:00
AM ET
By
RecruitingNation
| ESPN Insider
The University of Texas has the best tradition in the most talent-rich state but has not won 10 games since 2009 and parted ways with head coach Mack Brown after 16 years in 2013. What went wrong?
To continue reading this article you must be an Insider
December, 10, 2014
Dec 10
8:00
AM ET
How's your holiday shopping coming along? Um, I've got some work to do.
December, 9, 2014
Dec 9
10:00
AM ET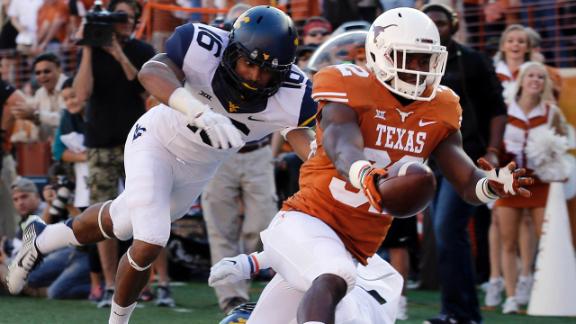 TCU added to its 2016 class, a four-star quarterback who's been in the news since parting ways with an SEC program picked up an Oklahoma offer, and Texas hosted a big recruiting weekend -- without playing a game.
These, and more, in this week's Big 12 recruiting weekend recap:
To continue reading this article you must be an Insider
December, 8, 2014
Dec 8
11:00
PM ET
David Cutcliffe of Duke said young coaches should turn to Kenny Rogers for advice on how to get ahead on the recruiting trail. Plus, Florida's Jim McElwain has been busy since he was hired.
To continue reading this article you must be an Insider
December, 8, 2014
Dec 8
10:17
PM ET
Associated Press
[+] Enlarge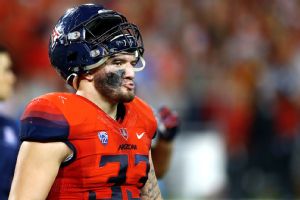 Mark J. Rebilas/USA TODAY SportsArizona linebacker Scooby Wright, who won the Bronko Nagurski award Monday night, said the Wildcats were the only FBS school to offer him a scholarship.
CHARLOTTE, N.C. -- Arizona linebacker Scooby Wright won the Bronko Nagurski award, given to the nation's top college defensive player, on Monday night.
Wright was considered a two-star recruit coming out of high school and said the Wildcats were the only Football Bowl Subdivision school to offer him a scholarship.
The 6-foot-1, 246-pound linebacker used that slight as motivation. He took aim at the rest of the Pac-12, turning in a stellar sophomore season with 89 tackles -- 27 for a loss -- and 14 sacks, helping the Wildcats (No. 10 CFP, No. 12 AP) earn a spot in the VIZIO Fiesta Bowl against Boise State.
He became the first underclassman to win the Pac-12 defensive player of the year honor.
He started 12 games as freshman for the Wildcats and had 89 tackles.
"Coming out of high school, I didn't really have too many colleges knocking on my door -- actually nobody really wanted me except Arizona," said Wright, who received the Nagurski award at a banquet sponsored by the Charlotte Touchdown Club. "So I always have that little chip on my shoulder. You always remember those people who didn't think you were good enough. It still motivates me to this day."
December, 7, 2014
Dec 7
7:54
PM ET
ARKANSAS RAZORBACKS (6-6) vs. TEXAS LONGHORNS (6-6)
DEC. 29, 9 P.M. ET, NRG STADIUM, HOUSTON (ESPN)
ARKANSAS BREAKDOWN
Season highlights:
The Razorbacks finally handed Bret Bielema his first SEC win on Nov. 15 when they shut out LSU 17-0, ending the program's 17-game conference losing streak. As soon as the game ended, Arkansas players rushed across the field en masse to hoist the Golden Boot trophy that goes to the LSU-Arkansas winner. It was a moment of pure bliss for a program that desperately wanted to prove it was moving in the right direction under its second-year coach.
Season lowlights:
Arkansas kept suffering near-misses early in the season, falling in overtime against Texas A&M, being beaten 14-13 by Alabama and losing by a touchdown to Mississippi State. The Razorbacks' one awful performance during the season came against Georgia, when they trailed 38-6 at halftime before eventually falling 45-32.
Player to watch:
Jonathan Williams
. Teaming with
Alex Collins
to give Arkansas one of the SEC's best rushing attacks, Williams led the team with 1,085 rushing yards and ran for 11 touchdowns. Collins isn't far behind with 1,024 rushing yards and 12 scores. Between that duo and a tough offensive line, the Razorbacks have a ground game that is difficult for any opponent to stop.
Motivation factor:
Arkansas was 3-4 after the Georgia loss and had games remaining against UAB, Mississippi State, LSU, Ole Miss and Missouri. That didn't look like a positive sign, as the Razorbacks needed three more wins to play in a bowl game. They finally broke through by shutting out both LSU and Ole Miss, with the second of those wins achieving bowl eligibility and Arkansas' first postseason appearance since 2011.
-- David Ching

vs.

TEXAS BREAKDOWN
Season highlights:
Charlie Strong never promised a playoff contender in Year 1. He did promise Texas would play some defense. He turned the Longhorns' D into a top-15 unit nationally in yards per play, pass defense, sacks and goal-line stops. The Horns developed one of the nation's top linemen, defensive tackle
Malcom Brown
, and assembled a defense that was responsible for allowing 23.4 points per game in Big 12 play. During a three-game win streak to clinch bowl eligibility, Texas finally put it all together and emerged as a physical, tough-to-beat squad.
Season lowlights:
It's been a rocky road. Texas lost quarterback
David Ash
to a career-ending concussion. Center
Dominic Espinosa
and nose tackle
Desmond Jackson
were lost for the season in nonconference play. Expected starting offensive tackles
Desmond Harrison
(suspension) and
Kennedy Estelle
(dismissal) were gone too. Their absences set Texas up to fail early and lose five of its first eight games. Close calls against UCLA and Oklahoma were encouraging. Blowout losses to BYU, Baylor and Kansas State were embarrassing. So was Texas' 48-10 implosion against TCU on Thanksgiving.
Player to watch:
Is
Tyrone Swoopes
playing for his job in the bowl? Strong and co-offensive coordinator Shawn Watson won't say that, but they have repeatedly said they need more competition at the quarterback position. They will find some this offseason, and Swoopes will be challenged to take a big step in the spring. Can he bounce back from his five-turnover performance against TCU and end an up-and-down first season as a starter on a positive note?
Motivation factor:
Significant, especially for the future. Giving star seniors like
Quandre Diggs
,
Jordan Hicks
,
Cedric Reed
and
John Harris
a win on the way out would be great. They have endured plenty at UT through all the coaching changes. But Texas also has another shot to do what it couldn't against the Horned Frogs. A big win means momentum for offseason workouts, recruiting and further affirmation that Strong has Texas heading in the right direction.
-- Max Olson
Big 12 Weekend Wrap: Dec. 9
BIG 12 SCOREBOARD
Saturday, 12/20
Monday, 12/22
Tuesday, 12/23
Wednesday, 12/24
Friday, 12/26
Saturday, 12/27
Monday, 12/29
Tuesday, 12/30
Wednesday, 12/31
Thursday, 1/1
Friday, 1/2
Saturday, 1/3
Sunday, 1/4
Monday, 1/12