July, 22, 2014
Jul 22
2:57
PM ET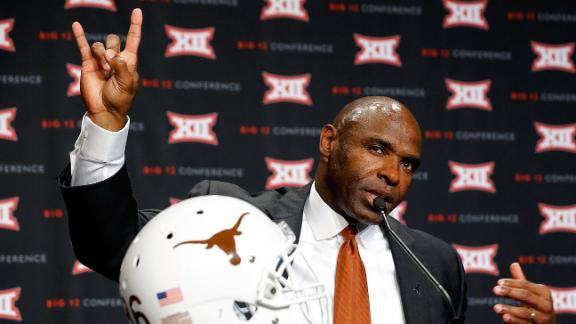 DALLAS -- Charlie Strong didn't arrive at Texas as a bright-eyed coach with limited experience. His success at Louisville and other stops during his 32 years in the profession speaks for itself.
Nonetheless, it's never a bad idea to take advice from Kansas State's Bill Snyder, a veteran coach who has won 102 games in the Big 12. Asked whether he had advice for Strong, Snyder passed along some sage words.
"I visited with Charlie just a little bit ago," Snyder said. "I think the important thing is just be who you are. And if you indeed do that, be who you are, care about people, I think things can work out fine for him."
Strong held his first Big 12 media days news conference Tuesday, addressing several questions about his program, including what he has learned since arriving in Austin.
"Well, the main thing, what's really key -- you can't look at any job any different than anywhere else you've been," he said.
That sounds good, but make no mistake: Being the head coach at Texas is unlike any other job he's held during his coaching career. Expectations are high, demands are even higher, and the pressure to win began roughly around the time Strong took a seat in front of the masses after being introduced as the Longhorns' head man in early January.
The desire to "put the 'T' back in Texas" and commitment to academics are among the messages that have become commonplace during his time in Austin, and Strong reiterated those goals during his first Big 12 media days appearance. He also addressed Texas' national title hopes after saying earlier this year that the Longhorns would not win it all in 2014.
More Dismissals At Texas
BIG 12 SCOREBOARD
Saturday, 8/30
Sunday, 8/31