March, 13, 2015
Mar 13
3:00
PM ET
In today's Twitter Big 12 mailbag, we discuss Oklahoma's receivers, Texas Tech's defense, Iowa State's running backs and whether Texas will be better than the Aggies in 2015.
On to the 'bag:
@Jake_Trotter Thoughts on Iowa State RB Mike Warren, and what he can bring to the Cyclones (with better O-line play)?...knock on wood :S

— Patrick Holterhaus (@TwinsBasilTwin) March 12, 2015
@Jake_Trotter: I think Warren has a good shot of becoming Iowa State's featured running back. He was incredibly productive in high school, rushing for for 2,512 yards while averaging 9.3 yards per carry. Frankly, I was surprised he didn't get more recruiting attention. Reports out of Ames so far is good, including on his work ethic. I'm intrigued to see what he can do.
@Jake_Trotter what effect will the new crop top rule have on Shawn Oakman's play?

— Chris Conaty (@Con_Man95) March 12, 2015
@Jake_Trotter: This is how I see this playing out:
NCAA: We're banning crop tops.
Oakman: No, you're not.
NCAA: We've reconsidered.
@Jake_Trotter Importance for Oklahoma in finding a reliable second WR and who those candidates are

— Landthieves (@LandThieves) March 12, 2015
@Jake_Trotter: Hugely important. It's one thing to have just one reliable wideout on last year's OU offense. It's quite another to have just one in the air raid scheme. That said, Dede Westbrook could very well be that second receiver to take pressure off Sterling Shepard. The early returns on him have been good. If Westbrook emerges as a playmaker, that should open the rest of the passing game up, especially for Shepard.
@Jake_Trotter What are you expecting from Texas Tech's defense this season?

— Forrest Grimes (@FGrimesN7) March 12, 2015
@Jake_Trotter: I expect improvement from a unit that was one of the worst in Big 12 history. Mike Mitchell should give Texas Tech's run defense a major boost. He has the potential for 100 tackles. Even though he'll just be a freshman, Breiden Fehoko will help up front. New coordinator David Gibbs is also going to take the pressure off Tech's young DBs, which should help them build some much-needed confidence. The biggest key, though, will be whether the Red Raiders can force turnovers anywhere near the rate that Gibbs' defenses did at Houston. Tech is still going to give up yards. But if the defense can force turnovers, it will negate many of its shortcomings.
@Jake_Trotter who do you see 4th behind ok state? TCU and Baylor seem obvious 1 and 2(order doesn't matter) and ok state as 3, but who is 4?

— Isaac (@haas_isaac) March 12, 2015
@Jake_Trotter: Right now, TCU and Baylor are the two clear-cut favorites. There's a sizable drop-off between them and the rest of the league. We currently have Oklahoma State third. But Oklahoma is right there behind them, and Texas, West Virginia and K-State aren't far back, either. It's going to be interesting to see whether a third team can to challenge the Bears and Horned Frogs for conference supremacy. Given the quarterback (Mason Rudolph) and the schedule (TCU and Baylor both have to go to Stillwater), Oklahoma State seems like the best bet.
@Jake_Trotter which is higher: Holgorsen's Red Bull consumption per day or WVU wins next season ?

— Bryan Shaw (@BGoGolf) March 12, 2015
@Jake_Trotter: Apparently, Dana Holgorsen was drinking coffee during West Virginia's pro day this morning, so I don't know what to think.
@Jake_Trotter who will have a better 2015 season, Texas or Texas A&M?

— David (@IronGunslinger2) March 12, 2015
@Jake_Trotter: This is a difficult question. Both teams are such unknowns for various reasons. But given the Longhorns' struggles at quarterback, it's hard to side with them. With Kyle Allen and Kyler Murray, the Aggies seem to have a better quarterback situation, and a quarterback situation with far more upside. That said, Texas just signed a foundational-caliber class. When Malik Jefferson, Anthony Wheeler and Co. are ready to step on the field, look out.
March, 13, 2015
Mar 13
10:00
AM ET
In the first three stops on The Opening Nike Football Regional schedule, 20 prospects have punched tickets to the prestigious The Opening 2015 at Nike World Headquarters. On Sunday, that number is expected to jump by more than a handful with the Dallas Regional quite possibly being the most talented on the interior of the 13 regionals on the schedule.

Here are a few things to watch, and keep track of entering Sunday's event at Arlington Lamar High.


March, 12, 2015
Mar 12
4:00
PM ET
We've been focused on running backs, which could be the strength of the league in 2015. We continue the running backs discussion in our weekly Big 12 roundtable:
Who has the best chance to dethrone Samaje Perine as rushing champ?
[+] Enlarge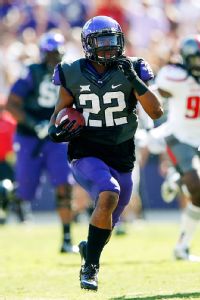 Kevin Jairaj/USA TODAY SportsAaron Green had four 100-yard rushing games in TCU's final six games in 2014.
Max Olson:
Well,
Aaron Green
averaged more than 7 yards per carry last season. So that's a good sign, right? After watching him rush for 712 yards over TCU's final seven games and take charge of the Frogs' run game, to me he's the most logical choice. TCU brings back four starters on the line, and Green won't have to share carries as much as Perine. As long as Green stays healthy, he has a shot.
Brandon Chatmon:
I've got to agree with Max. People forget Green's 922 rushing yards largely came during the final half of the season after his carries skyrocketed in November. He didn't have a game with more than six carries until Nov. 1 against West Virginia, yet he finished with 922 rushing yards, ranking fourth in the Big 12. He's the conference's most dynamic back and he will be lining up alongside the conference's best offensive player in
Trevone Boykin
. Green could have a monster year.
Jake Trotter:
Green definitely could, but I'm going to go with Baylor's
Shock Linwood
. He has proven to be durable, he's experienced and with the Bears breaking in a new QB this year, I could see Linwood getting even more work. Running behind what would be a stout offensive line that includes All-American
Spencer Drango
, 1,500 rushing yards is not out of the question for Linwood.
Who in the league will have the best No. 2 option?
Olson:
I think it might be West Virginia's
Wendell Smallwood
, one of the more underrated rushing threats in the league. But I'd have to say I prefer the potential of Oklahoma's No. 2 options.
Keith Ford
has fumbling issues and has missed eight games over his first two years, but his ceiling is high.
Alex Ross
is a more dependable choice, Joe Mixon should be electric, and
Rodney Anderson
has a chance to be special in time.
Chatmon:
The conference is full of great No. 2 options but I'm going with Smallwood here, although I'm not sure how long he will be considered a No. 2 option. He averaged 4.8 yards per carry as a sophomore and his 31 receptions led all Big 12 running backs with 700 rushing yards or more. Smallwood should get plenty of opportunities to show his versatility and talent as a junior.
Trotter:
Even though he never has played in a college game, I'm going with a hunch and saying it will be Mixon. It's going to be interesting to see how new coordinator Lincoln Riley utilizes both Perine and Mixon out of the backfield. But I could see Mixon getting plenty of work in the slot when he's not relieving Perine. Mixon, remember, was one of the nation's top running back recruits last year. He has the talent to give the OU offense a huge jolt, even as a backup.
Who is the RB to watch about whom no one is talking?
Olson:
The Big 12's class of redshirt freshman backs could be sneaky good. Not just Mixon, either. I could name off eight more who have a chance to play, and a few could earn impactful roles. Kansas State's
Dalvin Warmack
, West Virginia's Donte Thomas-Williams and
Donald Catalon
at Texas might be at the top of that list right now as rushers you'll soon know more about.
Chatmon:
People are talking about Mixon but for all the wrong reasons as his off-the-field mistake and resulting one-year suspension will linger over him for a while. Once he gets on the field in 2015 I have a feeling he's going to remind people why he, not Perine, was the Sooners' headline running back signee in the Class of 2014. His size, quickness and versatility are hard to match and he could end up being a nightmare in Riley's offense.
Trotter:
West Virginia's
Rushel Shell
seems to be flying under the radar. He could easily rush for more than 1,000 yards out of Dana Holgorsen's offense. I think people have forgotten about Texas'
Johnathan Gray
, too. Gray wasn't overly impressive last year coming back from the Achilles year. But he has another year removed from the injury. And he won't be splitting carries with
Malcolm Brown
. Gray was a beast two years. If he somehow can recapture that form, he could have a big year.
March, 10, 2015
Mar 10
11:24
AM ET
March, 9, 2015
Mar 9
2:30
PM ET
The spring recruiting season keeps rolling with another week of commitments, offers and junior day visits. Here's the latest on the Big 12 recruiting trail:
BAYLOR
Total commits:
7
ESPN Junior 300 commits
: 4
The latest:
Baylor up to three defensive backs in its 2016 class thanks to commitments from Kenan Ivy of Lancaster, Texas, and Raleigh Texada from Frisco (Texas) Centennial. He's the younger brother of TCU starting cornerback Ranthony Texada. The Bears also landed a fourth pledge in the final ESPN Junior 300: Defensive tackle
Jordan Elliott
debuted at No. 75 in the latest rankings.
IOWA STATE
Total commits:
0
ESPN Junior 300 commits:
0
The latest:
The Cyclones hosted a junior day on March 7 but have yet to pick up a commitment from a visitor. Iowa State did host Omaha (Nebraska) South's Noah Fant, an athletic defensive end/tight end who had high praise for his time in Ames. He'll take a trip to Nebraska's junior day next weekend.
KANSAS
Total commits:
1
ESPN Junior 300 commits:
0
The latest:
Running back Aubrey White of Wylie (Texas) East backed out of his commitment to Kansas this week. He reportedly intends to take visits to Arkansas and Alabama this spring. White, who'd pledged to KU in October before coach David Beaty and his staff was hired, rushed for 241 yards as a junior.
KANSAS STATE
Total commits
: 2
ESPN Junior 300 commits
: 0
The latest:
Kansas State made a big impression on Kansas City (Missouri) Rockhurt athlete A.J. Taylor during his junior day visit. He'd like to play receiver in college, and KSU's staff is selling him on the chance to be their next
Tyler Lockett
. Taylor is expected to check out several other schools in the Midwest this spring after already visiting Kansas and Missouri.
OKLAHOMA
Total commits:
3
ESPN Junior 300 commits:
1
The latest:
Oklahoma hosted junior days on Saturday and Sunday and got some big-name talent on campus, including ESPN Junior 300 linebacker
Dontavious Jackson
and defensive tackle
Mike Williams
. This was also a critical weekend for
Jean Delance
. The ESPN 300 tackle said he was solid to OU after his visit, then elected to reopen his recruitment on Monday morning.
OKLAHOMA STATE
Total commits:
2
ESPN Junior 300 commits:
0
The latest:
Oklahoma State was able to get ESPN Junior 300 wide receiver Tren'Davian Dickson on campus this weekend following his trip to OU. Dickson, who was previously committed to Baylor, is ranked No. 160 in the 300 after breaking the national single-season record with 39 touchdown catches. He'll be one of the most coveted recruits in the Big 12 this year, so getting him to visit Stillwater this spring was important.
TCU
Total commits:
8
ESPN Junior 300 commits
: 3
The latest:
TCU brought an out-of-state wideout with an impressive list of offers in on a visit last week.
Theo Howard
of Westlake High in California tripped to Fort Worth and also checked out Baylor while in the state. The Frogs secured a spot in his top five with the visit after Howard got to take in a TCU spring practice.
TEXAS
Total commits:
4
ESPN Junior 300 commits:
3
The latest:
Texas extended an offer to offensive lineman
Chris Owens
, the Arlington Lamar teammate of quarterback commit
Shane Buechele
. Owens, a 6-foot-4, 280-pound guard, was offered by Texas A&M soon after and holds more than 25 offers thus far. He's the first in-state interior lineman the Horns have offered in the 2016 class.
TEXAS TECH
Total commits:
2
ESPN Junior 300 commits:
0
The latest:
Texas Tech hosted its first junior day over the weekend. Among the many who made the trip to Lubbock: running back commit Da'Leon Ward, twin linemen Riley Anderson and Austin Anderson, 2017 linebacker
Anthony Hines III
, 2017 lineman Jack Anderson and 2017 running back Eno Benjamin. The Red Raiders also offered quarterback
Jalen Hurts
after
Tristen Wallace
backed out of his commitment.
WEST VIRGINIA
Total commits:
4
ESPN Junior 300 commits:
0
The latest:
West Virginia is set to host its first junior day on March 15, and the list of recruits expected to attend is looking good. Florida State commit Joshua Brown, Virginia Tech commit
Reggie Floyd
, ESPN Junior 300 running back
Demario McCall
and quarterback
Joshua Jackson
are reportedly planning to visit Morgantown for the Sunday event.
March, 9, 2015
Mar 9
9:00
AM ET
March, 6, 2015
Mar 6
5:00
PM ET
In today's Big 12 Twitter mailbag, Sooner Nation asks for answers about its quarterback derby, Texas Tech faithful wonder if their defense can make strides, and Iowa State fans demand to know why they should renew their season tickets.
On to the 'bag:
@Jake_Trotter How much stock should fans put into reports on how spring ball is going?

— Kyle Jacobson (@_KyleJacobson) March 5, 2015
@Jake_Trotter: Spring reports overall should be be mitigated. Winning time doesn't arrive until the fall. But I put way more stock into what happens in spring practices than what happens in spring games. The sample size of a spring game is too small. I remember Sam Bradford was awful in the 2008 spring game, and then won the Heisman later that year. Sometimes we get carried away with spring games, but ultimately it's only a small indication of what might occur in the fall.
@Jake_Trotter I feel like Baker Mayfield has to be favorite to win OU QB job considering Lincoln Riley's system - what do you think?

— Andrew Katz (@Andrewpkatz) March 5, 2015
Trotter: The three of us weighed in on this question in Thursday's roundtable. Baker Mayfield has to be considered the favorite. Trevor Knight and Cody Thomas really struggled last season. And like you mentioned, Mayfield has the most experience in the system Lincoln Riley wants to install. I think if you gave truth serum to the Sooner coaching staff, they would tell you they would like to see Mayfield win this competition. But we'll see. He hasn't won it yet.
@Jake_Trotter does LaQuan McGowan have a chance to be an all B12 TE? Best blocker of the bunch. Maybe 4 td's?

— John Wheeler (@J3Wheeler) March 5, 2015
Trotter: I don't know realistic that is. Right now, we're in the experimental phase of LaQuan McGowan playing tight end. But hey, it's not like there is a big-time established tight end coming back in the Big 12. Stranger things have happened, though few would be more fun than watching a 410-pounder dominate as a pseudo-skill position player.
@Jake_Trotter #big12mailbag assuming David Gibbs significantly improves Tech's defense, what would you expect their record to be #TexasTech

— Jose Escabi (@jr_surfer) March 5, 2015
Trotter: That is a big assumption. But assuming Texas Tech is better against the run and forces turnovers somewhere near the rate David Gibbs' defense did in Houston, then a record like 8-4 isn't out of the question. With Patrick Mahomes, DeAndre Washington, and Jakeem Grant, the Red Raiders have the firepower to do some damage offensively. If the defense makes a big leap, Tech could be a factor. But again, given what we've seen from the Red Raiders defensively the past couple of seasons, that is one big "if."
@Jake_Trotter OSU record prediction?

— Nigel D'Souza (@SQUALLA_WISDOM) March 5, 2015
Trotter: 9-3 feels about right. 10-2 is not out of the realm of possibility. But neither is 7-5. Much hinges on the development of sophomore quarterback Mason Rudolph. If the same trajectory he launched last season continues, then Oklahoma State could challenge Baylor and TCU for the Big 12 crown (both have to go to Stillwater this season). But if Rudolph suffers the sophomore slump that Knight and Davis Webb endured this past season, the Cowboys will labor again to get bowl eligible. There is a lot to like about this Oklahoma State team on both sides of the ball. But that's in the context of Rudolph being a difference-maker behind center.
@Jake_Trotter Who are your 'way too early' Big 12 POY candidates, aside from Boykin.

— Brian (@BrianKhoury) March 5, 2015
Trotter: Offensively, Oklahoma running back Samaje Perine, Rudolph, and like nine guys from Baylor (Corey Coleman? Shock Linwood? K.D. Cannon? Seth Russell? McGowan?) stand out as preseason contenders. On defense, the early favorites would be Baylor defensive linemen Shawn Oakman and Andrew Billings, Oklahoma State defensive end Emmanuel Ogbah, Oklahoma linebacker Eric Striker, and West Virginia safety Karl Joseph.
@Jake_Trotter any chance Danzel McDaniel from k state gets defensive player of the year considerations?

— Seth Meadows (@meadows1115) March 5, 2015
Trotter: I'm a big fan of Danzel McDaniel (and really, what K-State has coming back in the secondary as a whole). But it's extremely difficult for cornerbacks to gain traction in defensive player of the year races. Terence Newman, Aaron Ross, Prince Amukamara, and Jason Verrett are the only four to achieve the feat in the Big 12. Those four all became first-round draft picks. McDaniel, the hardest-hitting defensive back in the league after Joseph, has a good chance to be All-Big 12. But Big 12 Defensive Player of the Year seems like a long shot.
@Jake_Trotter Are you ready to go see Avengers: Age of Ultron or is there another movie you want to see? #big12mailbox

— Josh T. (@CrimsonSooners) March 5, 2015
Trotter: Absolutely. Loved the first Avengers movie. As for other movies, I am way backed up. There are like 17 movies I want to rent, now available on my iPad, including "Foxcatcher," "Whiplash," and "Birdman."
@Jake_Trotter As an ISU alum, why should I renew next year. End zone and visiting teams don't count.

— Chad Kent (@ThisChadKent) March 5, 2015
Trotter: Iowa State fans are some of the best football fans in the country. Maybe the best. I'm so impressed at how you guys still show up to Jack Trice even when the team isn't very good. So renew to keep this tradition going. People, including myself, notice. And it reflects well on Iowa State.
@Jake_Trotter Why do you hate teams by stating facts and quoting them correctly?

— Crying Baylor Fans (@CrybabyBaylor) March 5, 2015
Trotter: I only hate out of love..
March, 6, 2015
Mar 6
10:35
AM ET
March, 6, 2015
Mar 6
10:00
AM ET
Below are 10 bold predictions for the Big 12 this spring:
1. QB battles linger into the fall:
Tight quarterback competitions in Austin, Manhattan, Morgantown, Norman, Waco and even Lubbock and Lawrence emerge as dominant storylines. Baylor's
Seth Russell
, Texas Tech's
Patrick Mahomes
and Kansas State's
Joe Hubener
eventually are named starters before the summer. But the spring fails to bring resolution to the other battles, which all carry over into the fall.
[+] Enlarge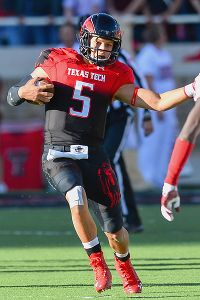 John Weast/Getty ImagesPatrick Mahomes will most likely have to compete for his role as the Red Raiders' starting quarterback.
2. TCU's defense struggles for a change:
Coach Gary Patterson's defenses perennially have been stout dating to his days as a coordinator in Fort Worth. But this spring, with several new starters in the secondary and at linebacker, a pair of new coordinators and facing off against one of the nation's most explosive passing offenses, the TCU defense takes its lumps. Ultimately, this makes the unit better prepared for the fall. But at times this spring, it's not pretty.
3. Joe Mixon steals the show in Norman:
Coach Bob Stoops has already said Mixon won't play in the Sooners' spring game -- the final punishment in his season-long suspension for punching a female student last year. But behind the scenes leading up to the open scrimmage, Mixon flashes the game-breaking ability that made him one of the top running back recruits in the country in 2014. After rushing for more than 1,700 yards as a true freshman last season,
Samaje Perine
remains the featured running back. But Mixon's talent prompts new coordinator Lincoln Riley to get creative about how to get Mixon on the field, including using him extensively in the slot.
4. Texas seeks grad transfer QB:
The spring delivers no great revelation to the quarterback position in Austin, prompting the Longhorns to heavily pursue a graduate transfer quarterback, à la
Everett Golson
or
Braxton Miller
.
Tyrone Swoopes
had his moments last season and redshirt freshman
Jerrod Heard
was highly recruited. But the Texas brass exits spring wondering if the long-term answer at quarterback has yet to step on campus. In the meantime, landing a difference-maker there in the short term becomes priority No. 1.
5. Baylor's LaQuan McGowan keeps scoring TDs:
In light of his nifty touchdown grab against Michigan State in the Goodyear Cotton Bowl Classic, Baylor
is experimenting with using
the 6-foot-7, 410-pound McGowan at tight end and H-back this spring. The experiment turns into a permanent position for McGowan, who caps the spring with another head-turning touchdown reception in Baylor's Friday Night Lights scrimmage.
6. Oklahoma State newcomer Todd Mays steps into the Tyreek Hill role:
Mays doesn't possess Hill's world-class speed. But having excelled playing running back, receiver and even quarterback last year for East Mississippi Community College, Mays' versatility proves to be a natural fit in the role Hill manned for the Cowboys in 2014 as a change-of-pace back, dangerous slot receiver and big-play returner.
7. Texas Tech's QB race is tighter than predicted:
Mahomes was spectacular for the Red Raiders down the stretch last season, intimating a two-man QB derby with
Davis Webb
would be a mere formality before Mahomes would be named the starter by spring's end. It's easy to forget, though, that Webb was terrific himself in Tech's 2013 bowl game before a turnover- and injury-plagued season sullied a potential encore campaign. Still, the Red Raiders were pumped about Webb this time last spring for a reason. And with Mahomes splitting time playing baseball -- he's missing Saturday's football workout
to travel with the baseball team
for a series at Cal State Fullerton -- Webb makes coach Kliff Kingsbury's decision much tougher than anyone anticipated.
8. Iowa State finds its featured back in Mike Warren:
Rising senior
DeVondrick Nealy
was set to become the Cyclones' starting running back in 2015, until he and coach Paul Rhoads stunningly parted ways in early February. After the spring, no one will be left lamenting Nealy's departure. Warren, who redshirted last season in Ames after rushing for more than 2,500 yards and averaging better than 9 yards per carry during his senior season at Lawton (Oklahoma) High School, emerges as the Cyclones' every-down back by the end of the spring, answering the biggest question for an offense that quietly has a chance to be very dangerous this season.
9. Kansas State, West Virginia exit spring with WR concerns:
No teams in college football were more decimated by graduation at receiver than K-State and West Virginia. The Wildcats and the Mountaineers between them graduated 359 receptions and 4,966 receiving yards in the forms of
Tyler Lockett
,
Curry Sexton
,
Kevin White
and
Mario Alford
. With quarterbacks
Jake Waters
and
Clint Trickett
gone, too, and without established go-to receivers, the passing games at both schools suffer this spring, leaving the receiver spot a huge question mark.
10. Baylor, TCU come out still on top:
Going into the offseason, TCU and Baylor looked like the clear-cut, top-two teams in the Big 12. Even with both teams carrying uncertainties -- Baylor at quarterback, TCU on defense -- the defending conference co-champs exit spring looking like the class of the league and are voted overwhelmingly to finish first and second in the Big 12 preseason polls in the summer.
March, 5, 2015
Mar 5
4:00
PM ET
This spring, the Big 12 is loaded with quarterback competitions. But the three most hotly contested quarterback battles figure to reside in Norman, Morgantown and Austin. We predict the winners of these three competitions in our weekly Big 12 roundtable:
Who will win Oklahoma's QB derby?
Max Olson:
I feel like I'd be a fool to bet against
Baker Mayfield
in this race. I know we've seen glimpses of
Trevor Knight
's ceiling before, and no question he's exciting on his best days. But if you saw what Mayfield did in the OU spring game last year, you knew this day was coming, right? Sure, the best foe he ever beat at Tech was probably that 4-8 TCU team. But Mayfield is a third-year guy now who's had plenty of time to mature and learn, and I can't discount the fact he's the Oklahoma QB most accustomed to playing in the offense Lincoln Riley will run. I think Mayfield will win the job in August.
Brandon Chatmon:
I expect the OU spring competition to end much like TCU's did 12 months ago, with the overriding summer question being whether the Sooners have anyone who can do the job. The spring will be filled with plenty of ups and downs from all three competitors. I think they do have a guy who can get the job done but, like Max, I think it won't be decided until just before the season begins. Mayfield is the favorite because people tend to like shiny new toys, but I'm going to go with Knight to hold off Mayfield and keep his job. I like what Mayfield brings to the table, but people are choosing to overlook Knight's positives and focus instead on the mental lapses that plagued him in 2014. I'm betting on Riley to bring consistency and good decision-making to Knight's game.
Jake Trotter:
I don't think Bob Stoops will name a starter until August. But when he's ready to name one, I think it will be Mayfield. I'm not ready to give up on Knight. And
Cody Thomas
has the tools to be a quality Big 12 quarterback. But given the offense Riley wants to run, Mayfield makes the most sense. He has experience operating the air raid from his time at Tech. And, he's not a retread from last year's disastrous season. Mayfield brings a little bit of savvy and a lot of confidence to the position, too, which is something the Sooners could really use.
What about West Virginia's QB battle?
Olson:
The
William Crest
bandwagon was filling up quickly last year in Morgantown even when he didn't play, and it's easy to see why. Is he better than Geno Smith and Pat White combined, as some WVU fans seem to believe? Not yet. We got such a limited opportunity to see him play in 2014 (four pass attempts and five rushes vs. Towson), but as long as his shoulder holds up, I think he's the long-term solution for this program.
Chatmon:
Skyler Howard
made great strides toward securing the starting job after
Clint Trickett
's head injuries forced him to retire. Howard was solid in three starts to end the season, particularly with his eight touchdowns without an interception. But with five quarterbacks in the battle to permanently replace Trickett, this competition looks poised to extend into the preseason. Among those candidates, I have no doubt Crest is the future at the position with his unique skill set and mature approach, but I think Howard will start when the Mountaineers kick off the season Sept. 5 against Georgia Southern. Whether he keeps that starting spot throughout 2015 is the overriding question.
Trotter:
Howard did some nice things filling in for Trickett late last season. But there's a reason why Crest beat him out for the No. 2 quarterback job coming out of the preseason. Howard can make plays outside the pocket, both with his arm and feet. But I'm skeptical his accuracy will be sharp enough to hold off Crest this spring. Crest is loaded with potential, and I see him ultimately beating out Howard again.
Who will emerge from Texas' QB competition?
Olson:
Of these three, the Texas battle is the one I feel least confident about. I say that because I'm just not sure where
Tyrone Swoopes
and
Jerrod Heard
stand in the eyes of their coaches. Shawn Watson repeatedly said during the season that Heard was nowhere near ready. And it's hard to predict which Swoopes we're going to see this spring. A long competition will benefit both guys. I'd give a tiny edge to Heard ultimately being the choice, but I don't assume he's in the lead at this moment.
Chatmon:
At Texas, Heard gets the nod over Swoopes despite Swoopes having the edge in experience. Heard seems like the right choice and the Longhorns' best hope of finding an answer at the quarterback position this spring, and I expect him to emerge atop the depth chart after shining in spring practices on the 40 acres. The question remains why Heard didn't get a chance with the UT offense experiencing plenty of bumps in 2014, but I'm betting he shows he should have gotten that chance by separating himself this spring.
Trotter:
Considering Heard is a complete unknown, I'll go with Swoopes here. But I don't feel great about it. Swoopes had his moments last season but struggled down the stretch, leading Texas to finish its season with a thud. Yet despite Swoopes' struggles, Heard never got a shot. Apparently, he wasn't ready. Will he be ready this spring? That's anyone's guess.
March, 5, 2015
Mar 5
1:00
PM ET
We know as little about who'll be catching passes for Texas as we do about who's throwing them. With two trusted seniors gone, the Longhorns' offense has a relatively clean slate at the receiver position. Who's going to rise up and make plays this fall? A closer look at another key Big 12 spring position battle:
Departed:
John Harris
defied all expectations to become the first Texas receiver in five years to surpass 1,000 yards.
Tyrone Swoopes
' favorite target was the Horns' breakout threat with 68 catches for 1,051 yards and seven touchdowns. The other go-to target,
Jaxon Shipley
, is also gone after four productive seasons as a starter and 218 career receptions for more than 2,500 yards. Together, they accounted for 52 percent of Texas' receptions and nearly 200 targets last season.
Spring contenders:
Senior
Marcus Johnson
, senior
Daje Johnson
, junior
Jacorey Warrick
, sophomore
Armanti Foreman
, sophomore
Lorenzo Joe
, sophomore
Dorian Leonard
, sophomore
Jake Oliver
, sophomore
Roderick Bernard
, redshirt freshman
Garrett Gray
.
Summer contenders:
Sophomore Gilbert Johnson, freshman DeAndre McNeal, freshman Ryan Newsome, freshman John Burt.
The skinny:
Concerns about Texas' returning receivers were one reason why Kyler Murray didn't pick the Longhorns, and they're valid. Marcus Johnson was supposed to break through in 2014 but didn't play with much confidence, finishing with 27 catches for 313 yards and one score. Daje Johnson is a dynamo when healthy but is perpetually on thin ice. Foreman showed flashes as a freshman with two long touchdowns late in the year. Warrick and Joe played plenty but rarely got the ball. Oliver has been hampered by injury and Bernard suffered a season-ending one as a freshman. There's optimism about Leonard, a long target who caught one ball in 2014. But nobody in this group has done enough to guarantee a starting job in 2015. That's why the Longhorns inked four in February. Prep school transfer Gilbert Johnson is an intriguing sleeper who'd previously signed with Georgia, and McNeal was promised immediate playing time. But they're not in Austin yet. New receivers coach Jay Norvell will give lots of guys a shot to become difference-makers this spring.
Prediction:
Expecting the unexpected with this group is probably a wise approach. Buy stock in Foreman and Leonard, two guys Norvell recruited hard while at Oklahoma. They could give Texas' offense big-play ability and I think they'll help their chances this spring. The Longhorns need Marcus and Daje Johnson to get back on track this spring and go into fall camp as front runners to start, or else is going to be a very young and unpredictable group. Who's going to be the Harris of the bunch and lead the way? Too hard to tell right now.
March, 5, 2015
Mar 5
10:00
AM ET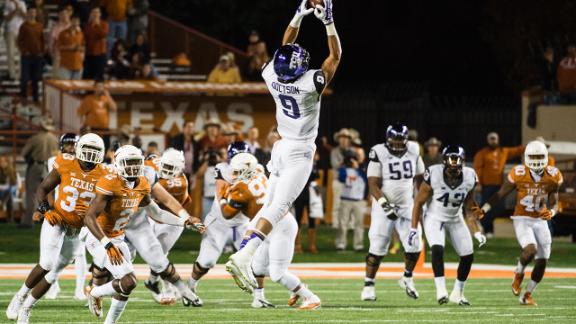 Junior days are underway, and the spring evaluation period is quickly approaching. While a number of programs are off to a fast start and in need of keeping impressive commitments in the fold, there also are programs in need of creating momentum and battling archrivals on the trail this spring and headed into the summer.
Here is a look at 10 programs that need a big spring, for various reasons (listed alphabetically):
Florida
The Gators saved the 2015 class in the days leading up to national signing day creating some momentum heading into the spring and summer. The time to capitalize is now for Jim McElwain and staff, and Florida simply must continue to gain steam with archrival Florida State swinging a big recruiting stick in state, and Miami on a run headed into the spring evaluation period. Florida currently has three verbals, all outside the ESPN Junior 300.
To continue reading this article you must be an Insider
March, 4, 2015
Mar 4
11:17
AM ET
Redshirting is not a popular term among the nation's top football prospects, but a quick look at the recent Heisman Trophy winners shows the importance of that extra year of development. The list below may not include the next Jameis Winston or Johnny Manziel, but we feel these players, once prominent recruits in the 2014 class, are in position to make big debuts in the 2015 college football season.
1. Marlon Humphrey (Alabama) -- A youth movement is going to be underway on the perimeter for Alabama this fall and while 2014 classmate Tony Brown saw some time last year, Humphrey will be joining the fray in 2015. Humphrey fits the physical dimensions coach Nick Saban wants at corner. The former five-star is big, can run and is savvy when it comes to playing different schemes.
To continue reading this article you must be an Insider
Texas Longhorns Show Out On Pro Day
BIG 12 SCOREBOARD
Thursday, 9/3
Friday, 9/4
Saturday, 9/5