April, 7, 2014
Apr 7
12:00
PM ET
April, 6, 2014
Apr 6
9:00
PM ET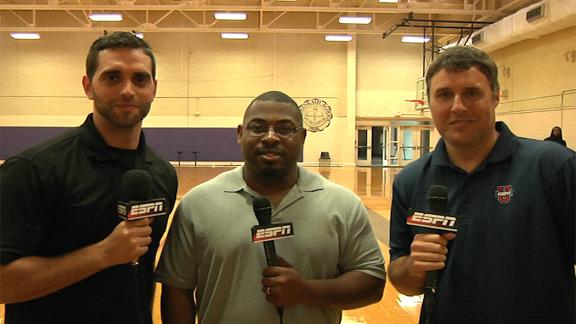 HOUSTON -- On-again, off-again rain couldn't put a damper on the Houston Nike Football Training Camp on Sunday, and three athletes -- safety
Deionte Thompson
, tight end
Jordan Davis
and offensive tackle
Jerry Tillery
-- earned golden tickets to compete at The Opening this summer in Oregon.
Seven players left The Kinkaid School practice facility with MVP honors at their respective positions: Skyler Bonneau (quarterbacks),
Remus Bulmer
(running backs),
Gary Haynes
(wide receivers),
Erik McCoy
(offensive linemen),
Nikolas Daniels
(defensive linemen),
Spencer Choka
(linebackers) and
Deontay Anderson
(defensive backs).
To continue reading this article you must be an Insider
April, 6, 2014
Apr 6
1:04
AM ET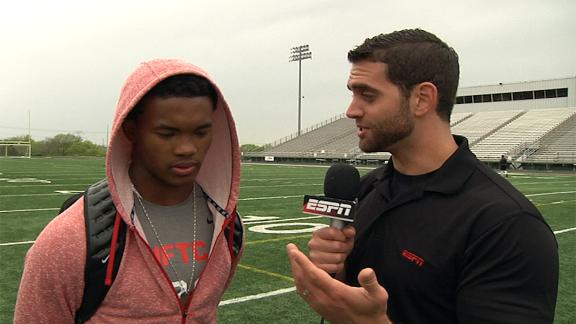 DESOTO, Texas -- The Dallas area was the seventh stop in the 2014 Nike Football Training Camp tour. As is annually the case, this stop brings out a bevy of talented prospects from the states of Texas, Oklahoma, Louisiana and Arkansas.
Despite a chilly day and track meets that kept some talented prospects from attending, the group of talent on hand eclipsed a number of other stops due to sheer numbers of prospects with FBS and BCS offers on hand. Here are some of the event's most notable performers in the RecruitingNation NFTC awards.
To continue reading this article you must be an Insider
April, 5, 2014
Apr 5
7:02
PM ET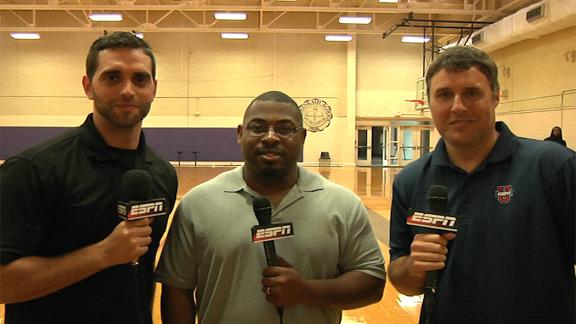 DeSOTO, Texas -- Rain flirted with the Dallas Nike Football Training Camp on Saturday, but held off long enough for seven athletes to earn invitations to The Opening this summer.
Quarterback
Kyler Murray
, linebacker
Malik Jefferson
, wide receiver
DaMarkus Lodge
, offensive lineman
Patrick Vahe
(Texas commit) and defensive backs
Justin Dunning
(Texas A&M commit),
Will Sunderland Jr
and
P.J. Mbanasor
. all earned golden tickets after stellar performances at DeSoto High School. Murray, Jefferson, Lodge, Vahe and Sunderland were named camp MVPs of their respective positions.
To continue reading this article you must be an Insider
April, 4, 2014
Apr 4
1:43
PM ET
[+] Enlarge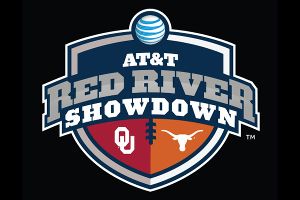 ESPNThe Oklahoma-Texas matchup will now be known as the AT&T Red River Showdown.
The annual game pitting Oklahoma and Texas is going through a rebranding.
The schools jointly announced Friday that the matchup formerly called the "Red River Rivalry" will now be referred to as the AT&T Red River Showdown.
Next season will be the 109th meeting between the Longhorns and Sooners, who have been playing each other at the Cotton Bowl in Dallas since 1929.
For years, the game had been dubbed the Red River Shootout, until it underwent its first name change in 2005 to the Red River Rivalry to commemorate the 100th meeting between the programs.
AT&T became a sponsor of the game the following year.
April, 4, 2014
Apr 4
12:00
PM ET
April, 4, 2014
Apr 4
10:30
AM ET
We've done something different with Friday's Big 12 mailbag. From now on, we'll be including Twitter questions with the regular mailbag submissions. To send a mailbag question via Twitter going forward, simply include the hashtag #big12mailbag. You can also still send in questions and comments to the mailbag
here
, too.
To the 'bag...
@Jake_Trotter both TCU QB commits have attended most of the spring practices. Chances Sawyer or Muelstein takes the reins right away? #mbag

— mk (@mulloy_k) April 3, 2014
Trotter:
Right away? Very little chance. The TCU coaching staff seems to be relatively content with the way
Trevone Boykin
has performed in the new offense this spring. Down the line, Foster Sawyer or Grayson Muehlstein could get a shot, especially if Boykin struggles or the offense bogs down like it did last year. But I feel fairly confident Boykin will open as TCU's starter.
@Jake_Trotter going into the spring game at OU, who is the biggest sleeper we should pay attention to on offense?

— Sean Holmes (@seanathon09) April 3, 2014
Trotter:
I don't think there's any doubt that running back
Alex Ross
has created the most buzz this spring among the young offensive players not named
Trevor Knight
. The assumption around Norman was
Keith Ford
would swiftly win the starting job after contributing to the running back rotation ahead of Ross last season despite being a year younger. But Ross has turned heads in the Sooners' closed scrimmages, and is carving out a role in the OU backfield, whether he starts or not.
@Jake_Trotter @ESPN_Big12 A lot of big recruits have Tech pretty high on their list. What's the likelihood that Tech can grab some of them?

— Stephen Borcik (@SBorcik) April 3, 2014
Trotter:
I got out of the business of predicting verbal commitments a long time ago. But I will say this: having
Jarrett Stidham
, the nation's No. 1 dual-threat QB, already on board is going to make a huge difference for the Red Raiders in a bunch of these battles. He will prove to be an invaluable recruiter, and should sway several high-profile prospects out there to give Texas Tech a second and third look it might not get otherwise.
@ESPN_Big12 if Walsh starts against FSU and OSU loses do you see daxx or Rouldoph take the starting position first?

— Gerald Tracy III (@GeraldTracyIII) April 3, 2014
Trotter:
Odds are the Cowboys lose to the defending national champs no matter who they start at quarterback. I doubt
J.W. Walsh
would lose the job (assuming he starts) based on that one game alone.
Daxx Garman
has been impressive this spring, and I love the potential of
Mason Rudolph
. But it could take a while for either to unseat Walsh, whose experience trumps all right now.
@Jake_Trotter @ESPN_Big12 Other than Flowers, which OU freshman do you see having the most immediate impact next year?

— Carter J (@carterj1982) April 3, 2014
Trotter:
The three guys I'd be watching for would be safety
Steven Parker II
, slot receiver
Michiah Quick
and running back
Joe Mixon
. The Sooners are in good shape at safety, but blue-chip true freshmen like Parker II have a history of playing immediately in the secondary in the Bob Stoops era.
Sterling Shepard
is going to need help at receiver, and Quick has the explosiveness to break into the rotation right away. Mixon was one of the best running back recruits in the country, and is probably too talented to redshirt.
YK Lee in Fort Wort, Texas, writes:
On College Football Live, comments were made that the Big 12 champ (if OU or Baylor) would be in trouble for the playoffs due to non-conference schedules. But no mention was made of Alabama's non-conference schedule, which includes an FCS team. Why does ESPN seem to have a bone to pick against the Big 12?
Trotter:
Are we seriously going to do this every week? To recap from last Friday, here's who else Alabama has scheduled out-of-conference the last five years: West Virginia, Virginia Tech, Michigan, Penn State and Clemson. Alabama also plays in the toughest conference in college football. There's just no comparison between Alabama's schedule and Baylor's. And while I didn't see it, I'm sure the gist of the College Football Live segment was to point out that a one-loss Baylor has virtually no shot of advancing to the College Football Playoff against, say, a second SEC team with the same record, due to the Bears' lackluster non-conference scheduling, which includes just one opponent (Duke) from the Pac-12, SEC, Big Ten or ACC up to 2019.
ImFasterThanYa writes:
Will a Big 12 ref throw a flag when I run through the end zone after scoring a touchdown because it takes several steps for me to turn off the engines?
Trotter:
Tyreek Hill
could score as many touchdowns as Forest Gump did that one year for Alabama. As you imply, the Oklahoma State transfer can flat out fly.
Katie in Sugar Land, Texas, writes:
I love the new Big 12, but I feel we need more rivalries. Texas-Oklahoma is a staple of the conference. But what else is there? After all, great rivalries are the major mark of a great conference.
Trotter:
Bedlam has become a great rivalry. But you're right, conference realignment has pretty much destroyed all the other notable ones in the league (Texas-Texas A&M, Oklahoma-Nebraska, Kansas-Missouri, Texas Tech-Texas A&M, Kansas State-Nebraska). This has really hurt the league, but what can be done? College football rivalries aren't forged overnight.
April, 4, 2014
Apr 4
9:00
AM ET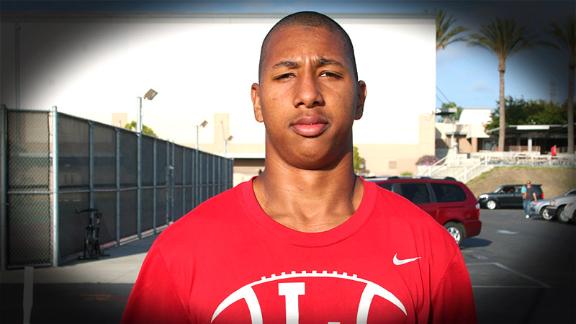 Throughout this recruiting cycle, RecruitingNation will profile a number of ESPN 300 prospects in the 2015 class, including an inside look at the prospect, his recruitment, a scouting report and what college program could benefit when he ultimately makes his decision.
Unlike a number of ESPN Junior 300 prospects,
Keisean Lucier-South
didn't grow up dreaming of becoming a football star. In fact, he had to be convinced that it was the best path for him.
Lucier-South began playing sports at an early age, but it was always basketball that grabbed the majority of his attention and passion. It became his primary sport when he was 5 years old, and even though he picked up football only a few years later, the gridiron couldn't captivate his imagination quite like the court.
But a conversation before his sophomore season between his head coach and defensive coordinator -- a conversation he wasn't initially involved in -- turned things around for Lucier-South.
To continue reading this article you must be an Insider
April, 3, 2014
Apr 3
12:00
PM ET
April, 3, 2014
Apr 3
11:25
AM ET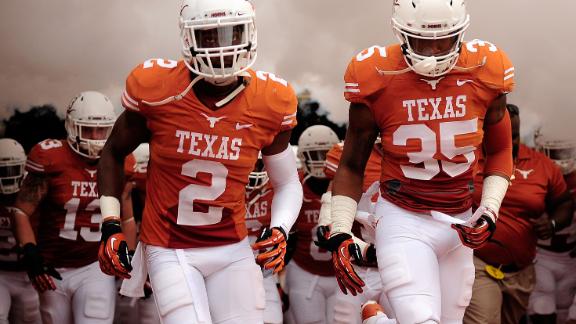 While some hoary traditionalists might view rivalry games as the gleeful and irrational cornerstone of college football and fundamental to the uniqueness of the sport, that might just be sentimental tripe. College football is now more about branding and business models and expanding a market.
At least, that's what Texas athletic director Steve Patterson told us Tuesday when asked about the Longhorns facing state rival Texas A&M for a 119th time after a two-year hiatus due to the Aggies leaving the Big 12 for the SEC.
"There's a lot of great tradition with Texas A&M," he said. "At some point in time, does it make some business sense, some branding sense, to play again? I don't know. It's not at the top of my list. I'm really more focused on how we grow the footprint of the department."
So "great tradition," something some benighted college football fans might value, loses out to "business sense," "branding sense" and growing "the footprint of the department." That last phrase refers to something such as playing a game in, say, China.
Not exactly a quote that makes you want to sing a fight song.
Yet Patterson's thinking also makes sense, at least if we cast away our sentimentality and enter into his high-stakes field. For one, branding is bigger than tradition these days. If you Google "college football tradition," you get 33 million results. If you Google "college football brand," you get 108 million.
April, 3, 2014
Apr 3
9:00
AM ET
Last year, just a pair of true freshmen received votes for Big 12 Defensive Freshman of the Year honors: Iowa State cornerback
Nigel Tribune
and the winner of the award, Oklahoma linebacker
Dominique Alexander
.

This year, the immediate impact from the incoming freshman class could be much greater. Collectively, the league signed 11 defensive players ranked in the ESPN 300. And several could vie for time from the moment they step on campus.
But who among them will make the biggest impact? There are some notable contenders.
Nigel Bethel II
was the gem of the Texas Tech recruiting class, and he fits the profile of an instant-impact recruit. A four-star signee out of Miami whom Tech flipped from the University of Miami late in the recruiting window, Bethel II brings a level of speed the Red Raiders just don't possess elsewhere on defense. Given that two-year starter
Bruce Jones
is gone, the opportunity for playing time at corner is there for Bethel, too.
Playing-time opportunities are also there for Oklahoma State linebacker
Gyasi Akem
. The Cowboys graduated three key linebackers, including starters
Shaun Lewis
and
Caleb Lavey
. With the lone returning starter,
Ryan Simmons
, moving to the middle this spring, the Cowboys have a hole on the weak side. Akem, who was Oklahoma State's top defensive signee, has the closing speed and physicality to help fill it.

Steven Parker II
, Oklahoma's top defensive recruit, also might carve out a role rather quickly. The safety out of Jenks, Okla., could help the Sooners replace another safety from Jenks (
Gabe Lynn
). Oklahoma has some other intriguing young defenders vying for time at the back end of their defense, notably
Ahmad Thomas
and
Hatari Byrd
. But Parker has the potential to make an immediate impression.
West Virginia, meanwhile, returns both its starting cornerbacks in
Ishmael Banks
and
Daryl Worley
, who started as a true freshman. But it won't be easy keeping
Dravon Henry
off the field. Henry, the top-ranked player from the state of Pennsylvania this year, had offers from Alabama, Florida State and Ohio State before picking the Mountaineers. He is a ball hawk who will bring a playmaking reputation to the West Virginia secondary when he gets his chance. That might come sooner, rather than later.
Henry, Parker, Akem and Bethel are all elite prospects. But the top-rated defensive signee in the Big 12 this year is Texas defensive end
Derick Roberson
, who was the No. 78 overall recruit in the ESPN 300. Even though he's still slight, Roberson can get after the quarterback. The Longhorns are in terrific shape at one end with returning All-Big 12 performer
Cedric Reed
. Roberson has the skill set to break into the rotation on the other side in the fall.
Among a few others, any of the five above could make a huge splash next season. So we put it to you in a poll: Of Akem, Bethel II, Henry, Parker II and Roberson, which true freshman defender will have biggest impact in 2014?
April, 3, 2014
Apr 3
5:30
AM ET
1. Texas athletic director Steve Patterson made a compelling case Tuesday for the value of participating in college athletics, echoing Big Ten commissioner Jim Delany. They both said, in so many words, if you want to go pro, go pro; let college athletics be college athletics. I hope the difference is maintained, too. There is room to provide more benefits to college athletes without professionalizing them. But once an employer-employee relationship is established, the rules will change. Whether they can change without rendering college athletics unrecognizable, ay, there's the rub.
2. Oregon has won 60 consecutive games when leading at the half, the longest streak in the FBS. Oklahoma is second at 42. Both are perennial national contenders with explosive offenses that can quickly make a game one-sided. But here's the surprise: Kansas State is third on the list at 39 games. In the five seasons since Bill Snyder returned to the sideline, Kansas State (42-22, .656) has been good, but not dominant. Without dominance, I'd guess the streak has a lot to do with Snyder, mental toughness and a lack of mistakes.
3. Speaking of Oklahoma, did you see the Sooners' April Fool's tweet that
Blake Bell
had returned to quarterback? The surprise is that Bell actually finished last season with a higher efficiency rating (132.20) than the player replacing him, freshman
Trevor Knight
(125.00). What that tells you is how much Knight improved over the course of the year. He shredded Alabama for 348 yards and four touchdowns in the Allstate Sugar Bowl. In the last three games, Knight went 49-of-71 for 547 yards with 2 interceptions and 5 touchdowns for an efficiency of 151.34. That's why Bell is a tight end.
April, 2, 2014
Apr 2
12:00
PM ET
April, 1, 2014
Apr 1
6:12
PM ET
AUSTIN, Texas -- In his meeting with reporters Tuesday, Texas athletic director Steve Patterson addressed a wide range of topics on Longhorn and college athletics. His comments on Texas A&M got understandable attention (
you can find those here
), but Patterson was far more passionate when it came to the topic of the Northwestern labor lawsuit.
As a college administrator who's also been a pro sports executive and general manager, Patterson has experience on both sides of the fence here on professionals vs. amateurs.
While Patterson does support the push to raise student-athlete compensation to full cost of attendance, that's about as far as he'll go. Patterson is not on board with the Northwestern football players' attempt to unionize.
Here's what Patterson had to say when asked if student-athletes should be considered employees:
"When you get into an NLRB process, the presumption is that the plaintiffs are employees and you have to overcome the assumption they are employees. I think it probably was some smart lawyering on the part of the plaintiff's side, in the path they took and the way they classified it.
"The reality is, though, professional athletics is something completely different. And if you want to go play minor league baseball out of high school, on your way up to the majors, you can make that decision. You can go ride the bus from Biloxi to Beloit, and stay in the hotels that they stay in, and you cannot get an education and you can live on $12,000 a year, if you decide that's a better existence and a better path to a long-term outcome for your career in baseball and after baseball.
"Even if the one percent of the student-athletes that go to the pros go there, their average career is four years. So they have a half a century, on average, after they're done. And what are you going to do with that second half-century of their life? If you want to decide that's a better life, then come to the University of Texas -- even if Augie [Garrido] might get on your tail a little occasionally. God bless you, go do it, knock yourself out.
"If you're a football player coming out of high school that decides you want to go to the pros, go take your issue with Roger Goodell and the owners and the union. That's your place to go if you want to go play professional football, if you want to be an employee.
"If you want to go play professional basketball, go to the D-League, knock yourself out. And then go in the draft to the NBA. That's your place if you want to be an employee, if you want to be a professional.
"This is not your place. And this is a free country, you can make that choice all day long. Knock yourself out. This is student-athlete athletics."
That stance seems to falls closely in line with what Big Ten commissioner Jim Delany and other executives have offered on the topic of paying players.
For the record, Texas coach Charlie Strong said when he was hired in January that paying players is something to "look at" due to the large revenues of football, but also argued the value of a scholarship gets underappreciated.
"If we develop them the right way," Strong said then, "their payday will be in the end, because they're going to have a chance to compete on the next level."
Strong on Impact of David Ash's Injury
BIG 12 SCOREBOARD
Saturday, 8/30
Sunday, 8/31