December, 17, 2014
Dec 17
2:26
PM ET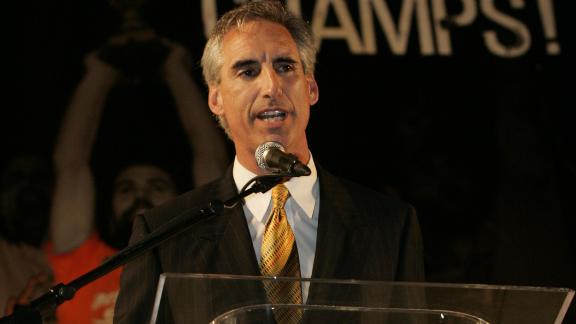 The College Football Playoff will replace former West Virginia athletic director Oliver Luck on its selection committee, as Luck has
taken a job with the NCAA
. The Big 12 will nominate a replacement, and the playoff's management committee will review the nomination and make the final decision by this spring.
Bill Hancock, executive director of the College Football Playoff, said he thinks the candidate will be another sitting athletic director, "But we won't know for sure until the spring."
Knowing the candidate will have Big 12 roots, will likely be a sitting athletic director, and possibly have a football background as either a coach or a player, here's an educated guess as to who might be considered:
Texas Tech athletic director Kirby Hocutt:
From Texas? Check. Played football? Check. Big 12 grad? Double check (K-State
and
Oklahoma). Hocutt has his bachelor's degree from K-State, where he was a four-year letterman at linebacker and led the conference in tackles as a junior. He also received his master's degree from Oklahoma. Hocutt is the Big 12's representative on the NCAA Division I Leadership Council and is also the chairman of the NCAA Division I Football Recruiting Subcommittee. The only knock on Hocutt is that he's relatively young in comparison to some of the veterans currently on the committee. Still, he's established throughout the Big 12. When Hocutt was previously hired as Miami's athletic director, he got a glowing review from Oklahoma athletic director Joe Castiglione. Speaking of the ideal candidate ...
Oklahoma athletic director Joe Castiglione:
He's highly regarded nationally. There's just one problem: Castiglione was recently reappointed to the NCAA Division I Men's Basketball Committee for a three-year term, ending after the 2015-16 season. It's difficult enough serving on one selection committee, but the two biggest in college sports? Doubtful.
Former Texas coach Mack Brown:
If the playoff is looking for a household name from the Big 12, Brown is one of the biggest names out there right now, and he'd fit in well with current committee members and former coaches Tom Osborne, Barry Alvarez and Tyrone Willingham. After 16 seasons at Texas, where he led the Longhorns to the 2005 BCS National Championship, an appearance in the 2009 BCS National Championship and two other BCS bowl wins, Brown joined ESPN as a college football analyst. He's probably paying more attention now to the national picture than he ever did before.
Kansas athletic director Sheahon Zenger
: After playing football at Fort Hays State and MidAmerica Nazarene University, Zenger finished his undergraduate degree at Kansas State. His first college football coaching job came at Drake University right after graduation. He's a coach at heart, and K-State coach Bill Snyder can vouch for it. In 1989, at age 23, Zenger joined Snyder's staff as one of the nation's youngest full-time football staff members. He was an assistant recruiting coordinator and director of football operations.
TCU athletic director Chris Del Conte:
He might win the people's choice award for his sense of humor and candor, but he was also blunt about his disappointment in TCU dropping from No. 3 to No. 6 in the CFP committee's final ranking. ESPN's Travis Haney
wrote last week
that Del Conte vented to Hancock about it because he felt the program had been given false hope. Del Conte has put his stamp on TCU's program by ushering it into the Big 12, but like his program, Del Conte's ties to the Big 12 are still in their infancy. He has spent some significant time in Texas, though, as Del Conte was also athletic director at Rice for 3 ½ years.
ESPN Films Presents: Nixon's National Champs - Nixon vs. Paterno
BIG 12 SCOREBOARD
Saturday, 12/20
Monday, 12/22
Tuesday, 12/23
Wednesday, 12/24
Friday, 12/26
Saturday, 12/27
Monday, 12/29
Tuesday, 12/30
Wednesday, 12/31
Thursday, 1/1
Friday, 1/2
Saturday, 1/3
Sunday, 1/4
Monday, 1/12