March, 19, 2015
Mar 19
2:30
PM ET
Barring some unforeseen catastrophe in Waco or Fort Worth, TCU and Baylor will exit spring ball still as the Big 12 co-favorites heading into 2015.
But the following question will linger well into the summer: Who in the league is most equipped to challenge their conference superiority?
It's a question sure to foster several opinions, which is why we're putting it you in our weekly Big 12 poll.

Oklahoma State debuted as the No. 3 team in our Way-Too-Early Big 12 Power Rankings. The Cowboys seem to have a budding standout at quarterback in rising sophomore Mason Rudolph. Oklahoma State returns several starters on either side of the ball as well. But the Cowboys also struggled for much of last season. And without a miraculous comeback in the regular-season finale in Norman, which catapulted Oklahoma State to its bowl victory over Washington, the Cowboys' 2015 outlook wouldn't be looking so sunny. This is still a team with much to prove.
Oklahoma was viewed as the co-favorite along with Baylor heading into the 2014 season. The Sooners were in the top five of the polls during the first half of the season, too, before the bottom fell out. The Sooners have some major questions, notably at quarterback and in pass defense. But Samaje Perine and Sterling Shepard are All-American-caliber performers and whoever wins the quarterback battle could flourish in Lincoln Riley's air-raid system.
Texas has an even bigger question at quarterback. Tyrone Swoopes struggled down the stretch last year, and Jerrod Heard will only be a second-year freshman. The Longhorns will also be replacing several of its best players off last year's team. Charlie Strong, however, has recruited well. And if the young pieces come along fast, Texas could be a factor.
TCU overshadowed the run that West Virginia made last year until a late-season slide. The Mountaineers have to replace a lot of offensive firepower in wideouts Kevin White and Mario Alford. But Skyler Howard received invaluable experience at quarterback filling in for Clint Trickett. And behind safety Karl Joseph, the Mountaineers should feature the best defensive backfield in the league.
Kansas State doesn't have much coming back off a team that was a Big 12 title contender going into the final week of last season. The departures of Tyler Lockett, Jake Waters and several other key contributors won't easily be replaced. But the presence of Bill Snyder alone warrants the Wildcats a spot in this poll.
So, midway through spring ball, who is the biggest threat to TCU and Baylor?
Let us know what you think by casting your vote.
March, 19, 2015
Mar 19
9:00
AM ET
March, 18, 2015
Mar 18
3:40
PM ET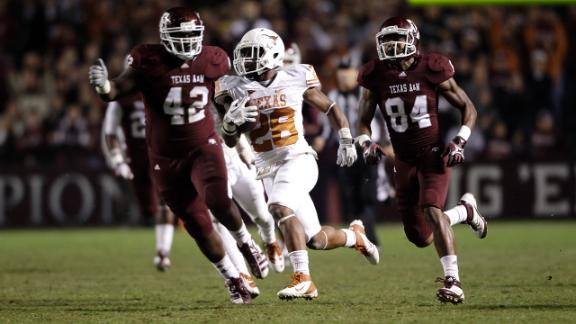 On Nov. 24, 2011, Texas kicker
Justin Tucker
booted a 40-yard field goal at Texas A&M to win the 118th game in the state's oldest rivalry. It was expected to possibly be the last matchup in one of college football's top rivalries. The University of Texas was set to launch the Longhorn Network, much to the dismay of the Aggies, who were on their way to joining the SEC.
Three seasons later, it remains to be seen whether the Aggies and Longhorns will renew the series that was the most-watched game on an annual basis in the Lone Star State. While talk surrounding the loss of the game centered around its effects on the fans, alumni and universities, it also removed a game that had showcased football in the state.
March, 18, 2015
Mar 18
9:00
AM ET
Not easy to find football links this morning. Everybody is writing about some basketball tournament. Weird.
March, 17, 2015
Mar 17
4:00
PM ET
In Tuesday's mailbag we chat about West Virginia's offensive line, Texas Tech's potential standouts and Texas quarterback Tyrone Swoopes. As always, thanks for your questions. To submit questions for next week's mailbag, click here.
Zac in Auburn, Nebraska, writes: A recent article indicated the questions coming out of the spring in Morgantown revolve primarily around quarterbacks and receivers. I'm more concerned with the offensive line, what with Mark Glowinski and Quenton Spain gone. Adam Pankey is being moved to guard on one side of Tyler Orlowski and Marcus Lucus is the only other returning starter. Who fills in the rest? What's WVU's O-Line gonna look like? To me that's the most important question, given, they open the holes for the backs and protect the QB. What are your thoughts?
Brandon Chatmon: Offensive line is definitely a question mark Zac, no doubt about it because if that doesn't come together it won't matter who wins the quarterback battle or receiver competition. But I get the sense WVU feels good about its options and the overall competition up front. Offensive line coach Ron Crook wants the ability to move guys around to find his best five players and I think the Mountaineers have options, with guys such as Russell Haughton-James and Tony Matteo set to battle for starting spots, yet the depth and competition to make the entire unit raise its level. Pankey's move inside to guard is a sign WVU likes its options at tackle, even though there isn't an unquestioned replacement for him. This spring is about finding those five guys, but I don't think the offensive line will end up being a weak link in Morgantown.
Thomas James in Bossier City, Louisiana, writes: What do you think Samaje Perine's role will be in Oklahoma's new air raid offense? Will there be a few between-the-tackles runs to keep the defense from selling out 100 percent to the pass? Also, is a Baker Mayfield-Perine backfield good enough for a New Year's Six bowl?
BC: I think Perine will make defenses pay if the Sooners can force opponents to respect their passing game. I expect him to get plenty of carries, but I also expect him to be used in the passing game at times as well. He's not the pass-catching threat that Joe Mixon or Keith Ford is, but he's not bad as a pass receiver either. He should get plenty of touches and OU's running backs should be good enough to get into a New Year's Six bowl. It's the quarterback position that is the question mark, and I'm not ready to pencil Mayfield in as the starter. If he runs away with the job this spring, maybe we can start talking about New Year's Six bowls.
Dave Fredriksen in Chicago writes: How did the Kansas State pro day go for all KSU players involved with it? What is the latest on Jake Waters, who had shoulder surgery after the season in mid-January?
BC: Receiver Tyler Lockett and center B.J. Finney had strong showings at the NFL combine, so they didn't really need to makeup for any missteps in Indianapolis. Lockett and Finney simply followed up with a solid pro day. I think both guys are going to be pretty good NFL players and potential starters as rookies. Receiver Curry Sexton reportedly ran a 4.66 and 4.67 with a 32-inch vertical, which should help him earn a shot in an NFL camp. Waters will have to prove he's healthy first then he could get his NFL shot.
Nick Tam in Dallas writes: Who do you think will be the top players to watch on offense and defense for the Red Raiders? Is it possible that we'll see a slightly more energetic defense under Gibbs?
BC: It sounds like David Gibbs has definitely brought energy to the Tech defense with the Red Raiders skill guys telling reporters they don't like the Tech defense's new tendency to rip at the ball every chance they get. Tech fans should be excited to hear those types of things coming out of Lubbock. It makes me think Gibbs is the guy to get the Red Raider defense turned around. I think quarterback Patrick Mahomes is the guy to watch on offense and cornerback Nigel Bethel on defense. I think both guys could have stellar sophomore seasons that earn them consideration among the best in the Big 12 at their positions.
Tim in Austin, Texas writes: The word on the street is that Tyrone Swoopes is entering spring practice as the frontrunner and the guy to beat. How long before ESPN backtracks on that mantra that you've presented as fact that Swoopes is definitely not the answer?
BC: I'm not going to step back in my opinion that Swoopes is not the answer, Tim. Obviously you think he is. The great thing about sports is it doesn't matter what I think. Tyrone can shut me up between the white lines. He has shown flashes he can be that guy, but it hasn't been consistent enough for me to think he's the answer. Instead I think Jerrod Heard could be. By the way, I don't know how being the favorite heading into spring practice changes anything. He could start Game 1 of the 2015 season and that doesn't mean he's the answer, unless the question is: Who is going to start the season opener? And that's not the question I'm looking to answer.
March, 17, 2015
Mar 17
9:00
AM ET
Hundreds of the top prospects from Texas, Arkansas, Oklahoma and Louisiana were on hand for The Opening Dallas Regional on Sunday. As is always the case, there are certain trends to be found in recruiting, both positive and negative. Here are five points from the event that featured 40 ESPN Junior 300 prospects.
To continue reading this article you must be an Insider
March, 16, 2015
Mar 16
4:00
PM ET
Several elite recruits in the area were in Dallas over the weekend to battle for a spot in The Opening, an elite Nike football camp held annually in June in Eugene, Oregon.
BAYLOR

Total commits: 7

ESPN Junior 300 commits: 4

The latest: The offers continue to roll in for defensive tackle commit Jordan Elliott, who reportedly added offers from Michigan and Florida State last week. Texas, Alabama, Oregon and Oklahoma are among the other teams trying to flip Elliott from the commit list of Art Briles team. He claims he is solid with BU but plans to take other visits.
Total commits: 0

ESPN Junior 300 commits: 0

The latest: The Cyclones continue to try to find hidden gems in Florida with seven offers to recruits from the Sunshine State including Sarasota Riverview athlete Oshea Grant. The Cyclones join Kentucky, Connecticut and South Florida as teams who have offered the 6-foot, 180-pound prospect.
KANSAS

Total commits: 1

ESPN Junior 300 commits: 0

The latest: The Jayhawks got a pleasant surprise with an unofficial visit from 2017 prospect Najee Harris. The Antioch (California) running back already boasts offers from Alabama, TCU, UCLA, USC and others. In addition the Jayhawks offered Isaiahh Loudermilk, an eight-man football standout. The Howard (Kansas) West Elk prospect also boasts an in-state offer from Kansas State.
KANSAS STATE

Total commits: 2

ESPN Junior 300 commits: 0

The latest: The Wildcats offered a couple of quality prospects in TCU commit D'Eriq King and highly regarded cornerback Jared Mayden. It was a terrific week for Mayden, who also earned an invite to The Opening after a strong showing in the Dallas Regional.
OKLAHOMA

Total commits: 3

ESPN Junior 300 commits: 0

The latest: Houston C.E. King running back Trayveon Williams released his top 10 last week with the Sooners making the cut for the ESPN Junior 300 member. The ultra-quick running back would be the ideal fit as a all-purpose threat in Lincoln Riley's offense. Oklahoma State, TCU, Texas and Texas Tech join the Sooners on his top 10 list.
OKLAHOMA STATE

Total commits: 3

ESPN Junior 300 commits: 0

The latest: The Cowboys landed their third pledge of the Class of 2016 with Arlington (Texas) Lamar cornerback Madre Harper deciding to commit to OSU. Harper turned down several other offers including Oklahoma to join the Pokes' commit list.
TCU

Total commits: 8

ESPN Junior 300 commits: 3

The latest: TCU offered Washington commit Brandon Wellington as Gary Patterson's program continues to expand its recruiting reach to the West Coast. The Horned Frogs also missed out in its pursuit of a potential playmaker when California receiver Theo Howard, who had made unofficial visits to TCU and Baylor, picked Oregon over the weekend.
TEXAS

Total commits: 4

ESPN Junior 300 commits: 3

The latest: Longhorns receiver target Devin Duvernay starred at the Dallas Regional, earning a spot at The Opening. He reportedly ran a 4.38 in the 40-yard dash over the weekend and has several schools including the Longhorns, TCU, Baylor, Oklahoma and others battling for his signature.
TEXAS TECH

Total commits: 2

ESPN Junior 300 commits: 0

The latest: The Red Raiders became the first offer for Baldwin Park (California) offensive lineman Francisco Perez. San Diego State and Vanderbilt quickly followed with offers for the 6-foot-5, 300-pounder.
WEST VIRGINIA

Total commits: 6

ESPN Junior 300 commits: 0

The latest: The Mountaineers held junior day on Sunday and it paid off with a pair of commitments. Sandy Spring (Maryland) Sherwood receiver Marcus Simms and Charleston (West Virginia) Capital quarterback Tyrhee Pratt picked the Mountaineers. Simms picked WVU over Maryland, Pittsburgh and others.
March, 16, 2015
Mar 16
11:15
AM ET
ARLINGTON, Texas – The Nike Opening Dallas Regional produced more invites to The Opening in one stop, 13, than any ever. When taking a look at the uber-talented roster in the days leading up to Sunday's marquee event, that came without surprise when 40 members of the ESPN Junior 300 come together to compete on the same field.
Here is a look at some of the sights and sounds from the regional that brought out the best from Louisiana, Arkansas, Kansas, Oklahoma and Minnesota in addition to the Lone Star State.
To continue reading this article you must be an Insider
March, 16, 2015
Mar 16
10:00
AM ET
How many brackets are you filling out? I think I'm going to limit myself to two.
March, 13, 2015
Mar 13
3:00
PM ET
In today's Twitter Big 12 mailbag, we discuss Oklahoma's receivers, Texas Tech's defense, Iowa State's running backs and whether Texas will be better than the Aggies in 2015.
On to the 'bag:
@Jake_Trotter Thoughts on Iowa State RB Mike Warren, and what he can bring to the Cyclones (with better O-line play)?...knock on wood :S

— Patrick Holterhaus (@TwinsBasilTwin) March 12, 2015
@Jake_Trotter: I think Warren has a good shot of becoming Iowa State's featured running back. He was incredibly productive in high school, rushing for for 2,512 yards while averaging 9.3 yards per carry. Frankly, I was surprised he didn't get more recruiting attention. Reports out of Ames so far is good, including on his work ethic. I'm intrigued to see what he can do.
@Jake_Trotter what effect will the new crop top rule have on Shawn Oakman's play?

— Chris Conaty (@Con_Man95) March 12, 2015
@Jake_Trotter: This is how I see this playing out:
NCAA: We're banning crop tops.
Oakman: No, you're not.
NCAA: We've reconsidered.
@Jake_Trotter Importance for Oklahoma in finding a reliable second WR and who those candidates are

— Landthieves (@LandThieves) March 12, 2015
@Jake_Trotter: Hugely important. It's one thing to have just one reliable wideout on last year's OU offense. It's quite another to have just one in the air raid scheme. That said, Dede Westbrook could very well be that second receiver to take pressure off Sterling Shepard. The early returns on him have been good. If Westbrook emerges as a playmaker, that should open the rest of the passing game up, especially for Shepard.
@Jake_Trotter What are you expecting from Texas Tech's defense this season?

— Forrest Grimes (@FGrimesN7) March 12, 2015
@Jake_Trotter: I expect improvement from a unit that was one of the worst in Big 12 history. Mike Mitchell should give Texas Tech's run defense a major boost. He has the potential for 100 tackles. Even though he'll just be a freshman, Breiden Fehoko will help up front. New coordinator David Gibbs is also going to take the pressure off Tech's young DBs, which should help them build some much-needed confidence. The biggest key, though, will be whether the Red Raiders can force turnovers anywhere near the rate that Gibbs' defenses did at Houston. Tech is still going to give up yards. But if the defense can force turnovers, it will negate many of its shortcomings.
@Jake_Trotter who do you see 4th behind ok state? TCU and Baylor seem obvious 1 and 2(order doesn't matter) and ok state as 3, but who is 4?

— Isaac (@haas_isaac) March 12, 2015
@Jake_Trotter: Right now, TCU and Baylor are the two clear-cut favorites. There's a sizable drop-off between them and the rest of the league. We currently have Oklahoma State third. But Oklahoma is right there behind them, and Texas, West Virginia and K-State aren't far back, either. It's going to be interesting to see whether a third team can to challenge the Bears and Horned Frogs for conference supremacy. Given the quarterback (Mason Rudolph) and the schedule (TCU and Baylor both have to go to Stillwater), Oklahoma State seems like the best bet.
@Jake_Trotter which is higher: Holgorsen's Red Bull consumption per day or WVU wins next season ?

— Bryan Shaw (@BGoGolf) March 12, 2015
@Jake_Trotter: Apparently, Dana Holgorsen was drinking coffee during West Virginia's pro day this morning, so I don't know what to think.
@Jake_Trotter who will have a better 2015 season, Texas or Texas A&M?

— David (@IronGunslinger2) March 12, 2015
@Jake_Trotter: This is a difficult question. Both teams are such unknowns for various reasons. But given the Longhorns' struggles at quarterback, it's hard to side with them. With Kyle Allen and Kyler Murray, the Aggies seem to have a better quarterback situation, and a quarterback situation with far more upside. That said, Texas just signed a foundational-caliber class. When Malik Jefferson, Anthony Wheeler and Co. are ready to step on the field, look out.
March, 13, 2015
Mar 13
10:00
AM ET
In the first three stops on The Opening Nike Football Regional schedule, 20 prospects have punched tickets to the prestigious The Opening 2015 at Nike World Headquarters. On Sunday, that number is expected to jump by more than a handful with the Dallas Regional quite possibly being the most talented on the interior of the 13 regionals on the schedule.
Here are a few things to watch, and keep track of entering Sunday's event at Arlington Lamar High.
To continue reading this article you must be an Insider
March, 12, 2015
Mar 12
4:00
PM ET
We've been focused on running backs, which could be the strength of the league in 2015. We continue the running backs discussion in our weekly Big 12 roundtable:
Who has the best chance to dethrone Samaje Perine as rushing champ?
[+] Enlarge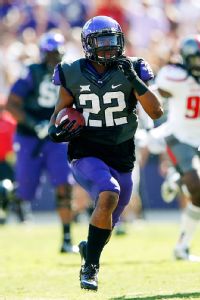 Kevin Jairaj/USA TODAY SportsAaron Green had four 100-yard rushing games in TCU's final six games in 2014.
Max Olson:
Well,
Aaron Green
averaged more than 7 yards per carry last season. So that's a good sign, right? After watching him rush for 712 yards over TCU's final seven games and take charge of the Frogs' run game, to me he's the most logical choice. TCU brings back four starters on the line, and Green won't have to share carries as much as Perine. As long as Green stays healthy, he has a shot.
Brandon Chatmon:
I've got to agree with Max. People forget Green's 922 rushing yards largely came during the final half of the season after his carries skyrocketed in November. He didn't have a game with more than six carries until Nov. 1 against West Virginia, yet he finished with 922 rushing yards, ranking fourth in the Big 12. He's the conference's most dynamic back and he will be lining up alongside the conference's best offensive player in
Trevone Boykin
. Green could have a monster year.
Jake Trotter:
Green definitely could, but I'm going to go with Baylor's
Shock Linwood
. He has proven to be durable, he's experienced and with the Bears breaking in a new QB this year, I could see Linwood getting even more work. Running behind what would be a stout offensive line that includes All-American
Spencer Drango
, 1,500 rushing yards is not out of the question for Linwood.
Who in the league will have the best No. 2 option?
Olson:
I think it might be West Virginia's
Wendell Smallwood
, one of the more underrated rushing threats in the league. But I'd have to say I prefer the potential of Oklahoma's No. 2 options.
Keith Ford
has fumbling issues and has missed eight games over his first two years, but his ceiling is high.
Alex Ross
is a more dependable choice, Joe Mixon should be electric, and
Rodney Anderson
has a chance to be special in time.
Chatmon:
The conference is full of great No. 2 options but I'm going with Smallwood here, although I'm not sure how long he will be considered a No. 2 option. He averaged 4.8 yards per carry as a sophomore and his 31 receptions led all Big 12 running backs with 700 rushing yards or more. Smallwood should get plenty of opportunities to show his versatility and talent as a junior.
Trotter:
Even though he never has played in a college game, I'm going with a hunch and saying it will be Mixon. It's going to be interesting to see how new coordinator Lincoln Riley utilizes both Perine and Mixon out of the backfield. But I could see Mixon getting plenty of work in the slot when he's not relieving Perine. Mixon, remember, was one of the nation's top running back recruits last year. He has the talent to give the OU offense a huge jolt, even as a backup.
Who is the RB to watch about whom no one is talking?
Olson:
The Big 12's class of redshirt freshman backs could be sneaky good. Not just Mixon, either. I could name off eight more who have a chance to play, and a few could earn impactful roles. Kansas State's
Dalvin Warmack
, West Virginia's Donte Thomas-Williams and
Donald Catalon
at Texas might be at the top of that list right now as rushers you'll soon know more about.
Chatmon:
People are talking about Mixon but for all the wrong reasons as his off-the-field mistake and resulting one-year suspension will linger over him for a while. Once he gets on the field in 2015 I have a feeling he's going to remind people why he, not Perine, was the Sooners' headline running back signee in the Class of 2014. His size, quickness and versatility are hard to match and he could end up being a nightmare in Riley's offense.
Trotter:
West Virginia's
Rushel Shell
seems to be flying under the radar. He could easily rush for more than 1,000 yards out of Dana Holgorsen's offense. I think people have forgotten about Texas'
Johnathan Gray
, too. Gray wasn't overly impressive last year coming back from the Achilles year. But he has another year removed from the injury. And he won't be splitting carries with
Malcolm Brown
. Gray was a beast two years. If he somehow can recapture that form, he could have a big year.
March, 10, 2015
Mar 10
11:24
AM ET
Texas Longhorns Show Out On Pro Day
BIG 12 SCOREBOARD
Thursday, 9/3
Friday, 9/4
Saturday, 9/5