February, 20, 2012
2/20/12
2:44
PM CT
Longhorns defensive end commitment
Jake Raulerson
(Celina, Texas/Celina) can't breathe out of his left nostril.
He has a deviated septum and tonsils "the size of golf balls" that makes it nearly impossible to sleep. If he does, it only lasts for about four hours per night.
[+] Enlarge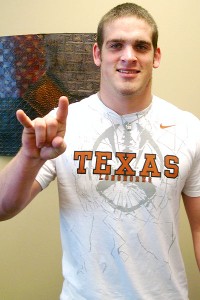 William Wilkerson/ESPN.comTexas commit Jake Raulerson will have surgery Tuesday to correct breathing issues.
So Raulerson, Texas' first commitment of 2013, will have surgery to fix these issues on Tuesday and the results should only make him stronger and better on the football field. In fact, doctors have told him he'll be a "new person."
"It's pretty amazing when you think about it," said his father, Jay Raulerson. "He has a deviated septum, tonsils the size of golf balls and he can't breath through his nose and never has. One of his friends calls him Darth Vader because he can't get any air through his nose.
"He doesn't sleep. So the doctors said to not be surprised if he gains 20 or 30 pounds once he starts breathing because you grow at night."
The surgery will consist of the removal of his tonsils and adenoids. He'll rest for a week and won't be able to workout for a week after that. But once he recovers doctors believe he should gain significant mass to a frame that already stands 6-foot-5 and 250 pounds.
It should also increase his energy, which, for a player known for having a nonstop motor, could be a scary thing for future opponents.
"What's amazing is he plays 100 plays a game and the doctors said his energy and stamina should increase significantly," Jay said. "Someone goes, 'To what?' He's excited. You always dread surgery. But he is excited about the potential because he saw the difference it made in his sister."
The whole reason Jake is having this surgery is because of his older sister, Jordan.
"She was snoring to the point where her college roommates were like, 'You need to get something fixed,'" Jay said. "So we took her to an ENT in Dallas and said that she needed to get her tonsils out. She went back to school and started practicing volleyball and said she couldn't believe the difference."
Despite the surgery and week of recovery, Jake still has aspirations to make it down to Texas' second junior day on Feb. 25 to help the Longhorns recruit. Jay said he'd take him down to Austin if he's improved enough by Saturday.
"But he's going to have to be tougher than his sister and that's going to be tough to do," Jay said.
February, 20, 2012
2/20/12
1:16
PM CT
By
HornsNation Staff
| ESPN.com
Ken Pomeroy wrote about the Texas basketball team

for ESPN Insider today. He says the Longhorns "might be stronger than it appears and capable of some noteworthy wins in the latter stages of this season."
Texas is the kind of team you can't understand until you look at its losses. The Longhorns' chances at home against Kansas and Missouri came down to the last possession. Road games against Baylor, Kansas State and Iowa State weren't decided until the final minute. We might think of Texas differently had things gone slightly different in the final minute or two of any of those games, but especially the three-point loss to Kansas and a one-point loss to Missouri.
Pomeroy gives three reasons why the Longhorns aren't receiving national respect:
They have an ugly offense
The Longhorns are inexperienced
Texas has no size
Read the entire article here.

February, 19, 2012
2/19/12
1:00
PM CT
By
ESPN.com staff
| ESPN.com
Here's an abbreviated rundown of Joe Lunardi's Bracketology outlook after Saturday's games. Come back to ESPN.com on Monday morning for Joe's complete bracket.

TOP SEED PAIRINGS
EAST/Syracuse vs. WEST/Kansas (1 vs. 4)
SOUTH/Kentucky vs. MIDWEST/Missouri (2 vs. 3)

CONFERENCE BREAKDOWN (projected bids in parentheses)
Big East (9)
Big Ten (7)
Big 12 (6)
ACC (5)
SEC (5)
Atlantic 10 (3)
Mountain West (3)
Pac-12 (3)
West Coast (3)
Conference USA (2)
Missouri Valley (2)

BUBBLE BREAKDOWN (with odds to remain in field)

Last Four In
Seton Hall (55 percent)
Miami (Fla.) (50 percent)
Texas (50 percent)
Northwestern (40 percent)

First Four Out
NC State (45 percent)
Central Florida (30 percent)
Colorado State (30 percent)
Minnesota (30 percent)

Next Four Out
Oregon (30 percent)
Saint Joseph's (25 percent)
VCU (25 percent)
Illinois (30 percent)
February, 18, 2012
2/18/12
7:46
PM CT
Texas lost one offensive line target on Saturday when Texas A&M landed a
commitment from Dallas Bishop Dunne's
Ishmael Wilson
.
The reason for his decision? "Coach [Kevin] Sumlin, enough said," Wilson told HornsNation in a text message. "He is a great man."
The 6-foot-5, 270-pound junior gave his pledge during A&M's junior day today. LSU was his heavy favorite earlier this month, but he left the Tigers' junior day in Baton Rouge without an offer.
To continue reading this article you must be an Insider
February, 17, 2012
2/17/12
3:00
PM CT
AUSTIN, Texas – Texas has finally figured out that it is offensively limited.
OK, maybe they figured that out when they didn't break 60 against Oklahoma State at home. It's just that now Texas has figured out what to do about it. Play defense.
Texas has won four straight and in those games has allowed just 62 points per game. The defense has even become stingier in the second halves of the last two games. Kansas State scored just 24 points and shot 32 percent after leading at halftime against Texas. Oklahoma scored just 25 points and shot 42 percent in the second half after leading at halftime. Now the Longhorns will try for five straight Saturday when they travel to Oklahoma State.
Couple that defense with a more aggressive attack, which allows for Texas to get the free throw line, and that's why the Longhorns have been successful as of late.
"We got to the free throw line 29 times and shot a nice percentage [against Oklahoma] compared to the fact that they only got there eight times," Texas coach Rick Barnes said. "That's a big step for us. If you go back the last couple games, we've been getting to the free throw line"
Texas has made it to the free throw line 77 times in the last two games. The Longhorns have converted 59 of those attempts. Their opponents have been 20 times and made 13. That's a 46-point differential.
The reason those free throw attempts are piling up for Texas, and not for the opponents, is because of the defense.
Alexis Wangmene
, after watching Texas A&M's
David Loubeau
back down into the lane and get to the stripe 10 times, has stepped up his interior defense.
"The one thing you are always searching for is consistency in every single thing," Barnes said. "What we need him to do for us is to know we can count on him every single night to play defense, rebound and screen for us. He has been a guy that has made some key defensive plays for us."
With Wangmene playing solid interior defense that allows Texas' guards, specifically
Myck Kabongo
and
Julien Lewis
, to put more pressure on the perimeter players. With that, the ball has a hard time getting into the paint.
With the ball relegated to the perimeter, Kabongo has been able to get active with his hands, force turnovers and get fouled on breakaways (Texas has 19 points off turnovers in the second half against OU). The rest of the Texas players are seeing the success he has had getting to the rim, and subsequently the free throw line, and doing the same.
"We've got a couple of freshman that are way ahead of the curve in Myck and Julien," Barnes said about the pair's defensive pressure. "The whole key [for the other freshmen] is how quick they can grasp it, how quickly can they pick it up and move forward."
It appears as if most of them have started to do just that in the last four games.
February, 17, 2012
2/17/12
1:08
PM CT
AUSTIN, Texas -- There was a time not too long ago around Texas that the quarterback was not a liability, but an asset.
He was a player who could pass and run. He was the one who kept defenses guessing and off balance. The Texas quarterback was not just the best player on his team but one of the best players in the nation.
That six-year run ended in 2009, when Colt McCoy exhausted his eligibility. Texas took a step toward starting another such run when it secured the commitment of
Tyrone Swoopes
(Whitewright, Texas/Whitewright), arguably the top quarterback in the state and possibly the country.
To continue reading this article you must be an Insider
February, 17, 2012
2/17/12
11:53
AM CT
The Georgia Bulldogs have not had a lot of luck building depth on the offensive line, and this most recent recruiting class is a prime example. The Bulldogs were able to sign only three linemen since
Chester Brown
had to decommit due to a new immigration rule.
With an emphasis again on building up the offensive line for the 2013 class, the coaches in Athens have turned to juco offensive lineman
Trenton Brown
of Georgia Military College in Milledgeville.
"They offered me about 30 minutes ago," Brown told DawgNation. "I came in the athletic facility to get some treatment and Coach [Joe] Windon told me they offered. It is a blessing, and I give all the honor to God. It is my second offer, and Georgia is in my top five. The others are Florida State, Alabama, Texas and LSU."
To continue reading this article you must be an Insider
February, 17, 2012
2/17/12
7:30
AM CT
Texas has to find a quarterback.
It was the worst position on the field in 2011.
It was the worst position on the field in 2010.
To continue reading this article you must be an Insider
February, 17, 2012
2/17/12
6:00
AM CT
ESPNU 150 Watch List tight end
Christian Morgan
(Plano, Texas/Prestonwood) picked up his fifth offer Wednesday night, as he was offered a scholarship from California.
Morgan, 6-foot-5 and 250 pounds, now has offers from Cal, Tulsa, Baylor, Vanderbilt and Arkansas. He said he's been in contact with his recruiting contact, Cal tight ends coach and special teams coordinator Jeff Genyk.
"It's great. The education and location would both be incredible," Morgan said of Cal, which pulled two ESPNU 150 players and seven four-star players in its 2012 recruiting class.
To continue reading this article you must be an Insider
February, 16, 2012
2/16/12
8:16
PM CT
Class of 2013 defensive end
Torrodney Prevot
(Houston/Alief Taylor) woke up Thursday morning with three offers. By mid afternoon he'd doubled that.
The 6-foot-4, 220-pound Prevot received an offer from Baylor early in the morning and added offers from Oklahoma and Texas after that.
"It was a crazy day for me," said Prevot, who already had offers from LSU, Texas A&M and Utah.
To continue reading this article you must be an Insider
February, 16, 2012
2/16/12
5:14
PM CT
Texas coaches have put another offensive tackle target on their board, but they may already be too late.
Dallas Jesuit lineman
J.J. Gustafson
, a teammate of new UT commit
Jake Oliver
, said Texas coaches called Jesuit coach Brandon Hickman on Monday to extend Gustafson an offer to the Feb. 25 junior day.
At this point, he's not sure he wants to make the trip. Gustafson said he's never spoken with a UT coach and assumed they weren't calling because they preferred touted 2013 tackle
Kent Perkins
(Dallas/Lake Highlands).
To continue reading this article you must be an Insider
February, 16, 2012
2/16/12
4:03
PM CT
A'Shawn Robinson
is the definition of a gentle giant.
He's as soft spoken a person as you'll find off the field, sometimes even coming across inaudible if you're standing right next to him.
But don't mistake his coy demeanor for weakness. The 6-foot-4, 310-pound junior is a completely different person on the field, one that you'd be wise to stay away from if given the opportunity.
To continue reading this article you must be an Insider