April, 17, 2012
4/17/12
4:00
PM CT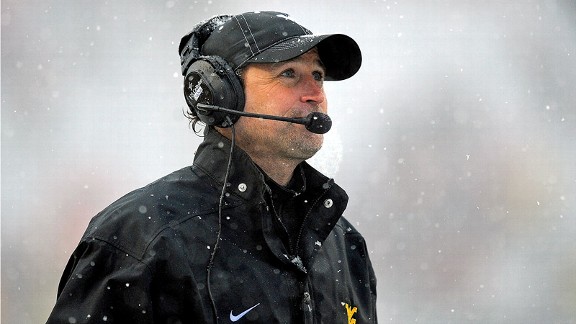 Patrick McDermott/Getty ImagesThe Big East is in the rearview mirror as Dana Holgorsen and the Mountaineers enter the Big 12.
MORGANTOWN, W.Va. -- Texas A&M looked likely to leave the Big 12 in late August. Rumors and speculation reigned on the topic of who could replace the Aggies.
At least one report placed Pittsburgh on the supposed "Big 12 short list."
West Virginia athletic director Oliver Luck saw it, and thus began the Mountaineers' road to the Big 12.
"If Pitt is on the short list, there's no reason that West Virginia shouldn't be on the Big 12 short list," Luck told ESPN.com. "That's when, to myself, I began to think, because normally, you don't think Big 12 and Pittsburgh. You don't think Big 12 and West Virginia.
"I remember saying to myself and saying to my wife, 'If that story was accurate, and Pitt used that as leverage to get in the ACC,' I remember thinking: Well, this is certainly a possibility."
Luck was driving with his family to the Mountaineers' road win over Maryland on Sept. 17 when he got the call. He was just outside Hancock, Md. Pitt and Syracuse were leaving for the ACC.
"We love to hate Pitt, but we have 104 years of history together," Luck said. "When those two schools left, that was a blow to the Big East. I don't care how you cut it, it was a blow to the Big East."
Weeks later, Texas A&M made its move to the SEC official. The Big 12 plugged its vacancy with TCU, who canceled plans to join the Big East.
"I think it was pretty obvious that the league was going to struggle. We hadn't added a new member since 2005. Sitting in these AD meetings, there was no expansion committee to speak of," Luck said. "You're down to five members with no clear-cut expansion candidates, with no activity, so at that point I think people -- and not just me -- realized that we needed to look around and make sure first and foremost that we were going to be in a conference that maintained high standards and high-quality opponents."