November, 25, 2014
Nov 25
4:00
PM ET
In Tuesday's mailbag, we talk postseason honors, and the Baylor-TCU debate rages on. As always, thanks for your questions. To submit questions for next Tuesday's mailbag,
click here
.
Sic Everyone in Frisco, Texas, writes:
Assuming Baylor would jump TCU eventually based on head to head if they win out, who should the Bears root for Thursday? Would a Texas win possibly move them into the top 25 giving Baylor four wins over top 25 teams and an unshared conference title? Or does a win over a Top 5-6 TCU help them more?
[+] Enlarge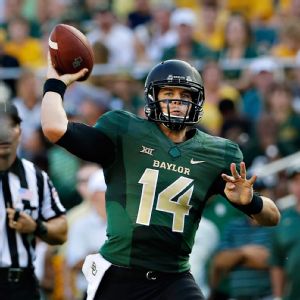 AP Photo/LM OteroBryce Petty has had a solid season (23 TDs, five interceptions), but he probably shouldn't book a flight to New York for the Heisman ceremony.
Brandon Chatmon:
I lean towards BU becoming TCU fans on Thanksgiving, particularly in this scenario. A win over a top 10 TCU should carry more weight than a win over Texas for the Bears. That said, it could be hard to assume Baylor jumps TCU based on how the committee has viewed things thus far.
Bryce Petty in Midlothian, Texas, writes:
What are my chances of going to NYC with my buddies
Marcus Mariota
and
Melvin Gordon
? Also, will
Jameis Winston
be there?
BC:
I don't like your chances, Bryce. You lead the Big 12 only in yards per completion and touchdown percentage and rank outside of the top 10 nationally in pretty much every category. You've had a great season, but I don't see a trip to New York in your future.
Dave Clouse:
How many yards and TDs does
Samaje Perine
need to be an All-American (not just freshman All-American)?
BC:
Roughly 427 rushing yards and five touchdowns against Oklahoma State in Bedlam. Perine has had a great season, but he's not a first-team All-American quite yet. He has rushed for more than 100 yards in just four of OU's 11 games so consistent greatness appears to be the next step for the Sooners' freshman.
Luke in Fort Worth writes:
What does TCU need to move back in the No. 4 spot to get into the playoffs when the final rankings are released on Dec. 7?
BC:
The Horned Frogs need to win out and Baylor needs to lose to Texas Tech or Kansas State. If they do that, while they'll need some help from other upsets around the nation, I think they will finish in the top four.
Leadfoot in Kansas writes:
What do you think the chances are that the Big 12 amends the conference policy of co-champions?
BC:
I don't see it happening anytime soon, but I hope it does. The whole co-champions thing is silly to me.
Double Dan in Austin, Texas, writes:
Will more teams be taking the Baylor scheduling route or the Kansas State/Auburn Michigan State/Oregon scheduling route in the future? I bet Kansas State would love to have that extra win right now no matter who it was against, and Baylor's weak schedule certainly hasn't seemed to hurt it in the playoff rankings.
BC:
Baylor's weak schedule has definitely hurt the Bears. The committee has pointed to "quality wins" week after week. I must say all the talk about scheduling and how it will changed based on the committee's final rankings is odd for me. The committee isn't about sending messages about scheduling. It is about finding the "best teams". Just ask Marshall.
Lillian in Austin, Texas, writes:
Is it possible Texas will be a playoff contender by 2016? Earlier? Later?
BC:
I could definitely see Charlie Strong's program battling for a playoff berth next season. TCU turned everything around this season, why can't Texas in 2015?
Tyler J in Nashville writes:
Kansas State gained a grand total of 1 yard on the ground against WVU. KU gave up 510 against Oklahoma! Something has to give during the Sunflower Showdown. Is this the week that K State finally reestablishes even a hint of a running game?
BC:
At this point in the season, you are who you are. I don't see K-State becoming a running force anytime soon, but I wouldn't be surprised to see the Wildcats have running success against KU. I'd be surprised if that is what ultimately decides that game however.
Jeff in Rockwell, Texas writes:
West Virginia now has five losses. WVU's home wins? Towson, Kansas, Baylor. To me it's becoming more clear, not less, why Baylor is behind TCU. It's simple, TCU's lone loss is a quality loss (top 5 team at the time, on the road by three points) and Baylor's lone loss is to a now five-loss team. However, it seems all of the attention is on the fact Baylor beat TCU rather than evaluating the entire season and comparing losses. Oh, and then there's the OOC games. What am I missing? How many losses does WVU have to have before people notice that Baylor lost to an average team?
BC:
We must travel in different circles because I have yet to hear or see someone point to Baylor's loss to West Virginia as the reason why Baylor should be ahead of TCU. Nobody thinks that's a better loss than TCU's loss. The committee's job is to find the best teams. If two teams play against each other and one team wins and one team loses, that should give you the answer, right?
Loyal all over writes:
Which would you say has had the biggest impact to Oklahoma State offensive line: assistant coach Joe Wickline leaving, fresh faces, or injuries?
BC:
Wickline leaving. And it's not close.
Heated Rivalries Extend To Recruiting
BIG 12 SCOREBOARD
Thursday, 11/27
Saturday, 11/29