March, 24, 2015
Mar 24
4:00
PM ET
Seth Russell's stellar spring scrimmage, Texas Tech's Davis Webb, and West Virginia's chances lead the mailbag. As always, thanks for your questions. To submit questions for next week's mailbag, click here.
[+] Enlarge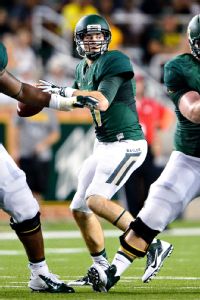 Jerome Miron/USA TODAY SportsSeth Russell's spring has given Baylor fans every reason to believe a third consecutive title is a real possibility.
Robert in Tulsa writes: How far away was Seth Russell last Friday from Baylor three-peating?
Brandon Chatmon: Russell had a terrific scrimmage for the Bears, no question about it. He left no doubt he won't give up his starting spot without a fight with 345 passing yards and four touchdowns. I think we saw the reason Baylor should be considered right alongside TCU as the favorites in the Big 12 despite losing Bryce Petty. A three-peat is a definite possibility.
Lillian in Austin, Texas, writes: If the Longhorns are able to figure out the quarterback problem, will they have a shot at the Big 12 Title?
BC: Absolutely. The Longhorns went 5-2 when ending a game with a Total QBR above 50 (which is considered average) in 2014. A good quarterback can cure a lot of ills, and the Longhorns have enough talent in their locker room to join the fight for a Big 12 title if they are getting consistent quarterback play from Tyrone Swoopes, Jerrod Heard or whoever wants to step up.
Michael in Dallas writes: True or false: Kliff Kingsbury continues to favor Davis Webb in order to try and prove that letting Baker Mayfield slip away was the right call?
BC: False. That sounds like a good way to end up searching for a new job. You can't favor anyone after a 4-8 season. To be clear, I think Patrick Mahomes should be the guy, and ultimately will be the guy, but I don't think Kingsbury should be handing out jobs to anyone, particularly a young quarterback with four starts under his belt during a bowl-less season.
Omar C. in Flower Mound, Texas, writes: Do you think it would be justifiable if NCAA mandated all Power 5 conferences to play one Power 5 and one Group 5 in their schedules to level the playing a field a little bit?
BC: First off, you're giving the NCAA more credit and power than it has. If the Power 5 conferences decided to move forward with this idea, I think it would be a good one for fans and observers alike. I'm all for anything that helps to put schedules closer to an even playing field. I don't see it happening unfortunately because it would require all of those schools to give up their power over their own schedules while risking losing money and/or games. I don't see that happening.
Lonely in Lubbock, Texas, writes: When the old Big 12 changed everyone was making a big fuss about Texas losing its second-best rival Texas A&M, but in Lubbock we lost our main and only rival. After three years of this new version, do we have any hope of finding a new rival as good as the Aggies?
BC: I'm not a big fan of creating rivalries. I like when they organically emerge. I could Oklahoma State, TCU or even West Virginia as good potential candidates. But it requires something special to happen and leave a lasting memory for a rivalry to be born. And we haven't seen that yet. I don't think you can force rivalries to happen so we might have to be patient until one develops on its own.
John Newcomb in Rochester, Pennsylvania, writes: I have to ask you, if William Crest and Dontae Thomas-Williams come out and become the starters with all the new wideouts including Ka'Raun White what levels could this team rise on defense and offense? Shot at the title in the near future?
BC: I don't see it happening. Crest may win the starting quarterback job but DTW has Rushel Shell and Wendell Smallwood ahead of him at runing back. Nonetheless, I could see the Mountaineers getting a shot at a Big 12 title as early as this fall. An efficient quarterback could make WVU the surprise of the Big 12 this fall.
Jacob Worcester in Manhattan, Kansas writes: Kyle Klein should be back from an injury, and he even started two games in 2013. What type of impact will he have when he comes back for the Snydercats?
BC: He can be an asset for the Wildcats' offense. I don't see him replacing Tyler Lockett (who can?) nor do I see him reaching the heights of older brother Collin. But he would bring experience to a relatively inexperienced receiver group.
Chris in Arden, West Virginia writes: What is your take on Joe DeForest at West Virginia?
BC: DeForest is a solid coach who seems to take a lot of undue heat from Mountaineers fans for some reason. His safeties should be among the Big 12's best with Karl Joseph and Dravon Henry leading the way and his special teams helped win games in 2014 with Josh Lambert coming up clutch several times while punter Nick O'Toole was solid. Granted the WVU punt return unit was laughable at times so his units and players aren't perfect, but whose are?
Cole in Oklahoma City writes: Will DeDe Westbrook and Joe Mixon share punt return snaps this spring ... leading in to the summer to see who is going to be returning punts for Oklahoma? Would you consider Heard to be the starting QB for Texas? Who is more of a dark horse Big 12 team?
BC: Three for one huh? Punt return duties are at the bottom of OU's priority list but Westbrook or Michiah Quick would be good candidates. I think Heard should get every opportunity to win the job, and personally think he will. West Virginia is a good dark horse team to keep an eye on, particularly if the quarterback position becomes a strength.
Texas Longhorns Show Out On Pro Day
BIG 12 SCOREBOARD
Thursday, 9/3
Friday, 9/4
Saturday, 9/5