December, 11, 2013
Dec 11
7:49
PM ET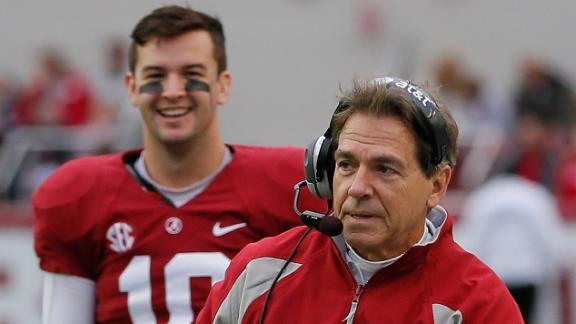 TUSCALOOSA, Ala. -- The road to the interstate hasn't yet been blocked. Flights still leave the airport daily. Gas stations regularly pump unleaded for around $3 a gallon. And the grocery stores here remained stocked with canned goods and water.
If a disaster is about to occur at the University of Alabama -- and Nick Saban leaving for Texas would qualify -- you wouldn't know it in the sober expression of the town the school inhabits.
The campus is quiet. The most noticeable buzz comes from libraries and coffeehouses, where a growing number of students twitch and hurriedly whisper to one another with a book in one hand and caffeine in another. The only audible plea for an extension is directed at professors as finals are being administered here this week.
Make no mistake, if Saban left, the school and the city of Tuscaloosa would be devastated. He's the largest and most important figure here, without question. His meaning to the community cannot be understated.
It goes beyond coaching a handful of games each fall. This is a town that has always identified with coaches. Paul W. Bryant Drive cuts through the center of UA's campus and runs alongside Paul W. Bryant Museum, and a street over you'll find a statue of Paul W. Bryant standing only a few yards from a bronzed statue of Nicholas L. Saban.
There hasn't yet been a real threat to the statue and the promise it holds. Saban's feet remained entrenched at Alabama amid the swirl of rumors and speculation. As Bill Battle, the school's athletic director, said on Wednesday, "It's business as usual," as the recruiting season kicks into high gear and bowl practice remains a week or so away.
But
until Saban signs an extension to stay at Alabama
, the level of anxiety will grow here and abroad. The more days that pass until a deal is reached, the more frenzied the rumor mill will become.
The fact remains that Tuscaloosa has been Saban's longest stop as a head coach, and even after seven years, there are many who wonder what kind of loyalty to Alabama exists in him. Would a 62-year-old man -- a man who's "too damn old" by his own estimation -- embark on a rebuilding project at Texas? Would he leave a finely tuned dynasty he's built in Tuscaloosa for a giant question mark in Austin?
Until everything is said and done, there's no way of knowing. There are those here who scoff at the idea that an extension would do anything to stamp out the Saban-to-Texas speculation. Until the Longhorns have a replacement for Mack Brown, the talk will likely continue.
But the truth is this is nothing new. People here are used to Saban's name coming up for coaching jobs, whether it's in college or pros. It was only some eight months ago that he signed an extension through 2020, and even then it wasn't enough to keep his name out of coaching searches.
Frankly, what's happening now is the price of doing business in college football. Alabama and its fans understand that. There won't be any mad dash for supplies around Tuscaloosa between now and the end of this saga. There hasn't been a single bonfire or couch burned in protest.
This is the rumor mill at work, and until it's over we'll all find a way to survive.
December, 11, 2013
Dec 11
6:28
PM ET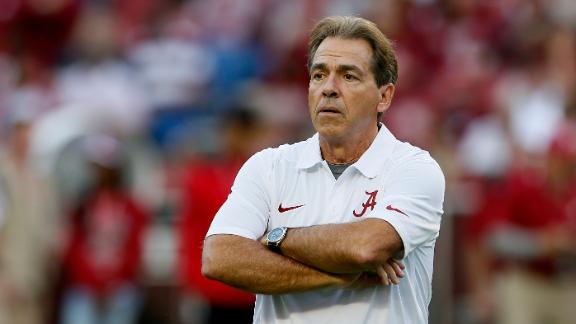 The Nick Saban-to-Texas circus makes for some high-flying entertainment while we wait for actual games to resume in college football.
Saban is one of the biggest names in coaching, and the Texas job -- assuming Mack Brown does indeed retire as multiple reports say he will -- is one of the biggest jobs in coaching.
As the saying goes, they do everything a little bigger in Texas.
So what is Saban doing while reports, speculation and rumors run rampant that he's headed to Texas?
He's doing one of the things he does best -- recruit. And that's all he's doing.
His focus right now is seeing as many recruits in a day as he can possibly see. He's not thinking about the Texas job, and he's not thinking about an extension at Alabama.
Saban practices what he preaches, and that's living in a 3-foot prism right in front of him.
Having talked to multiple people close to Saban and close to this situation, nobody I trust expects him to leave for Texas.
Those same people absolutely expect Texas to throw some crazy money at Saban, but there's a reason there are ongoing discussions right now between Saban's representatives and Alabama officials.
Alabama's not going to sit idly by and let Saban walk, not with everything he's meant to that university.
Besides, the only possible way that Saban would leave is if Alabama royally screwed up this process, or if by some chance, there were major administrative changes at the top of the university that adversely affected the way Saban wants to run his program.
Don't look for either to happen.
Alabama knows what a commodity it has in Saban, and the guy who hired him, Robert Witt, is now the chancellor of the University of Alabama three-campus system. They've maintained a close relationship and have a mutual respect for each other.
December, 11, 2013
Dec 11
6:15
PM ET
Thanks for the questions during my chat. You can find the full transcript
here.

Stability, Please (Austin-ish)
In his tenure at Texas, Mack Brown has garnered a national championship, the 09 Big XII title, another 4 Big XII South titles, 15 bowl appearances, and this year came within a game of winning the Big XII outright. If UT fires/retires him, doesn't that just repeat the blunder Texas made when they fired Fred Akers and entered the Dark Ages for a decade?
Brandon Chatmon
The potential for that to happen is there, no question. I'd agree sometimes you don't realize how good you have it until things change. It all depends on who would be the replacement hire.
Coach Claus (North Arctic State)
OK, so I gave FSU and Auburn a chance at the NC, I gave millions of fans what they wanted and kept 'Bama out of the NC, the Buckeyes were on the naughty list so I gave them coal from Michigan State, I gave a couple schools their first-ever BCS bowls. What's left on the list?
Brandon Chatmon
My million dollar check. I haven't got that yet, but you have until the 25th, Coach Claus, so make it happen.
Bobby (Waco)
Bedlam obviously shuffled the BCS slots a bit, but do you think Baylor would have a better chance against Alabama than OU?
Brandon Chatmon
Probably. The
Baylor Bears
are the Big 12 champions for a reason.
Tony (Richmond, CA)
How surprised are you that OU left Stillwater with a victory?
Brandon Chatmon
I was very surprised. Particularly with the way they did it, having the offense cruise down the field at the end. Impressive win for the Sooners.
Chuck (WVU)
The Mountaineers play a pretty tough schedule next year. What record does Dana Holgorsen have to get to keep his job? If we go bowling, I think he stays. Even we if we go 5-7 and are competitive against the top schools, I think he still might get another year. Your thoughts?
Brandon Chatmon
I think WVU needs to make a bowl game next season, so 6-6. I like the young players on the roster but they really need a quarterback. I do think Holgorsen is a good guy for the job though, he understands what it takes to win, particularly in the Big 12. I wouldn't be in a hurry to cast him aside if I'm WVU.
Joseph (Minnesota)
When the Big 12 has a high scoring game, there is no defense. When the SEC has a high scoring games, then it is just a great football game with great offenses. What gives?
Brandon Chatmon
I've wondered the same thing. Though I don't really hear people trying to play the "SEC defense is second to none" card too much anymore.
Chase (Dallas)
Gaze into your crystal ball and tell was what the Big 12 record will be for the bowl games.
Brandon Chatmon
Good question, I'll say 3-3 but could easily be 1-5 in my opinion. Baylor is my lone lock.
December, 11, 2013
Dec 11
4:35
PM ET
Baylor quarterback
Bryce Petty
was named the Big 12's Offensive Player of the Year, and Texas defensive end
Jackson Jeffcoat
and TCU cornerback
Jason Verrett
shared defensive honors.

Big 12 champ Baylor led the league with a school-record 10 first team players and earned three individual awards, including Coach of the Year (Art Briles) and Offensive Lineman of the Year (guard
Cyril Richardson
).
Oklahoma State had a league-high 11 players named to the first or second teams. The awards were voted on by the league's coaches.
Chuck Neinas Coach of the Year
Art Briles, Baylor
Defensive Lineman of the Year
Ryan Mueller
, Kansas State
Offensive Newcomer of the Year
Charles Sims
, West Virginia
Co-Defensive Players of the Year
Jason Verrett, TCU; Jackson Jeffcoat, Texas
Offensive Freshman of the Year
Baker Mayfield
, Texas Tech
Defensive Newcomer of the Year
Isaiah Johnson
, Kansas
Offensive Player of the Year
Bryce Petty, Baylor
Defensive Freshman of the Year
Dominique Alexander
, Oklahoma
Offensive lineman of the Year
Cyril Richardson, Baylor
Special teams Player of the Year
Tyler Lockett
, Kansas State
First-team offense
QB – Bryce Petty, Baylor
RB –
Lache Seastrunk
, Baylor
RB – Charles Sims, West Virginia
FB –
Trey Millard
, Oklahoma
WR –
Antwan Goodley
, Baylor
WR - Tyler Lockett, Kansas State
WR – Tevin Reese, Baylor
TE - Jace Amaro, Texas Tech
OL – Spencer Drango, Baylor
OL – B.J. Finney, Kansas State
OL - Gabe Ikard, Oklahoma
OL - Cyril Richardson, Baylor
OL -
Parker Graham
, Oklahoma State
PK –Anthony Fera, Texas
KR/PR – Tyler Lockett, Kansas State
First-team defense
DL - Ryan Mueller, Kansas State
DL - Calvin Barnett, Oklahoma State
DL – Chris McAllister, Baylor
DL - Charles Tapper, Oklahoma
DL - Jackson Jeffcoat, Texas
LB - Jeremiah George, Iowa State
LB – Shaun Lewis, Oklahoma State
LB – Eddie Lackey, Baylor
DB – Jason Verrett, TCU
DB – Justin Gilbert, Oklahoma State
DB – Ahmad Dixon, Baylor
DB –
Ty Zimmerman
, Kansas State
DB –
Aaron Colvin
, Oklahoma
P –
Spencer Roth
, Baylor
Second-team offense
QB –
Clint Chelf
, Oklahoma State
RB –
James Sims
, Kansas
RB –
Malcolm Brown
, Texas
FB –
Kye Staley
, Oklahoma State
WR –
Jalen Saunders
, Oklahoma
WR –
Josh Stewart
, Oklahoma State
WR – Jaxon Shipley, Texas
TE – E.J. Bibbs, Iowa State
OL – Cody Whitehair, Kansas State
OL – Daryl Williams, Oklahoma
OL – Donald Hawkins, Texas
OL – Trey Hopkins, Texas
OL - Le'Raven Clark, Texas Tech
PK –Michael Hunnicutt, Oklahoma
KR/PR – Josh Stewart, Oklahoma State
Second-team defense
DL –
Tyler Johnson
, Oklahoma State
DL – Chucky Hunter, TCU
DL – Cedric Reed, Texas
DL –
Kerry Hyder
, Texas Tech
DL –
Will Clarke
, West Virginia
LB – Ben Heeney, Kansas
LB – Eric Striker, Oklahoma
LB –
Caleb Lavey
, Oklahoma State
DB –
Jacques Washington
, Iowa State
DB – Daytawion Lowe, Oklahoma State
DB – Sam Carter, TCU
DB –
Carrington Byndom
, Texas
DB –
Darwin Cook
, West Virginia
P – Nick O'Toole, West Virginia
December, 11, 2013
Dec 11
4:15
PM ET
It's bowl season. And already, ESPN Stats & Info has released its bowl projections using the
Football Power Index
.
FPI is a predictive measure of team strength that uses the elements of team offensive, defensive and special teams performance (adjusted for each opponent) that correlate most with future results. Each team's FPI is used to calculate the expected point differential in a matchup between two teams, as well as the percentage chance of each team winning.
According to FPI, the two most lopsided bowl games involve Big 12 teams, and not in the good way.
FPI gives Oregon a 91 percent chance to defeat Texas in the Valero Alamo Bowl, and Arizona State equally a 91 percent chance to defeat Texas Tech in the National University Holiday Bowl.
The Big 12, however, is involved in the two most evenly matched games, as well. FPI gives Kansas State just a 53 percent chance of beating Michigan in the Buffalo Wild Wings Bowl, and Oklahoma State (despite being 1-point underdogs) a 54 percent chance of defeating Missouri in the AT&T Cotton Bowl.
The Cotton Bowl, by the way, is one of only four bowl games with a matchup of teams both ranked in the FPI top 20. The others include the Discover Orange Bowl (Ohio State-Clemson), Capital One Bowl (South Carolina-Wisconsin) and, of course, the VIZIO BCS National Championship (Auburn-Florida State).
December, 11, 2013
Dec 11
2:00
PM ET
Two Big 12 teams made positive moves in the
latest ESPN class rankings
. West Virginia cracked the top 40, coming in at No. 39, and Oklahoma State continued its ascension, climbing from No. 24 to No. 22.
Texas still holds the No. 8 spot, while Baylor remains at No. 16. Oklahoma fell one spot from No. 23 to No. 24, and Texas Tech remained in the top 40 at No. 36.
Here is a more in-depth look at the Big 12 class rankings:

Trending up
: West Virginia and Iowa State both saw spikes in their 2014 recruiting, but the Mountaineers are the hottest of the two, particularly after picking up ESPN 300 athlete
Dravon Henry
(Aliquippa, Pa./Aliquippa), the top-ranked recruit in the state of Pennsylvania. West Virginia also landed junior college quarterback
Skyler Howard
(White Settlement, Texas/Riverside Community College), who threw for more than 3,100 yards and 33 touchdowns this season. Let's also give credit to Iowa State, who scored five commitments in the first 10 days of the month, the latest being junior college defenders
Jordan Harris
(Wesson, Miss./Copiah-Lincoln Community College), an inside linebacker, and
Gabe Luna
(Garden City, Kan./Butler Community College), a defensive end.
To continue reading this article you must be an Insider
December, 11, 2013
Dec 11
12:00
PM ET
December, 11, 2013
Dec 11
11:30
AM ET
Honoring the best of the best from Texas' 2013 season:
Offensive MVP:
RB
Johnathan Gray
. The best, most valuable player Texas had and the guy the Longhorns wisely built their attack around once
David Ash
went down. A torn Achilles ended his season after nine games, but Gray finished with 780 yards, four scores and No. 4 in the Big 12 in rushing yards per game.
[+] Enlarge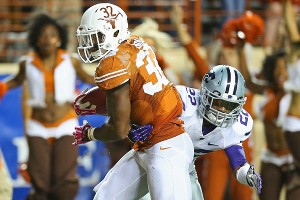 Ronald Martinez/Getty ImagesJohnathan Gray became the focal point of the Texas offense when David Ash went down to a head injury.
Defensive MVP:
DE
Jackson Jeffcoat
. Came on strong and led the Big 12 in sacks with 12, all of them coming in conference play. Jeffcoat finished with a team-leading 80 tackles, 21 of them for loss, and emerged as a key senior leader. He's playing up to his five-star potential.
Special Teams MVP:
K/P
Anthony Fera
. The Groza Award finalist finished 20-for-22 in field goals, and his only two misses were deflected at the line. He was a solid punter, too, pinning more than 40 percent of his boots inside the 20.
Newcomer of the Year:
TE
Geoff Swaim
. He didn't get enough praise for his efforts, but the junior college transfer was a sharp blocker and quickly earned the starting job. He became a critical asset once Texas transitioned to run-heavy offense.
Freshman of the Year:
OT
Kent Perkins
. Really the only choice here, since most of the 15-man rookie class redshirted. Perkins started one game and showed off the potential to be an elite starter down the road.
Most improved:
LB
Steve Edmond
. Among the biggest disappointments of Texas' 2012 defense, Edmond grew up and became a playmaker as a junior. He snagged the game-clinching interception at West Virginia and was Texas' leading tackler before suffering a lacerated liver against Texas Tech.
Most impressive win:
Texas 36, No. 12 Oklahoma 20.
Texas, the major underdog, made the Sooners look like complete frauds, which nobody saw coming, and dominated the line of scrimmage en route to a surprisingly easy victory. Just a great all-around performance, and Texas probably could've scored 50.
Biggest surprise:
The six-game win streak. Texas rallying to start 6-0 in the Big 12 without its quarterback and with a new DC is still remarkable no matter how this season ended.
Best performance:
A few good choices here, but we'll go with Gray's night against Kansas State: A career-high 141 rushing yards and two touchdowns on 28 carries. Honorable mention: Jeffcoat against TTU; the Gray-
Malcolm Brown
duo against OU.
Best offensive play:
We'll go off the radar: Jaxon Shipley's 10-yard touchdown catch and Alex De La Torre's 2-yard score at West Virginia. Two clutch scores to save a comeback.
Best defensive play:
Chris Whaley's 31-yard interception for a touchdown against Oklahoma. He dropped into coverage, picked off Blake Bell's pass and ran him over at the goal line. That big fella can really run.
[+] Enlarge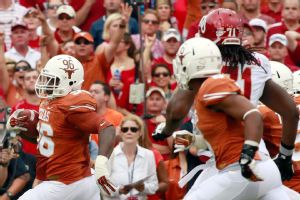 Tim Heitman/USA TODAY SportsChris Whaley's rumbling interception return was one of the season's most entertaining moments.
Best special teams play:
Daje Johnson's 85-yard punt return for a touchdown against the Sooners. Made it look way too easy.
Best pass:
Case McCoy's 59-yard touchdown pass to
Marcus Johnson
against Oklahoma, giving the Longhorns a 17-3 lead. McCoy threw an absolute dime, a 30-yard pass down the sideline on a wheel route. Johnson got a step on
Kass Everett
and easily outran him to score. Huge play in a huge game.
Best catch:
John Harris' 44-yard Hail Mary catch to give Texas an improbable 17-13 lead at halftime at Iowa State. Harris snagged McCoy's last-second heave between three Cyclones defenders.
Best hit:
Hard to choose one here, so let's just go with the nine sacks that Texas recorded against Texas Tech. Jackson Jeffcoat was responsible for three, and the best of the nine was probably when he switched gaps from his "Spinner" role after the snap and went completely unblocked to take down
Baker Mayfield
.
Best decision:
Hiring Greg Robinson in July for the football analyst role. Had Mack Brown not lined up his backup plan before the season began, the Longhorns would've been in even worse trouble after two games. The role also gave Robinson a baseline familiarity with Texas' defensive talent.
Worst decision:
The fact that
Tyrone Swoopes
did not end up getting any meaningful game reps after his redshirt was burned. Because he received nothing more than meaningless mop-up time, he wasn't an option when
Case McCoy
struggled at Baylor.
Best quote:
"Playing you're a** off. Bottom line. That's our identity. It has nothing to do with plays, it has to do with believing in yourself and playing your ass off." -- OC Major Applewhite, after beating Oklahoma
Best interviews:
Have to go with two winners here.
Quandre Diggs
gets a medal for his enjoyable weekly dose of defiance. It's not anger, it's not disdain, it's just the way he delivers his brand of swagger. And McCoy gets one, of course, for his always-chipper demeanor, long-winded but insightful takes and self-deprecating humor.
December, 11, 2013
Dec 11
9:00
AM ET
The final power rankings before bowl season:

1. Baylor (11-1, 8-1 Big 12, last week 2):
The Bears have a chance to put the finishing touches on a tremendous season with a favorable matchup in the Tostitos Fiesta Bowl against Central Florida. Baylor better win for conference pride/bragging rights, as the Big 12 is an underdog in four of its other five bowl matchups.
2. Oklahoma (10-2, 7-2 Big 12, LW 4):
If Bob Stoops somehow pulled off the upset of Alabama, it would constitute his best coaching job since the national championship season in 2000. That Stoops even got OU in the Allstate Sugar Bowl is remarkable. This might be the least talented 10-win team Stoops has ever had. But this is also a team that found a way to get to 10 wins when it didn't look possible.
3. Oklahoma State (10-2, 7-2 Big 12, LW 1):
Oklahoma State's football history is filled with Bedlam disappointments. But 2013 will rank at the very top. The Cowboys were in control for most of the game against Oklahoma. But they were a disaster on special teams and third downs, and when the game was on the line, a defense that had been terrific all year capitulated against a third-string quarterback. A win over Missouri in the AT&T Cotton Bowl will ease the sting, but this one will sting for awhile.
4. Texas (8-4, 7-2 Big 12, LW 3):
With a chance to win the Big 12 outright, Texas' up-and-down season ended with a thud in Waco. As a result, Mack Brown's seemingly impending resignation will dominate the conversation in Austin while the Longhorns attempt to prepare for a very difficult matchup in the Valero Alamo Bowl against Oregon.
5. Kansas State (7-5, 5-4 Big 12, LW 5):
The Wildcats won't have the matchup with old conference rival Nebraska in the Buffalo Wild Wings Bowl. But they will have the chance to beat a name program (Michigan), which would cap a very nice end to a season that began very badly.
6. Texas Tech (7-5, 4-5 Big 12, LW 6):
Losing five in a row after a top-10 ranking is not how Kliff Kingsbury wanted to close out his first season. Losing six would be even worse. But the Red Raiders have an opportunity against Arizona State in the National University Holiday Bowl. Win that game, and nobody will be talking about the five-game losing streak. Instead, they'll be talking about one of the biggest upsets of the bowl season, which would give Tech some momentum going into the winter.
7. TCU (4-8, 2-7 Big 12, LW 7):
The Horned Frogs will have a new offensive coordinator (reportedly Doug Meachem) and a new quarterback (who knows?), but will that translate into more points? It better if TCU is to bounce back from two mediocre-to-bad years in the Big 12.
8. Iowa State (3-9, 2-7 Big 12, LW 8):
With wins over Kansas and West Virginia to finish out the season, along with their impending stadium expansion, the Cyclones have some momentum again. Head coach Paul Rhoads getting the right offensive coordinator to jump-start a unit that has talent is the next step.
9. Kansas (3-9, 1-8 Big 12, LW 9):
Did the Jayhawks show improvement in Year 2 of the Charlie Weis era? Not really. Which is why Year 3 will be a defining one. Kansas needs to win more than one Big 12 game. The key will be rising sophomore QB
Montell Cozart
. If he can make a jump to the next level, so too will the Jayhawks.
10. West Virginia (4-8, 2-7 Big 12, LW 10):
Last week, athletic director Oliver Luck issued a statement backing coach Dana Holgorsen. But Luck's statement sure seemed to emphasize the 2014 season. Problem is, West Virginia opens with Alabama, goes to Maryland, Texas Tech, Oklahoma State and Texas, and plays Oklahoma and Baylor at home. The Mountaineers would have to win one of those games just to become bowl eligible. On top of that, they'll be replacing easily their best offensive (running back
Charles Sims
) and defensive (safety
Darwin Cook
) players from this past season. Good luck, Dana.
December, 11, 2013
Dec 11
5:30
AM ET
1. Mack Brown has won 158 games and one national championship in 16 seasons at Texas. That's two more victories than the three coaches who preceded him (Fred Akers, David McWilliams and John Mackovic) combined to win in 22 seasons. It's nine fewer than Brown's mentor and role model, the late Darrell Royal, won in Austin. Brown might not want to resign, but I'd bet he's fine with being second to Royal.
2. Michigan State defensive coordinator Pat Narduzzi won the 2013 Broyles Award as the nation's top assistant coach. Narduzzi said recently that he is ready to be a head coach, and he will get the opportunity. Eight of the previous 15 Broyles winners have become head coaches, including Gus Malzahn at Auburn. Five have had at least one 10-win season. But four of the eight (Ralph Friedgen, Mark Mangino, Gene Chizik, and Randy Shannon) have come and gone in the head coaching business. 50-50? Sounds about right.
3. I interviewed senior guard
John Urschel
at Penn State last spring for a piece on replacing the senior leadership that helped the Nittany Lions get through the last year's scandal. Urschel is not only a good player and an eloquent spokesman; he's a grad student in math with a 4.0 and teaches undergraduate engineering students. In other words, he was a slam dunk to win the Campbell Trophy (the Academic Heisman), awarded by the National Football Foundation last night in New York.
December, 10, 2013
Dec 10
7:39
PM ET
Texas coach Mack Brown is expected to resign by the end of the week, according to a source.
"I know Mack, he's a friend, this is his decision, but he wants to tell his players and staff and not read it on the Internet," the source told ESPN. "That's why he reacted strongly to the [Orangebloods.com] report.
"I'd be real surprised if it hasn't happened by Friday night with the [Texas] football banquet. I think it will be taken care of. It wouldn't drag on much longer."
Orangebloods.com first reported Tuesday afternoon that Brown would step down after 16 years as the Longhorns' coach.



Later Tuesday, Brown texted the website Horns247: "I haven't seen [the] article. I'm in Florida recruiting. If I had decided to step down, I sure wouldn't be killing myself down here. I have not decided to step down."
On Wednesday morning a source said that "there's nothing new today. I am expecting that Friday will be the day (of Brown's announcement)."
The source said Tuesday, though, that discussions have been ongoing with Brown, Texas president Bill Powers and Brown's agent, Joe Jamail.
"The talks were very friendly, and the conclusion was Mack would step down in the next couple of days," the source told ESPN.
However, the source said Jamail is participating in a trial in Beaumont, Texas, which has slowed the process, and that there are a "lot of logistics" to work out.
"Such as when he leaves, what his role will be," the source said. "A myriad of things that have to be worked out."
The source reiterated Brown would not be coaching at Texas in 2014.
"By the end of the week, that will be the outcome," the source told ESPN. "That will happen. It's a shame after 16 years he's not able to do it on his own with dignity and grace."
Mack Brown A Victim Of His Success