September, 16, 2012
9/16/12
2:00
PM CT
Marquise Goodwin
took flight this week.
Oh sure, on the field, he had a 69-yard run for a touchdown and another 55-yard touchdown catch. But he really took flight. Goodwin, an Olympian, went to the White House this week to meet President Barack Obama.
Yes, he tried to show him how to throw the Hook 'em sign. No, it didn't work.
"He did it like this," Goodwin said displaying a flying thumb instead of one folded over the two middle fingers. "Like he was saying 'I love you (in sign language).'"
Well, he wasn't the only one flashing the "I love you" sign to Goodwin this week. After arriving from Washington D.C., late Friday, Goodwin took flight again against Ole Miss. His 69-yard run that ignited a long-dormant offense no doubt elicited quite a few heart-shaped well wishes from fans, teammates and, here's guessing, an offensive coach or two.
As for the heart shown on the field, that was no problem, he said.
"I think of myself as a machine. I just need a few hours rest and I'm ready to go."
Rest might be just the thing for Goodwin.
"That was perfectly planned to freshen him up," said Texas coach Mack Brown about Goodwin missing practice to go to the White House. "He came back with fresh legs."
And possibly a new fan too.
September, 16, 2012
9/16/12
12:00
PM CT
Following
Texas' 66-31 win over Ole Miss
, here are five things that stood out.
What a difference a week makes
Last week Texas finished the first half of the game with New Mexico with a total of 50 yards rushing on 10 carries and that included David Ash's 49-yard touchdown run. Texas scored a late touchdown in the first half or it would have gone to the locker room with a 10-0 lead over New Mexico.
To continue reading this article you must be an Insider
September, 16, 2012
9/16/12
10:30
AM CT
Texas defensive coordinator Manny Diaz likes to say his unit's No. 1 goal is holding foes to one fewer point than the Longhorn offense scores.
But what if that offense puts up 66?
By the conditions of his simple directive, Diaz's defense more than did its job Saturday night against Ole Miss. Texas did win by five touchdowns.
To continue reading this article you must be an Insider
September, 16, 2012
9/16/12
9:30
AM CT
Texas linebacker
Jordan Hicks
was knocked from the game in the second quarter with what was called a hip injury. The exact extent of the injury in unknown. The affect of his loss on the defense was much more tangible.
"When he went out we panicked," said linebacker
Steve Edmond
.
Hicks, a junior, is the only returning starter at linebacker. He makes all the calls and is considered the leader of that unit. Add to all that the fact that the linebackers had somewhat struggled at the start of the season and it is easy to see why there was panic.
"We always tell those guys your roles re subject to change," said defensive coordinator Manny Diaz.
Texas never did adjust to the sudden change of not having Hicks in the game. Ole Miss scored at a pace that no one, aside from Oklahoma, has done to Texas recently.
But the Longhorns do have a bye week to sort things out. One of the things Texas might if Hicks is not ready for Oklahoma State do is move
Demarco Cobbs
to the weakside spot to make room for
Tevin Jackson
or
Kendall Thompson
. Texas is also continuing to explore the possibility of
Dalton Santos
in the middle. Right now he is backing up Edmond but there has been some push to get him more time.
Hicks was not the only player to come out of the Ole Miss game. Running back
Joe Bergeron
was banged up and had to leave in the second half. Texas indicated Bergeron's injury was not serious.
September, 16, 2012
9/16/12
8:00
AM CT
September, 16, 2012
9/16/12
12:06
AM CT
Nothing short of a great win for Texas tonight. Definitely felt a lot like
David Ash
took some big steps toward maturity in the Longhorns' first road trip of 2012.
He completed 15 consecutive passes from the first to third quarters, and showed some big improvement as the Longhorns rolled over Ole Miss,
66-31
.


Time for some instant analysis:
It was over when:
Texas opened the second half with a dominant drive, going 78 yards in seven plays and capping it with a powerful
D.J. Monroe
10-yard touchdown run. That put the Longhorns up 38-10 and took even more energy out of an amped crowd at Vaught-Hemingway Stadium. Any idea of an upset ended when Texas asserted itself to open the half and prevented the Rebels from gaining any momentum.
Gameball goes to:
Ash. Did we just see his career breakout game? Ole Miss' secondary looked ragged for much of the game, but Ash, a sophomore, played the best game of his career, and showed plenty of promise that he could be depended on later in the season. He finished 19-of-23 for 326 yards, four touchdowns and still has yet to throw his first interception of 2012. Did anyone think we could see this kind of performance out of Ash this early in the season?
Stat of the game:
Texas won the turnover battle, 3-0. That included an interception from
Steve Edmond
that opened the game's scoring. He returned a
Bo Wallace
pass 22 yards for a touchdown.
Unsung hero of the game:
Texas' offensive line. The big uglies up front gave David Ash all day to throw, and the holes were roomy and frequent for Texas' rushing attack all night long. The focus in this game will be on Ash's performance, but the offensive line deserves plenty of credit, too.
What Texas learned:
The offense can look like a juggernaut from time to time. We haven't seen an offensive performance like this from Texas in a long, long time. Texas hadn't scored this many points since the Big 12 title game in 2005, and the next game ended with the Longhorns hoisting a national championship trophy. It's too soon to have any talk close to that, but Ash's development makes that power running game up front even tougher to stop. His difficult freshman season seemed pretty far in the rearview mirror tonight.
What Ole Miss learned:
The defense has a long way to go. Receivers were open all day, and when Ash put the ball in the air, the Rebels defensive backs never seemed to be able to find it. The front seven were dominated, and the Longhorns made this win look easy. Could be a long season in Oxford for Hugh Freeze's first season.
September, 15, 2012
9/15/12
10:33
PM CT
OXFORD, Miss. -- Texas took to the road for the first time this season and also took to making some big plays. The Longhorns exploded for 31 first-half points, their most of the season, and led 31-10 at halftime. Texas has scored 14 points off two interceptions.


Stat of the half:
Texas has had most of its success on the ground. The Longhorns rushed 22 times for 182 yards. Included in that total is
Marquise Goodwin
's 69-yard run. That is the longest run from scrimmage for a Texas player since Jamaal Charles went for 75 against Oklahoma State in 2007.
Player of the half:
Quarterback
David Ash
threw two touchdown passes and engineered four scoring drives for Texas. The sophomore hit on a 47-yard pass to Goodwin, the longest pass play for Texas since the Baylor game in 2011. It was Ash's second-longest throw at Texas. He hit for 48 yards against Iowa State.
What's working for Texas:
The Longhorns are getting solid defensive pressure on quarterback
Bo Wallace
. Texas has three sacks and both of Wallace's interceptions came when the quarterback was under duress.
What is not working for Texas:
The Longhorns have been unable to stop Ole Miss on third down. Make that long third downs. The Rebels converted third downs of 18 and 17 yards on their two scoring drives. The first was a 30-yard pass play to set up a touchdown. The second came on a personal foul called on
Jordan Hicks
.
What Texas needs to do to keep winning:
If the Longhorns continue to run the ball, they should continue to control the game. The Ole Miss defensive line has had trouble even staying in front of the offensive line of Texas. And the Texas defensive line has spent most of the night in the backfield of Ole Miss.
September, 15, 2012
9/15/12
8:17
AM CT
SEALY, Texas -- Many things have changed in
Ricky Seals-Jones
' world in a little over a week.
He went from having an explosive senior season for Sealy (Texas) to being sidelined for a large chunk of it after suffering a dislocated knee on Sept. 6 against Houston St. Pius X. He watched his team's 26-20 comeback win over Cleveland (Texas) from the sideline on Friday night.
And things changed significantly regarding Seals-Jones' recruiting, when Texas exited the picture earlier this week.
To continue reading this article you must be an Insider
September, 14, 2012
9/14/12
3:30
PM CT
Texas, which has been in search of explosive plays in the passing game, had eight against New Mexico. Now that's not a signal that Texas threw the ball down the field any more than it did in Week 1.
David Ash
's longest pass through the air was 20 yards.
The way Texas is creating explosive plays now is getting speed in space. And a large part of that is through the screen game. In fact, 24.1 of Ash's passes so far have been screens of one sort or another.
For now, co-offensive coordinator Bryan Harsin is more than satisfied with the production of the screen game and believes that will eventually lead to bigger things for the passing offense
"We've just got to keep working in that direction. Those are the things that you've got to start somewhere," he said. "You've got to start being consistent at some things. I think we've done that in those phases of the game, the other stuff because of that will open up."
September, 14, 2012
9/14/12
1:00
PM CT
It's eye-popping enough that Ole Miss has nine sacks. That's good for fourth nationally. But those nine sacks have come from 11 different people -- four guys have .5 sacks each.
Texas, which allowed its first two sacks last week, knows the defensive front of the Rebels could present a problem.
"Those guys will be a faster football team all around," said Harsin of the Rebels' defensive line. "It comes down to guys helping each other out in pass situations, the backs or whoever else can help with those situations, the tackle and interior guys."
Of course, it also comes down to
David Ash
making quick and good decisions. To date, he has done that. Ash has not thrown an interception in his last three starts. But he has also not been under duress.
"The ball needs to be out of your hands somehow, some way, throw it away or get up field and run," Harsin said. "So that will help us eliminate sacks in those situations."
September, 14, 2012
9/14/12
10:30
AM CT
By
HornsNation staff
| ESPN.com
Texas 27, Ole Miss 17
This game is going to be closer than the experts think. Texas has a more talented team than Ole Miss but the Rebels seem to have more continuity on offense. In the third week of the season this is a defining games for the Longhorns defense. Texas will allow the ball to move between the 20s but will force Mississippi into multiple field goal opportunities.
David Ash
will show his mettle as he will have to come back from hard hits and adversity in the first road game for the Longhorns.
- Sean Adams
To continue reading this article you must be an Insider
September, 14, 2012
9/14/12
8:00
AM CT
AUSTIN, Texas -- When Hugh Freeze met with Dan Werner this winter, the new Ole Miss head coach was in search of the right man to run his offense. He needed a new quarterback, too.
So Freeze broke out some film. He told Werner these were a few guys he'd considered pursuing.
When they started rolling tape of a familiar junior college kid, Werner stopped the search.
"I saw his film and said, 'Let's go get him,'" said Werner, the Rebels' offensive coordinator. "He didn't tell me who any of them were."
[+] Enlarge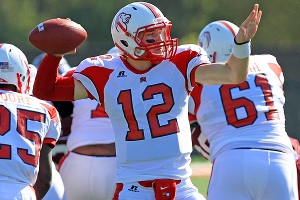 Stan Beal/EMCCAt East Mississippi Community College last season, Bo Wallace caught the eye of the Texas coaches.
Freeze agreed, and he had an in. A year earlier, the kid was his third-string quarterback at Arkansas State. Werner got the job and together they set their sights on their new signal caller.
Ole Miss wanted
Bo Wallace
more than anyone else. That's why he chose the Rebels over Mississippi State, Indiana and Baylor.
Had Texas wanted him, there's a chance Wallace could've been a Longhorns this weekend in Oxford. For one week in January, that was at least a distinct possibility.
Texas' unsettled quarterback situation prompted offensive coordinator Bryan Harsin to make the call. This wasn't a quick-fix move or one to bolster depth, Harsin says now. He was looking for "the right situation at that time."
Wallace said he had two or three conversations with Harsin during that week. No offer, no visit, nothing more than that.
September, 13, 2012
9/13/12
5:30
PM CT
By
RecruitingNation Staff
| ESPN.com
Each week across our RecruitingNation sites, we'll highlight which high school football games the Midlands recruiting staff will be attending:
Thursday, Sept. 13
• Norman (Okla.) North at Moore (Okla.) Westmoore - Bob Przybylo, SoonerNation
Player to watch
: LB
Jordan Evans
, Norman North
• Grapevine (Texas) vs. Sachse (Texas) - Damon Sayles, RecruitingNation
Player to watch
: 2014 QB
Kent Myers
, Sachse
September, 13, 2012
9/13/12
4:00
PM CT
After two weeks at home and two games in which Texas was not challenged, the Longhorns hit the road for a game at Ole Miss. While the Rebels are in the SEC, they are not exactly the cream of the SEC crop. In fact, they have not beaten another SEC team since Kentucky in October of 2010. Still, the Rebels do have some size and speed and a 2-0 record. As for Texas, well even with a 2-0 record and a top-15 ranking, the Longhorns still have a few questions to answer.
1. Will David Ash go downfield?


The likelihood of that happening against Ole Miss is much greater than it was against New Mexico and Wyoming. The Rebels play a much more risk-reward defense and will challenge Texas' passing offense with one-on-one coverages. That should free up
Mike Davis
on the outside as well as
Marquise Goodwin
. Of course, the main question is if Ash can hit those players when they are open. Ash has not hit a deep pass this year. The last one he did hit was a 47-yarder to Goodwin in the Holiday Bowl. But he also missed a few deep passes in that game as well.
To continue reading this article you must be an Insider