Texas Longhorns:

Mississippi Rebels
April, 29, 2014
4/29/14
9:00
AM ET
Florida has Florida State. Georgia has Georgia Tech. Kentucky has Louisville. And, of course, South Carolina has Clemson.
When it comes to the
new SEC scheduling format starting in 2016
, those four schools are already on board. Their annual rivalry games fulfill the league's forthcoming requirement for a yearly nonconference game against an ACC, Big 12, Big Ten or Pac-12 school.
But for the rest of the teams around the league, there's a void.
Sure, they can go year to year and rotate in nonconference opponents. But where's the fun in that? Let's create some new rivalries, and in the case of some programs, reignite old ones.
[+] Enlarge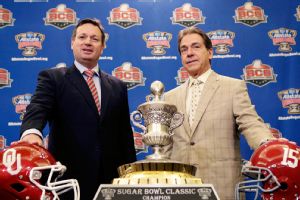 AP Photo/Gerald HerbertThe spectacular salaries of college football coaches such as Bob Stoops, left, and Nick Saban are generated mostly by the labor of unpaid workers.
Alabama-Oklahoma:
If FSU wasn't already taken, the Noles would have been a perfect fit. The physical and philosophical proximity between programs is obvious. But looking elsewhere, Oklahoma might be a fun matchup. The Sugar Bowl has already created tons of tension on both sides with
Sooners coaches delighting in calling out Nick Saban
and the SEC.
Arkansas-Baylor:
Call it a throwback to the old Southwest Conference. Arkansas, which didn't join the SEC until 1992, has played more games against Baylor (69) than any school in its current conference. On top of that, the differences between Bret Bielema's physical style and Art Briles' free-flowing offensive scheme would be a joy to watch.
Auburn-Oregon:
Recent history and playing styles dictates this matchup. Not only do we get a rematch of the 2010 BCS National Championship Game, but it pits offenses that live to go fast. Maybe it could be a two-hand touch game in which whoever reaches 100 points first wins.
LSU-Notre Dame:
We couldn't make a list of nonconference matchups and leave Notre Dame off, could we? Pitting the Golden Domers against an SEC program would be appointment viewing. Make that program LSU and the opposing coach Les Miles, and television networks will scratch each other's eyes out to get the game.
Mississippi State-Texas Tech:
The Bulldogs have shied away from high profile nonconference games in the past, loading up on the likes of Memphis, UAB and South Alabama. Well, it's time to infuse a little spice into the schedule. Kliff Kingsbury is too cool to keep out of the SEC. His Red Raiders would be a good matchup with Mississippi State, which faced Texas Tech seven times from 1953-70.
Missouri-Kansas:
Does this one really need to be explained? The Border War should have never gone away in the first place. Now is the perfect opportunity to save face and bring back a rivalry that goes all the way back to 1891.
Ole Miss-Miami:
We've got to get 'The U' involved. Miami and Ole Miss have already played a few times in their history, with the Rebs holding a 2-1 series lead. But bigger than that, it would get the SEC back into South Florida on a permanent basis because
Miami and Florida don't have the common sense to do that
already.
Tennessee-North Carolina:
Even if most people don't remember it, there's history there. Tennessee and UNC have played 29 times, with the Vols holding a 20-8-1 advantage. Plus, even if your memory is short, you should recall the double overtime
Music City Bowl from 2010
between the schools. If they can re-create that just once, it would make the rivalry worth it.
Texas A&M-Texas:
See Missouri-Kansas. Don't let conference affiliations ruin great rivalries. Texas A&M-Texas should have never been shelved in the first place. And while the
UT administration
might not see a reason to bring it back -- nor
Texas A&M's leadership,
for that matter -- surely both fan bases do.
Vanderbilt-Duke:
Call it a private school showdown. The proximity is reasonable, the fan bases similar, and the rivalry could easily extend to the hard court. Plus, have you seen Derek Mason's nonconference schedule this year? It needs help.
March, 21, 2014
3/21/14
10:51
PM ET
By
Derek Tyson, Gerry Hamilton & Jeremy Crabtree
| ESPN Insider
SUGAR HILL, Ga. -- Several talented quarterbacks took the field at the Atlanta Elite 11 regional camp on Friday. Though no official invites for the Elite 11 finals, held in Beaverton, Ore. in July, were extended, there were five finalists with potential to eventually earn an invite. The finalists included
Anthony Ratliff
,
Austin King
,
Kendall Hinton
,
Ross Trail
and
Alex Malzone
. Four of the five finalists were from out-of-state. King is from Alpharetta, Ga.
July, 21, 2013
7/21/13
3:32
PM ET
Family: The one word that many college football recruits use to describe Ole Miss after a visit. ESPN 300 safety
Jamal Adams
(Lewisville, Texas/Hebron) followed suit.
To continue reading this article you must be an Insider
July, 1, 2013
7/01/13
1:34
PM ET
LAKE OSWEGO, Ore. -- ESPN 300 safety
Jamal Adams
(Lewisville, Texas./Hebron) was orginally planning to make a decision between his top six schools in August.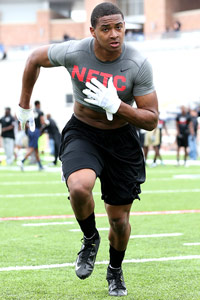 Tom Hauck for Student SportsNo. 24 recruit Jamal Adams has strong reasons to pick each of the final six schools on his list.
But now, the 6-foot, 199-pounder thinks he may delay his decision until after he has taken all five official visits.
"I'm at six right now," said Adams, who's the nation's No. 24 player. "I have a mindset of what I'm looking at and an idea of who I'm really looking at I just haven't released anything or told anyone yet. So really, before the season, I want to knock it down to probably about three. Originally I was going to announce in August, but sometimes you have second thoughts. I just want to make the right decision for myself -- I don't want to rush it."
His list of finalists include Texas A&M, Florida, Notre Dame, Texas, Ole Miss and Ohio State. Adams talks about each of final schools.
To continue reading this article you must be an Insider
September, 15, 2012
9/15/12
10:33
PM ET
OXFORD, Miss. -- Texas took to the road for the first time this season and also took to making some big plays. The Longhorns exploded for 31 first-half points, their most of the season, and led 31-10 at halftime. Texas has scored 14 points off two interceptions.


Stat of the half:
Texas has had most of its success on the ground. The Longhorns rushed 22 times for 182 yards. Included in that total is
Marquise Goodwin
's 69-yard run. That is the longest run from scrimmage for a Texas player since Jamaal Charles went for 75 against Oklahoma State in 2007.
Player of the half:
Quarterback
David Ash
threw two touchdown passes and engineered four scoring drives for Texas. The sophomore hit on a 47-yard pass to Goodwin, the longest pass play for Texas since the Baylor game in 2011. It was Ash's second-longest throw at Texas. He hit for 48 yards against Iowa State.
What's working for Texas:
The Longhorns are getting solid defensive pressure on quarterback
Bo Wallace
. Texas has three sacks and both of Wallace's interceptions came when the quarterback was under duress.
What is not working for Texas:
The Longhorns have been unable to stop Ole Miss on third down. Make that long third downs. The Rebels converted third downs of 18 and 17 yards on their two scoring drives. The first was a 30-yard pass play to set up a touchdown. The second came on a personal foul called on
Jordan Hicks
.
What Texas needs to do to keep winning:
If the Longhorns continue to run the ball, they should continue to control the game. The Ole Miss defensive line has had trouble even staying in front of the offensive line of Texas. And the Texas defensive line has spent most of the night in the backfield of Ole Miss.
September, 11, 2012
9/11/12
2:11
PM ET
On Tuesday, the SEC dealt a big blow to Ole Miss' secondary when it
suspended defensive back
Trae Elston
for Saturday's game against No. 14 Texas.

Commissioner Mike Slive announced that the suspension was due to the hit he put on UTEP receiver
Jordan Leslie
late
in the fourth quarter
of last Saturday's 28-10 win that was deemed "flagrant and dangerous." The SEC also said that Elston's hit was in violation of Rule 9-1-4 of the NCAA rulebook, which reads:
"No player shall target and initiate contact to the head or neck area of a defenseless opponent with the helmet, forearm, elbow or shoulder."
Rule 9-1-3 also states:
"No player shall target and initiate contact against an opponent with the crown (top) of his helmet."
Elston had been a nice spark for the Rebels' defensive backfield and provided Ole Miss with some quality depth during the first two weeks. Now, against their toughest opponent yet, the Rebels will be without one of its most talented youngsters. Texas is only 69th in the nation in passing (averaging 220.5 yards through the first two games), but as far as talent goes, the Longhorns are on a different map compared to the first two teams Ole Miss faced.
It doesn't look like there will be a last-ditch effort to get Elston back, as there will be no appeals process.
"We are disappointed to lose Trae for this weekend, but we are moving forward as a team and focused on Texas," coach Hugh Freeze said in a statement.
Now, there will be a lot of debate going forward as to whether the hit was worthy of suspension. For starters, Elston wasn't flagged for the hit. It was clean in the eyes of the refs, though Leslie was on the ground for a few minutes before he got up.
On video, you can see that Leslie was bracing himself for the hit. He even pulled up short of making the catch at the goal line because he knew he was about to get laid out by Elston, who clearly wasn't interested in getting to the ball. He was looking to hit Leslie, but if Elston pulls up short and Leslie catches the ball, then people are scolding him for not making a play and allowing a score.
If Leslie catches the ball and Elston still hits him, is there still a suspension?
I understand that the league -- and the sport -- is trying to protect defenseless players. And in the wake of the head-to-head collision that caused Tulane safety
Devon Walker
to suffer a major spinal cord injury, it's no surprise that the SEC wants to make a statement about players leading with their heads. It's a major safety issue in this sport.
But consider Vanderbilt cornerback
Andre Hal
's hit on South Carolina tight end
Justice Cunningham
. He was hit so hard by Hal that his
helmet shot off
. Hal was flagged for hitting a defenseless player above the shoulders, but there was no suspension.
Elston led with both his head and his shoulders, but his hit appeared to come below Leslie's head and his helmet hit after his shoulders. My only thought for why Elston was suspended and not Hal is because Leslie backed off of going for the ball at the last second. If he catches it and then takes the shot, I don't think we hear anything about it.
I'm just not sure the punishment fits the crime. The fact that his helmet comes into the hit after his shoulders makes it a tough call. Was Leslie defenseless? Yes, but so was Cunningham.
Texas Longhorns Show Out On Pro Day
BIG 12 SCOREBOARD
Thursday, 9/3
Friday, 9/4
Saturday, 9/5