Texas Longhorns:

Baseball
May, 28, 2012
5/28/12
2:25
PM CT
AUSTIN, Texas -- Augie Garrido is giving himself one day to grieve.

It might not seem like enough time given that a 13-year baseball postseason run, which included two national championships, ended when Texas did not make the NCAA tournament Monday. But really when you look at what happened to Texas baseball and how much there is that needs to be fixed, it might seem like too much time. There is work to be done, make that a ton of work, and it needs to be done now.

That work starts Tuesday at 10:15 a.m. for a team that finished with a 30-22 record, its worst since 1998.

"You have to really do a thorough examination of what went wrong here, how it got into this position, how we got here," the Texas baseball coach said. "This is a championship program. We can't change that watermark. We are expected, and rightfully so, to live up to that. We have fallen way short.

"This is a time where you really dig into all of the details."

There is plenty to dig into.

Texas, a team built to dominate the mound, finished with just four healthy pitchers, none of which were effective enough to help the Longhorns avoid losing eight of their last 11.

The infield was makeshift and as a result made errors in bunches. It's never a good thing when a team that is second to last in the conference in offense also has the conference's worst defense.

"When your best infielder is your catcher, that is a rough combination," Garrido said.

It was a few other things -- immaturity and injuries being chief among them -- that had Garrido feeling as if he had been kicked in the gut when the tournament selections were announced.

"It's borderline devastating," he said. "When you have the habit of being included and then you are not, rejection is a b----. That's what it feels like."

The rejection is doubly hard when having to watch others take the trip to the postseason.

"There were teams that got in that we thought we might've beat out for that last spot," sophomore Alex Silver said.

Houston Baptist and UT-Arlington were teams that were singled out by Garrido. But Garrido did not begrudge or really even dwell on those teams being included. Instead he more lamented his team's inability to do what it had done so many times in the past -- play decent baseball when it mattered.

"I do think we had opportunities to avoid this and we failed on the playing field to support ourselves and avoid giving the committee a chance to leave us out of the tournament," he said. "We have to take the responsibility to man up to that."

Now, to a man, Texas has to figure out what went wrong and why it went wrong so it does not repeat the same mistakes again in the 2013 season.

"We have to find out what needs to be done to fix it and then act on that," Garrido said. "That's one of my main jobs is to be responsible for that. So I will."

May, 23, 2012
5/23/12
9:00
AM CT
AUSTIN, Texas -- Corey Knebel wants to step up.
On the field he has done just that. The Texas sophomore has gone from the team's top closer to the team's top starter. But it's off the field where he feels he must make more of an impact. Knebel wants to be a leader on a team that is void of such a presence on its roster.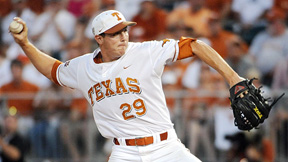 Brendan Maloney/US PresswireCorey Knebel has been one of the few reliable pitchers for Texas.
"I have tried," he said. "I kind of look at myself as a leader on the field. I've tried to put it together off the field but it is little different for me because I'm a really happy guy and it's hard for people to take me seriously and it is hard for me to get angry."
But the temperature is rising. Not just in Knebal but for the whole Texas team. The Longhorns, considering the standards set by previous UT teams, are underachieving. They are 30-20, on the bubble of the NCAA tournament and could realistically exit the Big 12 Tournament very early. That is unless someone steps up, closes the doors and has the necessary meeting Knebel thinks they need.
"That is definitely going to have to happen," he said. "[Coach Augie Garrido] is there to help us out but we need to work together as a team for that."
And there is no time like the present for that work to begin. Texas starts its climb toward respectability and the NCAA Tournament with a game against sixth-seeded Missouri Wednesday at Chickasaw Bricktown Ballpark in Oklahoma City.
Normally the first round game would be slightly ho-hum especially when considering Missouri (28-26, 10-14) only has 10 Big 12 wins. But two of those came against Texas. That was back when Texas had starting pitcher Parker French as well. Now Texas just has Knebel and a patchwork staff.
Knebel, who has the arm and talent to go seven innings comfortably, is scheduled to get the start.
"If you are looking for a Friday night guy there he is," Garrido said. "But then you have to have somebody to close is the problem."
Make that one of the problems. There is still the matter of coming up with a second day starter. Right now Texas is still working that out.
The winner of the Texas-Missouri game will play the winner of Kansas-Texas A&M in the winner's bracket. The loser will be in an elimination game against either the Jayhawks or Aggies.
The conventional thinking is Texas needs at least one more win to cement its place in the NCAA Tournament. The 2-1 win over Baylor Saturday probably got the Longhorns in the postseason door. But one more win certainly wouldn't hurt. That's why Knebel is so concerned about this team putting all aspects of the game together at the right time.
"I feel if we can come together more we can do it," he said. "Right now we are still working on coming together and we definitely need to."
April, 24, 2012
4/24/12
7:30
PM CT
By
Jeremy Willis
| ESPN.com
Welcome to your daily Board Meeting. Each evening we'll update you on the day's hottest topics on the
HornsNation forum
.
1.
NFL draft -- Texas
: Carter Strickland crunched the numbers regarding the dearth of Longhorns selected in recent NFL drafts. The Longhorns might not have an offensive player drafted and will surely wait until late Friday to have anyone taken at all.
It comes down to development. Recruiting hasn't dried up and neither has the ample exposure that helps get players known. It's the same problem plaguing the current Texas teams. Too many misses and players who were not coached well enough or did not live up to their potential.
To continue reading this article you must be an Insider
April, 13, 2012
4/13/12
8:00
AM CT
AUSTIN, Texas - - A funny thing will happen at UFCU Disch-Falk Field Friday.

The No. 25 Longhorns, wait for it, will be the home team in a conference series for the first time this season.

Texas (18-12) hasn't actually played a true home series since March 11 when it played a doubleheader against Loyola Marymount.

"I'm not really used to this," Longhorns ace Nathan Thornhill said. "It's a Friday night at home … it's supposed to rain so we play a doubleheader on Saturday. That's how it usually happens now."

The weather actually calls for sunny skies tomorrow, which could mean doom and gloom for Oklahoma State (17-14).

Texas, which came out of those three road series in a second-place tie with Texas A&M at 7-2 in the Big 12, owns a 1.43 ERA in 12 games at home this season. Thornhill, who is scheduled to pitch the series opener, has tallied 16 1/3 shutout innings at home, allowing nine hits and three walks while striking out 15.

"It's going to be really exciting," he said. "I think it will be a different atmosphere than what we have seen so far this year by having a conference series at home for the first time. We got a little feel for it when we played Cal at the Dell Diamond [in Round Rock] because the fans were a little bit louder than what we've seen on Tuesday nights here."

Home might be where the heart is, but success was definitely found on the road with Texas sweeping Oklahoma and winning series against Kansas State and Texas Tech.

"I feel like we did extremely well on the road," first baseman Alex Silver said. "It's pretty tough with the young team we have to go on the road, especially at Tech and OU."

Thornhill echoed those sentiments: "I'd say we came out pretty good. You never want to lose any games but going 7-2 in the Big 12 is good so far. You want to get out of them with sweeps but getting out of Texas Tech with only one loss with their fans the way they are. After dropping the first one at Kansas State and winning the last two is big too."

Texas won those seven games in large part to the continued success it has had at the plate. The Longhorns were hitting .212 entering their midweek game against No. 20 Texas State on March 13, but have since raised their average 69 points in their last 16 games.

That is in large part to reigning Big 12 Player of the Week Erich Weiss, who is hitting (.464), Jonathan Walsh (.403) and Mark Payton (.362). Silver is currently riding a 16-game hitting streak.

The Longhorns can only hope that they'll find similar success at a place they feel extremely comfortable with.

"I've talked to other people that have played here on away teams and they say the environment is really tough to play in," said Silver, who owns a .972 fielding percentage since becoming the starting first basemen 13 games in. "All of us become very comfortable here. It's going to be really nice having everyone here to cheer for us. We know how the ball bounces here. It's going to be nice."

Oklahoma State swept Kansas last weekend in Stillwater to move to 4-5 and in fourth place in the Big 12. The Cowboys, like Texas, are young and boast 18 different players who have made their debuts this season.

"They are going to be good," Thornhill said. "They are the only team to beat us two out of three times last year so they are going to be a scrappy team. We are just going to have to come out and play some scrappy Texas baseball."

April, 5, 2012
4/05/12
2:00
PM CT
For the third time in three conference series the No. 25 Longhorns will play away from Disch-Falk Field beginning today against Texas Tech.

If the first two series were any indication, then Texas probably can't wait to get to Lubbock. The Longhorns have won five of six on the road in conference against Oklahoma and Kansas State.

Texas has also played considerably well against Texas Tech, having not dropped a series to the Red Raiders since 2002.

Staff ace Nathan Thornhill (3-2, 3.52 ERA) will try to end Texas' two-game skid, which it suffered at the hands of Cal last week, by duplicating his effort from the series opener against the Golden Bears last Friday.

In Texas' 13-3 romp, the right-hander allowed five hits, three runs (two earned) and struck out five in seven innings.

Leadoff hitter Mark Payton was a key component in that win, as he has been in most of Texas' victories this season. He was 3-for-5 with three runs scored and two RBI on Friday and reached base safely in the next two games to continue his streak of reaching base in every game this season.

Payton, Texas' rightfielder, has recorded at least one base hit in 22 games and owns a .309 batting average to go along with a .411 on-base percentage.

Texas Tech (17-13, 2-7 Big 12) is coming off a 13-8 victory over Angelo State but has lost 5-of-7 overall. If the Red Raiders are going to build off Tuesday's win they'll count on Jamodrick McGruder to lead the way. He ranks in the top 10 of five different Big 12 categories, including triples (third), walks (eighth), stolen bases (eighth), runs (ninth) and on-base percentage (10th).

This will be the second game of a 10-game homestand that the Red Raiders are hoping will lift them from the depths of the Big 12 standings. Texas Tech sits just above Oklahoma State (1-5) in conference. Texas (15-11, 5-1) lies just behind Baylor, which will head to Missouri (3-3) with a perfect 9-0 conference record.

Notables: Corey Knebel moved into the Big 12's top 10 career chart in saves last week. The sophomore's 24 saves tie him with former Longhorn J. Brent Cox and Nick Cassavechia (Baylor) for 10th on the list.

PROBABLE PITCHING MATCHUPS
Thursday, April 5, 2012 - 6:30 p.m.
Texas: RHP Nathan Thornhill (3-2, 3.52 ERA)(vs. Texas Tech: RHP Trey Masek (1-3, 3.22 ERA)((

Friday, April 6, 2012 - 6:30 p.m.
Texas: RHP Parker French (3-1, 4.10 ERA)(vs. Texas Tech: RHP Duke von Schamann (4-3, 1.72 ERA)((

Saturday, April 7, 2012 - 2 p.m.
Texas: RHP Ricky Jacquez (1-1, 6.67 ERA)(vs. Texas Tech: RHP John Neely (2-3, 4.26 ERA)

March, 23, 2012
3/23/12
10:30
AM CT
If the No. 25 Longhorns (11-8, 3-0 Big 12) want to continue their six-game winning streak by taking the first of a three-game set at Kansas State Friday, they'd better hope Nathan Thornhill can find a cure for his first inning woes.

Thornhill, who is 2-1 with a 3.21 ERA, has been woefully consistent in five first innings this season. The right-hander has yielded eight runs (all earned) on nine hits and five walks, which amounts to a 14.40 ERA and a .375 average against.

After the first inning, Thornhill has pitched like the Friday starter Texas has envisioned this season. The rest of the way he has allowed just eight runs (four earned), on 29 hits and four walks in 28 2/3 innings. He holds a 1.26 ERA after the first inning and is holding opponents to a .188 clip.

If he can keep Kansas State (12-8, 1-2) at bay, he should receive enough run support to carry him deep into the game. That is if the Texas' bats continue as they have during this winning streak, which includes wins over four top 25 opponents.

The Longhorns have scored nine runs in three straight games and hit .360 during their three-game sweep of Oklahoma.

One of the leaders of the offense has been right fielder Mark Payton, who has reached base in all 19 games this season. Payton, who recorded at least one base hit in 16 games, owns a .333 average and .432 on-base percentage.

Kansas State is looking to snap a two-game skid at the hands of Texas A&M. The Wildcats took the first game of the series 15-12 but dropped the final two 9-2 and 7-2.

Right-hander Matt Applegate (1-2, 6.04 ERA) will toe the rubber for the Wildcats.

March, 7, 2012
3/07/12
8:17
AM CT
By
Jeremy Willis
| ESPN.com
The Texas baseball team got back in the win column Tuesday after dropping two out of three games at the Houston College Classic.

Senior outfielder Tyler Maitland hit a walk-off single in the bottom of the 12th inning to give the Longhorns a 2-1 win over Dallas Baptist at UFCU Disch-Falk Field.

Before that inning, Texas had just three hits, but sophomore infielder Alex Silver's bloop single in the 12th got the rally started. Taylor Stell pinch-ran for Silver and advanced to second on a sacrifice bunt from sophomore Kirby Bellow. That's when things got dramatic.

The Patriots tried to set up a double play by intentionally walking Jordan Etier, and Mark Payton appeared to oblige the move when he hit a slow roller to short stop. The sophomore Payton was able to beat the relay throw from second base to give Texas runners on the corners with two outs.

In stepped Maitland.

The senior bounced a 1-0 pitch towards DBU short stop Joel Hutter, but with Maitland's speed, Dallas Baptist had no play at first. Hutter instead went to third to try and retire Etier before the winning run could score, but Stell crossed the plate first with the winning run.

Six Longhorns pitchers combined to allow just one run and five hits over 12 innings. Corey Knebel (1-0) earned the victory, pitching a scoreless 12th inning, allowing one hit while striking out one. Parker French, who entered in the 8th, pitched four scoreless innings allowing two hits and notching a strikeout. Nathan Thornhill and John Curtiss each tallied two scoreless innings.

Dallas Baptist (6-6) pounced on the Longhorns for a run in the top of the first inning. R.J. Talamantes doubled to the gap in right centerfield to start the frame and moved to third on a fly out to deep leftfield. Boomer Collins drew a walk to put runners on the corners and Talamantes scored when Collins drew the throw to second on a double-steal attempt.

Texas (5-7) knotted the game at 1-1 in the bottom of the second inning. With one out, Silver was hit by a pitch and replaced at first base by Bellow who grounded into a fielder's choice. Etier singled and Mark Payton walked to load the bases. Maitland was hit by a pitch to drive in Bellow with the equalizer.

Etier was the only player in the game to register multiple hits, going 2-for-4 on the day.

Michael Smith (1-1) was the hard-luck loser for Dallas Baptist. He allowed one run on two hits and one walk while striking out six over 5.2 innings. Andrew Elkins pitched 4.1 scoreless innings of relief, allowing two hits and one walk while striking out two.