Texas Longhorns:

Arizona Wildcats
October, 11, 2013
Oct 11
5:30
AM ET
The Early Offer is RecruitingNation's regular feature, giving you a daily dose of recruiting in the mornings. Today's offerings: The Red River Rivalry always has recruiting implications, and this year's game is no exception; Texas' loss could end up being Arkansas' gain; and one of the nation's best offensive tackles will take trips to Florida and Florida State.
To continue reading this article you must be an Insider
August, 16, 2013
Aug 16
10:00
AM ET
It's time to open the mailbag and answer some questions about Big 12 recruiting. We encourage all to send questions each week, either via Twitter to @DamonSayles or @ESPNWilkerson or via email at dsaylesespn@gmail.com or wilkerson.espn@gmail.com.
@hammerheel
: Which Big 12 team can improve their recruiting ranking the most with a big season on the field? Which team has biggest upside?
Damon Sayles
: I think Texas Tech can really improve its ranking down the road if it can score a few clutch victories. This is Kliff Kingsbury's first year as head coach, and if he can lead the Red Raiders to a great season, it will result in getting some top-notch commitments for the future -- the same way Texas A&M picked up stud commits after a strong 2012 season.
@LeeRagland
: Never asked before, but did
Ty Barrett
to TCU surprise you? Enjoy your work.
DS
: Thanks, Lee, and honestly, Barrett's decision did not surprise me. I've always known Barrett to be a shock-the-world type of player. Several of the players from Dallas Skyline think similarly (remember,
Victor Evans
surprisingly chose Ole Miss over Texas). Barrett should be a major asset to the Horned Frogs' offensive line -- and trouble for opposing Big 12 defenders.
@CLadyjags31s
: As a parent, I want to know the reason for committing so early. Things change day to day. Why is it such a rush to commit?
DS
: Unfortunately, it's one that doesn't have a conventional answer. Some commit early because they've been set on going to one school for quite some time; perhaps, it's their favorite school. Others commit early because they jump on the first school to offer. That's frowned upon by many, because you want a player to have time to weigh all options, but it happens. Then you have some players who commit early for the glamor and glitz of the event. They make a deal out of it either by way of a school ceremony or per an announcement on Twitter. One thing's for sure: If a player commits, almost every college coach would agree that you should honor that commitment.

garrettjelley@yahoo.com
: Other than
Steven Parker
, what ESPN 300 prospects do you see Oklahoma State ending up with? Also, does Oklahoma State have a shot at
Malachi Dupre
,
Trey Quinn
or
Cameron Sims
?
DS
: I'm sure that Oklahoma fans would beg to differ on Parker going to Stillwater and not Norman. Those are the two favorites, but whether or not he ends up a Cowboy is still to be determined. As for Dupre, Quinn and Sims, I think Oklahoma State is in the running for all three. However, it'll be tough to steer Dupre and Quinn from LSU and Sims from Alabama. The process isn't over until it's over, right?
@ElmoSledd
: Where do you think
Dakota Allen
will land?
DS
: Allen is supposed to make a decision Friday night, and he is down to Texas Tech and TCU. While he'd look good in TCU purple, I think the relationship he's built with the Red Raiders coaching staff will be the ultimate decider. Plus, Texas Tech is in dire need of a linebacker for its 2014 class. Allen is one of the best-available inside linebackers around, and whichever school ends up with him gets a steal.
@RL1_Era
: Which Big 12 team needs a big recruiting class the most?
DS
: A team like Kansas really could use a big class strictly for the confidence boost. The Jayhawks only have seven commitments entering the weekend. Fortunately for Jayhawks fans, three of the seven are four-star players, and two -- OLB
Kyron Watson
and OL
Jacob Bragg
-- are ESPN 300 players. A strong 2014 class will help change the image of Kansas football. Charlie Weis and Co. understand that with recruiting in Lawrence, it's all about taking small steps.
tuxjackson@ymail.com
: When does
Jamardre Cobb
plan to make his decision, and if you were to guess today, who would you say has the upper hand out of his top 3?
DS
: Right now, Cobb is focused on winning a state championship for Los Angeles Salesian. Recruiting isn't necessarily taking a back seat, but it's far from the forefront. The ESPN 300 linebacker has an official visit scheduled for Oklahoma in early October, and the Sooners have had success landing players from the west coast. Arizona and Arizona State also are teams to watch in the Cobb sweepstakes.
August, 14, 2013
Aug 14
10:05
AM ET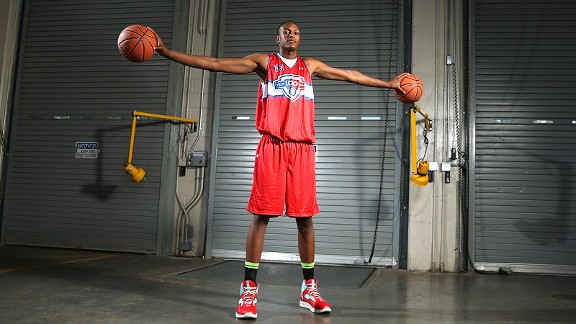 Courtesy of Kelly Kline/Under ArmourNo. 10 recruit Myles Turner is down to eight finalists: Kansas, Texas, Oklahoma State, Duke, Kentucky, Arizona, Louisville and Ohio State.
Myles Turner
(Bedford, Texas/Euless Trinity) was unknown and anonymous just a few months ago, heading into the April recruiting period. A broken ankle kept him off the summer circuit last season and kept him off the radar for most of the elite college programs.
But it has all changed in a hurry for the 6-foot-11, 225-pound Texan, who has made an
Anthony Davis
-esque rise up the rankings, elevating himself from outside the ESPN 100 to No. 10 overall in the Class of 2014 to now potentially challenging fellow big men
Jahlil Okafor
(Chicago/Whitney Young) and
Cliff Alexander
(Chicago/Curie) for the No. 1 spot. While Okafor is polished and skilled, no one in the 2014 class may have as much upside as Turner.
Turner recently cut his college list to eight and has set just one official visit thus far, to Lawrence, Kan., for the Jayhawks' Midnight Madness on Oct. 4. Turner's father, David, told ESPN.com that the family has also already set up in-home visits with Texas and Kentucky.
Here's handicapping the race for Turner, ranking his finalists from 1-8 after talking to those involved in the recruitment:
To continue reading this article you must be an Insider
August, 13, 2013
Aug 13
5:09
PM ET
By
RecruitingNation
| ESPN.com
AUSTIN, Texas -- Former Texas wide receiver
Cayleb Jones
is transferring to Arizona, his brother confirmed Tuesday.
Jones chose Arizona over serious interest from several schools, including North Carolina, East Carolina, Auburn, Clemson, Oklahoma and Colorado.
His brother
Isaiah Jones
, a freshman receiver at ECU, confirmed the decision to ESPN.com. Jones' destination was earlier reported by YNN Austin.
Read the rest of Max Olson's story
here
.
August, 7, 2013
Aug 7
9:31
PM ET
Five-star center
Myles Turner
(Bedford, Texas/Trinity) has confirmed that he has trimmed his list to eight schools. In no particular order, the finalists for high school basketball's hottest prospect are Duke, Kansas, Kentucky, Louisville, Arizona, Ohio State, Oklahoma State and Texas.
To continue reading this article you must be an Insider
March, 24, 2013
Mar 24
8:02
PM ET
DUNCANVILLE, Texas -- Speed might best define ESPN Watch List wide receiver
K.D. Cannon
(Mount Pleasant, Texas/Mount Pleasant). His hands might be a close second. His outstanding 4.37-second 40-yard dash time and his 104 catches for 1,597 yards and 25 touchdowns support that.
What Cannon has been recently working on is how to overcome size mismatches against larger defenders in the secondary. At 6-foot-0 and 170 pounds, he knows that at the next level he will go up against cornerbacks and safeties who are 15 or 20 pounds heavier -- and just as quick.
To continue reading this article you must be an Insider
January, 23, 2013
Jan 23
1:30
PM ET
ESPN Watch List running back
Nathan Starks
(Las Vegas/Bishop Gorman) is starting to narrow things down. But he'd also like to hear from one program in particular before he gets too deep into the recruiting process.
Which program is that? Where does Texas stand with him? And is the Longhorns' biggest rival his favorite right now?
To continue reading this article you must be an Insider
September, 19, 2012
9/19/12
12:48
PM ET
Senior shooting guard
Keith Frazier
(Dallas/Kimball), the No. 19 overall player in the
ESPN 100
, is one of the best shooters/scorers in the country regardless of class.
Right now Frazier likes Providence, Florida, Texas, Texas A&M, LSU, Arizona, SMU and Memphis. Frazier will likely commit in April, which will allow him to get a better feel for programs, coaches and players. Without a doubt he will be a prime target for many elite programs.
[+] Enlarge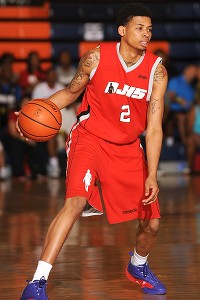 Courtesy of Anthony Scott KurtzESPN 100 SG Keith Frazier will make his college announcement on March 28 between Texas A&M, SMU, Texas Tech and Auburn.
"I am looking for a school where I can instantly play big-time minutes, the coach is loyal and with me when I do something good or bad, and someone that can help me get to the next level. Make me a pro," Frazier said.
To continue reading this article you must be an Insider
September, 12, 2012
9/12/12
1:00
PM ET
Each week Sean Adams takes a look at some topics around the
Texas Longhorns
and college football.
1st Down: First road trip
Texas goes on the road for the first time this season. While it is not going to one of the upper tier SEC venues, it is still going to the south where most everyone cares about football. Vaught-Hemingway Stadium will be rocking and everyone will have a full afternoon to get relaxed and prepared to cheer on their Rebels.
Safety
Adrian Phillips
talked to me about the freshmen contributors playing for the first time on the road.
[+] Enlarge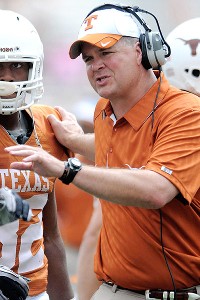 John Rivera/Icon SMITexas has brought a few assistant coaches over from SEC schools, such as offensive line coach Stacy Searles.
"It's a different atmosphere out there," he said. "It can be overwhelming sometimes if you are not prepared. Stay in the playbook and do what you came out there to do."
I would offer to freshmen playing for the first time all over the country something that Lou Holtz told me a long time ago: "The most important thing to know is that a fan has never made a tackle, never made a block and never scored a touchdown. They don't matter."
This is a great first road trip for Texas especially with a really tough environment two weeks after the Ole Miss game in Stillwater to open conference against Oklahoma State.
2nd Down: Are the SEC comparisons impossible
Mack Brown said that he wanted to build his teams more like the SEC teams that have won every national championship since Texas won in 2005. He made hires at offensive line, defensive coordinator and defensive tackle coaches all from SEC schools. Throw in the fact that Major Applewhite came back to the University of Texas from Alabama and you see an overt attempt to get closer to the SEC in every way shape and form.
Are Texas fans barking up the wrong tree assuming that the current iteration of the Texas offense can ever resemble the smash mouth play of the SEC's offense?
Texas has the personnel to play smash mouth football even if it does not have the depth. It will all come down to the play calling of offensive coordinator Bryan Harsin and
David Ash
's ability to execute the offense at the quarterback.
There is a need to grow the trust between the OC and quarterback. As Ash takes hold of the offense, he will be given more opportunities to run the full breadth of the playbook. Information transfer is so important as it really does not matter how much Coach Harsin knows as much as it is about how much Ash learns.
3rd Down: Stats do matter
Ash is a thinker and I like that. He is figuring out ways to manage himself with the media, the fans and the notoriety that comes along with playing quarterback at a place like the Texas.
During the post game of the New Mexico game he made a statement that I am still trying to process. "Stats are for losers," he said.
While I fully agree that statistics do not tell the whole story in any industry, divorcing yourself from the value of the quantifiable is silly and dangerous. Statistics tell a side of the story whether it's good or bad.
Oklahoma State beat Savannah State 84-0 and was ranked 16th in the country. The Cowboys loaded up on the stats that day. Then they went out and gave up 59 points in losing to unranked Arizona. Statistics, as they built up on the first week, did not mean much.
Statistics over the course of a season, over the course of a conference season and over the course of a career mean a lot. The fact is, you never find a winner without finding stats to somewhat support the success.
4th Down: Adams' Big 12 Power Poll
To continue reading this article you must be an Insider
August, 28, 2012
8/28/12
1:00
PM ET
AUSTIN, Texas -- It appears the Longhorns are finally coming around to ESPN 150 wide receiver
Torii Hunter Jr.
(Prosper, Texas/Prosper).
The son of Los Angeles Angels outfielder
Torii Hunter
, who dazzled at The Opening in July, said that he and the Texas coaches have been in contact this month. It's the first time the two sides have talked since May.
[+] Enlarge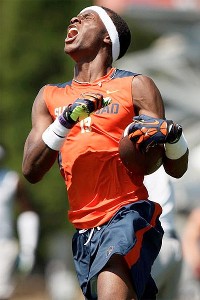 Tom Hauck for ESPN.comTorii Hunter Jr. is rated as the nation's No. 8 receiver.
"Well they contacted my coach at the beginning of this month and my coach told me to give Coach [Darrell] Wyatt a call," Hunter Jr. said. "When I finally got a hold of Coach Wyatt he really just told me to attend their first game against Wyoming."
To continue reading this article you must be an Insider
July, 17, 2012
7/17/12
8:23
PM ET
Perhaps no prospect did more to improve his stock at The Opening than ESPN 150 wide receiver
Torii Hunter Jr.
(Prosper, Texas/Prosper).
The son of Los Angeles Angels outfielder Torii Hunter dazzled in front of a plethora of recruiting analysts and NFL representatives in Beaverton, Ore., and on ESPNU during the 7-on-7 championships with one highlight-reel play after another.
He was so impressive that, when the latest version of the ESPN 150 was released the following week, Hunter's overall ranking improved from No. 137 to No. 51.
To continue reading this article you must be an Insider
June, 25, 2012
6/25/12
2:00
PM ET
This month, the NCAA opened Pandora's box and lifted regulations on texting and phone calls to recruits. Ten days into the experiment isn't enough time to evaluate the effects of unlimited contact between recruits and coaches.
With that said, senior small forward
Rondae Jefferson
(Chester, Pa./Chester) isn't a fan. "I don't think that rule was all that," Jefferson said. "It's non-stop phone calls, and nobody wants to go through that. I just want to enjoy basketball."
Within five minutes of the rule's implementation, Jefferson had at least 12 missed phone calls and it was only shortly after midnight. Mark down Jefferson, ESPN's No. 23 senior, as a "no" vote for the new rule.
"I don't like it in my opinion," he said. "It affects the kids. When a coach gets that number he can (call) non-stop. 'What are you doing? How are we going to make this work?' This is the biggest decision of my life."
Jefferson's response to the rule was simple: cut his list. In his mind, going into July with a bunch of schools wasn't a bad thing. After all, the decision is significant. He wanted his options. Not anymore.
On Sunday night, Jefferson trimmed up his list to a more manageable seven schools. The contenders: Arizona, Texas, Florida, Memphis, Temple, Rutgers and Syracuse. Jefferson's brother, Rahlir Hollis-Jefferson, is a mainstay in the Temple lineup.
Seven schools is still a big number. However, for the senior it's more manageable and he's trimmed the fat as much as he could at this stage in the game. Jefferson doesn't mind the dance, it was the number of partners he had that kept him on his toes.
February, 24, 2012
2/24/12
11:41
AM ET
Center
Austin Davis
(Mansfield, Texas), fresh off attending Oklahoma State's junior day last weekend, confirmed Friday that he will be in Austin, Texas, Saturday for the Longhorns' junior day.
A shade under 6-foot-5 and 295 pounds, Davis is a key member of Mansfield's offensive line. He is listed as a center but can play either guard or tackle if necessary.
Davis is looking at Saturday as an opportunity not only to flash his resume but also learn more about a school he's respected all his life.
To continue reading this article you must be an Insider
February, 23, 2012
2/23/12
11:07
PM ET
Kennedale (Texas) linebacker
Brett Wade
's interest in the University of Texas is relatively high. On a scale of one to 10 – with 10 being the highest – Wade said Texas gets an eight.
And that is before Saturday's junior day, which could sell him even more on the Longhorns. Wade, a 6-foot-1, 220-pound inside linebacker, will be in Austin Saturday and hopes to get two important things out of the trip.
"An offer," Wade said, "and just more looks around the school."
To continue reading this article you must be an Insider
Best Moments From The BCS
BIG 12 SCOREBOARD
Saturday, 12/21
Monday, 12/23
Tuesday, 12/24
Thursday, 12/26
Friday, 12/27
Saturday, 12/28
Monday, 12/30
Tuesday, 12/31
Wednesday, 1/1
Thursday, 1/2
Friday, 1/3
Saturday, 1/4
Sunday, 1/5
Monday, 1/6