Texas Longhorns:

Vanderbilt Commodores
January, 2, 2013
Jan 2
2:08
PM CT
SAN ANTONIO -- Wednesday was a day off for the U.S. Army All-American Bowl teams. Instead of working out and participating in drills, the players took in visits around the city -- including a stop at the Alamodome for photo opportunities and to see their game apparel -- and used the day to recover from two days of practice.
The teams will return to the fields on Thursday in arguably the most important practice of the week. Here are five things to keep an eye on for Thursday's practice:
To continue reading this article you must be an Insider
November, 30, 2012
11/30/12
1:20
PM CT
By
RecruitingNation staff
| ESPN.com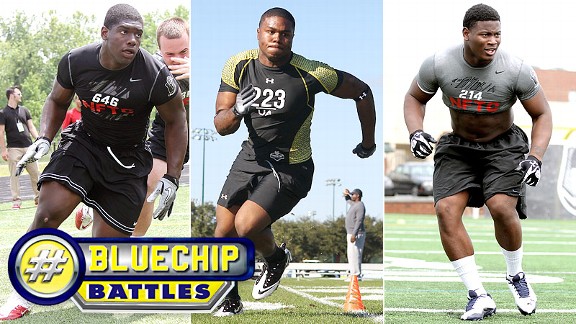 ESPN.comCarl Lawson, Dee Linerand Reuben Foster are still committed to Auburn, but the Tigers' coaching situation could change things for the three ESPN 150 recruits.
Auburn bid farewell to head coach Gene Chizik on Sunday. Could the Tigers also be saying goodbye to a trio of ESPN 150 recruits who could take their talents elsewhere?
Each week, RecruitingNation summons its writers from around the country to compile a list of the top 10 battles for elite football recruits leading up to February's signing day.
Here are
this week's top battles

, and you can take a shot at
ranking the top 10 recruiting battles
on SportsNation.
November, 16, 2012
11/16/12
11:13
AM CT
By
RecruitingNation staff
| ESPN.com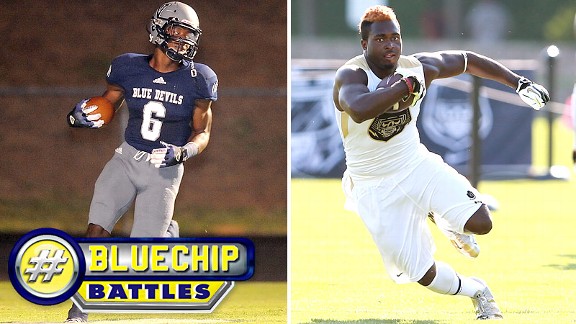 ESPN.comUncommitted 2013 running backs Alvin Kamara and Derrick Green.
ESPN 100 running backs
Alvin Kamara
and
Derrick Green
can score from anywhere on the field thanks to their breakaway speed, an attribute that makes them very attractive recruits to the Oregon Ducks. Oregon's pursuit of the duo headlines
this week's #BlueChipBattles.

Click through for our list to
rank the top 10 recruiting battles

.
June, 30, 2012
6/30/12
3:11
PM CT
Under Armour All-America safety
Vonn Bell
(Rossville, Ga./Ridgeland) has picked up close to 30 offers during the recruiting process, but as is always the case, there can be only one school on top in the end, so the 6-foot, 185-pound ESPN 150 prospect sat down with his family and coaches to try and narrow things down a bit over the summer. On Saturday, Ridgeland head coach Mark Mariakas announced a top seven.
"Vonn Bell made contact with the following schools, Ohio State, Georgia, Alabama, Tennessee, Texas, Vanderbilt and Clemson, and told them they were on his short list of schools that he will commit to," Mariakas said. "By Labor Day he will cut this list down to two schools and go from there with the process. This list is in no order."
To continue reading this article you must be an Insider
May, 28, 2012
5/28/12
7:39
AM CT
Rossville, Ga. -- Less than three miles from the Tennessee border, coaches from Auburn and Tennessee watch as defensive back
Vonn Bell
(Rossville, Ga./Ridgeland) makes it look easy against his teammates during the school's spring scrimmage. Three carries result in three spectacular touchdown plays for the 6-foot, 185-pound ESPN 150 athlete, who would also make his presence known on defense with a couple bone-jarring hits before letting the backups take over.
For Bell, who is coming off an All-State season in which he made 180 tackles, five interceptions, three forced fumbles and three recoveries for touchdowns on defense, as well as 37 rushes for 280 yards and five touchdowns, 31 catches for 487 yards and six touchdowns on offense, it was just another day at the office.
More than 15 programs made the trip in the last month to Rossville to evaluate Bell, who has done his best to return the favor, making trips to Alabama, Arkansas, Auburn, Georgia, Notre Dame, Ohio State, Oklahoma State, Tennessee, Texas and Vanderbilt this year. It is all part of a process that Bell and his parents take seriously.
To continue reading this article you must be an Insider
May, 19, 2012
5/19/12
12:00
PM CT
The days of the Rose Bowl being the bowl of bowls could soon be coming to an end now that the SEC and the Big 12 have agreed on a
five-year bowl partnership
.
The new deal, announced Friday, will have the champions of the Big 12 and SEC meet in a New Year's Day bowl game annually beginning with the 2014 season. So while it won't have the tradition of the Rose Bowl, it'll have the viewers and it'll have the popularity.
We're seeing more and more how power is truly the most important component in college football, and this is a great example. Soon, we'll have the two best BCS conferences going at it in their own special bowl competing with the beloved Rose Bowl.
We're joined on the SEC blog by Big 12 blogger David Ubben to get his thoughts on what this means for the Big 12. We're gentlemen down here in SEC country, so we'll let him go first:
David Ubben:
Rose Bowl, we love you. Not as much as Jim Delany does, but I'm not sure anyone can stake that claim. Anyway, it's time to face an unfortunate truth: You've been one-upped. The unnamed, unplaced bowl partnership between the Big 12 and SEC won't have the same level of tradition, but it will feature better teams. That's a powerful draw.
The BCS has played 14 national title games since its birth. The Big 12 or SEC have participated in 12 of them. Teams from the league have met in the game twice.
Now, they'll have another big stage to showcase their top teams. If a Big 12 or SEC champion is in the four-team playoff that will likely begin in the 2014 season, the next-best team will fill their place in the annual game. Deciding who plays in that game is up to each conference. The nation's two best conferences will get a much-needed opportunity to face one another on the field and test the hotly debated offense vs. defense theories on the field annually. The nation's college football fans were robbed of that when Oklahoma State was squeezed out of the national title game for SEC West second-place finisher Alabama. This year, the SEC and Big 12 only play once, when eight-win Texas travels to face two-win Ole Miss in September. Not exactly must-see TV.
This will be.
It assures the Big 12 a place at the adults' table of college football, further extending the distance between college football's top four leagues -- the SEC, Big 12, Pac-12 and Big Ten, in that order -- and the ACC and Big East. The ACC and Big East have the Orange Bowl, but any game like the SEC and Big 12 put together will pale in comparison when it comes to TV ratings and more importantly, TV money.
Only a few months ago, the Big 12 had eight teams, with half the league considering a move to the Pac-12 and the conference on life support. Things are looking very different now. It's about to sign a giant television deal, likely extending the grant of rights into the next decade and assuring stability at least through then, and probably beyond.
Tired of getting stuck playing Boise State and UConn in everything to lose, nothing to gain BCS bowl matchups? Seven-time Big 12 champion Oklahoma won't have to worry about that anymore, and even if the Sooners are in the forthcoming national championship playoff, the next-best Big 12 team will have a quality opponent to prove itself against.
Another plus for the Big 12? The Cotton Bowl's odds of getting into the BCS as it stood were minimal. Now? It's still in flux, but does anyone want to bet against Jerry Jones and his wallet to get this game in his Dallas palace at some point? That's a big game in the Big 12 footprint, something that's never happened on the BCS bowl stage.
How will this affect Florida State, too? News has surely reached Tallahassee by now, and the Florida State spear-toting brass have to be wondering how much this factors into their wandering eye toward the Big 12. Is the ACC the place to be?
We'll find out soon, but on Jan. 1, 2015, there will be only one place to be.
This game.
Edward Aschoff:
I couldn't agree more with pretty much everything you said. There's no question that both of these leagues have dominated the BCS since its first year in 1998. The conferences have been left out of the national championship just twice in the last 14 years and the SEC has participated in -- and won -- eight. The Big 12 has won two of its seven appearances.
SEC commissioner Mike Slive has just about everything he wants in his conference, but he hasn't had the Rose Bowl. Sure, all those national championship trophies are nice, but an annual game like the Rose Bowl commands respect. The game that the Big Ten and Pac-12 covet so much, and is watched by millions annually, will now get a major run for its money. While they'll be played in different time slots, there's no question that this will turn into the ultimate popularity contest. If you could sense that Big Ten-SEC tension before, just wait. Now, the SEC will be looking down on the Big Ten
and
picking at the game it holds so dear. Don't think that didn't cross the commissioner's mind when he was thinking about this deal.
The SEC has truly been front and center in the college football world for the past six years with its 6-0 record in BCS championships, and now it will pursue a game it thinks can have the gusto of the Rose. This is a great opportunity for the SEC to build another fine tradition for the country's top college football conference. And fans/the media want to see more of these matchups. For the most part, we're all deprived of them during the regular season, so here's a chance for us to win something as well. These two conferences need to play more. The best should always play the best, and as David said, we can finally settle the whole offense-defense debate.
This also means that more SEC teams have the chance to play in a primetime, marquee matchup in January. If this had been in place last season, Arkansas, which certainly had a BCS-caliber team, would have played in a BCS-like bowl, since Alabama and LSU met in the title game. The Cotton Bowl got the matchup this game would have received, but it would have been on a much grander scale and much more attention would have been paid to it. Oh, and much more money would have come out of it.
It would likely help the SEC this year too, as there could be as many as five teams jockeying for BCS position. Imagine if the four-team playoff took place this season? You might have two more SEC teams fighting for a chance at a national championship, meaning this game would give No. 3 a chance strut its stuff in front of its own grand audience.
There's no question that with a four-team playoff, the SEC will have more opportunities to put teams in the national championship, continuing its dominance. Now, Slive has helped to ensure that a high-caliber team left out of the championship hunt will still play in a game that will command the type of attention that comes with a BCS bowl.
April, 26, 2012
4/26/12
10:47
AM CT
ESPN 150 defensive back
Maurice Smith
(Sugar Land, Texas/Dulles) is rapidly approaching the 20-offer plateau, and on Wednesday, the four-star cornerback picked up an offer from Florida, his seventh SEC offer.
When asked where the offer stood with him, Smith calmly gave a confident response.
"Pretty high," he said.
To continue reading this article you must be an Insider
April, 16, 2012
4/16/12
8:30
AM CT
Tide on top for ESPN 150 Watch List member CB Smith after visit
When Texas offered Lone State cornerback
Maurice Smith
last month, the University of Alabama knew it had an uphill road to climb, but the Crimson Tide made up some ground and more during the weekend when Smith visited Tuscaloosa for A-Day.
"It was great," Smith said. "We got to talk to Coach (Doug) Nussmeier, the coach out of my area. He really took me under his wing and showed me around the place. I loved the campus and the people around the campus. The environment was great.
To continue reading this article you must be an Insider
April, 12, 2012
4/12/12
11:30
AM CT
Texas wanted two tight ends for its 2013 recruiting class. Will
Jeremiah Gaines
be one of them?
The Red Oak tight end isn't so sure. Other than getting a letter in the mail a few weeks ago, he hasn't heard from Texas coaches since attending their second junior day on Feb. 25.
"I know for sure coach [Bruce] Chambers told me they're graduating off a small class, which I understand," he said. "But I haven't talked to him since the junior day, so I don't really know what's up."
To continue reading this article you must be an Insider
March, 21, 2012
3/21/12
10:15
AM CT
Don't try convincing ESPNU 150 Watch List cornerback
Maurice Smith
(Sugar Land, Texas/Dulles) that the number 13 is unlucky. For him, it's quite the opposite.
Smith picked up an offer from Ole Miss on Tuesday and upped his total offers to 13. The 6-foot, 185-pound junior earned his second offer in as many days, as Vanderbilt offered him Monday.
Smith remembers picking up his first offer from Texas A&M in early January. Since then, the overall excitement of adding to a growing list has yet to fade.
To continue reading this article you must be an Insider
February, 23, 2012
2/23/12
7:59
PM CT
It's safe to say that ESPNU Watch List member
Vonn Bell
(Rossville, Ga./Ridgeland) can play a little ball.
The 6-foot, 190-pound safety had never spoken to any member of Texas' coaching staff before today, but by 8:30 p.m. he had an offer.
"I called them eariler today and they said they were very interested," Bell said. "I wasn't sure if I had been offered the first time I spoke with them so I called them back and I asked if I had been offered and [defensive backs] coach [Duane] Akina said that I answered my own question."
To continue reading this article you must be an Insider
February, 17, 2012
2/17/12
6:00
AM CT
ESPNU 150 Watch List tight end
Christian Morgan
(Plano, Texas/Prestonwood) picked up his fifth offer Wednesday night, as he was offered a scholarship from California.
Morgan, 6-foot-5 and 250 pounds, now has offers from Cal, Tulsa, Baylor, Vanderbilt and Arkansas. He said he's been in contact with his recruiting contact, Cal tight ends coach and special teams coordinator Jeff Genyk.
"It's great. The education and location would both be incredible," Morgan said of Cal, which pulled two ESPNU 150 players and seven four-star players in its 2012 recruiting class.
To continue reading this article you must be an Insider
Thursday's Under Armour All-America Game (7:30 p.m. ET, ESPN/ESPN3) will include verbal commitments from six top prospects.
Headlining the group is five-star safety
Landon Collins
(Geismar, La./Dutchtown). Collins (6-foot, 210 pounds) officially lists his finalists as Alabama, LSU, Tennessee and Texas, though most feel this is a Tigers vs. Tide battle.
ESPNU 150 athlete
Cyrus Jones
(Baltimore/Gilman), the nation's No. 5 athlete and No. 33 overall prospect in the Class of 2012, will be selecting from Alabama, Auburn, Ohio State and Virginia Tech.
To continue reading this article you must be an Insider
October, 3, 2011
10/03/11
1:42
PM CT
Shooting 3's ...
Lammert is barely 17, and that's good news for Texas
Connor Lammert
(San Antonio/Churchill) isn't in our ESPNU 100. Maybe he should be. Lammert committed to the University of Texas after considering Big 12 brethren Texas Tech and Texas A&M, in addition to Vanderbilt.
To continue reading this article you must be an Insider