Texas Longhorns:

Kentucky Wildcats
August, 14, 2013
8/14/13
10:05
AM ET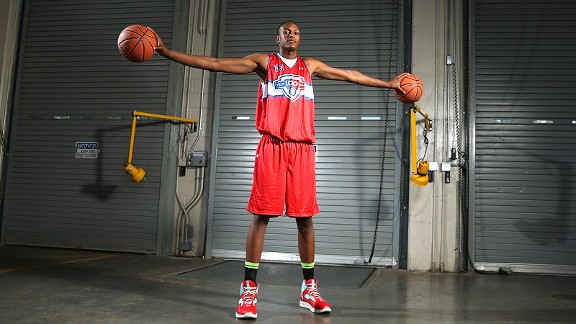 Courtesy of Kelly Kline/Under ArmourNo. 10 recruit Myles Turner is down to eight finalists: Kansas, Texas, Oklahoma State, Duke, Kentucky, Arizona, Louisville and Ohio State.
Myles Turner
(Bedford, Texas/Euless Trinity) was unknown and anonymous just a few months ago, heading into the April recruiting period. A broken ankle kept him off the summer circuit last season and kept him off the radar for most of the elite college programs.
But it has all changed in a hurry for the 6-foot-11, 225-pound Texan, who has made an
Anthony Davis
-esque rise up the rankings, elevating himself from outside the ESPN 100 to No. 10 overall in the Class of 2014 to now potentially challenging fellow big men
Jahlil Okafor
(Chicago/Whitney Young) and
Cliff Alexander
(Chicago/Curie) for the No. 1 spot. While Okafor is polished and skilled, no one in the 2014 class may have as much upside as Turner.
Turner recently cut his college list to eight and has set just one official visit thus far, to Lawrence, Kan., for the Jayhawks' Midnight Madness on Oct. 4. Turner's father, David, told ESPN.com that the family has also already set up in-home visits with Texas and Kentucky.
Here's handicapping the race for Turner, ranking his finalists from 1-8 after talking to those involved in the recruitment:
August, 7, 2013
8/07/13
9:31
PM ET
Five-star center
Myles Turner
(Bedford, Texas/Trinity) has confirmed that he has trimmed his list to eight schools. In no particular order, the finalists for high school basketball's hottest prospect are Duke, Kansas, Kentucky, Louisville, Arizona, Ohio State, Oklahoma State and Texas.
To continue reading this article you must be an Insider
July, 13, 2013
7/13/13
7:48
PM ET
LEANDER, Texas -- The 2013 Texas State 7-on-7 Tournament saw a number of college football targets put on a show. It also saw some of the lesser-known players make a case for more publicity.
Graham (Texas) High School won the Division II (small-school) competition, while Southlake (Texas) Carroll claimed the Division I (large-school) prize. Carroll won the first 7-on-7 state tile 15 years ago in College Station, Texas.
Here are five things we learned from the state tournament:
2015 has one over former Carroll QBs
[+] Enlarge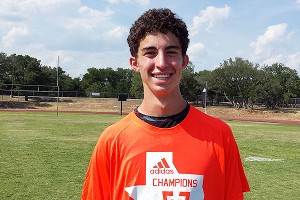 Damon Sayles/ESPN.comClass of 2015 QB Ryan Agnew showed poise in leading Southlake Carroll's aggressive passing attack to the Division I title.
Southlake Carroll has a tradition of producing quality quarterbacks. Chase Daniel, Greg McElroy and Kyle Padron all have NFL experience, and Daniel, McElroy, Chase Wasson, Riley Dodge and incoming Texas A&M freshman
Kenny Hill
have won state championships.
Ryan Agnew
hopes to follow those footsteps.
The 2015 quarterback did something that the others hadn't, and that's lead Carroll to the state 7-on-7 title. Agnew connected with receivers such as
Luke Timian
and
Keaton Duhon
en route to an undefeated run in the tournament.
Agnew, a 6-foot-1, 180-pound quarterback, has early looks from Northwestern, Iowa State, Texas Tech and Ole Miss.
To continue reading this article you must be an Insider
June, 12, 2013
6/12/13
10:00
AM ET
Many accomplished Texas high school quarterbacks have come through Stephenville (Texas) High School. Current head coach Joseph Gillespie has been working at Stephenville High long enough to see most of them.
Some went on to the NFL, some went on to college careers, others found themselves doing something outside of football. But to those associated with or who follow Stephenville football, they're easily recalled, whether simply for their terrific careers or for leading the Yellowjackets to state titles.
Jarrett Stidham
could be the next great Stephenville quarterback -- even colleges are betting on it with scholarship offers to the 2015 prospect -- and he hasn't even started as a varsity quarterback yet.
"Oh he has the potential, certainly," Gillespie said.
To continue reading this article you must be an Insider
March, 19, 2013
3/19/13
7:55
AM ET
On Wednesday at 1:15 p.m. ET live on ESPNU, No. 3 overall recruit and No. 1 senior power forward
Julius Randle
(Dallas/Prestonwood Christian) will announce his college decision from a list of finalists that is comprised of Kansas, Texas, Kentucky and Florida.
Whichever school he chooses, his skills and athleticism will make him an instant-impact player and program-changing recruit from day one. Simply put, he has the talent to change the landscape of college basketball next season with his decision. Consider this: As historically good as Kentucky's 2013 class already is, Randle would immediately become the Wildcats' top-rated recruit. That's how special he is.
So before he finally ends the suspense and makes one college program very happy, let's break down what a commitment from Randle would mean for each of his four finalists.
To continue reading this article you must be an Insider
March, 8, 2013
3/08/13
12:35
PM ET
By
RecruitingNation
| ESPN.com
ESPN 100 No. 3 overall prospect
Julius Randle
(Dallas/Prestonwood Christian) has cut NC State and Oklahoma from his list of finalists, ESPN.com's Dave Telep has learned.
To continue reading this article you must be an Insider
March, 6, 2013
3/06/13
11:04
AM ET
It has been an eventful couple of weeks for
ESPN 100
No. 3 overall prospect
Julius Randle
(Dallas/Prestonwood Christian). First, he returned to the court three weeks ago after being out since November with a fractured foot. Then on Monday he announced he would make his college decision March 20.
And on Wednesday, the McDonald's All American Games announced Randle has been added to the
McDonald's roster
as a 25th player. He will suit up for the East squad in the game, which will be played
April 3 at the United Center
in Chicago and televised live on ESPN at 9:30 p.m. ET.
[+] Enlarge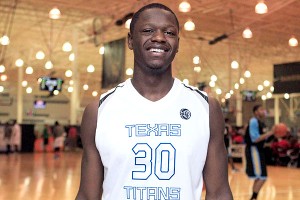 John F. Rhodes for ESPN.comJulius Randle was added to the McDonald's All American roster on Wednesday.
The McDonald's All American Games released the following statement: "Today, the McDonald's All American Games Selection Committee is pleased to name Julius Randle of Prestonwood Christian Academy to the 2013 McDonald's All American Team. As promised, we've been closely monitoring Randle's play since his return to the court in February, and it's been an inspiring return to watch. Randle has not only proven that he is capable of competing at the highest level, but truly deserving of the title McDonald's All American."
Why did this happen and what does it mean?
To continue reading this article you must be an Insider
March, 5, 2013
3/05/13
11:40
AM ET
By
RecruitingNation
| ESPN.com
ESPN 100 power forward
Julius Randle
(Plano, Texas/Prestonwood Christian) announced on Monday night he will make his college decision on March 20.
The senior will announce at 1 p.m. ET, with the decision expected to come on ESPNU.
Randle has visited all six schools on his list, which includes Texas, Oklahoma, Florida, Kansas, Kentucky and NC State.
Randle led Prestonwood to a Texas private school state title over the weekend.
October, 2, 2012
10/02/12
4:11
PM ET
On Monday, power forward
Julius Randle
(Dallas/Prestonwood Academy) picked up the phone and called Baylor, Duke, North Carolina and Oklahoma State. Those four programs did not make the next round of cuts for the nation's No. 3 overall prospect in the
ESPN 100
.
However, six programs did make it to the next round and remain in the mix to land Randle, a 6-foot-9, 225-pound power foward. Kentucky, NC State, Florida, Texas, Kansas and Oklahoma remain.
This weekend, Randle will take his second official visit. The Florida Gators host him. Randle's connection to Florida was crystalized last summer when Gators coach Billy Donovan had Randle on the United States' under-18 national squad.
To continue reading this article you must be an Insider
September, 12, 2012
9/12/12
3:15
PM ET
It didn't take long for 2014 prospect
Jamal Adams
(Lewisville, Texas/Hebron) to make his presence felt this season. The safety intercepted a pass in the season opener against Abilene and returned it 57 yards for a touchdown.
Plays like that show exactly why he is such a hot commodity to programs around the country, including Texas, which has only offered Adams and one other safety,
Edwin Freeman
, for 2014.
To continue reading this article you must be an Insider
August, 27, 2012
8/27/12
9:26
PM ET
By
RecruitingNation
| ESPN.com
Power forward
Julius Randle
(Prestonwood Christian), ESPN's No. 3 ranked player, has narrowed his choices to 10 schools. The Dallas native Tweeted out his list on Monday and the news has been confirmed by mulitiple sources.
To continue reading this article you must be an Insider
May, 19, 2012
5/19/12
12:00
PM ET
The days of the Rose Bowl being the bowl of bowls could soon be coming to an end now that the SEC and the Big 12 have agreed on a
five-year bowl partnership
.
The new deal, announced Friday, will have the champions of the Big 12 and SEC meet in a New Year's Day bowl game annually beginning with the 2014 season. So while it won't have the tradition of the Rose Bowl, it'll have the viewers and it'll have the popularity.
We're seeing more and more how power is truly the most important component in college football, and this is a great example. Soon, we'll have the two best BCS conferences going at it in their own special bowl competing with the beloved Rose Bowl.
We're joined on the SEC blog by Big 12 blogger David Ubben to get his thoughts on what this means for the Big 12. We're gentlemen down here in SEC country, so we'll let him go first:
David Ubben:
Rose Bowl, we love you. Not as much as Jim Delany does, but I'm not sure anyone can stake that claim. Anyway, it's time to face an unfortunate truth: You've been one-upped. The unnamed, unplaced bowl partnership between the Big 12 and SEC won't have the same level of tradition, but it will feature better teams. That's a powerful draw.
The BCS has played 14 national title games since its birth. The Big 12 or SEC have participated in 12 of them. Teams from the league have met in the game twice.
Now, they'll have another big stage to showcase their top teams. If a Big 12 or SEC champion is in the four-team playoff that will likely begin in the 2014 season, the next-best team will fill their place in the annual game. Deciding who plays in that game is up to each conference. The nation's two best conferences will get a much-needed opportunity to face one another on the field and test the hotly debated offense vs. defense theories on the field annually. The nation's college football fans were robbed of that when Oklahoma State was squeezed out of the national title game for SEC West second-place finisher Alabama. This year, the SEC and Big 12 only play once, when eight-win Texas travels to face two-win Ole Miss in September. Not exactly must-see TV.
This will be.
It assures the Big 12 a place at the adults' table of college football, further extending the distance between college football's top four leagues -- the SEC, Big 12, Pac-12 and Big Ten, in that order -- and the ACC and Big East. The ACC and Big East have the Orange Bowl, but any game like the SEC and Big 12 put together will pale in comparison when it comes to TV ratings and more importantly, TV money.
Only a few months ago, the Big 12 had eight teams, with half the league considering a move to the Pac-12 and the conference on life support. Things are looking very different now. It's about to sign a giant television deal, likely extending the grant of rights into the next decade and assuring stability at least through then, and probably beyond.
Tired of getting stuck playing Boise State and UConn in everything to lose, nothing to gain BCS bowl matchups? Seven-time Big 12 champion Oklahoma won't have to worry about that anymore, and even if the Sooners are in the forthcoming national championship playoff, the next-best Big 12 team will have a quality opponent to prove itself against.
Another plus for the Big 12? The Cotton Bowl's odds of getting into the BCS as it stood were minimal. Now? It's still in flux, but does anyone want to bet against Jerry Jones and his wallet to get this game in his Dallas palace at some point? That's a big game in the Big 12 footprint, something that's never happened on the BCS bowl stage.
How will this affect Florida State, too? News has surely reached Tallahassee by now, and the Florida State spear-toting brass have to be wondering how much this factors into their wandering eye toward the Big 12. Is the ACC the place to be?
We'll find out soon, but on Jan. 1, 2015, there will be only one place to be.
This game.
Edward Aschoff:
I couldn't agree more with pretty much everything you said. There's no question that both of these leagues have dominated the BCS since its first year in 1998. The conferences have been left out of the national championship just twice in the last 14 years and the SEC has participated in -- and won -- eight. The Big 12 has won two of its seven appearances.
SEC commissioner Mike Slive has just about everything he wants in his conference, but he hasn't had the Rose Bowl. Sure, all those national championship trophies are nice, but an annual game like the Rose Bowl commands respect. The game that the Big Ten and Pac-12 covet so much, and is watched by millions annually, will now get a major run for its money. While they'll be played in different time slots, there's no question that this will turn into the ultimate popularity contest. If you could sense that Big Ten-SEC tension before, just wait. Now, the SEC will be looking down on the Big Ten
and
picking at the game it holds so dear. Don't think that didn't cross the commissioner's mind when he was thinking about this deal.
The SEC has truly been front and center in the college football world for the past six years with its 6-0 record in BCS championships, and now it will pursue a game it thinks can have the gusto of the Rose. This is a great opportunity for the SEC to build another fine tradition for the country's top college football conference. And fans/the media want to see more of these matchups. For the most part, we're all deprived of them during the regular season, so here's a chance for us to win something as well. These two conferences need to play more. The best should always play the best, and as David said, we can finally settle the whole offense-defense debate.
This also means that more SEC teams have the chance to play in a primetime, marquee matchup in January. If this had been in place last season, Arkansas, which certainly had a BCS-caliber team, would have played in a BCS-like bowl, since Alabama and LSU met in the title game. The Cotton Bowl got the matchup this game would have received, but it would have been on a much grander scale and much more attention would have been paid to it. Oh, and much more money would have come out of it.
It would likely help the SEC this year too, as there could be as many as five teams jockeying for BCS position. Imagine if the four-team playoff took place this season? You might have two more SEC teams fighting for a chance at a national championship, meaning this game would give No. 3 a chance strut its stuff in front of its own grand audience.
There's no question that with a four-team playoff, the SEC will have more opportunities to put teams in the national championship, continuing its dominance. Now, Slive has helped to ensure that a high-caliber team left out of the championship hunt will still play in a game that will command the type of attention that comes with a BCS bowl.
March, 9, 2012
3/09/12
7:07
AM ET
By
ESPN.com staff
| ESPN.com
Check back Friday morning for Joe Lunardi's full bracket, but here are his basic projections through Thursday night's action.
SINCE THE LAST UPDATE
Texas moves above "Last Four In" (No. 47 overall) with its victory over Iowa State.
Mississippi State drops to "Last Four In" with its loss to Georgia.
South Florida stays in the field (No. 46 overall) despite its loss to Notre Dame.
Oregon moves from "First Four Out" to the last spot on "Next Four Out."
LAST FOUR IN
Washington
Mississippi State
Drexel
Seton Hall
FIRST FOUR OUT
Tennessee
Northwestern
NC State
Miami (Fla.)
NEXT FOUR OUT
Iona
Arizona
Saint Joseph's
Oregon
Also considered: Dayton, Marshall, Ole Miss
CONFERENCE BREAKDOWN
Big East (10)
Big Ten (6)
Big 12 (6)
SEC (5)
ACC (4)
Mountain West (4)
Atlantic 10 (3)
West Coast (3)
Colonial (2)
Conference USA (2)
Missouri Valley (2)
Pac-12 (2)
AUTOMATIC QUALIFIERS
Belmont (Atlantic Sun)
Creighton (Missouri Valley)
Davidson (Southern)
Detroit (Horizon)
Harvard (Ivy)
Lehigh (Patriot)
LIU Brooklyn (Northeast)
Loyola-Md. (MAAC)
Montana (Big Sky)
Murray State (OVC)
Saint Mary's (West Coast)
South Dakota State (Summit)
UNC Asheville (Big South)
VCU (Colonial)
Western Kentucky (Sun Belt)
January, 10, 2012
1/10/12
12:00
PM ET
In the last year, ESPNU 100 forward
Devonta Pollard
(DeKalb, Miss./Kemper County) had more on his plate than most high school players. His family lost their home in a fire following a lightning strike and Pollard subsequently missed time with an injury before playing football in his senior year. The result of all the distractions was a recruitment in which he didn't take a single official visit in the fall.
On Jan. 21, Pollard is set to take his maiden voyage on the visit trail. The Texas Longhorns host him, according to Jeff Andrews, one of the directors of the Southern Phenoms, Pollard's AAU team.
Following the Texas trip, the No. 20 overall player in the 2012 class will make others. Andrews relayed a list that included Kentucky, Marquette, Missouri, Alabama, Mississippi State and Georgetown. Pollard's a unique forward with the look and body style of Travis Outlaw. An explosive leaper, he shot the ball particularly well from midrange last spring and into the summer.
He has got enough athleticism to be a factor early. His best effort outside of high school ball was an MVP performance at the May Tournament of Champions, won by the Phenoms. His best non-basketball effort came last month when he was named the best wide receiver in his region.
To continue reading this article you must be an Insider
Scene & Heard: 2014 Season Storylines
BIG 12 SCOREBOARD
Saturday, 8/30
Sunday, 8/31