Texas Longhorns:

BYU Cougars
September, 10, 2013
9/10/13
3:00
PM ET
AUSTIN, Texas – A group that has started a combined 134 career games still has plenty to learn.
Lost amid one of the worst defensive performances in Texas history and the abrupt firing of
Manny Diaz
is the unmistakable fact Texas' offense still has plenty of work to do. That work might begin up front.
Texas' offensive line did not have its best night Saturday in Provo, Utah.
David Ash
was scrambling much of the night as BYU got consistent pressure by only rushing three or four defenders, and eventually Ash got hurt. Texas' run blocking, especially in short-yardage situations, was maddeningly inconsistent.
[+] Enlarge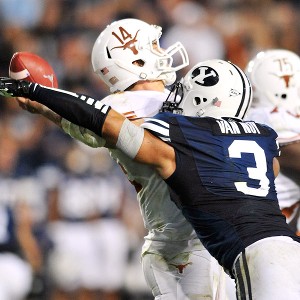 Boyd Ivey/Icon SMIDavid Ash was under pressure from Kyle Van Noy and others on the BYU defense on Saturday.
The Longhorns flat-out didn't own the line of scrimmage against a team that was manhandled by Virginia a week earlier.
That's not exactly how Texas coaches and players perceived the game when they reviewed the film. On Monday,
Mack Brown
said he believed Texas' line did some good things and had a better night that most realize.
The real problem, he said, was situational football.
"We were in so many third-and-long situations," Brown said. "BYU has some great pass rushers.
Kyle Van Noy
, as publicized, he's a great player, not a good player. We ran the ball well at times, could have run it at other times better. We made some mistakes at quarterback and running back, even receiver, that hurt us up front. But I'm still positive about those guys moving forward.
"When you don't score more than 21 points, it always goes to the offensive line. Other times, people could have helped them with other things."
On that topic, the numbers do not lie. Texas' offense had 26 second-down opportunities against BYU and picked up first downs on only eight occasions. On 14 of those 26, Texas was facing second-and-7 or longer.
Going 0-for-3 on fourth downs is an obvious issue, but the Longhorns' performance on third downs shouldn't be overlooked. They converted five of their 17 third-down attempts, but that number doesn't say everything. Eight of those 17 attempts were from 7 yards or longer, and Texas converted on third-and-long only once.
Those pressure situations put BYU at a distinct advantage. Creating more passing downs gave the Cougars the ability to drop more defenders into coverage and attack Ash with only three or four rushers.
"Now you have third-and-long, and you have a guy that's going to be drafted, and he's rushing your passer," offensive coordinator Major Applewhite said. "That makes it extremely difficult on the quarterback. When they can mix that in, allow him to drop seven or drop eight, it makes it difficult. We have to find a way to get ourselves in third-and-medium and third-and-short and find some more options."
Senior offensive guard
Mason Walters
says failures in those critical situations can't be blamed entirely on the Longhorns line. It takes all 11 to execute, and execution was certainly not up to par against BYU.
When he rewatched the game, he saw 11 players who were battling for 60 minutes. Effort wasn't the issue, in his opinion. It's simple attention to detail.
"It's really all you have. When you're not executing, you just have guys running around," he said. "I really think the execution part of it comes when you start understanding there is an onus on you. It's not OK to go out and almost do it right. It has to be done exactly the way it's coached. Once that is seen and the execution starts to happen, it can be very explosive."
It's hard for that Texas offensive line to stay explosive without getting more help. Left tackle
Desmond Harrison
struggled, but that's to be expected for a junior college transfer playing his second game for Texas. For most of the game, though, the same starting five stayed on the field.
Brown and offensive line coach Stacy Searles say they want 10 offensive linemen they can use, but backups
Sedrick Flowers
,
Kennedy Estelle
,
Curtis Riser
and others played minimal roles on Saturday. Next up is an athletic Ole Miss line, led by No. 1 recruit
Robert Nkemdiche
, that that presents just as many challenges as BYU did.
Now seems as good a time as any to open up competition for the starting offensive line jobs and tinker with new combinations. Texas is playing the same five linemen over and over and expecting different results.
Walters' explanations for why the line didn't get the job done are more abstract than blunt. He says energy needs to be better focused in the first quarter, that efforts need to be better channeled going forward.
But at the end of the day, Texas didn't win. That's all that matters to him, and no matter what explanation you lean on, the line needs to get better.
"We know this is a good team," he said. "We know we have a good offense. It's the execution factor that we need to step up on."
September, 8, 2013
9/08/13
7:30
PM ET
AUSTIN, Texas -- Bringing Manny Diaz back was better than bringing in a stranger.
That, in a nutshell, was Mack Brown's mentality this offseason when he opted to retain the maligned Diaz amid the worst defensive season in Texas history.
He could've sent Diaz packing last December, and a large faction of the Longhorn fan base would've been satisfied. But he was convinced that Diaz, a young defensive guru who'd succeeded everywhere he went, was still the right man for the job.
[+] Enlarge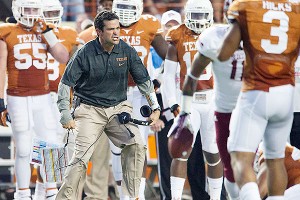 Cooper Neill/Getty ImagesThe Texas defense led by coordinator Manny Diaz couldn't stop BYU on Saturday.
Brown would joke that Diaz hadn't gone dumb overnight. In the end, it took only one night to end his tenure as Texas defensive coordinator.
Two games into the season, Diaz was officially relieved of his duties and reassigned within the UT athletic department on Sunday, clearing the way for recently hired football analyst and former Texas defensive coordinator Greg Robinson to take the reigns and try to fix the mess BYU exposed on Saturday.
There were absolutely no signs this move was coming before Texas kicked off in Provo. This was a panic move by Brown, one that conveys just how concerned he is about Texas' next 10 games.
That's not to say this wasn't the right move. The faith he'd put in Diaz to get Texas' defense back on track was badly burned Saturday. BYU did exactly what Diaz had expected and prepared his defense for, and they still rushed for 550 yards -- nearly 100 more than a Texas defense had ever given up -- en route to an easy 40-21 victory.
Diaz was red-eyed and seemed shaken by what he'd witnessed when he sat down for his postgame interview. He was asked if he was confident he'd still be coaching for Texas' next game against Ole Miss.
"Yeah. That's not even a topic," Diaz said.
Mack Brown did not say yes. He said he wanted to watch the game film. And the film didn't lie: Texas did not make adjustments on defense. Diaz had no answers.
But one game, one terrible night, didn't really do Diaz in. Add up the 15 games Texas has played since the start of the 2012 season and the Longhorns ranked No. 111 in FBS in run defense, No. 101 in yards per rush and No. 85 in yards per play allowed.
But Brown trusted him, at least publicly. When Texas announced the hiring of Robinson on July 17, as analyst who scouted UT opponents, Robinson made sure to include this quote in the press release: "In Manny [Diaz's] case, I don't want it in any way for him to feel like he has someone looking over his shoulder at all. That's not what I'm there for. I don't want to in any way inhibit him or any of the coaches. Mack and I talked about that, and that was important to me."
Whether Brown brought in Robinson as his contingency plan if Diaz failed is debatable, but the selection of Robinson is no doubt a curious one for this reason: He is, essentially, the stranger.
Robinson last coached at Texas in 2004. He had no hand in assembling this roster. He didn't plan to live in Austin as an analyst, instead commuting from Los Angeles for meetings, fall camp and home games.
Texas' defensive players, the ones who insisted they 100-percent supported Diaz on Saturday night, are familiar with Robinson but hardly know him well. How will they react to the new leadership?
A fresh start might be just what they need, and Robinson could be the right guy needed to simply the scheme and put a Texas defense on the field that's far better prepared. But there's no guarantee this will be enough.
This is a gamble by Brown, no question. His gut feeling wasn't wrong -- enough was enough. Manny Diaz couldn't get the job done.
But there's nobody else left to scapegoat and no room for excuses. Now Mack Brown has to get the job done.
September, 8, 2013
9/08/13
3:42
AM ET
PROVO, Utah -- BYU ran for more than a quarter mile on Saturday night.
Mack Brown had said he was ready to find out just how far Texas' run defense has come. The answer he received was startling and painful.
There was no progress to be found in BYU's 40-21 beatdown of Texas at LaVell Edwards Stadium. With a straightforward game plan and remarkable ease, the Cougars rushed for a school-record 550 yards and stunned a Longhorns team that absolutely didn't see this coming.
"I'm disappointed more than anything else," Brown said. "That's why I want to get home and watch it. I'll watch it on the plane going home."
The film Brown will watch might play like a mix tape of Texas' greatest defensive failures of 2012, most notably because UT's knack for missing tackles against aggressive offenses returned.
[+] Enlarge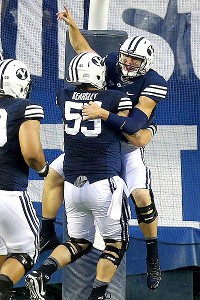 AP Photo/Rick BowmerBYU quarterback Taysom Hill ran through the Texas defense for 259 yards and three touchdowns.
To focus too heavily on Texas' defensive woes, though, is an injustice to what BYU accomplished Saturday.
Taysom Hill
was incredible, rushing for 259 yards and three touchdowns on only 17 carries. Most of those runs came on zone-read keepers, over and over.
And over and over, Texas' front seven got suckered by the fake handoff and watched Hill scamper around them. What made that so difficult to defend?
"I don't know," defensive end
Jackson Jeffcoat
said.
The last three FBS quarterbacks to rush for 250 yards in a game? That would be Vince Young, Denard Robinson and now Taysom Hill. He's a limited passer (9-for-26, 129 yards), but that didn't slow the Cougars' offense down one bit.
Texas had talked all week about its intentions to slow down
Jamaal Williams
. He rushed for 182 yards, and
Paul Lasike
chipped in 87 yards and two scores. BYU owned the line of scrimmage by the second quarter and kept executing, scoring on every drive it had in the second and third quarters.
"We expected to run on them. We didn't expect to break the school record," Hill said. "It was working, and we were able to move the ball really efficiently on the ground. There was no need to go away from it, and we didn't, and this was the result."
There were moments when Texas had momentum and a lead and seemed poised to take control of the ballgame. Those moments slipped away quickly, though, because BYU flat-out did whatever it wanted.
Its defense lived up to the hype, getting constant pressure on
David Ash
without needing more than four rushers and forcing UT to go 5-for-17 on third downs and 0-for-3 on fourth. Texas' plans on offense were built around
Daje Johnson
, and when he went down with an ankle injury there is no doubt Texas' plans for attacking BYU were thrown off.
"When you lose a guy that's involved in packages, like Daje obviously, you've got to find somebody else to put in that place, and certain things immediately go out the window," offensive coordinator Major Applewhite said.
For Texas defensive coordinator Manny Diaz, the toll taken by watching his defense fall apart again was obvious. BYU didn't do anything on offense that he and his players had not expected, and he admitted that.
"They got after us. They outplayed us," Diaz said. "The quarterback obviously was the difference in the game. We just could not execute getting stops. It was runs, it was scrambles. Very disappointing."
Texas' defensive leaders did not throw Diaz under the bus after the game. They insisted he has 100 percent of their trust. Brown said everyone should bear the blame.
"I didn't think our coaches or our players lived up to what we needed to tonight to win -- including me," Brown said.
Brown was then asked point-blank if Diaz will be coaching Texas' defense next Saturday against Ole Miss.
"I haven't even gotten out of the game, so ... I'd like to watch the video," he said.
He won't like what he sees, but that doesn't matter now. Texas has to pick up the pieces. Arguably the two most important components of its offense, Ash and Johnson, left the game with injuries of unknown severity.
The Longhorns badly need that duo on the field, but the defense is the far greater concern. Add this all up, though, and it's clear: BYU taught Texas and the rest of the country that the gap between where the Longhorns thought they were and where they really stand is far more than a quarter-mile wide.
September, 6, 2013
9/06/13
9:00
AM ET
AUSTIN, Texas -- Years from now, the 2011 BYU-Texas game won't likely be remembered for anything more than its 17-16 final score, just another pair of numbers on a list of all-time results. A win, a close win but still a win, and nothing more.
But if Mack Brown is right and Texas does make another run at a national title soon, if the Longhorns do become elite again, perhaps we'll look back on Sept. 10, 2011, as one of the key milestones of the rebuilding project.
You see, it was in that game when, with 9:42 left in the second quarter and a chorus of boos raining down from the stands of DKR-Texas Memorial Stadium,
Garrett Gilbert
walked off the field and never returned.
The fresh start Gilbert would get under new offensive coordinator Bryan Harsin lasted less than two games, undone by a bum shoulder and a deeply shaken confidence. He had surgery three days later and left the program within three weeks.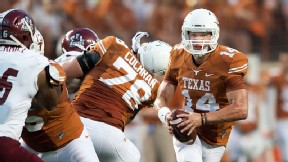 Cooper Neill/Getty ImagesDavid Ash played against BYU two years ago, but he's a completely different player now.
Oh, and Texas trailed BYU 13-0.
David Ash
and
Case McCoy
would have to take over and scrap together a victory, initiating a quarterback battle that would continue for nearly another year.
That Longhorns team was inexperienced and full of freshmen. It had five new coaches. It had to lead the program out of the 5-7 ditch. Two years later, Texas and BYU meet again.
These Longhorns might not look too terribly different from the 2011 squad, but so much has changed.
"Back then we still had, what, three quarterbacks?" senior offensive lineman
Trey Hopkins
said. "We had a new offense, a whole new staff came in, so many things. Young offensive line, young quarterbacks, young wide receivers, young everything. Everything was brand new and fresh to us."
The Texas team that takes the field Saturday in Provo will feature 14 starters who played against BYU in 2011, including eight who will have started both games. The Texas two-deep has nearly 30 players who appeared in that 2011 contest.
"Now people have settled in. We know the system, we know each other, we've played next to each other for years now," Hopkins said. "We've been in the great wins and the tough losses together. It's almost like a completely new team going against them now."
The task of rebuilding Texas has largely fallen on the shoulders of Texas' 2011 recruiting class. From that group of 21, 13 played against BYU as true freshmen. None of the signees have transferred. They've agreed to ride this roller coaster together.
Seven of those 2011 signees will start against BYU this weekend, and a total of 14 have earned starts in their career. They comprise the core of this veteran roster.
Remember, these are the kids who signed two months after the 5-7 season ended. They signed despite that 2010 season and despite the coaching shakeup. They signed because they wanted to fix Texas.
Those players say now that having to overcome adversity before they ever showed up on campus made them closer and more determined to turn the program around.
"That group had something special about them, or they would've left," Brown said. "They cared about Texas. They were very loyal to me and to the coaches that were still here. They had every opportunity to be negative and leave, and they didn't.
"I think that's one of the reasons they've come in here and helped us get this thing back in the right direction."
Junior cornerback
Quandre Diggs
was one of the guys who kept that class intact during the turmoil. He still remembers sitting in the stands with
Cedric Reed
,
Steve Edmond
,
M.J. McFarland
and others and watching Texas' season fall apart. When the coaches left, he worked the phones to make sure everyone stuck to their word.
"We all stuck together," Diggs said. "It's just tremendous, tremendous chemistry we have between our 2011 class. I love those guys like brothers. It's something special we have."
Back when BYU came to town, Diggs and
Jaxon Shipley
were learning on the job as true freshman starters.
Malcolm Brown
led the team in rushing. Now they're just a few of the veteran leaders of a vastly different team.
The Longhorns have won 16 games and lost nine since BYU came to Austin. They've found their starting quarterback, surrounded him with weapons and developed one of the nation's most experienced offensive lines. Their defense is out to prove itself after take a step backward in 2012.
"If we want to claim we've grown since the last time we played them, the table is set for a great challenge and, really, a measuring stick at this point in the season to see where we're at," offensive lineman
Mason Walters
said.
Garrett Gilbert is long gone now, as are any doubts about who should be Texas' starting quarterback. Ash had to laugh Monday when asked how much he has grown up. These past two years haven't always been easy, but he's proud of how far his team has come.
"I think we came in at a difficult time when things were changing a lot," Ash said. "A lot of us had to play young. We took our licks early, but I think we're starting to learn from it all, all of the things we struggled through. I think now we've played football long enough that I think we can be a good ballclub."
Just how good? We'll know more after Saturday, after Texas takes on a familiar foe.
September, 6, 2013
9/06/13
7:00
AM ET
AUSTIN, Texas -- You've watched and rewatched the Texas-New Mexico State game and then rewatched it again. You've gobbled up all the stories, videos and tweets we've offered up this week. Now it's almost game time again. Here's our final preview of No. 15 Texas' first road game of the year at BYU on Saturday (6 p.m. CT, ESPN2).
Five notes
1.
Since losing to No. 1 Ohio State in 2006, Texas has gone 29-2 in nonconference games. The only losses were to Alabama in the BCS title game and at home against UCLA in 2010. The Longhorns are also on a 13-game winning streak in true road games and are averaging 43.7 points per game during that stretch.
2.
How good was
David Ash
to end the New Mexico State game? Take out his first five drives of the night and he finished with a near-perfect QBR of 99.9. He led an offense that scored seven touchdowns of 20-plus yards vs. NMSU. In the entire 2012 season, Texas had 16 scoring plays of more than 20 yards.
3.
Take any stat you want -- they all tell us BYU had one of the nation's best defenses in 2012. Since the beginning of last season, the Cougars have given up only 19 touchdowns and 0.9 points per drive. The only school that bested that number? Alabama, at 0.8.
[+] Enlarge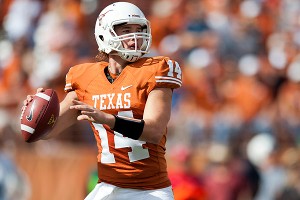 Cooper Neill/Getty ImagesQuarterback David Ash was scintillating in Texas' Week 1 victory against New Mexico State.
4.
BYU linebacker
Kyle Van Noy
leads the FBS with 22 career sacks, one better than South Carolina's
Jadeveon Clowney
. In each of the past two years, he's achieved the rare feat of recording a stat in every major defensive category: tackle, tackle for loss, sack, interception, pass breakup, quarterback hurry, fumble recovery, forced fumble, blocked kick and touchdown.
5.
Injury update: Mack Brown said Wednesday that he expects receiver
Marcus Johnson
(ankle) to play against BYU. Sanders was suspended for the season opener but could have a key impact on Saturday. Defensive back
Josh Turner
(hip) has been practicing and should make his season debut as well.
Four quotes
1.
"This is the first time that it's really been his team. This week last year, we were still trying to decide who to start at quarterback. I think that's what we should be talking about: how well [
Jameis] Winston
played at Florida State and how well David Ash played at our place, because our quarterback situation in the future looks really, really good. We're very excited about it." -- Brown on Ash
2.
"BYU has a great defense. They have a couple of good linebackers and a couple down players. We can prepare for those guys, and it's going to be a cage match, as we all have it in our heads." -- Texas RB
Johnathan Gray
3.
"
Desmond Harrison
issue with Brigham Young was not one between Texas and Brigham Young. It was between Contra Costa College and Brigham Young. Never mentioned between the two athletic departments. Dead issue moving forward." -- Brown
4a.
"Probably Flying Squirrel. I didn't want to be the one who brought that up. I call him Daje. Some people might call him Flying Squirrel." -- Ash, when asked for
Daje Johnson
's nickname.
4b.
"Whatever. I don't really have a nickname. If someone finds one that's good, I'll keep it. I don't know about Squirrel." -- Johnson
Three keys
1. Slow down KVN:
Brown acknowledged Wednesday that Van Noy is a surefire No. 1 draft pick and a defender who can destroy any game plan. He's the kind of talent BYU needs to swing this game, and Texas must find multiple ways to limit his impact and keep him out of the backfield.
2. Score early:
We can obsess over pass/run ratios and finding enough touches for every Texas skill player, but none of that matters. Texas just needs to get in the end zone, and do so early and often. I don't think BYU can keep up in a shootout.
3. Run defense:
BYU sophomore back
Jamaal Williams
is fresh off a 144-yard performance at Virginia that put him 11 yards shy of a career-best day. Lots of rushers had career-best days against the Longhorns last season. Williams' versatility and the fast tempo of the BYU offense could make him a handful for a Texas defense that believes it's better against the run than a year ago.
Two key players
1. Texas WR/RB Daje Johnson:
Would anyone be shocked if Johnson is the focal point of Texas' offensive attack on Saturday night? Texas coaches have been raving about his rare talents this week. Johnson has never had more than seven carries or five receptions in a game in his young career, but this could be his night. His explosiveness and versatility make him a must-use in the Longhorn offense.
2. BYU WR Cody Hoffman:
Will he play or won't he? Reports out of Provo say Hoffman's status for Saturday is somewhere in between probable and doubtful. Bronco Mendenhall is calling Hoffman's return from a hamstring injury for the UT game "possible." The top target in the BYU passing attack put up 100 catches for 1,248 receiving yards in 2012 and has 28 career touchdowns. The Cougars need him back.
One prediction
No. 15 Texas 31, BYU 13

This is a statement game for Texas. Despite its season-opening loss, BYU is legitimately a top 40-caliber team with an elite defense and a serious home-field advantage. The Longhorns can prove they're one of the Big 12's best on Saturday, and this game will end up coming down to the superior firepower Texas has on offense.
September, 5, 2013
9/05/13
8:00
AM ET
AUSTIN, Texas -- Maybe Texas players just love wearing those clean all-white uniforms.
Why the Longhorns have been so good on the road in recent years can be explained by a variety of reasons. Most of them are valid.
Texas is 52-15 in the past decade when playing away from Darrell K Royal-Texas Memorial Stadium. Its veteran players can't quite put their finger on exactly why that is.


"Well, it's their crowd and not our crowd," Texas quarterback
David Ash
said. "It's a different place. I don't know. It's a lot of different things. It's not your locker room. It's not familiar territory. There is a little bit different feel."
Senior offensive lineman
Mason Walters
said the pressure to perform isn't any worse on the road than at home, even with a hostile crowd roaring in the background.
"I don't know the formula," he said. "The coaches just do a good job with it. We'll look to continue the trend. I think going in every week with the same preparation I've put in since I got here is probably going to help if history repeats itself."
When talking about Texas' recent history of taking to the road, 52-15 is not even the impressive statistic.
The Longhorns have won 13 straight regular-season nonconference road games. They haven't taken an early-season loss on the road since 2000, a 27-24 loss at Stanford.
With that kind of history on his side, Mack Brown has every right to feel confident heading into Texas' big road test Saturday night against BYU in Provo, Utah (6 p.m. CT, ESPN2).
What makes this matchup an intriguing challenge is the fact BYU's season opener might not have revealed much about the team that will take the field against UT this weekend.
There's no ignoring the rain factor when assessing BYU's 19-17 road loss to Virginia. Not only did weather cause a two-hour delay in the first half, but the downpour BYU and UVA played in after produced a mess of a game.
BYU quarterback
Taysom Hill
completed 13 of 40 passes. The Cougars fumbled a snap for a safety and had a punt blocked. They proved they have a run game, but that's one of the few conclusions Texas defensive coordinator Manny Diaz could take away from the game.
"You can see who they are and what they were trying to accomplish, but you cannot evaluate their level of execution," Diaz said. "Because really, after the first quarter, the whole game was played on, like, a Slip 'N Slide."
Texas, meanwhile, will try to get off to a better start and avoid its own slip-ups after being held scoreless for the first 28 minutes against New Mexico State last weekend. A BYU defense led by senior linebackers
Kyle Van Noy
and
Spencer Hadley
should provide as tough a defensive test as any Texas has faced in its 13-game road nonconference streak.
But if that recent history holds up, the Longhorns still might have the advantage in the end -- even if that isn't home field advantage.
September, 4, 2013
9/04/13
4:00
PM ET
Each week, HornsNation teams up with the ESPN Stats & Info crew to dig into the numbers that matter most and find three statistics which could make a big difference on Saturday. Today we're looking at Texas' first road test of the year at BYU (6 p.m. CT, ESPN2).


1. 43:32
Texas' slow starts on offense have been a popular topic this week, so let's look at the numbers.
In Major Applewhite's first game as play-caller, the Alamo Bowl against Oregon State, Texas' offense didn't score its first touchdown until 15:20 had elapsed on the game clock. Against New Mexico State, 28:12 had been played before UT got into the end zone.
That means in its past two games Texas has played a combined 43 minutes and 32 seconds of first-half football without scoring a touchdown.
Let's be clear: Three turnovers are the reason Texas started slow last Saturday. That was the difference this time. But combine Texas' last two first halves and you gets 14 offensive drives. Only four of them ended with points.
2. The 13-22 Club
Need proof that BYU linebacker
Kyle Van Noy
is one of the nation's best players?
Last season, there were only four defenders in all of FBS who recorded at least 13 sacks and 22 tackles for loss: Georgia'
Jarvis Jones
, South Carolina's
Jadeveon Clowney
, Arizona State's
Will Sutton
and Van Noy. That is some elite company. Van Noy's 2012 stats are remarkably similar to what Clowney produced, and his Poinsettia Bowl performance against San Diego State was as dominant a game as any defender had last year.
Applewhite said Monday that there are lots of ways Texas could try to stifle Van Noy and his pass rushing ability, but he's going to make some plays no matter what. Keeping
David Ash
protected is a must in this ballgame. Speaking of Ash ...
No. 3: 6-2
In his 19 career starts, Ash is 6-2 when playing on the road. Three of his biggest road wins last season – Ole Miss, Oklahoma State and Texas Tech – rank among the six best starts of his career in terms of Total QBR. Ash has a higher completion percentage in home starts (66.3 percent) but a worse TD-to-INT ratio. On the road, he's a solid 13-7 in that category. At DKR? Ash has thrown 11 touchdowns and 9 interceptions.
Ash has said he likes the challenge of playing against a hostile crowd, and the Red River Rivalry blowout was the only road start he lost last season. If his track record is any indication, Ash should be better than expected on Saturday, even against an elite Cougars defense.
Three more to remember
41-8:
BYU coach Bronco Mendenhall's record in home games since taking over as head coach in 2005.
17:
Daje Johnson
has 55 career touches on offense and produced 10-plus yards on 17 of them.
57:
The number of current BYU players who took two-year missions before playing for the Cougars.
September, 4, 2013
9/04/13
8:00
AM ET
AUSTIN, Texas --
Cedric Reed
will not explain the masks. To do so would require revealing what he considers confidential information. Not gonna happen.
"The masks? Uh, I can't really comment on those man," the Texas defensive end said Monday. "They definitely helped. I can't really comment much on them, though. Secret weapon. That's classified right there."
Luckily, Reed's teammates and coaches were a bit more forthcoming. Texas players used elevation training masks during their workouts this summer to better prepare for the challenge of playing at BYU on Saturday.
BYU's LaVell Edwards Stadium sits at an elevation of 4,630 feet. There are real challenges to playing there, and Texas was proactive in preparing for the test.
On occasion during the summer workout sessions, current and former Longhorn players posted photos on Twitter of the strange new black masks they'd been wearing.
Me and J Charles. Making ourselves uncomfortable, the only way to the top. #Motivation pic.twitter.com/s0uvrRuUQz

— Derrick Johnson (@superdj56) July 15, 2013
These had a clear purpose. What exactly do the masks do? That information is not so classified.
The silicone masks are designed to mimic the effects of high-altitude training and are essentially deconstructed gas masks. They reduce air flow, which improves lung capacity by forcing an athlete to inhale deeper breaths. The goal? To use oxygen more efficiently.
"We wore them to make sure we were in shape," Texas defensive end
Jackson Jeffcoat
said. "They were the kind of thing that teaches us how to breathe with limited oxygen, because it was cut off."
By achieving better efficiency, Texas players will have far better endurance in high-altitude settings. In fact, companies like Training Mask that sell them tout the mask's ability to reduce workout times "from 60 minutes to 20 minutes" and improve endurance when playing at normal sea-level conditions as well.
Texas strength and conditioning coach Bennie Wylie has been credited with the savvy move of equipping the Longhorns with these masks during summer workouts, and Reed said the team had never used these before this summer.
"I just told [Wylie], 'Have 'em ready for altitude,'" Texas coach
Mack Brown
said.
The altitude factor was nothing new for Jeffcoat, who spent time training in Colorado during the offseason now that his father, Jim Jeffcoat, is an assistant coach for CU. But he does think the experience was valuable for his teammates.
"They understand there's going to be a difference in the air," Jeffcoat said. "The air is thinner."
Brown isn't so sure the elevation at BYU will be as bad as expected. He looked up the numbers a few days ago.
BYU may play ball at 4,630 feet, but that's not as bad as what Texas has dealt with in the past in games at Colorado (5,360 feet above sea level) and Wyoming (7,215). Brown went 3-0 in his road games at Colorado while the school was in the Big 12.
"So we don't think it should be near the issue," he said. "The only issue I've ever had was when we went to Wyoming. It was an issue, and we didn't plan on it being one. So we didn't want to go to Provo and not talk about it and not be prepared more."
Many teams have come to Provo with a plan for the altitude and still gone home a loser. Under coach Bronco Mendenhall, BYU has won 85 percent of its home games since 2005.
Having a serous home-field advantage has helped, there's no doubt about that. Texas players hope a summer spent working to neutralize that advantage will pay dividends.
When Texas linebacker
Jordan Hicks
was asked Tuesday what effect the elevation will have Saturday, he was firm and resolute in his answer.
"We don't expect it to," he said. "We're playing two-deep at every position. I think that gives us an advantage. We're not worried about that."
Thanks to the extra time he and his fellow Longhorns spent with those masks on, he doesn't have to care about the air.
September, 3, 2013
9/03/13
10:00
AM ET
AUSTIN, Texas -- The numbers Texas put up against the run Saturday in a 56-7 win over New Mexico probably satisfied defensive coordinator
Manny Diaz
. But one in particular got his attention after the game.
Diaz looked over the stats and couldn't figure this one out. The Longhorns had given up an 18-yard rush. But when?
He racked his brain and was angry to realize he was coming up empty on an answer. He figured it out eventually.
"It was a fake punt," Diaz said. "A fake punt was the longest run we gave up all night."
Keep in mind that in the entire 2012 season, Texas gave up 34 rushes of 18 yards or more last season, third-worst in FBS, including four or more in five consecutive games. So, yes, this was a good first step.
[+] Enlarge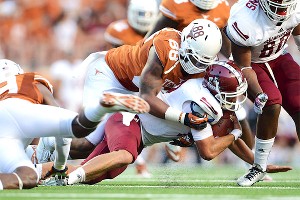 John Albright/Icon SMIAt least for one week, Texas' defense solved some of its issues stopping the run.
On a night when the Longhorns offense rightfully stole the show, Texas' defense quietly and convincing passed its first test of the 2013 season.
The Longhorns held New Mexico State to 104 rushing yards and 2.7 yards per carry. Texas' front seven accounted for six tackles for loss and was consistently disruptive for four quarters.
Holding the Aggies to just two of 12-plus yards was a solid feat simply for two reasons: Texas had said all along it had no idea what NMSU would run on offense under a new coach and offensive coordinator and, in the course of 38 rushing attempts, odds are a few are going to break past the first line of defense.
Not on Saturday. David Cazares, a safety, was responsible for the 18-yard run on the punt in the fourth quarter, and quarterback
Andrew McDonald
has a 15-yard run to end the first quarter.
More importantly, the Aggies went three-and-out on seven occasions. Getting off the field and making third- and fourth-down stops was a legitimate issue for the Longhorns last season, so that's at least promising.
"I think we set the season up right," UT defensive end
Cedric Reed
said. "We weren't sure we could tackle, but I don't think we missed many tackles. I think we came out with a fire and a great intensity that we wanted to show the country that we can play, that we're not the team we were last year and that we're a lot better."
Diaz is quick to dismiss any comparisons to last season, though. To him, that's a futile exercise.
"For me, it's not about better. It's just about who we are. We cannot continue to try to compare ourselves to the past," Diaz said. "That's the same way whether the past was really good or wasn't really good. It's just different. These kids are different.
"This is as honest an answer as I can give you: We can never slay that dragon. And why would we try to do that anyway? Now we're just looking in the past. We're not trying to do that."
The immediate future for Texas brings a challenge that New Mexico State couldn't bring to the table.
Running back
Jamaal Williams
will lead the way for BYU's aggressive offense Saturday in Provo. He had 144 yards on 33 carries in a monsoon at Virginia. The sophomore had three 100-yard games and 1,090 total yards last season.
Texas must also account for
Taysom Hill
. The dual-threat quarterback rushed for 42 yards and a key touchdown in BYU's opener, and averaged 6.1 yards per carry in a more limited role in 2012.
The Longhorns have seen more than their fair share of talented rushing quarterbacks in recent years. That by itself won't be a new challenge. But the struggles Hill and his receivers had last week in the passing game -- plus the possible absence of top receiver
Cody Hoffman
with a hamstring injury -- suggest new offensive coordinator Robert Anae could dedicate much of his game plan to exploiting a Longhorns run defense that was notoriously porous last season.
Because of that, Texas coaches are cautious to read too much into what they saw against New Mexico State. This will be a far more accurate measuring stick of just where Texas stands in stifling the run game.
"The front seven is playing better," Texas coach
Mack Brown
said. "The thing that concerned me is, we saw it was good in preseason last year and then just went away for whatever reason. We'll know more on Saturday night."
September, 2, 2013
9/02/13
2:00
PM ET
A look at Brigham Young, the Longhorns' second opponent of the season. Texas plays on the road Saturday (6 p.m. CT, ESPN2).

Campus location:
Provo, Utah
Nickname:
Cougars
Conference:
BYU is in its third year as an FBS Independent after leaving the Mountain West Conference following the 2010 season.
All-time record vs. Texas:
2-1
Last game:
BYU lost a rain-drenched season opener on the road at Virginia on Saturday, 19-16. The Cougars overcame a two-hour severe weather delay in the first quarter but couldn't mount a comeback late.
Kevin Parks
got the go-ahead score for Virginia on a 13-yard touchdown run with 2:36 left following a
Taysom Hill
interception. Hill's Hail Mary throw to
Ross Apo
with time expiring was caught, but stopped 28 yards short of the goal line.
Last meeting with Texas:
A nail-biter in 2011. After Texas lost
Garrett Gilbert
to a shoulder injury,
Case McCoy
and
David Ash
rallied the Longhorns after they'd fallen behind 13-0 in the second quarter. Cody Johnson's 4-yard touchdown with 8:46 left ended up being the clincher in a 17-16 victory at Darrell K. Royal Stadium.
Key player:
With top receiver
Cody Hoffman
sidelined with a pulled hamstring against Virginia, BYU running back
Jamaal Williams
took on the burden of carrying the Cougars' offense. He rushed for 144 yards on 33 carries Saturday, including 104 in the second half. Williams has rushed for 100-plus yards four times in his 14 career games as a Cougar, and you know Texas' run defense will be put to the test after its consistent struggles in 2012.
Why BYU might win:
Its impressive defense will have to win the day. All-America candidate linebacker
Kyle Van Noy
leads a BYU unit that was essentially one of the five best in the nation last year. The Cougars held UVA to 114 passing yards, 109 rushing yards and forced 13 punts. If New Mexico State could stifle the Longhorns' offense for nearly 28 minutes, you have to wonder what BYU is capable of this weekend.
Why BYU might lose:
Its offense is still very much a work in progress. New offensive coordinator Robert Anae is preaching an up-tempo, physical attack, but the Cougars were doomed by costly mistakes against UVA -- highlighted by Hill's interception, which came with less than three minutes left and BYU in front. Their line struggled, their receivers dropped passes and the dual-threat Hill was erratic, completing 13 of his 40 attempts. There's no guarantee Hoffman will be ready to play by Saturday. Expect BYU to have serious trouble keeping up in a shootout if David Ash and Texas get rolling the way they did against NMSU.
May, 28, 2013
5/28/13
10:00
AM ET
AUSTIN, Texas -- Each week Sean Adams looks at a few topics around the Texas Longhorns and college football.

First down: Why you don't have to wait for Oklahoma to learn about Texas

Texas playing BYU on Sept. 7 in Provo, Utah, will be a game that will tell the Texas fanbase and coaching staff just what they have in the 2013 Longhorns.


May, 16, 2013
5/16/13
8:00
AM ET
By
HornsNation staff
| ESPN Insider
AUSTIN, Texas -- There was a time when Texas would strike fear in future foes rather than have its fans be stricken with it when studying the schedule.
But times, personnel, records, well, let's just wrap it up by saying a lot, has changed at Texas. These days, instead of having all those gimme games, worry and dread often accompany games way beyond the Red River Rivalry.
Of course, Texas coach Mack Brown has done his best to assuage those fears by continually pointing to 2013 as the year when Texas gets back to being Texas. Then again, an increasingly skeptical fan base probably needs more words to help cease its cuticle chomping. But there won't be anything but words until Aug. 31. Words and, well, fear.
It is that fear HornsNation is ready to pounce upon with this week's question of the week: Which team on Texas' 2013 schedule should fans worry about most and why?
To continue reading this article you must be an Insider
May, 13, 2013
5/13/13
10:00
AM ET
HornsNation is breaking down Texas' 2013 football schedule every Monday this summer. This week: The Longhorns' second game of the season vs. the Brigham Young Cougars on Sept. 7.
BYU record in 2012:
8-5
Last meeting against Texas:
The Longhorns won 17-16 in DKR in 2011.

Record against Texas
: 2-1
Top returners:
RB
Jamaal Williams
, TE Kaneaku Fields, OL
Houston Reynolds
, OL
Manaaki Vaitai
, WR
Cody Hoffman
, DL
Eathyn Manumaleuna
, WR
Ross Apo
, LB
Kyle Van Noy
, LB
Spencer Hadley
Key losses:
QB
Riley Nelson
, DE Ziggy Ansah, LB
Brandon Ogletree
, P
Riley Stephenson
Statistical leaders
Rushing:
Jamaal Williams (775 yards)
Passing:
Taysom Hill
(425 yards, four touchdowns and two interceptions)
Receiving:
Cody Hoffman (1,248 yards)
Tackles:
Sorenson (68)
Sacks:
Kyle Van Noy (13)
Interceptions:
Daniel Sorenson (three)
Did you know:
Senior linebacker Kyle Van Noy was the only FBS player to record a stat in every defensive category -- tackles, tackles for loss, sacks, interceptions, pass breakups, quarterback hurries, fumble recoveries, forced fumbles, blocked kicks and touchdowns. Not only that, but Van Noy has recorded a stat in each category for two straight years.
Three things to watch
To continue reading this article you must be an Insider
Texas Longhorns Show Out On Pro Day
BIG 12 SCOREBOARD
Thursday, 9/3
Friday, 9/4
Saturday, 9/5