November, 13, 2013
Nov 13
7:30
AM ET
Time to get my Texas two-step down pat in the next two days as I leave the comforts of home for a bit of the unknown.
This weekend, bloggers across ESPN.com are trading places with their counterparts, allowing us each a look at what makes college football special in different parts of the country.
[+] Enlarge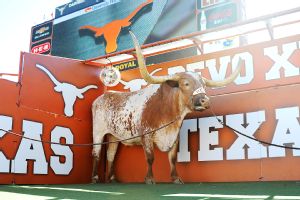 John Albright/Icon SMIIf Andrea Adelson is lucky, her first trip to Austin, Texas, will include a meeting with Bevo.
Now normally I, Andrea Adelson, write about the ACC. But this weekend I get to experience Big 12 country at Texas. I am thrilled about the trip for a variety of reasons. First, I have covered the SEC, ACC and Big East during my career. I have never been to a Big 12 game, nor have I ever been to Austin, nor have I been to the Texas campus. Quite a trifecta!
Second, "Friday Night Lights" happens to be one of my favorite shows of all time, so I might just be a fan girl and find some of the famous sites where Coach Taylor stared down his players. "Clear eyes, full hearts ..."
Third, I want to eat. A lot. While listening to good music and watching Georgia Tech-Clemson on Thursday night.
I have heard so many great things about Austin itself, from the music to the food (wait, I already mentioned that), but I am most eager to get a first-hand look at the Texas football experience itself. I have been to some of the best college atmospheres in the country at Florida, LSU, Alabama, Notre Dame and Clemson, so I am excited to see how Texas compares. But I also want to know -- what makes being a fan at Texas different from all the rest? And am I allowed to pet Bevo?
So where should I go? Whom should I meet? What should I see? Help this Florida gal, Jake!
Jake Trotter:
Andrea, you're going to love Austin. That's assuming you love great food, great music, great weather and a great college football atmosphere.
Before moving to Oklahoma, I actually lived and worked in Austin for a year. And picking a great place to eat in Austin is like picking Jameis Winston's best pass this season. There are many. I could recommend a hundred different places and guarantee you a phenomenal meal. I'll let the readers send you their suggestions. Just make sure you grab a taco for breakfast and a barbecue plate for lunch before leaving town. Austin also has the greatest collection of coffee shops of any place I've ever been to. If you like coffee the way I do, you'll be in heaven.
Nightlife in Austin is also second to none.
Texas country (far superior to Nashville country) will be strumming everywhere, from the Continental Club on South Congress to Stubb's BBQ on Red River Street. You should also check out Fourth, Fifth and Sixth streets, which comprise the entertainment mecca of the Southwest (enter Sixth at your own risk).
The daylife in Austin is pretty spectacular, too.
If you get the chance, take a drive through the Hill Country, or take a walk along Austin's downtown running trails.
I checked the weather forecast for you, too. It might rain a little. But otherwise, it should be gorgeous as usual, with a high of 77 and low of 59 over the weekend. So bring your jacket, but leave your coat.
There's also a pretty big game in Austin this weekend. A game with major Big 12 title implications on the line.
Before the game, make sure to check out Bevo's pen -- just don't get too close.
Other than that, there's not much you can't do in Austin. But there's a whole heck of a lot you can. Have a blast.
To send Andrea other suggestions about what to do at Texas, send them to
her mailbag
or tweet her
@aadelsonESPN
.
September, 21, 2013
Sep 21
7:00
PM ET
By
ESPN.com staff
| ESPN.com
Can Texas right the ship against K-State? Will Michigan avoid another upset scare? Can Auburn-LSU produce another close one? And what about that Arizona State-Stanford showdown in the Pac-12?
We'll be watching these games and many more on Saturday night and we'd like you to join in on the conversation. Head on over to
Campus Connection
at 8 ET and follow the action along with our eight reporters. Post your comments and questions and we'll include as many of them as possible.
September, 10, 2013
Sep 10
11:00
AM ET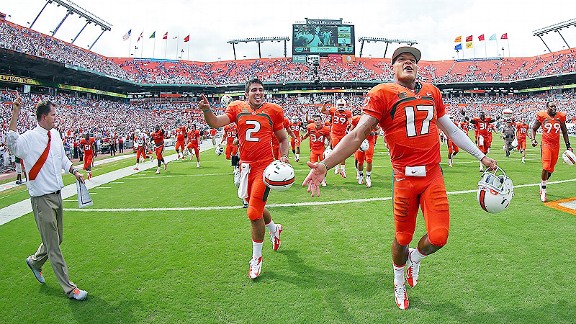 Mike Ehrmann/Getty ImagesThe Miami Hurricanes celebrated an upset win over the Florida Gators on Sept. 7.
For four months, ESPN The Magazine will follow the march to the Vizio BCS National Championship, moment by moment, culminating in our Story of the Season double-issue on Dec. 27. Every Tuesday, Mag senior writer Ryan McGee will pick the previous week's biggest moments and tell you why they'll have the most impact on potential BCS title matchups. If you disagree, send a tweet to @ESPNMag and tell us why your moment matters more, using the hashtag #StoryoftheSeason. Who knows? Your moment (and tweet) might just end up in our issue.
---
ON PAPER,
Week 2 didn't exactly appear overrun with BCS-altering showdowns. But by the time the final whistle had blown in the Pacific time zone, there were indeed dashed postseason hopes scattered among the wreckage.
If Week 1 was the Saturday that the FCS-FBS line officially blurred, then Week 2 was the Saturday that the BCS storylines officially started to take shape. Let's just call it Power Shift Saturday. And let's start in South Florida.
The previous five times the Florida Gators and Miami Hurricanes played, the winner finished the season ranked in the top 5 in the AP poll. The programs have been on-again, off-again rivals, part of a longstanding, round-robin tourney (along with Florida State) to be the kings of the Sunshine State.
Sensing that this will be the final regular-season matchup between the two teams for the foreseeable future, the oft-maligned Sun Life Stadium crowd actually showed up. Officials even uncovered extra seats, a practice normally reserved for the Orange Bowl, not Hurricanes fans who don't typically bother with the drive from Coral Gables.
With the heightened stakes, the blood was up early on both sidelines -- early as in before the game started. During warm-ups, the two teams started edging closer and the jawing became so intense that game officials had to give a polite warning. "There was so much smack talk, I can't even describe it," Miami quarterback
Stephen Morris
said after the game.
To open the game, the Gators' offense, led by
Jeff Driskel
, marched down the field on an eight-play drive, only to fumble in Miami territory. They marched again on a seven-play drive that bled into the second quarter, only to have Driskel throw a pick inside the Miami 5. And again they marched, only to have an 11-play drive stall after a failed fourth-and-1 at the Miami 16. Finally, a 12-play drive ended on a
Trey Burton
fumble in the red zone, with less than a minute to play in the half.
Still, the Gators' defense gave the offense a chance to win, eventually locking down what started as a runaway Hurricanes offense and limiting them to less than 2 yards per rush.
With seven minutes remaining in the game, Miami led 14-9, but Florida was driving (again), with a third-and-3 at the Canes' 16-yard line. Driskel took the snap from the shotgun and immediately fell into the habit that plagued him all day: His eyes betrayed him.
As soon as he had the ball, he was looking right, where two wide receivers were running quick outs. With an onrushing Miami defender in his face, Driskel rocketed a pass toward the sideline and wideout
Quinton Dunbar
, who was at the Miami 7, just beginning his turn to the quarterback.
"This is where you see Driskel get himself into trouble as a one-level thinker," an NFL scout told me on Sunday, watching film of the play on my laptop. "It's a boom-boom play; he's not supposed to take a lot of time, but damn, he never even considered another option. He already had his mind made up who the ball was going to, come hell or high water."
The play had a designed safety valve, which was Burton, running toward the sideline at the 12. Instead, Driskel fired it past Burton to Dunbar, who was cut inside by cornerback
Tracy Howard
, who essentially iced the game with an interception. The Gators did get the ball back, but turned it over (again), this time on a Driskel fumble deep in their own territory. Florida's final TD made the 21-16 result look closer than the game was.
"[Driskel] does this the whole game," the scout said, taking my laptop and scrolling back to the second quarter, when Driskel appeared to be first-option only, gunning blindly into nearly quadruple-coverage for an INT. "That play was designed to the running back on the left. If he's not there, then he's got a clear out to run. But again, he'd decided where he was going with it before the play even started. You can't be a real title contender like that. Did you see Tennessee against Western Kentucky? Ball hawks. That team might intercept this kid five times."
If the Vols do so on Sept. 21 in Gainesville, Florida -- which dropped from No. 12 to No. 18 in the AP poll -- is nearly guaranteed an opening SEC loss. During the Will Muschamp era, the Gators are 19-9. In those 19 wins, they've committed 18 turnovers, good for a plus-20 turnover margin. In the nine loses, that margin falls to minus-21.
As for the power shift, The U scored its first win against a top-15 opponent since 2009 and easily its biggest since knocking off No. 3 Virginia Tech in 2005. The Canes, which went from unranked to No. 15 in the poll after the win, reinforced the ACC media's preseason decision to vote them as the Coastal Division favorites. But more importantly, they reinforced the ACC itself. For the second straight week, the conference knocked off a highly ranked SEC foe. The coach who earned that first power-shifting win was quick to acknowledge the trend.
"How about that ACC?" Clemson's Dabo Swinney said as he wrapped up his postgame news conference Saturday after trouncing South Carolina State. "Spunky little league."
Then he threw up Miami's trademark "U" hand gesture and walked off the stage.
Of course, he doesn't have to face the Canes during the regular season, unlike Jimbo Fisher and Florida State, who do on Nov. 2.
---
Georgia, the team that Swinney and Clemson beat Aug. 31, last week knocked off the team that the Tigers hope to beat on Nov. 30: Jadeveon Clowney and South Carolina. The Dawgs' 41-30 win over the then-No. 6 Gamecocks also indicated a significant power shift. UGA snapped a maddening three-game losing streak to its SEC East rival. Yes, Georgia still managed to make the SEC title game the past two years, but the South Carolina losses always dogged its potential BCS title game status. Should Aaron Murray and company return to Atlanta this season, they still will have the Clemson loss hanging over them. But if the Tigers win out (they will certainly be favored in all of their remaining games), then they could potentially meet the Dawgs again in Pasadena. Then again, South Carolina could ruin the party for both if it beats Clemson in Columbia, something it has done in four straight seasons.
Michigan's 41-30 victory over Notre Dame signified a bit of a power shift: The Wolverines managed to beat a ranked opponent, something they did only once in five tries last season. Meanwhile, the Irish, who were ranked No. 14 last week, failed their first test of 2013 after beating an all-star list of schools during their improbable unranked-to-BCS title game run of 2012. Last season, Michigan lost to South Carolina (No. 11), Ohio State (No. 4), Alabama (No. 2) and yes, Notre Dame (No. 11). Now both teams have done something they couldn't a year ago -- one beat a ranked team, and the other lost a regular-season game.
Speaking of power shifts ... was it really just eight years ago that Texas and USC played for the national title at the Rose Bowl? In case you need to be reminded, both suffered surprising upsets Saturday. And if you're a member of either of those fan bases, safe to say you're also upset. The Longhorns fired one-time wunderkind defensive coordinator Manny Diaz after just two games, a decision accelerated by BYU's unthinkable 550-yard rushing performance. As for the Trojans' fall (at the Coliseum, no less), the closing minutes of the loss to Mike Leach's Washington State squad were played among "Fire Kiffin!" chants. USC has lost seven of its past nine games; Texas has dropped three of its past five.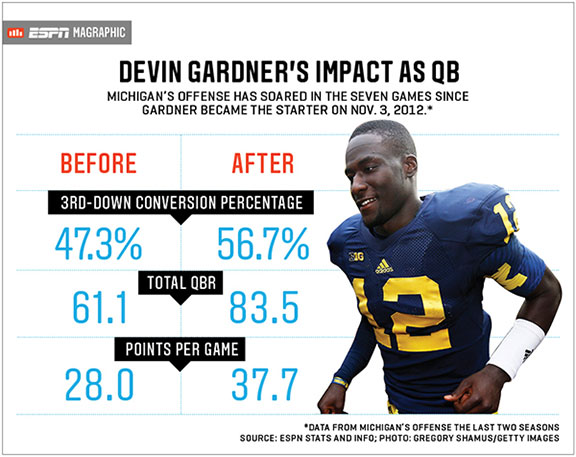 ESPN The Magazine
August, 14, 2013
Aug 14
2:00
PM ET
By
ESPN.com staff
| ESPN.com
This is the last year of the BCS, and our writers look at its impact on college football:
From Ivan Maisel
: The BCS has moved NCAA football forward in a way no system before it could and given it a national stage, but along with exposure comes greater pressure and expectations, which in the end the series couldn't overcome.
From Mark Schlabach
: As we prepare for the final season of the BCS, let's take a look back at its highs and lows.
From Brian Bennett
: Five of the last seven national champions have had at least one loss, and with a playoff looming, going undefeated will be harder than ever.
December, 20, 2012
12/20/12
12:06
AM ET
AUSTIN, Texas -- Texas suffered its biggest loss of the season on the night it pulled off its biggest win.
Prior to the Longhorns'
85-67 victory
over No. 23 North Carolina at the Frank Erwin Center, point guard
Myck Kabongo
was ruled ineligible for the season by the NCAA, barring an appeal, according to sources from within the Texas athletics department. The story was first reported by Yahoo! Sports on Wednesday night.
The loss of Kabongo put a serious dent in this young Texas team's chances of making a 16th consecutive NCAA tournament. But the win against the Tar Heels at least gives the 7-4 Longhorns some hope.
Playing with a true freshman point guard in
Javan Felix
and only freshmen and sophomores on the court, UT played the role of the aggressor, pushed the more talented and savvy Heels around, built a big lead and -- for the first time this season -- didn't crumble.
"There is process that every student-athlete goes through, and I can only tell you that process is not done. We are in the middle of that process," said Texas coach Rick Barnes of the Kabongo situation. "Every student-athlete is entitled to a process if something comes up, and that process is ongoing."
Kabongo has been under investigation for impermissible benefits concerning a workout that involved agent Rich Paul. According to sources, the penalty was so severe because Kabongo had been less than straightforward when the NCAA initially questioned him.
While Barnes refused to take further questions on Kabongo, North Carolina coach Roy Williams now has plenty of them about his team.
"It was like comedy of errors, except it wasn't very blankety-blank funny," Williams said.
The Tar Heels' defense refused to extend in the first half and allowed Texas to build a 19-point lead. That lead was aided by two straight surprising 3-pointers from Texas forward
Jonathan Holmes
. The sophomore had made only three shots from beyond the arc in his 10 previous games.
[+] Enlarge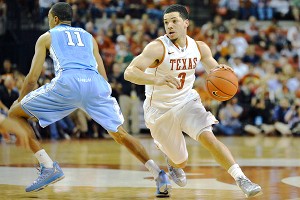 Brendan Maloney/USA TODAY SportsFreshman point guard Javan Felix effectively piloted Texas, scoring 8 points with 8 assists.
"We backed off him," Williams said.
And North Carolina continued to back down for most of the night.
"They did a better job of pushing the pace and getting us back on our heels," Williams said. "It seems like they got every loose ball."
There were plenty of those to go around, as Carolina turned it over 18 times. Texas, typically not a solid transition team, scored 14 points off those turnovers.
"Coming into the game, coach Barnes preached to us to getting the ball out and getting back in transition, and that was our game plan along with rebounding -- and that was what we tried to do," Felix said.
"They outran a running team," is how Williams put it.
In fact, Texas struggled only when it went into half-court sets. Starting the second half, North Carolina started to value the basketball more and made more of an effort to keep the Texas offense in front of it. That, coupled with the aggressiveness of
James Michael McAdoo
(14 points, 9 rebounds) and
Reggie Bullock
(a career-high 13 rebounds), allowed UNC to cut the lead to four.
Given that Texas has been a team that has struggled down the stretch -- the Longhorns were outscored 13-2 down the stretch in a 65-63 loss to UCLA -- it appeared as if the tide had started to turn.
Until, that is, North Carolina neglected to communicate on defense and allowed
Cameron Ridley
to throw down an uncontested dunk to push the lead back to seven with 6 minutes, 35 seconds remaining.
"We were aggressive and moved the ball pretty well, and some guys knocked some shots down," Barnes said. "But this was a game we thought would be won in transition and on the boards."
Texas didn't win on the boards in the box score (North Carolina had 43 to the Horns' 40). But UT did win in second-chance points with 18, and in fast-break points with 14.
"We have had a couple of tough losses because we had not played as hard as we should," said Holmes, who finished with 15 points and 8 boards. "[Wednesday night], we came out and did what we had to do. We definitely set the bar high for the rest of the season."
Regardless of who might be with Texas for the rest of the season.
--HornsNation writer Max Olson contributed to this report
August, 30, 2012
8/30/12
10:00
AM ET
By
ESPN.com staff
| ESPN.com
Take a look back at what our ESPN.com college football experts had to say as they examined the top 25, the Heisman darkhorses, conference power rankings and what to watch this opening weekend of college football.




March, 9, 2012
3/09/12
7:07
AM ET
By
ESPN.com staff
| ESPN.com
Check back Friday morning for Joe Lunardi's full bracket, but here are his basic projections through Thursday night's action.
SINCE THE LAST UPDATE
Texas moves above "Last Four In" (No. 47 overall) with its victory over Iowa State.
Mississippi State drops to "Last Four In" with its loss to Georgia.
South Florida stays in the field (No. 46 overall) despite its loss to Notre Dame.
Oregon moves from "First Four Out" to the last spot on "Next Four Out."
LAST FOUR IN
Washington
Mississippi State
Drexel
Seton Hall
FIRST FOUR OUT
Tennessee
Northwestern
NC State
Miami (Fla.)
NEXT FOUR OUT
Iona
Arizona
Saint Joseph's
Oregon
Also considered: Dayton, Marshall, Ole Miss
CONFERENCE BREAKDOWN
Big East (10)
Big Ten (6)
Big 12 (6)
SEC (5)
ACC (4)
Mountain West (4)
Atlantic 10 (3)
West Coast (3)
Colonial (2)
Conference USA (2)
Missouri Valley (2)
Pac-12 (2)
AUTOMATIC QUALIFIERS
Belmont (Atlantic Sun)
Creighton (Missouri Valley)
Davidson (Southern)
Detroit (Horizon)
Harvard (Ivy)
Lehigh (Patriot)
LIU Brooklyn (Northeast)
Loyola-Md. (MAAC)
Montana (Big Sky)
Murray State (OVC)
Saint Mary's (West Coast)
South Dakota State (Summit)
UNC Asheville (Big South)
VCU (Colonial)
Western Kentucky (Sun Belt)
March, 4, 2012
3/04/12
11:13
AM ET
By
ESPN.com staff
| ESPN.com
Editor's note: This update does not include BYU-Gonzaga in the WCC tournament.
NOTABLE
North Carolina moves up to top line as projected No. 1 seed.
Belmont (Atlantic Sun) clinches fifth NCAA bid in seven years.
Texas falls out of field, replaced by Xavier ("Last Team In").
Last Four In
Xavier
Northwestern
South Florida
Colorado State
First Four Out
Texas
VCU
Oregon
NC State
Next Four Out
Miami
Tennessee
Saint Joseph's
Dayton
BRACKET MATH
Take the "solid" at-large candidates (current Tournament Odds at 90% or better) and there are now 34 teams in the field. Add in the remaining automatic qualifiers and that's another 20 spots. All told there are 54 of the 68 spots accounted for, with 14 still up for grabs among current "Bubble" teams.
S-CURVE PROJECTIONS
1-KENTUCKY 2-SYRACUSE 3-KANSAS 4-NO. CAROLINA
8-Ohio State 7-Missouri 6-Duke 5-Michigan State*
9-Marquette 10-Georgetown 11-Baylor 12-Michigan
16-UNLV 15-Florida 14-Indiana 13-Wisconsin
17-Louisville 18-Wichita State 19-Florida State 20-TEMPLE
24-CREIGHTON 23-Notre Dame 22-
Murray State
21-Vanderbilt
25-Gonzaga 26-New Mexico 27- San Diego State* 28-MEMPHIS
32-Purdue 31-Kansas State 30-Iowa State 29-SAINT MARY'S
33-Alabama 34-Cincinnati 35-Virginia 36-Southern Miss
40-Connecticut 39-Washington* 38-California 37-Saint Louis
41-West Virginia 42-Seton Hall 43-Harvard* 44-LONG BEACH STATE
48-Colorado State 47-Mississippi State 46-Brigham Young 45-Arizona
49-South Florida 50-Northwestern 51-Xavier 52-IONA
56-NEVADA 55-ORAL ROBERTS 54-DREXEL 53-MIDDLE TENNNESSEE
57-
Belmont
58-DAVIDSON 59-AKRON 60-VALPARAISO
64-
UNC Asheville
63-UT ARLINGTON 62-MONTANA 61-BUCKNELL
65-LONG ISLAND 66-STONY BROOK 67-MISSISSIPPI VALLEY 68-SAVANNAH STATE
72-NC State 71-Oregon 70-VCU 69-Texas
73-Miami (Fla.) 74-Saint Joseph's 75-Dayton 76-Tennessee
Bold
- automatic qualifier; * - current conference leader.
ALL CAPS: Regular-season champion (NIT auto-bid if needed)
CONFERENCE BREAKDOWN
Big East (10)
Big Ten (7)
Big 12 (5)
SEC (5)
ACC (4)
Mountain West (4)
Atlantic 10 (3)
Pac-12 (3)
West Coast (3)
Conference USA (2)
Missouri Valley (2)
NCAA AUTOMATIC QUALIFIERS
UNC Asheville (Big South)
Murray State (Ohio Valley Conference)
Belmont (Atlantic Sun)
February, 19, 2012
2/19/12
1:00
PM ET
By
ESPN.com staff
| ESPN.com
Here's an abbreviated rundown of Joe Lunardi's Bracketology outlook after Saturday's games. Come back to ESPN.com on Monday morning for Joe's complete bracket.

TOP SEED PAIRINGS
EAST/Syracuse vs. WEST/Kansas (1 vs. 4)
SOUTH/Kentucky vs. MIDWEST/Missouri (2 vs. 3)

CONFERENCE BREAKDOWN (projected bids in parentheses)
Big East (9)
Big Ten (7)
Big 12 (6)
ACC (5)
SEC (5)
Atlantic 10 (3)
Mountain West (3)
Pac-12 (3)
West Coast (3)
Conference USA (2)
Missouri Valley (2)

BUBBLE BREAKDOWN (with odds to remain in field)

Last Four In
Seton Hall (55 percent)
Miami (Fla.) (50 percent)
Texas (50 percent)
Northwestern (40 percent)

First Four Out
NC State (45 percent)
Central Florida (30 percent)
Colorado State (30 percent)
Minnesota (30 percent)

Next Four Out
Oregon (30 percent)
Saint Joseph's (25 percent)
VCU (25 percent)
Illinois (30 percent)
The Best Non-BCS Games To Watch