September, 30, 2014
Sep 30
4:00
PM ET
In Tuesday's mailbag we talk Charlie Strong, the futures of TCU, Oklahoma State and West Virginia and the College Football Playoff committee. Thanks for your questions this week, to submit a question for next Tuesday's mailbag,
click here.
On to the mailbag:
[+] Enlarge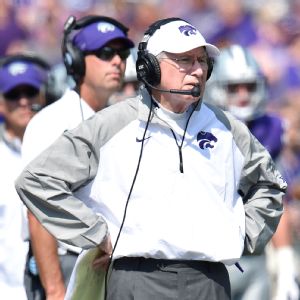 Peter G. Aiken/Getty ImagesBill Snyder's Wildcats have a difficult remaining schedule, but it's one that would garner national attention should they negotiate it successfully.
Cain in Auckland writes:
Hey guys, love the blog! Firstly, do you think Kansas State has found their answer at running back with
Charles Jones
? And also, with K-State's schedule (Auburn, at Oklahoma, Oklahoma State, at TCU, at West Virginia, at Baylor) do you believe KSU as an 11-1 Big 12 champ makes the playoff over a 11-1 SEC West runner up or 11-1 Big 10 Champ?
Brandon Chatmon:
I really like what Charles Jones is bringing to the table for the Wildcats. He's not John Hubert, but he has the chance to be a very productive back and has proven his ability to find the end zone with eight touchdowns in four games. To answer your second question, I think an 11-1 K-State should get in over most one-loss Big Ten champions or most one-loss SEC West runners-up. Obviously a lot of that has to do with who those losses came against, but the Wildcats would have a strong case with road wins at Baylor and Oklahoma. Now, will they get in? That's another question entirely and we don't have a history to look back upon to know how the College Football Playoff committee will handle these situations.
Christian in Missoula, Montana, writes:
Do you have week 8 circled on your calendars for a little more clarity in the Big 12 title race? The top six teams are on the field against one another. Also, even as an Oklahoma State grad I'm left wondering why so much love for WVU and so little for TCU? I personally would put TCU's wins over WVU losses, but who cares, right? We'll know what TCU has by next Saturday.
Chatmon:
I think every week is a big week. We sometimes overlook the week ahead of us in anticipation of later matchups then something unexpected happens. Week 8 will be a big week but we could have some clarity before then. TCU hasn't really been tested but can take care of business against the Sooners and plenty of love will be headed their way.
Matt in Fort Worth writes:
The Playoff Committee had already publicly stated that they will not be looking at margin of victory. Now Barry Alvarez says he has been looking at just that (normalized for schedule strength). And, he made the statement just in time for some teams viewed as having little shot to make the playoffs to whip up on their final weak out-of-conference foe. This doesn't seem right. What do you think?
Chatmon:
That's why they have a playoff committee. Everyone has their own bias, expectations, etc., but I'm confident the committee will do a solid job. And I doubt any team would be running up the score based on what one committee member says. I can't imagine winning by 44 instead of 24 over a weak opponent is going to be a deciding factor.
Louie in Pace, Florida, writes:
What do you think WVU's chances are of going 9-3 this year? They played two of the top four teams in the country and pretty much competed with both of them. The toughest game left on their schedule are at home with the exception of Tech and Texas being on the road. If not 9-3 where do you think they will finish?
Chatmon:
I'm not ready to lock them in at 9-3 but I wouldn't be surprised to see the Mountaineers finish with 9 or 10 wins with a bowl game. I'd add Oklahoma State to your list of tough road games making WVU's tough stretch of Baylor, at OSU, TCU, at Texas the main reason I'm looking at 7 or 8 wins for WVU as of right now.
[+] Enlarge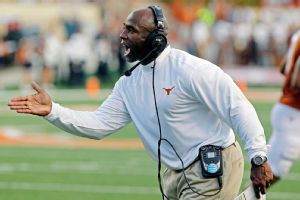 AP Photo/Michael ThomasTexas coach Charlie Strong is still trying to gain a foothold in his first season.
John McKay in Louisville writes:
Why in the world is Charlie Strong getting any criticism at all? He has coached four games, not four seasons! He did not turn around Louisville in four games, it took his third season to have a really good one, and beat a perceived powerhouse program. Everyone needs to calm down and give him at least 3-4 complete seasons to see what his effect is on the program. A third of a season does not a career make.
Chatmon:
I agree John, but we live in a "win now" world. Strong should get a pass this season as he tries to lay a quality foundation but if we don't see clear signs of progress early next year, that's when I would understand the heat starting to turn up under his seat.
Nicholas in Houston writes:
OSU has a brutal stretch in the back half of the season. Apart from OU and Baylor, which of our remaining opponents should scare us the most? As of this moment, my vote is WVU.
Chatmon:
I'd also keep on eye on the Pokes visit to TCU on Oct. 18. The Horned Frogs will play good defense and will be the best defense
Daxx Garman
has faced since he took over as OSU starting signal-caller. How will he respond?
Taylor Cook in Houston writes:
After watching OK State vs. Texas Tech play with alternate uniforms on Thursday I wonder what happens first with a Bill Snyder-coached team: A CFB Playoff appearance or a game with alternate KSU uniforms? Even some "iconic" teams have gone with slight tweaks to the uniform or helmet, but K-State has been the same for a long time.
Chatmon:
That's easy Taylor, a College Football Playoff berth.
Mike in Goldsby, Oklahoma, writes:
You said, "If the polls affect the College Football Playoff committee then we have bigger problems". Do you think there's any chance of the opposite happening? The CFP committee rankings affecting the polls?
Chatmon:
I would hope so. I expect the College Football Playoff committee to invest more time in their rankings than the average voter.
Goodell Meets With Charlie Strong