Texas A&M Aggies:

Tramain Jacobs
November, 19, 2013
Nov 19
11:30
AM ET
COLLEGE STATION, Texas -- When it comes to the presence schools have in their respective home states, few are stronger than LSU in the state of Louisiana.
The Tigers' success, conference affiliation and game day atmosphere are just a few of the unique advantages for natives of the Pelican State.
[+] Enlarge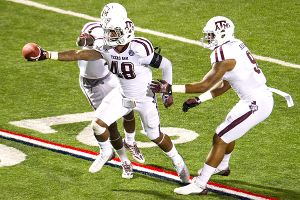 Michael Chang/Getty ImagesTexas A&M freshman Darian Claiborne (48) took over the middle linebacker job before the fourth game of the season.
Port Allen (Louisiana) High School head coach Guy Blanchard vividly remembers the emotions of one of his players,
Darian Claiborne
, when LSU took a tough loss early in 2012.
"When Darian was in January of his junior year (of high school) and LSU lost the national championship game to Alabama, you would have thought his best friend died the next day at school," Blanchard said. "He was a big LSU fan. You can't grow up in Southeast Louisiana and not have some kind of attachment or an eye on the prize, however you want to say it, [to LSU]."
Claiborne, a true freshman, is now the starting middle linebacker for No. 12 Texas A&M, which heads to Death Valley on Saturday to play No. 22 LSU. But Port Allen is fewer than seven miles from the LSU campus, so it's understandable how he could have envisioned a future with the Bayou Bengals.
But Texas A&M's staff developed a strong relationship with Claiborne, a three-star prospect. Furthermore, the Aggies made a strong impression and made it clear they wanted him while LSU didn't officially extend an offer. The Aggies' diligence paid off because Claiborne has played a key part on the A&M defense.
In recent years, Texas A&M has had success recruiting the state of Louisiana. Texas is and will continue to be the home base for Texas A&M recruiting for good reason -- it's fertile recruiting ground that most colleges attempt to pick from, because of the vast number of players and caliber of talent the state produces. But Louisiana is also known for producing high-caliber recruits as well and head coach Kevin Sumlin has made sure to make "The Boot" part of his recruiting footprint.
Currently, the Aggies have nine players that are from Louisiana on the roster and all of them are on the Aggies' two deep. Some of them have been recruited by the current staff, others are holdovers from the previous staff, but all of them currently contribute on the field.
All nine are defensive players and five of them are regular starters: Claiborne, defensive back
Deshazor Everett
, defensive ends
Julien Obioha
, safety Floyd Raven and defensive end
Gavin Stansbury
. The others have played key roles: true freshman cornerback
Noel Ellis
has seen significant time in recent weeks and is the Aggies' future at the nickel cornerback position. Cornerback
Tramain Jacobs
started six games this season while the Aggies' dealt with injuries in the secondary and has been a reliable rotation player among the cornerbacks. True freshman linebacker
Shaan Washington
has found his way onto the field in a special teams capacity but also saw time at linebacker early in the year and defensive tackle
Ivan Robinson
has been a part of the rotation at his position when healthy.
[+] Enlarge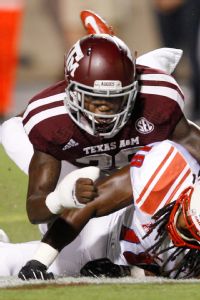 AP Photo/Bob LeveyDeshazor Everett, another Louisiana native, was recruited my Mike Sherman's staff but has been the Aggies' most reliable defensive back.
There's no doubt the Aggies have received bang for their buck with the "Louisianimals," the term former Texas A&M center Patrick Lewis coined for his fellow Louisiana products last season. Claiborne and Everett have been arguably the Aggies' best defensive players this season. Everett has done whatever the Texas A&M coaches have asked, whether it's playing safety while Raven was injured or going back to his traditional position of cornerback, while playing with a broken thumb early in the year. Claiborne got the starting job at middle linebacker -- which is not his traditional position -- before the fourth game of the season and hasn't let go of it.
Stansbury has emerged as a playmaker while Obioha and Raven have each been a steady presence at their respective positions.
Even when he was at Houston, where the Cougars put their primary focus on their own city, Sumlin's staff would travel across the border to recruit talent out of Louisiana. But in the SEC it's a different story, because the caliber of player Texas A&M is searching for is often the same that LSU is trying to keep in state.
With the Tigers being
the
signature program in Louisiana, it makes it all the more difficult to pull a kid out of the state when LSU wants him.
The Aggies are experiencing that in their early SEC years. In this recruiting cycle, the Aggies are going after some of Louisiana's finest, like ESPN 300 athlete
Speedy Noil
and ESPN 300 defensive end
Gerald Willis III
. The Aggies are also trying to make inroads with the top 2015 prospects from the state, like receiver
Tyron Johnson
.
All have LSU offers and the battle for Noil and Willis III has been hotly contested and will be until signing day approaches.
But the Aggies have found success in recruiting prospects from the state that might have been overlooked or not as heavily pursued. If those players continue to play like Claiborne, the in-state powerhouse will start taking notice.
"Yeah, we've run across them at times," said LSU coach Les Miles of seeing A&M recruiting in Louisiana. "We recognize some of the [players] that they have there, and we wish them the very best. It's an opportunity to play in this league, and we're for that."
October, 7, 2013
Oct 7
3:00
PM ET
COLLEGE STATION, Texas -- Texas A&M's defense struggled through much of the Aggies' first five games, trying to find consistency as personnel has shifted as a result of suspensions (in the first two games), injuries or simply the youth and inexperience that permeates the two-deep depth chart.
But it hasn't been all bad, and there have been some bright spots through the early stages of the season -- perhaps none as bright as defensive back
Deshazor Everett
.
The junior cornerback/safety has been many things for the Aggies this season: steady, versatile, a source of leadership, a playmaker. Defensive coordinator Mark Snyder called him "an eraser," which seems appropriate since Everett has made a touchdown-saving tackle or two this season.
One thing Everett hasn't been all year is two-handed. Well, sort of.
[+] Enlarge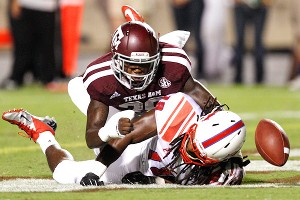 AP Photo/Bob LeveyCornerback/safety Deshazor Everett has been one of the bright spots on the Texas A&M defense.
The 6-foot, 185-pound Everett broke the thumb on his right hand during preseason training camp, but hasn't missed any game time as a result. He played with a cast throughout the first five games but Everett is happy to say that when the Aggies (4-1, 1-1 SEC) go to Oxford, Miss., on Saturday to meet the Rebels (3-2, 1-2), he plans to play cast-free for the first time this season.
"Oh yes, definitely," Everett said with a smile, "I'll have two hands in that game."
So far, it hasn't hindered his play much at all. In fact, Everett scored a defensive touchdown in each of the last two games. In the Aggies' 42-13 win over SMU on Sept. 21, Everett had a 12-yard fumble return for a touchdown. On Sept. 28 against Arkansas, he stepped in front of a
Brandon Allen
pass and returned an interception 34 yards for a score, which proved critical in the Aggies' 45-33 win that day.
"I can't wait until he gets that cast off, then maybe he'll score twice in a game," head coach Kevin Sumlin said.
On a defense that has seen players go in and out of the lineup for myriad reasons and is trying to find its footing after a horrendous start (the Aggies are 112th nationally in yards allowed per game), Everett is a bright light and someone the coaching staff can rely on in multiple roles.
Though he's the team's best cornerback, Snyder and secondary coach Marcel Yates elected to shift Everett back to free safety to alleviate some concerns they had with the back end of the defense. The results since the switch have been positive.
"He understands what we're trying to do," Sumlin said. "He's playing out of position really, because he's our best corner. We move him, you give up something, you think, he's also one of our better DBs and gives us speed back in the back and has saved some touchdowns this year, no doubt. And has given us the opportunity to line up and play defense again and I can't tell you how critical that's been."
Everett is second on the team with 31 tackles and also has two tackles for loss, two interceptions and a pass breakup in addition to his two defensive touchdowns. Against Arkansas, cornerback
Tramain Jacobs
-- who assumed Everett's cornerback position with Everett at safety -- performed admirably and will be a key player for the Aggies as they continue to buy time until starting free safety
Floyd Raven
returns from a collarbone injury.
"I'm the first one to take my hat off; I thought he played well," Snyder said of Jacobs. "They went after him and targeted him, they continued to target him and they're going to target him again next Saturday. And I thought he really rose to the occasion."
Everett had two pins put in his thumb after breaking it, and if it was up to him, he wouldn't have even come off the practice field when it occurred in August. He recalled asking a trainer if it could simply be taped up on the spot so he could continue practicing, but he was told no, he had to get X-rays on it.
"I couldn't move it and it was just hanging there," Everett said. "I just wanted to keep playing basically. I didn't want, just because of a little injury, [to not] continue practicing. I could practice without my thumb or play without my thumb. People have played with injuries before. It was just a small injury for me."
The DeRidder, La., product attributes his tough attitude to being undersized and hanging with bigger kids growing up, being "pushed around" so he could be toughened up. In addition to his toughness and solid play, he has been willing to do anything. Sumlin referenced Everett's willingness to play on special teams when the Aggies needed him, spending time on kickoff return units when asked.
"He just goes in there and does it and runs back off the field because he wants to win," Sumlin said.
September, 26, 2013
Sep 26
1:00
PM ET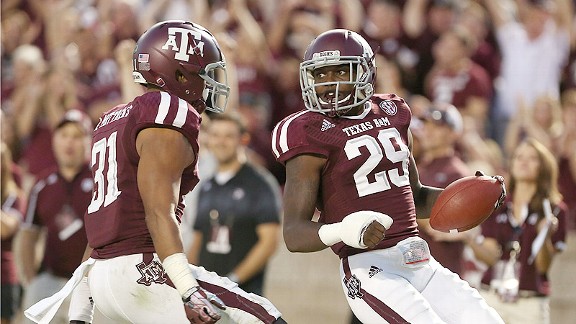 Thomas B. Shea/Getty ImagesTexas A&M's willingness to use starters such as safety Deshazor Everett (right) on special teams has allowed the Aggies to have one of the best units in the SEC.
COLLEGE STATION, Texas — When Alabama receiver and return specialist
Christion Jones
carried the ball out of the end zone on the Crimson Tide's first kickoff return against Texas A&M on Sept. 14, he was quickly faced with a host of defenders.
The first Aggie to make contact was cornerback
Tramain Jacobs
. Defensive back
Toney Hurd Jr
. followed him by wrapping up Jones for a tackle. If Hurd would have been unable to wrap him up, cornerback
Deshazor Everett
was nearby, and so was linebacker
Steven Jenkins
.
The common thread among the above names? They're all either regular starters or players who have started before for the Aggies.
Special teams -- kickoff and punt coverage units in particular -- are a place where many non-starters find their homes, and Texas A&M is no different. But the Aggies' coaching staff is also liberal about using its best players when the need arises.
The Alabama game was a prime example. With the threat of a return man such as Jones, who returned a punt and a kickoff for a touchdown in the Crimson Tide's season-opening win against Virginia Tech, Texas A&M special teams coordinator Jeff Banks wanted to ensure he had the best players available to prevent Jones from making a game-breaking play. The Aggies got the desired result, as Jones finished with 83 yards on four kickoff returns and just 5 yards on his one punt return.
"We're
always
going to use the best players," Banks said. "Coach Sumlin's an advocate of 'Jeff, you just tell me who you need and who you want and that's how we're going to do things.'"
Banks said offensive coordinator Clarence McKinney, defensive coordinator Mark Snyder or any of the other A&M assistants also have no qualms about the policy. Since he has been at Texas A&M, Banks said not one coach has said a word about who he can use or not use on special teams, whether it's in the return game or punt or kick coverage.
That luxury is something Banks, who is in his first year in Aggieland, hasn't always had in his career as a special teams coach.
"Usually you get a deal where it's 'Hey, take that guy off of there,' or 'Hey, don't use that guy,'" Banks said. "And here's my deal with that: That's fine. Because I try to be as flexible as I can because we're dealing with 60-80 people and players that have to go in and out, seniors, veterans, juniors, sophomores, freshmen, true freshmen, you've got to coach what you can get and get the best on the field.
"But you also have to be careful because if you practice them in training camp for 30 days and then you get them in the first week and someone says 'Oh no, he can't play on that many special teams,' now you're playing a guy with no experience.'"
So the planning has to begin in August when preseason training camp starts. Banks tries to get a feel for which newcomers have the size, speed or physicality to contribute, and the first week of camp is largely spent trying out numerous players in different roles to get a feel for who he can rely on. The rest of training camp is about getting those that are going to make his two-deep on special teams as many repetitions as possible so that he's comfortable with who is out there come the start of the season.
Playing offensive and defensive starters is nothing new for a Sumlin-coached team. It was something done regularly at Houston when he was there. One of the Cougars' special teams aces in their 12-1 season in 2011 was running back Michael Hayes, who played a major role in the Cougars' backfield, but could regularly be seen making tackles in punt coverage.
That attitude has carried over to Texas A&M. McKinney, who also coaches running backs, made it clear to his position group in the spring of 2012 that they would be expected to contribute on special teams. Players accepted the challenge, and
Ben Malena
and
Trey Williams
became key players on special teams.
Malena eventually emerged as the starting running back for the Aggies last season and remains that this season but can be seen on the kickoff return team making blocks and last season spent time covering kicks and punts at times, too.
"You have to realize that special teams wins and loses games," Malena said. "You need the best players out there, whether you're a starter or just a special teams guy. If you're the best player at that position, we need you on the field to help us win. I just took that to heart and will do anything for my team to win."
The example set by players with that attitude has an effect on the younger players, many of whom have a role on special teams. Many true freshmen such as
Darian Claiborne
-- who started at linebacker last week -- linebacker
Shaan Washington
, safety
Jonathan Wiggins
and cornerbacks Alex Sezer and
Tavares Garner
are already playing key roles on coverage units, and the example set by their elders is important.
"It's huge," Banks said. "They see Ben in practice, they see Jenkins in practice, they see those guys doing special teams drills at a high level.
Howard Matthews
,
De'Vante Harris
, Floyd Raven when he was healthy. That's huge. That's bigger than anything I can say. When they go out there and they give us great effort as a staff, that sells it and now you get the buy-in of the younger guys."
Banks said it helps increase the desire for the younger players to contribute, particularly in high-profile games.
"You see the Alabama game and go 'Man, I want to be out there,'" Banks said. "Tavares Garner's a prime example. He gets substituted in for Deshazor Everett and he's like 'Man, I know Deshazor's a veteran guy and he's going to make the play, but I want to be in there.' Then he gets in there and makes a tackle."
There's a balance to be struck, however. Playing starters constantly on coverage teams can fatigue them, especially if they're playing a large amount of snaps on offense or defense. So Banks is conscious to employ the personnel wisely.
"You can't wear a guy out because a Deshazor Everett or a Toney Hurd is so good at everything, you can't overuse them and start them on four special teams and expect them to play 60-80 snaps on defense," Banks said. "There's kind of a responsibility on my end, because I've gotten the leeway from the head football coach and the coordinators to use whoever we want. I think it's really important that you don't take advantage of that deal either."
Complementing players such as
Sam Moeller
, who has been the Aggies' special teams player of the week twice already this season and doesn't have a major role on defense, with some of these starters are what help the Aggies find a mix that Banks and Sumlin hope lead to one them having one of the best special teams units in the SEC.
"With Coach Sumlin being as awesome as he is about letting us use whoever we need to in order to be the No. 1 team, special teams-wise, in the conference, I think we've got a good mix of him and I of making sure we have the right guys on there, but also give an opportunity to guys who maybe aren't starting on offense or defense," Banks said.
August, 28, 2013
Aug 28
8:00
AM ET
COLLEGE STATION, Texas -- Texas A&M held its regularly scheduled weekly news conference on Tuesday in advance of its season opener against Rice on Saturday. While many wonder about the status of quarterback Johnny Manziel, there are other things to keep an eye on. Here are five storylines facing the Aggies as they await the Owls at Kyle Field:
1. Will Manziel play?
That's what Texas A&M fans and much of the college football wants to know: will Heisman Trophy winner Johnny Manziel start on Saturday for Texas A&M? The question remains unanswered officially. Athletic director Eric Hyman released a statement on Monday evening indicated that he instructed the coaching staff and players to not comment on Manziel's status. When Kevin Sumlin was asked about it on Tuesday he said "We're not discussing that....I can't talk about how that decision is going to be made and what goes into that decision. I said from day one, the first day [of training camp], that there will be a lot of people involved in that decision. So what goes into how that decision's made, obviously I can't discuss." So for now, the wait continues.
[+] Enlarge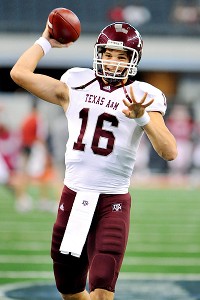 Icon SMIIf defending Heisman Trophy winner Johnny Manziel is held out Saturday against Rice, it could be up to junior Matt Joeckel to lead the Aggies.
2. What if Manziel doesn't play?
At this point, the Aggies turn to either junior Matt Joeckel or true freshman Kenny Hill. Both received praise from coaches and teammates alike on Tuesday. Senior running back Ben Malena said he believes the team will be comfortable with whoever is taking snaps on Saturday. Offensive coordinator Clarence McKinney said offensively, the Aggies would still remain the same. Joeckel brings the presence of a pocket passer who has already spent a year learning the offense while Hill is a dual threat who can run and throw and has had to learn the offense quickly. But on Tuesday, the Aggies appeared confident in both of them should either be pressed into duty.
3. New faces
Sumlin advised fans attending Saturday's game to "buy a program or bring a flip card," because of how many newcomers will see time on the field. Of the 31 players who signed with the Aggies in February, Sumlin said he expects at least 10 to play a role this season, and perhaps as many as 15. Some of the notable newcomers to look for on Saturday include freshmen receivers Ricky Seals-Jones and LaQuvionte Gonzalez, tight end Cameron Clear, who was a juco transfer, linebacker Tommy Sanders -- also a juco transfer -- and true freshman linebacker Shaan Washington. Look for even more newcomers to get looks on special teams, including some of the aforementioned names.
4. Missing personnel
There are suspensions facing three defensive players: senior defensive tackle Kirby Ennis, junior cornerback Deshazor Everett and junior safety Floyd Raven, all three of whom had off-the-field legal trouble this offseason. Ennis and Raven will miss the entire game; Everett will miss a half. Ennis is a starter, so that means you could see a true freshman -- either Isaiah Golden or Hardreck Walker -- in his place when the Aggies go to four defensive linemen. In place of Everett, also a starter, defensive coordinator Mark Snyder said that the Aggies will rotate cornerbacks. Expect to see a heavy dose of Tramain Jacobs but possibly some freshmen such as Alex Sezer, Victor Davis or Tavares Garner as possibilities.Raven isn't listed as the starter at free safety like he was coming out of spring football. Instead, it's junior Clay Honeycutt, who Snyder was complimentary of on Tuesday. Honeycutt, a former high school quarterback at Dickinson (Texas) High, has come a long way according to Snyder and has earned himself the start against Rice.
Also of note, running back Brandon Williams [foot surgery] might be limited. Offensive coordinator Clarence McKinney said "I wouldn't expect to see a lot from Brandon on Saturday."
5. Familiar foes
The Aggies and Owls haven't met on the field since the Southwest Conference folded in 1995, as both teams were part of the now-defunct league, but the coaching staffs do have recent history. David Bailiff is in his seventh season at Rice, a rival of Houston, where Sumlin was the head coach for four seasons (2008-2011). Snyder also stood on a sideline opposite Bailiff when Snyder was the head coach at Marshall from 2005-09. Sumlin's staff also recruited Rice starting quarterback Taylor McHargue when Sumlin was with the Cougars. So there is plenty of familiarity, at least in terms of coaching staffs, between the two squads.
May, 28, 2013
May 28
12:00
PM ET
During the summer, GigEmNation will take a closer look at returning starters and other key players on the two-deep for Texas A&M -- excluding the Aggies' 2013 recruiting class -- that could make notable impact this fall in our Aggie Snapshot series. Starting with No. 1 De'Vante Harris, the series will follow the roster numerically through our final analysis of No. 95 Julien Obioha.
No. 7 Tramain Jacobs
Senior cornerback
To continue reading this article you must be an Insider
March, 27, 2013
Mar 27
4:00
PM ET
COLLEGE STATION, Texas -- Going into the 2012 season, Texas A&M defensive coordinator Mark Snyder could take some comfort in the fact that the Aggies' defense had experienced upperclassmen in key spots.
Two starting linebackers, both of whom emerged as leaders for the 11-2 Aggies, were seniors (
Sean Porter
and
Jonathan Stewart
). So was the starting free safety (
Steven Terrell
) and one defensive tackle (Spencer Nealy). The player who emerged as the team's leader in several statistical categories was a junior and third-year letterman,
Damontre Moore
.
[+] Enlarge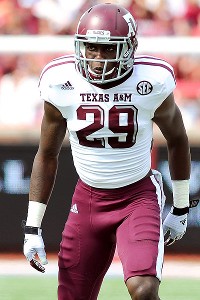 Cal Sport Media via AP ImagesCould Deshazor Everett become a leader for Texas A&M this season?
With all of those players gone, the Aggies are hunting for new leaders on their defense. Interestingly, it may come from the part of the defense that was the youngest last season: the secondary.
"Coming into the spring, we basically have been trying to find our new leaders," senior defensive back
Toney Hurd Jr.
said. "Vocal leaders, people that lead by example. We have a couple of people that are falling into that role.
Donnie Baggs
,
Howard Matthews
,
Deshazor Everett
and I've also been one of the people that are trying to step into this new role. We're trying to find new leaders for the defense and for the team next year."
Baggs is the first team middle linebacker -- the same position Stewart was in last year -- so his emergence is key. The new blood replacing the other departed seniors, and Moore, are all young or inexperienced or both.
Matthews, who started the Aggies' last four games at strong safety and played in 12, has probably made the biggest transformation. At the start of last season, he wasn't even on the two-deep. By season's end, he became a key player and this spring, Snyder and defensive backs coach Marcel Yates are looking to him to help others, like junior
Floyd Raven
, who has moved to free safety from cornerback.
February, 27, 2013
Feb 27
8:00
AM ET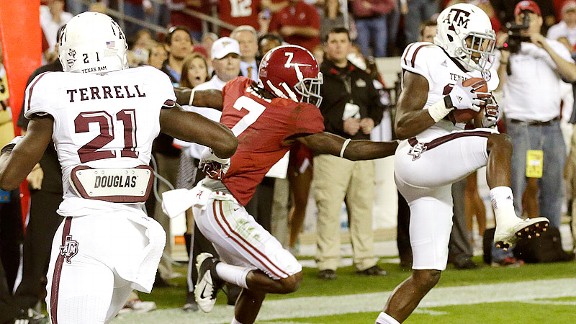 AP Photo/Dave MartinDeshazor Everett's interception against Alabama will go down in A&M lore.
Having the same combination of players in the secondary from week to week wasn't a common occurrence for Texas A&M in 2012.
Whether it was an injury or simply trying fit the right pieces into the right places, the defensive backfield was an area where the Aggies moved a lot of pieces.
The unit had its ups and downs but returns plenty of experience for 2013.
To continue reading this article you must be an Insider
December, 6, 2012
12/06/12
1:30
PM ET
In the weeks leading up to Texas A&M's bowl game, GigEmNation will take a look back at how the Aggies performed position-by-position and give each group a grade based on that performance. Today, we look at the cornerbacks.
Highlights:
In the biggest game of the year, it was a cornerback (
Deshazor Everett
) that made the biggest play, coming up with an interception of Alabama quarterback A.J. McCarron in the Aggies' 29-24 upset win over the then-No. 1 Crimson Tide in Tuscaloosa, Ala. That play, in the context of that game, seemed to be a fitting sign of the cornerbacks' growth all season. There were some bumps in the road (big pass plays were yielded that allowed the Crimson Tide to stay within striking distance) but when the chips were down, the group made plays. Senior
Dustin Harris
morphed into a leader for the group and led the team in pass breakups with 10. Everett, who played in 11 of 12 games, had the task of going back and forth from corner to safety and handled it well, finishing with seven pass breakups and two interceptions. True freshman
De'Vante Harris
started seven games, a huge task for a true freshman at any position in the SEC and nickel cornerback Toney Hurd (who also spent time working at safety) played well when lining up at corner and tied with safety
Steven Terrell
to lead the entire secondary in tackles with 58.
Lowlights:
There were some struggles early in the season when it came to tackling (defensive coordinator Mark Snyder called it "ankle-biting") that could be seen against Florida and in a big pass play or two against Arkansas. The Louisiana Tech game was a struggle as Aggies yielded a season-high 450 passing yards that day. As mentioned before, there were some big plays given up in the Alabama game as the Crimson Tide tried to stage a comeback. Some might point to the Aggies ranking 79th nationally in passing yardage defense as a sign of struggles, but it's worth noting that they had large leads on many teams early and some of those yards were compiled against reserves or in the midst of blowouts when the game was decided.
To continue reading this article you must be an Insider
September, 29, 2012
9/29/12
8:20
PM ET
COLLEGE STATION, Texas -- It would be easy to look at the box score from Texas A&M's win over Arkansas on Saturday and surmise that the Aggies struggled on defense.
After all, they allowed 515 yards.
But the yardage doesn't tell the entire story. The numbers coach Kevin Sumlin was most concerned -- and happy -- with were 10 (the number of points Arkansas scored) and three (the number of turnovers the Aggies' defense collected).
Both helped the Aggies roll to their 58-10 win over the Razorbacks.
[+] Enlarge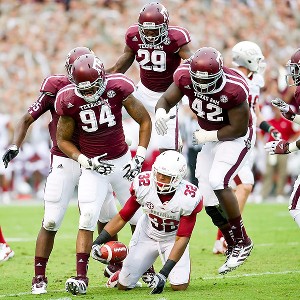 Cal Sport Media via AP ImagesDaMontre Moore (94) forced one of three Arkansas turnovers that sparked the A&M defense.
The turnovers were of particular significance because of the way they changed Saturday's game. The three Razorback turnovers resulted in 17 Aggies points. The first, an interception by
Steven Terrell
, was returned 30 yards to the 50 and set up what eventually became an 11-yard
Ben Malena
touchdown reception from
Johnny Manziel
for a 20-10 second-quarter lead.
The second, another Terrell interception, came on Arkansas' second-half opening drive. Instead of the Razorbacks chipping into a 27-10 Aggies lead, the Aggies extended it after a
Taylor Bertolet
field goal following the interception.
The third seemed to seal the Razorbacks' fate, as Texas A&M defensive end
Damontre Moore
poked the ball out of running back
Knile Davis
' arm, and
Tramain Jacobs
picked up and returned it 28 yards for a touchdown and a 44-10 Texas A&M lead.
"We've been talking ever since we've been here about critical plays and game-changing plays," Sumlin said. "Those kind of things aren't just turnovers, but they're game changers. That's what we're looking for and we had a number of those today."
Moore's wasn't just about being at the right place at the right time, but also because of effort. Moore initially had a chance to tackle Davis and blew by him but turned on the jets, chased him down from behind and poked the ball out.
"I was so determined since I missed that tackle that I need to go out and make something happen and be a difference maker," Moore said. "Our coaches, [defensive coordinator Mark] Snyder and [defensive line coach Terry] Price preach about how we need to be difference makers, [force] turnovers and get our turnover margin up. I took the perfect opportunity, because they already had some fumble issues early in the game, and he wasn't paying attention and didn't see me, so I just came behind him and punched the ball out."
September, 29, 2012
9/29/12
3:16
PM ET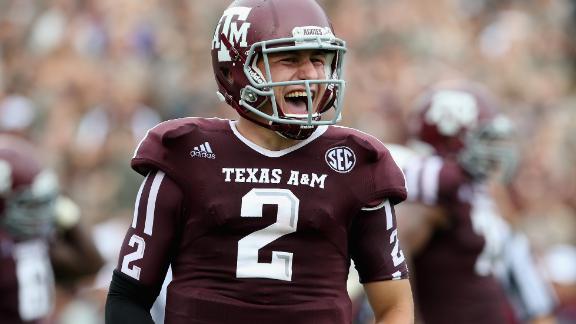 COLLEGE STATION, Texas -- Texas A&M put the pedal to the metal and didn't ease up, rolling to
a dominating 58-10 win over Arkansas
on Saturday at Kyle Field. Here's how it played out:
It was over when:
Texas A&M defensive end
Damontre Moore
forced a
Knile Davis
fumble that was picked up and returned 28 yards for a touchdown by cornerback
Tramain Jacobs
to give the Aggies a 44-10 lead over the Razorbacks with 7:06 remaining in the third quarter. Arkansas never truly threatened in the second half, but after that scoop and score by Jacobs, it seemed that any hope Arkansas had of getting back into the game washed away.


Game ball goes to:
Texas A&M quarterback
Johnny Manziel
. He has been impressive in his first three starts for the Aggies, and his fourth was even more so. The redshirt freshman set school records for passing yards (453) and total offense (557). He was 29-of-38 passing, threw for three touchdowns and ran for 104 more yards and another TD. He broke Ryan Tannehill's school passing record of 449 yards and Jerrod Johnson's total offense record of 487. Most importantly, Manziel had no turnovers and hasn't committed one yet this season.
Game ball, Part 2:
The Texas A&M defense. The Aggies trailed 10-7 after a quarter, but the Razorbacks didn't score again. Arkansas moved the ball plenty, finishing with 515 total yards, but it didn't equate to points. The Aggies' red zone defense was outstanding, as Arkansas finished 1-of-5 in that department.
Steven Terrell
had two key interceptions to help lead the D.
Rising star:
Texas A&M running back
Ben Malena
. The junior got his third straight start and was effective in his limited touches, gaining 59 rushing yards on eight carries and catching an 11-yard touchdown pass from Manziel. He's a good contrast to
Christine Michael
, who is effective between the tackles and more of a north-south runner. Malena is good in the passing game and the running game and has the speed to make big plays. Honorable mention to true freshman receiver
Thomas Johnson
, who caught five passes for 108 yards, although 88 of them came on two plays in the fourth quarter.
What it means:
The Aggies are a different ballclub from a year ago, clearly. They led Arkansas last season by 18 points at the half, and on Saturday they led by 17. Last year, they fell 42-38. This year, they continued to score and blew out the Razorbacks. This is an explosive offense with an aggressive mentality and a ton of playmakers, coupled with a defense that appears to be much better than it was expected to be in the preseason.
For the Razorbacks, this season is slipping away quickly. Now, one must wonder whether Arkansas will even make it to a bowl game. The Razorbacks looked wholly defeated in the second half, and though they kept fighting, their efforts were futile. It already has been a long season in Fayetteville, Ark., and it looks as if it will continue to be.
September, 20, 2012
9/20/12
8:00
AM ET
Texas A&M returns home to host FCS opponent South Carolina State at 6 p.m. on Saturday at Kyle Field. The Aggies (1-1) are coming off their first win of the season, which came at SMU last week. Let's take a look at five storylines for the Aggies as their next game approaches:
1. Consistent approach
The Aggies are facing an opponent that is on a different level and won't be able to match them in terms of talent or depth. But coach Kevin Sumlin said that the Aggies are in no position to take anyone lightly or change their approach. If the Aggies approach this game like they have the last two, it should be over in a hurry. Last week, the Aggies took a quarter to get on track offensively against SMU. Offensive coordinator Kliff Kingsbury said the unit's main objective is to start quickly (like it did against Florida). So that will be something the Aggies look to accomplish this week.
To continue reading this article you must be an Insider
August, 17, 2012
8/17/12
4:01
PM ET
COLLEGE STATION, Texas -- Texas A&M will host its second open-to-the-public scrimmage of fall training camp and third overall scrimmage at 11:30 a.m. Saturday at Kyle Field. Here are some things to watch for in the scrimmage:
•
Johnny Manziel
: Now that the redshirt freshman has officially been named the starting quarterback, it'll be worth closely watching how he performs in a public setting. The Aggies are fewer than two weeks away from their season opener, so his continued progress will be key to Texas A&M's success. It will be also worth watching to see how the other quarterbacks perform in the wake of the decision.
• The return game: Finding a kick returner is something that still needs to be crossed off the to-do list for coach Kevin Sumlin and special teams coordinator Brian Polian. Polian mentioned that he's not afraid to look at freshmen as candidates and that includes running back
Trey Williams
and freshman receivers
Sabian Holmes
and
Thomas Johnson
.
To continue reading this article you must be an Insider
August, 15, 2012
8/15/12
9:50
AM ET
COLLEGE STATION, Texas -- Junior defensive end
Damontre Moore
is one of Texas A&M's best pass-rushers and showed that last year by recording 8.5 sacks, second on the team. That ability was also readily apparent on Saturday during the Aggies' first full, open scrimmage of fall training camp.
[+] Enlarge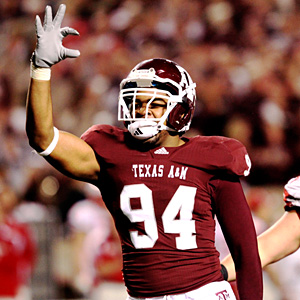 Thomas Campbell/US PRESSWIRETexas A&M is looking for more consistent play from defensive end Damontre Moore.
But it's not just all about sacks for the 6-foot-4, 250-pound veteran. Coach Kevin Sumlin said that while he enjoys the production Moore brings, he wants to see improvement in other areas.
"He is a guy that has made big plays," Sumlin said. "I think the problem with him is kind of a feast or famine deal, that he's made big plays but has showed the ability to hurt the football team with contain issues, jumping offsides, hasn't been able to stay (up) ... you look out there and he's flopping around on the ground. So he's a guy that we've got to corral. He's got to understand his role and become an every-down player that's consistent and not just (having) a great play and then we don't see you, and then a maybe a penalty."
Moore is part of a defensive line that Sumlin said is improving in terms of depth compared to where the Aggies sat at that position after spring practice.
With some shuffling, it appears that the Aggies are making progress in that department, particularly at defensive tackle where
Kirby Ennis
and
Jonathan Mathis
are working with the first team and as many as four others are seeing work behind those two. Senior
Spencer Nealy
and redshirt freshman
Shayvion Hatten
figure in behind those two with true freshmen
Polo Manukainiu
and
Alonzo Williams
also getting work there.
At the other defensive end spot, true freshman
Julien Obioha
continues to shine and is battling with sophomore
Gavin Stansbury
with true freshman
Tyrone Taylor
developing behind Moore.
"Those young guys have come in and done a nice job from an effort standpoint, have really, really pushed our veterans and given us a change of pace outside," Sumlin said. "So we basically have a whole new D-line than we had in spring, which (defensive line) coach (Terry) Price is happy about, but Coach Price is not getting a whole bunch of sleep. His hair is falling out and his eyes are red because he's working like crazy trying to get the proper match, the proper rotation.
"I think out of that group, we're not where we need to be, but I think we feel a lot better than we did leaving spring football when you can rotate that group in there and be able to play in the league that we're getting ready to play in."
• Secondary coach Marcel Yates called the battle at cornerback a "four or five man race" on Tuesday. The candidates?
Dustin Harris
,
De'Vante Harris
,
Deshazor Everett
,
Floyd Raven
and
Tramain Jacobs
.
"Those five guys are going to be our core guys," Yates said. "These next two weeks, they need to figure out who's going to be the guy to take that plunge and be the two guys that are going to start. They all want to start, which is great for me, because it keeps every guy on their toes and going hard.
As for De'Vante Harris, the only true freshman among the five named and a player who has been impressing the coaches in camp, Yates said "He's a playmaker."
To continue reading this article you must be an Insider
August, 13, 2012
8/13/12
5:30
PM ET
As the 2012 season approaches, GigEmNation will take a look at where the Aggies stand currently and in the future at each position group. Today, we glance at the cornerbacks.
Current: Deshazor Everett, De'Vante Harris, Dustin Harris, Toney Hurd, Tramain Jacobs, Floyd Raven
Everett has the flexibility to line up at both cornerback and safety. He has spent time at both during fall camp, and on Saturday in the Aggies' scrimmage, Everett played a lot of safety. The sophomore saw action in every regular season games last year as a reserve and a special teams player. When Everett lined up at safety, senior Dustin Harris and freshman De'Vante Harris lined up at the corners. Dustin Harris is a three-year letterman and has been a punt-returning ace for the Aggies, but has also seen plenty of playing time, including some starting time, in the secondary. De'Vante Harris, a 2012 signee from Mesquite (Texas) Horn, has clearly made an impression on the coaching staff thus far. He was an Under Armour All-American at Horn and a district MVP as a senior.
To continue reading this article you must be an Insider
Better Freshman Season: Manziel Or Winston?