Texas A&M Aggies:

Colby Cameron
October, 13, 2012
10/13/12
10:35
PM ET
Texas A&M takes a four-score lead into the locker room at Independence Stadium in Shreveport, La., holding a 39-16 lead over Louisiana Tech at the midway point:


Stat of the half:
The Aggies have rolled up a whopping 428 offensive yards in the first half. Louisiana Tech's defense has showed little resistance to the Aggies' first-half attack, with the exception of forcing Texas A&M to kick a few field goals. The offense has moved the ball seemingly at will, and the 39 points is a reflection of that.
Player of the half:
Texas A&M quarterback
Johnny Manziel
. He's 15-of-22 for 271 yards passing with two touchdowns and no interceptions and has 78 yards and a touchdown on the ground. Clearly, he's bouncing back fine after his three-turnover day at Mississippi.
What's working for the Aggies:
On offense, just about everything. Running game is great (157 yards), and
Christine Michael
even got in on the mix, starting the scoring with a 40-yard touchdown run. Manziel has made some big throws, and
Mike Evans
was a recipient of one of those, catching a 75-yard touchdown pass. On defense, the Aggies were strong in the first quarter and struggled some in the second, allowing all 16 points.
What's not working for the Aggies:
The tackling could be a little better for the Aggies on defense. Also, they didn't generate a ton of pressure on quarterback
Colby Cameron
as the Bulldogs began to move the football.
What Texas A&M needs to do to win:
Keep scoring points and taking care of the football. Louisiana Tech's offense likely willcome out with some energy after scoring points at the end of the half, but the Aggies have a nice cushion to work with.
October, 12, 2012
10/12/12
1:42
PM ET
Texas A&M 48, Louisiana Tech 27
[+] Enlarge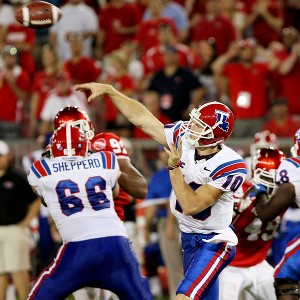 Troy Taormina/US PresswireLouisiana Tech quarterback Colby Cameron has not thrown a pick this season.
Louisiana Tech is a good team, but if the Bulldogs can't get stops, it's going to be a long night. The Bulldogs rank 119th in the country in total defense in passing defense and 106th in scoring defense. With Texas A&M quarterback
Johnny Manziel
's playmaking ability, the emergence of
Ben Malena
and the running game and the plethora of receiving weapons the Aggies have to choose from led by
Mike Evans
and
Ryan Swope
(not to mention an elite offensive line), expect the Aggies to pile up the points. And the Bulldogs haven't played a team as talented as the Aggies are on both sides of the ball. Louisiana Tech quarterback
Colby Cameron
hasn't thrown an interception this year and if he takes care of the ball like that again, it could be a closer game. But the Aggies likely have too much firepower for the Bulldogs here.
Player to watch: Donnie Baggs, Texas A&M
October, 10, 2012
10/10/12
8:00
AM ET
With Texas A&M's upcoming matchup against a fellow top-25 team approaching, undefeated Louisiana Tech (5-0), GigEmNation took the chance to get some perspective on the No. 23 Bulldogs with
Shreveport Times
reporter
Jimmy Watson
, who covers them.
Sam Khan Jr: With Louisiana Tech being undefeated and the Aggies being the only ranked team standing in their way, what's the buzz around the program like leading up to this matchup?
Jimmy Watson:
La. Tech fans are excited about being ranked for the first time since the 1999 season and can't wait for Saturday's showdown. While the team doesn't even want to talk about it, the fans are hoping to be BCS busters if they can get past the Aggies.
[+] Enlarge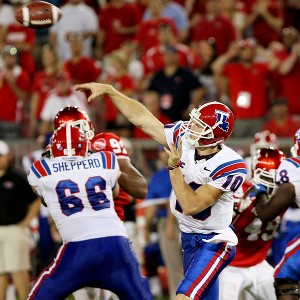 Troy Taormina/US PresswireQuarterback Colby Cameron and Louisiana Tech are 5-0 under coach Sonny Dykes.
SK: What has impressed you the most about the Bulldogs to this point in the season?
JW:
The lack of interceptions by quarterback
Colby Cameron
, the speed that the offense runs play and the performance of freshman running back
Kenneth Dixon
, who is better than expected.
SK: What are some areas that the Bulldogs still need work in that you think the Aggies might look to exploit?
JW:
Tech's defense has given up a number of big plays in the passing game and are susceptible to crossing patterns deep.
SK: In your opinion, did the change of the date of the game help or hinder the Bulldogs' chances at a win?
JW:
I think it seriously hurt their chances. The Aggies certainly have their feet under them and have adjusted to a very good young quarterback.
SK: Louisiana Tech is no. 3 in the country in scoring offense and no. 11 in total offense. What has been the biggest key to that success?
JW:
The balance in running and passing. A lot of people think all they do is sling it around all over the place. But against UNLV on Saturday, Tech had about 300 yards passing and about 300 rushing. Similar to Kevin Sumlin's teams at Houston, Tech expects to run a lot of plays to wear down the defense. They ran 97 against UNLV.
SK: Before the season you mentioned freshman running back Kenneth Dixon as a name to watch that might be unknown and clearly he has played well. Who's another player that may be under the radar for the Bulldogs that could make an impact on Saturday night?
JW:
Ray Holley
. He's a senior and was slated to play in the slot before the other super freshman running back,
Tevin King
, went down with an ACL injury. Holley moved over to running back and has provided a speed alternative to Dixon, who is a power back.
SK: How do you think the Bulldogs will approach defending a quarterback as mobile as Johnny Manziel?
JW:
You only hope to contain him. Manziel will get his yards against Tech's defense, which is giving up 30-something points per game. Saw where there were a lot of Aggie turnovers against Ole Miss. If they have anything close to that number against Tech, winning will be difficult.
October, 9, 2012
10/09/12
5:04
PM ET
COLLEGE STATION, Texas -- Texas A&M came away with a win on Saturday over Mississippi, but there was plenty to clean up for the Aggies as they watched film on Monday.

The number that stood out the most and made coach Kevin Sumlin unhappy was, obviously, the one in the turnover column.

"You can't live with six turnovers," Sumlin said. "That's not us. We haven't been like that and hopefully we never see that again. You talk about how that happens and why that happens and the ability to do that."

Another area of concern for Sumlin was the Aggies' third down defense. The Aggies came in allowing third down conversions just 26 percent of the time but yielded 47 percent to Ole Miss (9-of-19). The Rebels converted six of their first 11 before the Aggies shored up late, allowing just three of the Rebels' last 8 attempts.

"I thought we were pretty good on first and second down but on third down, we weren't where we've been all year," Sumlin said. "We got kind of spoiled by that because we've been off the chart on third down defense this year."

Of course, Sumlin was happy with the win but made sure the players knew it could have come without the type of fight they had to put up to come back from a 10-point deficit and eek out the 30-27 victory.

"Our message yesterday was 'Here's what we're capable of, we still won the football game because of great effort and because you played until the end, but you made it harder on yourselves,'" Sumlin said. "On the road, as things go on, a ball can bounce either way and we lose that game. We clean that up, and who knows, we probably can win going away....Our guys understand that. It's a learning process."


October, 8, 2012
10/08/12
11:30
AM ET
Campus location:
Ruston, La.
Nickname:
Bulldogs
Conference:
WAC
Record:
5-0
Record vs. Texas A&M:
0-9* (Louisiana Tech has lost all 10 meetings it has had with the Aggies but Texas A&M vacated a win in 1998 because of use of an ineligible player).
To continue reading this article you must be an Insider
August, 28, 2012
8/28/12
10:15
AM ET
Each week this season, GigEmNation will seek insight on Texas A&M's upcoming opponent with a writer that covers the opposing team. Today we visit with Jimmy Watson, who covers Louisiana Tech for the
Shreveport Times
.
Sam Khan Jr.:
Louisiana Tech is coming off a pretty nice season, going 8-5 with a WAC championship and a bowl game appearance. What are expectations like for the Bulldogs this year?
Jimmy Watson:
Tech is supposed to be better than they were a year ago. Unlike 2011, the quarterback situation is settled entering the season with a senior leader in
Colby Cameron
. Tech is deep at running back and has one of the best receivers in the nation in
Quinton Patton
. The offensive and defensive lines are solid with depth at every position. They're picked to win what will be the final season of WAC football.
SK:
In your opinion, what was the biggest reason for Louisiana Tech's success last season and why might that continue this year?
JW:
There were some senior leaders who held things together after they started 1-4, including a devastating 35-34 loss to Kevin Sumlin's Houston team when Tech led 34-7 in the second half.
SK:
How does Quinton Patton stack up to other top-flight receivers you have seen in recent years?
JW:
He is the best I've seen at Tech since Troy Edwards, who played several seasons in the NFL. He has all the tangibles and the intangibles that coaches like, including working his tail off this summer to become even better than he was last year. There are several other receivers who can take the pressure off him if anyone tries to key on him.
SK:
Give me a name on the Bulldogs' roster that Texas A&M fans might not know today, but will know by the end of the game, and why.
JW:
Kenneth Dixon
– true freshman running back. He's a bruiser with deceptive speed and is expected to make a mark this fall. Coach Sonny Dykes said "he is mature beyond his years."
SK:
Because there's a familiarity with Texas A&M's offensive scheme based on Sonny Dykes' history with the offense and the fact that Louisiana Tech led Houston by four touchdowns when Kevin Sumlin and Kliff Kingsbury were there last year, is there a sense of comfort or confidence for the Bulldogs -- particularly defensively -- as they head into this game?
JW:
Not much comfort because of the upgraded personnel in College Station and the knowledge that Sumlin will build his offense around the strengths of his playmakers rather than vice versa. The defense is confident, however, that it can hold its own.
SK:
What are you expecting out of senior quarterback Colby Cameron when the lights come on Thursday night?
JW:
He should be solid in all aspects of his play. He has a full grasp of the Tony Franklin offense and can make the throws he needs to make. He has a plethora of weapons at his disposal that Tech hasn't had in the 12 years or so I've been covering them. If the veteran offensive line can adequately protect him from the talented Aggie defense, he should have a good game.
SK:
What's your prediction for the game against Texas A&M and for Louisiana Tech's record/postseason fate this season?
JW:
I believe A&M should win the game, but it'll probably be by 10 points or less. If Tech wins or breaks even in the turnover battle, they'll have a chance to win the game in the second half. In 2012, Tech should go 8-4, maybe 9-3, and get a decent bowl slot.
NOTE: If this game gets moved to Oct. 13 due to Hurricane Issac, all bets are off.
Recruits Miss Lone Star Showdown
SEC SCOREBOARD
Thursday, 9/3
Saturday, 9/5