Texas A&M Aggies:

Brandon Allen
October, 7, 2013
10/07/13
9:00
AM ET

Things are getting very interesting in the SEC and we have a little more movement in our Power Rankings this week:
1. Alabama (5-0, 2-0 SEC; last week: 1):
Alabama did everything it was supposed to do in its tuneup against a very overmatched Georgia State team. Nick Saban wanted to get a chunk of his youngsters into the game and 70 players saw action. After its most complete game of the season, Alabama travels to Kentucky for another chance to work on execution.
2. Georgia (4-1, 3-0 SEC; LW: 2):
The Bulldogs won a wild one against Tennessee Saturday, but they lost three key players on offense. Running back
Keith Marshall
and wide receiver
Justin Scott-Wesley
are both out for the year with season-ending knee injuries, and receiver
Michael Bennett
will miss Saturday's game with a knee injury.
Aaron Murray
has been superb, but now it's time for this defense to step up and make crucial improvements if Georgia is going to make it back to Atlanta.
3. Texas A&M (4-1, 1-1 SEC; LW: 3):
The Aggies were off over the weekend, which gave this team a chance to rest and work on everything concerning its defense. Texas A&M still owns the SEC's worst defense (476.8 yards allowed per game), but when you have
Johnny Manziel
making play after play, it takes some pressure off everyone else. Still, this defense will have to be on point against Ole Miss' high-powered offense in Oxford.
4. LSU (5-1, 2-1 SEC; LW: 4):
Well, the Tigers offense just looks terrific right now. Quarterback
Zach Mettenberger
, running back
Jeremy Hill
and receiver
Odell Beckham Jr.
should all be in contention for the title of "best at their position" in the SEC. The Tigers have churned out more than 400 yards in every game and more than 500 in two. The defense still has its issues, especially stopping the run, but this offense is deadly.
5. Florida (4-1, 3-0 SEC; LW: 6):
Believe it or not, the Gators are looking more and more like the most balanced team in the SEC East. Florida owns the SEC's best defense (217 yards allowed per game) and the offense has amassed 400 yards of offense three times this season. In Florida's blowout win over Arkansas on Saturday, new quarterback
Tyler Murphy
threw for 240 yards and three touchdowns. With this defense and an improving offense, are the Gators turning into a legit contender in the SEC?
6. South Carolina (4-1, 2-1 SEC; LW: 5):
No, the Gamecocks didn't lose to Kentucky over the weekend, but this team just doesn't look focused right now, especially on defense. In their past three games, the Gamecocks have blown a 28-point lead to Vanderbilt, an 18-point lead to UCF and a 21-point lead to Kentucky. The good news is that South Carolina has gone 3-0 during that span, but that sort of sloppy play will catch up to you in this league.
7. Missouri (5-0, 1-0 SEC; LW: 8):
Don't look now, but here come the midwestern Tigers! Mizzou is turning into quite the unit, especially on offense, after blowing out Vanderbilt in Nashville. With its trail mix of offensive talent, the Tigers dropped 51 on the Commodores and found themselves back in the Top 25. Mizzou is second to only Texas A&M in offense in the SEC and has registered more than 500 yards three times, including against Vandy.
8. Auburn (4-1, 2-1 SEC; LW: 9):
These Tigers tried to give away a 27-9 lead in the third quarter against Ole Miss, but held on for a huge 30-22 win. One thing that really helped out Auburn was the play of its defensive line, as the Rebels only had 124 rushing yards Saturday. On offense, Auburn knows it's going to have to rely heavily on its running game, which churned out 282 yards and three touchdowns Saturday.
9. Ole Miss (3-2, 1-2 SEC; LW: 7):
This team has now lost two in a row after such a hot start. The offense was shut out against Alabama and then couldn't run on Auburn's defense. Quarterback
Bo Wallace
made some bad decisions in Saturday's loss and this team just became way too one-dimensional on the Plains. Who's next? Oh, that would be Johnny Football.
10. Vanderbilt (3-3, 0-3 SEC; LW: 10):
The Commodores need a lot of help on defense. It's clear that there are holes all over and if Vandy is going to continue its upward progression, the defense has to improve. Vandy's defense has given up more than 500 yards twice and more than 360 yards four times.
11. Arkansas (3-3, 0-2 SEC; LW: 11):
When Florida forced Arkansas to throw the ball, the Razorbacks just couldn't get anything going.
Brandon Allen
completed only 17 of his 41 pass attempts, threw an interception that was returned for a touchdown and registered a QBR of 9.8. For the second time this season, the Hogs had no spark on offense when the running game got stuffed.
12. Tennessee (3-3, 0-2 SEC; LW: 13):
What a fight by Tennessee in that heartbreaking loss to Georgia. The Bulldogs did sustain some serious injuries, but
Justin Worley
delivered some big-time throws and wide receiver
Pig Howard
is turning into a real playmaker, except for that goal-line fumble. This defense still has a long way to go, but Saturday showed that this team truly has heart.
13. Mississippi State (2-3, 0-2 SEC; LW: 12):
This defense was impressive in the Bulldogs' two victories over lesser competition, but in three losses, Mississippi State has given up more than 400 yards each time. LSU racked up 59 points and more than 500 yards of offense Saturday. The Bulldogs kept things close for most of the night against the Tigers, but were totally overmatched in the fourth quarter, getting outscored 28-0.
14. Kentucky (1-4, 0-2 SEC; LW: 14):
The Wildcats put up quite the fight against South Carolina and almost pulled off a huge upset at home. You could see some improvement and development on the offensive side against the Gamecocks, and it's important that it carry over going forward. This team just doesn't have the horses right now to really compete in the SEC.
October, 5, 2013
10/05/13
7:00
AM ET
Last weekend brought some high drama (Georgia-LSU), some high scoring (Georgia-LSU again, along with Arkansas-Texas A&M), a surprisingly close game (Tennessee-South Alabama) and some intrigue (Alabama-Ole Miss, South Carolina-UCF) in SEC play. Will this week bring quite as much of each? Perhaps not, but we shall see.
[+] Enlarge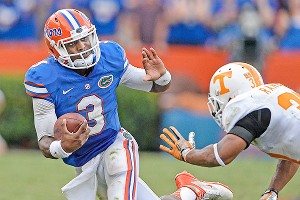 AP Photo/Phil SandlinTyler Murphy looks to continue his solid play Saturday against Arkansas.
There are no matchups in the league pitting two ranked teams, but there should be some interesting matchups nonetheless. Arkansas heads to No. 18 Florida in a game pitting one of the SEC's best rushing teams (Arkansas) against the nation's top rushing defense (Florida). The Razorbacks kept up for a while with No. 9 Texas A&M last week, and quarterback
Brandon Allen
looked good in his return from a shoulder injury, but Florida's defense is a different challenge -- and much tougher one. Can Florida quarterback
Tyler Murphy
continue to play at the high level he has since taking the place of injured quarterback
Jeff Driskel
?
No. 6 Georgia has to go on the road after a thrilling win over LSU last week. Tennessee, as mentioned before, escaped by the skin of its teeth against South Alabama, needing a defensive stop inside its own 10 in the final minutes to avoid a home loss. The Bulldogs have their sights set on big goals and want to stay in the SEC East Division title chase, so they can't afford a letdown after last week's dramatic victory. Quarterback
Aaron Murray
needs just 100 yards to become the SEC's career record holder in passing yards, and he has never thrown for fewer than 109 yards in a game in his career, so expect that to be a formality.
On the flip side, LSU is looking to bounce back after its 44-41 loss to Georgia. The Tigers have to go back on the road for the second straight week, heading to Starkville, Miss., to face Mississippi State and its cowbells. The Bulldogs have been resting a little bit, coming off an open date, and expect to have starting quarterback
Tyler Russell
back in the lineup for the first time since Week 1 (concussion). LSU has been pretty good about bouncing back from losses under Les Miles; the Tigers haven't lost consecutive games since 2008 and are 20-1 following a loss in the Miles era.
Ole Miss and Auburn should be an interesting one, pitting two coaches, Hugh Freeze and Gus Malzahn, who both spent more than a dozen years as high school coaches before moving into the college ranks. Ole Miss is coming off a shutout loss to Alabama, one in which the Rebels couldn't get on track offensively, managing just 205 yards. Meanwhile, Auburn had an off week last week after its first loss of the season, a 35-21 loss to LSU on Sept. 21. This will be one of the more telling matchups of the day. Can the Rebels prove their legitimacy by bouncing back and getting a conference road win, or can Auburn take a nice step forward under their new head coach by knocking off a top 25 opponent and moving to 2-1 in the SEC West?
Another compelling matchup is the one between Missouri and Vanderbilt. Mizzou has piled up points and yardage against underwhelming non-conference competition. This is the Tigers' SEC opener, and how they perform today could give us a peek into how seriously they need to be taken. Vandy is 0-2 in SEC play, with the losses coming to Ole Miss and South Carolina. After this week, the Commodores have a three-game stretch where they see Georgia, Texas A&M and Florida, with the latter two on the road. If they don't win today, it might not be pretty in the coming weeks.
No. 1 Alabama has what is a likely snoozer against Sun Belt squad Georgia State, and although South Carolina has struggled to close out games, Kentucky has struggled quite a bit and Steve Spurrier-coached teams have historically been successful against the Wildcats, holding a 19-1 career record. Here's a rundown of Saturday's games:
Georgia State at Alabama, 12:21 p.m. ET, SEC TV

Georgia at Tennessee, 3:30 p.m. ET, CBS

LSU at Mississippi State, 7 p.m. ET, ESPN

Arkansas at Florida, 7 p.m. ET, ESPN2

Ole Miss at Auburn, 7 p.m. ET, ESPNU

Missouri at Vanderbilt, 7:30 p.m. ET, FSN

Kentucky at South Carolina, 7:30 p.m. ET, CSS
October, 1, 2013
10/01/13
12:00
PM ET
From defensive struggles to quarterback quandaries to head coach hot-stove talk to even nature walks, there's plenty going on in SEC football this week. Here's a sampling of discussion points from around the league:
September, 30, 2013
9/30/13
9:00
AM ET
Well, the top team in our Power Rankings certainly made sure everyone knew exactly why it was No. 1:

1. Alabama (4-0, 2-0 SEC; last week: 1):
The Crimson Tide defense was tired of hearing how good it wasn't. It didn't like hearing that Ole Miss was going to score on it. So it shut the Rebels out and held them to just 205 yards of offense and 11 first downs. The Alabama offense rolled up 434 yards of offense as well, quieting a lot of doubters in the process.
2. Georgia (3-1, 2-0 SEC; LW: 4):
Well, it's pretty clear that the SEC Eastern Division is now Georgia's to lose. After a thrilling 44-41 win over LSU, the Bulldogs showed that no matter how bad their defense plays, the offense will be there to rescue it. The only real defensive test remaining for this unit is Florida. But can Florida's offense keep up with the Dawgs if they score?
3. Texas A&M (4-1, 1-1 SEC; LW: 3):
Like Georgia, the Aggies are equipped with an offense that can bail out its struggling defense. The Razorbacks gave A&M quite the scare in Fayetteville over the weekend, but
Johnny Manziel
and Co. didn't have much trouble piling on points against a struggling Arkansas defense. Still, that rushing defense has to improve with SEC play heating up.
4. LSU (4-1, 1-1 SEC; LW: 2):
The Tigers' defense showed its youthful age against Georgia on Saturday, especially in the secondary. Georgia churned out nearly 500 yards and averaged 7 yards per play. It didn't help that the front seven didn't generate enough pressure on Georgia quarterback
Aaron Murray
, who threw four touchdowns. But we learned that LSU quarterback
Zach Mettenberger
is the real deal. He delivered some NFL throws and might have outplayed Murray between the hedges.
5. South Carolina (3-1, 1-1 SEC; LW: 5):
I don't know what it is with this South Carolina team. It overcame the loss of starting quarterback
Connor Shaw
by scoring 28 straight points on UCF Saturday, but then turned around and let the Knights end the game on a 15-0 run. The good news for the Gamecocks is they might have one of the most underrated players in the SEC in running back
Mike Davis
, who leads the SEC in rushing yards per game (127).
6. Florida (3-1, 2-0 SEC; LW: 7):
This is officially
Tyler Murphy
's team, and he's been solid since replacing
Jeff Driskel
at quarterback. No one really expects much from the passing game going forward, so the running game has to carry this team (again). It did just that with its 246 yards in the win over Kentucky. That defense might be missing
Dominique Easley
, but it was fantastic against the Wildcats.
7. Ole Miss (3-1, 1-1 SEC; LW: 6):
Quarterback
Bo Wallace
took some heat for saying the Rebels' offense would score some points on Alabama. Well, he ended up scoring for the Crimson Tide with his safety in the fourth quarter. The high-flying offense we saw in the first three games didn't make it to Tuscaloosa, and now the Rebels are gearing up for a crucial conference game at Auburn this weekend.
8. Missouri (4-0, 0-0 SEC; LW: 8):
We still don't know a ton about this team, but the Tigers scored at will against their nonconference foes, averaging 45.5 points and 549 yards through the first four games. But SEC play starts now with a trip to Vanderbilt this weekend. We'll find out very soon if there was any substance to the Tigers' fast start to the season.
9. Auburn (3-1, 1-1 SEC; LW: 9):
The Tigers had the week off after their loss to LSU. That gave this team time to rest and try to get the passing game in better shape for the Rebels. What Gus Malzahn and his running backs had to be excited about was seeing Ole Miss' defense give up 254 rushing yards and rushing touchdowns of 68 and 50 yards to the Tide.
10. Vanderbilt (3-2, 0-2 SEC; LW: 10):
The offense is only getting better, and wide receiver
Jordan Matthews
is getting closer and closer to breaking SEC records for career receiving yards and career receptions. With eight catches for 115 yards and touchdown in Vandy's 52-24 win over UAB, Matthews has had 100-plus yards or a touchdown in four of Vandy's five games.
11. Arkansas (3-2, 0-1 SEC; LW: 11):
After a rough loss at Rutgers, the Hogs made things interesting in their 45-33 loss to the Aggies. This running game bounced back against A&M with 201 yards, while
Brandon Allen
's return at quarterback led to 282 passing yards. Still, this team has to clean things up on defense. The Aggies averaged 7 yards per play.
12. Mississippi State (2-2, 0-1 SEC; LW 12):
The Bulldogs were off after their 62-7 win over Troy. It was an impressive win for a team looking for more of an offensive spark at the beginning of the season. The way quarterback
Dak Prescott
is playing, this offense has to feel confident going into this weekend's matchup with LSU. But do the Bulldogs have the horses to keep up with an LSU team that has to be frustrated after its loss to Georgia?
13. Tennessee (3-2, 0-1 SEC; LW: 13):
Somehow, the Volunteers tried to give it all away late against South Alabama on Saturday. Tennessee was outscored 17-7 in the second half of its 31-24 win and even blocked its own field goal. A win is a win, especially for a program with a new head coach, but the Vols now have to regroup and face a Georgia team capable of scoring 50 in Knoxville this weekend.
14. Kentucky (1-3, 0-1 SEC; LW: 14):
The Wildcats' only real positive from Saturday's 24-7 loss to Florida was that their touchdown came on a fake field goal. Other than that, the Gators dominated Mark Stoops' team. When your kicker is your leading rusher in a game (25 yards), you know you have major problems in the playmaking department.
September, 28, 2013
9/28/13
7:00
AM ET
FAYETTEVILLE, Ark. — No. 10 Texas A&M (3-1, 0-1 SEC) comes to Razorback Stadium to face Arkansas (3-1, 0-0) at 6 p.m. tonight. Both teams are trying to claim their first SEC wins this season, so let's look at five things to watch tonight:


1. Arkansas running game vs. A&M run D:
The Razorbacks have the nation's No. 5 and SEC's No. 1 rusher in freshman
Alex Collins
(481 yards), who became the first freshman in SEC history to begin his career with three consecutive 100-yard rushing games. New Arkansas head coach Bret Bielema is a believer in running the football and they'll look to run right at the Aggies, who rank 103rd nationally in rushing yards allowed per game (218.25). A&M, which allowed more than 200 rushing yards to its first three opponents, allowed just 93 last week, but the Razorbacks run the ball much more than SMU. Rutgers had some success last week against the Razorbacks' rushing attack, holding Collins and sophomore
Jonathan Williams
to just a combined 3.6 yards per carry. Regardless, this will be the matchup to watch.
2. Razorbacks get their QB back:
After missing the loss to Rutgers with a bruised throwing shoulder,
Arkansas regains the services of starting quarterback
Brandon Allen
tonight. Head coach Bret Bielema tweeted the news on Friday night. Allen got hurt Sept. 14 in a 24-3 win over Southern Mississippi and backup A.J. Derby filled in during Allen's absence. Getting Allen back is certainly a positive for Arkansas.
3. A&M kicking game:
After holding the starting placekicking job since the start of last season,
Taylor Bertolet
is now in a battle to keep kicking. He was removed from the Aggies' win over SMU last week for sophomore walk-on
Josh Lambo
. Bertolet missed back-to-back PAT attempts that prompted the change, and now both coach Kevin Sumlin and special teams coordinator
Jeff Banks
acknowledge that it's an "ongoing competition" between the two. Lambo came in and connected on a 40-yard field goal and was 1-for-2 on PATs, though his missed kick was the result of a botched snap. It will be interesting to see who takes which kick attempts tonight.
4. Status quo for the O?:
The Aggies' high-powered offense has been productive throughout this season as quarterback
Johnny Manziel
has showed improvement as a passer,
Mike Evans
has emerged as perhaps one of the nation's best receivers, and the running backs and offensive line have both performed solidly. The Aggies have produced at least 400 offensive yards in 16 straight games dating back to last season and have only once failed to reach that number under Kevin Sumlin.
5. Road success:
A Sumlin-coached team hasn't lost a game away from its home stadium since 2010, winning 13 straight. The Aggies were undefeated on the road and won their neutral site bowl game last season, but tonight will be the Aggies' first game on the road this season in what should be a raucous atmosphere at Razorback Stadium. Can the Aggies continue their road success?
September, 27, 2013
9/27/13
8:51
PM ET
Arkansas coach Bret Bielema tweeted Friday that the
Hogs would get starting quarterback Brandon Allen back
for Saturday's SEC opener against Texas A&M.
The question now: How effective can Allen be throwing the ball after missing last week with a bruised throwing shoulder, and is he ready to go the distance?
Backup
AJ Derby
, a junior college transfer, filled in for Allen last week in the 28-24 loss at Rutgers and threw the ball 26 times. He completed 14 of those passes for 137 yards and a touchdown and didn't throw an interception. The Razorbacks lost that game because they couldn't protect a 17-point lead, not because they couldn't throw the ball.
Against the Aggies and
Johnny Manziel
, the name of the game will be keeping the chains moving, making first downs and keeping Manziel off the field regardless of who's at quarterback. If the Hogs have to throw it 30 or 35 times, they're probably going to be in trouble.
At this point, they're simply not equipped to get into a scoring match with the Aggies, which is all the more reason that being able to line up and run the football on first and second down will be crucial.
It would certainly help if Allen's healthy enough to be a major factor throwing the ball. He's been limited ever since injuring his shoulder against Southern Miss in Week 3.
Either way, the Hogs have to get back to doing what they do best if they're going to win this game, and that's crank up that running game.
In the loss to Rutgers, the two running backs --
Alex Collins
and
Jonathan Williams
-- combined to average just 3.6 yards per carry. That's after averaging 6.7 yards per carry in the first three games.
September, 26, 2013
9/26/13
9:00
AM ET
And just like that, The Kid has a nice two-game lead. For two straight weeks, I tried to help Chris out. I tried to feed him the goods, but he just wouldn't listen.

When he seemed so confident about Texas rebounding against the Rebels, I told him to have some faith in Ole Miss. But Chris put too much faith in a wounded Bevo.
Last week, I distinctly remember when I submitted my picks that Chris said, "Just send them in when you get a chance. There's no way we have anything different." Naturally, I assumed he was thinking like me and had Rutgers winning at home over Arkansas. Alas, Chris was blinded by all those rushing yards the Hogs churned out during the first three weeks of the season.
Chris was too busy hollerin' Pig Sooie when I tried to tell him about
Brandon Allen
's health and Rutgers' run defense. I heard rumblings from Baton Rouge, La., that Chris was trying to get media members to call the hogs with him in the press box when Arkansas went up 24-7 in the third quarter.
What's the old saying about counting your chickens?
It's just good to be The Kid.
After going 9-0 last week (yes, that makes two straight perfect weeks), I own a 40-3 (.930) record, while Chris is 38-5 (.884) after going 8-1.
Here's to our picks and me taking a three-game lead:
ARKANSAS STATE at MISSOURI
Chris Low:
Missouri is putting up a ton of points and rolling right along. The Tigers return home after winning at Indiana a week ago and won't have any problem with Arkansas State to go to 4-0 on the season. …
Missouri 48, Arkansas State 21
Edward Aschoff:
The Tigers have looked great on offense thus far, and I don't anticipate that stopping this week with Arkansas State in town. …
Missouri 45, Arkansas State 17
SOUTH ALABAMA at TENNESSEE
Low:
Justin Worley
is back as Tennessee's starting quarterback, and the important thing for the Vols is everybody playing better around him on offense. After two straight losses, they'll take out a little frustration this week at home against South Alabama. …
Tennessee 34, South Alabama 17
Aschoff:
There's no question that Tennessee has a lot to work on on both sides of the ball, but this game will give Worley a chance to get some of the rhythm back that he lost in the Swamp. …
Tennessee 38, South Alabama 13
UAB at VANDERBILT
Low:
It was anything but a rousing performance last week by Vanderbilt at UMass. The Commodores played well enough to win, but that's about it. Look for James Franklin's bunch to turn up the volume this week at home. …
Vanderbilt 37, UAB 14
Aschoff:
The Commodores didn't exactly excite anyone with their win over UMass last week, but something tells me we'll see a much more explosive offensive performance this week. …
Vanderbilt 38, UAB 17
SOUTH CAROLINA at UCF
Low:
Talk about a game that has danger written all over it. The Gamecocks had better clean up their mistakes and take their A-game to UCF, or they're going to be in trouble. They've had an extra week to prepare, and
Connor Shaw
and the offense are clicking right now. …
South Carolina 31, UCF 21
Aschoff:
This isn't an easy road trip for the Gamecocks. UCF is undefeated and averaging more than 30 points a game. The bye week gave South Carolina time to rest, but this one will be closer than Steve Spurrier will like. …
South Carolina 31, UCF 24
FLORIDA at KENTUCKY
Low:
One of these days, Kentucky is going to beat Florida again, but it won't be this Saturday at Commonwealth Stadium. The Gators will make it 27 in a row over the Wildcats. …
Florida 24, Kentucky 7
Aschoff:
The Gators lost two of their top players for the season in less than seven days and have to go on the road with a first-time starter at quarterback. Still, the defense has too many weapons not to get the Gators to 2-0 in SEC play. …
Florida 27, Kentucky 7
TEXAS A&M at ARKANSAS
Low:
It sounds like Arkansas will be without starting quarterback Allen for the second straight week, and when you're playing
Johnny Manziel
& Co., you better be ready to score points in bunches. The Hogs won't be able to keep up Saturday. …
Texas A&M 41, Arkansas 21
Aschoff:
The Aggies offense is running on all cylinders, while the Razorbacks will likely be without their starting quarterback again. Not a good sign for the Hogs. …
Texas A&M 45, Arkansas 20
OLE MISS at ALABAMA
Low:
Ole Miss is healthy and bubbling with confidence. The Rebels also have the playmakers on offense to give Alabama problems. The Crimson Tide have sort of turned it off and on this season, which drives Nick Saban crazy, but they know what's at stake Saturday. …
Alabama 35, Ole Miss 21
Aschoff:
This was actually a closer game than the score indicated last season. The Rebels have the offense to top the Tide, but you have to think that Alabama's defense is tired of hearing about its shortcomings. This one will come down to the fourth quarter, and Alabama will have just a little more in the tank. …
Alabama 31, Ole Miss 23
LSU at GEORGIA
Low:
It's the
Zach Mettenberger
Bowl. Well, not really, but Mettenberger's return to Sanford Stadium has certainly dominated the headlines this week. The difference in this top-10 matchup, though, will be
Aaron Murray
and a Georgia offense that will produce enough big plays to keep the Bulldogs unbeaten in the SEC. …
Georgia 38, LSU 31
Aschoff:
It sounds cliché, but whichever team wins the battle up front is going to win this game. Both teams want to establish the run, and both teams have monster running games. The
Todd Gurley
-
Jeremy Hill
matchup might be one for the ages, too. Georgia survived a similar game against South Carolina, but something tells me LSU's defense is going to make a play or two late to seal this one. …
LSU 35, Georgia 31
September, 19, 2013
9/19/13
10:15
AM ET
Week 4 of the SEC season is here, and though the latest "Game of the Century" is behind us, there is still much to watch in the league this week. There are a couple of conference games on tap, including a rivalry game, and a chance for many SEC teams to either reset or find their footing against nonconference opponents. Let's take a look at 10 things to watch on Saturday around the conference.
[+] Enlarge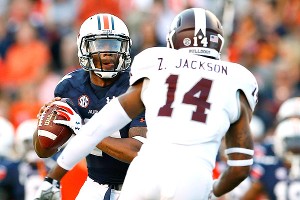 Kevin C. Cox/Getty ImagesNick Marshall and Auburn want to start 2-0 in the SEC, but have a tough test playing at No. 6 LSU at night.
1. Can Auburn go 2-for-2?:
Auburn won its first SEC game in nearly two years, beating Mississippi State 24-20 last week. Can Auburn, under new head coach Gus Malzahn, start 2-0 in the league? That's a tall task, considering its opponent and location: LSU in Death Valley. It's hard enough to play in Baton Rouge, La., but a night game at LSU is asking a lot, where the team is 39-2 under Les Miles in that scenario. But Auburn quarterback
Nick Marshall
has showed some promise and the team gained confidence from last week's win. Never say never.
2. A chance to bounce back for Alabama's secondary:
The Crimson Tide were victorious last week, but their defensive backs were torched against Texas A&M quarterback
Johnny Manziel
and receiver
Mike Evans
. Manziel threw for 464 yards against the Tide and Evans routinely beat man-to-man coverage. Head coach Nick Saban hinted this week that not everybody's jobs might be safe in the secondary, so it'll be worth watching if there are any changes back there when Alabama hosts Colorado State on Saturday.
3. Continued success from Mettenberger:
Through three games, LSU looks like a capable passing team behind quarterback
Zach Mettenberger
. He completed 65.2 percent of his passes (45 of 69) for 797 yards and nine touchdowns with zero interceptions. He has thrown eight touchdown passes in his past two games. These are all positive developments for the Tigers, who want to be able to make teams pay in the air when they stack the box to control the running game. Can Mettenberger continue the solid play when LSU hosts Auburn?
4. Reversing course for Georgia run D:
The Bulldogs have allowed a whopping 211.5 yards per game on the ground in their first two games, putting them 102nd in the nation in the category. They're also allowing 6.2 yards per carry. It's worth noting that Georgia opened up with a schedule as tough as anybody's, playing a pair of top-15 teams out of the gate. But figures like that won't get it done when Georgia gets into the meat of its SEC schedule. This weekend's matchup against Conference USA foe North Texas is a chance for the Bulldogs to shore up things on the defensive end before a huge showdown with renowned running team LSU the following week.
5. Can A&M's D show signs of life?:
The Aggies were dominated by Alabama's offensive line last week in a 49-42 loss and overall, the Aggies haven't been proficient at stopping other teams, particularly on the ground. They've allowed more than 200 rushing yards in each of their three games, and against Alabama failed to generate a pass rush. This week they host SMU and it will be the second straight week that the Aggies have most of their starting defensive players available and not subjected to a suspension of some sort. Now that most of the key players are back, namely linebacker
Steven Jenkins
, will the Aggies show some improvement on the defensive side of the ball?
6. Renewing a rivalry that's been one-sided of late:
Florida and Tennessee meet at The Swamp on Saturday and the Gators are going to try to extend an eight-game winning streak against the Volunteers. The last time the Vols defeated Florida was in 2004, a 30-28 win in Neyland Stadium. This is the first installment of the rivalry for Butch Jones as Tennessee's head coach though. The Vols are coming off a 59-14 pounding at Oregon; fortunately for them Florida's offense is nowhere near as high-powered. The No. 19 Gators have their own wounds to lick, having lost to Miami 21-16 last time out and with key players like
Jeff Driskel
and
Matt Jones
trying to get to full strength healthwise. It's the SEC opener for both so it's an important game, no matter how you slice it.
7. Bulldogs, Commodores look to get back on winning track:
Mississippi State and Vanderbilt both suffered SEC losses last week: The Bulldogs dropped a 24-20 decision to Auburn while the Commodores fell 35-25 to South Carolina. Mississippi State hosts Sun Belt squad Troy while Vandy travels to Massachusetts. Both teams are 1-2 and though wins won't help their efforts in SEC play, where both are winless so far, simply going out and getting a win -- which both should here -- will be a needed positive
8. Allen or Derby at QB for Arkansas?:
Starting quarterback
Brandon Allen
injured his shoulder in a 24-3 win over Southern Miss last week and backup A.J. Derby relieved him during the Razorbacks' victory. Arkansas coach Bret Bielema hasn't publicly said for certain that Derby will start and hasn't ruled out Allen, but will monitor the progress of his shoulder before making the decision. Don't be surprised if Derby gets the start. He went 4-for-6 for 36 yards in relief duty. He was at Iowa his first two years before transferring to Coffeyville Community College and eventually Arkansas.
9. Mizzou looking for 3-0:
The Tigers are looking for their third straight win, heading on the road to Indiana after a pair of home victories over Murray State and Toledo. While nobody will consider their nonconference schedule daunting, wins are wins. Quarterback
James Franklin
and running back
Henry Josey
are healthy, the team is productive (averaging 539 offensive yards per game and 48 points) and the confidence that comes with success can be contagious. Another win this week over Indiana and next week over Arkansas State would give the Tigers a lot of momentum heading into SEC play.
10. Time to heal up, improve, for Kentucky, Ole Miss, South Carolina:
With these three teams having an open date this week, it's a chance to heal up any lingering injuries and work on fundamentals to help the team get better. Ole Miss probably would rather keep things going after a strong 3-0 start, including a win at Texas on Saturday, but the Rebels instead get extra time to prepare for No. 1 Alabama. South Carolina defensive end
Jadeveon Clowney
could use the rest to reset from what has been a rough start, and this week can be a valuable teaching time for someone like head coach Mark Stoops at Kentucky, whose team is 1-2 after the first three weeks.
September, 18, 2013
9/18/13
12:00
PM ET
It's Hump Day, and, no, I'm not going to shout it like an overly eager camel in a crowded office. Instead, I'll just note that we're halfway to another exciting week of college football and only a day away from No. 3 Clemson going up against North Carolina State.
September, 16, 2013
9/16/13
9:00
AM ET
We've gone through three Saturdays in the SEC, and it seems like a billion points have been scored. The times, they are a changin', and so have our Power Rankings:

1. Alabama (2-0, 1-0 SEC; last week: 1):
Every offense has looked good against Texas A&M, but seeing the Tide win that shootout in College Station, Texas, was very impressive.
AJ McCarron
is back in the Heisman race, and Alabama remains the team to beat in the SEC and nationally. However, questions still remain on a defense that gave up the most yards in school history (628) Saturday.
2. LSU (3-0, 0-0 SEC; last week: 2):
Ladies and gentlemen, this might be the SEC's most complete team. The Tigers can throw (
Zach Mettenberger
is averaging 265.7 yards per game), run (218.7 yards per game) and rank 10th nationally in total defense (267.7). Sure, the last two opponents have been of the cupcake variety, but this offense didn't look this efficient against cupcakes last season.
3. Texas A&M (2-1, 0-1 SEC; last week: 3):
Yes, this defense isn't SEC quality and might not be FBS quality right now, but when you have
Johnny Manziel
and
Mike Evans
, you're going to be able to score on anyone. Manziel threw for a school-record 464 yards with five touchdowns, while Evans caught seven passes for a school-record 279 yards and a score. This defense needs major work, but this offense won't be stopped by many.
4. Georgia (1-1, 1-0 SEC; last week: 4):
The Bulldogs were off, so the defense didn't give up any points. Georgia gets a tuneup in the form of North Texas Saturday before taking on LSU in two weeks. Expect a lot of Bulldogs points and some much-needed improvement from the Dawgs' defense.
5. South Carolina (2-1, 1-1 SEC; last week: 5):
The Gamecocks continue to put up points and pile on yards. Through three games, South Carolina has registered 406, 454 and 579 yards, respectively. The Gamecocks let Vanderbilt hang around in their 35-25 win over the Commodores, but the defense turned it up a notch after getting embarrassed by Georgia. South Carolina allowed just 268 yards, and Vandy made just two of 12 third-down conversions.
6. Ole Miss (3-0, 1-0 SEC; last week: 7):
A season ago, Bevo ran the Rebels out of the Grove. Saturday night, the Rebels chased Bevo & Co. out of Texas. Last season, the second half was almost a death sentence for the Rebels, but this season, they are outscoring opponents 56-37 and blanked Texas 27-0 in the second half of their 44-23 route of the Longhorns Saturday. As long as the read-option is still legal, the Rebels will be a very dangerous team.
7. Florida (1-1, 0-0 SEC; last week: 6):
The Gators were off, which means the staff was probably drilling ball security and execution into its players' brains. Florida is last in the SEC in red zone efficiency (50 percent), and, as a result, the Gators are last in the SEC in scoring offense (40 points in two games). However, the Gators own the SEC's best defense, which also ranks third nationally.
8. Auburn (3-0, 1-0 SEC; last week: 9):
Quarterback
Nick Marshall
really grew up in Auburn's 24-20 win over Mississippi State. He isn't quite
Cam Newton
, but he looked like a seasoned vet on that last-minute, game-winning drive. The defense still has its issues up front, though. Teams are rushing for almost 160 yards per game against the Tigers and are averaging nearly 5 yards per rush. That defensive line is in for quite the fight this weekend at LSU.
9. Vanderbilt (1-2, 0-2 SEC; last week: 8):
Yes, the Commodores have two losses, but they're losses to top-25 teams. And the Commodores were very much in both games. Still, if Vandy is going to make progress and take the next step, these close losses have to turn into wins, especially against teams like South Carolina. There are some holes on defense that have to get plugged.
10. Missouri (2-0, 0-0 SEC; last week: 10):
The offense is healthy and the Tigers even got a nice bye week before they travel to Indiana to take on the Hoosiers. The offense has been impressive through two games, averaging 539 yards and 48 points per game, but the competition has been subpar. Indiana's defense, which is allowing 410 yards and nearly 30 points a game, should keep Mizzou's offensive momentum going.
11. Arkansas (3-0, 0-0 SEC; last week: 11):
It wasn't a very pretty win over Southern Miss, but I'm sure Bret Bielema will take it. The offense had issues here and there when quarterback
Brandon Allen
left early with a bruised shoulder. He's expected to be back for Saturday's game at Rutgers. The good news is that the running game didn't suffer, as both
Jonathan Williams
and
Alex Collins
rushed for more than 100 yards for the third straight game.
12. Tennessee (2-1, 0-0 SEC; last week: 12):
We knew that cross-country trip to Eugene, Ore., would be tough, and Oregon made sure it was a very uncomfortable stay for the Vols. Before the Ducks built a 30-point first-half lead, fans were already chanting "We want Bama!" I can only imagine what Tennessee players were thinking. Things only got worse, as the Ducks registered 687 yards in their 59-14 drubbing of the Vols. Tennessee limps into its matchup with Florida looking for answers on defense.
13. Mississippi State (1-2, 0-1 SEC; last week: 13):
For the second straight week,
Dak Prescott
played pretty well in place of the injured
Tyler Russell
, but when the defense had to make a stop late against Auburn, it came up short. After two solid outings, Mississippi State's defense struggled to stop Auburn's passing game, and now people in Starkville, Miss., are getting a little antsy. The Bulldogs have lost seven of their past nine games dating back to last season.
14. Kentucky (1-2, 0-0 SEC; last week: 14):
The Wildcats put up a fight in the first half of their 27-13 loss to Louisville, but they just couldn't find any sort of consistency on offense. Quarterback
Maxwell Smith
left in the third quarter with a right shoulder injury, while turnovers and dropped passes stalled the offense whenever it made any attempt to threaten Louisville's lead. The defense gave up 242 rushing yards, but it was gassed by the fourth quarter thanks to an offense that went 0-for-13 on third down.
September, 6, 2013
9/06/13
10:00
AM ET
We're in the swing of things now. With Week 1 in the books, it's time to take a look at some notes from the SEC and ESPN Stats & Info to get you prepared for the second full week of college football:
A total of 10 players from the SEC rushed for 100 yards or more in their opening games, including both Jonathan Williams and Alex Collins of Arkansas.
Since 2006, the SEC has posted the highest nonconference winning percentage (regular season & bowls) of any conference. The league has a 333-74 record (81.8 winning percentage).
With the start of the NFL season upon us, a quick look around the league reveals that the SEC has had more of its former players on NFL rosters in the last five seasons than any other conference. Since 2006, the SEC has averaged 266.1 players per year on NFL opening weekend rosters. The league had a high of 257 players on NFL rosters last year, compared to the second highest ACC with 226.
Florida is now 13-0 under coach Will Muschamp when rushing for 150 or more yards.
The Gators have allowed two rushes of 50 yards or longer in the last 10 seasons combined, three fewer than any other FBS team. Last week, the Gators allowed a total of 50 yards on the ground and just one rush of 10 yards or longer.
Jadeveon Clowney recorded only three tackles in South Carolina's season opener against North Carolina, but he still had an impact on the game. He had three total pressures, which brings his total number to 31 over the last two seasons, tying him with former Georgia linebacker Jarvis Jones for tops in the SEC.
Georgia quarterback Aaron Murray is going to miss his top target, wide receiver Malcolm Mitchell, who's out for the rest of the season with a torn ACL. Murray completed 72 percent of his passes thrown to Mitchell, compared to 59 percent when targeting his other receivers.
It's been pointed out time and again, and we're going to continue bringing it up until it changes: Murray is 3-11 against ranked opponents in his career. He's 0-3 all-time against South Carolina. Murray's 46.0 QBR against the Gamecocks is the lowest of any team in the SEC East.
Your SEC leaders in Raw QBR aren't what you might expect as Arkansas' Brandon Allen led the charge with a 91.6 rating, followed by Missouri's James Franklin, Texas A&M's Matt Joeckel and LSU's Zach Mettenberger. Last season Mettenberger ranked 12th out of 13 SEC quarterbacks in QBR.
Mettenberger's numbers could improve again versus UAB, which allowed 319 yards passing from Troy quarterback Corey Robinson, who set a NCAA record completing 93.8 percent of his passes (30-for-32).
Auburn is now 194-1 all-time when scoring 30 points or more against non-SEC opponents. The Tigers defeated Arkansas State in both previous matchups, with each victory coming by at least 26 points.
Ole Miss is 149-82-7 (.641 winning pct.) all-time during the month of September, including a 3-2 record last year.
Arkansas hosts Samford in its home away from home, War Memorial Stadium in Little Rock, where the Razorbacks are 166-67-4 (.709) all-time.
Hogs coach Bret Bielema wanted to cut down on penalties during his first offseason, and the Razorbacks' did just that on Saturday, accounting for all of four penalties vs. Louisiana -- the fewest in a season opener since 2008.
UK had 11 first-time starters in its season-opening loss to the Hilltoppers, which is a school record for first-time starters in a game according to records kept back to the 1993 season. A total of 10 newcomers (six true freshmen) saw action.
Tennessee is 7-0 all-time vs. current Sun Belt schools, including two wins last season (51-13 over Georgia State, 55-48 over Troy).
The Vols offensive line has a total of 129 career starts, led by Ja'Wuan James with 38 and Zach Fulton with 29.
Tennessee's 45-0 win in Week 1 marked the first shutout for UT since a 27-0 win over Middle Tennessee on Nov. 5, 2011.
The Aggies gained 486 total yards against Rice last week, which marked the 13th straight game that the offense has surpassed the 400-yard plateau, which is easily the longest streak in school history. Only Baylor has a longer streak of 400-yard offensive game among FBS teams. Since head coach Kevin Sumlin's arrival in College Station, the Aggies have surpassed 400 in 13-of-14 games, including 500-plus yards eight times.
Missouri's Gary Pinkel coached Toledo's through the 2000 season, and left for Columbia as the Rockets' winningest coach in school history, with a 73-37-3 record in 10 seasons. Pinkel, who was inducted into Toledo's Athletic Hall of Fame in 2009, led the Rockets to a MAC title and claimed three other MAC West Division championships.
It took 659 days, but Missouri junior running back Henry Josey, returning from a knee injury, picked up where he left off at Faurot Field this past weekend, rushing for 113 yards and a touchdown on 13 carries in Mizzou's 58-14 victory over Murray State.
Vanderbilt saw Austin Carta-Samuels become just the second quarterback in Vanderbilt history to pass for 300 yards or more in a season opener on Saturday. The last time a Commordores quarterback hit that mark was when Greg Zolman threw for 300 yards in the 2001 opener against Middle Tennessee.
Jordan Matthews' 178-yard effort versus Ole Miss was the most by a Vanderbilt receiver since Earl Bennett amassed 223 receiving yards against Richmond in 2007.
August, 6, 2013
8/06/13
12:00
PM ET
August, 6, 2013
8/06/13
10:45
AM ET
February, 26, 2013
2/26/13
4:00
PM ET
Here are a few storylines to watch this spring in the Western Division. Edward took a look at the Eastern Division on Monday.
ALABAMA CRIMSON TIDE

Start date:
March 16
Spring game:
April 20
What to watch:
Battling complacency: Alabama is gearing up for yet another title defense. Will complacency finally rear its ugly head? Not if Nick Saban has anything to do with it. The head coach will no doubt remind players of the targets on their backs and what little they've accomplished as presently constituted.
Opening up the passing game: The return of AJ McCarron, coupled with a talented, deep crop of receivers, could mean a more wide-open passing game in Tuscaloosa. If true freshman tight end O.J. Howard develops as some expect, the offense could become even more dynamic.
UCLA-Texas A&M Schedule Football Series
SEC SCOREBOARD
Saturday, 12/21
Monday, 12/23
Tuesday, 12/24
Thursday, 12/26
Friday, 12/27
Saturday, 12/28
Monday, 12/30
Tuesday, 12/31
Wednesday, 1/1
Thursday, 1/2
Friday, 1/3
Saturday, 1/4
Sunday, 1/5
Monday, 1/6