Texas A&M Aggies:

Alabama football
June, 17, 2013
6/17/13
1:41
PM ET
We're in the dog days of the offseason, where every little comment or development gets overanalyzed or takes on a life of its own. So why not overanalyze some comments Texas A&M athletic director Eric Hyman made in jest at the Brazos County A&M Club Coach's Night, an alumni event on Thursday night on campus? He made a joke that went like this, according to the San Antonio Express-News: "What do the moon and Texas A&M have in common? They both control the Tide."
TideNation's Alex Scarborough:
First of all, I'm a little disappointed in Hyman for not getting more creative with his joke. It's good for a chuckle, I suppose, but a half-hearted one at that. There's better material out there to draw on, if you ask me. He could have at least incorporated Nick Saban being the devil into it, like everyone else has done this offseason.
That brings me to my next point: Why even make the joke at all? I'm sure Kevin Sumlin really appreciated him providing the bulletin board material because, you know, Alabama certainly needed fuel to add to its fire. The motivation for revenge might not have been enough. Remember the "never again" poster from Alabama's heartbreaking loss to Cam Newton and the Auburn Tigers in 2010? The Tide have dominated the last two Iron Bowl contests, winning both by a combined score of 91-14. I've got to believe there's a similar poster being constructed now for Texas A&M with Hyman's quote as its centerpiece.
But Sam, when we look at last year's game and Hyman's analysis of the Aggies being able to "control the Tide," do you think there's some truth in it? I look back at the first quarter and agree, but after that I'm not so sure.
[+] Enlarge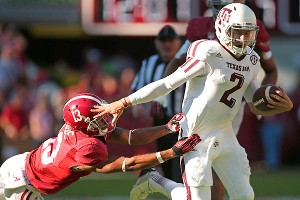 AP Photo/Dave MartinAlabama won't need much more motivation against Johnny Manziel and Texas A&M this fall.
GigEmNation's Sam Khan:
I think Sumlin agrees with you, even if just a little bit, since he said, "No pressure, Eric. Thank you," when he took the podium. You're right in that the Crimson Tide don't need any additional motivation but I wouldn't overestimate how much that matters. Sumlin is a pretty good motivator himself and I'm sure he'll play up the fact that the whole world expects the Tide to exact revenge on Sept. 14.
As for "controlling the Tide," I do think there's some truth in Hyman's quote. Did the Aggies dominate the game from start to finish? No. Against a team as talented and as deep as Alabama, that's nearly impossible to do. But the Aggies took it to Alabama as well as anybody else has in quite some time with the strong first quarter and a huge last scoring drive. Defensively, the Aggies were solid and opportunistic, coming up with some huge turnovers. Yes, the Tide were one play away from winning, should
Deshazor Everett
not pull off the interception on fourth-and-goal, but the Aggies win was far from luck or anything of the like.
Here's my question for you, Alex, when it comes to the Crimson Tide. Everyone talks about how Saban and Co. have all offseason to prepare for
Johnny Manziel
. But it stands to reason that Manziel will improve from Year 1 to Year 2. My question is, how much better prepared are the Crimson Tide going to be for the Aggies' offensive tempo, which seemed to give them significant trouble? Do they face anybody else that plays at that pace?
Scarborough:
Therein lies the rub, Sam. You're right about Alabama having all offseason to prepare for what Manziel and the different Texas A&M offensive weapons can do, but until it learns to better handle the uptempo style of play itself, it's a major question mark whether the Tide can consistently handle offenses like the Aggies. After all, Sumlin won't be alone in running the fast-paced spread against Alabama. Virginia Tech will likely push the pace in the season-opener and Ole Miss will definitely look to force the defense's hand in Week 4. Kentucky, Tennessee and Auburn will all do the same later on in the schedule as well.
There's no doubt, though, that the biggest challenge to Alabama's defense will be Texas A&M. Even with Luke Joeckel no longer protecting Manziel's blindside and Kliff Kingsbury no longer calling plays, it's hard to imagine the Aggies offense being anything other than dangerous. And it all comes back to what Manziel can do with his feet. Saban and defensive coordinator Kirby Smart can use every minute of the offseason studying film to better prepare for the Aggies, but there is almost no way to stop what Manziel does best: improvise. All Alabama can hope to do is preach containment up front and pray that someone can wrap up the speedy quarterback when the time comes.
That brings me to my final question, Sam: In light of the recent success of the two programs and the buzz suddenly growing around the rematch thanks to Hyman's comments, do you see Alabama-Texas A&M becoming the best rivalry in the SEC West over the next few seasons? As long as Sumlin is around, I imagine Aggies fans are confident in the direction of the program and its ability to compete with the likes of Alabama.
Khan:
I think you answered the last question with six key words: "As long as Sumlin is around." The program is moving upward right now and as long as he's in the captain's chair, I think that will continue. Will it become the best rivalry in the SEC West? Perhaps. I think LSU vs. Texas A&M has great rivalry potential also and Alabama-LSU is probably the best one currently going. I think in order for A&M-Bama to be considered "the best," the Aggies will have to pass LSU, which they haven't done yet. The Aggies lost to LSU last year and finished tied with them in the standings. Bama-LSU games have had a national title feel to them; the Aggies will have to legitimately get into the BCS title game chase for that to start happening against Bama. But there's no doubt that by beating the Tide last year, the Aggies have the Crimson Tide's attention.
That brings me to my last question for you: How much do you think Alabama and its fans care about A, what Hyman said; and B, what the Aggies are doing between now and Sept. 14. The Crimson Tide won the national championship. Are the Aggies really that big of a deal to Bama?
Scarborough:
To answer your second question first,
everything
that happens in the SEC is a big deal to Alabama fans. You might think that not much gets to Tide fans these days, but you'd be wrong. Apathy is not something that sits well in these parts. It's partly the environment in the state, with no professional sports franchises to distract the attention away from college football,and partly the attitude Saban has fostered in these parts where even the most minute of details matter. There's interest in anything even tangentially connected to Alabama, even something as innocuous as an athletic director's comment to what amounts to a semi-private gathering of alumni.
That brings me back to whether Alabama fans care about what Hyman said. They most certainly do. The sting of that defeat still doesn't sit well with the Crimson Tide faithful, even though a national championship came after. But the part that I think bothers fans most is the manner in which he said it. Don't tell me Hyman didn't know he would be quoted or that he didn't know exactly what he was saying. He's been doing the job long enough to know a comment like that would come out.
But at the end of the day, as you've said, Sam, this all boils down to a symptom of the offseason where even comments made in jest are overanalyzed. Hyman would probably like to have what he said back, and Sumlin would, too, but overall it was harmless and only serves to make a budding rivalry just a little more entertaining. And as fans of college football, what's really so wrong about that?
February, 21, 2013
2/21/13
11:00
AM ET
Several of RecruitingNation's SEC sites will look this week at the players headed to the NFL combine, which begins Friday in Indianapolis, and other predraft camps. Today: Defensive linemen and linebackers.
Texas A&M's defense was a question mark coming into the 2012 season, but those questions were answered definitively as the Aggies became a solid defensive squad, thanks in large part to three players who will be participating in the combine:
DE Damontre Moore (Position rank: No. 4)
Strengths: Explosiveness and production. Moore was a handful for opposing offensive tackles this year because of his quickness and explosiveness as a pass-rusher. He has good speed for his size and position; that could be seen against Mississippi State when he chased down receiver Chris Smith from behind on a 42-yard completion. He was near the top nationally in sacks and tackles for loss.
Weaknesses: He can be too aggressive in his pursuit occasionally, although he has good instincts. A year ago, inconsistency might have been a concern and there also might have been character questions because of an arrest for marijuana possession before his sophomore season, but neither appear to be issues now. He seems to have matured and has become a consistent, day-in and day-out player under Kevin Sumlin.
Comparison: Todd McShay compared Moore to Atlanta defensive end John Abraham. They have similar frames (both are 6-4, Abraham is about 15 pounds heavier than Moore's 248), and both are quick and fit well as 4-3 defensive ends.
OLB Sean Porter (Position rank: No. 12)
Strengths: He's durable, reliable and became a leader for the Aggies. Showed good speed when serving as a pass-rusher in 2011. He is quick and can close quickly. Good instincts, versatile talent.
Weaknesses: Doesn't excel in coverage, though he has showed improvement in that area. Could be a more physical player and more consistent overall.
Comparison: Lance Briggs. About the same height as Porter, though a little bigger in weight, Briggs has good range and is a playmaker. It might be too much to say Porter will be at the level of Briggs (seven-time Pro Bowl player), but he should fit in nicely as a versatile starting weakside linebacker for someone.
LB Jonathan Stewart (Position rank: No. 16)
Strengths: Smart player with good size for his position. Shows good instincts as he's often around the ball. Was one of the leaders on A&M's defense this year.
Weaknesses: Not a dominant playmaking presence. Has speed but not tremendously explosive.
Comparison: Kirk Morrison. Stewart should be a solid, though not flashy, linebacker in a 4-3 scheme which is what Morrison has been throughout his career with Oakland and Buffalo. Both are of similar size and frame.
-- Sam Khan Jr., GigEmNation
The heart of the Gators' 2012 defense will participate in the combine today. DT Sharrif Floyd, whose stock is rising rapidly as he is projected to be taken as high as No. 3, had a fantastic season and anchored UF's front. He dominated Florida State's front, and his mixture of size, strength and quickness has scouts drooling. ILB Jon Bostic started every game the past two seasons and was UF's leader on defense. Nobody was more dependable than Bostic. OLB Jelani Jenkins was limited in 2012 because of a broken finger, a strained hamstring and a broken foot, but when healthy he's a solid player. OLB Lerentee McCray was forced into action at the buck position (hybrid end/linebacker) because of the injury to
Ronald Powell
. He didn't produce big numbers but was a high-effort, high-motor guy.
February, 20, 2013
2/20/13
11:27
AM ET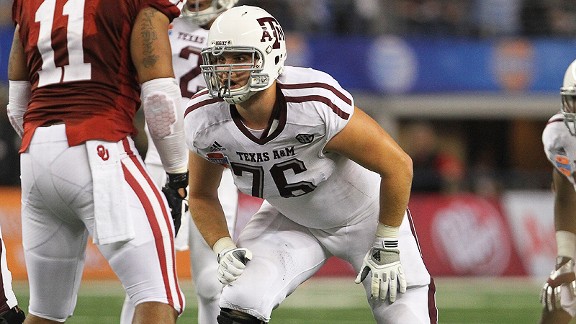 Matthew Visinsky/Icon SMILuke Joeckel could be the top offensive lineman selected in the NFL draft -- or first overall.
Several of RecruitingNation's SEC sites will look this week at the players headed to the NFL combine, which begins Friday in Indianapolis, and other predraft camps. Today: Offensive linemen.
Texas A&M could have sent two tackles into the draft and both would have probably ended up as first-round picks. Luke Joeckel chose to declare, but Jake Matthews chose to return to Aggieland for another year. Joeckel, the Outland Trophy winner this year, will be rewarded as a possible top-five selection -- and possibly No.1 overall.
February, 19, 2013
2/19/13
1:51
PM ET
By
RecruitingNation staff
| ESPN.com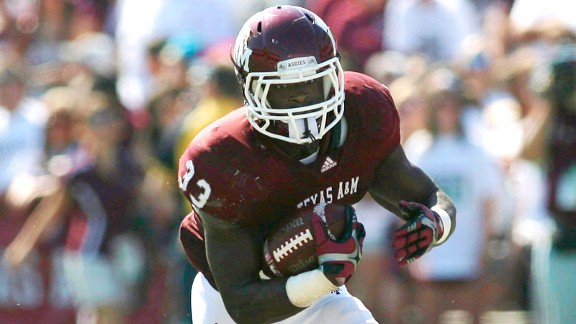 Brett Davis/US PresswireChristine Michael enters the NFL combine ranked No. 9 among running back prospects.
Several of RecruitingNation's SEC sites will look this week at the players headed to the NFL combine, which begins Friday in Indianapolis. Today: Quarterbacks, running backs and wide receivers.
Texas A&M's best draft-eligible talent wasn't at the offensive skill positions, but the Aggies offer some nice players who will hear their names called at some point during the NFL draft. Perhaps the Aggies' two best offensive players were redshirt freshmen in quarterback
Johnny Manziel
and receiver
Mike Evans
, both of whom appear to have NFL futures in the long run. Meanwhile, these two players who produced impressively during their careers at Texas A&M, are worth keeping an eye on:
December, 30, 2012
12/30/12
6:39
PM ET
LAKE BUENA VISTA, Fla. -- As ESPN 150 defensive end
Tim Williams
(Baton Rouge, La./ University Lab) nears national signing day, all that remains between him and choosing a school is a few official visits.
November, 8, 2012
11/08/12
7:46
AM ET
In advance of Saturday's game between the No. 1-ranked Crimson Tide and the No. 15-Aggies, Texas A&M beat writer Sam Kahn Jr. spoke to TideNation about the matchup and what Kevin Sumlin's team will have to do to be successful in Bryant-Denny Stadium:
Scarborough:
Texas A&M has made the transition to the SEC look easy despite a complete overhaul of the coaching staff and a rookie quarterback under center. How has Kevin Sumlin gotten the Aggies to this point and how much of that success is credited to
Johnny Manziel
?
Kahn:
The early success I think is helped in part by the fact that while the coaching staff is completely new, a large chunk of the staff is familiar with each other. Sumlin hired most of the offensive staff he had at Houston over at Texas A&M, strength coach Larry Jackson, as well as a few other staff members that worked with him there, so that continuity has helped. Offensive coordinator Kliff Kingsbury is a rising star in the coaching ranks and I think there's little doubt that he'll be a head coach of his own in the future. The hire of Mark Snyder as the defensive coordinator has paid huge dividends as Snyder and his staff have done a really good job getting that side of the ball to play above expectations, despite limited depth in a few areas. Manziel no doubt has been a big part of the success. If he was playing like you might expect a redshirt freshman to play, I don't think there's any way they're 7-2 right now. But he has taken care of the ball (mostly), made some amazing plays and the confidence that has combined with his ablity and the personality fit with Kingsbury has been huge for the offense. And I don't think it can be overlooked that the strength of the team, personnel-wise, is the offensive line, which is critical in SEC play. That unit has been stellar for most of the season.
July, 25, 2012
7/25/12
2:00
PM ET
Miami Norland defensive end
Paul James III
earned an offer from Florida State after a strong effort at the Jimbo Fisher football camp last week but the 6-foot-2, 250-pound senior has long said he wants to get away from Florida for college.
James, ranked 198th in the ESPN 300, likes several programs including West Virginia, Illinois, Texas A&M and Alabama but admitted that he enjoyed his time at FSU camp.
"It was a lot of fun working with coach [D.J.] Eliot and being on campus," James said. "It was very nice to be there and get a chance to see the area and hang out with the coaching staff.
To continue reading this article you must be an Insider
July, 17, 2012
7/17/12
5:45
AM ET
[+] Enlarge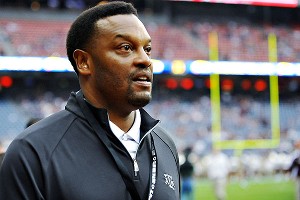 AP PhotoTexas A&M head coach Kevin Sumlin will need a stout defense to compete in the SEC.
The rundown
2011 overall record:
7-6
2011 conference record:
4-5
All-time record against Alabama:
3-1
To continue reading this article you must be an Insider
2015 Spring Football Tour: Texas A&M
SEC SCOREBOARD
Thursday, 9/3
Saturday, 9/5