Texas A&M Aggies:

Von Miller
January, 13, 2014
1/13/14
10:00
AM ET
After 16 years, the BCS era is finally over. Next season, college football will have a playoff instead.
With the BCS done, we've come up with our Big 12 all-BCS era team (1998-2013) below:
Offense
[+] Enlarge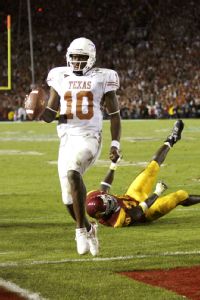 Scott Clarke/Getty ImagesWith Vince Young at the helm, Texas won a national title and Rose Bowl.
QB: Vince Young, Texas (2003-05) --
Young led Texas to its first national title in 35 years with an unforgettable performance in the Rose Bowl against USC. The Heisman runner-up also became the first QB in college football history to throw for 3,000 yards and run for 1,000 in the same season.
RB: Ricky Williams, Texas (1998) --
Williams was part of the BCS era for only one season, but what a season it was. He rushed for 2,327 yards and won the Heisman Trophy going away. Only Wisconsin's
Ron Dayne
has more career rushing yards than Williams (6,279).
RB: Adrian Peterson, Oklahoma (2004-06) --
Despite battling injuries throughout his career, Peterson still was a beast in college. After rushing for 1,925 yards while leading the Sooners to the national title game, he finished second in the '04 Heisman voting, even though there was still a stigma then in voting for a freshman.
WR: Michael Crabtree, Texas Tech (2007-08) --
Crabtree became the first two-time winner of the Biletnikoff Award, given to the nation's top receiver. In '08, he and QB
Graham Harrell
led the Red Raiders to an upset of Texas and a No. 2 ranking in the polls.
WR: Justin Blackmon, Oklahoma State (2009-11) --
Blackmon became the second and only other two-time winner of the Biletnikoff. In his final two seasons, he finished with 233 receptions, 3,304 receiving yards and 38 touchdowns, and he helped propel the Cowboys to their first Big 12 title in '11.
TE: Chase Coffman, Missouri (2005-08) --
Coffman had a monster statistical college career for a tight end with 247 catches for 2,659 receiving yards and 30 touchdowns. He won the '08 Mackey Award, given to the nation's top tight end. Missouri won 37 games during the four years Coffman was in the lineup.
OT: Jammal Brown, Oklahoma (2001-04) --
Brown was a unanimous All-American and a three-time All-Big 12 selection. He became the fifth Sooner to win the Outland Trophy, awarded to the nation's top interior lineman.
OT: Russell Okung, Oklahoma State (2007-09) --
In Okung's final two seasons, Oklahoma State led the Big 12 in rushing yards. The Cowboys were also third in the country in '07 in fewest sacks allowed with Okung at left tackle. He was a unanimous All-American and Outland finalist in '09 and became the sixth overall pick in the '10 NFL draft.
OG: Cyril Richardson, Baylor (2010-13) --
Richardson became Baylor's seventh all-time unanimous All-American. The Outland finalist was also a key piece on the nation's highest-scoring offense this season.
OG: Justin Blalock, Texas (2003-06) --
Though a guard in the NFL, Blalock actually started 50 games for Texas, most coming at right tackle. He was a three-time, first-team All-Big 12 selection and a consensus All-American in 2006.
C: Dominic Raiola, Nebraska (1998-2000) --
Raiola was the inaugural winner of the Rimington Award, named after former Nebraska center Dave Rimington, which recognizes the best center in college football. He was an Outland finalist and a consensus All-American.
APB: Darren Sproles, Kansas State (2001-04) --
One of the most prolific all-purpose performers in college football history, Sproles finished his career with 6,812 all-purpose yards. Among his 39 consecutive starts, his most memorable performance came in the '03 Big 12 championship, when he had 235 yards rushing and 88 receiving, as K-State upset top-ranked Oklahoma 35-7.
Defense
DE: Brian Orakpo, Texas (2005-08) --
Orakpo captured the '08 Nagurski Award as the most outstanding defensive player in the country, and the Lombardi Award, given to the best college lineman or linebacker. He also was the Big 12 Defensive Player of the Year and a consensus All-American while piling up 11 sacks his senior year.
DE: Von Miller, Texas A&M (2007-10) --
Out of a hybrid defensive end/linebacker role, Miller led the nation with 17 sacks in '09. He was a two-time All-American and won the Butkus Award in '10 as the nation's top linebacker.
DT: Ndamukong Suh, Nebraska (2005-09) --
There was no more dominant defensive player in college football during the BCS era. Suh finished fourth in the Heisman voting in '09 and won several national awards, including the Outland, Lombardi, Nagurski (most outstanding defensive player)and Bednarik (defensive player of the year). He was also a unanimous All-American and the Big 12 Defensive Player of the Year.
DT: Tommie Harris, Oklahoma (2001-03) --
Harris was a force from the beginning as a freshman on the OU defensive line. He won the Lombardi his junior year, and he was a two-time consensus All-American, garnering unanimous honors in '03.
LB: Derrick Johnson, Texas (2001-04) --
Johnson was a menacing linebacker for the Longhorns, earning consensus All-American honors in '03 and unanimous honors in '04. He was also a three-time, first-team All-Big 12 selection, and won the Butkus (best linebacker) and Nagurski awards as a senior. Johnson finished his career with 458 tackles.
LB: Rocky Calmus, Oklahoma (1998-2001) --
Calmus played a major role in OU's resurgence under Bob Stoops. He won the Butkus in '01 and was a finalist for the Nagurski and Bednarik. A three-time All-Big 12 pick, Calmus led the Sooners in tackles in all three of those seasons.
LB: Teddy Lehman, Oklahoma (2000-03) --
Lehman too won the Butkus, beating out Johnson for the award in '03. He also was Big 12 Defensive Player of the Year, captured the Bednarik, was a unanimous All-American and played in two national championship games.
[+] Enlarge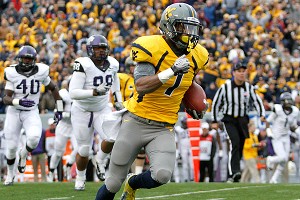 Justin K. Aller/Getty ImagesWest Virginia receiver and returner Tavon Austin had a huge 2012 season.
CB: Terence Newman, Kansas State (1999-2002) --
Newman was a solid player for Bill Snyder his first three seasons, then broke out as a senior. Newman was the Big 12 Defensive Player of the Year, a unanimous All-American and the Thorpe winner, given to college football's top defensive back.
CB: Derrick Strait, Oklahoma (2000-03) --
A four-year starter, Strait finished with a school-record 52 career pass breakups. He also won the Thorpe, and was a unanimous All-American.
S: Roy Williams, Oklahoma (1999-2001) --
Nicknamed "Superman," Williams was the Big 12's most dominating defensive player until Suh came along. He won the Thorpe and Nagurski in '01, and was the Big 12 Defensive Player of the Year and a unanimous All-American the same season. He also famously skied over the Texas offensive line to force the game-clinching interception to earn his moniker.
S: Michael Huff, Texas (2002-05) --
Huff became the first Longhorn to win the Thorpe, and was the leader of the '05 national championship defense. He was also a unanimous All-American that season.
Special teams
K: Mason Crosby, Colorado (2003-06) --
Crosby was three-time, first-team All-Big 12 selection, and twice was a consensus All-American even though he never won the Lou Groza Award, given to the nation's top kicker. He was also the Big 12 Special Teams Player of the Year as a junior, and converted 66 field goals in his career.
P: Quinn Sharp, Oklahoma State (2009-12) --
Sharp became the first three-time All-American in Oklahoma State history, and he earned All-American honors both as a punter and a kicker. He was twice named the Big 12 Special Teams Player of the Year. In his career, he made 50 of 59 field goals, averaged 45.9 yards per punt and missed only one extra point.
KR: Tavon Austin, West Virginia (2012) --
Austin was in the Big 12 only one season, but he was unstoppable that one season. On top of being one of the most dangerous kick returners in the country, Austin had 1,289 yards receiving and 643 rushing, and finished second in the country in all-purpose yards.
PR: Ryan Broyles Oklahoma (2008-11) --
On top of being a prolific punt returner, Broyles was one of the most efficient receivers in college football history. He finished his career with an FBS-record 349 receptions, and was a two-time consensus All-American before a knee injury cut his senior season short.
February, 9, 2013
2/09/13
9:00
AM ET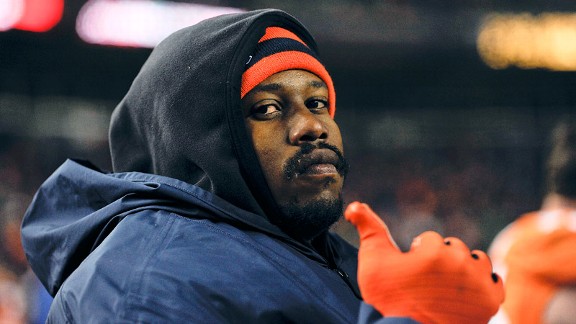 AP Photo/Jack DempseyA flag football game between Von Miller and Johnny Manziel would be entertaining.
Von Miller may be as feared as any defensive player when he's on the field, with 30 sacks in 31 career NFL games.
But off the field, he's one of the NFL's quirkiest players.
The bespectacled blitzer, a Texas A&M product,
speaks glowingly about poultry science
and the chicken industry, can
chug Gatorade
faster than you, and
enjoys sack dances
enough to invent his own, the "
Desoto Shuffle,
" named after his hometown in Texas.
Playbook spoke to Miller by phone, while he was in New Orleans for the Super Bowl. As part of the festivities, EA Sports
pit Miller against 49ers wide receiver Michael Crabtree
, a longtime friend also from the Dallas area.
Miller discussed "Madden," his own personal Batmobile, and if he could sack Heisman Trophy winner and fellow Aggie Johnny Manziel (whom
he also ran into
in New Orleans).
How did your game shake out with Crabtree?
The game was getting out of hand. I think Von was on his way to a great win yesterday. I'm trying to stay neutral on the topic because [Crabtree is] not here to defend himself.
You've done interviews with us in the past about your favorite games. How much do you play?
If I'm not in the locker room with the guys playing the game, I'm playing video games 24/7. If I'm not playing "Madden," "FIFA" or "Call of Duty," I'm probably sleeping. I'm a big-time gamer. All the guys who come over and spend time with me, they become gamers too.
What's your favorite play to utilize as yourself?
I like to blitz, because I play with the Denver Broncos. I like to get us in [a 4-3] "under" front. It's a good run-stopping defense. My favorite player would be an "Edge Sting." I'm sending the sam linebacker, and the weak linebacker too. I've got the backside A and the frontside C gaps filled, so I think it's a great play.
November, 29, 2012
11/29/12
8:00
AM ET
You'd think that when
Hoza Scott
's junior ends, the real fun begins.
After all, the La Porte (Texas) linebacker might be the No. 1 prospect in the state of Texas for the 2014 class. He has offers from everyone. His life should be getting much more stressful once the recruiting process starts consuming his time, right?
[+] Enlarge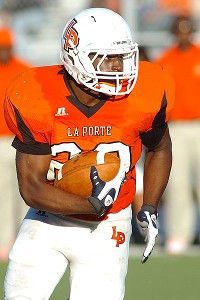 Max Olson/ESPN.comClass of 2014 linebacker Hoza Scott has the Aggies out in front of Texas.
Wrong. The biggest and best of the recruiting battles between Texas and Texas A&M for top 2014 prospects appears to be over already.
Scott, a coveted 6-foot-3, 225-pound linebacker, has been calling the Aggies his No. 1 school all year. He's planning to prove that soon.
"Really, honestly, my decision and my mindset is on A&M," Scott said. "That's where I really want to go."
So why hasn't Scott made it official yet and become the next blockbuster pickup of Kevin Sumlin's second full recruiting class?
"It's coming soon," Scott said. "It's going to come pretty soon."
All Scott is waiting for -- and hoping for -- is a happy ending to his junior season. La Porte pulled off a 21-17 win over Fort Bend Bush last weekend, but the lights get much brighter now: La Porte vs. Katy at Houston's Reliant Stadium.
"Oh man," Scott said, "it's going to be a big one."
It's moments like this that make Scott glad he has pushed recruiting off to the side lately. While this process hasn't reached the point of being overwhelming, the flood of interest and mail won't stop. His coaches deliver the college letters to his locker by the shoebox now, and plenty more come to his house. Opening each and every one? Not possible at this point.
"It's like 60 or 70 a week. It's a lot of mail, and that's every week," Scott said. "I'd say it comes from like 20 difference colleges. It doesn't get tiring. It's pretty cool. It's motivation."
Dealing with all that isn't too difficult, of course, when your mind is already made up.
Scott won't take any more visits before announcing his choice. He doesn't anticipate anything will make his change his mind in the next few weeks.
"I'm just waiting for the season to end so I can relax and finally tell people," Scott said. "It's pretty much A&M, done deal."
How Scott reached this point may be a sign of the times in the new Texas-Texas A&M recruiting rivalry. He's only one recruit, but he's as big of one as there is in the state. Both schools want him badly.
And both schools offer similar opportunities. Texas defensive coordinator Manny Diaz has been selling Scott on a shot to replace
Jordan Hicks
when the top Longhorn linebacker moves on to the pros. Texas A&M's pitch is even simpler: Come become the next
Von Miller
.
That's a role Scott is more than comfortable with. While he's capable of operating as a middle linebacker and could grow into a defensive end someday, he has made his hay at La Porte as an outside linebacker operating off the edge near the line of scrimmage.
When Texas coaches broke from tradition and started publicly offering juniors in August, they hoped it would help make up ground in the battle for Scott. While that move got his attention, what Texas A&M has done since August made this an easy call for Scott.
"I knew A&M was going to do good in the SEC," he said. "Coach Sumlin, I knew he was going to be a good coach because when he was at Houston they were almost undefeated that whole season. I knew A&M had something good coming."
The Aggies have an exciting new coach, a 10-2 record, a presumptive Heisman Trophy winner in
Johnny Manziel
and a boatload of momentum on the recruiting trail. They've blown away those prospects who took a wait-and-see approach to how A&M would fare in its new conference.
Texas, on the other hand, has ... well ... Scott has a hard time putting his finger on it.
"A&M is heading in a great direction," Scott said. "And UT, I like them still but, I don't know, it seems like they're falling apart. I know they're going to pull it together. They're a young football team."
That's not to say the Longhorns are in for humbling when it comes to 2014 recruiting. Texas already has six pledges and added the state's top offensive line prospect,
Demetrius Knox
, this week.
But the state's elite recruits aren't na´ve. There's a lot to like about the Aggies right now. If Scott is the face and leader of their next class, blue chip talents will likely follow.
Then again, the deal isn't official done until Scott signs his letter of intent. He's hoping to take junior day trips to Florida and Cal this spring, even if he's committed.
And, come fall, Scott said he'd like to take all five of his official visits. He wants to see how A&M and College Station stack up, wants to see if those trips would change his mind.
No matter when Scott commits, he concedes the recruiting game won't fully be over. The offers and phone calls and visits will still be enticing. The shoeboxes will keep piling up.
But when it comes to Texas vs. Texas A&M, he has no doubt. Texas is a distant No. 2. Welcome to the new-look Texas recruiting war.
"They don't play each other anymore," Scott said, "but it's going to be pretty big."
September, 25, 2012
9/25/12
8:00
AM ET
COLLEGE STATION, Texas -- If there is one word that has been synonymous with
Damontre Moore
so far this season, it's "consistency."
It's a word that the
Texas A&M
junior defensive end himself has uttered many times. The same goes for coach Kevin Sumlin when referring to Moore.
The ability that the 6-foot-4, 250-pound defensive end has is unquestioned. Whether he can convert that ability into production week in and week out was the big question for the Rowlett (Texas) High School product. Before this season, he wasn't always consistent. Sumlin and the staff made Moore aware of that, hoping he could see that if he found the elusive consistency he could be a premier player.
[+] Enlarge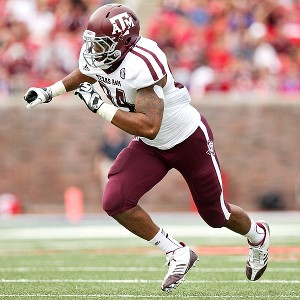 Thomas Campbell/US PresswireConverted defensive end Damontre Moore has six sacks for Texas A&M this season.
While the Aggies are only three games into the season, it appears that Moore has heeded the message. He is tied for third in the nation in sacks (six) and tied for sixth nationally in tackles for loss (eight). He has recorded a sack in each of Texas A&M's first three ballgames.
"Damontre is really growing up," Sumlin said. "He's been a guy who has always had talent. It gets back to -- and I'm going to keep using this word -- consistency. It's probably our biggest challenge."
Sumlin and the staff challenged Moore, and one of the biggest differences they've seen is how much he has been on the field. He played for 61 snaps in the season opener and 55 in the second game of the season against SMU.
"He would have never done that last year," Sumlin said. "That's strength and conditioning, but that's also mental toughness, too. When you become a mature player, you understand that it's not all about you."
Defensive coordinator Mark Snyder said he has seen Moore mature before his eyes.
July, 27, 2012
7/27/12
10:09
AM ET
There was a familiar face in Aggieland last week during the Texas state 7-on-7 championships.

Denver Broncos linebacker and former Texas A&M All-American Von Miller stopped by the A&M campus during the state tournament. Miller, who was the no. 2 pick in the 2011 NFL draft and was voted the Associated Press Defensive Rookie of the Year after a 64-tackle, 11.5-sack season, is an Adidas client. Adidas sponsored the 7-on-7 championships and had a large presence, including outfitting all 128 teams with uniforms. It is also the company behind Texas A&M's new uniforms that were unveiled on July 12.

Miller, a DeSoto, Texas/DeSoto High School product, took the time to visit with GigEmNation during his stay at the tournament.

Q: What are your thoughts on the Aggies new uniforms?
A: I actually got a chance to see the uniforms a little earlier than the guys here. I was pretty stoked about it. These days, uniforms are such a big recruiting tool in getting kids. I think they're pretty cool. I think the kids in high school, the guys that are potentially going to come to A&M, I think they'll feel the same way too.

Q: How do you feel about the direction things are going so far under new head coach Kevin Sumlin?
A: Coach Sumlin, he's a great guy. I've met him, talked with him a couple of times. I think it was a great thing to bring coach Sumlin in here. Coach (Mike) Sherman was my guy. He got me here, he made me into the football player that I am today, but coach Sumlin he's a great guy too. He's able to go into those homes and get those recruits that we need to take this program to the next level. A lot of kids can relate to him, he's a young coach, a smart coach and I think with coach Sumlin on staff, hopefully we can get the football program dominant in the SEC.

Q: What do you feel like the Aggies' membership in the Southeastern Conference will do for the program?
A: We don't have to share recruits with that other school across the state. We're the only SEC school in the state of Texas and I think that'll be a huge recruiting tool for guys in the Dallas area and Houston area. I think us being in the SEC, it'll really bring some big time players to A&M.

Q: With all the new things - coaches, athletic director, uniforms, etc., is it an exciting time to be associated with the school?
A: It's been an exciting time at A&M. We're different from any other school out there. Guys here at A&M are doing a great job of building a school and building a program. We're just trying to win championships here and I think the direction we're taking this team and taking this program, we're headed that direction.

Q: What is it like being back on campus?
A: It always feels great to be back here in Aggieland and to see some of the new stuff that's going on. I see some of the things that we're doing and to where we're taking this university. It's a great time to be in Aggieland and I'm happy to be here.

Q: How has your offseason been?
A: My offseason has been great. The first part of offseason, I did a lot of working out, just trying to get my body in shape. These last couple, four-to-five weeks have just been relaxing, trying to get my body and my bones ready for this long season that's right around the corner. From August all the way to January, it's pretty strenuous on the body.

Q: What are your thoughts on how last season went in your first year?
A: I think last season was great. We won a lot of games, we went on a big long streak right in the middle of the season. Tim Tebow did a lot of great things for us. We were able to get a Hall-of-Fame player in Peyton Manning (in the offseason). He feels like a coach sometimes. We have a Hall-of-Fame player on defense too in Champ Bailey. So we feel like every other team in the National Football League; we want to win a Super Bowl too. We just have to take it one day at a time and hopefully we can give Bronco fans and Bronco Nation something to cheer about.

Q: Is there a different feeling now with Manning on the team?
A: It's just my second year so everything is new for me. I'm a rookie still until four games in. I'm just taking it one day at a time. Peyton Manning is the ultimate pro. The way he comes in every day and carries himself, the way he works, is really something to watch. He's a perfect example for us young guys on the team.
Recruits Miss Lone Star Showdown
SEC SCOREBOARD
Thursday, 9/3
Saturday, 9/5