Texas A&M Aggies:

Urban Meyer
April, 14, 2014
4/14/14
11:00
AM ET
At this time last year, Texas A&M was the epicenter of college football during spring practice. The Aggies' 2013 spring game drew a record crowd. ESPN televised the game, "Johnny Football" was the face of the sport and it helped swing in-state recruiting momentum from the Longhorns.
It would only make sense that Texas A&M coach Kevin Sumlin was ready to do it all again this spring.
"No, it's not for me," Sumlin said in March. "I'll be honest with you, you guys know me, that second half [of spring games] goes real quick. I'm ready to get out of there."
The spring game in many ways goes against the core belief of Sumlin, and really every coach, of using every practice to get better. So the Aggies went without a game this spring, and will do so again in 2015 as Kyle Field's renovations continue.
[+] Enlarge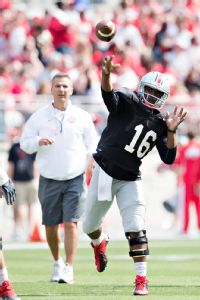 Greg Bartram/USA TODAY SportsOhio State coach Urban Meyer likes the opportunity to get young players, such as redshirt freshman quarterback J.T. Barrett, some playing time in a spring game.
Spring games are at somewhat of a crossroads in college football. They're hardly fighting off extinction as 54 FBS programs held games this past weekend. But the watered-down product is giving coaches reason for pause. The argument against holding the spring game is picking up steam, and coaches are questioning the value in using the final spring practice on a half-speed "dog-and-pony show," as Tulsa coach Bill Blankenship puts it.
A handful of programs aren't holding spring games this year. Oklahoma State coach Mike Gundy did not plan a spring game, and Pittsburgh coach Paul Chryst believed it wasn't in the program's best interest to have one, either.
Both Chryst and Gundy have young rosters. Only Utah State returns fewer starters than the Cowboys. Chryst is still trying to put his stamp on a program that has had more head coaches than winning seasons in the last decade, and he is breaking in a new quarterback. To Chryst and Gundy, it did not make sense to waste a practice day for a haphazard game.
"Truly looking at this from the inside of the program and what this group needs, it was, 'What's the best use of the 15 opportunities we get in the spring,'" Chryst said. "I felt like we didn't have a group where we're going to take just one full day and scrimmage. Bottom line is we wanted to make sure we're maximizing our opportunities."
Two coaches not questioning a spring game finale are the leaders of programs with some of the best odds to win the first College Football Playoff. Both Florida State's Jimbo Fisher and Ohio State's Urban Meyer are in favor of the model most programs still subscribe to: 14 practices, mix in a few scrimmages and hold a game at the end of camp. Fisher and Meyer believe it's the only time in the spring to get an accurate read on how players react to a fall Saturday game atmosphere.
"What you get is the people in the stadium, you get pressure, you get outside people watching you get the lights on the scoreboard and [the game] matters," Fisher told ESPN.com last week. "You get a game environment. It might not be the one in the fall, but it's as close as you'll ever get out in this practice field. To get a guy in front of 40,000 people and watch how they play in front of them, to me, I put more value in that."
However, Meyer acknowledges the issues the modern-day spring game presents. Ohio State star quarterback
Braxton Miller
was out with an injury, but
Joey Bosa
,
Noah Spence
and
Adolphus Washington
were healthy scratches. Fisher elected to sit starting running back
Karlos Williams
, leaving a fullback and a handful of walk-on running backs to carry the spring load Saturday. The sustainability of the spring game could come down to depth, but rosters are thinner with the 85 scholarship limit, and coaches are keeping their proven commodities out of harm's way.
"

To get a guy in front of 40,000 people and watch how they play in front of them, to me, I put more value in that.

"

-- Florida State coach Jimbo Fisher, on the value of spring games
Northwestern coach Pat Fitzgerald said the lack of numbers at certain positions causes the few available players to "double dip" and play both sides, opening those few healthy players up to injury. The emphasis on preventing and identifying concussions has grown substantially in the last few years, and Blankenship added that "a lot more guys are missing practice today with concussion-related symptoms, and that's been consistent across the board with other coaches I talk to."
Meyer said spring games are often a "great opportunity to get scout-team guys a chance to play," which in itself can be considered an indictment of the spring game's inherent value.
"One time at Florida we had only five or six offensive linemen and they had to play both ways," Meyer said, "but the experience of playing in front of [fans], if you want to have a practice but arrange how the receiver has to be the guy, to be in coverage and catch a pass and hear the crowd, that's real."
There are only so many programs that consistently draw 30,000 or more fans for a spring game, though. Those other programs don't have the benefit of putting their players in a game-day atmosphere when only a few thousand fans fill the bleachers.
Blankenship understands he needs to promote his Tulsa program and bring in as many fans as possible. So last year, they tried a new spring game model. Instead of a traditional game of the roster being split, Blankenship operates on only 50 percent of the field and allows fans to sit on the other side of the 50 to get a more intimate view. The game resembles more of a practice as the team works on situations such as red zone and fourth down instead of keeping score.
A piece of him still wants a sound 15th practice, though.
"I do think [the spring game] is worth it from the fan standpoint," he said, "but the coach in me would like to have another practice."
[+] Enlarge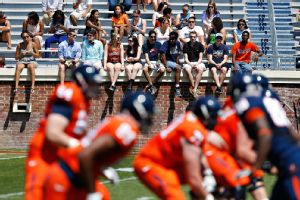 Geoff Burke/USA TODAY SportsThese Virginia students received a better-than-front-row view of the Cavaliers' spring game.
Fans and alumni are maybe the most overlooked part of the equation of whether it is realistic to ditch the spring game. Florida State director of marketing Jason Dennard said it would be nearly impossible to change the Seminoles' spring game model, which begins with downtown events Friday. The school even receives grant dollars from the local economic development council to fortify the weekend lineup.
"It's a complete home run," Dennard said. "After what we've built, it'd be hard to scale it down. People have come to expect this to be a big deal. It's an investment into the future of our program."
While Pittsburgh has struggled to draw fans for its spring games in recent years, Chryst was still cognizant of the program's fans when he decided to cancel the spring game. So Chryst met with the marketing department at Pitt and helped introduce a football clinic for young players and offensive and defensive breakdowns of the Panthers' schemes for the Xs-and-Os fan.
"It was different at first and people said, 'What, no spring game?' But when Coach Chryst announced the Field Pass, the response was overwhelming," said Chris Ferris, associate athletic director for external relations at Pitt.
Could that union of a standard 15th practice with an added day of fan interaction be the union that seals the fate of spring games? Maybe.
"I think it is," Blankenship said. "We're much closer to that in our part of the country. I think the tradition of the spring game is something we're all kind of tied to, but we're all figuring out there's a better way."
December, 17, 2013
12/17/13
5:30
AM ET
The Early Offer is RecruitingNation's regular feature, giving you a daily dose of recruiting in the mornings. Today's offerings: Ohio State moves up three spots in the RecruitingNation Class Rankings after the addition of five-star linebacker
Raekwon McMillan
, but the Buckeyes aren't done in the South yet; Notre Dame also moves into the top 10 after landing the nation's No. 1 tight end; and the NJCAA All-America team features a number of well-known recruits.
Ohio State makes Southern push
Shortly after Ohio State landed five-star linebacker Raekwon McMillan (Hinesville, Ga./Liberty County), I asked on Twitter if it's time to stop doubting Buckeye coach Urban Meyer's recruiting efforts. Of course, fans from other schools all over the country jumped in and said the jury is still out (and several other things that aren't safe for print). But even then the biggest Meyer critics might have to change their minds if he is able to also land No. 4 receiver
Johnnie Dixon
(Palm Beach, Fla./Dwyer) in the next couple of days. The Buckeyes currently have the
nation's No. 8 class
and have some major momentum heading into the final push.
October, 18, 2013
10/18/13
5:30
AM ET
The Early Offer is RecruitingNation's regular feature, giving you a daily dose of recruiting in the mornings. Today's offerings: The winner of Saturday's Florida State-Clemson game will have something big to sell to recruits; one of Wisconsin's earliest commitments is taking trips to other schools, including a trip to visit former Badgers coach Bret Bielema; and the nation's No. 7 player and a top tight end are expected to announce this weekend.
To continue reading this article you must be an Insider
August, 18, 2013
8/18/13
9:57
AM ET
Johnny Manziel's autograph problems didn't stop Associated Press poll voters from signing their name next to Texas A&M.
The Aggies came in at No. 7 in the
preseason AP Poll
released Saturday, just one spot below their place in the preseason coaches' poll, which came out days before ESPN's "Outside the Lines" reported that the NCAA is investigating whether Manziel was paid for autographing photos and memorabilia in January. Despite Manziel's troubles and Texas A&M losing several key players from last year's 11-2 squad, the voters still believe in Kevin Sumlin's crew.
There was decidedly little drama in the initial AP rankings aside from A&M. The voting mirrored that of the coaches' poll, as the same 25 teams appeared, 19 in the same place. The AP Top 5 -- Alabama, Ohio State, Oregon, Stanford and Georgia -- is the same as the coaches.
Alabama not surprisingly was the overwhelming choice at No. 1, receiving 58 of 60 first-place votes, tying the 2009 Florida team for the highest percentage of first-place votes in the preseason rankings. That two voters drifted from the Tide -- one to Ohio State, one to Georgia -- might be the real surprise. Sure, every year is different, but it's hard to make a case for any other team at the top after watching Nick Saban's crew dominate the college football landscape in recent years.
Both Oregon and Stanford won BCS bowls last season but come in behind Ohio State, the only Football Bowl Subdivision team to go undefeated last season. The Buckeyes hardly were dominant, nearly stumbling against Purdue, Wisconsin and Michigan State. The voters clearly think bigger things are ahead for the Buckeyes in Year 2 under Urban Meyer, who won a national championship in his second season at Florida, thumping the team he now leads.
Notre Dame's rough offseason affected the AP voters more than the coaches, as the Irish came in at No. 14, three spots below their coaches' poll ranking. Brian Kelly's team will have chances to prove itself as it plays four ranked squads, culminating with the regular-season finale at Stanford.
Could this be the year the Big Ten finally puts itself back on the national stage? The much-maligned league has five teams in the poll, tied with the Pac-12 for the second most of any conference. The problem for the Big Ten: Only Ohio State cracked the top 15, while the SEC, Pac-12, Big 12 and ACC all have multiple teams. It's still very much an SEC world as five squads made the top 10.
The Pac-12 might be the best bet to unseat the SEC as both Oregon and Stanford have been branded as preseason title contenders. The Big 12 enters the season with zero top-10 teams but a potentially appetizing race between Oklahoma State, Texas and Oklahoma.
The poll features just two teams -- No. 9 Louisville and No. 19 Boise State -- from outside the "big five" conferences. Neither squad will play any teams in the preseason poll, so a path to Pasadena for the BCS National Championship, even with an undefeated record, seems difficult.
The near consensus between the AP and coaches' polls creates a clear landscape entering the season. Someone needs to catch Alabama. We'll see if Manziel gets a chance when the Aggies welcome the Tide to College Station on Sept. 14.
August, 12, 2013
8/12/13
9:53
AM ET
GAINESVILLE, Fla. -- The SEC is full of colorful and tradition-rich rivalries. And nasty ones, too.
Not all the time, though. Rivalries are like the tide (not Alabama). They ebb and flow. Sometimes they're fierce and sometimes they're just another game. We took that into consideration when ranking the top five rivalries in the SEC. We went with the ones that are the hottest right now.


Alabama-LSU
It's hard to top a game that has national championship implications every year. Plus two of the best coaches in the country. And loads of NFL talent. The teams have met annually since 1964, but the game became even more important in 1992, when both were slotted into the Western Division. The winner of the regular-season meeting has gone on to win the division title eight times in the last 12 seasons, including four of the last five. LSU has won seven of the last 11 meetings, but Bama won the biggest meeting between the two: the 2012 BCS National Championship Game.


Florida-Georgia
This had become a pretty boring rivalry, with the Gators going 18-3 from 1990 to 2010 in the annual meeting in Jacksonville, Fla. But the Bulldogs have won back-to-back games for the first time since 1987-89 and there have been a series of events that have brought an edge back to the rivalry: the Gator Stomp (2007), Urban Meyer's timeouts (2008), Brandon Spikes' eye gouge (2009), and Todd Grantham's choke sign (2010). Plus, the past two meetings have been pretty entertaining.
Aaron Murray
threw a pair of fourth-down TD passes to rally the Bulldogs from a 17-3 deficit in 2011 and Georgia forced six turnovers last season.


The Iron Bowl
Even though Alabama has won four of the last five meetings and Auburn has posted one winning conference record in the past five seasons, this game still resonates around the conference because of its tradition. Oh, yeah, there also was that Alabama fan who poisoned the trees at Toomer's Corner. On the field, the Crimson Tide have won four of the last five. The only Auburn victory in that span came in 2010, and it was one that's going to sting Bama fans for a long time. Cam Newton rallied the Tigers from a 24-0 deficit and led them to a 27-24 victory in Tuscaloosa. Auburn went on to win the national title.


Georgia-South Carolina
What rivalry wouldn't be juiced by the addition of Steve Spurrier? Georgia has dominated the series (46-17-2) and had won five in a row from 2002 to '06, but South Carolina has won four of the last six games -- including two in Athens. Spurrier arrived in Columbia in 2005 and has gone 4-4 against the Bulldogs despite having some inferior teams. Spurrier hated the Bulldogs from his playing days at Florida, and he carried that over into his coaching career with the Gators and now with the Gamecocks. That's why his career record against Georgia is 15-5.


The Egg Bowl
A national championship berth or a Western Division title isn't on the line when these teams meet on Thanksgiving weekend (Thanksgiving night this season), but to the people in Mississippi, this game is just as important. And to the coaches trying to woo the talent throughout the state, it's a must-win. Mississippi State coach Dan Mullen injected a bit of life into the rivalry when he was hired in 2009, stealing a bit from former boss Meyer by referring to Ole Miss as "the other school in the state." Mullen had been undefeated against Ole Miss until the Rebels' surprising 41-24 rout last season in coach Hugh Freeze's first year.


A rising rivalry
Even though Alabama and Texas A&M have met only five times, this is a series that could get pretty interesting pretty quickly now that the teams will be meeting every year. Last season's meeting, the first since 1988, was an instant classic and pretty much won
Johnny Manziel
the Heisman Trophy. He led the Aggies to a 29-24 victory in Tuscaloosa, the only game the Crimson Tide would lose en route to the national title. Bama fans are eagerly awaiting the rematch in College Station on Sept. 14.


A falling rivalry
Florida-Tennessee used to be one of the biggest matchups of the season in the 1990s, with the winner having a leg up in the Eastern Division race. Now it carries no more cachet than a Vanderbilt-Kentucky matchup. The Gators have won eight in a row and the Vols haven't been closer than 10 points in the past six meetings.
May, 10, 2013
5/10/13
3:15
PM ET
The team I wanted to see face Alabama last season in the BCS National Championship was Oregon. It's the matchup the entire country wanted to see.
No offense, Notre Dame fans, but seeing that high-octane Oregon offense go up against Alabama's defense would have made for much better theater than what we ended up getting in South Florida in January.

Wouldn't it be great if you could play college football matchmaker and turn some of these dream match-ups into realities during the season?
We've come up with five such matchups and want you to select which one would be the most attractive by voting in our SportsNation poll.
Alabama versus Oregon is one of the choices. Who knows? Maybe we'll finally get to see the Ducks and Tide square off in the final BCS National Championship before we go to a playoff in 2014.
Think Florida versus Ohio State would stir a few emotions with Urban Meyer taking on his old team? It would be the battle of Meyer's two dream jobs. Come to think of it, is it possible to have two dream jobs? In Meyer's world, you can.
I realize that Texas athletic director DeLoss Dodds, in all of his arrogance, said recently that Texas gets to decide when Texas and Texas A&M play again. Ask anybody in that state, and it can't be soon enough. Surely we'll see those two old rivals playing again sooner rather than later.
Here's one for you: South Carolina and Steve Spurrier going up against Lane Kiffin and the West Coast version of USC. Spurrier's not the biggest Kiffin fan. Then again, who in the SEC is? Something says the buildup to that game could be as entertaining as the game itself.
Finally, LSU and Notre Dame played 10 times between 1970 and 2006 and are all knotted up, 5-5. It's time to break the tie. Talk about two of the best fight songs in all of college sports and two programs steeped in tradition.
Well, you have the rundown. Tell us which matchup you'd most like to see, and we'll go over results next week.
April, 10, 2013
4/10/13
11:00
AM ET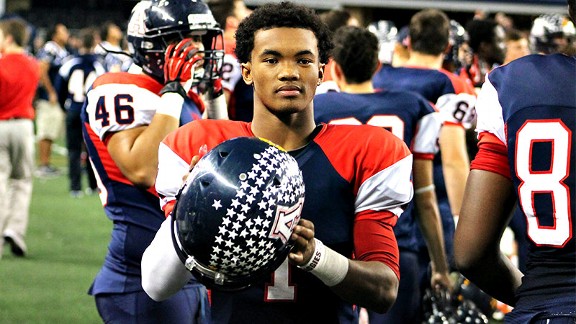 Max Olson/ESPN.comClass of 2015 signal-caller Kyler Murray said receiving an offer from Ohio State was 'big.'
ALLEN, Texas -- The recruiting process has been good to
Kyler Murray
so far.
The 5-foot-11, 170-pound quarterback has seen several a handful of power conference programs not only show interest, but step forward with scholarship offers for the 2015 prospect.
Arizona State, Clemson, Ohio State and Texas Tech are the programs that have already thrown their hats into the ring.
To continue reading this article you must be an Insider
July, 10, 2012
7/10/12
9:39
AM ET
The SEC has the reputation of being the toughest conference to play/coach in. But what is it like to be in charge of one of these high-profile programs?
That's where we come in. As we take a deeper look into programs around the country this week, we're looking at how each program stacks up in every conference. In the SEC, there's always a fierce arms race going on, and getting left behind can be dangerous.

Today, we're ranking each coaching job in the SEC. We considered a lot of factors, including location, tradition, support, fan bases, facilities and recruiting access.
Here's how we ranked all 14 SEC jobs.
1. Florida:
For starters, Florida is all about location, location, location. It's in a state that produces some of the country's top talent and it's a state that players around the country will flock to. Thanks to Steve Spurrier and Urban Meyer, Florida has become a national brand like Ohio State, USC, Notre Dame and Texas. Recent significant facility upgrades and a tremendous fan base have only helped this be the top job in the SEC.
2. LSU:
It's one of just a handful of schools around the country that's considered
the
school in the state. Every football player in Louisiana grows up wanting to play in Tiger Stadium. Louisiana is also extremely bountiful when it comes to producing football players, and Texas is right around the corner. The facilities are top notch and the program has great tradition and a tremendous fan base.
3. Alabama:
Talk about extraordinary tradition. Though there were some down years before Nick Saban took over, there's no escaping the success this program has had. Prospects from all over are drawn to Alabama. There's tremendous support inside and outside for the program, and the facilities are some of the best in the nation. This is also a school that didn't hesitate to pay Saban the big bucks when the opportunity arose.
4. UGA:
There is so much talent around Athens that it's hard for Georgia not to have a top recruiting class year in and year out. Georgia's facilities are near the top of the conference, and the campus is gorgeous. The tradition and game-day atmosphere would draw anyone in.
5. Auburn:
While it's constantly knocking heads with Alabama, Auburn has plenty going for it. The campus is gorgeous, the stadium is one of the best game-day venues in the league and the fan base is extremely passionate. Auburn is in the heart of recruiting central in the Southeast, and the recently updated facilities are a major plus.
6. Tennessee:
While the Vols have struggled with consistency on the field lately, this is still an attractive job. Nearly $50 million was spent to build a brand-new football complex, Neyland Stadium has been spruced up over the years and the program does have a rich tradition. Though with the state not being so talent-rich, coaches are forced to target other areas in the Southeast to recruit.
7. Texas A&M:
The Aggies' tradition is well-known in college football. The game-day atmosphere is one of the best in the country, there is a great alumni base, their home state is filled with elite talent and the school is huge. Now Texas A&M can sell playing in the SEC to Texas athletes. But one thing that does hang over the program is that it's still playing second to the Longhorns.
8. South Carolina:
Spurrier has completely transformed South Carolina and proved he can win there. The state has an underrated talent pool, and Spurrier has made it a priority to get the best talent to come his way. The fan base is one of the most loyal ones in the country, standing by the Gamecocks even during the rougher years.
9. Arkansas:
The Razorbacks are basically the pro team of the state, and Bobby Petrino's success made it a very attractive job nationally. The fan base takes great pride in its program, and recent facility upgrades have really helped draw more attention to Arkansas. However, the state isn't as rich with talent as other southeastern states, meaning the Razorbacks have to turn to other states, such as Texas and Oklahoma, for more prospects.
10. Missouri:
New to the SEC, Missouri is making sure it keeps up in the arms race by upgrading and expanding Memorial Stadium. There's good tradition at Mizzou, but Gary Pinkel really turned things around and made the Tigers more relevant when he arrived in 2001. Location could be an issue for some southeastern prospects, but Pinkel and his staff are making a conscious effort to expand recruiting efforts into Georgia and Florida.
11. Ole Miss:
Oxford is the quintessential college town, rich with history and a game-day atmosphere envied by many, thanks to the Grove. The campus is beautiful, and the football facilities are pretty impressive. However, consistently recruiting top talent to Ole Miss has been a major issue for coaches, as the Rebels have won nine games or more just five times since 1971 and have had 11 head coaches during that time.
12. Mississippi State:
Starkville can be a little out of the way for people, and like Ole Miss Mississippi State is having to try to keep top Mississippi talent away from the likes of Alabama and LSU. The fan base is very loyal, and the program has seen a bit of resurgence since Dan Mullen's arrival. The school is also breaking ground on a new $25 million football facility.
13. Kentucky:
The football program will always be in the shadow of the basketball program. Even though Rich Brooks turned things around, it's hard to sustain that when Kentucky has to go out of state so much for recruiting and has to do a lot of projecting with prospects. Before last season, the Wildcats went to five straight bowl games, and recent upgrades to the Nutter Training Facility have players excited.
14. Vanderbilt:
The high academic standards leave coaches without the opportunity to recruit some of the top prospects, and Vandy only has been bowl eligible five times in school history. While the administration drug its feet on facilities for so long, the school agreed to upgrade facilities, including adding a new multipurpose practice facility, when James Franklin received a new contract last fall.
2015 Spring Football Tour: Texas A&M
SEC SCOREBOARD
Thursday, 9/3
Saturday, 9/5