Texas A&M Aggies:

Tyron Johnson
November, 22, 2013
Nov 22
8:00
PM ET
The big game in the SEC this week is the battle in Baton Rouge between No. 12 Texas A&M and No. 22 LSU. As expected with the Top 25 showdown featuring Heisman Trophy winner
Johnny Manziel
, a laundry list of top prospects the two programs are recruiting and battling for are expected to be in attendance.
1. RB Leonard Fournette (New Orleans, La./Saint Augustine High):
The nation's No. 1 prospect is a possibility to attend Saturday's game unofficially. Any time the Tigers take the field against quality opponent is big for LSU in their recruitment, and this is no different. Fournette continues to have LSU and Alabama highest on his list, but Texas A&M is a school he has considered during the process. Fournette visited Texas last weekend and attended the LSU-Alabama game in Tuscaloosa with his family two weekends ago.
To continue reading this article you must be an Insider
November, 19, 2013
Nov 19
11:30
AM ET
COLLEGE STATION, Texas -- When it comes to the presence schools have in their respective home states, few are stronger than LSU in the state of Louisiana.
The Tigers' success, conference affiliation and game day atmosphere are just a few of the unique advantages for natives of the Pelican State.
[+] Enlarge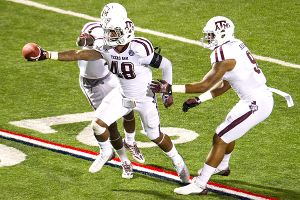 Michael Chang/Getty ImagesTexas A&M freshman Darian Claiborne (48) took over the middle linebacker job before the fourth game of the season.
Port Allen (Louisiana) High School head coach Guy Blanchard vividly remembers the emotions of one of his players,
Darian Claiborne
, when LSU took a tough loss early in 2012.
"When Darian was in January of his junior year (of high school) and LSU lost the national championship game to Alabama, you would have thought his best friend died the next day at school," Blanchard said. "He was a big LSU fan. You can't grow up in Southeast Louisiana and not have some kind of attachment or an eye on the prize, however you want to say it, [to LSU]."
Claiborne, a true freshman, is now the starting middle linebacker for No. 12 Texas A&M, which heads to Death Valley on Saturday to play No. 22 LSU. But Port Allen is fewer than seven miles from the LSU campus, so it's understandable how he could have envisioned a future with the Bayou Bengals.
But Texas A&M's staff developed a strong relationship with Claiborne, a three-star prospect. Furthermore, the Aggies made a strong impression and made it clear they wanted him while LSU didn't officially extend an offer. The Aggies' diligence paid off because Claiborne has played a key part on the A&M defense.
In recent years, Texas A&M has had success recruiting the state of Louisiana. Texas is and will continue to be the home base for Texas A&M recruiting for good reason -- it's fertile recruiting ground that most colleges attempt to pick from, because of the vast number of players and caliber of talent the state produces. But Louisiana is also known for producing high-caliber recruits as well and head coach Kevin Sumlin has made sure to make "The Boot" part of his recruiting footprint.
Currently, the Aggies have nine players that are from Louisiana on the roster and all of them are on the Aggies' two deep. Some of them have been recruited by the current staff, others are holdovers from the previous staff, but all of them currently contribute on the field.
All nine are defensive players and five of them are regular starters: Claiborne, defensive back
Deshazor Everett
, defensive ends
Julien Obioha
, safety Floyd Raven and defensive end
Gavin Stansbury
. The others have played key roles: true freshman cornerback
Noel Ellis
has seen significant time in recent weeks and is the Aggies' future at the nickel cornerback position. Cornerback
Tramain Jacobs
started six games this season while the Aggies' dealt with injuries in the secondary and has been a reliable rotation player among the cornerbacks. True freshman linebacker
Shaan Washington
has found his way onto the field in a special teams capacity but also saw time at linebacker early in the year and defensive tackle
Ivan Robinson
has been a part of the rotation at his position when healthy.
[+] Enlarge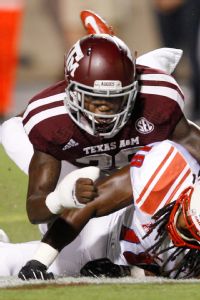 AP Photo/Bob LeveyDeshazor Everett, another Louisiana native, was recruited my Mike Sherman's staff but has been the Aggies' most reliable defensive back.
There's no doubt the Aggies have received bang for their buck with the "Louisianimals," the term former Texas A&M center Patrick Lewis coined for his fellow Louisiana products last season. Claiborne and Everett have been arguably the Aggies' best defensive players this season. Everett has done whatever the Texas A&M coaches have asked, whether it's playing safety while Raven was injured or going back to his traditional position of cornerback, while playing with a broken thumb early in the year. Claiborne got the starting job at middle linebacker -- which is not his traditional position -- before the fourth game of the season and hasn't let go of it.
Stansbury has emerged as a playmaker while Obioha and Raven have each been a steady presence at their respective positions.
Even when he was at Houston, where the Cougars put their primary focus on their own city, Sumlin's staff would travel across the border to recruit talent out of Louisiana. But in the SEC it's a different story, because the caliber of player Texas A&M is searching for is often the same that LSU is trying to keep in state.
With the Tigers being
the
signature program in Louisiana, it makes it all the more difficult to pull a kid out of the state when LSU wants him.
The Aggies are experiencing that in their early SEC years. In this recruiting cycle, the Aggies are going after some of Louisiana's finest, like ESPN 300 athlete
Speedy Noil
and ESPN 300 defensive end
Gerald Willis III
. The Aggies are also trying to make inroads with the top 2015 prospects from the state, like receiver
Tyron Johnson
.
All have LSU offers and the battle for Noil and Willis III has been hotly contested and will be until signing day approaches.
But the Aggies have found success in recruiting prospects from the state that might have been overlooked or not as heavily pursued. If those players continue to play like Claiborne, the in-state powerhouse will start taking notice.
"Yeah, we've run across them at times," said LSU coach Les Miles of seeing A&M recruiting in Louisiana. "We recognize some of the [players] that they have there, and we wish them the very best. It's an opportunity to play in this league, and we're for that."
September, 15, 2013
Sep 15
4:39
PM ET
Not only was Saturday's Alabama-Texas A&M game amazing to watch for fans in attendance and watching on television, but the game and atmosphere resonated with prospects.
One of the top prospects in attendance on the star-studded list was junior running back
Soso Jamabo
(Plano, Texas/Plano West High). The 6-foot-3, 200-pound Jamabo, the No. 18 prospect in the ESPN Junior 300, left College Station, Texas, with terrific things to say about the experience.
To continue reading this article you must be an Insider
September, 13, 2013
Sep 13
3:30
PM ET
COLLEGE STATION, Texas -- Like virtually every coach in major college football, Kevin Sumlin understands the importance of recruiting.
It's the lifeblood of a program. As players graduate or move on, new ones must come in to keep success going.
[+] Enlarge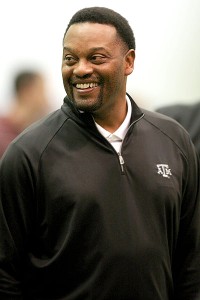 Brett Davis/US PresswireTexas A&M coach Kevin Sumlin said the "move to the SEC has obviously been a boost" for the Aggies in recruiting.
Since taking over at Texas A&M, Sumlin and his staff have leveraged the power of playing in the SEC to their benefit, landing a top 10 recruiting class in the 2013 cycle while being on pace to do so again for the Class of 2014.
And this weekend could be the biggest yet when it comes hosting recruits.
While the college football world has long awaited the Alabama-Texas A&M rematch, the A&M staff has spent months preparing for the recruiting aspect of this weekend.
Roughly 75 recruits are expected to be in attendance for Saturday's highly-anticipated game between the No. 1 Crimson Tide and the No. 6 Aggies.
"I think [the game has] already had an impact," Sumlin said. "We have a large number of prospects that are going to be here. The move to the SEC has obviously been a boost for us. I think it wouldn't be as big of a boost if we didn't have some sort of success in the league last year. We didn't have all the success we wanted. We were extremely competitive and won a big game last year. But all that being said, I think the ability to compete and win in this league has really helped us too, in recruiting."
And that's the key. Without the 11-2 record, the Heisman Trophy run for
Johnny Manziel
or all the attention coming to the program as a result of that success in the SEC, widely considered the country's best conference, this weekend might not have been as big.
While the number of recruits who will be in attendance is impressive, so are the names. Topping that list are a host of highly-regarded 2014 ESPN 300 prospects: defensive end
Myles Garrett
, athlete
Speedy Noil
, safety
Jamal Adams
, defensive tackle
Gerald Willis III
, athlete
Davion Hall
, safety
Edwin Freeman
are among those expected. All of them are top 100 recruits.
"It's going to be great, knowing A&M is in our top three," said Noil, who is making the trip with Willis, his high school teammate. "I want to see what they offer as an offense."
Said Willis: "It's going to be crazy. I'm very excited."
A host of 2015 ESPN Junior 300 prospects are also expected in attendance. Receiver
Tyron Johnson
, outside linebacker
Malik Jefferson
, defensive end
Anthony Wheeler
and quarterback
Kyler Murray
are just a sampling of the impressive juniors that will make the trip.
If there's any doubt as to how important recruiting is to the Texas A&M staff, take this as evidence: Sumlin and defensive line coach Terry Price were out on the trail Thursday night via helicopter and trekked to the Dallas-Fort Worth Metroplex to see a prospect, fewer than 48 hours before one of the biggest games in program history.
The target? Garrett, the No. 7 player in the 2014 ESPN 300.
Coach Price and I strapped in headed to the Metroplex to find the next great Aggie! http://t.co/8d1BG3goMT

— Kevin Sumlin (@CoachSumlin) September 12, 2013
The swaggerchopper has landed. #swag http://t.co/n18uhrZ8nY

— Coach Terry Price (@Coach_TPrice) September 13, 2013
Sumlin and offensive coordinator Clarence McKinney also made a helicopter trip to Houston to see then-uncommitted 2013 ESPN 300 receiver
Ricky Seals-Jones
and 2013 Texas A&M quarterback commitment
Kohl Stewart
on a nationally-televised game between Sealy (Texas) High and Houston St. Pius X. Seals-Jones eventually committed and signed with the Aggies; Stewart signed but chose to play professional baseball after being chosen fourth overall in the MLB draft this summer.
While the Aggies continue to strengthen their position in recruiting statewide, their longtime rival, Texas, has a lot of question marks at the moment. After a decisive loss to BYU, the Longhorns fired defensive coordinator Manny Diaz. While the schools don't play each other anymore, they still battle for the same recruits. A win this weekend would further strengthen Texas A&M's position in the talent-rich Lone Star State.
This weekend has become something of a perfect storm for the Aggies. The chance to make a statement on a national level is there, with the eyes of fans across the country watching, not to mention dozens of recruits at Kyle Field to experience it all.
"You don't have a stage like this for this weekend if you're not a competitive program," Sumlin said. "And I think the high school coaches in this state do a fantastic job of coaching and regionally, recognizing that. And I think student-athletes are recognizing that, too, that we've got a great situation here from a stability standpoint, from a support standpoint, from a facilities standpoint and from a league standpoint.
"You don't have to go 700-800-900 miles away anymore to get all those things. That has been a big selling point for us since we've gotten here and I think that message has been driven home every week that we play in the SEC, not just play but play in meaningful games on big stages."
July, 26, 2013
Jul 26
2:00
PM ET
After his first visit to Texas A&M, 2015 receiver
Tyron Johnson
(New Orleans/Warren Easton) was impressed.
Johnson, the No. 32 player in the ESPN Junior 300, was in College Station, Texas, on Sunday for an unofficial visit, the same day the Aggies hosted their final one-day camp of the year.
To continue reading this article you must be an Insider
Weekend Recruiting Wrap: SEC - Dec. 2