Texas A&M Aggies:

Tony Levine
March, 27, 2013
3/27/13
1:51
PM ET
HOUSTON -- Most of the nearly 200 athletes that attended the Next Level Athlete South Houston Video Showcase on Sunday at Houston Kinkaid came from all around the Houston area, and in some cases, from other parts of Texas.
But a handful of players didn't have to go farther than their current daily commute, as Kinkaid had its own set of hopefuls hitting their home turf at Barnhart Stadium to compete against other up-and-coming football prospects.
One Kinkaid Falcon whom colleges are already taking notice of is 2015 quarterback
J.T. Granato
.
March, 13, 2013
3/13/13
8:00
AM ET
COLLEGE STATION, Texas -- The first time Clarence McKinney met Kevin Sumlin, the two were in quite different places than they are today.
The pair first crossed paths in the late 1990s. McKinney was a young, budding offensive coordinator at Houston's Booker T. Washington High School, while Sumlin was an assistant at Purdue, coaching wide receivers and serving as recruiting coordinator.
[+] Enlarge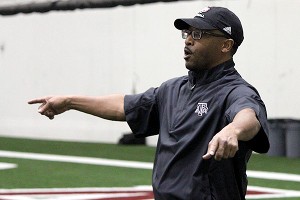 Sam Khan Jr./ESPNExpect Texas A&M to continue its up-tempo approach with new offensive coordinator Clarence McKinney.
Though Sumlin spent plenty of time in Texas and in the Houston-area in particular, he never signed a player from Washington while McKinney was there. But he saw something in McKinney and let him know then what he thought of the Houston born-and-bred product.
"We were hanging out one day, and he told me at that time, that if he ever had an opportunity to hire me, he would," McKinney said.
About 10 years later, when Sumlin was putting together his first staff as a head coach at Houston, he lobbed a call to McKinney, who at the time had worked his way up the ladder in Houston coaching circles and was a successful head coach at his alma mater, Jack Yates High School, which sits literally across the street from the University of Houston campus.
Sumlin was making good on his word and offered McKinney a position as an assistant.
"He made the phone call and without hesitation, I asked him when I needed to show up for work," McKinney said.
The pair have worked together the last five years and had marked success, first, for four years at Houston and now at Texas A&M, where the Aggies put together a memorable 11-2 campaign that included a Heisman Trophy winner. Now, McKinney -- who started his college coaching career as Sumlin's running backs coach at Houston -- is now the man who will call the plays for the Aggies as their offensive coordinator in what is one of the most anticipated seasons in school history.
January, 17, 2013
1/17/13
8:00
AM ET
This week, GigEmNation looks back at five decisions that helped define Texas A&M's 2012 season. These moments could be on or off the field or could have even come before the season, so long that they had a lasting impact on the Aggies' 2012 campaign. Today, we look at our pick for No. 2, the hiring of Kevin Sumlin.
On Dec. 10, 2011, Texas A&M officially chose Kevin Sumlin as its next head football coach.
To continue reading this article you must be an Insider
November, 15, 2012
11/15/12
11:39
AM ET
COLLEGE STATION, Texas -- There are plenty of terms that have been used to describe Texas A&M offensive coordinator Kliff Kingsbury.
He has been called everything from creative and aggressive (referring to his style of coaching) to cool and suave (referring to his appearance).
[+] Enlarge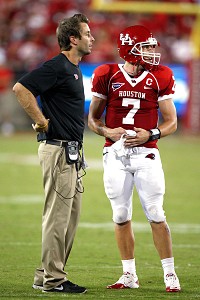 Bob Levey/Getty ImagesKliff Kingsbury first began calling plays in his third year as coach, in 2010 with Houston.
A term one would probably never associate with the 33-year-old rising star assistant, who is quickly becoming an "It guy" in college football coaching circles, is one that he has used on himself: soccer dad.
"There's no question," Kingsbury said, "[I have] the ultimate soccer dad syndrome going on."
No, Kingsbury doesn't have children, unless you count his quarterbacks, who might as well be. Kingsbury always wanted to be an NFL quarterback. He pursued a professional career for six years after graduating from Texas Tech and before entering coaching in 2008, when he joined his good friend Dana Holgorsen and coach Kevin Sumlin at Houston as a quality control assistant. After spending a year working with the Cougars quarterbacks and helping teach them the intricacies of the Air Raid offense, Kingsbury became comfortable with the idea of coaching.
But deep in his heart, he wishes he was still playing. And he does the next best thing: He lives vicariously through his quarterback, Aggies redshirt freshman
Johnny Manziel
now, and Houston's Case Keenum before him.
"The biggest stress to me is that I give the quarterback each game the best possible chance to be successful," Kingsbury said. "I never want to watch the film and say, 'I didn't give him a chance to make the plays.' Once the plays are already made, hey, you've got to make them. But as long as I'm giving him a chance to make the plays, then I can sleep at night. If we had a game where I didn't -- which I've had -- then I just feel bad and I want to find a way to make him be successful."
November, 13, 2012
11/13/12
10:30
AM ET
As he prepared to take the field against No. 1 Oklahoma late in the first quarter Nov. 9, 2002, former
Texas A&M
quarterback Reggie McNeal, then a freshman, now keenly remembers the words delivered by his offensive coordinator, Kevin Sumlin.
Stepping into a game against an undefeated perennial power would be intimidating for anybody, let alone a freshman. But Sumlin's words put McNeal at ease.
[+] Enlarge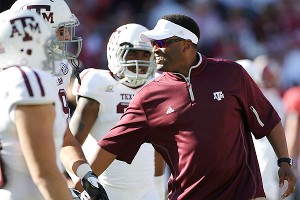 AP Photo/Dave MartinKevin Sumlin's early success at Texas A&M isn't a surprise to people who know him well.
"When I got ready to go on the field, I talked to Sumlin and exactly what he told me was, 'Reg, you're a damn good athlete. You've been playing this game for a long time. Play the game like you know how to play it. Go have fun. I'm going to put you in the right situations and you get us where we need to be and have fun doing it.' And that's how I approached the game," McNeal said. "With Coach having my back as much as he did, it took a lot of pressure off. I wasn't out there pressing and making mistakes."
The rest is history. Behind McNeal -- who threw for 191 yards and four touchdowns -- the Aggies upset the Sooners 30-26 at Kyle Field.
One day after the 10-year anniversary of that historic Aggies victory, Sumlin again was wearing maroon and white Saturday, facing the nation's No. 1 team, Alabama. Again, he had a freshman quarterback -- redshirt freshman
Johnny Manziel
-- but with a couple of key differences: Sumlin is now the Aggies coach, and this game was on the road against the defending BCS champions.
The result was the same: a stunning victory for Texas A&M.
"They're both great moments," Sumlin said after this past weekend's 29-24 win in Tuscaloosa, Ala. "Obviously being a head coach, it's probably a little more special because it's right now. Both of those are great moments for me personally, and for Texas A&M. But to go on the road and win, that's pretty big."
Sumlin, who is in his first year leading the Aggies after spending the last four years as the head coach at Houston, has made Texas A&M's transition into the Southeastern Conference a successful one. One would be hard-pressed to find anyone who thought the Aggies would possess their record (8-2) or ranking (No. 8) at this point in the season, much less take down the Crimson Tide.
But those who know Sumlin well aren't surprised at all.
"Having played for him, having worked for him as well, I think a number of things: He has a great vision and a great plan for what he wants his program to be like and to encompass," said Houston head coach Tony Levine, who was an assistant with Sumlin at Houston and played for him at Minnesota. "He's got clear ideas, and probably the best communicator that I've ever worked for."
McNeal said the way Sumlin carries himself also helps, citing a positive, upbeat attitude that is part of the coach's daily approach.
"He enjoyed what he did," McNeal recalled of Sumlin during his first A&M stint. "He always enjoyed the environment and the situation he was in. He never had a bad day -- or if he did, he never showed it."
Texas A&M offensive coordinator Kliff Kingsbury, who worked with Sumlin at Houston, said the way Sumlin treats people stands out.
"I think just the way he treats his players and coaches as men and with respect," Kingsbury said. "You don't ever see him belittling them in front of their peers. He just expects you to be a man and take care of your business. There's just a level of respect that he gives each and every person he come into contact with that, in this profession, is very refreshing."
The term "players' coach" has been used before when describing Sumlin, and his own players have used the term. But that doesn't mean he has issues with lack of discipline. The balance between getting along with his players and maintaining a level of authority is something that Levine believes Sumlin manages extremely well.
"I think when you hear people say that an athlete has 'it' or that person has the 'It factor,' I think Kevin Sumlin has 'it' when it comes to that natural balance of relating to not only 20-year-olds but your coaches, your staff, but having still the understanding of who's the boss and what the expectations are," Levine said. "I think that's a skill and a trait that almost comes natural to him."
October, 10, 2012
10/10/12
12:15
PM ET
For Houston Lamar safety John Bonney, this year has been a little bit of an adjustment.
The 2014 prospect, who traditionally plays safety, has spent a lot of time at cornerback this year. The transition hasn't been much trouble for the 6-foot, 175-pound prospect -- he has three interceptions in the Redskins' first five games.
To continue reading this article you must be an Insider
Recruits Miss Lone Star Showdown
SEC SCOREBOARD
Thursday, 9/3
Saturday, 9/5