Texas A&M Aggies:

Tim Tebow
November, 27, 2012
11/27/12
12:40
PM CT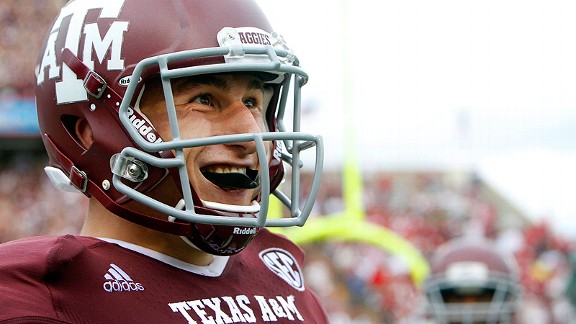 Brett Davis/US PresswireWhen it comes to Heisman candidacy, Texas A&M's Johnny Manziel has compiled a strong platform.
There's one last weekend for Heisman voters to scout any remaining candidates for college football's most prestigious award.
But after 13 weeks of action, the winner is clear, and voters don't need any more time to think about it.
It was
Johnny Manziel
a week ago. It's Johnny Manziel today. And it should be Johnny Manziel when the Heisman Trophy is presented on Dec. 8.
In 12 straight weeks (Texas A&M didn't have a bye week) the slippery Manziel racked up 3,419 passing yards with 24 touchdowns to eight interceptions and rushed for 1,181 yards and 19 more scores. He's second in the SEC in passing yards and first in rushing. He also guided Texas A&M to a 10-win season in its first year in the SEC and was undefeated on the road.
His 4,600 yards of total offense (and counting) topped Cam Newton's mark of 4,327 yards, which used to be an SEC record. He already has more passing and rushing yards than Tim Tebow did during his Heisman season in 2007 and has thrown for 565 more yards than Newton did during his 2010 Heisman season. He won't touch Robert Griffin III's 4,293 passing yards from his 2011 Heisman year, but he crushed him in the rushing department by 482 yards.
Manziel has had three games in which he had at least 300 passing yards and 100 rushing yards, the most for any player in a single season since 2000. The rest of the nation has had eight such games the entire season, according to ESPN Stats & Information. Manziel has also gained 784 rushing yards on scrambles. That's 43 more yards scrambling than
Collin Klein
,
Braxton Miller
and
Marcus Mariota
combined. He has also scrambled for 35 first downs this season, including 20 first downs on third down, according to ESPN Stats & Information.
Not voting Manziel No. 1 at this point is almost comical when you look at the way the fabulous freshman phenom has done all of this in his first year on the field with a brand-new offense and coaching staff in the SEC.
"His numbers speak for themselves against anybody who has played not only this year but who has [ever] played the game," said Texas A&M coach Kevin Sumlin, who has been very actively captaining the Johnny Football Heisman ship. "As we've gone through this process, he's been a catalyst for this football team in the first season in the SEC."
While his 43 total touchdowns are lower than his three predecessors, Manziel has way more total touchdowns than the other two dual-threat quarterbacks still alive in this race.
Klein, who has had a superb season, has 34 total touchdowns and Miller has 28 total.
People will knock his two losses (something neither Klein nor Miller have) to Florida and LSU at home. Both are currently ranked within the top seven of the BCS standings and both own top-10 defenses. In those games, Manziel threw for 449 combined yards with zero touchdowns and three interceptions. He also rushed for 87 yards and one touchdown, averaging 2.6 yards per carry.
Not Heisman-worthy at all, but you have to dig deeper than just his two poor performances against top-notch defenses. Look at the growth from Manziel after his losses. Since the LSU game, he has averaged 382.2 yards of offense with 19 touchdowns.
One of those opponents was Alabama ... on the road. Talk about growth.
He had his true coming-out party in front of the entire nation when he torched Alabama's top-ranked defense for 345 yards of offense and two touchdowns. He never wavered and sliced up the Tide with his arm and legs. Some of the Playstation moves he pulled didn't seem possible.
He then showed out in his final outing with a bevy of twists and turns that amounted to 439 yards and five touchdowns against Missouri with a brace on his knee. Willis Reed and Paul Pierce had nothing on Johnny Football.
Manziel has made Texas A&M one of the nation's hottest team. The Aggies aren't close to where they are without Manziel. People talk about how much
Manti Te'o
, Manziel's only real remaining Heisman competition, has meant to Notre Dame. He's been fantastic, but take Manziel off A&M's squad, and the Aggies aren't nearly the same.
Being a freshman should only help his defense because it makes what he's done that much more impressive. His two losses shouldn't hold much weight because Tebow and Griffin both had three losses before winning.
What matters is his body of work, and no one else equals him. No one else equals his excitement or importance.
The Heisman Trophy should be as good as his.
"It's something you dream about as a kid, when you're sitting there playing all these NCAA [video] games when you're a kid and you create a player and you win the Heisman as a freshman because you just put up crazy numbers," Manziel said. "It's something that you can only sit back and dream about. It's the biggest, most prestigious award in college football, so it would definitely be a dream come true."
Manziel is living the video game life, and there's no reason his dream shouldn't become a reality.
November, 13, 2012
11/13/12
4:58
PM CT
Texas A&M quarterback
Johnny Manziel
had his Heisman Trophy moment last Saturday with his performance against Alabama in the Aggies' 29-24 win.
Kansas State's
Collin Klein
remains the Heisman Trophy front-runner, but don't rule out "Johnny Football." He made the kind of late-season splash on a huge stage that's so important in the Heisman voting.
Robert Griffin III probably won the Heisman a year ago with his performance against Oklahoma on the next-to-last weekend of the regular season.
If you look at Manziel's statistics to this point, he's right there on par with the last two Heisman Trophy-winning quarterbacks to come out of the SEC -- Auburn's Cam Newton in 2010 and Florida's Tim Tebow in 2007.
Manziel also compares very favorably to Klein and has faced three teams ranked in the top five nationally in total defense -- No. 2 Alabama, No. 3 LSU and No. 5 Florida.
Here's a breakdown of Manziel's numbers through 10 games compared to what Newton and Tebow had done through 10 games during their Heisman Trophy seasons:
MANZIEL
Total offense: 3,794 yards
Touchdowns accounted for: 33
Rushing: 1,014 yards, 15 touchdowns, 6.5 yards per carry
Passing: 227-of-336 (67.6 percent), 2,780 yards, 18 touchdowns, six interceptions
NEWTON
Total offense: 3,171 yards
Touchdowns accounted for: 36
Rushing: 1,281 yards, 16 touchdowns, 7.3 yards per carry
Passing: 123-of-183 (67.2 percent), 1,890 yards, 19 touchdowns, five interceptions
TEBOW
Total offense: 3,250 yards
Touchdowns accounted for: 42
Rushing: 718 yards, 19 touchdowns, 4.2 yards per carry
Passing: 173-of- 255 (67.8 percent), 2,532 yards, 23 touchdowns, five interceptions
November, 13, 2012
11/13/12
9:43
AM CT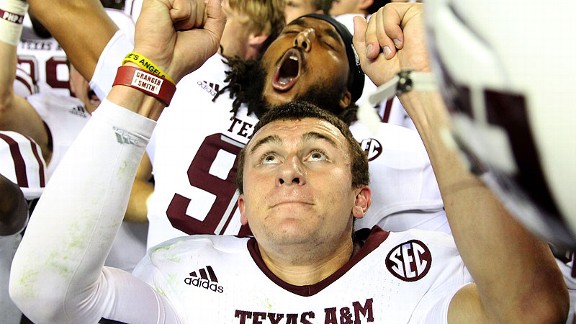 Mike Zarrilli/Getty ImagesWith a win against No. 1 Alabama, Texas A&M's Johnny Manziel moved closer to Heisman candidacy.
In a year in which the Heisman race has really lacked pizzazz, one player is bucking the lackluster trend.
Small in stature but big in plays, Texas A&M quarterback
Johnny Manziel
proved yet again over the weekend he deserves a seat at the Heisman table in New York next month.
The redshirt freshman has been too exciting, too productive and too darn good not to get some real Heisman love. If the season ended today, it would be an absolute crime if Johnny Football wasn't a Heisman finalist.
If what he'd done heading into the Alabama game didn't win you over, Saturday inside Bryant-Denny Stadium had to.
He was thrown right at one of the nation's best defenses from the start, accounting for 16 of Texas A&M's 27 plays in the first quarter and collecting 150 of the Aggies' 172 first-quarter yards (passing/throwing). All three drives ended with Aggies touchdowns.
He made defenders look sillier and sillier with each scramble, such as his nifty 29-yard scamper on the first drive to put the ball at the Alabama 14-yard line, and his clumsy-turned-slippery 32-yard pass on the second drive that set up the Aggies' second touchdown.
He pulled off another jaw-dropping 32-yard run on the third drive just for fun.
He even fumbled a ball in midair, only to catch it, roll out and find a wide-open
Ryan Swope
for a 10-yard touchdown in the first.
After struggling in the second and third quarters, he led the Aggies on two fourth-quarter scoring drives. On A&M's final scoring drive he threaded a pass to Swope for 42 yards down the right sideline before tossing a perfectly thrown flag pass to
Malcome Kennedy
for the go-ahead 24-yard touchdown.
Manziel finished with 345 total yards and two scores. It was reminiscent of another dual-threat quarterback who walked out of Bryant-Denny Stadium with a shocking win. His name was Cam Newton, and he left with two more touchdowns, but 90 fewer yards.
Given the Herculean task of besting Alabama's defense, Manziel came through and never wavered. Defensive stops didn't stun him. He stunned the Tide.
According to ESPN Stats & Information, Manziel completed all six of his passes outside the pocket and scrambled for 94 yards when forced out of the pocket. Before Saturday, Alabama's opponents were completing 35.7 percent of their passes outside the pocket and had scrambled for 12 total yards in nine games.
He also completed 4-of-5 passes thrown 20 or more yards downfield. In previous games, Alabama allowed nine completions on 41 pass attempts thrown 20 yards or longer downfield and hadn't allowed a quarterback to complete four such passes since the start of the 2009 season, according to ESPN Stats & Info.
He ran the nation's No. 1 team out of its own stadium and momentarily knocked the SEC off it path toward a seventh straight national championship appearance.
That right there should get voters outside of the South giddy about Johnny Football, but there's so much more to him than just Saturday's stellar outing.
Manziel doesn't look like he can do much, but even with his generously listed 6-foot-1 height and his awkward and graceless scurrying, Manziel constantly finds ways to make plays. You can't bring too much pressure because he'll just sidestep his way outside and sprint for a big play. Don't bring enough, and he'll burn you over the top.
He's third in the SEC in passing (2,780), first in rushing (1,014) and has combined for 33 total touchdowns. He's averaging 379.4 yards of total offense per game and is the second freshman in Football Bowl Subdivision history to rush for 1,000 yards and pass for 2,000 yards in a single season.
People harp on his two home losses to Florida and LSU, but plenty of Heisman winners have lacked perfection. Tim Tebow and Robert Griffin III both lost three games before hoisting the bronze trophy. And if Manziel & Co. keep winning, he might play in a BCS bowl game -- something Tebow and Griffin didn't do during their Heisman years.
When compared to Tebow, Griffin and Newton, Manziel is right in line. He won't pass for Griffin's 4,293 yards and 37 touchdowns, but he'll surpass Newton's passing yardage and needs 507 yards to beat Tebow's. He also has rushed for more yards than Tebow and Griffin and needs 460 yards to surpass Newton's SEC quarterback record of 1,473 he set in 2010.
So when it's time to cast those Heisman ballots and pick those worthy candidates to suit up in the Big Apple, Manziel can't be left out. He has done too much already, and still has time to do even more.
July, 27, 2012
7/27/12
10:09
AM CT
There was a familiar face in Aggieland last week during the Texas state 7-on-7 championships.

Denver Broncos linebacker and former Texas A&M All-American Von Miller stopped by the A&M campus during the state tournament. Miller, who was the no. 2 pick in the 2011 NFL draft and was voted the Associated Press Defensive Rookie of the Year after a 64-tackle, 11.5-sack season, is an Adidas client. Adidas sponsored the 7-on-7 championships and had a large presence, including outfitting all 128 teams with uniforms. It is also the company behind Texas A&M's new uniforms that were unveiled on July 12.

Miller, a DeSoto, Texas/DeSoto High School product, took the time to visit with GigEmNation during his stay at the tournament.

Q: What are your thoughts on the Aggies new uniforms?
A: I actually got a chance to see the uniforms a little earlier than the guys here. I was pretty stoked about it. These days, uniforms are such a big recruiting tool in getting kids. I think they're pretty cool. I think the kids in high school, the guys that are potentially going to come to A&M, I think they'll feel the same way too.

Q: How do you feel about the direction things are going so far under new head coach Kevin Sumlin?
A: Coach Sumlin, he's a great guy. I've met him, talked with him a couple of times. I think it was a great thing to bring coach Sumlin in here. Coach (Mike) Sherman was my guy. He got me here, he made me into the football player that I am today, but coach Sumlin he's a great guy too. He's able to go into those homes and get those recruits that we need to take this program to the next level. A lot of kids can relate to him, he's a young coach, a smart coach and I think with coach Sumlin on staff, hopefully we can get the football program dominant in the SEC.

Q: What do you feel like the Aggies' membership in the Southeastern Conference will do for the program?
A: We don't have to share recruits with that other school across the state. We're the only SEC school in the state of Texas and I think that'll be a huge recruiting tool for guys in the Dallas area and Houston area. I think us being in the SEC, it'll really bring some big time players to A&M.

Q: With all the new things - coaches, athletic director, uniforms, etc., is it an exciting time to be associated with the school?
A: It's been an exciting time at A&M. We're different from any other school out there. Guys here at A&M are doing a great job of building a school and building a program. We're just trying to win championships here and I think the direction we're taking this team and taking this program, we're headed that direction.

Q: What is it like being back on campus?
A: It always feels great to be back here in Aggieland and to see some of the new stuff that's going on. I see some of the things that we're doing and to where we're taking this university. It's a great time to be in Aggieland and I'm happy to be here.

Q: How has your offseason been?
A: My offseason has been great. The first part of offseason, I did a lot of working out, just trying to get my body in shape. These last couple, four-to-five weeks have just been relaxing, trying to get my body and my bones ready for this long season that's right around the corner. From August all the way to January, it's pretty strenuous on the body.

Q: What are your thoughts on how last season went in your first year?
A: I think last season was great. We won a lot of games, we went on a big long streak right in the middle of the season. Tim Tebow did a lot of great things for us. We were able to get a Hall-of-Fame player in Peyton Manning (in the offseason). He feels like a coach sometimes. We have a Hall-of-Fame player on defense too in Champ Bailey. So we feel like every other team in the National Football League; we want to win a Super Bowl too. We just have to take it one day at a time and hopefully we can give Bronco fans and Bronco Nation something to cheer about.

Q: Is there a different feeling now with Manning on the team?
A: It's just my second year so everything is new for me. I'm a rookie still until four games in. I'm just taking it one day at a time. Peyton Manning is the ultimate pro. The way he comes in every day and carries himself, the way he works, is really something to watch. He's a perfect example for us young guys on the team.