Texas A&M Aggies:

Tavon Austin
January, 13, 2014
1/13/14
10:00
AM ET
After 16 years, the BCS era is finally over. Next season, college football will have a playoff instead.
With the BCS done, we've come up with our Big 12 all-BCS era team (1998-2013) below:
Offense
[+] Enlarge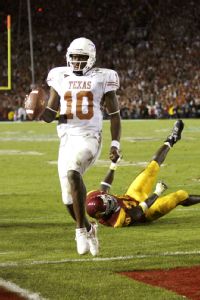 Scott Clarke/Getty ImagesWith Vince Young at the helm, Texas won a national title and Rose Bowl.
QB: Vince Young, Texas (2003-05) --
Young led Texas to its first national title in 35 years with an unforgettable performance in the Rose Bowl against USC. The Heisman runner-up also became the first QB in college football history to throw for 3,000 yards and run for 1,000 in the same season.
RB: Ricky Williams, Texas (1998) --
Williams was part of the BCS era for only one season, but what a season it was. He rushed for 2,327 yards and won the Heisman Trophy going away. Only Wisconsin's
Ron Dayne
has more career rushing yards than Williams (6,279).
RB: Adrian Peterson, Oklahoma (2004-06) --
Despite battling injuries throughout his career, Peterson still was a beast in college. After rushing for 1,925 yards while leading the Sooners to the national title game, he finished second in the '04 Heisman voting, even though there was still a stigma then in voting for a freshman.
WR: Michael Crabtree, Texas Tech (2007-08) --
Crabtree became the first two-time winner of the Biletnikoff Award, given to the nation's top receiver. In '08, he and QB
Graham Harrell
led the Red Raiders to an upset of Texas and a No. 2 ranking in the polls.
WR: Justin Blackmon, Oklahoma State (2009-11) --
Blackmon became the second and only other two-time winner of the Biletnikoff. In his final two seasons, he finished with 233 receptions, 3,304 receiving yards and 38 touchdowns, and he helped propel the Cowboys to their first Big 12 title in '11.
TE: Chase Coffman, Missouri (2005-08) --
Coffman had a monster statistical college career for a tight end with 247 catches for 2,659 receiving yards and 30 touchdowns. He won the '08 Mackey Award, given to the nation's top tight end. Missouri won 37 games during the four years Coffman was in the lineup.
OT: Jammal Brown, Oklahoma (2001-04) --
Brown was a unanimous All-American and a three-time All-Big 12 selection. He became the fifth Sooner to win the Outland Trophy, awarded to the nation's top interior lineman.
OT: Russell Okung, Oklahoma State (2007-09) --
In Okung's final two seasons, Oklahoma State led the Big 12 in rushing yards. The Cowboys were also third in the country in '07 in fewest sacks allowed with Okung at left tackle. He was a unanimous All-American and Outland finalist in '09 and became the sixth overall pick in the '10 NFL draft.
OG: Cyril Richardson, Baylor (2010-13) --
Richardson became Baylor's seventh all-time unanimous All-American. The Outland finalist was also a key piece on the nation's highest-scoring offense this season.
OG: Justin Blalock, Texas (2003-06) --
Though a guard in the NFL, Blalock actually started 50 games for Texas, most coming at right tackle. He was a three-time, first-team All-Big 12 selection and a consensus All-American in 2006.
C: Dominic Raiola, Nebraska (1998-2000) --
Raiola was the inaugural winner of the Rimington Award, named after former Nebraska center Dave Rimington, which recognizes the best center in college football. He was an Outland finalist and a consensus All-American.
APB: Darren Sproles, Kansas State (2001-04) --
One of the most prolific all-purpose performers in college football history, Sproles finished his career with 6,812 all-purpose yards. Among his 39 consecutive starts, his most memorable performance came in the '03 Big 12 championship, when he had 235 yards rushing and 88 receiving, as K-State upset top-ranked Oklahoma 35-7.
Defense
DE: Brian Orakpo, Texas (2005-08) --
Orakpo captured the '08 Nagurski Award as the most outstanding defensive player in the country, and the Lombardi Award, given to the best college lineman or linebacker. He also was the Big 12 Defensive Player of the Year and a consensus All-American while piling up 11 sacks his senior year.
DE: Von Miller, Texas A&M (2007-10) --
Out of a hybrid defensive end/linebacker role, Miller led the nation with 17 sacks in '09. He was a two-time All-American and won the Butkus Award in '10 as the nation's top linebacker.
DT: Ndamukong Suh, Nebraska (2005-09) --
There was no more dominant defensive player in college football during the BCS era. Suh finished fourth in the Heisman voting in '09 and won several national awards, including the Outland, Lombardi, Nagurski (most outstanding defensive player)and Bednarik (defensive player of the year). He was also a unanimous All-American and the Big 12 Defensive Player of the Year.
DT: Tommie Harris, Oklahoma (2001-03) --
Harris was a force from the beginning as a freshman on the OU defensive line. He won the Lombardi his junior year, and he was a two-time consensus All-American, garnering unanimous honors in '03.
LB: Derrick Johnson, Texas (2001-04) --
Johnson was a menacing linebacker for the Longhorns, earning consensus All-American honors in '03 and unanimous honors in '04. He was also a three-time, first-team All-Big 12 selection, and won the Butkus (best linebacker) and Nagurski awards as a senior. Johnson finished his career with 458 tackles.
LB: Rocky Calmus, Oklahoma (1998-2001) --
Calmus played a major role in OU's resurgence under Bob Stoops. He won the Butkus in '01 and was a finalist for the Nagurski and Bednarik. A three-time All-Big 12 pick, Calmus led the Sooners in tackles in all three of those seasons.
LB: Teddy Lehman, Oklahoma (2000-03) --
Lehman too won the Butkus, beating out Johnson for the award in '03. He also was Big 12 Defensive Player of the Year, captured the Bednarik, was a unanimous All-American and played in two national championship games.
[+] Enlarge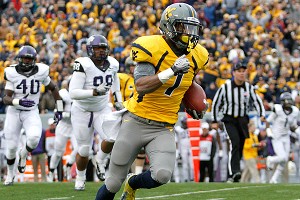 Justin K. Aller/Getty ImagesWest Virginia receiver and returner Tavon Austin had a huge 2012 season.
CB: Terence Newman, Kansas State (1999-2002) --
Newman was a solid player for Bill Snyder his first three seasons, then broke out as a senior. Newman was the Big 12 Defensive Player of the Year, a unanimous All-American and the Thorpe winner, given to college football's top defensive back.
CB: Derrick Strait, Oklahoma (2000-03) --
A four-year starter, Strait finished with a school-record 52 career pass breakups. He also won the Thorpe, and was a unanimous All-American.
S: Roy Williams, Oklahoma (1999-2001) --
Nicknamed "Superman," Williams was the Big 12's most dominating defensive player until Suh came along. He won the Thorpe and Nagurski in '01, and was the Big 12 Defensive Player of the Year and a unanimous All-American the same season. He also famously skied over the Texas offensive line to force the game-clinching interception to earn his moniker.
S: Michael Huff, Texas (2002-05) --
Huff became the first Longhorn to win the Thorpe, and was the leader of the '05 national championship defense. He was also a unanimous All-American that season.
Special teams
K: Mason Crosby, Colorado (2003-06) --
Crosby was three-time, first-team All-Big 12 selection, and twice was a consensus All-American even though he never won the Lou Groza Award, given to the nation's top kicker. He was also the Big 12 Special Teams Player of the Year as a junior, and converted 66 field goals in his career.
P: Quinn Sharp, Oklahoma State (2009-12) --
Sharp became the first three-time All-American in Oklahoma State history, and he earned All-American honors both as a punter and a kicker. He was twice named the Big 12 Special Teams Player of the Year. In his career, he made 50 of 59 field goals, averaged 45.9 yards per punt and missed only one extra point.
KR: Tavon Austin, West Virginia (2012) --
Austin was in the Big 12 only one season, but he was unstoppable that one season. On top of being one of the most dangerous kick returners in the country, Austin had 1,289 yards receiving and 643 rushing, and finished second in the country in all-purpose yards.
PR: Ryan Broyles Oklahoma (2008-11) --
On top of being a prolific punt returner, Broyles was one of the most efficient receivers in college football history. He finished his career with an FBS-record 349 receptions, and was a two-time consensus All-American before a knee injury cut his senior season short.
January, 5, 2013
1/05/13
12:44
AM ET
ARLINGTON, Texas -- Oklahoma's defense had heard the legends about Johnny Football. They'd seen the highlight reels and trophy acceptance speeches.
Until Friday, though, they had never stepped on the same field with the first freshman to win a Heisman Trophy. After Texas A&M's 20-year-old superstar rolled over the Sooners for 516 total yards (229 rushing, 287 throwing) and four touchdowns in a
41-13 Cotton Bowl victory
, Oklahoma couldn't help but be glad his college years will be spent on fields across the SEC and not the Big 12 -- where the Aggies would have been if not for some conference upheaval over the past two years.
"
Johnny Manziel
is everything he was billed to be," Oklahoma coach Bob Stoops said. "He makes everybody miss him. He was what you've seen on tape the whole year."
Sooners defensive coordinator Mike Stoops called Manziel the best player he'd ever played, which carries a special significance considering Stoops' defense gave up 344 rushing yards and 572 all-purpose yards to a shifty, speedy receiver named
Tavon Austin
from West Virginia barely six weeks ago, the second-most all-purpose yards in a game in FBS history.
[+] Enlarge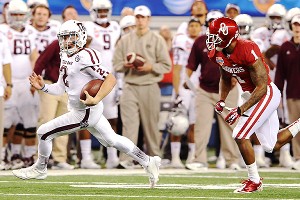 Kevin Jairaj/USA TODAY SportsJohnny Manziel sprints away from Oklahoma's Tony Jefferson during a second-half run.
"He's not a Heisman winner for no reason," said Oklahoma safety
Javon Harris
, who scooped up an interception off Manziel when receiver
Malcome Kennedy
bobbled what likely should have been Manziel's fifth touchdown of the night. "You saw what he did to the SEC all year. We knew exactly what we were going to get into."
Stoops' defense refused to blitz Manziel for most of the night, but the Aggies' strong offensive line -- led by bookends and future NFL first-round picks
Luke Joeckel
and
Jake Matthews
-- hardly allowed Oklahoma's defensive linemen to make Manziel notice they were even trying to chase him down. For much of the game, Oklahoma's secondary would cover the Aggies' receivers, but Manziel would find a crease and turn a broken play into a big gain.
"It's hard if you've got an angle on him," Bob Stoops said. "He stops, goes the other way. If you don't he outruns you."
Despite spending the past month making a post-Heisman nationwide media circuit and losing his offensive coordinator, Kliff Kingsbury, Manziel strung together one of the best highlight reels in bowl history, which was set to a soundtrack of "Johnny B. Goode" from Chuck Berry on the big screen at Cowboys Stadium as the final minutes of the game ticked away and Texas A&M fans serenaded the exiting Oklahomans with an "S-E-C" chant.
More like Johnny B. Great.
"There wasn't anything holding us back. No rust. There was no nothing," Manziel said.
He energized the crowd as few have ever had the ability to do, the volume level in Cowboys Stadium rising quickly any time he fled the pocket. Oklahoma's defense could do little to stop him or to quiet the Aggies-friendly crowd of 87,025, the biggest Cotton Bowl crowd ever at the venue.
A media flock hounding him while he did required postgame TV and
radio interviews

couldn't catch him either after he sprinted from midfield to the corner of the stadium to finish the last few bars of the "Aggie War Hymn" with his teammates in front of the Fightin' Texas Aggie Band.
"This is kind of a game that turned the page again," Manziel said. "People asked me earlier in the year about what game made it all click. There was the Arkansas game, and this game tonight made me flash back to that."
That's a scary thought for the rest of the SEC, which could spend the next three years chasing a quarterback nobody can seem to catch, inside or outside the pocket. He helped Texas A&M become the first offense in SEC history to amass 7,000 total yards, and there's no reason he won't do it again. With Manziel taking snaps and breaking tackles, there will be plenty of national title talk in Aggieland over the next few months, with a blowout victory over the Sooners serving as springboard. Texas A&M proved it was better than national title game favorite Alabama on a November afternoon in Tuscaloosa. Can it be better than everyone in the nation for three months next fall?
"For everybody next year, this is the first game of the new year," A&M coach Kevin Sumlin said. "It sets the bar."
Manziel will be around to help us all find out if the Aggies will clear it.
Recruits Miss Lone Star Showdown
SEC SCOREBOARD
Thursday, 9/3
Saturday, 9/5