Texas A&M Aggies:

Steve Spurrier
May, 10, 2013
May 10
3:15
PM CT
The team I wanted to see face Alabama last season in the BCS National Championship was Oregon. It's the matchup the entire country wanted to see.
No offense, Notre Dame fans, but seeing that high-octane Oregon offense go up against Alabama's defense would have made for much better theater than what we ended up getting in South Florida in January.

Wouldn't it be great if you could play college football matchmaker and turn some of these dream match-ups into realities during the season?
We've come up with five such matchups and want you to select which one would be the most attractive by voting in our SportsNation poll.
Alabama versus Oregon is one of the choices. Who knows? Maybe we'll finally get to see the Ducks and Tide square off in the final BCS National Championship before we go to a playoff in 2014.
Think Florida versus Ohio State would stir a few emotions with Urban Meyer taking on his old team? It would be the battle of Meyer's two dream jobs. Come to think of it, is it possible to have two dream jobs? In Meyer's world, you can.
I realize that Texas athletic director DeLoss Dodds, in all of his arrogance, said recently that Texas gets to decide when Texas and Texas A&M play again. Ask anybody in that state, and it can't be soon enough. Surely we'll see those two old rivals playing again sooner rather than later.
Here's one for you: South Carolina and Steve Spurrier going up against Lane Kiffin and the West Coast version of USC. Spurrier's not the biggest Kiffin fan. Then again, who in the SEC is? Something says the buildup to that game could be as entertaining as the game itself.
Finally, LSU and Notre Dame played 10 times between 1970 and 2006 and are all knotted up, 5-5. It's time to break the tie. Talk about two of the best fight songs in all of college sports and two programs steeped in tradition.
Well, you have the rundown. Tell us which matchup you'd most like to see, and we'll go over results next week.
May, 10, 2013
May 10
9:19
AM CT
Inspired by
Florida's "#ComePlayWRFortheJoker" campaign
, our recruiting writers looked at other ways schools can sell themselves on the trail. Here's a look at recruiting pitches for the SEC:

Alabama Crimson Tide
What they are selling:
What's not to sell? Alabama is coming off back-to-back national championships, and the Crimson Tide had nine players taken in April's NFL draft, including three in the first round. For the critics who say you won't play early at UA, ask
T.J. Yeldon
and
Amari Cooper
how much they contributed as freshmen.
What they are missing:
Although they won a national championship, the Tide didn't generate much pass rush last fall, and they had trouble containing freshman sensation
Johnny Manziel
. Also, they need to rebuild the offensive line, a unit that anchored the offense last year.

Arkansas Razorbacks
What they are selling:
New head coach Bret Bielema runs a completely different offensive system than the previous two Arkansas coaches. The Razorbacks are selling an opportunity for freshmen to come in and earn playing time early in their careers.
What they are missing:
The Razorbacks signed only one offensive lineman,
Denver Kirkland
, who was rated a four-star prospect or higher last year. In this run-heavy system, look for Arkansas to focus on landing talented players along the offensive line.

Auburn Tigers
What they are selling:
It's a new regime for Auburn, but there's a familiar face running the show. New head coach Gus Malzahn knows the program from his days as offensive coordinator. He's already shown the ability to recruit, stealing ESPN 150 linebacker
Tre Williams
away from the Tide. There's a sense of excitement on The Plains again.
What they are missing:
Malzahn filled out his first recruiting class with playmakers, but Auburn needs to build up front on the offensive and defensive lines. No matter what offense you run, if you want to win in the SEC, you need to be able to compete up in the trenches.

Florida Gators
What they are selling:
With no proven wide receivers on the perimeter, Florida is attempting to sell early playing time at the position. A chance to play for one of the best defensive minds in college football in Will Muschamp is another selling point to defensive prospects.
What they are missing:
Production on offense. After finishing 114th nationally in passing offense, it will be hard to sell playing time to wide receivers without an explosive passing game in place.

Georgia Bulldogs
What they are selling:
Freshmen, if they're good enough, play early at Georgia. From running backs
Todd Gurley
and
Keith Marshall
to offensive tackle
John Theus
to defensive end
Jordan Jenkins
, several freshmen Bulldogs made major contributions on a team that was a few yards away from making the national championship game.
What they are missing:
Georgia has brought in four top-12 recruiting classes in the last four years. Depth might become an issue for some recruits, but Georgia has certainly shown a willingness to play younger players.

Kentucky Wildcats
What they are selling:
After finishing 2-10, Kentucky fired coach Joker Phillips. New head coach Mark Stoops is offering a fresh start and a chance to help build Kentucky in to a contender in the SEC East.
What they are missing:
Plain and simple -- tradition. Sure, Kentucky is full of basketball tradition, but the success on the hardwood completely overshadows the football program. A record 50,831 fans attended the Wildcats' spring game, so the interest level is certainly headed in the right direction.

LSU Tigers
What they are selling:
An unprecedented 10 underclassmen declared for the NFL draft. LSU is selling the opportunity, not only for early playing time because of the departures, but a chance to make it to the NFL in three years.
What they are missing:
Because of all the departures, there are some holes on both sides of the ball. Depth is now an issue at running back and LSU will need to replace
Eric Reid
,
Kevin Minter
, defensive ends
Sam Montgomery
and
Barkevious Mingo
, defensive tackle
Bennie Logan
and linebacker
Kevin Minter
.

Ole Miss Rebels
What they are selling:
Ole Miss landed the No. 5-ranked class in the country, including No. 1 overall player
Robert Nkemdiche
and No. 1 offensive tackle
Laremy Tunsil
. Look for Ole Miss to sell recruits on the opportunity to help build something special under head coach Hugh Freeze.
What they are missing:
Freeze brought a creative and innovative offense to the SEC, but the defense is still a work in progress. Ole Miss finished 12th in the SEC in pass defense and will need to continue to build depth in order to compete for the SEC West championship.

Mississippi State Bulldogs
What they are selling:
Only 11 of 22 starters return for a team that finished 8-5 last year. The Bulldogs offer recruits a chance to play early and play in the best division in college football.
What they are missing:
Mississippi State returns its starting quarterback
Tyler Russell
, but who will he be throwing to? Last year's four leading receivers, including Chad Bumphis, are gone. Look for the Bulldogs to focus on offensive weapons in this recruiting class.

Missouri Tigers
What they are selling:
The Tigers return 14 of 22 starters on a team that went 5-7 in its first year in the SEC East. Missouri runs a fun and innovative offense that is sure to attract recruits, and there is certainly an opportunity to play early.
What they are missing:
The defensive line is probably the most critical area on any defense in the SEC, and the Tigers lost their best lineman in Sheldon Richardson. Mizzou must find a viable replacement for Richardson and linebackers Zaviar Gooden and
Will Ebner
.

South Carolina Gamecocks
What they are selling:
The Gamecocks have been dominant on defense over the last few years, and a strong line is a big part of their success. South Carolina is selling an opportunity to be the next
Jadeveon Clowney
and be a part of one of the top defenses in the SEC.
What they are missing:
Hard to believe, but head coach Steve Spurrier needs help at wide receiver. The Gamecocks signed only one wide receiver in their 2013 class. They have young bodies, but not much depth or production from the returning group.

Tennessee Volunteers
What they are selling:
A fresh start under new head coach Butch Jones. Since 2011, Tennessee has finished with the No. 13, 21 and 29 recruiting classes in the country. There plenty of holes to fill, and any incoming freshman will have plenty of opportunities to earn a starting spot.
What they are missing:
Tennessee lost wide receivers Justin Hunter and Cordarrelle Patterson to the NFL draft and must replace their production on the outside. The Volunteers are also thin in the secondary and will look to recruiting to plug some key holes on defense.

Texas A&M Aggies
What they are selling:
There is a lot to sell a recruit on at Texas A&M right now. An explosive offense which led the SEC in total offense by more than 100 yards a game, Heisman Trophy winner
Johnny Manziel
and a team that went into Tuscaloosa and handed Alabama its only loss last season.
What they are missing:
There are still some holes to fill on defense. The Aggies finished with the No. 8-ranked defense in the SEC and the No. 10-ranked pass defense in the league. They also need to replace talented defensive end Damontre Moore, who is now in the NFL.

Vanderbilt Commodores
What they are selling:
Head coach James Franklin has taken Vanderbilt to a bowl in two consecutive years, and the Commodores are bringing in a solid recruiting class. Selling recruits on an opportunity to play at Vanderbilt during one of the best eras in the school's football history is enticing to high school recruits.
What they are missing:
Vanderbilt is not yet on par with other SEC schools as far as facilities. The Commodores, though, are certainly headed in the right direction. A new indoor practice facility is being constructed, and stadium renovations are in the planning stages.
January, 8, 2013
Jan 8
9:00
AM CT
We've reached the end to another college football season, and yet again Alabama is on top. Nick Saban is the king of college football, and his Crimson Tide are looking down at the rest of the sport.
So how does the rest of the SEC stack up? Well, we have our final power rankings of the year right here:
1. Alabama (13-1, 7-1 SEC):
Total domination in the championship game and three titles in four years? A load of NFL talent on both sides of the ball? Alabama had it all (again), and even with a team that didn't exactly have the same sort of defensive talent as it did a year ago, the Crimson Tide still made it to the BCS title game and came away
with a commanding 42-14 victory
over Notre Dame in a game that was over when the Tide arrived on South Beach. With the talent Alabama has coming back, the Tide could once again be in the national championship picture.
2. Texas A&M (11-2, 6-2 SEC):
Thanks to Johnny Football, the Aggies ended the season as one of the nation's hottest teams. There are some out there who think A&M might be the best team in the country, despite its two losses.
Johnny Manziel
was the nation's best player and even without Kliff Kingsbury helping him on the sideline against Oklahoma, he ran all over the Sooners for a bowl-record 516 total yards in a total rout. Imagine if both of those Aggies tackles return in 2013.
3. Georgia (12-2, 7-1 SEC):
The Bulldogs capped off the 2012 season with
a 45-31 win over
Nebraska in the Capital One Bowl. It wasn't exactly the bowl the Bulldogs wanted to be in, after coming up just yards short of making it to the BCS title game in Alabama's place, but you have to admire how this team came out and won like it did. Back-to-back SEC title game appearances is nothing for this team to be ashamed of.
4. South Carolina (11-2, 6-2 SEC):
The Gamecocks had a legitimate shot at our No. 3 spot, but at the end of the day, Georgia's appearance in Atlanta, coupled with its 14-point bowl win, kept South Carolina behind the Bulldogs. Still, what a year for the Gamecocks. Behind the coaching of Steve Spurrier, South Carolina won 11 games in consecutive seasons for the first time in school history. The Gamecocks also beat back-to-back ranked opponents to close out the season.
5. Florida (11-2, 7-1 SEC):
After entering the postseason with arguably the country's best résumé, the Gators
fell flat on their faces
against Louisville in the Allstate Sugar Bowl. Their 10-point loss didn't show just how bad the game was for Florida. The Gators might not have wanted to be there and Florida clearly didn't show up for its first BCS bowl since 2009. But you can't discount what Florida did during the regular season. It didn't have a pretty offense, but it defeated four top-10 teams, including ACC champ Florida State in Tallahassee in a year in which the Gators weren't expected to win nine games.
6. LSU (10-3, 6-2 SEC):
The Tigers had a very up-and-down year, and it ended on a very down note with
that last-second loss
to Clemson in the Chick-fil-A Bowl. LSU was totally off its offensive game in the second half, turning to the pass more than the run. With that offense struggling in the fourth quarter, LSU's defense was left huffing and puffing as
Tajh Boyd
& Co. gutted it for three straight scoring drives. But LSU did win double-digit games for the third straight year, and it took Alabama down to the wire and beat Johnny Football.
7. Vanderbilt (9-4, 5-3 SEC):
The Commodores ended the season in historic fashion, with a seven-game winning streak (the longest since 1948), and won five conference games for the first time since 1935 and nine total games for the first time since 1915. That ninth win came in dominating fashion
with a 38-24 win
over NC State in the Franklin American Mortgage Music City Bowl. The Commodores turned into the team that
no one
wanted to play at the end of the season, and they carry a ton of momentum into 2013.
8. Ole Miss (7-6, 3-5 SEC):
The Rebels had quite the first year under new coach Hugh Freeze. For a program that won just six games in the two previous seasons, Ole Miss grabbed seven, including
its first bowl win
since 2009, this year. The depth was lacking all year, but the heart wasn't, as the Rebels were much more competitive and won three SEC games after entering the season on a 14-game conference losing streak. Freeze did a tremendous job of changing the culture in Oxford, but the players did a great job of responding to adversity all season.
9. Mississippi State (8-5, 4-4 SEC):
A year that started with such promise after a 7-0 start imploded and led to a lot of criticism about the talent on both sides of the ball. The second half of the season proved the first seven games were a farce. A lot of the defensive deficiencies were masked until the month of November, as the Bulldogs went 1-5 to end the year, including a blowout loss to Ole Miss in the Egg Bowl and
a 34-20 loss to
Northwestern in the TaxSlayer.com Gator Bowl.
10. Missouri (5-7, 2-6 SEC):
The Tigers would love to forget their first season in the SEC.
This
was supposed to be the Big 12 team that succeeded in its first year out of its comfort zone.
This
team returned too much not to win a few games in the SEC East. But injuries, most notably to quarterback
James Franklin
and that offensive line, and an offense that was constantly going in reverse made for a rough start in Missouri's new home. Offensive coordinator David Yost resigned at the end of the year, and this team has to find some sort of rhythm/chemistry on offense in 2013.
11. Tennessee (5-7, 1-7 SEC):
The Derek Dooley era ended with quite a whimper. For the second straight season, Tennessee missed out on the postseason because of a loss to one of its rivals. Last year, Kentucky ended the Vols' bowl hopes. This time around, Vandy's blowout win on Nov. 17 bounced Tennessee from a postseason appearance. For as much fun as the offense was to watch, the defense was awful for the majority of the season, finishing dead last in the SEC in total defense. New coach Butch Jones has some solid talent to work with, but a ton of questions surround this program.
12. Arkansas (4-8, 2-6 SEC):
Many thought the Razorbacks' dreams of a championship season probably ended when Bobby Petrino took that infamous motorcycle ride in April. Boy, were they right. John L. Smith tried to bring some energy to the program, but he and his players fell flat in a 4-8 season that saw the Hogs give up 30 or more points in seven games. The offense lacked its usual explosion and the Hogs began the year 1-4, with a shocking loss to Louisiana-Monroe in Little Rock, Ark.
13. Auburn (3-9, 0-8 SEC):
On paper, the Tigers had a host of young talent, but on the field, they were outmanned just about every single weekend. Auburn roamed around the bottom of most offensive and defensive categories in the SEC all season long. Coach Gene Chizik was fired only two years removed from winning a national title after going winless in conference play and being outscored 129-21 in his final three SEC games, including a 38-0 loss to Georgia and a 49-0 loss to Alabama in the season finale.
14. Kentucky (2-10, 0-8 SEC):
Outside of blowing out a Kent State team that was a win away from making a BCS bowl, nothing went right for the Wildcats this year. Injuries ravaged this team, as it had to turn to two true freshman quarterbacks and never found a consistent playmaker to help out on offense. The offense hovered around the bottom of the SEC all year and the defense surrendered 31 points per game, and coach Joker Phillips was fired before the season even ended.
August, 17, 2012
8/17/12
7:17
AM CT
Tyrann Mathieu is receiving a lot of schools, as he plans his college football future.
About 20 schools are interested in the All-American defensive back and have contacted LSU to
get permission to speak with Mathieu
. He has already visited McNeese State and Nicholls State officials said on Wednesday that they were granted permission to speak with Mathieu, but haven't heard from him.
What we still don't know is if Mathieu, who was dismissed from LSU for reportedly failing yet another drug test, will return to LSU in 2013. Reports surfaced this week that he was interested in sitting out the 2012 season, paying his own way at LSU and returning to the Tigers' football team in 2013. However, the school won't comment either way on it.
Sumlin names starting QB
Texas A&M coach Kevin Sumlin announced on Wednesday that redshirt freshman quarterback
Johnny Manziel
will
start for the Aggies
in the season opener against Louisiana Tech.
For a while it seemed as though redshirt sophomore
Jameill Showers
, who is the only quarterback with any game experience, would eventually win the starting spot, but Manziel made strides during fall camp and passed Showers after a solid showing during Texas A&M's scrimmage Saturday.
"Johnny has performed the best at this stage and we will proceed until the season opener with him getting the first-team reps," Sumlin said. "My policy is simple really; the best player plays. Competition is a great thing and we need more competition at all of our positions. All of our quarterbacks have competed well and I expect them to continue to push Johnny."
Dyer not playing football this fall
It now appears that former Auburn running back Michael Dyer
won't be playing football this fall
.
Dyer's uncle, Andre Dyer, told ESPN's Joe Schad that his nephew intends to enroll in classes somewhere, but won't play football this fall. Instead, he'll concentrate on returning in 2013.
Dyer's drama began with his indefinite suspension at Auburn for violating unspecified team rules before last season's Chick-fil-A Bowl and continued with him transferring to and later leaving Arkansas State. Dyer, who followed former Auburn offensive coordinator Gus Malzahn, was dismissed from Arkansas State for violating team rules.
Andre Dyer said the goal is now to "get Michael's head in the right place, work on building character and addressing issues before turning back to look at any interest from major schools."
That's certainly a good thing for Dyer, who eclipsed the 1,000-yard rushing mark as both a freshman and sophomore at Auburn. Football should be put on the back burner, as Dyer tries to get his life in order.
Mississippi State's stadium expanding
Mississippi State is about to begin its
$75 million expansion
of Davis Wade Stadium. It's expected to be finished before the 2014 season.
More than 6,000 seats will be added to bring the stadium's capacity to 61,337. There are also plans for a second high-definition video board, premium seating, restrooms and concession stands.
Mississippi State's new stadium capacity will rank just 12th out of 14 SEC teams, but expansion was needed, as the Bulldogs have sold out 16 straight games and have a waiting list for season tickets.
Lattimore strong during scrimmage
While he didn't play a lot in South Carolina's second scrimmage, running back
Marcus Lattimore
looked strong
as he continues to return from his season-ending knee injury in 2011.
Lattimore only played during the Gamecocks' first two offensive series, but rushed for 23 yards on five carries. Two of his runs went for first downs, and he also caught a pass for 5 yards. He didn't generate a lot of yards, but what pleased coaches was he was able to break several tackles during his runs.
"Marcus made a few runs," coach Steve Spurrier said. "There wasn't a lot of blocking, wasn't a whole lot of holes in there, but he's been going against the first defense."
Even with South Carolina's quarterbacks struggling at times during the scrimmage, freshman tight end
Jerell Adams
had an impressive outing, as he led all receivers by catching four passes for 83 yards and a touchdown.
For more on South Carolina's scrimmage, check out the Gamecocks'
official website
.
Gurley solid again in Bulldogs' scrimmage
Freshman running back
Todd Gurley
continued to impress during fall camp, as he led all of Georgia's running backs with 87 yards and two touchdowns on seven carries in the Bulldogs' second scrimmage. During Georgia's two scrimmages, Gurley has combined for 167 yards and two scores on 15 carries.
Fellow freshman
Keith Marshall
added 62 yards on five carries, while
Richard Samuel
and
Ken Malcome
rushed for 40 and 35 yards, respectively.
Coach Mark Richt wasn't too pleased with parts of the scrimmage, as turnovers became an epidemic.
"I saw some good things," Richt said. "Some good things happened, but I saw a lot of bad things. I saw three pics...bad interceptions, although
Corey Moore
made a great play on one. Every time the quarterback got touched, they fumbled. We weren't tackling the quarterback, but you're not supposed to fumble every time you're touched."
For more on Georgia's scrimmage,
check out the school's official website
.
August, 2, 2012
8/02/12
12:24
PM CT
Alabama and LSU played for college football's top prize a year ago, with the Crimson Tide winning 21-0 and capturing their second national championship in the past three years.
If the 2012 preseason USA Today coaches poll is any indication, the road to the national title will once again go through Tuscaloosa and Baton Rouge.


LSU will open the season No. 1 and Alabama No. 2, according to the 59 coaches who vote in the USA Today poll. You can see the entire preseason poll
here
.
Keep in mind that the coaches poll is one of three components used in the BCS standings, which will determine the two teams that play for the national title for the next two seasons, until the newly created playoff takes shape in 2014.
Alabama actually had more first-place votes than LSU (20 to 18), but the Tigers collected four more total points to claim the No. 1 spot.
A year ago, Alabama started No. 2 and LSU No. 4 in the preseason coaches poll. This is the third straight season that Alabama has started with a No. 1 or No. 2 ranking. The Crimson Tide were No. 5 in the preseason in 2009 when they won their first national title under Nick Saban.
LSU spent 11 straight weeks ranked No. 1 last season. This is the first time the Tigers have gone into a season ranked No. 1 since 1959. They were coming off a national championship in 1958.
The Tigers were No. 2 in the coaches preseason poll in 2007 when they last won a national title.
Not surprisingly, the SEC is well represented in the 2012 coaches preseason poll. Five of the top 10 teams are from the SEC.
Georgia is No. 6, South Carolina No. 9 and Arkansas No. 10.
This is the first time in school history that the Gamecocks have gone into a season ranked in the top 10 nationally.
Florida and Auburn give the SEC seven teams ranked in the preseason Top 25. The Gators are No. 23 and the Tigers No. 25.
For the record, there are seven SEC coaches voting in this season's poll -- Auburn's Gene Chizik, Vanderbilt's James Franklin, LSU's Les Miles, Kentucky's Joker Phillips, Georgia's Mark Richt, Alabama's Nick Saban and South Carolina's Steve Spurrier.
August, 2, 2012
8/02/12
11:00
AM CT
The impact that Texas A&M's membership in the SEC has had on recruiting is noticeable. The Aggies currently have a whopping 27 commitments in their 2013 recruiting class even though fall practice hasn't even started for Texas high schools. Many of the Aggies' commitments have said that the SEC membership is among the top reasons they chose Texas A&M.
Coach Kevin Sumlin has acknowledged that impact, noting that Texas A&M has "probably gotten a few more visits" and his coaches have had a few more "return phone calls" from recruits who might not otherwise have considered the Aggies if they weren't in what's widely considered to be the nation's premier football conference.
In its home state, it can be a selling point, since Texas A&M is the only school within the state that can allow a Texas high school football product to stay close to his home and still play in the SEC. And Sumlin has acknowledged that while the Aggies can and will recruit nationally, Texas will continue to be their primary emphasis.
To continue reading this article you must be an Insider
July, 17, 2012
7/17/12
10:04
AM CT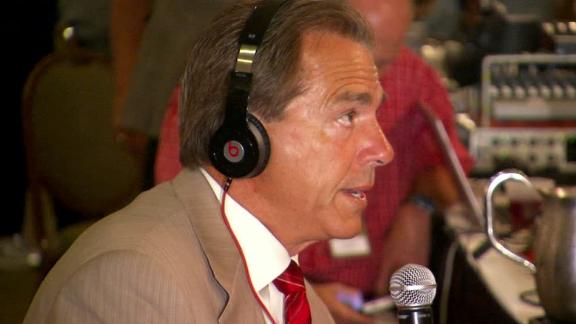 It's almost time for hundreds of media folk to pile into a swanky ballroom and kick off another year of SEC media days.
The festivities begin Tuesday at the Wynfrey Hotel in Hoover, Ala., and last until Thursday afternoon. The event serves as the unofficial kickoff to SEC football season.
So what should we be on the lookout for this year?

Well, the biggest news is all the star power that
won't
be making the trip. Two of the league's top rushers --
Marcus Lattimore
and
Christine Michael
-- won't be in town. Yes, they are both coming off season-ending injuries, but so is Arkansas'
Knile Davis
, and he'll be in attendance.
One of the league's best, Georgia quarterback
Aaron Murray
won't be in Hoover, either. Nor will Bulldogs wide receiver
Malcolm Mitchell
.
Some other big names not on the list include Alabama quarterback
AJ McCarron
, LSU cornerback
Tyrann Mathieu
, South Carolina defensive end
Jadeveon Clowney
and Missouri quarterback
James Franklin
.
There are a lot of interesting storylines revolving around all those players, who serve as faces for their respective programs, and it's disappointing that they won't be around this week.
However, some quality names are on this year's roster, including Georgia linebacker
Jarvis Jones
, Alabama offensive lineman
Barrett Jones
, Arkansas quarterback
Tyler Wilson
, Texas A&M linebacker
Sean Porter
, Tennessee quarterback
Tyler Bray
and South Carolina quarterback
Connor Shaw
.
I'm sure they'll all have plenty to say and should keep us all entertained.
Here are some other things to keep an eye on this week:
If you're coming into town, make sure you bring your protective gear for Thursday. That's when Alabama's up, and you'd better believe the lobby will be jam-packed with Tide fans. They come out in full force and expect things to be even tighter this year after that championship.
Arkansas players will have to answer a lot of questions surrounding their former coach, Bobby Petrino. How much of a distraction will his exit be this fall?
Also, what will new Arkansas coach John L. Smith say? He sure knows how to make a news conference exciting, so don't expect anything to be different in front of all those SEC scribes.
One coach not afraid to put on a show while at the podium is South Carolina's Steve Spurrier. The Head Ball Coach has been chirping this year, and he probably won't stop in Hoover.
Last year, there were a lot of questions about the quarterback talent in this league. This year, that isn't the case, as the league is as plentiful at the position as it has been in years.
Although only Davis will be in town, expect a lot of talk about three of the league's best running backs all coming off major, season-ending injuries.
Georgia has had an eventful offseason away from the field, and it's time to see how players and coach Mark Richt are feeling about all of the silly distractions. Also, what's in store for the Bulldogs' running game now that Isaiah Crowell is gone?
I wonder how many times Nick Saban and his players will be asked questions about comparisons to the 2010 team. You know how much Saban loves comparison talk. ...
Tennessee coach Derek Dooley should field a lot of questions about his job security this week. Regardless of how you feel about the time he's had and all the issues he's had to deal with, his seat is hotter than ever.
Texas A&M and Missouri are now officially members of the SEC. How will their players and coaches react to being surrounded by all those SEC writers? And how many more questions will they get about adjusting to their new conference?
LSU was on top of the college football world until last year's national championship. The Tigers bring back a boatload of talent, but can they finish things this year?
The good news for Auburn, South Carolina and Tennessee is their coaches won't have to deal with NCAA questions, unlike last year.
July, 13, 2012
7/13/12
8:41
AM CT
We're always looking for the next best thing. The coaching world isn't any different.
Who's the next Urban Meyer? The next Chris Petersen? What about another Brady Hoke?
Who's that next great assistant who rises up the ranks and takes over a major program ... and succeeds?

I'm not completely sure, but I have a few ideas. Here are some coaches lurking in the SEC who could be on their way to bigger and better things or are ready to take the next step with their current teams:
Head coaches
James Franklin, Vanderbilt: Franklin became the only first-year coach in Vandy history to guide the Commodores to a bowl game. He surpassed the program's win totals in each of its previous two seasons and signed arguably the school's best recruiting class in 2012. He brought attitude, confidence and a bit of swagger to the program. He could have left after one year but is really looking to turn things around at Vanderbilt.
Dan Mullen, Mississippi State: Bulldogs fans probably don't like hearing this, but Mullen is becoming a hot name among the coaching ranks. In his three seasons in Starkville, he has guided Mississippi State to two straight bowl wins. In 2010, he led the Bulldogs to nine wins for the first time since 1999. Mullen says he is happy in Starkville, but if he continues to win, bigger schools won't hesitate to go after him.
Assistants
Shawn Elliott, South Carolina offensive line coach/running game coordinator: Steve Spurrier has raved about Elliott's impact on offense and bringing in the zone read package. Elliott has done wonders for South Carolina's offensive line, which was a continual sore spot in Spurrier's early years at the school. Elliott is also a dogged recruiter. Having grown up in Camden, S.C., Elliott is somebody to watch when Spurrier hangs it up. If he doesn't get that job, somebody is going to snap him up.
Rodney Garner, Georgia defensive line coach/recruiting coordinator: He has been at Georgia for a while and has been wooed several times by other schools. LSU went after him several years ago, and Lane Kiffin was interested in bringing him to Tennessee. In the past 12 years, he has coached plenty of NFL talent, including four first-round draft picks. He has consistently been one of the league's best recruiters as well.
Todd Grantham, Georgia defensive coordinator/associate head coach: He could start getting more looks for head-coaching gigs. He has vast NFL experience, including being a defensive coordinator at that level, and more schools are looking for coaches with NFL experience. Grantham has proven himself as a recruiter and worked under two of the best in the college ranks -- Frank Beamer at Virginia Tech and Nick Saban at Michigan State. He has made a tremendous difference in turning around Georgia's defense and has an edge about him that successful head coaches possess.
Chris Kiffin, Ole Miss defensive line coach/recruiting coordinator for defense: He is one of the bright young names among the assistant ranks. As the defensive line coach at Arkansas State, he coached up Sun Belt Defensive Player of the Year Brandon Joiner, who tied for third in the nation in sacks and 10th in tackles for loss. Arkansas State also led the conference and ranked eighth nationally in tackles for loss (7.62 per game) and tied for 15th in sacks (2.69 per game). He is a tremendous recruiter and helped bring in a solid defensive class in a short amount of time this spring.
Kliff Kingsbury, Texas A&M offensive coordinator: After being a standout quarterback at Texas Tech, he is considered one of the top young assistants in college football. He came over with Kevin Sumlin from Houston, where he helped guide the Cougars' offense to its record-setting year in 2011. Houston led the nation in total offense, passing offense and scoring in 2011 behind quarterback Case Keenum. The Cougars averaged 599.1 total yards per game, including 450.1 through the air, while scoring more than 49 points per game.
Paul Petrino, Arkansas offensive coordinator: He came over to help run Arkansas' offense with his brother, but after Bobby Petrino was fired this spring, Paul Petrino assumed the role as primary playcaller. In 2010, he guided an Illinois offense that broke school records for total points (423) and points per game (32.54). The Illini averaged 42.1 points and 448.9 total yards over the final seven games of the season. If he can keep Arkansas' offense going this year, his phone might start ringing a little more.
Bob Shoop, Vanderbilt defensive coordinator/safeties coach: He has been a head coach at Columbia and is innovative on defense, playing the kind of attacking style that attracts great players. He helped orchestrate one of the most impressive defensive turnarounds in the country last year, as Vanderbilt ranked ninth nationally in pass defense efficiency and 18th in total defense. Vandy's defense also ranked among the nation's top units in interceptions, points allowed and rush defense.
Kirby Smart, Alabama defensive coordinator: He is one of the best defensive coordinators around, and it seems like only a matter of time before he is a head coach somewhere. Smart has already passed on a few head-coaching opportunities. He is making $950,000 a year and is in a position to be picky with coaching jobs.
Trooper Taylor, Auburn wide receivers coach/assistant head coach: He is one of the hottest and most successful recruiters in the SEC. He brought in and trained some elite receivers at Oklahoma State and Tennessee before making his way to Auburn. He is continuing that trend and has turned Emory Blake into one of the SEC's best pass-catchers. He was co-offensive coordinator at Oklahoma State, and if Auburn's receivers make another jump, Taylor could be waving his towel elsewhere soon.
Frank Wilson, LSU running backs coach/recruiting coordinator: He has emerged as one of the sport's top recruiters. As a running backs coach, he has done a tremendous job with the Tigers. Last season, LSU averaged 202.6 rushing yards per game and tied a school record with 35 rushing touchdowns. Three backs eclipsed the 500-yard rushing mark. Wilson commands tremendous respect from his players.
David Yost, Missouri offensive coordinator/recruiting coordinator: He has been at Missouri for 11 years, but he has to start getting more attention as an exceptional playcaller. He has a great eye for talent and pointing out mismatches in his spread scheme. In 2011, Mizzou ranked ninth nationally in rushing (244 yards per game) and had one of the most balanced offenses, as Mizzou was one of only two schools in the country to average at least 230 yards rushing and passing in each game.
July, 10, 2012
7/10/12
9:39
AM CT
The SEC has the reputation of being the toughest conference to play/coach in. But what is it like to be in charge of one of these high-profile programs?
That's where we come in. As we take a deeper look into programs around the country this week, we're looking at how each program stacks up in every conference. In the SEC, there's always a fierce arms race going on, and getting left behind can be dangerous.

Today, we're ranking each coaching job in the SEC. We considered a lot of factors, including location, tradition, support, fan bases, facilities and recruiting access.
Here's how we ranked all 14 SEC jobs.
1. Florida:
For starters, Florida is all about location, location, location. It's in a state that produces some of the country's top talent and it's a state that players around the country will flock to. Thanks to Steve Spurrier and Urban Meyer, Florida has become a national brand like Ohio State, USC, Notre Dame and Texas. Recent significant facility upgrades and a tremendous fan base have only helped this be the top job in the SEC.
2. LSU:
It's one of just a handful of schools around the country that's considered
the
school in the state. Every football player in Louisiana grows up wanting to play in Tiger Stadium. Louisiana is also extremely bountiful when it comes to producing football players, and Texas is right around the corner. The facilities are top notch and the program has great tradition and a tremendous fan base.
3. Alabama:
Talk about extraordinary tradition. Though there were some down years before Nick Saban took over, there's no escaping the success this program has had. Prospects from all over are drawn to Alabama. There's tremendous support inside and outside for the program, and the facilities are some of the best in the nation. This is also a school that didn't hesitate to pay Saban the big bucks when the opportunity arose.
4. UGA:
There is so much talent around Athens that it's hard for Georgia not to have a top recruiting class year in and year out. Georgia's facilities are near the top of the conference, and the campus is gorgeous. The tradition and game-day atmosphere would draw anyone in.
5. Auburn:
While it's constantly knocking heads with Alabama, Auburn has plenty going for it. The campus is gorgeous, the stadium is one of the best game-day venues in the league and the fan base is extremely passionate. Auburn is in the heart of recruiting central in the Southeast, and the recently updated facilities are a major plus.
6. Tennessee:
While the Vols have struggled with consistency on the field lately, this is still an attractive job. Nearly $50 million was spent to build a brand-new football complex, Neyland Stadium has been spruced up over the years and the program does have a rich tradition. Though with the state not being so talent-rich, coaches are forced to target other areas in the Southeast to recruit.
7. Texas A&M:
The Aggies' tradition is well-known in college football. The game-day atmosphere is one of the best in the country, there is a great alumni base, their home state is filled with elite talent and the school is huge. Now Texas A&M can sell playing in the SEC to Texas athletes. But one thing that does hang over the program is that it's still playing second to the Longhorns.
8. South Carolina:
Spurrier has completely transformed South Carolina and proved he can win there. The state has an underrated talent pool, and Spurrier has made it a priority to get the best talent to come his way. The fan base is one of the most loyal ones in the country, standing by the Gamecocks even during the rougher years.
9. Arkansas:
The Razorbacks are basically the pro team of the state, and Bobby Petrino's success made it a very attractive job nationally. The fan base takes great pride in its program, and recent facility upgrades have really helped draw more attention to Arkansas. However, the state isn't as rich with talent as other southeastern states, meaning the Razorbacks have to turn to other states, such as Texas and Oklahoma, for more prospects.
10. Missouri:
New to the SEC, Missouri is making sure it keeps up in the arms race by upgrading and expanding Memorial Stadium. There's good tradition at Mizzou, but Gary Pinkel really turned things around and made the Tigers more relevant when he arrived in 2001. Location could be an issue for some southeastern prospects, but Pinkel and his staff are making a conscious effort to expand recruiting efforts into Georgia and Florida.
11. Ole Miss:
Oxford is the quintessential college town, rich with history and a game-day atmosphere envied by many, thanks to the Grove. The campus is beautiful, and the football facilities are pretty impressive. However, consistently recruiting top talent to Ole Miss has been a major issue for coaches, as the Rebels have won nine games or more just five times since 1971 and have had 11 head coaches during that time.
12. Mississippi State:
Starkville can be a little out of the way for people, and like Ole Miss Mississippi State is having to try to keep top Mississippi talent away from the likes of Alabama and LSU. The fan base is very loyal, and the program has seen a bit of resurgence since Dan Mullen's arrival. The school is also breaking ground on a new $25 million football facility.
13. Kentucky:
The football program will always be in the shadow of the basketball program. Even though Rich Brooks turned things around, it's hard to sustain that when Kentucky has to go out of state so much for recruiting and has to do a lot of projecting with prospects. Before last season, the Wildcats went to five straight bowl games, and recent upgrades to the Nutter Training Facility have players excited.
14. Vanderbilt:
The high academic standards leave coaches without the opportunity to recruit some of the top prospects, and Vandy only has been bowl eligible five times in school history. While the administration drug its feet on facilities for so long, the school agreed to upgrade facilities, including adding a new multipurpose practice facility, when James Franklin received a new contract last fall.
July, 9, 2012
7/09/12
2:58
PM CT
Earlier, we
ranked all 14 quarterback groups
in the SEC. Now, it's time to rank the top 10 SEC quarterbacks heading into the 2012 season.
Again, we are looking at overall talent, game-changing ability and experience. We also looked at past performances and projections for 2012.
Here are our top 10 SEC quarterbacks:
[+] Enlarge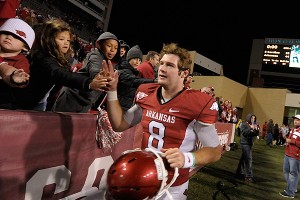 AP Photo/David QuinnArkansas quarterback Tyler Wilson passed for more than 3,600 yards and 24 touchdowns last season.
1. Tyler Wilson, Sr., Arkansas:
He could have easily left for the NFL after passing for more than 3,600 yards and 24 touchdowns last season. His big-time arm and incredible toughness weren't too shabby either. While his decision-making came into question sometimes last season, Wilson made tremendous strides this spring and should be an even smarter passer this fall.
2. Aaron Murray, RJr., Georgia:
Murray has a chance to own a few more school and SEC records before his time at Georgia is up, but he does have to get over his turnover issues. Murray has some of the best technique and mechanics around, and when he's on and focused, he is one of the most talented passers out there.
3. Tyler Bray, Jr., Tennessee:
Bray might have the strongest arm in the SEC, and has the ability to make some of the toughest throws in traffic. If he's healthy, he could go for 3,000 yards and 30 touchdowns. His focus hasn't always been great, but he made sure to correct that this spring and appears to finally be transforming into the
real
leader he's wanted to be.
4. AJ McCarron, Jr., Alabama:
He has the tools and the moxy to be a real star. As last season progressed, he looked better and better, and capped things off with a marvelous performance in the BCS title game. If coach Nick Saban is really going to let him loose, McCarron has to improve some of his on-field decisions.
5. James Franklin, Jr., Missouri:
If he's healthy, Franklin will be the SEC's top dual-threat quarterback. During a breakout season last fall, he passed for 2,865 yards and 21 touchdowns, and rushed for 981 yards and 15 more scores. Franklin wants to be a pass-first quarterback in his new league, but his shoulder injury is a concern.
6. Connor Shaw, Jr., South Carolina:
Shaw showed his inexperience when he was first thrown into the starting spot last season, but seemed to improve and calm down every week after. Coach Steve Spurrier wants him to be more of a pass-first quarterback, and that seemed to be the case at the end of last season and this spring.
7. Zach Mettenberger, Jr., LSU:
Mettenberger was a top quarterback prospect coming out of high school, but has very little experience outside of a stint at the junior college level after leaving Georgia. Still, he's certainly an upgrade for the Tigers, and showed this spring that he should make LSU's passing game stronger and more explosive.
8. Jordan Rodgers, RSr., Vanderbilt:
Rodgers was an instant playmaker for the Commodores when he replaced the struggling Larry Smith last year, but he struggled with turnovers. This spring was all about him improving his leadership skills and his game management. Vandy's coaches left spring more confident in Rodgers' play.
9. Tyler Russell, Jr., Mississippi State:
He bided his time during his first two years, but is now
the guy
in Starkville. The hope is that he'll be more consistent and more comfortable now that he knows he's the starter. It looks like the Bulldogs will have a more downfield passing game with Russell taking over.
10. Maxwell Smith, So., Kentucky:
Smith played in eight games last season, but proved to be a much more effective player than former starter
Morgan Newton
. Despite averaging just 102.4 passing yards per game, Smith earned SEC All-Freshmen honors last fall. Smith looked even better this spring, and it appears the Wildcats' starting quarterback spot is his to lose.