Texas A&M Aggies:

Sabian Holmes
April, 15, 2013
Apr 15
8:00
AM CT
COLLEGE STATION, Texas -- Texas A&M wrapped up spring football on Saturday with the annual Maroon and White game. After 15 practices, there's plenty to take away, but here's five things we learned during the Aggies' spring:
To continue reading this article you must be an Insider
March, 20, 2013
Mar 20
8:00
AM CT
COLLEGE STATION, Texas -- It was a little more than four months ago that
Malcome Kennedy
caught a pass that would long be remembered by Texas A&M fans.
The then-sophomore made what was arguably the biggest reception of the season hauling in a 24-yard touchdown pass from
Johnny Manziel
on a corner route that gave Texas A&M a 29-17 lead over No. 1 Alabama, a lead the Aggies wouldn't relinquish, eventually upsetting the Crimson Tide 29-24.
[+] Enlarge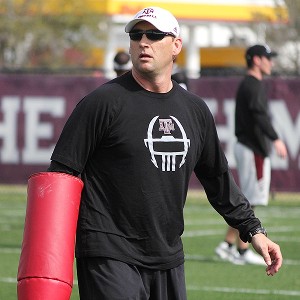 Sam Khan Jr./ESPNTexas A&M receivers coach David Beaty said he has liked what he has seen this spring from Mike Evans and Malcome Kennedy.
It was a brief moment in the spotlight and one of two touchdowns on the season for Kennedy, a product of tiny Cayuga, Texas, home to a Class 1A football program in East Texas. With seniors in front of him at the inside receiver positions --
Ryan Swope
and
Kenric McNeal
-- Kennedy didn't have to shoulder a load as a go-to offensive option for the 2012 Aggies.
This year, that changes -- for Kennedy and several others -- as the Aggies have waved goodbye to three senior starters and are working in a new crop of receivers this spring.
"Well, I've got a lot of new guys out there, obviously," Texas A&M receivers coach David Beaty said Tuesday. "Lost three starters from last year and some guys that played part time are back with us. A lot of youth in there getting a lot of reps. This is valuable, valuable time. This is exactly what spring ball is for. You get to evaluate new guys, guys that haven't played a lot, so it's a good opportunity for us to get to see those guys that didn't get to play a lot last year, how they've developed, and for guys that did get to play, them moving into new roles."
March, 4, 2013
Mar 4
3:30
PM CT
COLLEGE STATION, Texas -- Texas A&M kicked off spring practice for the 2013 season on Saturday and with it comes new players in new roles, new expectations and plenty of other changes.
Many of those changes could be seen on the
initial 2013 depth chart released
by head coach Kevin Sumlin. There are some absent names because of injuries and there's a long way to go before definitive statements can be made, but it certainly gives us some players and things to keep an eye on moving forward. Among them:
To continue reading this article you must be an Insider
March, 1, 2013
Mar 1
11:00
AM CT
Spring practice is rapidly approaching for Texas A&M. The Aggies hit the field for their first spring practice session on Saturday.

After a memorable 11-2 campaign that saw the Aggies impress observers in their first SEC season and redshirt freshman quarterback
Johnny Manziel
emerge as the Heisman Trophy winner, there's plenty to watch for in 2013.
Here are five storylines to keep an eye on as the Aggies begin spring drills:
To continue reading this article you must be an Insider
February, 28, 2013
Feb 28
11:00
AM CT
While there was one area where inconsistency reigned, special teams overall were solid for Texas A&M in 2012.
The kick and punt coverage units were good, and the Aggies were solid in the return game, particularly on punt returns. Punting was an area where the Aggies were solid as well.
To continue reading this article you must be an Insider
February, 18, 2013
Feb 18
1:00
PM CT
One area that will be a point of focus for Texas A&M fans this spring and heading into the fall will be wide receiver.
Three of the top four receivers from 2012 [in terms of receiving yards] and four of the top six will not be back in 2013. Senior starters
Ryan Swope
(72 catches, 913 yards),
Uzoma Nwachukwu
(26 catches, 485 yards) and
Kenric McNeal
(19 catches, 265 yards) have all graduated and freshman
Thomas Johnson
(30 catches, 339 yards) withdrew from school in November and appears unlikely to return.
The good news for the Aggies is that their top receiver in terms of catches (82) and yardage (1,105) will be back: redshirt freshman and soon-to-be-sophomore
Mike Evans
.
To continue reading this article you must be an Insider
January, 27, 2013
Jan 27
4:45
PM CT
The last few weeks have been intense for Southlake (Texas) Carroll quarterback
Kenny Hill
.
To continue reading this article you must be an Insider
January, 13, 2013
Jan 13
1:43
PM CT
Southlake (Texas) Carroll quarterback
Kenny Hill
has played in Cowboys Stadium before, but on Jan. 4 the Texas A&M commitment got the chance to be a spectator, watching the Aggies crush Oklahoma 41-13 in the AT&T Cotton Bowl.
To continue reading this article you must be an Insider
January, 4, 2013
Jan 4
11:30
AM CT
GigEmNation's Sam Khan Jr. took questions from fans on Twitter for a mailbag in advance of today's AT&T Cotton Bowl clash between Texas A&M and Oklahoma. Here it is:
From Manziel Fan Club (@JFFootball2):
Who do you think replaces EZ [
Uzoma Nwachukwu
] and
Ryan Swope
next year as starters. And [what will be] the role of
Tra Carson
and
Brandon Williams
next year?
Sam Khan Jr.:
I think
Malcome Kennedy
's emergence throughout the season means he'll certainly be a candidate to take Swope's role next season. The Aggies have a ton of receivers coming in the current recruiting class but I think Kennedy has already proven that he deserves time on the field and as long as he continues to show progress in the spring, summer and fall camp, it should be his job to lose. As for Nwachukwu's spot, I imagine
Sabian Holmes
,
Ed Pope
and
Derel Walker
are all possibilities. They're all young and unproven but they all have ability. That could also be a spot where one of the new recruits has a chance to fight for a job, perhaps someone like
Ja'Quay Williams
or
Ricky Seals-Jones
. As for Carson and Williams, my guess would be that Williams steps into a role similar to what
Christine Michael
had this year as the secondary back and a guy who can go between the tackles or hit the outside. I expect
Ben Malena
will still be the starter next year. Williams has a ton of ability though and if he can hold on to the football, I could see him push for a decent amount of carries. He's an explosive player. Carson, with his big body, my guess is he could have a role as a short-yardage guy.
To continue reading this article you must be an Insider
October, 22, 2012
10/22/12
12:00
PM CT
COLLEGE STATION, Texas -- Texas A&M lost a close, hard-fought battle with LSU 24-19 on Saturday at Kyle Field, a day where the Aggies struggled taking care of the ball and met a defense that is filled with speed, athleticism and depth. Here's a closer look at three plays that helped tell the story of the game:
Situation:
Texas A&M ball, third-and-6 at the Aggies' 35 (4:33 left second quarter)
Score:
Texas A&M 12, LSU 0
Result:
Interception by LSU CB
Jalen Collins
, returned to the LSU 42.
To continue reading this article you must be an Insider
August, 18, 2012
8/18/12
2:36
PM CT
COLLEGE STATION, Texas -- With fewer than two weeks remaining until their season opener, the Texas A&M Aggies scrimmaged on Saturday at Kyle Field as coaches hoped to get a closer look at the roster while they try to figure out who will make the travel roster in two weeks.
The workout was the Aggies' ninth in the last six days as they had three two-a-days (Monday, Wednesday and Friday). The scrimmage was their third practice in the last two days and coach Kevin Sumlin said it showed in the team's energy level.
"I was disappointed with the amount of energy that was out there," Sumlin said. "We're not a good enough team to just go out there and just play football and just go through the motions. We have to play with energy and I didn't see that today like we have been. We practiced twice yesterday, too. We had eight practices this week in five days and today would have been nine. We're going to give them tomorrow off, come in and watch video. The good news is we didn't get anybody hurt today. And we got 70 something snaps."
Among the notable happenings Saturday:
• Sophomore defensive back
Deshazor Everett
appeared to solidify his spot in the secondary. Whether it will be at cornerback or safety is still to be determined, but Sumlin made it clear that he'll be on the field based on his play during camp. Everett's best play of the day might have been a hit delivered to freshman receiver
Sabian Holmes
in the end zone that jarred the ball loose and led to an interception by linebacker
Jonathan Stewart
.
"There's no doubt he's going to be on the field, it's just where," Sumlin said. "He's a really good corner, but he's a physical guy in the middle of the field and that's a play that if he's at corner, who knows who's going to make that play and make that hit in the middle of the field? We've got to get our best four or five guys on the field. There's no doubt that he's going to be one of them."
• True freshman cornerback
De'Vante Harris
continued to impress the coaches again and it appears he might have also solidified his spot in the starting secondary. The Mesquite (Texas) Horn graduate has worked with the first-team cornerbacks in the Aggies' last two open-to-the-public scrimmages.
"I thought there were some guys out there that made some good plays," Sumlin said. "De'Vante Harris continues to hold his own."
• While newly-named starting quarterback
Johnny Manziel
got the snaps with the first team, the battle continues at quarterback with the next two quarterbacks, redshirt sophomores
Jameill Showers
and
Matt Joeckel
.
"Oh, that's going to continue all year," Sumlin said. "I told you at the beginning all three of those guys have played well and the key is as we told them, they're competitors, they understand there's only one guy who can play. As you can see, they're all still going to get better, because you never know. You never know when your chance is going to come."
• True freshman running back
Trey Williams
provided the crowd some more oohs and ahhs with his footwork. Though his day wasn't as productive as it was a week ago, when he ran for more than 100 yards and three touchdowns, he still showed the ability to gain positive yards, elude tacklers and even shed tackles. Sumlin noted that Williams fatigued as the scrimmage wore on.
"He got tired today," Sumlin said with a smile. "He was tired and got run down from behind. I'll give him a hard time for that. He's a good player."
• Sophomore running back
Brandon Williams
saw a lot of action in Saturday's scrimmage. The Brookshire (Texas) Royal standout, who transferred to Texas A&M from Oklahoma, is still awaiting word from the NCAA on his eligibility status for the fall. The school applied for a waiver on his behalf in hopes that he would be eligible and not have to sit out the season per NCAA transfer rules.
"We'll figure it out," Sumlin said. "I'm sure we'll hear something this week."
August, 17, 2012
8/17/12
4:01
PM CT
COLLEGE STATION, Texas -- Texas A&M will host its second open-to-the-public scrimmage of fall training camp and third overall scrimmage at 11:30 a.m. Saturday at Kyle Field. Here are some things to watch for in the scrimmage:
•
Johnny Manziel
: Now that the redshirt freshman has officially been named the starting quarterback, it'll be worth closely watching how he performs in a public setting. The Aggies are fewer than two weeks away from their season opener, so his continued progress will be key to Texas A&M's success. It will be also worth watching to see how the other quarterbacks perform in the wake of the decision.
• The return game: Finding a kick returner is something that still needs to be crossed off the to-do list for coach Kevin Sumlin and special teams coordinator Brian Polian. Polian mentioned that he's not afraid to look at freshmen as candidates and that includes running back
Trey Williams
and freshman receivers
Sabian Holmes
and
Thomas Johnson
.
To continue reading this article you must be an Insider
August, 14, 2012
8/14/12
10:00
AM CT
COLLEGE STATION, Texas -- No matter who wins the ongoing quarterback battle at Texas A&M, it's worth noting that there won't be any rotation of sorts or time-share between two or three of the candidates. Coach Kevin Sumlin indicated on Monday after the Aggies' evening practice that whoever it is, it will be one quarterback.
"I have traditionally not been a two or three-quarterback system guy," Sumlin said. "I think a guy's got to feel like he's got the team and I feel like a guy's got to feel like he's the backup and when his opportunity comes, if it comes, then he needs to be ready to play instead of shoveling guys in and out."
The battle between the trio of sophomores
Matt Joeckel
and
Jameill Showers
and redshirt freshman
Johnny Manziel
continues. Manziel and Joeckel shined during Saturday's scrimmage at Kyle Field and on Monday during a brief team session during the open portion of practice, Manziel lined up with the first team and Showers went with the second team, perhaps indicating that Manziel has taken the lead.
To continue reading this article you must be an Insider
August, 1, 2012
8/01/12
5:00
PM CT