Texas A&M Aggies:

Ryan Kelly
February, 20, 2014
Feb 20
1:00
PM ET
Granted, spring practice hasn't even started yet, but we here at the SEC blog want to give a little love to the "big uglies" in the offensive line. Go back and look at the last few SEC champions/national champions, and it's no coincidence that those teams were outstanding on the offensive line.
Who will be the top five offensive linemen in the league next season?
That's a tricky question because a lot can change between now and next fall, and offensive linemen all develop at different rates. For instance, did anybody have Auburn's Greg Robinson as the SEC's premier offensive lineman this time a year ago? Robinson exploded during the 2013 season and is now being projected by ESPN's Mel Kiper as the No. 2 overall selection in the 2014 NFL draft.
There's sure to be a player or two just like Robinson that really emerges next season. With that said, here's our early take on the SEC's top-5 offensive linemen going into the 2014 season. They're listed alphabetically:
[+] Enlarge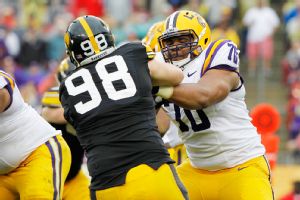 Kim Klement/USA TODAY SportsLa'el Collins has the potential to become one of the nation's most dominant left tackles.
A.J. Cann, OG, South Carolina, Sr.:
The heart and soul of a South Carolina offensive line that should be one of the best in the league next season, the 6-4, 314-pound Cann already has 38 career starts to his credit. He's a force at left guard and teams with tackle
Corey Robinson
, giving the Gamecocks an imposing left side of the line.
La'el Collins, OT, LSU, Sr.:
The Tigers breathed a sigh of relief, and with good reason, when the 6-5, 315-pound Collins decided to return for his senior season. He has everything it takes to be one of the most dominant left tackles in the college game. He was a second-team All-SEC selection last season by the coaches and started his LSU career at guard.
Reese Dismukes, C, Auburn, Sr.:
A starter for the Tigers since the day he walked onto campus, the 6-3, 297-pound Dismukes is the class of a deep and talented center crop in the SEC next season. He's tough, smart and has the kind of nasty streak coaches love. Dismukes was a first-team All-SEC selection by the coaches last season and a big reason the Tigers led the country in rushing with an average of 328.3 yards per game.
Cedric Ogbuehi, OT, Texas A&M, Sr.:
When you start listing the top offensive tackles in college football, don't forget about Ogbuehi. He'll be moving from right tackle to left tackle to replace
Jake Matthews
and has already proven that he's a top run-blocker and pass-protector at both guard and tackle. The 6-5, 300-pound Ogbuehi is an exceptional athlete and came back for his senior season despite receiving a first round grade from the NFL draft advisory board.
Laremy Tunsil, OT, Ole Miss, So.:
Even though the 6-5, 315-pound Tunsil is the youngest of this group, he might have the most pure talent. He took over the Rebels' left tackle duties last season as a true freshman and started nine games, earning second-team All-SEC honors from the AP as well as freshman All-America honors. He allowed just one sack all year from his position, and with an entire offseason and spring workouts under his belt, he should take an even bigger step in 2014.
Five more to watch:
November, 19, 2013
11/19/13
12:00
PM ET
Plenty of goings-on in the SEC today. Let's dive right into it:
October, 2, 2013
10/02/13
12:40
PM ET
It's Wednesday which means the SEC coaches and players have turned their attention to Saturday's opponent. See what's being said, who's going to play or not play and how teams are preparing in a sampling of news across the league.
September, 5, 2013
9/05/13
7:00
AM ET
TUSCALOOSA, Ala. -- There was something off about Nick Saban's demeanor following Saturday's season opener. He sounded too calm, too collected in the aftermath of the Alabama's 35-10 win over Virginia Tech. It wasn't that he was disinterested, but his post-game comments lacked the fervor we've become accustomed to when his teams don't play up to par, which was the case even though the scoreboard inside the Georgia Dome might have indicated otherwise.
Alabama's notoriously critical head coach was placid at the podium in Atlanta. Never mind the poor play from his offensive line, the inability to move the ball effectively on the ground or
AJ McCarron
's inconsistency passing the football, Saban wasn't ready to jump down his team's throat just yet. His "We've done nothing to prove we're No. 1" speech never made its customary appearance. Defending champion Alabama was 1-0 and he seemed content with that.
But on Tuesday, after three days of watching film, Saban met the press with a wholly different attitude. For the first time all year, he sounded genuinely upset. He said the Virginia Tech game should serve as a "wakeup call" and called for an improved effort from his team, which in itself wasn't shocking. … Then he promptly jumped on his soap box and talked about how we "live in a society now where everybody wants to do what they want to do."
[+] Enlarge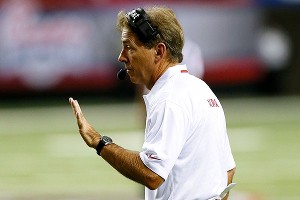 Kevin C. Cox/Getty ImagesNick Saban wants better execution from several areas when Alabama plays Texas A&M.
"Nobody wants to be obedient," he said. "Nobody wants to pay attention to rules or whatever. When you make a rule you've got to have your dog on a leash, somebody wants to have their dog not on a leash. That's the way it is.
"We can't have a team of people like that."
Saban raised his voice, cut off comments and even turned questions around on reporters during his news conference. All it took was someone to ask about the health of McCarron's toe and Saban was off to the races.
"You know, AJ's mobility is fine," he snapped, "and his mobility was fine in the game and there was nothing wrong with him in the game and I'm, you know, sort of sick and tired of talking about this B.S. All right? Cause it's nothing."
This was the Nick Saban we expected Saturday night. This was the Nick Saban more than willing to shout a message to players through the media.
With a date against No. 7 Texas A&M fast approaching, the heat is being turned up around the football facilities. The Aggies upset Alabama at home less than a year ago and no one around Tuscaloosa has forgotten how that loss felt. It very nearly kept the Tide from repeating as national champions. Highlights of
Johnny Manziel
's Heisman Trophy performance have played on televisions in the weight room and all players have been asked about around campus is how they'll stop him this time.
Everything has led up to this: Manziel, Texas A&M and the rematch of the year.
And in that respect, a sloppy game against Virginia Tech might have been exactly what Alabama needed. Had UA played perfectly in Week 1, whose to say what the team's mood would be today? Would complacency have set in? Would players have been overconfident heading into Texas A&M?
Alabama may still be ranked No. 1 in the country, but the attitude inside the locker room is that of an underdog.
"Obviously, we're 1-0 and that feels good," center
Ryan Kelly
said, "but we knew as a team afterward that we didn't make them quit. We felt like they walked away with a sense that they [Virginia Tech] didn't let Alabama take control of them. I think that's what everybody was disappointed about. We could have played a lot better than that and we know we're a better team."
When Kelly arrived at Alabama, he never expected a 25-point win to be viewed as a disappointment. But, as he said Tuesday, he caught on quickly.
"I didn't really know what type of beast I was walking into, I guess," he said. "That's just how it is at Alabama. The standard has been set high by the guys before us. We're always going to carry it out that way."
With an extra week to prepare for Texas A&M, Alabama has time to get back to that standard.
The offensive line, which was the best in the country last year, was suspect at first glance.
NFL scouts said they simply got beat
and that if their play doesn't improve, you could kiss the Tide's title chances goodbye. Those comments alone should provide a chip on every lineman's shoulder. They saw a tenacious front seven against Virginia Tech and lived to learn from it. The hope is that with time, the revamped line can establish the chemistry necessary to go on the road and move the chains.
The success of the offense as a whole depends on it. As we saw against the Hokies, without help up front, neither Alabama's passing game nor its running game could move the ball consistently. Three of the Tide's five touchdowns came on defense and special teams, and both scores on offense came from drives that began inside Virginia Tech territory.
"This week is very important because we get back to what Alabama's offensive line is about and that's being physical and making the defensive line quit," Kelly said. "I think that's what we're going to bring to Texas A&M."
Moving the ball and finishing off drives will certainly be at a focus against the Aggies, who finished first in the SEC in scoring a season ago. Keeping up with Manziel and the Aggies' up-tempo attack won't be easy. Going three-and-out seven times as it did against Virginia Tech could prove disastrous.
The good news amid the sense of disappointment is this: Alabama's front seven played well against an offense that should look similar to Texas A&M's. Hokies quarterback
Logan Thomas
isn't near the playmaker Manziel is, but he's nonetheless a good substitute with his ability to move the pocket and pick up yards with his feet.
Against Thomas, Alabama reversed its history of trouble against mobile quarterbacks. The defense adjusted and adapted, pressuring Thomas without losing containment. Thomas, who averaged 269.2 total yards per game a year ago, settled for just six yards on the ground and 56 yards through the air on Saturday.
Should the defense have similar success against Manziel next week, Alabama could be in good shape to leave College Station undefeated and in the driver's seat to return to the national championship. Just don't tell Saban that. He's still fixated on correcting mistakes.
In the end, it was hard to tell whether there was more good or bad to come from the season opener. But maybe that was for the best. The defense looked good and so did the special teams, but having every phase of the team running on all cylinders would have made for a boring lead up to what could be the most anticipated game of the season.
Disgruntled though he may be, Saban was able to see the silver lining. A day removed from his rant to the media, he put the game in perspective, saying it was a relief to have his players see they weren't as good as they thought they were.
Having that edge could be the difference.
"It was a wakeup call to some of the areas of our team that didn't execute very well," Saban said on Wednesday morning. "I don't think there's any question about the fact that if we take this the right way, it can help us improve."
Three Aggies Arrested After Traffic Stop
SEC SCOREBOARD
Thursday, 8/28
Saturday, 8/30
Sunday, 8/31