Texas A&M Aggies:

R.C. Slocum
November, 22, 2013
11/22/13
2:00
PM ET
How long has it been since Texas A&M traveled to Baton Rouge, La., to play LSU at Tiger Stadium? Aggies coach Kevin Sumlin offers perspective.
"It's a little bit different for our current players than maybe it is for our former students or our fans," Sumlin said. "That was [19] years ago. Guys like [starting middle linebacker]
Darian Claiborne
, shoot, they couldn't even
walk
the last time we went to Tiger Stadium."
[+] Enlarge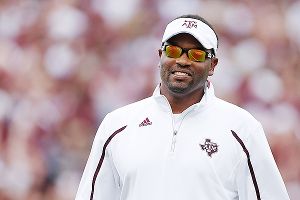 Scott Halleran/Getty ImagesKevin Sumlin will take Texas A&M back to Death Valley for the first time in 19 years.
To be exact, Sept. 3, 1994, was the previous trip the Aggies made to Death Valley. Texas A&M won 18-13, and the teams played the next season at Kyle Field, a 33-17 win for the Aggies.
The 1995 battle was the last of 10 straight and the teams didn't meet again until the Cotton Bowl brought them together in 2010. The major shifts that shook up college football because of conference realignment have broken up many rivalries, but in this particular case, it rekindled an old one, with the Aggies and Tigers becoming conference mates in the SEC West Division.
LSU and Texas A&M have a long history together; the Tigers lead the all-time series 28-20-3. Former Texas A&M coach R.C. Slocum, who coached in seven of those battles, called it a "great rivalry."
"I think over the years it's been a natural thing because the closeness of the two states and the environment," said Slocum, who was born in Louisiana and coached high school football in that state, but grew up in Orange, Texas, virtually on the Texas/Louisiana border. "There were so many people, particularly in Southeast Texas and in Houston in the oil industry that had Louisiana ties. And if you went into southeastern Louisiana and down to New Orleans, again, because of the oil industry, there were a lot of people with Texas ties."
It was a bit of baptism by fire for former LSU coach Gerry DiNardo. When the teams met in 1995, it was DiNardo's first game as the Tigers' coach. And he had the unenviable task of coaching the season opener at raucous Kyle Field.
"I don't know that anybody wants to open up at A&M when you take over a job," DiNardo said with a laugh.
"I really didn't know much about it. I was in the Southeast for four years at Vanderbilt, then I went to LSU. When you first take over a job, there's so many things that you have to do that honestly, you don't pay much attention to your first opponent until it's close up.
"I did have an appreciation for the rivalry. It was a great setting and a good game."
The teams' first meeting dates to 1899 and the teams played sporadically until 1942, which began a series of seven straight years that the teams played. They met annually from 1960 to 1975, then not again until 1986, which started a string of eight consecutive matchups.
The teams were to continue playing through at least the 1997 season, but LSU chose not to play the final two games that were part of a 10-year contract that began in the 1988 season.
[+] Enlarge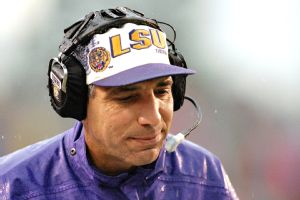 Andy Lyons/Getty ImagesGerry DiNardo's first taste of the rivalry came in his first-ever game as LSU's coach.
DiNardo suspects that the SEC expansion that turned the conference into a 12-team league and split it into two divisions in 1992 was a big factor in ending the rivalry at that time.
"When the SEC went to two six-team divisions, everybody thought they were all going to kill one another," DiNardo said. "I was at Vanderbilt the first year we had that and I'm sitting in the coaches' meetings and coaches were saying, 'We will never win another national championship game.'
"Alabama won it that year and obviously, the rest is history. Just the opposite happened."
Now the teams share the same division and will see each other annually. With Texas A&M not playing longtime rival Texas -- its former Southwest Conference and Big 12 Conference mate -- for the foreseeable future, it could be LSU that emerges as the Aggies' traditional Thanksgiving weekend rival. The teams are scheduled to play on Thanksgiving in 2014.
"I am ecstatic about LSU and being able to play on Thursday of Thanksgiving," Texas A&M athletics director Eric Hyman said when the SEC schedule was announced in August. "To be able to play LSU just makes a natural rivalry, the proximity and everything else."
There also should be some familiarity with players on each side, as LSU recruits Texas and Texas A&M recruits Louisiana. As long as Sumlin and Les Miles are coaching, that will continue. But for it to develop as a rivalry, the teams might have to play each other a few more times consecutively and it won't hurt if both teams are successful -- as they are right now, with both in the top 25 of the BCS standings -- when those meetings occur.
"For our fans, it has the potential [to become a rivalry]," Sumlin said. " . . . I've got a feeling that as soon as we try to get into Tiger Stadium tomorrow at about 12:30, they'll figure out what kind of atmosphere we're playing in and what kind of rivalry it is."
September, 4, 2012
9/04/12
3:11
PM ET
A little more spice has been added to Saturday's game between No. 24 Florida and SEC newcomer Texas A&M.
There's a humorous billboard standing in Gainesville, Fla., heralding Texas A&M and taking shots at the SEC.
[+] Enlarge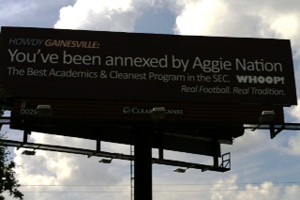 ESPN.com's Michael DiRoccoTexas A&M denies any involvement with this billboard displayed in Gainsville, Florida.
The billboard reads: "You've been annexed by Aggie Nation. The Best Academics & Cleanest Program in the SEC. WHOOP! Real Football. Real Tradition."
WHOOP, indeed!
Texas A&M spokesman Jason Cook said on Twitter that the university isn't associated with the billboard and had nothing to do with it being planted in Gainesville.
"The Gainesville billboard was NOT placed by Texas A&M University. We are investigating," Cook tweeted.
Cook later came out with a statement in which he clarified even more that the Aggies had nothing to do with the billboard:
"This billboard was not placed by Texas A&M University, and it is certainly not reflective of how we have handled our transition into the SEC. We are investigating aggressively, as we believe that our institutional trademarks have been infringed upon. Texas A&M has tremendous respect for the University of Florida, and we look forward to hosting the Gators in our first SEC football game this weekend."
Well, that's just no fun at all. Nothing wrong with a little trash talk and strategically placed billboards.
While the location of the billboard, which is at the intersection of 13th Street and 53rd Avenue, sits about four and half miles away from Ben Hill Griffin Stadium and Florida's campus, someone in Gainesville is bound to be irked by it.
"I really didn't pay attention to it," Florida safety Josh Evans said. "I saw it but my mind ain't on that. I'm about winning this game."
You just can't get upset at Texas A&M about it. The school didn't put it there and is associated with it by name alone. Still, it's funny. The creator of this sign used some interesting word play by stating that Texas A&M is the "cleanest" program in the SEC. How soon we forget about the two times A&M was hit with the "lack of institutional control" label under Jackie Sherrill and R.C. Slocum. And 1988 wasn't so great for the Aggies, as the NCAA uncovered numerous incidents involving improper incentives for prospective student-athletes.
Also, I think we can all agree that Vanderbilt takes home the academic trophy in this league.
The billboard is all in fun, but I'm sure Will Muschamp and his staff will find someway to use it as motivation for their players. And it's not like Texas A&M needs the Gators to be even more motivated. They are playing their first game of the season -- in their new conference, against a new conference foe -- while Florida is a game ahead. Florida can see what it needs to fix from an actual game. And something says the offense wants to do much better than it did over the weekend.
Recruits Miss Lone Star Showdown
SEC SCOREBOARD
Thursday, 9/3
Saturday, 9/5