Texas A&M Aggies:

Polo Manukainiu
October, 25, 2013
10/25/13
11:45
AM ET
COLLEGE STATION, Texas — The words "youth" and "inexperience" are frequently used to describe the Texas A&M defense this season.
The struggles are significant. The Aggies rank near the bottom of the FBS in most defensive statistical categories. According to ESPN Stats & Information, the five teams that have allowed more yards per game than the Aggies -- New Mexico State, Idaho, California, Nevada and Indiana -- have a combined record of 8-27.
Texas A&M is fortunate enough to have a 5-2 record (2-2 in the SEC). It certainly helps to have one of the nation's most high-powered offenses and a reigning Heisman Trophy winner at quarterback (
Johnny Manziel
).
For defensive coordinator Mark Snyder and his staff, it has been a challenge from the start of the season. Suspensions, injuries and ineffectiveness are all to blame.
The Aggies currently have 11 freshmen in their defensive two-deep depth chart. Two true freshmen (defensive tackle
Isaiah Golden
and linebacker
Darian Claiborne
) are starting. The four defensive line first-team spots include Golden and two sophomores. At linebacker, a former receiver who moved to linebacker this offseason (
Nate Askew
) is the starter at strongside linebacker. Of the seven linebackers on the Aggies' two-deep, only one (
Steven Jenkins
) started a full season at the position before this year.
Head coach Kevin Sumlin's first signing class that was completely under his watch had 32 members, 18 of whom were on defense. Of those 18, a dozen have already played this season.
But how did the Aggies get to this point, playing this many freshmen and newcomers? There are some juniors and seniors on the field, but there aren't nearly as many as there were a year ago when the Aggies went 11-2 in their debut season in the SEC.
In 2012, the Aggies were fortunate to have the benefit of some good leaders on defense and others who were productive. At linebacker, Sean Porter and Jonathan Stewart both provided leadership and production. Along the defensive line, Spencer Nealy made the move from defensive end to defensive tackle effectively despite not having the ideal size for the position. Steven Terrell was a steady and heady player at free safety. All four of those players were seniors and part of the 2009 recruiting class. So was Dustin Harris, who didn't always start but played plenty at cornerback and was the team's primary punt returner.
One defensive player still remains from that 2009 class: defensive tackle
Kirby Ennis
, who started last season and this year but suffered a season-ending knee injury on Sept. 28 against Arkansas. But last year's A&M starting defense was more than half made up of what turned out to be a solid recruiting class on the defensive side of the ball.
So to understand why A&M is in the position it is now, take a look at the recruiting classes on defense since then:
In 2010, the Aggies signed seven defensive players and two more that were offensive players but eventually moved to defense. Defensive end Damontre Moore turned out to be a star, but declared for early entry into the 2013 NFL draft with a year of eligibility remaining. For a team that's lacking in its pass rush (only three FBS teams have fewer sacks than Texas A&M's seven this season) a guy like that could help. Of the remainders in that class, three are starting: Toney Hurd Jr. at nickel back, Gavin Stansbury at defensive end and Askew, who was recruited and spent his first three years at receiver, at strongside linebacker. Two others (defensive tackle Ivan Robinson and quarterback Clay Honeycutt, who's now a reserve safety) are playing but not starting. Nehemiah Hicks was considered to be either a defensive end or tight end and became a tight end. The other two players in the defensive class are no longer on the team.
The 2011 class -- the final class signed by former head coach Mike Sherman -- brought 13 defensive players. Deshazor Everett, a cornerback with ability to play safety, is currently the defense's best player. Safeties Howard Matthews and Floyd Raven and linebacker Steven Jenkins also emerged as starters out of that group. One of the big fish landed late in that class, defensive end Brandon Alexander, has rarely played. He's now getting some playing time at tight end. Linebacker Donnie Baggs entered this season as the starting middle linebacker but is now a reserve. Tyrell Taylor is rotating at defensive end. The rest of the group hasn't made any impact at all. Five players in that group are no longer with the program.
The 2012 class, the first one Sumlin signed after essentially two months on the job, had some holdovers that committed to the program under Sherman. It is a mixed bag. Four of those players are starting as either true sophomores (Julien Obioha at defensive end, Alonzo Williams at defensive tackle and De'Vante Harris at cornerback) or in one case, a senior (cornerback Tramain Jacobs, who was a junior college transfer). Defensive end Tyrone Taylor, brother of Tyrell, gets some playing time at defensive end. Edward Pope, who was a receiver/defensive back, is playing receiver for the Aggies. A car accident took away one member from that class -- defensive tackle Polo Manukainiu, who died in a crash in July and is being honored by the team every week this season. A spinal injury took away another member, linebacker Michael Richardson, who played as a freshman. He had successful surgery and was fortunate to not suffer any major physical issues, but is no longer playing football. Defensive back Kenneth Marshall, though on the team, was not part of the 105-man roster during preseason training camp. Linebacker Jordan Richmond transferred to Navarro College in the offseason and one player in the class, defensive tackle Edmund Ray, never made it to campus because of qualifying issues.
August, 31, 2013
8/31/13
8:52
PM ET
COLLEGE STATION, Texas -- There are several reasons Texas A&M was so highly thought of and had lofty expectations coming into the 2013 season.
The No. 7 Aggies, who were ranked in the top 10 of both preseason polls (they were No. 6 in the coaches' poll), returned a Heisman Trophy-winning quarterback, a plethora of running backs and an All-America caliber tackle, and play a style of offense that many SEC teams -- defending champion Alabama included -- find hard to defend.
And while there were several positives to take away from Texas A&M's season-opening 52-31 win over Rice on Saturday at Kyle Field, the win also illustrated that the Aggies still have a long way to go in several areas if they plan on fulfilling championship expectations.
[+] Enlarge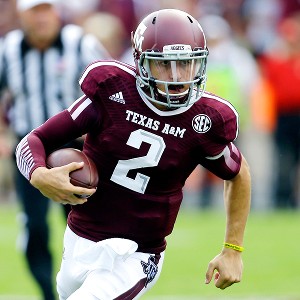 AP Photo/Eric GayThe good news is Johnny Manziel looked like his Heisman Trophy winning self once he got in the game. The bad news is the Aggies look like they still have lots of work to do if they want to win titles.
One of those areas is maturity. Head coach Kevin Sumlin discussed that after the game, and while he was specifically addressing it in relation to the ejection of freshman defensive end
Daeshon Hall
and the unsportsmanlike conduct penalty drawn by quarterback
Johnny Manziel
after a touchdown pass, Sumlin's words can apply across the board.
The Aggies had eight players miss at least the first half of Saturday's game. Four were suspended for "violating Texas A&M athletics department rules and regulations." Three were suspended after offseason arrests and Manziel was suspended for the first half after "inadvertent violations" that occurred as a result of signing autographs after the conclusion of an NCAA investigation.
That was also part of Manziel's message, according to Sumlin, to his teammates when he addressed them on Friday as part of the requirements of restoring his eligibility.
"Actions just like today and just like other guys on this team, those actions may be actions that you think just hurt you, but they end up hurting the whole football team," Sumlin said. "That was the real gist of [Manziel's] message to the team. That everybody's individual acts affect the team. When that happens, it's not good."
Of the suspended players, five were defensive starters (defensive tackle
Kirby Ennis
, cornerbacks
Deshazor Everett
and
De'Vante Harris
, linebacker
Steven Jenkins
and defensive end
Gavin Stansbury
). Another, Floyd Raven, is a key player expected to contribute this fall and was one time projected to start at free safety before
Clay Honeycutt
wound up first on the depth chart after a strong training camp.
As a result, the Aggies' defense was filled with true freshmen and newcomers getting significant playing time on Saturday and ended up surrendering 509 total offensive yards. Now, Rice is a good team in Conference USA that could contend for the league title, but it's not nearly the caliber of opponent Texas A&M will see on its SEC schedule. The Owls ran for a whopping 306 yards -- six yards a carry -- and appeared able to run right at the Aggies' defense.
The Aggies struggled with missed tackles and missed assignments, which are to be expected when you have a significant number of 18- and 19-year-olds on the field.
"We played 20 guys out there that had never played before," Sumlin said. "Is that an excuse for our play? No. I think we learned from today."
The Aggies regain the services of Ennis and Raven next week, though Everett will again have to sit out a half, by rule, because he was ejected in the second half after being called for a targeting penalty. The other four suspended -- Jenkins, Harris, Stansbury and receiver
Edward Pope
-- won't return until Sept. 14 when the Aggies host No. 1 Alabama.
But there were plenty of positives to be seen as well, most notably in the win column. Backup quarterback
Matt Joeckel
showed he was capable of moving the offense, leading the Aggies to 28 first-half points while putting up more than respectable numbers (14-of-19 passing, 190 yards). Joeckel's lone touchdown pass was a 71-yard catch-and-run completion to an apparent star in the making, 6-foot-5, 240-pound true freshman receiver
Ricky Seals-Jones
.
Players who are considered to be among the team's leaders, running back
Ben Malena
(100 total offensive yards, two touchdowns) and
Mike Evans
(84 receiving yards, two touchdowns) played their roles aptly. The kicking game was consistent as
Taylor Bertolet
was perfect on all his kick attempts, something he struggled with last season. And as Sumlin noted, the positive to having so many young players on the field on defense means they'll have a chance to learn from their mistakes and develop. Though there were struggles, they came up with turnovers and still did enough to win.
Most importantly, the Aggies got their quarterback, Manziel, back on the field in the second half and he looked like the player who captivated the nation a season ago. He was 6-of-8 passing for 94 yards with three touchdown passes and showed his trademark scrambling ability, though Rice did a solid job of keeping him from running too wild.
This is a team that has encountered a lot this offseason. From the headlines Manziel made and the NCAA investigation, to the suspensions and most importantly, the death of a teammate --
Polo Manukainiu
-- the Aggies have already dealt with their fair share of adversity.
The Aggies honored Manukainiu on Saturday by wearing decals with his number, first name and a Tongan-inspired design on their helmets and electing sophomore defensive tackle
Alonzo Williams
to wear Maunkainiu's No. 90. The team will elect a different defensive lineman to do so each week as a nod to Manukainiu and his family that he is "still out there with us," senior defensive back
Toney Hurd Jr
. said.
This team has lofty goals. Hurd mentioned Saturday the team would wear the Manukainiu decal "each and every week, leading [up] to the national championship." If they plan to get there, they have a lot of work still to do.
August, 29, 2013
8/29/13
11:00
AM ET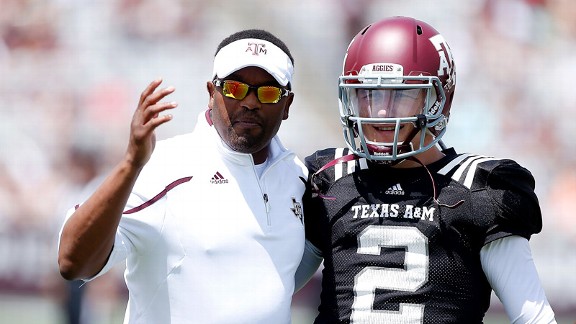 Scott Halleran/Getty ImagesIt's been a long offseason for Texas A&M, with Johnny Manziel's eligibility status and the death of Polo Manukainiu, so Kevin Sumlin and Co. can't wait to get back to playing football.
COLLEGE STATION, Texas — Since joining the SEC, Texas A&M football has been building.
Take one walk in front of the Bright Football Complex and evidence is everywhere. While you can hear the echo of quarterbacks barking commands, coaches making critiques and whistles blowing, those familar sounds are sometimes overshadowed by the sound of moving construction vehicle or the engine of an 18-wheeler.
Last year, it was a 20,000-square foot, $9 million football-only weight room. This year, it's a $4 million expansion of the Bright Complex's lobby and the addition of $12 million nutrition center where athletes can dine. Over the next two years, Texas A&M will renovate Kyle Field to the tune of $450 million.
On the field the Aggies are building for what they hope is a special season. With a preseason top-10 ranking, a Heisman Trophy winner returning at quarterback, a handful of returning starters in key spots and a plethora of talented newcomers added to a squad that was 11-2 in its first SEC campaign, hopes have been high for the Aggies this offseason.
When news came to light about an NCAA investigation into allegations that
Johnny Manziel
profited from signing autographs for brokers, dreams of that historic season required a brief pause. With his eligibility in question, it was uncertain how much field time -- if any -- he would miss. If he missed too much, the Aggies' hopes of an SEC West title, an SEC title, and perhaps even a BCS title, would likely be dashed.
But Wednesday the saga was resolved. The NCAA and Texas A&M released a joint statement indicating that Manziel has a few things to do to restore eligibility, including serve a suspension in the first half of Saturday's season opener against Rice.
What that means for the Aggies is that fans can go back to dreaming about what could be. Since the redshirt sophomore quarterback won't have to miss an extended period of time, he'll be on the field when the Aggies host No. 1 Alabama in a Sept. 14 showdown and every game thereafter as the Aggies attempt to do something they haven't since the last century: win a conference championship, and perhaps a national championship.
August, 10, 2013
8/10/13
8:00
AM ET
COLLEGE STATION, Texas -- Just days before the start of preseason training camp, the Texas A&M defensive linemen gathered at the home of position coach Terry Price for one of his signature backyard cookouts.
Price, a former Texas A&M defensive lineman himself, considers his group a family. So when the steaks and ribs hit the grill and his linemen gather, it's often a happy, joyous occasion.
The latest such reunion was missing one family member:
Polo Manukainiu
.
Manukainiu, a redshirt freshman defensive lineman for the Aggies, was one of three teenagers killed in a single car accident in northern New Mexico on the night of July 29. The crash also took the lives of Utah incoming freshman defensive tackle Gaius Vaenuku, 18, and 13-year-old Andrew Uhatafe.
Price's cookout, which took place just two days after Manukainiu's death, was a welcome occurrence as the Aggies mourned the loss of their teammate.
"I believe we needed to have that," sophomore defensive end
Julien Obioha
said Friday. "Come together as a family and celebrate [his life]. That's the one way we can always celebrate, is go over to Coach Price's house and eat some steaks. That's what we needed to do."
Today, the entire Texas A&M football team will turn its hearts and minds towards Manukainiu's family as the squad heads to the Church of Jesus Christ of Latter Day Saints in Colleyville, Texas for Manukainiu's funeral. Texas A&M head coach Kevin Sumlin plans to speak at the funeral.
On Friday, Sumlin welcomed Bill Johnston, the area director of the Brazos Valley chapter of the Fellowship of Christian Athletes and Mikado Hinson, the team chaplain at Houston where Sumlin coached previously, to speak to the team.
"[They talked] about reality, not ducking away from it but getting some things out in the open," Sumlin said. "It'll be an emotional situation for a lot of different people. For us to be able to deal with it openly as a team and to give support to each other and that family [today] is very, very important."
Teammates remember the 19-year-old Manukainiu as a hard-working young man of high character.
"He was a great guy, a very humble individual," senior defensive back
Toney Hurd
Jr. said Monday. "We were looking forward to him playing for us this year. It's extremely emotional going into camp but we'll dedicate our hard work and dedication to Polo throughout the season."
Defensive coordinator Mark Snyder joined the Aggies' staff around the time the Aggies began recruiting Manukainiu. He was rated as a four-star defensive tackle by ESPN and committed to Texas A&M on Jan. 29, 2012, following in the footsteps of a pair of relatives who also played at A&M, Semisi Heimuli (1996-99) and Lee Foliaki (2004-05).
"He's from a very strong family, a very tight family," Snyder said. "When I was in the home [for a recruiting visit], I had just got hired when we started recruiting Polo. I know how tight-knit they are and what a great kid he was. It's a little bit of a struggle [to cope with] to be honest with you."
Snyder remembers a pleasant Manukainiu.
"He always had a smile on his face," Snyder said. "Polo was a kid that liked to joke around quite a bit. He brought a smile to everybody's face....For a young guy, he brightened up a room when he walked in."
At 6-foot-5 and 275 pounds, Manukainiu was expected to be involved in the defensive line rotation after redshirting last season. He was a product of Texas high school powerhouse Euless (Texas) Trinity, the same school that Vaenuku attended.
"We talked [Friday] as a team about what time means to you and not taking time for granted," Sumlin said. "Everybody thinks that they have plenty of time. You never know."
Sumlin said it means a lot to be able to speak about Manukainiu at the funeral.
"For me to be able to talk and show our support to the family, to Polo's immediate family, is a big deal," Sumlin said. "He was a part of our family for a year-and-a-half but that's a son for 18, 19 years. For us to show our support, that's about all we can do at this point and it's a big deal for us to be there at that time."
Price said the last week and a half has been difficult for him and his defensive linemen.
"One thing I try to tell all of our guys, all of our group is that 'We're all a family,'" Price said. "Not only is the team a family, but the D-line group is a family. Any time you lose a family member, it hurts everybody. It's tough for everybody included, including myself, because I'm the leader of the group.
"We're all going to go up there together and try to help the family get through this tough, tough time and take part in the funeral. Then we'll come back and go back to work, but we're definitely going to miss Polo."
July, 30, 2013
7/30/13
12:55
PM ET
Texas A&M redshirt freshman defensive lineman
Polo Manukainiu
and University of Utah freshman defensive tackle Gaius Vaenuku
were killed in a single-car accident
in northern New Mexico on Monday night, according to officials from both schools.
Thirteen-year-old Andrew Uhatafe, who was also in the car, also was killed. Utah freshman offensive tackle Salesi Uhatafe and his father were also in the car at the time of the accident. Both survived. Salesi Uhatafe is Manukainiu's stepbrother and Andrew "Lolo" Uhatafe's brother.
The accident, which took place near Cuba, N.M., occurred when the driver over-corrected and the vehicle rolled several times, New Mexico State Police said. Police also said that Manukainiu and Uhatafe were ejected from the vehicle and died at the scene. Vaenuku was pronounced dead in an ambulance while being transported to the hospital.
Texas A&M quarterback
Johnny Manziel
tweeted this Tuesday morning after hearing of Manukainiu's passing:
"Heart hurts waking up to news about Polo.. I think I speak for everyone on our team when I say we love you brother you will be missed"
Our thoughts and prayers go out to the victims and their families.
March, 4, 2013
3/04/13
3:30
PM ET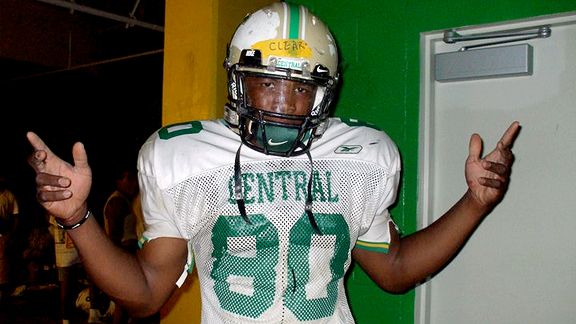 Denzel Wright With his size, tight end Cameron Clear would add a different dimension to the Aggies' offense.
COLLEGE STATION, Texas -- Texas A&M kicked off spring practice for the 2013 season on Saturday and with it comes new players in new roles, new expectations and plenty of other changes.
Many of those changes could be seen on the
initial 2013 depth chart released
by head coach Kevin Sumlin. There are some absent names because of injuries and there's a long way to go before definitive statements can be made, but it certainly gives us some players and things to keep an eye on moving forward. Among them:
February, 25, 2013
2/25/13
1:00
PM ET
The area that was probably of most concern for Texas A&M heading into the 2012 season was the defensive line.
With the Aggies entering their first year in the SEC, the coaches kept a close eye on the depth, particularly on the interior. But that unit turned out to be a pleasant surprise for the Aggies last season, playing consistently well throughout the year.
Now, as the Aggies go into spring football, there are again questions about the defensive line.
To continue reading this article you must be an Insider
December, 30, 2012
12/30/12
10:51
PM ET
The news of Texas A&M junior defensive end
Damontre Moore
's decision to declare for
early entry into the 2013 NFL draft
wasn't entirely unexpected.
[+] Enlarge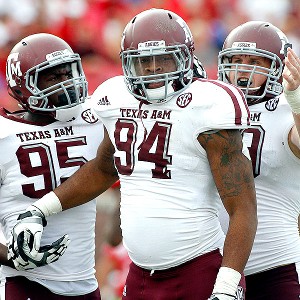 Ray Carlin/Icon SMIDefensive end Damontre Moore had 12.5 sacks for the Aggies after moving from outside linebacker.
After a strong junior season in which he earned first-team All-American honors from several publications and organizations and compiled some of the best statistics in the nation for his position (80 tackles, 12.5 sacks, 20 tackles for loss) in the Southeastern Conference, Moore's draft stock was as high as it has been. It could be argued that he wouldn't be able to elevate his stock higher than it is now.
So where do the Aggies go from here?
The good news is, there's another young defensive end on the roster, one who showed a lot of promise this season: freshman
Julien Obioha
. The 6-foot-4, 255-pound New Orleans Brother Martin product won the starting job at defensive end opposite Moore and showed flashes of his ability this season, with four quarterback hurries, six pass breakups, a forced fumble, a sack and 1.5 tackles for loss.
August, 15, 2012
8/15/12
9:50
AM ET
COLLEGE STATION, Texas -- Junior defensive end
Damontre Moore
is one of Texas A&M's best pass-rushers and showed that last year by recording 8.5 sacks, second on the team. That ability was also readily apparent on Saturday during the Aggies' first full, open scrimmage of fall training camp.
[+] Enlarge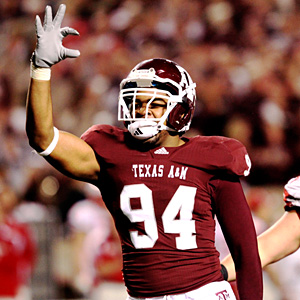 Thomas Campbell/US PRESSWIRETexas A&M is looking for more consistent play from defensive end Damontre Moore.
But it's not just all about sacks for the 6-foot-4, 250-pound veteran. Coach Kevin Sumlin said that while he enjoys the production Moore brings, he wants to see improvement in other areas.
"He is a guy that has made big plays," Sumlin said. "I think the problem with him is kind of a feast or famine deal, that he's made big plays but has showed the ability to hurt the football team with contain issues, jumping offsides, hasn't been able to stay (up) ... you look out there and he's flopping around on the ground. So he's a guy that we've got to corral. He's got to understand his role and become an every-down player that's consistent and not just (having) a great play and then we don't see you, and then a maybe a penalty."
Moore is part of a defensive line that Sumlin said is improving in terms of depth compared to where the Aggies sat at that position after spring practice.
With some shuffling, it appears that the Aggies are making progress in that department, particularly at defensive tackle where
Kirby Ennis
and
Jonathan Mathis
are working with the first team and as many as four others are seeing work behind those two. Senior
Spencer Nealy
and redshirt freshman
Shayvion Hatten
figure in behind those two with true freshmen
Polo Manukainiu
and
Alonzo Williams
also getting work there.
At the other defensive end spot, true freshman
Julien Obioha
continues to shine and is battling with sophomore
Gavin Stansbury
with true freshman
Tyrone Taylor
developing behind Moore.
"Those young guys have come in and done a nice job from an effort standpoint, have really, really pushed our veterans and given us a change of pace outside," Sumlin said. "So we basically have a whole new D-line than we had in spring, which (defensive line) coach (Terry) Price is happy about, but Coach Price is not getting a whole bunch of sleep. His hair is falling out and his eyes are red because he's working like crazy trying to get the proper match, the proper rotation.
"I think out of that group, we're not where we need to be, but I think we feel a lot better than we did leaving spring football when you can rotate that group in there and be able to play in the league that we're getting ready to play in."
• Secondary coach Marcel Yates called the battle at cornerback a "four or five man race" on Tuesday. The candidates?
Dustin Harris
,
De'Vante Harris
,
Deshazor Everett
,
Floyd Raven
and
Tramain Jacobs
.
"Those five guys are going to be our core guys," Yates said. "These next two weeks, they need to figure out who's going to be the guy to take that plunge and be the two guys that are going to start. They all want to start, which is great for me, because it keeps every guy on their toes and going hard.
As for De'Vante Harris, the only true freshman among the five named and a player who has been impressing the coaches in camp, Yates said "He's a playmaker."
To continue reading this article you must be an Insider
August, 13, 2012
8/13/12
12:30
PM ET
There are fewer than three weeks before Texas A&M kicks off its 2012 season Aug. 30 against Louisiana Tech in Shreveport, La. On Saturday at Kyle Field, the Aggies held their first full scrimmage of fall training camp. Here's a look at a few things we learned and how they might impact the team moving forward:
" The quarterback battle is truly that: While many assumed that redshirt sophomore
Jameill Showers
was the leader going into fall camp (and even junior running back Ben Malena referenced Showers' jersey number when talking about pass protection last week), redshirt freshman
Johnny Manziel
and redshirt sophomore
Matt Joeckel
each made compelling cases of their own Saturday with strong performances as Showers struggled. Head coach Kevin Sumlin indicated after Saturday's scrimmage that he could name a starter as late as the coming weekend, and if the scrimmage was any indication, this battle is far from over. All three are in the mix and will continue to compete this week, one in which the Aggies have eight practices plus another scrimmage.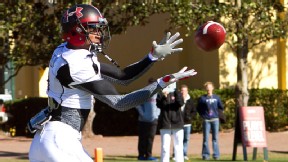 Davide De Pas for ESPN.comWide receiver Thomas Johnson has been one of the true freshmen getting first-team reps for Texas A&M.
" The Aggies have a budding star in the backfield: It may be too early to be making grandiose proclamations about true freshman running back
Trey Williams
, but he certainly didn't disappoint in his first live action in front of Aggies fans. The four-star running back was ranked fifth nationally at his position last year and 56th overall in the ESPN 150 out of Spring (Texas) Dekaney. So far he appears as advertised after rushing for 136 yards and three touchdowns on nine carries (unofficially). He provided the most oohs and ahhs to the onlookers at Kyle Field on Saturday with his swift footwork, balance and agility that allowed him to shake numerous defenders on the way to the end zone. The Aggies already have two quality backs with playing experience (senior
Christine Michael
and junior
Ben Malena
) but if Williams continues to get better, the coaching staff might have to make room for the 5-foot-8, 185-pound Williams. And while Williams starred, Michael showed on the few touches he has that he's healthy and ready for his senior season, which could be a good one if he can avoid the injury bug that bit him the last two seasons.
To continue reading this article you must be an Insider
August, 7, 2012
8/07/12
4:27
PM ET
As the 2012 season approaches, GigEmNation will take a look at where the Aggies stand currently and in the future at each position group. Today, we glance at the defensive ends.
[+] Enlarge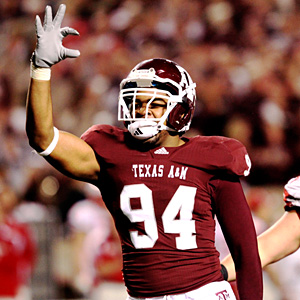 Thomas Campbell/US PRESSWIRETexas A&M's Damontre Moore is making tthe switch to defensive end from linebacker.
Current
On the depth chart: Brandon Alexander, Damontre Moore, Spencer Nealy, Caleb Russell, Gavin Stansbury

Moore, a 6-foot-4, 250-pound junior, moves to defensive end after spending last year at linebacker where he was fourth on the team with 72 tackles in 12 games (10 starts). He led the Aggies in tackles for loss (17.5) and had a team second-best 8.5 sacks. Nealy, a 6-5, 277-pound senior, starts camp as the other starting defensive end and earned honorable mention All-Big 12 honors a year ago with 45 tackles and eight tackles for loss. He moved into the starting lineup after
Jonathan Mathis
went down with an injury. Stansbury, a redshirt sophomore, played in all 13 games last year and recorded 3.5 tackles for loss and a sack while coming off the bench. Russell, a senior, had three starts and also appeared in all 13 games, recording 27 tackles. Alexander, a highly-touted recruit out of Brenham, Texas/Brenham, missed some time because of an injury last season and appeared in four games, recording 12 tackles and 1.5 for loss.
To continue reading this article you must be an Insider
Recruits Miss Lone Star Showdown
SEC SCOREBOARD
Thursday, 9/3
Saturday, 9/5