Texas A&M Aggies:

Oklahoma State Cowboys
June, 13, 2014
6/13/14
9:00
AM ET
Finally, football is back. Well, fútbol, actually.
The
World Cup
will consume sports fan across the globe for the next month, taking us right up to the outskirts of the college football season.
Many in Big 12 country know little about the World Cup, or what team to pull for outside the United States. So to give you soccer novices a rooting choice, we've come up with the fútbol counterparts for every team in the Big 12 (thanks to soccer aficionados
Royce
and Russ for their help in putting this list together):

BAYLOR
Belgium:
Baylor has been the up-and-coming squad in the Big 12, winning its first conference title last year. The Belgians are the up-and-comers of this World Cup, and a popular sleeper pick to win it all. Both have lethal offensive attacks, but still must prove their staying power this year.

IOWA STATE
South Korea:
On its home soil in 2002, South Korea pulled off three of the bigger upsets in World Cup history, knocking off Portugal, Italy and Spain to reach the quarterfinals. The Cyclones under coach Paul Rhoads have also been a giant killer at home, most recently upsetting second-ranked Oklahoma State to bounce the Cowboys from the 2011 national title race. With 21-year-old forward Son Heung-min leading the charge, South Korea boasts a potentially formidable offensive attack. And with nine offensive starters back this year, Iowa State has the chance to feature its best offense in a long time.

KANSAS
Australia:
Both had their finest moments around the same time -- the Aussies advancing out of its World Cup group in 2006; the Jayhawks winning the Orange Bowl in 2007 -- but the hearts of both fan bases lie in another sport (basketball for Kansas, rugby for Australia).

KANSAS STATE
Greece:
Greece is not flashy. But emulating the Bill Snyder playbook to success, the Greeks grind out victories (and ties) with stout defense, fundamental play and by avoiding mistakes. Like K-State, the Greeks have been defined by their coach (Otto Graham/Fernando Santos) more than any star player. And Greece's improbable 2004 Euro Cup title run might be the soccer equivalent of K-State's Manhattan Miracle.

OKLAHOMA
Germany:
The Germans have been the epitome of consistent success, advancing to the semifinals in eight of the last 11 World Cups. The Sooners have matched that level of consistency during the Bob Stoops era, with eight conference titles and a dozen double-digit win seasons over the last 14 years.

OKLAHOMA STATE
Portugal:
In recent years, both have piled up the wins and have featured plenty of star power. But they have failed to breakthrough when the spotlight has been the brightest. Portugal's "golden generation" flopped in the 2002 World Cup, losing to the U.S. in the opener before failing to advance out of the group stage. Oklahoma State could have clinched the 2010 and 2013 Big 12 titles, but slipped at home against rival Oklahoma. The Cowboys and the Portuguese have also had to exist in the shadow of two preeminent powers in their sports (Sooners/Spain). Still they have become two clubs nobody wants to play, and have reached enviable levels of year-to-year success.

TCU
Uruguay:
Uruguay is a small country surrounded by some of the giants in World Cup soccer. The same goes for TCU, which doesn't have the enrollments or resources of the likes of Oklahoma or Texas. But just like Uruguay, TCU has carved out success with a hardnosed style of play. Furthermore, Uruguay won the first World Cup ever played in 1930, while both of TCU's national championships came in the same decade (1935, 1938).

TEXAS
England:
All the tradition, history and resources. And yet in recent years, these two have been massive underachievers. In South Africa in 2010, the English surrendered the top seed in its group to the Yanks, then got obliterated 4-1 by Germany in the first game of the knockout round. The Longhorns, meanwhile, have failed to win more than eight regular-season games the last four seasons. Because of these struggles, both squads are flying somewhat under the radar, and the talent is still there for either to ignite a run. But first, someone -- anyone -- has to light the fuse.

TEXAS TECH
Mexico:
After an emotional roller-coaster ride through the qualifying stages, Mexico is feeling optimistic following a manageable World Cup draw and cleaner play of late. Texas Tech rode the roller coaster of a five-game losing streak last season, but is feeling confident these days coming off its dominating bowl performance against Arizona State.

WEST VIRGINIA
Ivory Coast:
Les Éléphants bring the fireworks with Didier Drogba and Yaya Touré the same way the Mountaineers have through the Pat White and Geno Smith eras. But while West Virginia dominated the Big East the way Ivory Coast has Africa, neither has been able to take that next step against the big boys. In its first two appearances in the World Cup in 2006 and 2010, Ivory Coast failed to advance out of its group. Likewise, the Mountaineers have struggled their first two years in the Big 12. Both have the individual talents of a championship-caliber club, but neither will contend until the depth improves.
January, 13, 2014
1/13/14
10:00
AM ET
After 16 years, the BCS era is finally over. Next season, college football will have a playoff instead.
With the BCS done, we've come up with our Big 12 all-BCS era team (1998-2013) below:
Offense
[+] Enlarge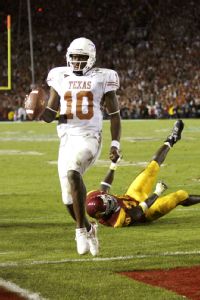 Scott Clarke/Getty ImagesWith Vince Young at the helm, Texas won a national title and Rose Bowl.
QB: Vince Young, Texas (2003-05) --
Young led Texas to its first national title in 35 years with an unforgettable performance in the Rose Bowl against USC. The Heisman runner-up also became the first QB in college football history to throw for 3,000 yards and run for 1,000 in the same season.
RB: Ricky Williams, Texas (1998) --
Williams was part of the BCS era for only one season, but what a season it was. He rushed for 2,327 yards and won the Heisman Trophy going away. Only Wisconsin's
Ron Dayne
has more career rushing yards than Williams (6,279).
RB: Adrian Peterson, Oklahoma (2004-06) --
Despite battling injuries throughout his career, Peterson still was a beast in college. After rushing for 1,925 yards while leading the Sooners to the national title game, he finished second in the '04 Heisman voting, even though there was still a stigma then in voting for a freshman.
WR: Michael Crabtree, Texas Tech (2007-08) --
Crabtree became the first two-time winner of the Biletnikoff Award, given to the nation's top receiver. In '08, he and QB
Graham Harrell
led the Red Raiders to an upset of Texas and a No. 2 ranking in the polls.
WR: Justin Blackmon, Oklahoma State (2009-11) --
Blackmon became the second and only other two-time winner of the Biletnikoff. In his final two seasons, he finished with 233 receptions, 3,304 receiving yards and 38 touchdowns, and he helped propel the Cowboys to their first Big 12 title in '11.
TE: Chase Coffman, Missouri (2005-08) --
Coffman had a monster statistical college career for a tight end with 247 catches for 2,659 receiving yards and 30 touchdowns. He won the '08 Mackey Award, given to the nation's top tight end. Missouri won 37 games during the four years Coffman was in the lineup.
OT: Jammal Brown, Oklahoma (2001-04) --
Brown was a unanimous All-American and a three-time All-Big 12 selection. He became the fifth Sooner to win the Outland Trophy, awarded to the nation's top interior lineman.
OT: Russell Okung, Oklahoma State (2007-09) --
In Okung's final two seasons, Oklahoma State led the Big 12 in rushing yards. The Cowboys were also third in the country in '07 in fewest sacks allowed with Okung at left tackle. He was a unanimous All-American and Outland finalist in '09 and became the sixth overall pick in the '10 NFL draft.
OG: Cyril Richardson, Baylor (2010-13) --
Richardson became Baylor's seventh all-time unanimous All-American. The Outland finalist was also a key piece on the nation's highest-scoring offense this season.
OG: Justin Blalock, Texas (2003-06) --
Though a guard in the NFL, Blalock actually started 50 games for Texas, most coming at right tackle. He was a three-time, first-team All-Big 12 selection and a consensus All-American in 2006.
C: Dominic Raiola, Nebraska (1998-2000) --
Raiola was the inaugural winner of the Rimington Award, named after former Nebraska center Dave Rimington, which recognizes the best center in college football. He was an Outland finalist and a consensus All-American.
APB: Darren Sproles, Kansas State (2001-04) --
One of the most prolific all-purpose performers in college football history, Sproles finished his career with 6,812 all-purpose yards. Among his 39 consecutive starts, his most memorable performance came in the '03 Big 12 championship, when he had 235 yards rushing and 88 receiving, as K-State upset top-ranked Oklahoma 35-7.
Defense
DE: Brian Orakpo, Texas (2005-08) --
Orakpo captured the '08 Nagurski Award as the most outstanding defensive player in the country, and the Lombardi Award, given to the best college lineman or linebacker. He also was the Big 12 Defensive Player of the Year and a consensus All-American while piling up 11 sacks his senior year.
DE: Von Miller, Texas A&M (2007-10) --
Out of a hybrid defensive end/linebacker role, Miller led the nation with 17 sacks in '09. He was a two-time All-American and won the Butkus Award in '10 as the nation's top linebacker.
DT: Ndamukong Suh, Nebraska (2005-09) --
There was no more dominant defensive player in college football during the BCS era. Suh finished fourth in the Heisman voting in '09 and won several national awards, including the Outland, Lombardi, Nagurski (most outstanding defensive player)and Bednarik (defensive player of the year). He was also a unanimous All-American and the Big 12 Defensive Player of the Year.
DT: Tommie Harris, Oklahoma (2001-03) --
Harris was a force from the beginning as a freshman on the OU defensive line. He won the Lombardi his junior year, and he was a two-time consensus All-American, garnering unanimous honors in '03.
LB: Derrick Johnson, Texas (2001-04) --
Johnson was a menacing linebacker for the Longhorns, earning consensus All-American honors in '03 and unanimous honors in '04. He was also a three-time, first-team All-Big 12 selection, and won the Butkus (best linebacker) and Nagurski awards as a senior. Johnson finished his career with 458 tackles.
LB: Rocky Calmus, Oklahoma (1998-2001) --
Calmus played a major role in OU's resurgence under Bob Stoops. He won the Butkus in '01 and was a finalist for the Nagurski and Bednarik. A three-time All-Big 12 pick, Calmus led the Sooners in tackles in all three of those seasons.
LB: Teddy Lehman, Oklahoma (2000-03) --
Lehman too won the Butkus, beating out Johnson for the award in '03. He also was Big 12 Defensive Player of the Year, captured the Bednarik, was a unanimous All-American and played in two national championship games.
[+] Enlarge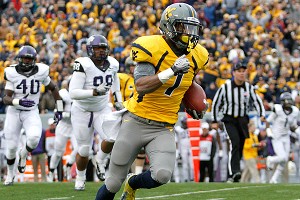 Justin K. Aller/Getty ImagesWest Virginia receiver and returner Tavon Austin had a huge 2012 season.
CB: Terence Newman, Kansas State (1999-2002) --
Newman was a solid player for Bill Snyder his first three seasons, then broke out as a senior. Newman was the Big 12 Defensive Player of the Year, a unanimous All-American and the Thorpe winner, given to college football's top defensive back.
CB: Derrick Strait, Oklahoma (2000-03) --
A four-year starter, Strait finished with a school-record 52 career pass breakups. He also won the Thorpe, and was a unanimous All-American.
S: Roy Williams, Oklahoma (1999-2001) --
Nicknamed "Superman," Williams was the Big 12's most dominating defensive player until Suh came along. He won the Thorpe and Nagurski in '01, and was the Big 12 Defensive Player of the Year and a unanimous All-American the same season. He also famously skied over the Texas offensive line to force the game-clinching interception to earn his moniker.
S: Michael Huff, Texas (2002-05) --
Huff became the first Longhorn to win the Thorpe, and was the leader of the '05 national championship defense. He was also a unanimous All-American that season.
Special teams
K: Mason Crosby, Colorado (2003-06) --
Crosby was three-time, first-team All-Big 12 selection, and twice was a consensus All-American even though he never won the Lou Groza Award, given to the nation's top kicker. He was also the Big 12 Special Teams Player of the Year as a junior, and converted 66 field goals in his career.
P: Quinn Sharp, Oklahoma State (2009-12) --
Sharp became the first three-time All-American in Oklahoma State history, and he earned All-American honors both as a punter and a kicker. He was twice named the Big 12 Special Teams Player of the Year. In his career, he made 50 of 59 field goals, averaged 45.9 yards per punt and missed only one extra point.
KR: Tavon Austin, West Virginia (2012) --
Austin was in the Big 12 only one season, but he was unstoppable that one season. On top of being one of the most dangerous kick returners in the country, Austin had 1,289 yards receiving and 643 rushing, and finished second in the country in all-purpose yards.
PR: Ryan Broyles Oklahoma (2008-11) --
On top of being a prolific punt returner, Broyles was one of the most efficient receivers in college football history. He finished his career with an FBS-record 349 receptions, and was a two-time consensus All-American before a knee injury cut his senior season short.
December, 18, 2012
12/18/12
2:00
PM ET
This is a special time for the Houston Lamar Redskins. They're making history as the first Houston ISD team to make a Texas Class 5A state championship game in 20 years. The last team to do it was Houston Yates in 1992.
And the Redskins ar doing it with defense.
Leading the way are two SMU commits, defensive end
Zelt Minor
and cornerback
Cedric Lancaster
, and rising 2014 prospect
John Bonney
, a safety. They'll lead the Redskins into a battle with Allen (Texas) High School for the Class 5A Division I championship Saturday at Cowboys Stadium in Arlington.
November, 6, 2012
11/06/12
3:17
PM ET
HUMBLE, Texas --
Aaron Sharp
is not surprised with what his team has accomplished this season.
After going 9-2 and making the playoffs for the first time a year ago, Sharp and his Houston Summer Creek teammates had high expectations coming into this season and so far, they're meeting those, sitting at 9-0 heading into their regular season finale against 9-0 Dayton (Texas) High School for a district championship.
"Yeah, this was pretty much an expected season from us," Sharp said. "We had a lot of people coming back from a good year that we had last year. We had more talent come in, so I think it was a real big season expected for Summer Creek, and we're just doing what we're supposed to be doing.
To continue reading this article you must be an Insider
October, 31, 2012
10/31/12
8:21
PM ET
By
Dave Telep
| ESPN Insider
We didn't see this one coming.
ESPN 100
power forward
Jarrell Martin
(Baton Rouge, La./Madison Prep), thought to be a spring signee, is set to make his college decision.
According to Jeff Jones, the head coach at Madison Prep, Martin will announce Thursday at 1:30 p.m. CT at the school.
"He's tired (of recruiting) and he's ready to decide," Jones said.
To continue reading this article you must be an Insider
October, 25, 2012
10/25/12
4:00
PM ET
One of many 2014 prospects who were present at Kyle Field when Texas A&M took on LSU last week was Houston Cypress Falls outside linebacker
Otaro Alaka
.
The 6-foot-3, 196-pound Alaka has been picking up momentum in recruiting this fall. He recently added offers from Mississippi and Northwestern to add to offers he already had from Arkansas, Baylor, Oklahoma and Oklahoma State. Several other in-state schools are showing interest in Alaka, including Texas, Texas Tech and Texas A&M.
To continue reading this article you must be an Insider
October, 19, 2012
10/19/12
1:30
PM ET
Austin (Texas) Lake Travis running back
Shaun Nixon
and Texas A&M have had mutual interest for awhile. The Aggies have long been interested in the 2014 prospect who stands 5-foot-10, 180 pounds.
The Aggies originally offered Nixon in May but plenty of other schools have taken notice of him too. Baylor, Clemson, SMU and Texas Tech all offered him and several others have shown at least some interest, including Alabama and Texas.
GigEmNation's Sam Khan Jr. spoke with Nixon to talk about his upcoming visit plans, who he has been hearing from and more.
To continue reading this article you must be an Insider
August, 14, 2012
8/14/12
3:45
PM ET
ROSENBERG, Texas -- It was a busy, eventful summer for
Derrick Griffin
.
Traveling with the Houston Defenders, the AAU team that he has long played for -- a squad that also features highly-touted twins Aaron and Andrew Harrison -- Griffin got a chance to get some national television exposure and shined when the cameras were on him at the AAU Super Showcase.
[+] Enlarge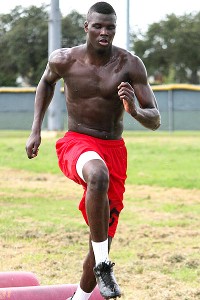 Sam Khan Jr./ESPN.comDerrick Griffin, the top 2013 TE prospect, remains committed to A&M but is trying to learn more about his other suitors.
Griffin, a 6-foot-6, now 228-pound dual-sport star who is ranked as the nation's no. 1 tight end and the 15th-best small forward in the country, enjoyed his summer time on the hardwood.
To continue reading this article you must be an Insider
Recruits Miss Lone Star Showdown
SEC SCOREBOARD
Thursday, 9/3
Saturday, 9/5