Texas A&M Aggies:

Notre Dame Fighting Irish
October, 6, 2013
10/06/13
7:10
PM ET
ESPN Junior 300 defensive tackle
Daylon Mack
(Gladewater, Texas/Gladewater) has a new top four.
January, 20, 2013
1/20/13
7:30
PM ET
ESPN 150 receiver
Sebastian LaRue
has been to College Station, Texas, before.
The 5-foot-11, 185-pound four-star prospect, a former USC commit, visited Texas A&M unofficially well before the 2012 season began. He made his official visit to Aggieland this weekend to get a second look and a closer look at the campus.
According to LaRue, things went well.
To continue reading this article you must be an Insider
January, 17, 2013
1/17/13
11:05
AM ET
Houston Alief Taylor defensive end and USC commitment
Torrodney Prevot
had an in-home visitor from his home state Wednesday night.
The ESPN 300 prospect, who has been committed to USC since July, is still being courted by other schools.
To continue reading this article you must be an Insider
December, 5, 2012
12/05/12
8:00
AM ET
By
Tobin Petitpas, ESPN Stats & Info
| ESPN.com
US PresswireJohnny Manziel (left), Manti Te'o (center) and Collin Klein are the 2012 Heisman Trophy finalists.
Johnny Manziel finished the regular season with 3,419 pass yards and 1,181 rush yards. His 4,600 yards of total offense broke the SEC single-season record set by Cam Newton during his 2010 Heisman Trophy season. When Newton broke the record, he supplanted Tim Tebow's Heisman Trophy season of 2007.
Manziel has been responsible for 43 touchdowns this season, tied with Tajh Boyd and Jordan Lynch for the most in FBS. He had six games with at least two touchdowns passing and rushing. That's tied with Tebow in 2007 for the most such games in a season since 2000. Collin Klein is tied for second in FBS this season with three such games.
Manziel had 70 plays that gained 20 yards or more this season, 10 more than any other FBS player. He was tied for the eighth-most passes (52) and the second-most rushes (18) of 20-plus yards.
Manziel gained 784 rush yards on scrambles, the most in the SEC. He had 13 scrambles that gained at least 20 yards, including seven touchdowns. No SEC player had more total rushes or touchdowns of 20-plus yards, let alone scrambles.
Klein has scored a rushing touchdown in 11 straight games, the longest active streak in FBS. The only game that he did not have a rushing touchdown was against Missouri State, an FCS opponent. Since the start of last season, Klein has scored a rush TD in 23 straight games against FBS opponents. That is the longest such streak for any player in the last nine seasons.
Since the start of last season, Klein has an FBS-best 37 rushing touchdowns in goal-to-go situations. Klein has had at least one such touchdown in 22 of 25 games during that time period, including in his last 10 games in which he has at least one such attempt.
Klein has accounted for 69 percent of Kansas State's yards and 66 percent of its offensive touchdowns this season. Klein's percentages are slightly better than those of Robert Griffin III from his 2011 Heisman season at Baylor. Griffin accounted for 66 percent of Baylor's total and 61 percent of its touchdowns.
Manti Te'o has seven interceptions this season, tied for second-most in FBS and three more than any other linebacker. Te'o also has two fumble recoveries. His nine total takeaways are tied for the most in nation.
Te'o has 103 tackles this season, 42 more than any other player on Notre Dame. He has just two missed tackles all season. As a team, the Irish have missed 61 tackles this season, the third-fewest among AQ schools.
Notre Dame leads the nation in scoring defense (10.3 PPG) and is the only team that has not given up a touchdown drive longer than 75 yards this season. Every other FBS team has allowed at least three.
November, 28, 2012
11/28/12
11:30
AM ET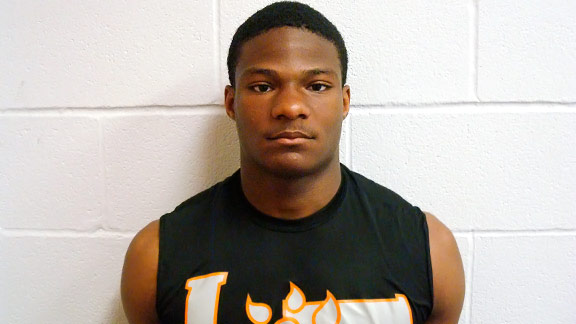 William Wilkerson/ESPN.comNick Harvey might play on both sides of the ball for Texas A&M.
This is a pretty special time in the life of Lancaster (Texas) High School athlete
Nick Harvey
.
He's having a blast on the football field, winning with his teammates as they navigate the Texas Class 4A playoffs. The Tigers are in the third round of the postseason for the first time since 2000.
To continue reading this article you must be an Insider
November, 9, 2012
11/09/12
1:32
AM ET
There are two schools atop the list of ESPN 150 inside linebacker
Isaac Savaiinaea
(Honolulu Punahou School) and neither one of them is Stanford.
Savaiinaea, the No. 140 player in the ESPN 150, decommitted from Stanford on Thursday night. The 6-foot-3, 231 pound prospect confirmed to RecruitingNation via text message that he rescinded the commitment and that Texas A&M and UCLA are his top two choices.
The nation's fourth-ranked inside linebacker originally committed to Stanford in March, but came into the fall with the intention of visiting other schools. He took official visits to Texas A&M when the Aggies played Arkansas, to Notre Dame when the Irish hosted Stanford, to Stanford when the Cardinal hosted Washington State and to UCLA when the Bruins took on Arizona.
Savaiinaea indicated that he does not have any more visits planned and that he's likely to make his decision on where to go on national signing day in February.
To continue reading this article you must be an Insider
October, 30, 2012
10/30/12
8:00
AM ET
MISSOURI CITY, Texas -- When asked what to make of his senior season so far, one in which his team is undefeated, he has dominated on the field and colleges from all over the country have continued to recruit him,
Deon Hollins Jr
. could think of just one word.
"Perfect," he said.
It's not a bad way to put it.
To continue reading this article you must be an Insider
August, 3, 2012
8/03/12
10:30
AM ET
Football is in Brian Polian's blood. Always has been and probably always will be.

His father, former longtime NFL executive and current ESPN analyst Bill Polian, tried to talk Brian out of venturing into football for a career. But it was too late. The impression the sport and the men who were involved with it had made on Brian was too strong. So by the time Brian graduated from John Carroll University in Ohio, he knew that football was how he wanted to spend his career.

It was hard not for the game to have an impression on him. Most of his formative years were spent in football locker rooms and stadiums. When his father was with the Buffalo Bills, he got to watch Marv Levy coach and Jim Kelly, Thurman Thomas, Steve Tasker and guys like that play the game. So after concluding his college career at John Carroll he pursued coaching.

After graduating, Polian joined the staff at Michigan State as a graduate assistant for a season then over the next 14 years went from coast to coast coaching college football with stops at Baylor, Buffalo, Central Florida, Notre Dame and Stanford.

Now, the 37-year-old is in College Station as the special teams coordinator and tight ends coach for Texas A&M. Here's some more insight into Polian from GigEmNation's Q-and-A with the veteran coach:

SK: What drew you to Texas A&M?

BP: "Kevin (Sumlin), quite frankly. I mean it's not like I left a bad place. Stanford is a very unique school to work at. The people there are fantastic, the kids are great and it's one of the nicest places in the country to live. But I met Kevin four or five years ago when I was coaching at Notre Dame. We developed a friendship and I think so much of him as a person. And frankly, he's a little different in the sense that we're in a business where often head coaches, they're not really interested in helping you achieve your goals. I want to be a head football coach in Division I college football. Kevin knows that, he embraces it. He's been a great teacher for me just in the short time that we've been together. He's going to help me along that path. If it's next year or 10 years down the road, who knows? But my experience with him will make me better when I finally get my opportunity."

SK: Outside of your family, who has had an influence on you in football?

BP: "Marv Levy, first and foremost because in my formative years I watched him so closely. I had a front row seat to how he ran the organization in Buffalo. Tony Dungy, another one that I've never had a chance to work alongside, but I had access that some other people wouldn't necessarily have had in Indianapolis and he's become a friend and mentor, as has Jim Caldwell. My position coach at John Carroll University, a guy by the name of John Storey, who is a legendary high school coach in Cleveland and then became an assistant at Carroll. He was a great influence on us. London Fletcher from the Redskins, Elvis Grbac, Desmond Howard, he coached all of them in high school. He's a storied Cleveland guy and is somebody that I'm very close with.

SK: Give me a sense of what you learned during spring football and what you have to work with when it comes to your special teams units.

BP: "I don't think Kevin told me Randy Bullock was graduating (laughs). He forgot to mention that one. Unfortunately, we have to answer questions at all three of the specialists spots: the punter, the kicker and the holder. The punter I know, they were a little bit up and down last year -- two different guys punted. We don't want to do it by committee, plus we're going to be a little bit different compared to what they did the year before. So we've got to get those questions answered. And obviously, we're replacing the Lou Groza Award winner. And we do have a guy here on scholarship, Taylor Bertolet, but we have two other guys that are joining the program as a walk-ons (Davis Plowman and Seth Hiddink) and hey, it's a production-based business. You either do it or you don't and we're going to give all three guys a chance to win the job. Whoever the best guy is, that's going to be the guy that kicks."

SK: How do you feel about the return game?

BP: "I'm excited about it. You could see a young guy back there on kickoff returns. You could see a freshman, because we brought in some speed. I'm not afraid of a freshman kickoff returner. We've had that before. We had that at Stanford last year with Ty Montgomery who was a Dallas kid. So I'm not necessarily afraid of a freshman kickoff returner. Punt returner is a little different. You'd like to have a guy back there that has a little experience. Dustin Harris is obviously pretty good and has been productive, but we feel like we've got some other vets who look really comfortable catching the ball back there, so that's not necessarily etched in stone either. I'm excited to find out what freshman we recruited that are going to have a role somewhere on special teams. Jordan Richmond, Trey Williams, Mike Richardson, we've got some good-looking bodies as freshmen and we're going to need some of those guys to contribute for us and they're going to have to help us as core special teams players. And to be honest with you, that's part of what makes my job fun. I don't look at the same eight faces every day of the season. At some point, I'm going to engage just about everybody on the football team and that's a lot of fun. So we'll see what young guys we're going to get into the mix and we're going to figure out what veterans will make up our core 8-10 guys that will show up on most of these units.

SK: What's your feel on the coverage units and how those will shape up for you?

BP: "We're going to put the best guys out there. If you're going to see starters playing on (special) teams, you're going to see them on the coverage units, because that's the stuff that'll get you beat. The layperson says 'Who's really good on special teams? Well this team blocks punts and this team has returns for touchdowns.' Our first job is to not lose the game. That's our first job. Our first job is to win in the coverage units and make sure that we don't give up the big play. Our second job is to make our field goals and extra points and to be trustworthy that if it's fourth-and-6 on the 28 or 30-yard line that we can feel confident that we can knock the three through and win the game when we have to. Our last job is to be productive on the return units. Not to say that we don't want to be, but if we're not doing those first two things, we're costing our team ballgames. We've got to cover kicks, we've got to change field position and we've got to score points."

July, 20, 2012
7/20/12
10:30
PM ET
COLLEGE STATION, Texas - Spending Friday afternoon just a stone's throw away from the facilities that they plan to spend most of the next four-to-five years in, Manvel (Texas) High School standouts
Tavares Garner
and
Kyrion Parker
reiterated their intentions to play for Texas A&M.
Garner, a 5-10, 165-pound cornerback who's ranked 46th nationally at his position, said Friday that he has picked up an offer from Notre Dame and has been conversing with Texas co-offensive coordinator and running backs coach Major Applewhite, but that it matters little.
"I don't have any thoughts on it," Garner said of Notre Dame's and Texas' interest in him. "I'm solid to Texas A&M."
To continue reading this article you must be an Insider
Recruits Miss Lone Star Showdown
SEC SCOREBOARD
Thursday, 9/3
Saturday, 9/5