Texas A&M Aggies:

Mike Slive
June, 18, 2014
6/18/14
12:00
PM ET
May, 30, 2014
5/30/14
4:00
PM ET
The SEC might not have won its eighth straight BCS national title, but the league got richer following the 2013 season.

Just before league commissioner Mike Slive left Destin, Florida, and this year's set of SEC spring meetings, he announced that his beloved conference
will distribute a record $292.8 million of revenue
among its 14 schools. Last year, the league distributed $289.4 million among its 14 schools, which was also a record for the league.
For those of you counting at home, that's roughly $20.9 million that each school will receive from the league office, which is around $200,000 more than they brought in last year.
There's also $16.8 million that will be retained by the 10 schools that made it to bowl games and another $1 million from the NCAA for academic advancement that will be distributed among all 14 schools. So outside of the cool million from the NCAA, the SEC as a whole brought in $309.6 million.
That's a ton of money and it really does put in perspective where the league was back in 1980, when the SEC distributed just $4.1 million to its teams. The conference didn't even make it past the $100 million-mark until 2003 ($101.9 million).
Add the fact that the SEC Network is coming (Aug. 14), and the SEC is due to make even more going forward.
May, 28, 2014
5/28/14
9:45
PM ET
DESTIN, Fla. -- If the college football recruiting landscape does change, the SEC made sure this week that it will be ready.
A couple of weeks after watching the
ACC propose an early signing period
to begin on Aug. 1, the SEC on Wednesday
offered its own recommendation
to have a signing day on the Monday after Thanksgiving.
SEC commissioner Mike Slive said he hopes there won't be an early signing period, but if there is, he wants his league to be prepared.
The league wasn't happy about the ACC's proposal for an earlier signing period because of how it would change the recruiting calendar, something the SEC absolutely doesn't want. The league also decided that in its model, it would ban official visits for recruits who want to sign early, therefore lessening the pressure and clutter of having overstocked official visits during the season and on game weekends.
[+] Enlarge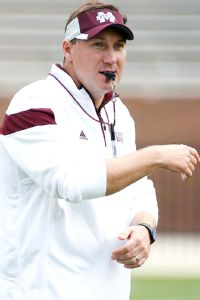 AP Photo/Rogelio V. SolisMississippi State's Dan Mullen believes a late November early signing day would protect both the prospects and the schools.
SEC coaches believe that a signing period that comes after the college and high school regular seasons allows recruits to play out their senior seasons while studying the teams they're interested in and figuring out coaching staff stability. By banning official visits for recruits who want to sign early, coaches wouldn't have to cram important recruiting visits in during the season and could focus on coaching their teams.
An early signing period would also save money as coaches wouldn't have to invest in recruiting trips to re-recruit already committed prospects.
"I've been a proponent of that for years," Texas A&M coach Kevin Sumlin said. "It's long overdue.
"It clears the picture up."
To Mississippi State coach Dan Mullen, it clearly makes sense for the league.
"It's one that keeps our calendar pretty consistent. It allows the guys that have been committed to their school to sign with that school," Mullen said. "It also protects the student-athlete as best as possible."
When Mullen says "protects," he means that players who don't want to bother with the recruiting process won't have to hear from opposing coaches still trying to get their signature before national signing day on the first Wednesday of February. The recruit also would guarantee his spot in the class by signing early.
Mullen also said that the SEC's proposal would protect the schools that don't want to lose those recruits with months remaining before they sign their national letters of intent.
In the current recruiting culture, you just can't take every recruit at his word. This way, you take him at his signature before Christmas rolls around.
The SEC's model would make the Monday after Thanksgiving a one-day signing day and a dead day for communication between coaches and recruits. The Sunday before would become a quiet day, and Tuesday would begin the next recruiting period.
"

One of the other leagues proposed Aug. 1. We think that would be crazy.

"

-- Georgia coach Mark Richt, on an ACC proposal for an early signing day
The goal would be to not make this
the
new national signing day. This is just for the handful of prospects whose minds are made up.
"Obviously, if you've got guys that have signed and are with you no matter what, you don't have to continue to worry, 'Is this guy going to change his mind; is he going to flip at the last second?" Georgia coach Mark Richt said. "Everyone would like some sanity in that regard."
What Richt does find insane is the ACC's proposal to have an early signing period before the regular season even starts, which would essentially destroy the current recruiting calendar and rush spring and summer evaluations.
"One of the other leagues proposed Aug. 1. We think that would be crazy," he said. "We think there would be no summer for anybody, no sanity for anybody."
The SEC and ACC have plans, but whether this happens is unknown. To Florida coach Will Muschamp, getting enough people to agree on a date could be a mountain of an obstacle because of varying agendas for different schools.
"A lot of coaches, including myself, don't want an inordinate amount of visits during the season because it takes away from your football team and your preparation, your preparation for the next week, so I really think we're going to have a hard time agreeing on something that's good for everybody just because of the regions of the country," Muschamp said. "A lot of the northern schools don't want kids visiting in January because it's freezing cold and they lie to them and tell them it's really warm year-round. I think that's something you've got to deal with, so I don't know if we're ever going to come to a common ground in my opinion, based on the information I have."
Judging by what many conference members have said, it appears the sport is creeping closer and closer to an early signing day, with the interest mounting from coaches. What's a little more change in college football, anyway?
May, 27, 2014
5/27/14
9:00
AM ET
As SEC coaches, presidents and athletic directors grab their sunblock and sandals for a week in Destin, Florida, they'll likely hear one word over and over inside the Sandestin Beach Hilton: autonomy.
Yes, with the creation of the Power Five conferences, SEC commissioner Mike Slive and a couple of other conference commissioners have made it a point to be
a little more vocal about having autonomy among the five power conferences
going forward. The goal is for the country's most powerful conferences to have their own legislative process. That means the SEC, ACC, Big 12, Big Ten and Pac-12 would have their own power when it comes to the well-being of student-athletes, such as funding the full cost of scholarships, handling health care issues for student-athletes, redoing transfer rules for student-athletes, providing money to student-athletes' families for travel to sporting events, and decreasing the demands on student-athletes during the season.
[+] Enlarge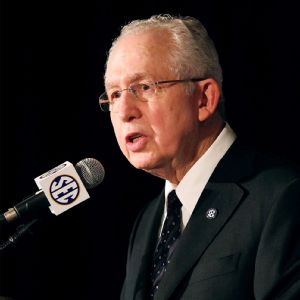 Marvin Gentry/USA TODAY SportsMike Slive should further his push for autonomy among big conference teams this week at the SEC meetings.
The NCAA already is working on a new governance plan for the five bigger conferences to allow them to make some of their own rules in the future. This proposal would require a two-thirds vote by the 65 schools in the five power conferences to pass. The NCAA board of directors is expected to vote on a restructuring in early August.
For Slive, who has been very outspoken about giving more to student-athletes over the years -- especially financially -- he wants all the schools in the country's most powerful conferences to have more power when it comes to taking care of student-athletes.
"Our presidents and chancellors have unanimously supported this effort to create autonomy in these areas that are related to student-athletes, so I anticipate that we will continue to support it," Slive told The Associated Press last week. "And I do anticipate that we will also want to see that the proposed model is modified so that that autonomy really means autonomy, that the five conferences can determine how their own legislative process will work.
"This isn't about five commissioners, this is about 65 institutions and their presidents. I'm optimistic that these changes will occur and that we will be able to fully support the model going forward."
That's why these meetings are a chance to not only discuss autonomy with the rest of the league, but to pump it up before the August vote.
But autonomy won't be the only thing up for discussion this week. There's also the business of the prospects of an early signing period in college football. The
ACC proposed an early signing period
at its own spring meetings earlier this month, and would like to see that date be Aug. 1. An early signing period would definitely accelerate the recruiting process, making summertime on-campus visits and spring evaluations that much more crucial. However, not all of the SEC coaches have stood together on this issue, and the general consensus from the ones who wouldn't mind an early signing period is that they would prefer the date be at or near the end of the college football regular season.
Alcohol sales in SEC stadiums also could come up for discussion. LSU athletic director Joe Alleva said earlier this month that he
sees alcohol sales happening in Tiger Stadium
in the future, but there hasn't really been leaguewide support of this. Still, it's a plan to bring in more money, so it's bound to be brought up in Destin.
Then there's the talk of the SEC Network, which is set to launch Aug.14. The league is still looking to add to its current distributors -- AT&T U-verse and Dish -- but an announcement on that likely won't come this week. Still, we should know about the progress on that.
Will there be scheduling talks? Likely, but with the conference format set for the foreseeable future, those talks likely won't be very long. Although, it will be interesting to hear from coaches about the new 12-year rotation format for nondivisional opponents that the league announced last week. And maybe some coaches and ADs will open up some about their future nonconference scheduling when it comes to fulfilling that required Power Five opponent starting in 2016.
The SEC got out in front on its issues before this spring's meetings, so the load could be light for everyone. But never count out the SEC when it comes to a surprise or two during this time of year.
April, 28, 2014
4/28/14
1:33
PM ET
The SEC traditionalists can take solace.
The
eight-game league schedule will remain in place
, as well as the permanent cross-divisional foes. That means Alabama and Tennessee will continue to play every year along with Auburn and Georgia, two of the SEC's most tradition-rich rivalries.
For those of us who've been entrenched in this league for decades or more, saving those rivalries certainly makes sense.
But not at the cost of creating competitive disadvantages and denying players and fans the opportunity to face (or see) every team in the league at least once in a four-year span.
[+] Enlarge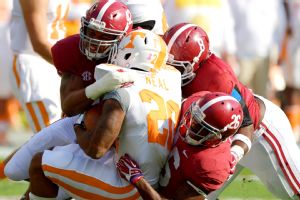 John David Mercer/USA TODAY SportsThe Alabama-Tennessee cross-divisional rivalry will remain a yearly fixture in the SEC.
In that regard, the presidents and chancellors got it wrong.
It's a fact that whatever scheduling format the SEC settled on wasn't going to please everyone. A few wanted a nine-game league schedule, others weren't crazy about permanent foes, and there were some who liked it exactly the way it is.
Ultimately, a nine-game league schedule would allow for the most flexibility, the most balance and still give teams a chance to go out and play a marquee nonconference game.
Alabama athletic director Bill Battle said it best at the SEC spring meetings in May 2013.
"I think we need to play 10 quality games because our fans are going to get tired [of going to games with lesser opponents]," Battle said.
When's the last time the fans really mattered?
As SEC commissioner Mike Slive noted Sunday, tradition matters in this league. And he's right. It does.
But the landscape has also changed dramatically in this league over the last 20 years.
Since the days of Herschel Walker, Bo Jackson and Archie Manning, the SEC has added four new teams. South Carolina-Missouri is now a conference game. So is Arkansas-Texas A&M.
The league has been split into two divisions with a title game between the two divisional winners determining the champion. Teams wear gray jerseys, black jerseys ... even specially themed jerseys.
And occasionally, a team that doesn't even win its division has been known to win the national championship.
College football has changed, and if Alabama and Tennessee don't play every year, it's not going to ruin everything that is sacred about the SEC.
Alabama and Florida, two of the heavyweights in this league, have played all of six times in the regular season since the league split and expanded in 1992. What about Auburn and Tennessee? That game was once a fixture. It would be nice to see Georgia and Alabama play more often in the regular season than once every blue moon. The same goes for Auburn and Florida.
[+] Enlarge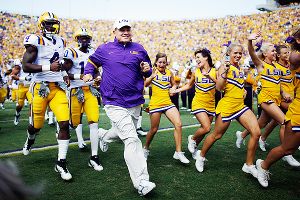 Chris Graythen/Getty ImagesLes Miles and LSU will continue to play Florida every year, a fact that could create scheduling imbalance within the SEC.
Beat up on Les Miles all you want. But given the way Tennessee has struggled much of the last decade, Alabama playing Tennessee every year isn't quite the same as LSU playing Florida every year.
This league has always been cyclical, and at some point, it's reasonable to think that cycle will turn back. But LSU athletic director Joe Alleva has a point, no matter who he might have ticked off with his comments Sunday night.
"I'm disappointed that the leadership of our conference doesn't understand the competitive advantage permanent partners give to certain institutions," Alleva told the New Orleans Times-Picayune. "I tried to bring that up very strongly at the meeting. In our league, we share the money and expenses equally, but we don't share our opponents equally."
It's worth noting that LSU's opposition to playing Florida every year has been much more boisterous than Florida's in having to face LSU every year. In fact, Florida athletic director Jeremy Foley likes having a big-gate opponent such as LSU coming to the Swamp every other year.
So, again, different strokes for different folks.
Alleva's assertion that schools voted for their own "self-interest" over "competitive balance" can't be argued. Sure, Ole Miss and Vanderbilt are content with playing each other every year. The same goes for Kentucky and Mississippi State. Why trade one of those schools for an Alabama, Georgia or LSU every couple of years if you don't have to?
Something says there's also a tinge of self-interest in Alleva's concerns. Just a smidge, maybe.
At the end of the day, if the league was determined to stick with eight conference games, the fairest way to have structured it would have been to adopt a 6-0-2 format -- six divisional opponents and two rotating cross-divisional opponents.
But as that wise (young) sage, Steve Spurrier, said, "There's nothing fair about college football."
April, 28, 2014
4/28/14
11:00
AM ET
Once again, the SEC knows what it's doing when it comes to protecting its product.
Sunday's announcement from the league that teams will continue to play eight conference games while
adding an annual nonconference game against a power conference
is another good idea, as the SEC gets ready to enter the college football playoff era.
With the new playoff committee taking strength of schedule into consideration when deciding on the four teams that will make up the playoff, SEC commissioner Mike Slive wanted to take appropriate measures to make sure his league has every opportunity to fill one, or even two, of the spots. It doesn't matter that the SEC has won seven of the past eight BCS national titles, the committee's job will be to be as thorough as possible when selecting teams. Slive -- and the rest of his SEC partners -- made sure strength of schedule wasn't an issue.
[+] Enlarge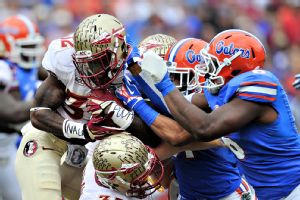 Steve Mitchell/USA TODAY SportsSEC teams such as Florida (FSU) and South Carolina (Clemson) already have huge games annually with a team in another power conference.
"The concept of strength of schedule is based on an entire 12-game schedule, a combination of both conference games together with nonconference games," Slive said in a release Sunday. "Given the strength of our conference schedule supplemented by at least one major nonconference game, our teams will boast of a strong résumé of opponents each and every year."
Translation: We aren't going to be left out.
I think it's pretty safe to say that way more often than not, the SEC is going to get its conference champion in the four-team playoff. Its past speaks for itself, making it very hard to keep the champ from earning a shot at winning the national title. But we also know that nothing is a given in this world, so the league acted.
This will now (thankfully) take away one of those cupcake games used to pad stats and force all 14 teams to step out of their comfort zone each season to face a tougher out-of-conference opponent. It not only makes teams' résumés stronger, it makes for a much better product for fans and players.
The addition of a stronger nonconference foe means the SEC didn't have to worry about a nine-game conference schedule. Another good move.
While playing nine makes the league that much tougher and allows players to see every school in the league during a four-year career, it makes winning the SEC, well, that much tougher. And this is a product that isn't broken. The SEC went to the final eight BCS title games, all with only eight conference games during the regular season.
Why change that? Why beat up your title contender even more?
A nine-game conference slate would mean that the SEC champion would play 10 conference games
before
the playoff. That's a lot of wear and tear on your prized fighter.
What will have to be looked at on a more consistent basis is the rotation of the one non-division opponent for teams. It's clear that in the past few years there hasn't been much balance in that department, and LSU athletic director Joe Alleva, who sees Florida every year as the Tigers' permanent crossover opponent, isn't happy:
"I'm disappointed in the fact that the leadership of our conference doesn't understand the competitive advantage permanent partners give to certain institutions," Alleva told the New Orleans Times-Picayune on Sunday. "I tried to bring that up very strongly at the meeting today. In our league we share the money and expenses equally, but we don't share our opponents equally.
"Since 2000 LSU has played Florida and Georgia 19 times and Alabama has played them eight times. That is a competitive disadvantage. There are a lot of other examples."
We have to remember that this is a cyclical sport, but I think you'll start seeing the league pay attention to this more when assigning the rotating team.
Overall, the SEC got it right with its new scheduling format, as it prepares for life outside of the BCS.
February, 17, 2014
2/17/14
9:00
AM ET
While
attendance across the country
might be getting spottier at college football games, the SEC's numbers increased in 2013.
That's after the league experienced a slight dip each of the four seasons prior to 2013.
One of the things to remember about the SEC is that the stadiums are huge. A stadium on the "smaller" side in this league still holds more than 60,000 people, and eight of the 14 schools play in on-campus stadiums with a seating capacity of more than 80,000.
[+] Enlarge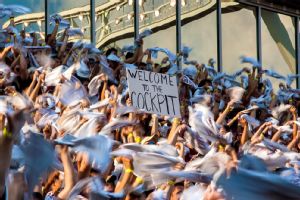 Jeff Blake/USA TODAY SportsSouth Carolina averaged 82,401 fans in its seven home games in 2013, which ranked 14th in the FBS.
Last season, the SEC averaged 75,674 fans, up from 74,636 in 2012. These figures, provided by the SEC office, include the Jacksonville, Fla., game between Florida and Georgia as well as the SEC championship game in Atlanta between Auburn and Missouri.
Even more telling, all but two of the schools in the league topped 90 percent attendance last season. The average percentage capacity in 2013 for SEC games was 99.02 percent, compared to 97.40 percent in 2012.
Alabama, coming off back-to-back national championships, led the SEC in home attendance last season, averaging 101,505 fans.
Kentucky (20 percent) and Tennessee (6 percent) had the largest increases in attendance last season. Arkansas (9 percent) had the largest decrease.
And while attendance was up this season in the SEC, it's not as if league officials and athletic directors at the different schools had their collective heads in the sand.
The 2012 attendance figures for the SEC were the conference's lowest since the 2007 season, which was disconcerting to everybody.
So at the SEC spring meetings last May in Destin, Fla., it was announced that the league had created a committee in charge of making the game-day experience more enticing for fans.
High-definition televisions are getting better all the time, and there's something to be said for sitting in the comfort of your home theater (or den) and watching all of the games there instead of going to the trouble or the expense of getting to the games in person.
SEC officials and administrators agree that with technology improving and ticket prices rising, in some cases exorbitantly, fans aren't going to blindly keep going to games unless there's something unique about the game-day experience.
[+] Enlarge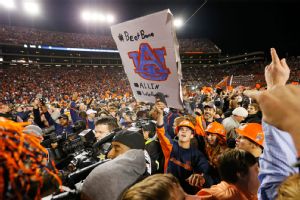 Kevin C. Cox/Getty ImagesWith an average of 85,657 fans at its eight home games in 2013, Auburn ranked No. 12 in the FBS.
Among the things the SEC committee addressed were finding a way to improve cell phone and wireless service at the stadiums, making more replays on the big screens available, dealing with the secondary ticket market, and improving the overall quality of games.
To the latter, SEC commissioner Mike Slive has said he wants to see every school in the league play at least 10 "good games" every season, whether that's nine conference games and a marquee nonconference game, or eight conference games and two marquee nonconference games.
Alabama coach Nick Saban, a proponent of playing nine conference games, also has been outspoken that fans aren't going to continue going to games to watch glorified scrimmages.
One of the biggest problems all schools in the SEC face is student attendance. Last season,
Saban famously chastised the students at Alabama
for leaving games early.
The Alabama student newspaper,
The Crimson White
, conducted a study and determined that only
69.4 percent of student tickets
were used during the 2012 season.
In the past couple of years, Georgia has reduced its student-ticket allotment from 18,000 to 16,000, making those extra tickets available to younger alumni who can buy them without making an annual donation.
At Tennessee, student attendance increased dramatically last season in Butch Jones' first year as coach. It was up almost 2,300 per game. As an enticement to continue getting students to go to the games, Tennessee plans to move more of them from the upper deck to the lower bowl.
January, 10, 2014
1/10/14
9:00
AM ET
The moment Auburn's attempt at a Hollywood finish fell short at the VIZIO BCS National Championship after a series of laterals failed to produce one last miracle, the SEC's reign of BCS terror was over. The Tigers, who played this season's Cinderella, couldn't bring home the conference's eighth straight BCS title after a valiant comeback by No. 1 Florida State inside the Rose Bowl.
[+] Enlarge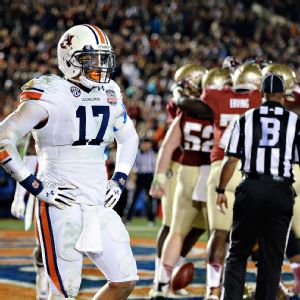 Harry How/Getty ImagesThe bowl season did not end how Auburn and the SEC hoped.
The Seminoles' 34-31 thriller out West made for a fantastic finish for the BCS era, but it left a bitter taste in the mouth of the SEC and its rabid fan base. Despite earning the best conference bowl win percentage with a 7-3 record (.700) in the postseason, the SEC wanted the big one. And it fell short for the first time since failing to make the BCS title game in 2005. In fact, this was the first time ever that the SEC lost in the BCS title game when it wasn't playing itself.
While SEC commissioner Mike Slive was right when he said that the SEC's incredible national championship run would never be duplicated (seven in a row, really?), you can't help but wonder how much it hurt him to see his beloved conference not bring home one last crystal football.
If only Auburn's
Tre Mason
had come up short on that 37-yard touchdown run with 1 minute, 19 seconds left. Oh, what could have been different if he had downed the ball at the 1- or 2-yard line …
Before the Tigers' loss, the SEC lost its other BCS matchup when Alabama was knocked off 45-31 by Oklahoma in the Allstate Sugar Bowl. The national championship stung for the SEC, but this one hurt. This was viewed as certified gimmie for the league, after a historic line was put Alabama's way. But after a quick score by the Crimson Tide that appeared to set the tone, the Sooners punched and kicked their way to a more physical showing, beating Alabama at its own game.
Big Game Bob Stoops talked about SEC propaganda and backed his mouth up with a strong effort that had anti-SEC fans giddy on and off of Bourbon Street.
Still, the SEC finished with its third consecutive winning bowl season. The last time the league had a losing record in bowl play was when it went 3-4 in 2002. While the result of the BCS bowls weren't to the SEC's liking, seven other ones made the conference shine brightly.
It started with Ole Miss beating Georgia Tech 25-17 in the Franklin American Mortgage Music City Bowl on Dec. 30. After back-to-back losses to end the regular season, the Rebels pounced on the Yellow Jackets, holding them to their second-lowest rushing output (151 yards) of the season. Not to be outdone, Mississippi State capped off an impressive 2013 finish with a 44-7 beatdown of Rice in the Liberty Bowl.
The most exciting bowl game came later that night when
Johnny Manziel
said goodbye to college football by helping to erase a 21-point deficit in Texas A&M's 52-48 win over Duke in the Chick-fil-A Bowl.
The SEC flexed its muscles on New Year's Day when South Carolina downed Wisconsin by 10 in the Capital One Bowl and LSU ground out a 21-14 win over Iowa in the Outback Bowl. The day was nearly a sweep, but Georgia's 24-19 loss to Nebraska (equipped with a 99-yard touchdown pass allowed in the third quarter) destroyed the shot at perfection.
The SEC rounded out its non-BCS bowls with an exciting 41-31 win by Missouri over old Big 12 foe Oklahoma State in the AT&T Cotton Bowl, while Vanderbilt made short work of Houston with a 41-24 victory in the BBVA Compass Bowl.
The wins clearly outnumbered the losses for the SEC, but when it came down to the two big ones, the conference fell short. For all the good that this league produced during bowl season, the BCS losses will be the ones everyone remembers.
December, 9, 2013
12/09/13
5:00
PM ET
Ten SEC teams are headed to the postseason and one of them is playing the granddaddy of them all. All is right in the college football world below the Mason-Dixon Line, as the SEC looks to extend its BCS title streak to eight in a row.
Once again, the SEC has Urban Meyer to thank for more conference gold ... or should I say orange and blue ...
Here's this season's SEC bowl lineup:
VIZIO BCS National Championship game, Jan. 6:
Auburn vs. Florida State
Allstate Sugar Bowl, Jan. 2:
Alabama vs. Oklahoma
Capital One Bowl, Jan. 1:
South Carolina vs. Wisconsin
AT&T Cotton Bowl, Jan. 3:
Missouri vs. Oklahoma State
Outback Bowl, Jan. 1:
LSU vs. Iowa
Chick-fil-A Bowl, Dec. 31:
Texas A&M vs. Duke
TaxSlayer.com Gator Bowl, Jan. 1:
Georgia vs. Nebraska
Franklin American Mortgage Music City Bowl, Dec. 30:
Ole Miss vs. Georgia Tech
AutoZone Liberty Bowl, Dec. 31:
Mississippi State vs. Rice
BBVA Compass Bowl, Jan. 4:
Vanderbilt vs. Houston
I'm sure we'll have more on all of these bowl games in the coming weeks, but here are our first impressions of this season's lineup:
[+] Enlarge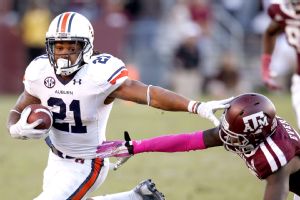 Thomas B. Shea/Getty ImagesCan tailback Tre Mason and the Tigers bring home an eighth consecutive national title for the SEC?
Edward Aschoff's first impressions
Best game:
VIZIO BCS National Championship game. This one is for all the marbles, and once again the SEC is involved. Real shocker there, even if it is Auburn. Somehow, the SEC found a way, and we now get to see the nation's best rushing offense (335.7 yards per game) take on Florida State's vaunted passing game, which is led by Heisman favorite
Jameis Winston
. The Noles own the country's 14th-ranked pass defense and rank third nationally in total defense. Auburn is on a special run this season and, with a month to rest and look over things, you have to wonder if coach Gus Malzahn will throw a couple more items into his playbook just for Florida State.
Worst game:
TaxSlayer.com Gator. On paper, watching Georgia and Nebraska play each other looks pretty fun. But we've seen this matchup before. We saw it last season in the Capital One Bowl. Obviously, these are different teams, but they have the same uniforms on and the bowl season is about seeing something new and different. This isn't, and Georgia fans will let you know it. It'll probably be a pretty good game, but it would have been a lot better to see both of these two with different opponents.
Sneaky good game:
Franklin American Mortgage Music City. The triple option vs. Hugh Freeze's fun spread? Yes, please! The Rebels didn't end the season the way they wanted, but you can see a lot of growth at Ole Miss. The Rebels owned one of the SEC's best offensive attacks, while the Yellow Jackets mirrored Auburn at times on the ground, averaging 311 rushing yards a game. But don't forget that Georgia Tech's defense only gave up an average 350 total yards per game. This should be a good one that has fourth-quarter drama written all over it.
The bowl season will be a success if:
All the SEC cares about is bringing home an eighth straight crystal football. Commissioner Mike Slive is looking right at you, Auburn. Beat Florida State, and the SEC ends the BCS right where it started: with a national championship. The league can have a losing record in bowl play, but if it wins the one out in Pasadena, Calif., the conference will be all smiles (even folks in Tuscaloosa) and will still claim its perch atop the college football world.
Chris Low's first impressions
[+] Enlarge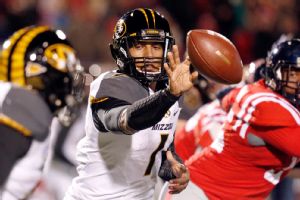 AP Photo/Rogelio V. SolisQuarterback James Franklin and Missouri will take on Oklahoma State in the AT&T Cotton Bowl.
Best game:
VIZIO BCS National Championship Game. Florida State might be a little more than a touchdown favorite by the oddsmakers, but Auburn is playing lights out on offense. How do you stop that running game? The Seminoles come into the game with the better defense. That's not debatable. But the Tigers seem to be in their comfort zone when they can turn a game into a track meet. Auburn quarterback
Nick Marshall
and running back
Tre Mason
are both electrifying playmakers, and Mason has shown that he's plenty durable, too. The matchup, though, that makes this game so enticing is an Auburn offensive line that has blossomed this season against a talented, athletic Florida State defensive front. Nobody has run the ball against the Seminoles all season. But, then, nobody had run the ball against Alabama this season, either, until Auburn lit up the Tide for 296 rushing yards two weeks ago.
Worst game:
BBVA Compass. What does Vanderbilt have to do to get a bowl game higher in the SEC's pecking order? The Commodores are sitting there with eight regular-season wins for the second straight season and will be making the short trip to Birmingham, Ala. They get a Houston team that enters the postseason having lost three of its last four games. A close second goes to the TaxSlayer.com Gator Bowl, where we get a rematch of last season's Georgia-Nebraska game from the Capital One Bowl.
Sneaky good game:
AT&T Cotton. Two old Big 12 rivals will get it on in Arlington, Texas, and if you like offense, this is your kind of game. Missouri's passing game, especially now that
James Franklin
is healthy again, is both balanced and explosive.
Dorial Green-Beckham
and
L'Damian Washington
combined for 22 touchdown catches this season. The Tigers' defense gets a chance for redemption after being shredded by Auburn's running game, but faces an Oklahoma State offense averaging 39.8 points per game.
The bowl season will be a success if:
It's all about the bling in the SEC. In other words, the onus is on Auburn to make it eight straight national championships. If the streak remains intact, the SEC will have bragging rights for another year. Counting the BCS National Championship game, 10 SEC teams are playing in bowl games. The league went 6-3 last season, so 7-3 sounds about right this season. Then we can all drum up some more propaganda, although Oklahoma coach Bob Stoops might have more to worry about than propaganda -- real or perceived -- when his Sooners take on Alabama in the Allstate Sugar Bowl.
May, 1, 2013
5/01/13
11:30
AM ET
The adage has always been that if something ain't broke, don't fix it. By all accounts, that mantra has worked just fine for the SEC.
Just look at the seven straight BCS titles.
But changes to scheduling is being talked about in college football's most successful conference, especially with the new College Football Playoff on the horizon.

Currently, SEC teams play eight conference games, but that number could move to nine. Talk of SEC teams playing nine conference games isn't anything new, but with two more teams in the conference and strength of schedule becoming a very important factor in how the playoff committee chooses its four playoff teams, nine-game talk has increased.
SEC coaches fielded questions about increasing the number of conference games during last week's SEC coaches teleconference, and league commissioner Mike Slive addressed a nine-game conference schedule Monday.
"Obviously the playoff impacts how we think about scheduling," Slive said. "Strength of scheduling will be a significant component in the committee's analysis. As far as I am concerned, I am open-minded about how we should schedule, and I anticipate continued discussions about how we schedule in the future."
Nine games is a tricky subject when it comes to the SEC. Coaches have made the argument that the league is tough enough, and adding another conference game makes the road to Atlanta -- and the national championship -- that much harder. Also, SEC championship teams would have to play 10 conference games. That's a lot of wear and tear before heading into a four-team playoff.
Then, you have a schools like Florida, Georgia, Kentucky and South Carolina who annually play nonconference rivals. Those certainly aren't gimmie games, so think about adding another conference game to the slate.
"We're not for nine conference games because of our instate rival Florida State," Florida coach Wil Muschamp said.
While the selfish part of me wants to see all SEC teams playing tougher nonconference games more consistently, I understand why coaches and athletic directors would be against that. Again, scheduling formulas have worked to this point.
Here's what Missouri's Gary Pinkel had to say about moving to nine conference games:
"Most coaches like eight games, and one of the reasons is because it's such a tough league as it is. It would have a huge effect on your nonconference (schedule) going down to three games. There's a lot of aspects to it. And I think TV will have maybe something to say about that also, in terms of what they would like."
But there are arguments for moving to nine games. With a nine-game SEC schedule players would have the chance to play every SEC school during their careers. It would also help bolster teams' strength of schedule for the upcoming playoff. You'd certainly get a much more entertaining game than Alabama taking on a directional school or an FCS opponent.
Strength of schedule is certainly going to be an issue the SEC has to tackle, whether it has eight or nine conference games, but as long as the SEC stays as strong as it is, chances are its champion will continuously sit at the playoff table.
So why alter a working product?
Plus, the SEC still has to figure out its rotation issues with scheduling first. Does the conference stay with a permanent cross-division opponent, regardless of how many conference games teams play?
Like last year's SEC spring meetings, which begin at the end of May, coaches and administors will discuss all things under the scheduling sun, but another thing to consider when it comes to nine conference games is that teams would be giving up a home game every year in order to play another league game. That means a loss of revenue, folks.
There are pluses and minuses to nine conference games, and while the Big Ten is taking on the challenge, the SEC doesn't have to be so fast to copy its northern cousins.
September, 11, 2012
9/11/12
5:00
PM ET
A few days removed from the raw emotion of a 20-17 season-opening loss to Florida, Texas A&M coach Kevin Sumlin noted several positives that he and his team could take away from the game, including effort and physicality. Sumlin said he was pleased with his team's effort on offense and defense and that he believed his team played physical. The fact that the Aggies did not turn the ball over was also a positive, but one of the negative sticking points he mentioned Saturday was repeated again on Tuesday: penalties.

"The three things we talk about going into every game: play hard, play smart and be physical," Sumlin said. " I thought we were extremely physical and I thought we played extremely hard. The intelligence part of the game, we did not. So when you're in a close game and you have nine penalties, for 78 yards, that's not going to cut it. I think Bill Polian, the NFL (executive) studied and said that there's a formula that every 10 yards of penalties is worth one point. So there's a lot of combinations into that. I think our players right now, after talking about that, they understand the importance of that part of the game also.

"And as I said, that was an emphasis coming into this year: turnover ratio and penalties. So we got one of them done on Saturday and really one of them, the other side, cost us the football game, which is a learning experience."

Familiar foe

With SMU on tap, it's an opponent Sumlin is plenty familiar with. While at Houston, Sumlin's Cougars met June Jones' Mustangs annually as they resided in the same Conference USA West division. This will be Sumlin's fifth year in a row to meet SMU.

"I have a lot of respect for June Jones," Sumlin said. "He's a guy who's taken SMU to a Conference USA championship game from nothing and really done a fine job with that program. June's a buddy. I think I asked him last time I saw him, if now he'll let me play in his golf tournament in Hawaii since we're not in the same league anymore. He said 'Well, we still play each other,' so I don't know if he's going to let me play in it."


Recruits Miss Lone Star Showdown
SEC SCOREBOARD
Thursday, 9/3
Saturday, 9/5