Texas A&M Aggies:

Mike Leach
January, 2, 2013
1/02/13
2:00
PM ET
IRVING, Texas -- Before Kevin Sumlin hired Kliff Kingsbury, Kingsbury got Sumlin fired.
From Texas A&M, no less, too.
Sumlin jokes about it these days, and of course, it's not quite that simple, but Sumlin was on R.C. Slocum's staff in College Station back in 2001 when the Aggies headed to Lubbock. They lost, 12-0, to a Kingsbury-led Red Raiders squad.
[+] Enlarge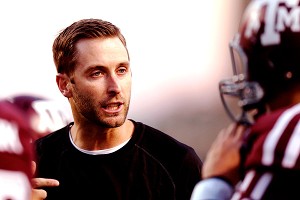 Thomas Campbell/USA TODAY SportsThose who know him say Kliff Kingsbury will bring passion and enthusiasm to the Red Raiders.
"Probably the only game I've been a part of that we got shutout," Sumlin said, adding that Tech fans tore down the goal posts (among other activities) that night.
A year later, Sumlin faced questions from folks wondering if A&M would score against the Red Raiders this time around. They did -- on the game's first play. It didn't change the outcome, though. Missed extra-point attempts meant overtime, and Kingsbury joined Wes Welker in knocking off the Aggies, 48-47, in overtime.
"Wes Welker and those guys hung around us at Houston -- Wes is around all the time, that's Kliff's guy -- and they proceeded to really cost me my job at the end of the year," Sumlin said.
Slocum was fired at the end of the 6-6 season and Sumlin landed on Bob Stoops' staff at Oklahoma. Still, less than a decade later, Sumlin brought Kingsbury to his staff at Houston and brought him to Texas A&M for the 2012 season, too. He helped
Johnny Manziel
become the first freshman to win the Heisman Trophy, and the Aggies to make a splash in the SEC with 10 wins and a status as one of the hottest teams and biggest surprises in college football.
Kingsbury parlayed that success into a head coaching job at his alma mater.
"They're getting a heck of a coach. He worked hard this year. He was there every day at 5 a.m. and he was the last person to leave. I know you hear that and you think it may just be people saying that, but it was true," Manziel said. "Every morning I was up there to work out or whatever it was, he was already there for hours ahead of time."
A&M fans remembered Kingsbury from his days at Tech and Sumlin had to deal with minor blowback from bringing the Big 12 legend on staff in the Aggies' first year in the SEC.
"People were worried, like 'Why is Kliff Kingsbury here?' I just said, 'Get over it. He's here to do the best job he can,'" Sumlin said. "Obviously, he has. He's going to be highly successful."
That's the hope for Texas Tech, who hired the 33-year-old in hopes of rediscovering the spark and big wins that Mike Leach brought to Lubbock and Tommy Tuberville had difficulty maintaining.
"Coach Kingsbury brings a lot of energy, brings a lot of passion. He's going to come, and he was the guy that gave us a spark whenever we needed it. Whenever we were dragging a little bit, whatever it was, he was the guy that brought a lot of spark," Manziel said. "He was a young guy, energetic and that's what he brought to the table. He would get everybody fired up, he would give a speech. He'd be running around just like we would be, and that was cool for us to see."
Sumlin also knows the advantage that Kingsbury has in being an alum at the school that just hired him. Texas Tech, like many others, comes with unique sets of challenges and desires that sometimes aren't tangible. Experience inside the program is the only solution.
"The difference in college football and pro football, it's not a plug and play. You have to have a background and an understanding of what particular institutions value," Sumlin said. "He gets that."
And Tech gets Kingsbury.
December, 12, 2012
12/12/12
6:32
PM ET
The King is coming home.
Kliff Kingsbury threw for 12,429 yards and 95 touchdowns at Texas Tech. A decade later,
he has officially become the Red Raiders' new head coach
at 33 years old with just five years as a collegiate assistant under his belt.
Texas Tech athletic director Kirby Hocutt didn't spend much time dwelling on any hurt feelings he may have felt when Tommy Tuberville skipped town for Cincinnati just a day after looking Hocutt in the eye and telling him he was committed to the Red Raiders.
Tuberville was never embraced in Lubbock, Texas, the way the Pirate of the Plains -- Mike Leach -- was during his decade-long run. His quick exit to a lesser job proved he never embraced Lubbock, either.
This time around, that won't be a problem. Minutes after news broke, the fan base's No. 1 choice was clear. Bring Kingsbury back home.
Clemson offensive coordinator Chad Morris emerged as another leading candidate, but Wednesday, Hocutt made his choice clear.
The fans will surely approve, and if they haven't already started celebrating in the streets, they're not far off. Even the college-aged Tech fans would remember Kingsbury's efforts on the field. Now, can he prove himself on the sidelines?
Make no mistake, hiring Kingsbury is a risk. Hiring Morris would have been a risk, too.
[+] Enlarge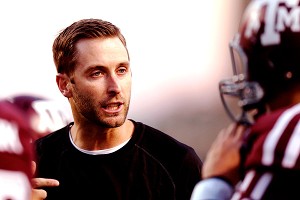 Thomas Campbell/USA TODAY SportsKliff Kingsbury, a star quarterback at Texas Tech a decade ago, is returning to coach the Red Raiders.
Rolling the dice with Kingsbury is the right move for Hocutt. Both Morris and Kingsbury might be The Next Big Thing in coaching. Both might bust. Neither has run a program from top to bottom in college.
But Hocutt needed to fire up his fan base after three unremarkable years under Tuberville, a man who never got the slack from fans that Leach would have gotten. Kingsbury will get those breaks. He'll get their patience.
If Hocutt swings and misses on Kingsbury, not a soul in Lubbock will blame him. If he'd swung and missed on Morris, while Kingsbury flourished elsewhere? That would've been an unforgivable mistake that very well could have cost him his job.
And if Hocutt swings and connects with the next star in Kingsbury? Well, all he'll have done is reignite what was one of the most promising programs in the Big 12 before Leach's exit. Perhaps he has discovered Mike Gundy 2.0, one of the game's best coaches who sees this job as his final destination when others might not feel the same way.
Kingsbury will be one of the game's youngest coaches, and this was an opportunity few other major programs would have afforded him. Hocutt handed the keys to his program to one of the game's most promising coaches, and it's an easy sell. If his history in Lubbock isn't enough, his résumé under Kevin Sumlin makes it clear why his services were so coveted.
Case Keenum was one of the most productive quarterbacks in NCAA history, and less than a week ago, Kingsbury's new quarterback,
Johnny Manziel
, became the first-ever freshman to win the Heisman Trophy.
Oh, and that Super Bowl ring from 2004 as a reserve player (coincidentally with Kansas coach Charlie Weis as the OC and the Patriots' Bill Belichick at the helm) won't hurt to bring into high school kids' living rooms, either.
Hocutt's loyalty to his fan base and former legends in the program will be rewarded. The fans will support Kingsbury even if the team struggles as he learns how to be a head coach. If Kingsbury wins, the likelihood he leaves is lessened significantly compared to any number of other coaches Hocutt could have hired, especially Morris.
Kingsbury is the new man in charge thanks to a gutsy, but supported move from Hocutt. If he didn't do it now, he might never have gotten another chance.
November, 13, 2012
11/13/12
9:00
AM ET
Four-star receiver
Sebastian LaRue
(Santa Monica, Calif./Santa Monica) remained committed to USC following his weekend trip to Washington State. Despite chilly temperatures in Pullman, Wash., the ESPN 150 receiver thoroughly enjoyed his first official visit but returned home Monday night as an unwavering member of the Trojans recruiting class.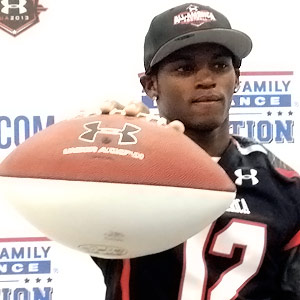 Blair Angulo/WeAreSC.comESPN 150 wide receiver Sebastian LaRue enjoyed his visit to Washington State, but he's sticking with his USC commitment.
"My trip was nice," LaRue said. "It was cold, but it was definitely a nice trip."
LaRue added he might still consider Washington State if he decides to change his commitment in the next few months.
Recruits Miss Lone Star Showdown
SEC SCOREBOARD
Thursday, 9/3
Saturday, 9/5