Texas A&M Aggies:

Matt Davis
March, 4, 2013
Mar 4
3:30
PM CT
COLLEGE STATION, Texas -- Texas A&M kicked off spring practice for the 2013 season on Saturday and with it comes new players in new roles, new expectations and plenty of other changes.
Many of those changes could be seen on the
initial 2013 depth chart released
by head coach Kevin Sumlin. There are some absent names because of injuries and there's a long way to go before definitive statements can be made, but it certainly gives us some players and things to keep an eye on moving forward. Among them:
To continue reading this article you must be an Insider
February, 12, 2013
Feb 12
8:00
AM CT
With Texas A&M's magical 2012 season in the books and the 2013 edition of national signing day in the rearview mirror, spring practice is quickly approaching.
Yes, it's already time to think about "next season."
The Aggies will hit the field for spring drills in mere weeks, with March 2 serving as the date for the first practice. Coach Kevin Sumlin and company will look to build on an unforgettable 11-2 season in which the Aggies won as many games as they had since 1998, defeated the eventual BCS champion, brought in a Heisman Trophy and crushed Oklahoma in the AT&T Cotton Bowl.
To continue reading this article you must be an Insider
January, 20, 2013
Jan 20
7:30
PM CT
ESPN 150 receiver
Sebastian LaRue
has been to College Station, Texas, before.
The 5-foot-11, 185-pound four-star prospect, a former USC commit, visited Texas A&M unofficially well before the 2012 season began. He made his official visit to Aggieland this weekend to get a second look and a closer look at the campus.
According to LaRue, things went well.
To continue reading this article you must be an Insider
January, 16, 2013
Jan 16
8:00
AM CT
This week, GigEmNation looks back at five decisions that helped define Texas A&M's 2012 season. These moments could be on or off the field or could have even come before the season, so long that they had a lasting impact on the Aggies' 2012 campaign. Today, we look at our pick for No. 3, choosing
Johnny Manziel
as the Aggies' starting quarterback.
It's easy to forget now, but Texas A&M didn't have a starting quarterback at the start of fall football practice.
The Aggies went into camp with an open competition and based on the first day of workouts, one might assume that the starter would be
Jameill Showers
[Showers took snaps with the first team on the first day of camp].
To continue reading this article you must be an Insider
September, 7, 2012
9/07/12
8:00
AM CT
COLLEGE STATION, Texas --
Johnny Manziel
doesn't run from the big moments. He craves them.
Those expecting the redshirt freshman to be overcome by the gravity of the moment when he steps on the field for the first time as Texas A&M's starting quarterback as the Aggies host No. 24 Florida in their first Southeastern Conference game might be surprised.
Confidence, swagger -- whatever you call it -- Manziel has it, according to those around him.
[+] Enlarge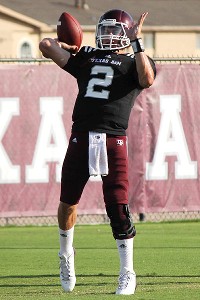 Sam Khan Jr./ESPN.comRedshirt freshman quarterback Johnny Manziel had a total of 75 touchdowns -- passing and rushing -- his senior year of high school.
"He has the feel of a kid that has always expected this moment," offensive coordinator Kliff Kingsbury said. "I think he's just one of those kids that has that type of vibe about him that nothing's too big for him."
As the Aggies prepare to make their SEC debut at 2:30 p.m. CT on Saturday at Kyle Field, there will be a lot of new: a new head coach (Kevin Sumlin) and coaching staff, a new offense, a new defense and even new uniforms. Add Manziel to that list; the Kerrville (Texas) Tivy product is the new starting quarterback for Texas A&M, winning a competition in fall training camp.
Listen to teammates, coaches and former coaches talk about Manziel, and the same words continue to pop up: competitor, confident, leader, winner.
"Probably one of the greatest competitors I've ever been around," said Mark Smith, his coach at Tivy who is now coaching at Converse (Texas) Judson. "I mean the boy wants to compete and he wants to excel and do well. And he made everybody else around him better. Those things have always stood out to me."
Manziel's leadership already has been seen during practices after Sumlin and Kingsbury named him the starting quarterback in August. Whether it's correcting mistakes or ensuring that everyone is on the same page, Manziel is getting it done.
"He's doing a real good job of stepping up and being real vocal," said Texas A&M senior center
Patrick Lewis
, one of the team's four captains. "Quarterbacks are normally in charge of the offense and he tells us what he wants and what he expects. For him to be so young and to demand that attention from us so early, it's really impressive to me.
"He'll come out there and give his little speech to the offense before we start practice and he demands perfection already. I'm proud of him; I'm happy for him. I can't wait to see what he can do once we start playing games."
At Tivy, Manziel -- sometimes called by his nickname, "Johnny Football" -- was a bona fide superstar. He was a Parade All-American and was named the Texas Class 4A Offensive Player of the Year by The Associated Press as a senior. He broke the San Antonio area's single-season record with 3,609 passing yards and tied an area record with 45 touchdown passes. Not only that, he ran for 1,674 yards and 30 touchdowns while leading the Antlers to a 10-2 record. As a junior, Manziel carried his team to the Class 4A Division II state semifinals.
Throughout his high school career, in which he threw for more than 12,000 yards, Manziel would cause jaws to drop by making plays with either his arm or his feet.
"I don't know if I can count them all," Smith said. "He found ways to do stuff. ... He made some throws sometimes that you just don't know how he made them. And he did it. Or he made a run that made you go 'Holy cow.'"
"



I'd take him in a heartbeat. I wouldn't even blink. I think he has all the tools that are necessary for him to be successful and to lead a football team.



"


-- Mark Smith, who coached Manziel at Kerrville (Texas) Tivy.
He originally committed to Oregon the summer before his senior season. The distance from home was a concern for Manziel, who wanted his family and friends to be able to see him play. When Texas A&M extended him an offer and he had an opportunity to see what the Aggies had to offer, he switched his commitment.
"When he sat down and made the decision to go to A&M, he came into my office on a Sunday night ... we came in and just sat down and talked and put down what's important," Smith said. "And family is important to him. Being close to his family so that his mom and dad are able to see him [was important], and when you got down to it, that was the underlying factor to him going to A&M."
Manziel isn't perfect. Kingsbury said that in the spring the 6-foot-1, 200-pound quarterback was "reckless with the football." Manziel operates with the confidence that he can make any throw or any play at any time. Kingsbury and Sumlin's high-powered, up-tempo offense, which is rooted in Air Raid principles, functions effectively only if the quarterback is taking care of the ball and distributing it to the playmakers around him.
When Manziel arrived for fall camp in August, the coaches could see significant improvement from him, particularly in that area.
"With Johnny, it's probably that he thinks he's the best player out there every time he steps out," Kingsbury said. "So he wants the ball in his hands and wants to do everything with it. He has a great cast around him, he's got to get it to those guys and let them make plays. Like I said, just reeling him back in from the spring, he showed up and was making the routine play and that's what we want from him."
Off the field, Manziel had a hiccup in the summer. He was arrested in the Northgate bar district and charged with disorderly conduct, failure to identify and possessing a false identification card, all misdemeanors.
Sumlin set forth parameters that Manziel had to meet to have a chance to remain part of the team. Sumlin said Manziel met all of them and got back in good graces. Not only that, he won the staff over enough that they felt comfortable tabbing him as the quarterback who will lead the Aggies in their first SEC season.
"No doubt, like everybody else, I was disappointed, because you expect more of him," Smith said. "And I think once you understand the whole story and get down to it, really he probably got caught at the wrong time, doing the wrong things. And he's just like any other 19-year-old kid on a college campus. We'd like these guys to be model citizens and do all the right things and they don't always do [that]. He made a decision, but he owned up and that's the first thing he said, 'I was wrong.' And I think that's the first mark of a man, to be able to hold yourself accountable and say 'I made a mistake.'
"For him to come back out and overcome the adversity he's had, shows his perseverance and his willingness to be committed to Texas A&M and make them a better program and make himself a better player."
Texas A&M senior receiver
Ryan Swope
took it upon himself to speak with Manziel over the summer to help him adapt to the college game and learn the ins and outs of what it takes to play at this level. They didn't just talk about football. They talked about life as well.
Swope said the team believes in Manziel.
"I've got trust in him," Swope said. "I feel like our whole team does, and that's important. As a senior coming back, I've talked to all the receivers, and a guy like Johnny, we have full trust in. We're very excited for him and we just can't get complacent, and that's what we tell him. He's got to work every day because we've got three guys [
Jameill Showers
,
Matt Joeckel
and
Matt Davis
] right behind him that are wanting that spot, so it's important that he goes out and works hard every single day."
Sumlin said he's relying on the veteran offensive players around Manziel to help ease the transition as he gains game experience.
"Until you're in a game with game speed and the intensity level, that's where your experience comes from," Sumlin said. "He's an inexperienced player and because of that, our surrounding cast of our offensive line or our running backs or our skill people on the perimeter who have experience, have to play well and create a quarterback-friendly atmosphere for him. Fortunately we've got experienced players in those positions."
Smith, who was one of the first people Manziel called when he was officially named the starter in August, has no doubt that "Johnny Football" will succeed.
"I'd take him in a heartbeat," Smith said. "I wouldn't even blink. I think he has all the tools that are necessary for him to be successful and to lead a football team."
August, 23, 2012
8/23/12
1:35
PM CT
Heading into the spring, the SEC had a few fun quarterback races to watch in both divisions. Some of those battles have come to an end, while a few still remain.
Let's take a look at each one from the spring and see where they currently stand:
AUBURN

The matchup:
Sophomore
Kiehl Frazier
left the spring with the edge because he took most of the reps, as a sore shoulder sidelined junior
Clint Moseley
. This fall, freshman
Jonathan Wallace
entered the race and has continued to impress Auburn's staff.
The winner is:
Frazier has the most athleticism and has felt much more comfortable throwing the ball with help from first-year offensive coordinator Scot Loeffler. While coach Gene Chizik continues to say the race is even between Frazier and Moseley, who is still dealing with shoulder soreness, we'll go with Frazier because of overall talent. He can make more plays with his feet and if his arm really does improve, he could be a solid dual-threat QB in this league.
FLORIDA

The matchup:
This two-horse race between
Jacoby Brissett
and
Jeff Driskel
has been intense since the spring. Brissett has had a little bit of the edge because of his game experience last year, but Driskel has made tremendous strides under the direction of new offensive coordinator Brent Pease.
The winner is:
Will Muschamp continues to say the race is dead even. Driskel's bruised shoulder didn't even complicate the race. It doesn't sound like anyone really knows who has outperformed the other, but the concensus is the team and the coaches can win with either. With that said, Brissett has more experience and we assume is completely healthy, so we'll go with him, but both should play in the opener.
KENTUCKY

The matchup:
Sophomore
Maxwell Smith
took all of the first-team reps this spring, while senior
Morgan Newton
recovered from shoulder surgery. However, Newton returned to get back into the race this fall. Joining them this fall were freshmen
Patrick Towles
and
Jalen Whitlow
.
The winner is:
Smith. Joker Phillips named Smith the starter on Monday, so this race has come to an end. The offense can now focus on running around Smith, who has been the most consistent of Kentucky's quarterbacks since the spring. This isn't a surprise.
OLE MISS

The matchup:
Neither of Hugh Freeze's quarterbacks have proven much at all and have struggled with consistency since spring.
Barry Brunetti
was given the starting job at the beginning of last season, but lost it almost immediately, and
Bo Wallace
is fresh off a season in the junior college ranks. Wallace, however, did spend a year with Freeze at Arkansas State.
The winner is:
Wallace seemed to have the edge for part of the spring, and then lost it as Brunetti got more comfortable with Freeze's offense. Both quarterbacks and Freeze felt things were very even heading into champ, but Wallace has had a much stronger champ. Both could end up playing in the opener, but we'll go with Wallace.
TEXAS A&M

The matchup:
Sophomore
Jameill Showers
, who has the only game experience at quarter, and redshirt freshman
Johnny Manziel
were nearly neck-and-neck for most of the spring, but Showers seemed to pull away little toward the end. Sophomore
Matt Joeckel
and true freshman
Matt Davis
also competed this spring.
The winner is:
Manziel. It seemed as though Showers had the edge in this one, but Manziel outplayed him during fall camp. After a solid outing during one of the Aggies' scrimmages, coach Kevin Sumlin decided to end the battle and give the starting job to Manziel.
VANDERBILT

The matchup:
Jordan Rodgers
replaced Larry Smith last season, but still showed inconsistency on the field at times. So, this spring, he had a battle on his hands with Wyoming transfer
Austyn Carta-Samuels
, who was the Mountain West's Freshman of the Year in 2009.
The winner:
Rodgers. This was probably always his job to lose, and he didn't. He had a very good spring and fall camp. Rodgers said this summer that he felt way more comfortable with the people around him this spring and is poised to have a much better year this fall.
August, 17, 2012
8/17/12
4:01
PM CT
COLLEGE STATION, Texas -- Texas A&M will host its second open-to-the-public scrimmage of fall training camp and third overall scrimmage at 11:30 a.m. Saturday at Kyle Field. Here are some things to watch for in the scrimmage:
•
Johnny Manziel
: Now that the redshirt freshman has officially been named the starting quarterback, it'll be worth closely watching how he performs in a public setting. The Aggies are fewer than two weeks away from their season opener, so his continued progress will be key to Texas A&M's success. It will be also worth watching to see how the other quarterbacks perform in the wake of the decision.
• The return game: Finding a kick returner is something that still needs to be crossed off the to-do list for coach Kevin Sumlin and special teams coordinator Brian Polian. Polian mentioned that he's not afraid to look at freshmen as candidates and that includes running back
Trey Williams
and freshman receivers
Sabian Holmes
and
Thomas Johnson
.
To continue reading this article you must be an Insider
August, 17, 2012
8/17/12
11:27
AM CT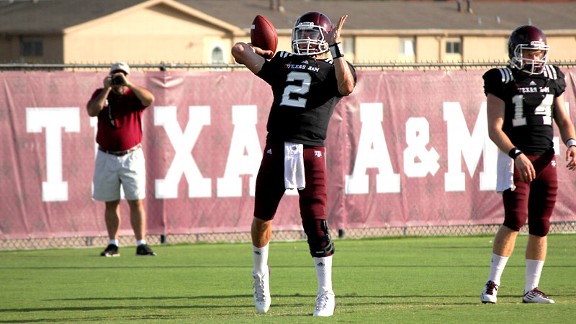 Sam Khan Jr./ESPN.comJohnny Manziel has cut down on mistakes and reckless plays during fall camp.
COLLEGE STATION, Texas --
Johnny Manziel
plays with confidence and lots of it.
That mentality coupled with his talent helped him put up video-game-like numbers at Kerrville (Texas) Tivy, become an All-American and a heavily recruited quarterback. That let-it-all-hang-out swagger has served him well, but in an offense such as Texas A&M's, which is based on accuracy, precision and quick decisions, that mentality can be a drawback.
Manziel's ability wasn't a question for coach Kevin Sumlin and offensive coordinator and quarterbacks coach Kliff Kingsbury. His control and ability to work within the offense was, and it was in this area that the coaches saw significant improvement, helping the redshirt freshman win the starting job over sophomores
Jameill Showers
and
Matt Joeckel
and true freshman
Matt Davis
.
"He just came back to camp and was making really quick decisions, protecting the football really well and just made plays, continually, every time we put him in," Kingsbury said. "He was moving the ball and scoring points and ultimately that's what you want."
In the spring, Manziel wasn't always careful, which is something the coaches wanted to see improvement on.
August, 16, 2012
8/16/12
6:53
AM CT
In his first year as head coach at Houston, Kevin Sumlin had a decision to make.
He had two quarterbacks, both of which had received significant playing time the year before, fighting for the starting job. The season before Sumlin's arrival, quarterbacks Blake Joseph and Case Keenum split time under then-head coach Art Briles.
But that's not Sumlin's style. He's a one-quarterback guy all the way. He declared a competition between the two and when the dust settled, Keenum won the job. The rest is history -- literally -- as Keenum went on to set eight NCAA Football Bowl Subdivision career records and taking the Cougars into the national rankings in two separate seasons, including a 13-1 mark in 2011.
To continue reading this article you must be an Insider
August, 8, 2012
8/08/12
12:30
PM CT
COLLEGE STATION, Texas -- As fall training camp continues for Texas A&M, so does the competition at quarterback. Aggies coach Kevin Sumlin has not named a starter while the quartet of Jameill Showers, Johnny Manziel, Matt Joeckel and Matt Davis continue to battle it out.
So what qualities are the coaches looking for in their starting quarterback?
"Leadership is huge, intelligence is big, got to be accurate in this offense," offensive coordinator and quarterbacks coach Kliff Kingsbury said. "Got to get it to your playmakers and get us in the right plays."
Here's head coach Kevin Sumlin's thoughts on what each of the candidates brings to the table:
Jameill Showers
, redshirt sophomore
"Jameill's got an extremely strong arm, an extremely quick release, an ability to throw balls into tight coverage. He's got a cannon and he's still got the ability to move around. He's strong in there."
Johnny Manziel
, redshirt freshman
"Johnny's a guy that's a creator. He can throw it. I think he's become a better passer in the last six months, since spring. Obviously he's worked on his motion and what we saw in the spring, he's able to move around and extend plays, create some other offense after that. But in the spring that got him in trouble some too. I think what he's worked on is his ability to sit in there a little bit more and make decisions."
Matt Joeckel
, sophomore
"Joeckel has probably thrown some of the best deep balls of anybody in camp. He's more of a pocket guy. He knows that. A bigger guy, not a run-around guy and that plays to his strength. That's probably why he's such a great deep ball thrower, because he'll sit in there and let it rip."
Matt Davis
, freshman
"Matt is just young. A lot of things are happening for him. As a passer, he's not where he needs to be, but as an athlete, he's probably better than all of them. And that's saying a lot because those first two guys (Showers and Manziel) are pretty good athletes. His strong suit is if it's not there, he's going to take off and try to make something happen. It's a blessing and a curse for those guys."
As for the timetable on officially naming a starter? After practice on Tuesday, Sumlin said the situation will "shake itself out in the next week or so."
Kingsbury said that the quarterbacks have responded well to the coaches when it comes to competition.
"I think they all worked hard this summer and they're competing just like they did in spring," he said. "So we'll keep rolling and we'll find a starter."
Senior receiver
Ryan Swope
, who set school records in receptions and receiving yards for the Aggies last year, sees some good qualities in each of the quarterbacks as well.
"You've got Jameill Showers, he has some experience, some game experience," Swope said. "Not only that, he has a great arm. He's real comfortable in the pocket. You've got Matt Joeckel, 6-5 quarterback, can throw the ball a mile and he can really put it on the spot, real accurate.
"Johnny Manziel is a guy who's almost impossible to tackle. Real shifty, can make a play on the run, can really make a play out of nothing, so he's real exciting to watch. Matt Davis can make those hard throws in traffic. It's just exciting right now, just because we've got four great guys competing for that spot and I'm anxious to see who comes up with it in fall camp."
August, 2, 2012
8/02/12
4:00
PM CT
As fall practice and the 2012 season approach, GigEmNation will take a look at where the Aggies stand currently and in the future at each position group. Today, we glance at the quarterbacks.
Current
On the depth chart: Matt Joeckel, Johnny Manziel, Jameill Showers

None of the three has any starting experience at the college level, as they compete in fall camp for the starting job. Showers, a redshirt sophomore, enters camp as the favorite to win the job, based on his spring performance. He was Ryan Tannehill's backup in 2011 and is the only one of the three who has seen any sort of playing time, though it was limited (he attempted five passes in 2011). Showers brings a strong arm and some mobility to the table. Manziel, who was a high school All-American, is a playmaker, especially with his feet. The redshirt freshman can run but can also make pass plays outside of the pocket. Joeckel has a good grasp of the offense and his strength is as a pocket-passer.
To continue reading this article you must be an Insider