Texas A&M Aggies:

Mark Hagen
May, 15, 2013
5/15/13
9:00
AM ET
Every Wednesday, Sam Khan Jr. will take a quick-hit look at some of the top recruits and storylines facing Texas A&M recruiting for the week.
This week's targets:
The Aggies are making sure to comb the state for linebackers now that one of their top targets at the position, 2014 inside linebacker
Zach Whitley Jr
., is committed elsewhere (Alabama). Spring (Texas) Klein Oak inside linebacker
Josh Mabin
and outside linebacker
Ja'Von Shelley
will get looks this week when linebackers coach Mark Hagen and defensive coordinator Mark Snyder are expected at the Panthers' spring game on Thursday. Hagen went by Klein Oak last week to see the pair. Texas A&M has also checked out 2014 Dallas South Oak Cliff defensive end
Silvester Hayes
, who could project as an outside linebacker and is someone the Aggies are evaluating.

Area of interest:
The Aggies' efforts in Louisiana paid some dividends in the last recruiting class, as Texas A&M hauled in three prospects from the neighboring state in the 2013 class, including ESPN 300 cornerback
Noel Ellis
. So it shouldn't come as a surprise to see them targeting high-level prospects from the state in 2014. They're in the running for several notable kids from "The Boot," including five-star athlete
Speedy Noil
, ESPN 150 defensive tackle
Gerald Willis III
and four-star quarterback
Brandon Harris
. All 10 Aggies commits are Texas products, but expect them to stay in the hunt for those three Louisianans.
To continue reading this article you must be an Insider
May, 14, 2013
5/14/13
2:00
PM ET
Spring (Texas) Klein Oak High School has a handful of prospects in the 2014, 2015 and even the 2016 classes and plenty of college coaches have made their way to the school in the north Houston area to evaluate them this spring.
One of them is 2014 inside linebacker
Josh Mabin
, who continues to add schools to his offer list.
To continue reading this article you must be an Insider
April, 29, 2013
4/29/13
10:00
AM ET
Each week this spring, GigEmNation reporter Sam Khan Jr. will bring you notes and nuggets from watching and visiting with high school football prospects in the Greater Houston area that week, including observations of Texas A&M commitments and targets and other players that catch his attention. Here's this week's installment:
To continue reading this article you must be an Insider
April, 26, 2013
4/26/13
9:30
AM ET
With the spring evaluation period underway, Texas A&M is making sure to cast its recruiting net far and wide.
Assistant coaches began to hit the road this week and with the majority of the 2014 prospects in Texas undergoing mandatory state-standardized testing this week, it was an opportune time for coaches to get outside of the Lone Star State to see prospects.
To continue reading this article you must be an Insider
April, 14, 2013
4/14/13
7:17
PM ET
Spring (Texas) Klein Oak 2014 linebacker
Ja'Von Shelley
made one visit to Texas A&M this spring.
On Saturday, he made a return trip for the Maroon-and-White spring football game. Though he originally planned to visit Oklahoma for its spring game, plans fell through and he called up Aggies' linebackers coach Mark Hagen, who encouraged Shelley to make his way back to Aggieland.
To continue reading this article you must be an Insider
April, 12, 2013
4/12/13
10:30
AM ET
COLLEGE STATION, Texas -- Throughout their successful 2012 season, the buzz around Texas A&M football built each week. It crescendoed after the Aggies defeated Alabama and peaked when the Aggies' quarterback,
Johnny Manziel
, won the Heisman Trophy. They kept that buzz going with a resounding win over Oklahoma in the AT&T Cotton Bowl.
That buzz has had a clear affect on Texas A&M recruiting and Kevin Sumlin and the Aggies' staff is doing what they can to ensure the buzz continues. In some instances, it's tricks or tactics that the Aggies use themselves, like when they trotted out a live disc jockey for the "Friday Night Lights" scrimmage last week.
To continue reading this article you must be an Insider
April, 10, 2013
4/10/13
8:00
AM ET
COLLEGE STATION, Texas --
Donnie Baggs
isn't the biggest guy -- or even the biggest linebacker -- on Texas A&M's defense.
But he might have the biggest load to carry this spring and fall for the Aggies. And it's a critical role, one that demands success if Texas A&M is to consider the 2013 season a success on defense.
[+] Enlarge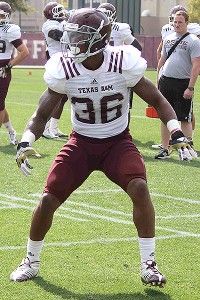 Sam Khan Jr./ESPNLinebacker Donnie Baggs is taking on a leadership role for the Aggies.
In many ways, Baggs' transition -- from reserve linebacker and spot starter last season to likely full-time starter at middle linebacker this season -- is indicative of what the entire group of Aggies linebackers are going through. Change.
Turn your eyes to that group on the Coolidge Grass Practice Fields this spring and what you see -- at least in terms of personnel -- is significantly different than what you would have seen at this time last year. A unit that was considered a strength coming into the 2012 season, with two experienced seniors (
Sean Porter
and
Jonathan Stewart
) leading the way is now a group in transition, with two new starters and several players who weren't even on the Texas A&M campus prior to January. And that includes the position coach, Mark Hagen, who is in his first year with the Aggies.
Earlier this spring, head coach Kevin Sumlin joked that he doesn't talk to Hagen much because Hagen's too busy melding all the new players together.
"I don't talk to him much because he's busy," Sumlin said with a laugh. "His plate's full, he's running around, he's meeting, he's chasing guys all over the place."
But the 6-foot-1, 230-pound Baggs is at the center of it all -- literally and figuratively. Not only is he responsible for getting acclimated to a new role, he's also the point man for getting the rest of the front seven lined up properly before the offense snaps the football. That task is easier for someone like Stewart, who was an experienced senior with plenty of football under his belt, than it is for Baggs, who has never been a regular starter.
April, 1, 2013
4/01/13
11:30
AM ET
For newcomers or players who are stepping into new roles, spring football is an important time to develop and get acclimated to their surroundings.
The same can be said for new coaches.
Texas A&M has three new position coaches this spring -- special teams coordinator and tight ends coach Jeff Banks, linebackers coach Mark Hagen and quarterbacks coach and co-offensive coordinator Jake Spavital.
Banks, who filled the void left by new Nevada head coach Brian Polian, brings plenty of experience to the table, especially since Banks was an all-conference punter himself at Washington State.
"We talked about replacing Brian with a guy who's just as capable, and Jeff is that," Texas A&M head coach Kevin Sumlin said. "He's got a wealth of experience, he's a former kicker/punter. He can be a technician and can help our guys. I think he's brought a different kind of scheme in all four phases. He's had the ability to keep their interests. Sometimes, change is good."
Sumlin said through the first nine practices, he is seeing some improvement from kicker
Taylor Bertolet
, who showed inconsistency during his redshirt freshman season in 2012. Bertolet was 13-of-22 on field goals (59.1 percent) and 67-of-74 on point-after-touchdown kicks last year.
"Just like quarterbacks and receivers, they have the opportunity to continue their craft all summer," Sumlin said. "So that will be an ongoing work. But definitely there's been some improvement, particularly with Taylor."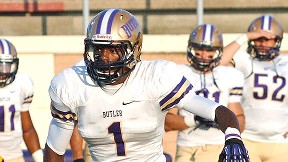 Courtesy of Butler C.C.Junior college transfer Tommy Sanders is getting plenty of work at linebacker for Texas A&M.
Plenty on Hagen's plate:
Hagen has a unique challenge. None of the linebackers who has taken snaps with the first team this spring were regular starters last year. The one returning starter of the group -- weakside linebacker
Steven Jenkins
-- is out this spring with a torn labrum.
"He's got a bunch of young guys," Sumlin said. "He's got
Donnie Baggs
, who has not played a whole lot of football around here at Texas A&M. He's got two guys who should be going to the prom next month at linebacker in
Brett Wade
and
Reggie [Chevis]
. And then he's got a junior college transfer
[Tommy Sanders]
, who just got here. I don't talk to him much because he's busy. His plate's full; he's running around, he's meeting, he's chasing guys all over the place."
"You throw
Shaun Ward
in there and guys who haven't played a bunch. With Jenkins out, that's given all those guys a lot of turns, [including]
Nate Askew
, who we moved from wide receiver."
Sumlin said he's seen some positive signs from Hagen and his young linebackers.
"It's really good for a new coach because those guys aren't used to doing a lot of things," Sumlin said. "He has a lot of energy and obviously those guys have made really good strides during the course of spring."
Askew making progress:
One of the many new faces at linebacker is one that was on offense last year:
Nate Askew
.
Before the spring, Askew moved to linebacker from receiver. Sumlin said he's seen Askew make improvement during the spring.
"It's going good," Sumlin said. "Some good, some bad. He's been over there nine practices in pads and the great thing about it has been his attitude and how he's approached the position, how he wants to get better, how he hasn't shied away from contact."
At 6-foot-4 and 220 pounds, Askew brings size and athleticism to the position.
"He's one of the top athletes on this whole team," Sumlin said. "He can really, really help us if he continues to get better the way he's gotten better the last couple of weeks."
March, 26, 2013
3/26/13
9:00
AM ET
The first few months of 2013 have been good to Mesquite (Texas) Poteet outside linebacker
Malik Jefferson
.
The 2015 prospect has seen interest from colleges turn into offers from schools in power conferences. His latest offer came Monday night.
To continue reading this article you must be an Insider
March, 20, 2013
3/20/13
11:00
AM ET
Spring break for ESPN Watch List linebacker
Josh Mabin
wasn't too much of a break.
While he took a brief period for rest, he mostly continued working out, trying to get stronger and better every day in anticipation of spring football, which is roughly a month away at Klein Oak in Spring, Texas.
To continue reading this article you must be an Insider
March, 3, 2013
3/03/13
3:38
PM ET
If there was one thing that Spring (Texas) Klein Oak linebacker
Ja'Von Shelley
enjoyed about his trip to Texas A&M's junior day, it was the vibe during the Aggies' first spring practice.
More specifically, the vibe he felt coming from the speakers inside the McFerrin Athletic Center.
"They had some music going," Shelley said. "I liked that. It gets you hype for practice. ... I loved that. I was dancing on the sidelines."
To continue reading this article you must be an Insider
March, 1, 2013
3/01/13
5:44
PM ET
COLLEGE STATION, Texas --
Johnny Manziel
took home the Heisman Trophy last season, but what Texas A&M coach Kevin Sumlin wants to see from him this spring is the same thing he wants to see from the rest of the Aggies when they begin spring practice on Saturday: Improvement.
Manziel and the Aggies return to the practice field this weekend to begin work towards the 2013 season after a memorable 2012. The talented signal-caller from Kerrville (Texas) Tivy has had a busy offseason that included an award ceremony, photo ops with celebrities, courtside seats at NBA games and of course, classwork and time in the weight room.
Sumlin said he isn't worried about where Manziel's focus is heading into spring.
"That's part of it," Sumlin said of the things that have come with Manziel's new fame. "We start practice tomorrow. That has nothing to do with his performance level."
Earlier this year, Texas A&M athletic director Eric Hyman did call a meeting that included Manziel, his family, Sumlin and A&M compliance officials to make sure everyone was on the same page as public scrutiny on Manziel increased.
March, 1, 2013
3/01/13
11:00
AM ET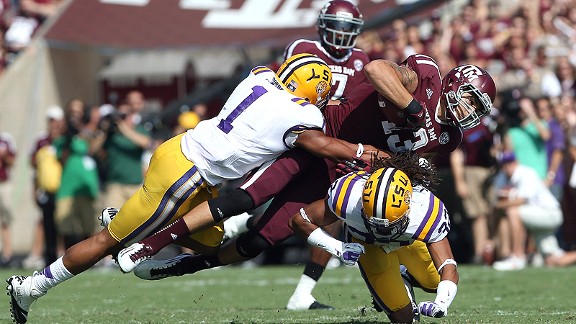 Ronald Martinez/Getty ImagesMike Evans will need support from other Texas A&M receivers in 2013.
Spring practice is rapidly approaching for Texas A&M. The Aggies hit the field for their first spring practice session on Saturday.

After a memorable 11-2 campaign that saw the Aggies impress observers in their first SEC season and redshirt freshman quarterback
Johnny Manziel
emerge as the Heisman Trophy winner, there's plenty to watch for in 2013.
Here are five storylines to keep an eye on as the Aggies begin spring drills:
To continue reading this article you must be an Insider
February, 8, 2013
2/08/13
5:13
PM ET
GigEmNation writer Sam Khan Jr. chatted with readers on Friday about Texas A&M football and recruiting. Here's the
full transcript
of the chat. Topics covered included
Johnny Manziel
, 2013 recruits that could have instant impacts and the future outlook, both in recruiting and on the field. Here's an excerpt from Friday's chat:

Mike (Sarasota):
Sam, Although no one could truly fill those shoes, which of the incoming recruits do you see filling in the best for
Damonsta Moore
.
Sam Khan Jr.:
I don't expect someone will be able to fill that production in 2013, but long term,
Daeshon Hall
has the kind of athleticism and body that makes me believe that he can eventually have that kind of impact.
Payton (Katy, TX (Title Town)):
Hey Sam,What is your impression with the way Sumlin has re-staffed his coaches? We lost a few class guys, but I think picked up some great recruiters and very respectable coaches.
Sam Khan Jr.:
Payton, I loved the hire of Jake Spavital. It's someone who he has worked with before, knows the style of offense the Aggies use and is young and energetic. Plus he can recruit. I'm hearing great things about Jeff Banks, the new special teams coach. He was a former punter himself and got two nice specialists as preferred walk-ons (
Shane Tripucka
, the Under Armour All-American punter) and
Cody Wicker
, a kicker from Dallas Jesuit. And Mark Hagen came in as a proven recruiter from Indiana and has been a recruiting coordinator before. Clearly, Sumlin understands how important it is to bring in players.
Will (SA):
Do you think the new rules to recruiting will help or hurt the A&M recruiting, after doing so well this year
Sam Khan Jr.:
I think it remains to be seen how it affects everyone but the relaxed rules on contact I think are a plus for the Aggies because Sumlin hires a staff of guys that hustle. The assistants are workhorses and if you give them a chance to build better relationships through more contact, I think the Aggies will capitalize on it.
Recruit Comparison: Murray to Allen
SEC SCOREBOARD
Saturday, 12/21
Monday, 12/23
Tuesday, 12/24
Thursday, 12/26
Friday, 12/27
Saturday, 12/28
Monday, 12/30
Tuesday, 12/31
Wednesday, 1/1
Thursday, 1/2
Friday, 1/3
Saturday, 1/4
Sunday, 1/5
Monday, 1/6