Texas A&M Aggies:

Marcus Mariota
November, 12, 2013
11/12/13
9:30
AM ET
Move over Archie Griffin,
Johnny Manziel
is on his way to joining your elite club as the only two-time Heisman Trophy winner.
Manziel's case is crystal clear, but if he isn't at or near the top of your Heisman list, you aren't watching the game correctly.
There just isn't a better, more exciting player to watch. Manziel has the wins, the stats, more stats and the swag to back it all up. But for some reason, Heisman talk has been pretty quiet surrounding Manziel. Sure, he won the award last year, and his in-your-face offseason created some Manziel fatigue, but you can't ignore Manziel's 2013 body of work.
[+] Enlarge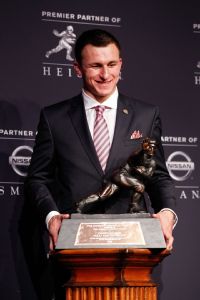 Mike Stobe/Getty ImagesJohnny Manziel is playing better this year than he did in last year's Heisman Trophy season.
Through 10 games, Manziel leads the SEC and ranks third nationally with 3,313 passing yards. He's second nationally with a completion percentage of 73.0 and 31 passing touchdowns, and he is third with an efficiency rating of 186.9. He leads the SEC with 331.3 passing yards per game and is also 12th in the league with 611 rushing yards and eight touchdowns. Manziel has thrown for more than 300 yards six times -- and in four of those he surpassed 400 yards -- and has thrown three or more touchdowns seven times.
He ranks fourth nationally with a QBR of 88.5.
At this point last year, Manziel had 2,780 passing yards and 18 touchdown passes. Yeah, he's thrown for 533 more yards and 13 more touchdowns this season.
No, Manziel isn't slicing up defenses with his feet like he did last year, but he's a much better passer and he's still capable of doing mind-blowing things
like this
.
This was supposed to be a season in which the fame and offseason gallivanting clouded Manziel's on-field vision. No way was he going to sniff duplicating his fantastic freshman campaign. His focus wouldn't be there, and he'd more than likely turn into a shell of his former self.
Well, Johnny Football only got
better
! He goes through his progressions, reads defenses and likes to throw first. Sure, he could carve up any defense at will, but he'd rather throw this year. He'd rather look at his second and third options before taking off. And when he does take off, good luck. The quarterback/ballerina can shimmy and shake his way past a drove of defenders with relative ease, but he has been more guarded this season, and that hasn't been a bad thing.
Manziel also is putting up Playstation numbers with his own defense collapsing around him. The Aggies' defense has been dreadful, giving up a league-high 454.4 yards per game and more than 30 points a contest. Manziel is trampling defenses in spite of his defense.
But Manziel has two losses, you'll shout! He has 11 interceptions, you howl. Yes and yes, but he also had two losses and nine interceptions last year, yet ran away with the Heisman.
Look at his numbers in losses. In the 49-42 loss to No. 1 Alabama, which ranks sixth nationally in total defense, he rallied his team back from a 35-14 deficit with 464 passing yards, five touchdowns and 98 rushing yards. In the 45-41 loss to Auburn, Manziel threw for 454 yards and four touchdowns, while adding 48 rushing yards and another score. What was even more impressive about his play was that he completed 10 passes for 102 yards and ran for a touchdown after an apparent shoulder injury.
Compare his numbers in losses to those of former Heisman frontrunner
Marcus Mariota
in Oregon's loss to Stanford, and it's not even a close race. Mariota threw for 250 yards and two scores against the Cardinal, but he ran for minus-16 and didn't lead the Ducks to a scoring drive until the fourth quarter. Manziel either gets in the end zone or leads his teams to scores while lighting up the stat sheet no matter the outcome.
Injuries don't faze him. You saw it against Auburn, and you saw it when his knee buckled during his 470 total-yard performance in the Aggies' 41-38 win over Ole Miss.
The kid is a machine, and he's darn near impossible to stop.
As the clock winds down on college football season, we finally can get into the nitty gritty of the Heisman race. At this point, it's all about Johnny Football and Florida State freshman quarterback phenom
Jameis Winston
, who trails Manziel by 1,106 total offensive yards and nine touchdowns.
Teddy Bridgewater
and
Tajh Boyd
are mere afterthoughts, while
AJ McCarron
and
Bryce Petty
are making runs that likely will fall short late, but not after a nice
good job, good effort
.
Famous Jameis is great. He's the future of the sport, and the future looks radiant. But he just doesn't put on the show that Manziel does.
In what could be Manziel's final collegiate year, he has turned in a wonderful final act that's more than worthy of that classy bronze statue.
November, 3, 2013
11/03/13
9:00
AM ET
The SEC might be a quarterback league this season, but it was the running backs who stepped up across the conference on Saturday. But who all deserves a helmet sticker for Week 10? It's time to find out, as we look at the top performances from the day that was.

Tre Mason, RB, Auburn:
Arkansas is supposed to have the smash-mouth offense, but Auburn's Mason gave Bret Bielema a dose of his own medicine in Saturday's 35-17 win. Mason rushed for 168 yards and a career-high four touchdowns on 32 carries. He had the hot hand early against the Razorbacks, and head coach Gus Malzahn rode him to the end. The junior running back scored twice in the first half, once on the opening drive of the second half, and he put the game away with a sensational 12-yard touchdown run in the fourth quarter. He now has 13 touchdowns this season and has at least one rushing touchdown in six straight games. He's been a major reason why the Tigers have the SEC's top rushing offense.
Todd Gurley, RB, Georgia:
Boy was Georgia glad to have Gurley back. The sophomore running back had missed the last three games with a sprained ankle, but it didn't take long for him to return to form. He rushed for 30 yards and a touchdown on the opening drive, and he caught a 73-yard touchdown pass on the Bulldogs' second series. He finished with 17 carries for 100 yards, three catches for 87 yards and the two scores. When things got a little chippy against the Gators, Gurley was in there mixing it up, defending his teammates. With a win, Georgia stayed alive in the SEC East, and the Bulldogs will need Gurley to be healthy from this point forward, especially when they travel to No. 11 Auburn in two weeks.
Gary Pinkel, HC, Missouri:
Any number of Missouri players could be on this list.
Maty Mauk
accounted for 277 total yards and three touchdowns. The defense held Tennessee to three points and forced a turnover for the 39th straight game, the longest current streak in the FBS. But credit Pinkel for getting his team ready to play after a heartbreaking loss to South Carolina the week before. The Tigers could've come out and flat or laid an egg, but they didn't. Instead, they dominated the Volunteers, 31-3. It was Missouri's largest margin of victory in SEC play since joining the conference, and don't forget, they still control their own destiny in the East.
Mike Davis, RB, South Carolina:
How would
Connor Shaw
replicate last week's heroic performance? By throwing four touchdown passes in a 34-16 win over Mississippi State. But despite another impressive performance from the South Carolina quarterback, it was Davis who played the best game. The SEC's leading rusher went for 128 yards on 15 carries, averaging 8.5 yards per carry. He now has 1,058 yards and 10 touchdowns on the season and becomes the first Gamecock to rush for more than 1,000 yards since Marcus Lattimore did it as a freshman in 2010. Shaw was inconsistent at times Saturday, but Davis was as steady as they come.
Johnny Manziel, QB, Texas A&M:
It was only UTEP, but Manziel accounted for 340 yards and six touchdowns as Texas A&M cruised to a 57-7 victory. The Aggies' quarterback finished 16 of 24 for 273 yards and four touchdowns through the air, and he also added 67 yards and two scores on the ground. He's on pace to have a better season than he did a year ago, but the reigning Heisman Trophy winner will have trouble passing Oregon's
Marcus Mariota
and Florida State's
Jameis Winston
for the award. Manziel still has road games at LSU and Missouri to help make his case, but first, the Aggies will host Mississippi State next week.
October, 15, 2013
10/15/13
12:30
PM ET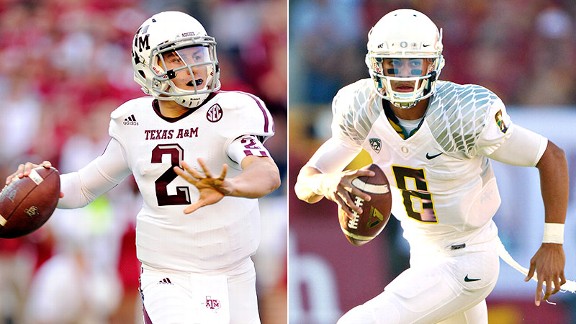 US PresswireBoth Johnny Manziel and Marcus Mariota have made some electric plays this season.
We've hit the midway point of the 2013 college football season and we're looking at midseason All-Americans.
There are plenty of worthy options at QB, but we all know it comes down to two names:
Johnny Manziel
and
Marcus Mariota
.
They are the two most exciting players at their position, and both are on teams that could be playing in the BCS title game. But which one truly is No. 1? Well, Pac-12 reporter Ted Miller and SEC reporter Edward Aschoff decided to take this argument to the streets!
We made our cases for both, but you guys decide the winner:
Edward Aschoff:
Well, this one really is an easy one for me.
Remember when we all buried Manziel for his off-field shenanigans? We wondered if he'd be focused enough to duplicate his record-setting, Heisman Trophy-winning first year. Well, through six games, Manziel has totaled 2,273 yards of offense and 19 touchdowns. He's averaging 378.8 yards and 3.2 touchdowns per game and has completed 73.2 percent of his passes. He's a little behind last year's production, but he also has less receiving weapons this year and his line isn't as strong.
Watching Manziel is like watching poetry in motion. He's standing in the pocket longer, scanning the field, making reads and thinking about running second. And when he does run, watch out. He's easily the slipperiest player in the country. He jukes guys out of their shoes and can make NFL throws on the run or in the pocket. Nothing gets to this kid, and you'd be crazy not to have him No. 1 on any awards list.
Ted Miller:
Over at the Pac-12, we respect good quarterback play, so we are excited the SEC is finally getting to see what good QB play can do. Further, we love watching that little spark plug Johnny Football play. He's a neat little guy. So please accept a pat on the head from us.
Why is Mariota the midseason first-team QB? It's because, well, he's so completely freaking better than anyone else.
We'll start with
QBR
first.
Our boy Mariota is No. 1. Manziel is No. 6.
Mariota has 17 touchdown passes. Manziel has 14. Mariota has zero interceptions (no turnovers, in fact). Manziel has five.
Manziel is slippery. He slipped his way to 438 rushing yards, which beats Mariota by 12. Of course, Mariota averages 10.4 yards per carry compared to 6.5 for Manziel. And Mariota has eight touchdown runs compared to five for Manziel.
Heck, if we just went bottom line with points accounted for, Mariota has 150 compared to 114 for Manziel.
Oh, and Mariota is 6-foot-4 and a sure NFL first-round draft pick. Manziel is 6-1 if you measuring him while he stands on his tippy toes.
EA:
What Mariota has done this year has been very impressive, but he's just not Manziel. He can't change games like Manziel does.
You never see Manziel hesitate in the pocket or on runs. He stands tall, even though he really does look like a kicker out there with his size, and isn't afraid to take a hit or two. Manziel just has a magical way of extending plays and turning trash into treasure. A switch goes on when he walks into a stadium and he immediately becomes the best athlete on the field.
Look at what he did against Alabama and Ole Miss. The Crimson Tide built a 35-14 lead early in the third quarter and Manziel did everything he could to break that lead down bit by bit. He threw for a school-record 464 yards and five TDs and ran for another 98 yards in the Aggies' 49-42 loss. What if Manziel got the ball back on that onside kick with 15 seconds remaining?
Remember his Eli Manning-David Tyree moment against Alabama? I mean, Manziel only slipped out of
Jeoffrey Pagan
's attempted wrap-up and heaved an errant pass off his back foot into traffic on third-and-8, only for it to fall right into the hands of wide receiver
Edward Pope
for a 12-yard gain.
By the way, that Alabama defense now ranks No. 8 nationally.
Against Ole Miss, Manziel had a scary left knee injury in the first quarter, missed a play and then proceeded to play better. He made PlayStation-like plays with his legs, delivered some beautiful throws and sliced his way through Ole Miss' defense to deliver a come-from-behind, game-winning drive. He accounted for 346 passing yards, 124 rushing yards and two touchdowns, with 177 of those yards and a score coming in the fourth quarter.
He's easily the most exciting player to watch and the toughest player to stop. He'll burn you with his feet and carve you up with his arm. There just isn't another gamer like Manziel.
TM:
I do love watching Manziel play. There's not only something magical about his devil-may-care playmaking, it's also cool that he doesn't look like he was constructed in a lab.
Further, when taking a measure of both, it doesn't help that they haven't played through the meat of their schedules yet. The only good team Manziel has faced is Alabama. The only good team Mariota has faced is Washington. Heck, the big deal from the win over the Huskies was that Mariota threw his first pass of the year in the fourth quarter because it was the first time he was needed in the fourth. And, yes, No. 1 Alabama is a far greater test, even at home, than a visit to No. 20 Washington.
So what did Mariota do when the Ducks only led by seven entering their first meaningful fourth quarter? He was 5-of-6 for 75 yards with a 3-yard touchdown pass and a 5-yard touchdown run. Like Manziel, Mariota took over the game. He completed 24-of-31 passes for 366 yards with three touchdowns and no interceptions. He also rushed 13 times for 88 yards and a score. Those numbers came against a defense that was playing at home and ranked 10th in the nation in total defense, 11th in scoring defense and third in pass efficiency defense.
It wasn't a Nick Saban defense. But if you ask around, a Justin Wilcox defense isn't too shabby either.
In the end, I see Mariota with significantly better numbers at midseason leading an undefeated, No. 2-ranked team.
Of course, we have two very good QBs who still have half a season to play. No one ever remembers the midseason MVP. It's all about where things stand in January.
October, 11, 2013
10/11/13
10:00
AM ET
We've reached Week 7 in the SEC. Here are some random tidbits you might not have known.
• The matchup between Florida's stellar defense and LSU quarterback
Zach Mettenberger
should be highly intriguing. The Gators lead the nation in Total QBR allowed, with opposing quarterbacks rating just a 13.0 against Florida and completing just 21.1 percent of their passes of 15 yards or longer. Meanwhile, Mettenberger has completed 60 percent of his throws of 15-plus for eight touchdowns, no interceptions and an average of 15.8 yards per attempt.
• Florida quarterback
Tyler Murphy
has led an offensive revival since taking over for
Jeff Driskel
as the Gators' signal-caller. He hasn't played enough snaps to qualify for ESPN's Total QBR rankings, but only Oregon's
Marcus Mariota
and Baylor's
Bryce Petty
have higher QBRs than Murphy's 93.7 among QBs who have participated in at least 80 action plays.
• South Carolina expects star defensive end
Jadeveon Clowney
to start this week after missing last week's game with a much-debated injury. ESPN Stats and Information reports that Clowney has played 63 percent of South Carolina's defensive snaps this season. Opponents are averaging 5.9 yards per play with Clowney on the field versus 4.8 ypp when he's off.
• Georgia enters Saturday's game against Missouri riding a 15-game winning streak. That's the longest active home winning streak in the conference and the third-longest such streak in school history. The Bulldogs last lost at home against South Carolina on Sept. 10, 2011.
• Expect Alabama to look to establish the run against Kentucky on Saturday. The Crimson Tide are averaging an SEC-high 6.6 yards per designed run in SEC games. Meanwhile, the Wildcats are allowing 5.2 yards per designed run -- second-most in the league. Kentucky has allowed an SEC-high 629 yards before contact on such runs.
• Georgia quarterback
Aaron Murray
claimed the SEC's career passing yards lead last week against Tennessee. He's closing in on two more career marks. With 11,908 yards of career total offense, Murray is 324 yards behind Tim Tebow's SEC record (12,232). And with 109 career touchdown passes, he's five behind Danny Wuerffel's SEC record of 114.
• Ole Miss' no-huddle offense has been a mess of late after a strong start. The Rebels averaged just 1.6 yards per play last week against Auburn when employing the no-huddle after averaging 7.6 yards per play through the first four games when operating out of the no-huddle. Quarterback
Bo Wallace
was 2-for-10 on passes out of the no-huddle against Auburn after going 19-for-23 in the first four games.
• Arkansas freshman
Alex Collins
leads the SEC with 651 rushing yards, but his workload has decreased in his first two conference games. Collins was averaging 21.5 carries against nonconference opponents, but that average dipped to 13.5 in SEC play. His average yards per game dipped from 120.3 to 85.0 and his yards after contact per game have dropped steeply, from 73.0 to 27.5.
• Aside from its shaky performance in a win against Texas A&M, Alabama's defense has been impressive. Following a shutout against Ole Miss and a 45-3 win last week against Georgia State, the Crimson Tide are now tied with Florida for the SEC lead in scoring defense at 12.2 ppg. Alabama is second in rushing defense (85.8 ypg), second in total defense (299.8) and fifth in pass defense (214.0). The Tide have an SEC-low 25 missed tackles according to ESPN Stats and Information.
• Missouri is first in the SEC in rushing (258.8 ypg) and fourth in passing (285.0). The Tigers rank among only five FBS teams averaging at least 255 yards on the ground and 285 through the air alongside Baylor, Oregon, Washington and UCLA.
• Auburn will hold its 100th observance and 87th homecoming game on Saturday against Western Carolina. The Tigers are 74-8-4 in their previous homecomings. They own a 2-0 all-time record against the Catamounts, winning by a combined 111-6 margin.
• It's also homecoming at Mississippi State and a reunion between three Bulldogs coaches with a program where they once worked: Bowling Green. Mississippi State head coach Dan Mullen and assistants Billy Gonzales and John Hevesy coached at Bowling Green in 2001-02. Mullen also met his wife Megan while coaching there.
September, 15, 2013
9/15/13
10:00
AM ET
The Alabama-Texas A&M game was as exciting as we could have hoped, but it was far from the only entertaining game on the SEC slate this weekend.
Here are five things we learned around the league on Saturday:
[+] Enlarge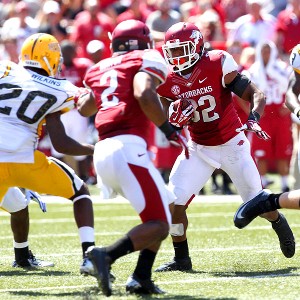 Nelson Chenault/USA TODAY SportsJonathan Williams helped power Arkansas to 258 rushing yards against Southern Miss.
The SEC is a defense-first league?:
For a minute there, it looked like Alabama (2-0) was preparing to blow out Texas A&M (2-1), as the Tide held a three-touchdown lead at the start of the fourth quarter. But Aggies quarterback
Johnny Manziel
reminded us in the fourth that he's pretty darn good. Manziel tossed three touchdown passes in the final period -- including a 95-yard bomb to
Mike Evans
-- and helped A&M climb within a touchdown in the final minute. There wasn't much defense on display at Kyle Field -- the teams combined for 1,196 yards, 62 first downs and 91 points -- but Alabama avenged its upset loss last year by holding on at the end for a thrilling 49-42 victory.
Rumors of South Carolina's demise were greatly exaggerated:
For South Carolina fans who were concerned that last week's loss to Georgia was a sign of impending doom, the Gamecocks (2-1) provided a reminder that they've still got a strong pulse in the first quarter against Vanderbilt (1-2). Steve Spurrier's team rode strong early performances by quarterbacks
Connor Shaw
and
Dylan Thompson
to jump out to a 21-0 lead by the end of the first quarter and led 28-0 before a better-than-average Vanderbilt team notched its first points. Vanderbilt mounted a rally in the fourth quarter to make things interesting, but make no mistake, the Gamecocks will still be a force to reckon with in the SEC East race.
Arkansas' running game is worth watching:
When quarterback
Brandon Allen
went down with a shoulder injury in the first quarter, Arkansas (3-0) abandoned the passing game almost entirely against Southern Miss. The Razorbacks didn't need to pass much with
Alex Collins
and
Jonathan Williams
in the backfield. Williams had a team-high 116 rushing yards and Collins added 115, making him the first freshman in SEC history to rush for more than 100 yards in each of his first three games, and the first in any conference since Oklahoma's Adrian Peterson in 2004. Collins entered the weekend as the SEC's top rusher and Williams was third, and the duo didn't do anything to damage their standing on Saturday. They haven't faced a powerful defense yet -- next week's game at Rutgers will be their biggest test to date -- but Collins and Williams' considerable running skills have helped Arkansas jump out to a 3-0 start.
One slide ends, another continues:
It's hard to say who needed a win more at Jordan-Hare Stadium: an Auburn team that hadn't won an SEC game since 2011 or a Mississippi State team that had lost six of its last eight games. It was Gus Malzahn's Auburn club (3-0) that rallied for the game-winning touchdown with 10 seconds to play on Saturday, handing Mississippi State (1-2) another gut-wrenching defeat. Auburn's victory ended a 10-game league losing streak that provides an enormous boost with a trip to LSU on tap next weekend.
Vols aren't back yet:
Tennessee (2-1) couldn't keep its game with No. 2 Oregon interesting for long, as the promise the Volunteers showed in wins against Austin Peay and Western Kentucky didn't translate into remaining competitive with one of the nation's better teams. The Ducks scored 59 straight points and ran up 687 yards -- 456 passing by quarterback
Marcus Mariota
-- in blowing new coach Butch Jones' club off the field. In the next five games, the Vols will face four ranked teams: No. 18 Florida, No. 9 Georgia, No. 13 South Carolina and No. 1 Alabama. So the road could get rocky quickly for the Vols.
April, 16, 2013
4/16/13
8:00
AM ET
Johnny Manziel
has always played football like he didn't have a care in the world.
It's one of the many things that makes him so good, so instinctive and so entertaining.
Hey, it works for him.
So as he embarks on life after the Heisman Trophy (both on and off the field), he's not going to change a whole lot.
[+] Enlarge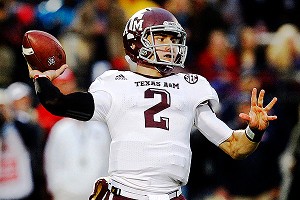 AP Photo/Rogelio V. SolisHeisman-winning QB Johnny Manziel said he's made strides on learning to deal with his fame.
In fact, he's going to endeavor to be himself more than ever going forward.
"It's hard sometimes, but I'm at the point now that I don't care what people say," Manziel said. "Everybody's watching, and I understand that. For me, the spotlight wasn't there at all, and then just like that, it was everywhere I went. It took some getting used to, but it's getting better.
"I'm not going to quit being me and quit doing all the things I love, but I check with a lot more people now before I do anything."
In other words, Manziel rarely leaves campus without first checking in with Texas A&M's compliance officials.
He's also sought assistance on how to deal with the unrelenting requests for autographs and pictures. He's taking online courses only this semester and won't start back taking classes on campus until the summer session.
"No matter how badly you want to, you can't make everybody happy," Manziel said. "They brought in somebody to help me with that, learning how to say no, and yet, still be polite."
There's been progress. Manziel said he and his roommate and best friend, Steven Brant, recently went to a restaurant to eat and walked in and walked out without much disturbance.
"Every day, it gets a little better," said Manziel, who doesn't apologize for being one of those people who loves to have a good time.
On a college campus, how many people don't fall into that boat?
He's become a celebrity among the celebrities. Rapper Drake tweeted at Manziel last week, and Texas A&M coach Kevin Sumlin joked that Manziel has LeBron James on speed dial.
Manziel has also become friends with several other high-profile college football players and is a huge fan of the game. He and Alabama quarterback
AJ McCarron
talked about hanging out together at spring break. But their breaks were one week different, and it didn't work out.
Manziel has also developed a friendship with USC receiver
Marqise Lee
, and when it comes to watching college football, two of his favorites are Oregon quarterback
Marcus Mariota
and Clemson quarterback
Tajh Boyd
.
This week, with the Aggies having wrapped up spring practice, Manziel is going back home to Kerrville, Texas, for a ceremony to honor him.
"It's the first time I've been back in a while, and it will be good to see everybody," he said.
He's fresh off throwing for 303 yards and three touchdowns in Texas A&M's spring game last weekend. Granted, Manziel was going against the second-team defense, but he looked more polished in the pocket.
"I'm still going to be looking to make plays and still get positive yardage any way I can, but I want to play more within the system," Manziel said. "I've honed in on my mechanics and honed in on the little things that make you a good quarterback."
That said, don't think for a minute that the streetball version of Johnny Football is going anywhere.
"I call it Michael Vick ball, and that's always going to be a part of my game," Manziel said.
November, 14, 2012
11/14/12
12:00
PM ET
SEC blogger Edward Aschoff and Pac-12 blogger Kevin Gemmell take a look at the hottest young quarterbacks in the country right now, Texas A&M's Johnny Manziel and Oregon's Marcus Mariota.
Who would you rather build your team around if you were choosing between the two? Aschoff and Gemmell take on that very question in this week's Hot Button.
Read the full analysis here
.
Recruits Miss Lone Star Showdown
SEC SCOREBOARD
Thursday, 9/3
Saturday, 9/5