Texas A&M Aggies:

Larry Jackson
January, 15, 2013
1/15/13
3:00
PM ET
This week, GigEmNation looks back at five decisions that helped define Texas A&M's 2012 season. These moments could be on or off the field or could have even come before the season, so long that they had a lasting impact on the Aggies' 2012 campaign. Today, we look at our pick for No. 4, the hiring defensive coordinator Mark Snyder
[+] Enlarge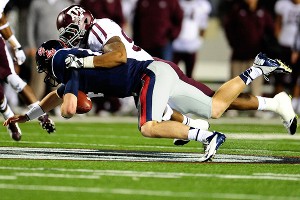 Stacy Revere/Getty ImagesDamontre Moore led an Aggies defense that got a boost from new defensive coordinator Mark Snyder.
One of the biggest question marks for Texas A&M heading into its first Southeastern Conference season was on defense.
In particular, the Aggies' defensive line was a concern. After spending two years in a 3-4 alignment and recruiting for that, Texas A&M moved to a 4-3 this season even though depth wasn't plentiful, specifically on the defensive interior. The coaches stated that as a concern, as well as the possibility of having to play younger players early in physical league like the SEC.
October, 10, 2012
10/10/12
12:15
PM ET
For Houston Lamar safety John Bonney, this year has been a little bit of an adjustment.
The 2014 prospect, who traditionally plays safety, has spent a lot of time at cornerback this year. The transition hasn't been much trouble for the 6-foot, 175-pound prospect -- he has three interceptions in the Redskins' first five games.
To continue reading this article you must be an Insider
August, 6, 2012
8/06/12
12:03
PM ET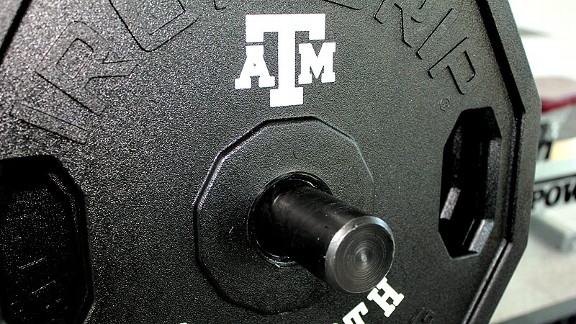 Sam Khan Jr./ESPN.comTexas A&M's first season in the SEC is also the Aggies' first year training in a new 20,000-foot player development center.
COLLEGE STATION, Texas -- When Larry Jackson ventured to Norman to join the staff at Oklahoma in 2004, it was a business decision.
After spending six seasons at Texas A&M, his alma mater, as an assistant strength and conditioning coach, Jackson made a decision that he felt was best for his family. In 2006, when the chance to become a head strength and conditioning coach (or director of sports performance, as it is termed at Houston) opened, Jackson took it. Again, it was a business decision.
When Kevin Sumlin offered Jackson the chance to become the Aggies' director of sports performance after he accepted the head coaching job, Jackson took it. Being back in College Station, the place where Jackson spent his playing career and started his coaching career, is different.
"Whenever this job came around, after years of watching them play and obviously they weren't succeeding the way that they wanted to, then it became a very big deal when I came back to get this job," Jackson said. "This wasn't just business for me, this was a personal decision."
That carries weight in Aggieland. Jackson, the man whom Sumlin trusts to ensure the players are in tip-top shape and ready for battle -- perhaps never more important than this season as Texas A&M prepares for its first season in the SEC -- said that leading the Aggies' daily workouts is more than just a job to him. Much of that is because he has spent many important years of his life at Texas A&M. He was a linebacker and defensive end from 1991-94, then after a four year playing career in the NFL and NFL Europe, returned to College Station to begin his coaching career.
"When you come back to your alma mater and you played and you get to coach here, all the things that my buddies care about, for them it's a personal deal too because they feel like they have one of their own back in there," Jackson said from his office in the Aggies' new Player Development Center. "So all the guys that I played with, they know that for me, it's more than just a paycheck."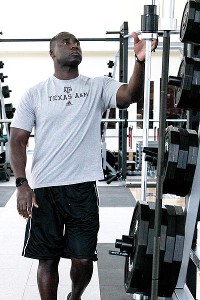 Sam Khan Jr./ESPN.com
Larry Jackson gets to return to his alma mater as the director of player performance.
While the fruits of Jackson's labor won't be evident until the Aggies take the field against Louisiana Tech on Aug. 30, the players are already seeing his impact.
"Coach Jackson, he's a great guy, he's been working hard with us and pushing us," senior receiver
Ryan Swope
said. "You know this whole staff has done a great job this summer really taking us and pushing us to the max level. All the guys want to do extra; he's just been pushing us that hard. He just really shows us that this team has a lot of character."
Senior linebacker
Sean Porter
called Jackson "a player's coach."
While the 40-year-old Jackson can relate to his players well and has a personality that the Aggies appreciate, there are certainly times when the relationship isn't rosy.
"[Jackson's] the devil during the workout," senior linebacker
Jonathan Stewart
said with a laugh. "You can get really upset because of what he's doing, but post-workout, you feel great. You'll go home and eat something nutritious and you feel like 'Wow, I got better today.' With his workouts, you feel like you've gotten better rather than just going in there and doing something redundant and coming out as the same person."
August, 6, 2012
8/06/12
9:19
AM ET
COLLEGE STATION, Texas -- About two weeks prior to the date of the Texas A&M Player Development Center's scheduled completion, boxes of new weights arrived near the front door.
With the anticipation of someone moving into a new home, Aggies director of football sports performance, Larry Jackson, went to work, opening the boxes and unloading the weights with the help of several others.
"I just got so excited," he said. "Now to finally be moving your stuff in, it's like 'They can't be finished fast enough,' but you want them to do it right."
[+] Enlarge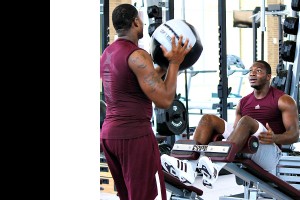 Sam Khan Jr./ESPN.comTexas A&M players now work out in FBS' largest football-only training complex.
Take one stroll through the $9 million, 20,000-square foot weight training facility and it's clear that A&M has done it right when it comes to giving its football players plenty of resources with which to become better.
Head coach Kevin Sumlin knew the need to move from the Netum Steed Laboratory, the former home for strength training. He also understands what the upgrade to the new Player Development Center means to his program.
"It's huge," Sumlin said. "It's state-of-the-art. You look at Netum Steed which was there 20-25 years ago, that was state-of-the-art, best of its kind. That's where we need to be. That's going to give Larry Jackson a place that has all the latest things, bells and whistles, things that can train, a great atmosphere in there for them. It's a much-needed facility."
Inside the new facility, 16 platforms serve as the centerpiece. On each of those platforms, cutting-edge technology is installed in the form of a camera system and an attached tablet where players can sign in with their names and have their workouts recorded for evaluation by Jackson and his staff. The cameras yield data from a player's lift, such as the speed of the lift and how it compares to that player's best lift. All that data can be viewed on the tablet and the video can even be accessed by Jackson on a computer remotely.
The system, installed by a company called Elite Form, only exists at one other Football Bowl Subdivision school currently, according to Jackson: Nebraska. The Kansas men's basketball team will also soon be acquiring it. Having that kind of technology is important to Jackson in his effort to get the Aggies into the best shape possible.
"Anyone can erect a building, throw some weights in there, whether they're top-notch or not, and then boast about having the best weight room," Jackson said. "But what we try to do is, I want to use the latest technology in the weight room as well, not just have a weight room and lift all the players and everybody get stronger and run around and bark and scream and yell.
"So when we get a recruit that comes in here, he will look and be completely wowed with what he sees going on and then he'll know that we're not just saying that we're pouring resources into having the best facilities and the best team in the country, we're putting the money behind our talk. That's what they see when they come in here. They see that it is important to us, the player development."
Also inside the facility are flat-screen TVs, including a large, 25-television display monitor, offices for Jackson and the assistant strength coaches as well as a conference room. Outside, there are graphics that can be seen of Texas A&M players both past and present. Jackson said the building is the largest football-only weight room in the NCAA.
But his work with the team started well before the new building was completed. It's just that its existence will help him and his staff even more now.
"When you watch 'Any Given Sunday' and Al Pacino's talking about taking those inches and getting those inches, you don't earn those inches out on the football field at practice. You don't earn those inches when you're playing basketball in a game, you earn those inches when the game is not going on," Jackson said. "These guys started gaining inches back in January and every team in the country is trying to find a way to get those inches on the other schools. This development center will help me gain a lot of inches on a lot of programs."
August, 3, 2012
8/03/12
5:51
PM ET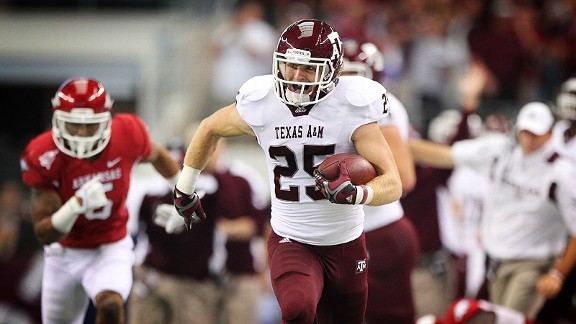 Matthew Emmons/US PresswireSenior receiver Ryan Swope, who 89 passes in 2011, is excited to play in Kevin Sumlin's offense.
COLLEGE STATION, Texas -- The countdown to Texas A&M's first Southeastern Conference season officially began on Friday, as Kevin Sumlin and several Aggies players met with the media before their first practice of the year.
Sumlin, who is in his first year with the Aggies after spending the last four as the head coach at Houston, said there are no butterflies for him but there's an excitement and an edge for the coaching staff to get things going.
"No butterflies, just excitement," Sumlin said. "Particularly in a new job and a new situation. ... I think it's all of our staff. We have a new staff and you saw guys yesterday starting to get edgy a little bit as coaches. We've only had 15 practices with these guys. So the 29 opportunities that we have before the first game, we've got to maximize those opportunities to get ready to play a very difficult schedule."
That schedule includes games against five teams ranked in the top 25 of the preseason coaches' poll and eight total that are either ranked or received votes. Sumlin said there will definitely be a learning curve as the Aggies navigate their first SEC season.
"We haven't seen them and they haven't seen us. It's pretty simple," Sumlin said. "There's a learning curve for everybody. We've approached it in the same way since we've been here as an SEC job and an SEC program. So for us the transition is probably a little bit different than it is for everybody else because we weren't here last year. I think there's going to be a learning curve for us obviously just like everybody else. I said that a long time ago. There's only so much you can see on video."
Some noteworthy items that emerged from media day:
• Sumlin said that the quarterback competition is wide open and includes all four scholarship quarterbacks:
Jameill Showers
,
Johnny Manziel
,
Matt Joeckel
and
Matt Davis
. The timetable for when the staff decides a starter could vary.
Troy Taormina/US Presswire
Linebacker Sean Porter is impressed by his new coach's enthusiasm.
"We will name a starter as late as two weeks before the first game and maybe by Sunday," Sumlin said. "Whenever we feel like somebody has clearly surfaced."
• Senior receiver
Ryan Swope
, who broke school records last season in catches and receiving yards, said he's excited to be a part of the Aggies' new up-tempo, spread offense.
"What they did at Houston was an incredible offense and a great scheme," Swope said. "I'm excited just to learn new knowledge and absorb the coaching. We've got great coaches on the staff and with a great offense and a fast tempo, it'll be interesting to see how these defenses adapt to that fast-tempo offense. As a senior on this football team, I'm thrilled to play for these guys, can't wait to come back and win games with this new coaching staff."
• As for the offseason, the tempo has also been increased there, according to senior linebacker
Sean Porter
. New director of sports performance Larry Jackson has increased the intensity of workouts, Porter said.
"The major difference is that we go faster," Porter said. "Before it was kind of at your own pace, you lifted weights at your own pace. Now, everything is all fast speed, it simulates the game. He tries to crank it up a little bit. It's high intensity, that's probably the biggest difference from last year."
• Porter also said that one of the biggest things that stands out to him about Sumlin is his enthusiasm.
"It's his first year and a lot of coaches I know would come in in their first year and try to rebuild and be like 'I'm starting over, it's my first year, I've just got to get through it,'" Porter said. "Coach Sumlin's not like that at all. He's ready to win right now. He knows that we have a lot of athletes on this team and that if we can put it all together, we can see a lot of wins. That's what has impressed me the most about him. He has a good expectation of our team. He doesn't expect us to lose. He wants us to be good
right now
."
• Freshman running back
Trey Williams
, who was the nation's fifth-ranked high school running back in the 2012 recruiting class, has gained weight this offseason. "I was a little bit surprised," Sumlin said of Williams, the Spring (Texas) Dekaney product. "He was 185 pounds this morning. For a little guy, he's put together."
A couple of personnel notes:
Zwerneman previews Texas A&M season
SEC SCOREBOARD
Thursday, 9/3
Saturday, 9/5