Texas A&M Aggies:

Landry Jones
January, 5, 2013
1/05/13
9:00
AM ET
What a difference a year makes.
No. 9 Texas A&M closed the book on an impressive season with a
41-13 rout
of No. 11 Oklahoma on Friday in the AT&T Cotton Bowl at Cowboys Stadium in Arlington, Texas.
It is win No. 11 for the Aggies (11-2), the first time they've accomplished that feat since 1998, when they went 11-3. Let's look at the ups and downs of the night for Texas A&M:
January, 4, 2013
1/04/13
4:00
PM ET
It's time to take a look at Texas A&M's X factor in tonight's matchup with Oklahoma in the AT&T Cotton Bowl:
X FACTOR
Damontre Moore, Jr., DE:
Oklahoma quarterback
Landry Jones
had a very successful regular season. He passed for 3,989 yards and 29 touchdowns during the regular season and also had four receiving targets register more than 40 catches on the year. He has done very well against the blitz this year, so bringing extra pressure probably isn't the best method of attack for the Aggies. So, Moore will have to make sure he brings the pressure so that the blitz doesn't have to. Moore was one of the best sack artists in the country this year, registering 12.5 sacks on the year. He also collected 20 tackles for loss. Since the Aggies don't want to spend most of the night blitzing, they'll have to rely on Moore to bring the heat up front. Jones struggles when he's pushed outside the pocket, and Moore should be able to make that push happen. He'll have to because the Aggies ranked 11th in the SEC in pass defense, giving up 248.4 yards per game. Texas A&M can't afford to give Landry time to throw tonight.
January, 4, 2013
1/04/13
1:00
PM ET
Texas A&M 31, Oklahoma 28


I don't expect this to be as high scoring as some might think because of the bowl season layoff. With Texas A&M, it also must be taken into account that there's a new playcaller: running backs coach Clarence McKinney is taking over those duties in place of former offensive coordinator Kliff Kingsbury, who is now the head coach at Texas Tech. Since he has been in the offense for five years under head coach Kevin Sumlin, I think McKinney will do just fine in that role, but there certainly will be an adjustment. Across the field, Oklahoma quarterback
Landry Jones
has the best resume of any quarterback Texas A&M has seen this year, so he will be a challenge. The Aggies' formula of aggressiveness on defense that has led to a good pass rush and a quality third down defense will have to continue if they want to slow down this high-powered Oklahoma offense. I think
Damontre Moore
goes out with a bang in his last game as an Aggie, leading the charge for the unit and
Johnny Manziel
shows very few effects from his post-Heisman Trophy publicity tour and plays an overall good game.
Player to watch
To continue reading this article you must be an Insider
January, 4, 2013
1/04/13
11:11
AM ET
Here's a look at three keys for No. 9 Texas A&M's matchup with No. 11 Oklahoma in the AT&T Cotton Bowl:


1. Don't change the script:
Offensive coordinator Kliff Kingsbury might be gone, but all those athletes who made the Aggies' offense so potent in 2012 will still be lining up inside Jerry's World. And that includes Heisman Trophy winner
Johnny Manziel
, who made just about every defense he faced look silly. Kingsbury and Manziel had a special in-game relationship, but Kingsbury is now at Texas Tech, so Manziel won't have the luxury of Kingsbury's guidance on the sideline. But the Aggies can't divert from the plan that got them to 10 wins in their first year in the SEC. Trying anything new or restricting parts of the offense probably isn't the way to go at this point in the season. The athletes are there to stay the course, and with Oklahoma's high-powered offense, the Aggies can't afford to get too far behind the Sooners. Keeping the run game going will be key as well, as Oklahoma ranks 79th nationally in rush defense and gave up 200-plus rushing yards six times during the regular season.
2. Force Landry out of the pocket:
Oklahoma quarterback
Landry Jones
completed 65.5 percent of his passes for 3,989 yards and 29 touchdowns this season and had two 500-yard passing games during the regular season. The man can throw the pigskin around, and it helps that he has four players to throw to who have more than 40 receptions on the year. That means the Aggies have to make him as uncomfortable as possible tonight. While Jones has done well against the blitz this season, he struggles when he's forced out of the pocket. According to ESPN Stats & Information, Jones has attempted 12.2 percent of his passes from outside the pocket in his career and has thrown 25.5 percent of his career interceptions from outside the pocket. Defensive end
Damontre Moore
was a terror in opposing backfields this season and if he can consistently get into Landry's face, he should make it tough for Landry to make a lot of plays on the Aggies' defense.
3. Contain Oklahoma's returners:
The Sooners rank fourth nationally in kickoff return average, registering 26.5 yards per return. The Sooners have returned 32 kicks for 849 yards and a touchdown.
Roy Finch
recorded the Sooners' lone touchdown, but
Brennan Clay
has done the most damage on kickoffs, averaging 26 yards on 18 returns. The Aggies will also have to deal with punt returner
Justin Brown
, who averages 13.6 yards per return and has a touchdown. Texas A&M allowed just 18.7 yards per kickoff return during the regular season and 5.9 yards per punt return. The Aggies didn't allow any return touchdowns in 2012.
January, 3, 2013
1/03/13
2:45
PM ET
By
ESPN Stats & Information
| ESPN.com
AP PhotoLandry Jones and Johnny Manziel have their teams poised for a Cotton Bowl win.


The Cotton Bowl kicks off at 8 ET on Friday night as the No. 9
Texas A&M Aggies
face the No. 11
Oklahoma Sooners
. These former Big 12 rivals are meeting for the 17th straight season. Oklahoma has owned the series of late, winning 11 of the last 13 matchups since 1999.
Here are nine more stats you need to know to get ready for this game:
Going Streaking
The Sooners are looking for their first four-game bowl win streak since 1978-81, which would tie the school record for consecutive bowl wins. The Aggies are looking to win consecutive bowl games for the first time since a three-game streak spanning 1978-85.
Been Here, Done That
Texas A&M is no stranger to the Cotton Bowl. The Aggies are making their 13th appearance in this bowl, posting a 4-8 record in the previous 12. A&M has lost its last six trips to the Cotton Bowl. Its last win came in the 1987 season over Notre Dame.
What Heisman Curse?
Johnny Manziel
plays his first game since winning the Heisman Trophy. The last three Heisman winners to play in a bowl game each won the game (Mark Ingram in 2009, Cam Newton in 2010 and Robert Griffin III in 2011).
Scrambling Man
Manziel has gained 784 of his 1,181 rush yards on scrambles. That's 18 more yards scrambling than
Braxton Miller
,
Marcus Mariota
and
Collin Klein
have combined this season.
Big-Play Johnny Football
Manziel has 70 plays that gained at least 20 yards this season, 10 more than any other FBS player. He was tied for the eighth-most passes (52) and the third-most rushes (18) of 20-plus yards.
Manziel Record Watch
Manziel is one rushing touchdown away from becoming only the fourth player with 20 passing and 20 rushing touchdowns in a season in FBS history. Tim Tebow, Cam Newton, and Colin Kaepernick are the others.
Jones Record Watch
Landry Jones
can become the second player in college football history to start and win four bowl games as a quarterback. He would join West Virginia's Pat White, who accomplished the feat from 2005-08.
Jones Cool Under Pressure
Jones has excelled when facing the blitz this season, throwing eight touchdowns and only one interception when facing five or more pass rushers. Jones has been at his best in the last three games, completing 77.1 percent against the blitz with four touchdowns and no picks.
Sooner History
Oklahoma has 27 major bowl wins, tied with Georgia and Texas for the third-most all-time behind USC (31) and Alabama (33). However, just one of those wins has come in the Cotton Bowl – a 10-3 victory over Arkansas in the 2001 season.
January, 2, 2013
1/02/13
8:00
AM ET
AT&T COTTON BOWL
Texas A&M (10-2, 6-2 SEC) vs. Oklahoma (10-2, 8-1 Big 12)
Where:
Arlington, Texas
When:
Friday, Jan. 4, 8 p.m. ET
TV:
FOX
To continue reading this article you must be an Insider
December, 31, 2012
12/31/12
7:30
AM ET
By
RecruitingNation staff
| ESPN.com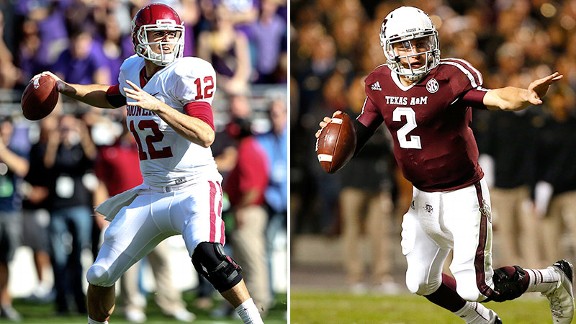 USA TODAY Sports, AP PhotoLandry Jones is 3-0 in bowl games while Johnny Manziel is fresh off a Heisman-winning campaign.
Oklahoma's
Landry Jones
has the experience. Texas A&M's
Johnny Manziel
has the spunk. But which quarterback will play better in the Cotton Bowl on Friday night? Jake Trotter of
SoonerNation
and Sam Khan Jr. of
GigEmNation
debate
here
.

December, 17, 2012
12/17/12
8:05
AM ET
To prepare for the AT&T Cotton Bowl on Jan. 4,
SoonerNation
's Jake Trotter and
GigEmNation
's Sam Khan Jr. answer a few questions on the matchup between Oklahoma (10-2) and Texas A&M (10-2).
1. Which team has more motivation in this game?


Jake Trotter:
Already, this is one of the most successful seasons in Texas A&M history. The Aggies have been killing it on the field, and on the recruiting trail (a couple times at the expense of OU). The Sooners, meanwhile, have had to look on as Texas A&M and
Johnny Manziel
garner all the praise and headlines in the last month. That should provide the Sooners with plenty of fuel.
Sam Khan Jr.:
The Sooners. Texas A&M is reaping the benefits of a 10-2 season that almost nobody expected in the Aggies' foray into the Southeastern Conference. Manziel has the Heisman Trophy and he and the Aggies have been told often how good they are in recent weeks. With OU missing out on a BCS bid, I'd think that provides more motivation to Oklahoma.
2. Which defender will have a bigger impact on the game, Damontre Moore or Tony Jefferson?
Trotter:
The way to force QB
Landry Jones
into mistakes or inaccurate throws is to pressure him. Unfortunately for the Sooners, Texas A&M owns one of the top pass-rushers in the country in Moore. Jefferson, as he has all year, will have a big role on the OU defense, coming up to help against the Aggies run game. But Moore is capable of changing the game in one play.
Khan:
I would say Moore. While the Sooners might be more motivated as a team, it would be easy to see Moore being perhaps the most motivated player on either side. After finishing tied for third in the nation in sacks and tied for fifth in tackles for loss and leading the Aggies in tackles, Moore received little by the way of postseason accolades. That can't sit well with the athletic pass-rusher.
3. Will this game have any effect on recruiting?
Trotter:
An OU win will help stymie some of the momentum the Aggies have generated in recruiting this past year. But I have never subscribed to the thought that one game can have that big of an impact on the minds of recruits. Regardless of who wins, Texas A&M will continue pitching the chance to play in the SEC to Texas recruits. And OU will continue recruiting to its tradition and past successes.
Khan:
I can't see it having a huge impact on recruiting unless the game is a blowout one way or another. If Texas A&M destroys Oklahoma, that will only hurt the perception of the Sooners by recruits and A&M had a ton of success going head to head with OU in 2013. Likewise, a little momentum could be lost if OU routs A&M. But if it's a close game either way, I can't see it having major significance.
4. Does Texas A&M have an advantage at quarterback?
Trotter:
Because of undue criticism he receives, I seemingly always get drawn into being Landry Jones' champion. Johnny Football is great. His mobility will give Mike Stoops fits. But no one – and that includes Johnny Football – was quarterbacking at a higher level than Jones the last month of the season. So I have a hard time giving either side an advantage at quarterback. Both guys come into this game having ended the season on fire.
To continue reading this article you must be an Insider
December, 3, 2012
12/03/12
8:00
AM ET
SoonerNation
's Jake Trotter and
GigEmNation
's Sam Khan Jr. give their thoughts on the AT&T Cotton Bowl matchup between Oklahoma (10-2) and Texas A&M (10-2).
1. What's your initial reaction to the matchup?
OU-Florida in the Sugar would have been one of the best matchups of any bowl outside the title game. But this one is about as good. The Sooners get a chance to face off against the Heisman favorite in Johnny "Football" Manziel, which probably means OU will have seen the top three Heisman contenders (Manziel, Notre Dame LB
Manti Te'o
and Kansas State QB
Collin Klein
). The Sooners will have to play well, because A&M is one of the hottest teams in college football, coming off that win at Alabama.
2. Which team in the Big 12 does Texas A&M most resemble?

Can I say A&M? I mean, they were in the Big 12 just last year. If I had to compare them to someone currently in the Big 12, I'd probably say Oklahoma State. A&M's offensive line is tremendous, and Manziel has several playmakers to work with. Manziel is obviously more mobile than anyone OSU has, but the Cowboys present the dual-threat attack with
Clint Chelf
and
J.W. Walsh
. That's where the comparisons end. Because the Aggies are much more formidable defensively than the Pokes with
Damontre Moore
, who is tied for third nationally with 12 1/2 sacks.
3. What's the most intriguing individual matchup?
Mike Stoops vs. Manziel. Stoops has struggled game-planning against prolific, mobile quarterbacks this season, and Manziel figures to be his biggest challenge yet. Will Stoops go back to the dime package, or will he use linebackers
Frank Shannon
and
Corey Nelson
to spy Manziel? Either way, Manziel poses plenty of problems for a defense that's been gashed late in the season.
4. Who's the most important player no one's talking about?
How about
Landry Jones
? All the focus will be on Manziel, and for good reason. But I'm not so sure there's an advantage at QB. Jones has been on fire the last month of the season, throwing for 500 yards twice. Jones is susceptible to interceptions. But lately, he hasn't allowed those plays to phase him. Jones is capable of putting the Aggies defense on its heel, too.
Recruits Miss Lone Star Showdown
SEC SCOREBOARD
Thursday, 9/3
Saturday, 9/5