Texas A&M Aggies:

Lamin Barrow
November, 24, 2013
11/24/13
2:30
AM ET
BATON ROUGE, La. -- Only now, with two games remaining (unofficially, of course) in
Johnny Manziel
's short but captivating college football career, do we have a handle on what it takes to make Johnny Football look mortal.
Put him on a field with LSU's defense on the other side.
The Tigers swarmed, suffocated and effectively snuffed out Manziel's quest for a second consecutive Heisman Trophy on the kind of wet, windy and cold day that made Texas A&M's 34-10 loss all the more miserable.
[+] Enlarge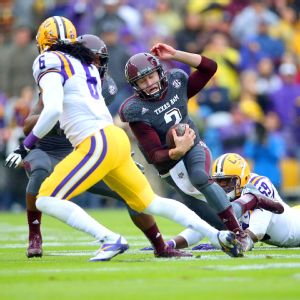 Crystal LoGiudice/USA TODAY SportsJohnny Manziel couldn't find much room to operate as LSU frustrated the Heisman winner once again.
They say it never rains in Tiger Stadium. But it sure rained Saturday, and it rained the hardest on the No. 12 Aggies, who had no answers for an LSU team that put together its most complete game of the season.
"You could sort of see it coming with the way we practiced last week," said LSU receiver
Jarvis Landry
, who had a pair of touchdown catches in the first half to help stake the Tigers to a 21-10 halftime lead.
"We've flirted with this a few times this season and always knew we were capable. I mean, we might have lost a lot of players to the NFL last year, but there's still a lot of NFL-caliber talent on this team. We went out and played like it tonight in every phase of the game."
But LSU's defense stole the show.
It was obvious early that Manziel wasn't real comfortable in the nasty weather conditions, and that was a factor.
A much bigger factor, though, was LSU's energy, speed and discipline on defense, not to mention a scheme that veteran defensive coordinator John Chavis has obviously perfected against these Aggies.
It was also a defense that had grown increasingly tired this past week of hearing about what Manziel was going to do to the Tigers.
"Everybody was talking about how this game was going to be a shootout," LSU defensive tackle
Anthony Johnson
said. "Coach Chavis told us, 'It ain't going to be no shootout.' We weren't going to let that happen."
In many ways, it was a carbon copy of what happened a year ago when these two teams met in College Station. LSU won that game 24-19 and held Manziel without a touchdown -- rushing or passing. He managed just one Saturday, that coming on a 51-yard pass to
Derel Walker
with 1:08 left in the first half when LSU cornerback
Tre'Davious White
fell down.
Chavis' goal was simple: Make Manziel beat the Tigers throwing the football.
"I have great respect for him and know what happens when he's able to get outside, run around and make plays," Chavis said. "As a coach, it's all about putting your kids in a position to make plays. We had to throw some of our younger kids to the fire this year. You don't like to do that, but we didn't have any choice.
"What's so pleasing about this game is to see a lot of those same kids go out against a great player and a great offense and show how far they've come. We needed this. We needed it for our psyche, and we needed to get this done."
Johnson could sense that frustration was starting to set in Saturday with Manziel, who finished 16-of-41 for 224 yards and two interceptions. He was also sacked twice and held to just 54 rushing yards on 12 carries.
It was the first time in Manziel's career that he'd been held to fewer than 300 yards of total offense.
"He wasn't used to not being able to run around and get those plays that he's used to making," Johnson said. "Everybody stayed disciplined. Our defensive backs stayed back on their routes and didn't try to come up and help on the run.
"We stayed true to the scheme, and you saw the results."
The Tigers were successful most of the game in not allowing Manziel to roll right, and their defensive ends did an excellent job of staying home and not giving him any room to scramble outside.
"There's a lot of pride on this defense, and we've haven't always played the way we wanted to this year," LSU linebacker
Lamin Barrow
said. "But we went out there today and took our pride back.
"That's the way LSU defense is supposed to be played."
Manziel, to his credit, wasn't offering any excuses. There was talk of a thumb injury during the television broadcast, but he said it was more a case of the Tigers hitting the Aggies in the mouth and the Aggies never really responding.
"They came out and mixed a lot of things up," Manziel said. "They kept us guessing, and it really took us a while to figure it out."
That makes it two years in a row. The Aggies have now scored just three touchdowns in the past eight quarters against the Tigers.
Until Saturday, they'd scored at least 40 points against everybody they'd played this season.
The Tigers' secret?
"No secrets," Barrow said with a smile. "It's playing LSU football."
November, 20, 2013
11/20/13
10:50
AM ET
Nobody on LSU's defense went into this season with his eyes closed.
That goes for everybody from veteran defensive coordinator John Chavis to senior linebacker
Lamin Barrow
to the horde of younger players the Tigers have played on that side of the ball.
[+] Enlarge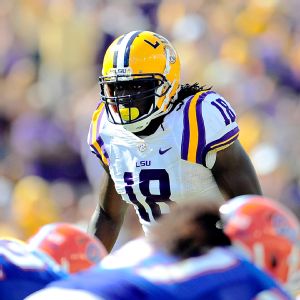 Stacy Revere/Getty ImagesLinebacker Lamin Barrow leads LSU in tackles but feels both he and the Tigers' defense as a whole can improve.
When you lose as many talented football players as LSU did to the NFL draft a year ago, there's going to be a drop-off.
That drop-off has been glaring at times this season, but don't think for a minute that anybody on LSU's defense is feeling sorry for themselves.
They can't afford to, not with
Johnny Manziel
and Texas A&M coming to Tiger Stadium on Saturday.
"It's important for us to end on a good note and get our respect back," said Barrow, who leads LSU and is seventh in the SEC with 75 total tackles.
"This year, we knew we were going to have a younger defense, but that's never an excuse here at LSU. That doesn't change the pride we have here on defense. The experience we got this year is going to help next year, and so will the growing pains. It hasn't been what we're used to, but we also know we're not that far away from being the kind of defense we want to be. We just have to be more consistent."
Chavis said those growing pains have been more pronounced than he expected and have lasted longer. Part of that is that he's playing two true freshmen and two sophomores in his defensive backfield rotation, not to mention the fact that the Tigers are without eight of the defenders that held Manziel to no touchdown passes, intercepted him three times and sacked him three times a year ago in LSU's 24-19 win over Texas A&M.
Of those eight, six were underclassmen who were taken in the NFL draft.
Even with that mass exodus to the pros, it hasn't been a complete disaster for the Tigers on defense. They're still fourth in the SEC in total defense. But the frustrating thing for them is that they simply haven't been able to get off the field this season in too many critical situations.
"It's not just the young guys. It's myself included," Barrow said. "We just haven't made some of the plays we know we can make. I put a lot of pressure on myself coming back for my last year to do a lot of things, and I haven't always played the way I wanted to. But there's still time with these last couple of games to get it right and put it all together.
"We've done it in spurts. We just need to do it for a whole game."
One of the biggest differences with this LSU defense is that it hasn't stopped the run, which has been a staple under Chavis. The Tigers are 10th in the SEC in rushing defense, allowing 152.9 yards per game. That's after giving up just 101.6 yards per game on the ground last season and 90.1 yards in 2011.
Big plays have also been a problem for this LSU defense. The Tigers have already given up 39 plays of 20 yards or more this season with three games to play (counting the bowl). Over the previous three seasons, they averaged giving up 39 "big plays" for the entire season.
"A lot of that has been communication breakdowns, a lack of focus on our part and something we've been dealing with all season," Barrow said. "But we've had fewer mistakes as the season's gone on, and having the extra week to get ready for this game, I think we'll cut down on them even more."
The Tigers smothered Manziel a year ago and never really allowed him to scramble. He was held to 27 yards rushing on 17 carries and threw it a career-high 56 times in the game.
But where he has carved teams apart this season is finding receivers open down the field when he's on the move or simply buying time in the pocket.
"He's a passer first, and people underestimate that about him," Barrow said. "He does a great job getting out of the pocket and scrambling and making a play when he has to, but he can beat you throwing the ball. He draws the defense to him, and that helps his receivers get open, and then he does a great job of finding those open receivers no matter where he is on the field."
The Tigers plan to rotate players two and even three deep at some positions to stay fresh and help combat the Aggies' breakneck pace.
Against Alabama two weeks ago, LSU wore down in the second half on both sides of the ball after tying the game at 17-17 in the early minutes of the third quarter. The Crimson Tide responded with three consecutive touchdown drives of 70-plus yards.
"Coming off the loss to Alabama and already having a three-loss season, the only thing on our mind is coming out and showing everybody that we're still the same Tigers and still a team to reckon with," Barrow said.
"There's a lot of tradition and a lot of pride here on defense, and we don't want to be known as the defense that didn't meet that standard," he added. "We're going to step out on the field like men, and everybody on this defense is going to take it upon themselves to step it up to another level."
Given the way Johnny Football is mowing through defenses in this league, they might want to take it up a few levels.
October, 13, 2013
10/13/13
9:00
AM ET
It was just another day in the SEC on Saturday. It got started with Missouri's upset win at Georgia and finished with Texas A&M's game-winning field goal to hold off Ole Miss. Now it's time to hand out the helmet stickers for Week 7's top performers.

L'Damian Washington, WR, Missouri:
If it hadn't been for the injury, Missouri's
James Franklin
might have been the one on this list, but it was Washington who stepped up when his quarterback went out. With the lead cut to two and the Tigers in need of a big play, coach Gary Pinkel called on a trick play. Backup quarterback
Maty Mauk
threw a lateral to wide receiver
Bud Sasser
who then heaved it toward the end zone. Who was waiting on the other end? Washington. The 6-foot-4 receiver outfought the defender and hauled in the 40-yard touchdown pass. He finished with seven catches for 115 yards and two touchdowns on the day.
Connor Shaw, QB, South Carolina:
The Gamecocks had struggled in recent weeks, not putting teams away, but that wasn't the case Saturday against Arkansas. They thrashed the Razorbacks to the tune of 52-7, and Shaw played his best game of the season. The South Carolina quarterback finished 19-of-28 for 219 yards and three touchdowns through the air and tallied his fourth score on a 10-yard run in the third quarter. Shaw has been lights out since returning from a recent shoulder injury. He now has 10 touchdown passes on the season, but more importantly, he has yet to throw an interception after throwing seven a year ago.
The LSU defense:
It has been only two weeks since LSU gave up 44 points in a loss to Georgia, but coach Les Miles never gave up on his defense. That confidence paid off Saturday. The Tigers defeated Florida, 17-6, in a good, old-fashioned slugfest, rare for the SEC this season. LSU didn't force a single turnover, but the Tigers held the Gators to just 240 yards of total offense. Tyler Murphy had looked impressive since taking over as Florida's quarterback, but he could get nothing going in Death Valley. The Tigers finished with four sacks and eight tackles for loss. Linebacker
Lamin Barrow
led the team with 13 tackles.
T.J. Yeldon and Kenyan Drake, RB, Alabama:
It wasn't much of a start for Yeldon or Drake. Both running backs fumbled early, and the Crimson Tide failed to score in the first quarter against Kentucky as a result of the miscues. However, instead of dwelling on the fumbles, they both redeemed themselves in a big way Saturday night. Yeldon led the way with 124 yards on 16 carries, while Drake gained 106 on 14 carries. They each scored two touchdowns. As a team, Alabama rushed for 299 yards against the Wildcats. Freshman running back
Altee Tenpenny
got into the mix late with a 7-yard touchdown run, the first of his career.
Johnny Manziel, QB, Texas A&M:
It wasn't pretty at times. It was downright ugly with the two second-half turnovers, but in the end, Johnny did what he always does. He made just enough plays to win the football game. The Aggies gave up a go-ahead touchdown in the fourth quarter, but Manziel led them back and answered with a 6-yard touchdown run. After Ole Miss went three-and-out, Manziel orchestrated a flawless two-minute drill that resulted in the game-winning field goal. The Texas A&M quarterback finished 31-of-39 for 346 yards through the air and rushed for 124 yards and two touchdowns.
October, 20, 2012
10/20/12
3:21
PM ET
COLLEGE STATION, Texas -- Maybe
Johnny Manziel
and his Texas A&M Aggies aren't quite ready for their SEC coming-out.
Even in a game they dominated.
Two second-quarter turnovers led to two touchdowns and helped No. 6 LSU erase a 12-point second-quarter deficit for a
24-19 SEC win
at Kyle Field on Saturday. Despite a 410-316 yardage edge for the Aggies, No. 18 Texas A&M had five turnovers, including three interceptions for Manziel, who completed 29 of 56 passes for 276 yards.


It was over when:
LSU running back
Jeremy Hill
took a power run 47 yards for a touchdown with 3:12 left. The play was eerily similar to his 50-yard touchdown that gave the Tigers a 23-21 win over South Carolina last week. Manziel was intercepted by LSU's
Tharold Simon
on the play before -- Manziel's third of the game, doubling his season total.
Game ball goes to:
Hill, the LSU true freshman running back who rambled for 127 yards on 18 carries, again breaking out the big run when the game was on the line.
Key stat: 5-0.
The turnover margin. After LSU gave up a first-quarter touchdown drive and a field goal drive, the Tigers figured out A&M's spread offense, harassed slippery Manziel and forced turnovers. Texas A&M jumped to a 9-0 first-quarter lead that increased to 12-0 in the second quarter, but it did not score another touchdown until the game's final two minutes.
Key play:
Zach Mettenberger
's 29-yard touchdown pass to
Kadron Boone
with 11 seconds left in the first half. After the Aggies had dominated the half, Boone made a nice double move, then a diving catch to give LSU a shocking 14-12 halftime lead.
The touchdown was set up by a
Ben Malena
fumble, forced by Ronald Martin and recovered by
Lamin Barrow
.
What it means:
Ready or not, LSU (7-1, 3-1) has its showdown with No. 1 Alabama in two weeks, and the Tigers will have a lot to work on in their off week. The Tigers had triple-digit penalty yards and, as has often been the case, could not move the chains consistently.
Texas A&M (4-2, 2-2) is now 0-2 against the SEC powers, both close losses at home. The Aggies have shown they belong, but maybe aren't quite ready for prime time.
October, 19, 2012
10/19/12
10:00
AM ET
As we approach the SEC clash between No. 6 LSU and No. 18 Texas A&M, we'll take a closer look at the Aggies' opponent with Gary Laney, who covers the Tigers for
ESPN's GeauxTigerNation
. Here are three questions for Laney and his takes on the Tigers:
1. Clearly LSU's defense has thrived so far this season. What's been the key for them on that side of the ball, and how have they defended mobile quarterbacks since they'll see one on Saturday?
[+] Enlarge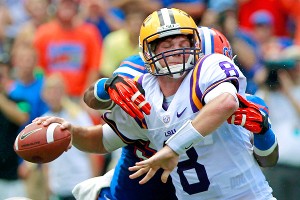 AP Photo/John RaouxLSU quarterback Zach Mettenberger has not taken the Tigers offense to the next level this season.
LSU lost some big play ability when Tyrann Mathieu was dismissed from the team, but really, the defense may be as a good as last year. At linebacker, the Tigers are definitely better as
Kevin Minter
and
Lamin Barrow
are both rounding into solid linebackers, definitely upgrades from a season ago. If the secondary took a half step backwards after losing Morris Claiborne, Mathieu and Brandon Taylor off last year's team, the linebackers are clearly at least a half step better.
What's interesting about this week's matchup with Manziel is LSU has been spending the last few weeks preparing for mobile quarterbacks. It really started when Auburn began getting mileage out of a wildcat package with freshman
Jonathan Wallace
, a move that caught LSU a bit off guard, but was a sign of things to come. The next week, Towson's
Grant Enders
was a dual-threat type who had some big runs, then LSU dove into the heart of SEC play with Florida's
Jeff Driskel
and South Carolina's
Connor Shaw
, two more runners, in back-to-back games.
I don't think any of these guys are as talented as
Johnny Manziel
, but LSU should be well versed on containing a running threat in the pocket, staying in gaps on the cut/read option and all the other tricks you have to pull out against a running QB. They've been preparing for that for four straight weeks now.
2015 Spring Football Tour: Texas A&M
SEC SCOREBOARD
Thursday, 9/3
Saturday, 9/5