Texas A&M Aggies:

Kirby Smart
July, 2, 2014
7/02/14
12:00
PM ET
The World Cup run by the USMNT is over, but I'd be remiss if I didn't mention the performance by goalkeeper Tim Howard on Tuesday. His 16 saves were a World Cup record, and there's now talk that he could be
the greatest goalie in history
. Personally, I think he would've made a great safety, but clearly he made the right choice with soccer.
Im proud to suit up w every one of these guys. It's a tremendous honor to represent this country & a ride I'll never forget. Thx for joining

— Tim Howard (@TimHowardGK) July 2, 2014
No, thank you Tim Howard. Now on to Wednesday's lunch links.
July, 1, 2014
7/01/14
12:00
PM ET
March, 11, 2014
3/11/14
12:00
PM ET
Half of the SEC teams have started officially-sanctioned football-related activities with Missouri and Vanderbilt opening spring practice on Tuesday. There's a lot going on.
February, 7, 2014
2/07/14
5:30
AM ET
The Early Offer is RecruitingNation's regular feature, giving you a daily dose of recruiting in the mornings. Today's offerings: The ink was barely dry on the letters of intent for 2014 class when one of the best for the 2015 class came off the board; and what schools and recruiters have jumped out of the gate with success with players that won't sign for another 360-plus days.


October, 17, 2013
10/17/13
5:30
AM ET
The Early Offer is RecruitingNation's regular feature, giving you a daily dose of recruiting in the mornings. Today's offerings: Oregon State coach Mike Riley launched a new Twitter campaign on Tuesday to help the Beavers connect with recruits across the country; LSU's
Frank Wilson
didn't make the first edition of the ESPN recruiting power rankings, but he could be leading the poll by signing day; and a question and answer session on Wednesday helped identify what topics are most important with recruiting fans today.
#SmartRecruitingTool
Oregon State coach Mike Riley has more than 18,900 followers and is great communicating with fans on Twitter. So it was no surprise to see him launch a campaign Tuesday called "Tweet Film Tuesday" where he asked recruits to send him links to their film, and he and his staffers will then select 10 recruits to evaluate each week. With only 140 characters to work with, Riley didn't explain how he and his assistants would pick the 10 recruits to evaluate, but the idea is ingenious. Not only does it help Riley and the Beaver coaches communicate with prospects in a way they're already familiar with, it also allows the OSU coaches to find prospects they might not have been familiar with who are truly interested in the program. Also with Riley's track record of uncovering hidden talent, you can all but guarantee there will be a story a few years down the road where the Beavers found a sleeper through this approach.
To continue reading this article you must be an Insider
October, 15, 2013
10/15/13
8:00
PM ET
Editor's note: For a look at the national recruiter power rankings based only on Class of 2014 success,
click here
.
It's no secret that Southeastern Conference has been the top conference in the country as far as recruiting over the last several years. The league currently has six teams ranked in the top 11 of the team recruiting rankings. Here's a look at the top 10 recruiters around the ultra-competitive conference.
To continue reading this article you must be an Insider
September, 20, 2013
9/20/13
4:30
PM ET
From Jospeh Bowker (@Joe_Bowker10): What are the chances that a one-loss SEC champion gets into the national championship game this year?

It all depends on the rest of college football. There will be plenty of possible candidates -- Georgia, South Carolina, Texas A&M, the loser of the Alabama-LSU game -- but it will be extremely difficult to surpass the likes of Clemson, Ohio State, Oregon or Stanford if any of those teams are still undefeated at the end of the season. The most likely candidate right now is Georgia, which suffered a loss in the opener. If the Bulldogs can run the table and defeat the winner of the West in the SEC title game, it would be hard to keep them out of the national championship. Still, they would need a few things to fall their way, similar to Alabama a year ago.


---


From Daniel Badger (@badger_daniel): Both Arkansas' Bret Bielema and Auburn's Gus Malzahn are 3-0. Which coach ends up having a better first year at season's end?

Both coaches have looked impressive in their respective debuts, specifically Bielema whom many doubted coming in. But based on schedules, Malzahn will likely have a better year. Arkansas has to travel to Rutgers on Saturday, and from there the Hogs play five of their next six games against ranked opponents. The only team not in the top 25 is Auburn, which travels to Fayetteville on Nov. 2. It's a brutal stretch for the Razorbacks, who have to finish the year in Death Valley against LSU. It wouldn't shock me if Bielema won the head-to-head battle against Malzahn, but the Tigers finish with the better record.


---


From John Keahey (@jkeahey): Was it that much improvement by Alabama's offensive line or was Texas A&M's defensive line just that bad?

It's too early to say, but I would lean more towards Texas A&M's defensive line being that bad. They struggled against the likes of Rice and Sam Houston State in the first two games, and it only got worse against Alabama. Give the Tide credit. It was a hostile environment, and they overcame adverity to outscore the Aggies, but the offensive line will still need to improve before the Ole Miss game next weekend and more importantly before LSU comes to town in November. It's not a lack of talent for Alabama. It's more of a chemistry issue, and the more the line plays together, the better the unit will become. As for Texas A&M, we'll know more about the defensive front when it plays at Arkansas next weekend.


---


From Jared Moore (@TheJaredMoore): Do you think Ole Miss can get more than eight regular season wins?

The Rebels are certainly off to a great start, but three of their next four games are against top-10 teams, and sandwiched in between is a road test at Auburn. They'd be happy to come out of that stretch with two wins. However, the second half of the schedule is much easier. They play six straight home games, including two against Idaho and Troy, and they finish the year at Mississippi State in the Egg Bowl. There's a real possibility they win their final five games, which would put them right at eight even if they lose their next four. They're not quite there with Alabama or LSU, but they can definitely get to eight or possibly nine wins.


---


From Tennessee Sports (@SportsNewsTN): What other coaches are the Texas Longhorns pursuing, perhaps in the SEC, Pac-12 or their own conference?

The two coaches most likely to get a call are Baylor's Art Briles and TCU's Gary Patterson. They have Texas ties and have been very successful at their respective programs. However, Briles is 57 years old, and Patterson might not be a big enough name for the Longhorns. If they strike out on Nick Saban as expected, Texas could request an interview with UA defensive coordinator Kirby Smart, Saban's right-hand man. He doesn't have any head coaching experience, but his name always seems to come up for big jobs. Keep an eye on Will Muschamp, too. He was orginally named the successor to Mack Brown, but that fell apart when he left for Florida. Would he leave Florida to go back to Texas?
September, 12, 2013
9/12/13
9:00
AM ET
After two weeks, we're all tied up. As we've learned by watching the SEC Eastern Division race in recent seasons, no lead is safe.

After Chris correctly picked Georgia to beat South Carolina and I decided to stay on the
Jadeveon Clowney
train, we enter the weekend with identical 22-3 (.880) records. We both missed on Florida losing to Miami (Fla.).
It's a new week, and Saturday will serve as a chance for one of us to take the outright lead. Chris has been so giddy since watching the Dawgs take care of business against South Carolina. Sources told me that he was even spotted hanging with Drake and shooting hoops with LeBron. It makes me wonder how serious he is about the season. He's impressed with the past, but has he learned anything new since Saturday?
His Twitter has been pretty active the past couple of weeks …
I won't let Chris' win get to me. Champions don't do that. Champions just make adjustments and worry about what they can control. I like to call it my own process.
Meeko (the famous SEC blog cat) and I will be in the war room for the rest of the season meticulously dissecting every game from here on out.
Chris can have his famous friends and twit pics. I'll stick to winning.
Let's get to the picks:
SOUTHERN MISS at ARKANSAS
Edward Aschoff:
The Razorbacks have run the ball better than anyone else in the SEC, and they have the league's leading rusher in freshman
Alex Collins
. Southern Miss ranks 82nd nationally in rushing defense, so expect another big game on the ground from the Hogs. …
Arkansas 41, Southern Miss 14
Chris Low:
Arkansas leads the SEC in rushing with an average of 312.5 yards per game. Southern Miss gave up 285 yards on the ground last week in a 56-13 loss to Nebraska. It all adds up to a 15th straight loss for the Golden Eagles. …
Arkansas 37, Southern Miss 17
LOUISVILLE at KENTUCKY
Aschoff:
After notching his first win at Kentucky, Mark Stoops now has to play BCS title contender Louisville -- and
Teddy Bridgewater
. Being at home should make things interesting early, but the Cardinals just have too much talent across the board. …
Louisville 35, Kentucky 14
Low:
Kentucky was unable to slow down Western Kentucky in the opener. Now, the Wildcats have to deal with Bridgewater and the Cardinals. Bridgewater might not wave off the punt team this week, but he will lead Louisville to its third straight win in the series. …
Louisville 41, Kentucky 24
TENNESSEE at OREGON
Aschoff:
The Vols are riding high as they head out West. But having to make a cross-country trip for what will feel like an early game against one of the nation's best teams will bring the Vols back down to earth before SEC play begins. …
Oregon 45, Tennessee 17
Low:
Butch Jones has them excited in Big Orange Country, and there's a lot to like about what he's done with that program. But reality sets in this week. The only drama in Eugene, Ore., will be whether or not the Vols can hold Oregon under 50. …
Oregon 47, Tennessee 17
KENT STATE at LSU
Aschoff:
The Tigers enter as a team still taking a backseat to Alabama and Texas A&M. That will probably be the case coming out of the weekend, too, but at least LSU won't be as beat up as the other guys. …
LSU 45, Kent State 10
Low:
LSU's offense looks as potent as it has in some time, particularly in the passing game. The Tigers will cruise for a second straight week at home over outmanned Kent State, and then it's on to Auburn and Georgia in back-to-back weeks. …
LSU 48, Kent State 10
MISSISSIPPI STATE at AUBURN
Aschoff:
We know how important conference openers are, and this game has been huge for both teams in recent seasons. A loss for either could serve as an emotional setback. Auburn's home field and it's entertaining running game will push the Tigers through in the fourth quarter. …
Auburn 27, Mississippi State 20
Low:
It's hard to envision the loser of this game going on to have a successful season, which makes it a critical SEC opener for both teams. The Bulldogs have been solid on defense, but they don't have enough juice on offense right now to go into Jordan-Hare Stadium and win. …
Auburn 31, Mississippi State 20
VANDERBILT at SOUTH CAROLINA
Aschoff:
With South Carolina's defense having struggled mightily last week and Vandy having some explosive elements to its offense, this one should be entertaining. There can't be excuses for Clowney, and I think he'll make sure of that Saturday. …
South Carolina 30, Vanderbilt 21
Low:
The Gamecocks can't afford any more hiccups if they want to stay in the SEC championship hunt. They've had their struggles in recent seasons with Vanderbilt, too. The Commodores are painfully close to being unbeaten, but their drought against nationally ranked teams will extend to 14 straight games. …
South Carolina 28, Vanderbilt 21
OLE MISS at TEXAS
Aschoff:
Last season, Texas ran the Rebels out of Vaught-Hemingway Stadium. This season, Ole Miss heads to Austin, Texas, with a ton of confidence, while Texas players are licking their, uh, horns after an embarrassing loss to BYU. The Longhorns couldn't stop the run last week, and they won't do a very good job this week, either. …
Ole Miss 35, Texas 31
Low:
Texas would seem to be in disarray with Mack Brown having fired his defensive coordinator this week. Plus, Ole Miss has plenty of motivation after getting blown out at home last season by the Longhorns. But Texas is still Texas, and the Longhorns will find a way to salvage a little pride at home. …
Texas 34, Ole Miss 30
ALABAMA at TEXAS A&M
Aschoff:
It's the game of games. The contest to end all contests. Nick Saban versus Kevin Sumlin.
Johnny Manziel
versus
AJ McCarron
. The Aggies pulled the unthinkable last season, but Alabama has been steaming over that game for almost a year now. Johnny Football has shown improvement as a passer and he'll still be the slipperiest player on the field Saturday, but picking against Saban and defensive coordinator Kirby Smart facing a team that bested them last season just sounds silly. …
Alabama 31, Texas A&M 23
Low:
Johnny Football ain't talking this week. The Aggies prefer that he do all of his talking on the field (with his play). These two teams played a classic last November in Tuscaloosa, Ala., and it should again be a ball of fun. But the Tide will prevail thanks to keeping the ball away from Manziel and that Texas A&M offense and wearing down an Aggies defense that has been shaky. …
Alabama 38, Texas A&M 28
August, 9, 2013
8/09/13
10:00
AM ET
It's time to dip into the SEC recruiting mailbag and answer your questions. Because of the amount of questions we've received, we won't be able to get to all of them today -- but we encourage you to ask again next week by tweeting your questions to
@DerekTysonESPN.

@cpage2911: who are the top SEC assistant coaches recruiting wise?
Derek Tyson:
As evident by having 10 SEC schools ranked in the top 25 of the Recruiting Nation class rankings, the SEC is full of recruiting savvy coaches. The list is long and full of quality coaches, and I could make a case for a number of SEC coaches, but here's a glance at three coaches who stand out to me this year.
Auburn co-offensive coordinator Dameyune Craig is responsible for Auburn landing commits from five ESPN 300 members including
Tre' Williams
,
Nicholas Ruffin
,
Justin Thornton
,
Kamryn Pettway
and
Stanton Truitt
. Florida defensive backs coach Travaris Robinson is the primary recruiter for four committed ESPN 300 prospects --
Dalvin Cook
,
Khairi Clark
,
J.C. Jackson
and
Duke Dawson
. He is also the primary recruiter for ESPN 300 prospects
Ermon Lane
and
Quincy Wilson
, who the Gators have a shot of landing on Monday.
Alabama defensive coordinator Kirby Smart continues to be an outstanding recruiter and has helped the Tide stand firm in the top five of the class rankings. Smart is the primary recruiter for ESPN 300 committed players
Kalvaraz Bessent
,
Stephen Roberts
,
Shaun Dion Hamilton
and Zach Whitley.
@SleeperAthletes: Out of all the #SEC states, which state is most heavily recruited?
DT:
As far as sheer numbers, Florida is always one of the most heavily recruited areas in the country. In fact, 17 percent (52) of the prospects ranked in the ESPN 300 are from the state of Florida. Texas is the next state in SEC territory with 34 players on the ESPN 300 followed by Georgia with 29 players.
Louisiana might not have the total number of prospects as Florida, Texas and Georgia, but what it lacks in numbers it makes up for in quality. Three of the top 10 players in the country including the No. 1 overall prospect,
Leonard Fournette
, and eight of the top 50 players in the country are from Louisiana.
SECfan: Will an SEC team take home the recruiting championship again?
DT:
Five of the top 10 recruiting classes are from the SEC including three -- Alabama, Tennessee and Georgia in the top five. When it's all said and done, though, I believe it will be a battle between Alabama and LSU. Alabama is at No. 2 while LSU is at No. 10, and with several key targets still available LSU could certainly jump to the top.
Louisiana natives and top 10 players including Fournette,
Cameron Robinson
and
Speedy Noil
are high on the Tigers. Linebacker
Clifton Garrett
, wide receivers
Trey Quinn
and
Malachi Dupre
, safety
Laurence Jones
and defensive tackle
Gerald Willis III
are just some of the top prospects considering LSU and the Tigers could end up with a monster class. Alabama, however, is still very much in contention for both Fournette and Robinson which could quickly cement the Tide as the top overall class. Bottom line is, yes, I believe the SEC will land the No. 1 recruiting class for the third straight year.
April, 30, 2013
4/30/13
11:13
AM ET
HUMBLE, Texas --
Deionte Thompson
's last visit to Alabama was a memorable one. And though it's hard to top that day, when the Orange (Texas) West Orange-Stark 2015 safety committed to the Crimson Tide, he had a pretty fun time when he returned to Tuscaloosa, Ala., recently for A-Day.
He even brought along a friend, fellow Southeast Texas defensive back
Tony Brown
(Beaumont, Texas/Ozen) an ESPN 150 prospect.
[+] Enlarge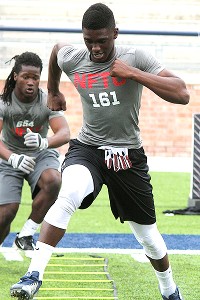 Sam Khan Jr./ESPNTexas and Texas A&M have been pursuing Alabama commit Deionte Thompson.
"It was great," said Thompson, who competed in the Texas Class 3A Region III track and field championships with his West Orange-Stark teammates over the weekend. "Tony Brown came with me. We talked to a lot of other recruits, two of the other commits from the Class of 2015. We watched the game, saw some stuff where they need to improve on and what they're good at, so it was a great time going out there and having fun."
To continue reading this article you must be an Insider
July, 13, 2012
7/13/12
8:41
AM ET
We're always looking for the next best thing. The coaching world isn't any different.
Who's the next Urban Meyer? The next Chris Petersen? What about another Brady Hoke?
Who's that next great assistant who rises up the ranks and takes over a major program ... and succeeds?

I'm not completely sure, but I have a few ideas. Here are some coaches lurking in the SEC who could be on their way to bigger and better things or are ready to take the next step with their current teams:
Head coaches
James Franklin, Vanderbilt: Franklin became the only first-year coach in Vandy history to guide the Commodores to a bowl game. He surpassed the program's win totals in each of its previous two seasons and signed arguably the school's best recruiting class in 2012. He brought attitude, confidence and a bit of swagger to the program. He could have left after one year but is really looking to turn things around at Vanderbilt.
Dan Mullen, Mississippi State: Bulldogs fans probably don't like hearing this, but Mullen is becoming a hot name among the coaching ranks. In his three seasons in Starkville, he has guided Mississippi State to two straight bowl wins. In 2010, he led the Bulldogs to nine wins for the first time since 1999. Mullen says he is happy in Starkville, but if he continues to win, bigger schools won't hesitate to go after him.
Assistants
Shawn Elliott, South Carolina offensive line coach/running game coordinator: Steve Spurrier has raved about Elliott's impact on offense and bringing in the zone read package. Elliott has done wonders for South Carolina's offensive line, which was a continual sore spot in Spurrier's early years at the school. Elliott is also a dogged recruiter. Having grown up in Camden, S.C., Elliott is somebody to watch when Spurrier hangs it up. If he doesn't get that job, somebody is going to snap him up.
Rodney Garner, Georgia defensive line coach/recruiting coordinator: He has been at Georgia for a while and has been wooed several times by other schools. LSU went after him several years ago, and Lane Kiffin was interested in bringing him to Tennessee. In the past 12 years, he has coached plenty of NFL talent, including four first-round draft picks. He has consistently been one of the league's best recruiters as well.
Todd Grantham, Georgia defensive coordinator/associate head coach: He could start getting more looks for head-coaching gigs. He has vast NFL experience, including being a defensive coordinator at that level, and more schools are looking for coaches with NFL experience. Grantham has proven himself as a recruiter and worked under two of the best in the college ranks -- Frank Beamer at Virginia Tech and Nick Saban at Michigan State. He has made a tremendous difference in turning around Georgia's defense and has an edge about him that successful head coaches possess.
Chris Kiffin, Ole Miss defensive line coach/recruiting coordinator for defense: He is one of the bright young names among the assistant ranks. As the defensive line coach at Arkansas State, he coached up Sun Belt Defensive Player of the Year Brandon Joiner, who tied for third in the nation in sacks and 10th in tackles for loss. Arkansas State also led the conference and ranked eighth nationally in tackles for loss (7.62 per game) and tied for 15th in sacks (2.69 per game). He is a tremendous recruiter and helped bring in a solid defensive class in a short amount of time this spring.
Kliff Kingsbury, Texas A&M offensive coordinator: After being a standout quarterback at Texas Tech, he is considered one of the top young assistants in college football. He came over with Kevin Sumlin from Houston, where he helped guide the Cougars' offense to its record-setting year in 2011. Houston led the nation in total offense, passing offense and scoring in 2011 behind quarterback Case Keenum. The Cougars averaged 599.1 total yards per game, including 450.1 through the air, while scoring more than 49 points per game.
Paul Petrino, Arkansas offensive coordinator: He came over to help run Arkansas' offense with his brother, but after Bobby Petrino was fired this spring, Paul Petrino assumed the role as primary playcaller. In 2010, he guided an Illinois offense that broke school records for total points (423) and points per game (32.54). The Illini averaged 42.1 points and 448.9 total yards over the final seven games of the season. If he can keep Arkansas' offense going this year, his phone might start ringing a little more.
Bob Shoop, Vanderbilt defensive coordinator/safeties coach: He has been a head coach at Columbia and is innovative on defense, playing the kind of attacking style that attracts great players. He helped orchestrate one of the most impressive defensive turnarounds in the country last year, as Vanderbilt ranked ninth nationally in pass defense efficiency and 18th in total defense. Vandy's defense also ranked among the nation's top units in interceptions, points allowed and rush defense.
Kirby Smart, Alabama defensive coordinator: He is one of the best defensive coordinators around, and it seems like only a matter of time before he is a head coach somewhere. Smart has already passed on a few head-coaching opportunities. He is making $950,000 a year and is in a position to be picky with coaching jobs.
Trooper Taylor, Auburn wide receivers coach/assistant head coach: He is one of the hottest and most successful recruiters in the SEC. He brought in and trained some elite receivers at Oklahoma State and Tennessee before making his way to Auburn. He is continuing that trend and has turned Emory Blake into one of the SEC's best pass-catchers. He was co-offensive coordinator at Oklahoma State, and if Auburn's receivers make another jump, Taylor could be waving his towel elsewhere soon.
Frank Wilson, LSU running backs coach/recruiting coordinator: He has emerged as one of the sport's top recruiters. As a running backs coach, he has done a tremendous job with the Tigers. Last season, LSU averaged 202.6 rushing yards per game and tied a school record with 35 rushing touchdowns. Three backs eclipsed the 500-yard rushing mark. Wilson commands tremendous respect from his players.
David Yost, Missouri offensive coordinator/recruiting coordinator: He has been at Missouri for 11 years, but he has to start getting more attention as an exceptional playcaller. He has a great eye for talent and pointing out mismatches in his spread scheme. In 2011, Mizzou ranked ninth nationally in rushing (244 yards per game) and had one of the most balanced offenses, as Mizzou was one of only two schools in the country to average at least 230 yards rushing and passing in each game.
Recruits Miss Lone Star Showdown
SEC SCOREBOARD
Thursday, 9/3
Saturday, 9/5