Texas A&M Aggies:

Kirby Hocutt
June, 18, 2014
6/18/14
1:30
PM ET
Texas and Texas A&M might not be playing one another anytime soon.
But other schools around the league are interested in the prospects of rekindling rivalries that were destroyed by two rounds of conference realignment.


While the Longhorns and Aggies remain at odds, Texas Tech athletic director Kirby Hocutt told ESPN.com this week he's optimistic that he'll be able to get Texas A&M on the Red Raiders' schedule down the line again. Hocutt said there has been interest from Texas A&M's side, as well.
"Hopefully that's a series that at some point in time that could start again," Hocutt said. "Is that a game that won't happen again? No. We've had discussions about it. Hopefully we can reengage that in the coming years."
Oklahoma and Nebraska already have an agreement in place to play a home-and-home in 2021-22. Missouri coach Gary Pinkel
has reportedly said
he thinks his school will play Kansas again someday.


And West Virginia athletic director Oliver Luck, who has already added Penn State and Virginia Tech to future schedules, told ESPN.com he's hopeful he'll be able to revive the "Backyard Brawl" with Pitt at some point, as well.
"At some point we'll get Pitt back on the schedule," Luck said. "What I'm trying to do with our nonconference games is stay as regional as possible and rekindle some of our historical rivalries. Penn State is back on the schedule. Virginia Tech is back on the schedule. That game meant a lot to southern West Virginians. The Pitt game meant a lot to northern West Virginians. We've continued to play Pitt in many of the sports.
"We've both gone through transitions, so it's tough schedule-wise for both of us. But I think at some point we'll get Pitt back on the schedule. I see [Pitt athletic director] Steve Pederson every now and then at various conventions. And we've had some discussions about that. We just haven't been able to really eyeball the proper time to get it going again."
March, 20, 2013
3/20/13
3:45
PM ET
Texas athletic director DeLoss Dodds
made headlines this week when he reiterated his stance
against playing Texas A&M any time in the near future, though he admitted the game would likely happen at some point. Who gets to decide when?

"They're the ones that decided not to play us. We get to decide when we play again. I think that's fair," he said.
Another old Texas A&M rival from the Big 12 has struck a different tune, though. Texas Tech wants to play Texas A&M, and it doesn't sound like it'll be too long before it happens.
"I would think soon," Texas Tech coach Kliff Kingsbury
told the Lubbock Avalanche-Journal
of the renewal's timeline. "(Athletic director) Kirby (Hocutt)'s excited about it. I'm excited about it, so hopefully we can come to an agreement and get that thing rolling. I just think it's a great thing for the state. It's a great rivalry, a great football game and it would be great for Texas."
He added that he'd "love to be a part of that again."
At last week's Big 12 basketball tournament, Hocutt expressed a desire to resume the series in a meeting with media.
"We would welcome the opportunity to play Texas A&M in every sport," Hocutt told reporters. "It was a fun rivalry, a good rivalry and one in the future that we can begin again."
Texas A&M athletic director Eric Hyman doesn't sound like he's standing in the way of the renewal either.
"We would entertain anything," he
told the Dallas Morning News
.
It's great to hear talk like that, and just like the Texas series, A&M's rivalry with Texas Tech will be a great game to get renewed. It's not the crown jewel like the Thanksgiving tradition between the state's two biggest football rivals, but it's a step in the right direction for sure.
Texas A&M and Missouri's 2011 exit to the SEC, less than a year after the Big 12 momentarily stabilized with 10 teams, inspired plenty of bad blood across the Big 12, but those feelings shouldn't stop rivalry games that helped make college football great from happening again. Texas Tech isn't Texas A&M's chief rival, but both programs love beating the other, and it can only help marquee rivalries like Texas and Texas A&M and Missouri and Kansas to resume before long.
Kingsbury, who took the head coaching job at Texas Tech after just one season as Texas A&M's offensive coordinator, joked that the Red Raiders should wait to schedule the game until Heisman Trophy winner
Johnny Manziel
packs his bags and leaves A&M's campus.
The Red Raiders open spring practice on Friday, and Kingsbury met with reporters after throwing out the first pitch -- he says it was a strike -- at Texas Tech's baseball game against Arizona State on Tuesday.
The Journal noted that Hocutt spoke last fall of beefing up the nonconference schedule, but that it wouldn't be a possibility until 2015 of 2016, when the schedule was a bit clearer.
That would be fine with me, but the sooner Texas A&M gets to take the field against its old rivals from the Big 12, the better.
December, 12, 2012
12/12/12
6:32
PM ET
The King is coming home.
Kliff Kingsbury threw for 12,429 yards and 95 touchdowns at Texas Tech. A decade later,
he has officially become the Red Raiders' new head coach
at 33 years old with just five years as a collegiate assistant under his belt.
Texas Tech athletic director Kirby Hocutt didn't spend much time dwelling on any hurt feelings he may have felt when Tommy Tuberville skipped town for Cincinnati just a day after looking Hocutt in the eye and telling him he was committed to the Red Raiders.
Tuberville was never embraced in Lubbock, Texas, the way the Pirate of the Plains -- Mike Leach -- was during his decade-long run. His quick exit to a lesser job proved he never embraced Lubbock, either.
This time around, that won't be a problem. Minutes after news broke, the fan base's No. 1 choice was clear. Bring Kingsbury back home.
Clemson offensive coordinator Chad Morris emerged as another leading candidate, but Wednesday, Hocutt made his choice clear.
The fans will surely approve, and if they haven't already started celebrating in the streets, they're not far off. Even the college-aged Tech fans would remember Kingsbury's efforts on the field. Now, can he prove himself on the sidelines?
Make no mistake, hiring Kingsbury is a risk. Hiring Morris would have been a risk, too.
[+] Enlarge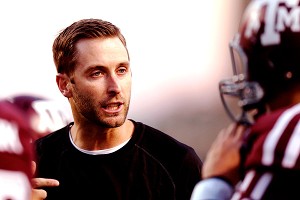 Thomas Campbell/USA TODAY SportsKliff Kingsbury, a star quarterback at Texas Tech a decade ago, is returning to coach the Red Raiders.
Rolling the dice with Kingsbury is the right move for Hocutt. Both Morris and Kingsbury might be The Next Big Thing in coaching. Both might bust. Neither has run a program from top to bottom in college.
But Hocutt needed to fire up his fan base after three unremarkable years under Tuberville, a man who never got the slack from fans that Leach would have gotten. Kingsbury will get those breaks. He'll get their patience.
If Hocutt swings and misses on Kingsbury, not a soul in Lubbock will blame him. If he'd swung and missed on Morris, while Kingsbury flourished elsewhere? That would've been an unforgivable mistake that very well could have cost him his job.
And if Hocutt swings and connects with the next star in Kingsbury? Well, all he'll have done is reignite what was one of the most promising programs in the Big 12 before Leach's exit. Perhaps he has discovered Mike Gundy 2.0, one of the game's best coaches who sees this job as his final destination when others might not feel the same way.
Kingsbury will be one of the game's youngest coaches, and this was an opportunity few other major programs would have afforded him. Hocutt handed the keys to his program to one of the game's most promising coaches, and it's an easy sell. If his history in Lubbock isn't enough, his résumé under Kevin Sumlin makes it clear why his services were so coveted.
Case Keenum was one of the most productive quarterbacks in NCAA history, and less than a week ago, Kingsbury's new quarterback,
Johnny Manziel
, became the first-ever freshman to win the Heisman Trophy.
Oh, and that Super Bowl ring from 2004 as a reserve player (coincidentally with Kansas coach Charlie Weis as the OC and the Patriots' Bill Belichick at the helm) won't hurt to bring into high school kids' living rooms, either.
Hocutt's loyalty to his fan base and former legends in the program will be rewarded. The fans will support Kingsbury even if the team struggles as he learns how to be a head coach. If Kingsbury wins, the likelihood he leaves is lessened significantly compared to any number of other coaches Hocutt could have hired, especially Morris.
Kingsbury is the new man in charge thanks to a gutsy, but supported move from Hocutt. If he didn't do it now, he might never have gotten another chance.
ESPN Junior 300 Updated For 2016 Class
SEC SCOREBOARD
Thursday, 9/3
Saturday, 9/5