Texas A&M Aggies:

Kenny Bell
November, 22, 2013
11/22/13
12:00
PM ET
It's Friday, which means only a day until game day. Thank goodness. Here's some reading from around the league to get you ready:
September, 13, 2013
9/13/13
10:00
AM ET
COLLEGE STATION, Texas -- There were many pieces to the puzzle in Texas A&M's final defensive stand in its upset of the No. 1 Alabama Crimson Tide last November, but Aggies remember one thing best: the interception.
Deshazor Everett
's interception of A.J. McCarron at the goal line with 1:36 remaining helped the Aggies secure a 29-24 upset of Alabama at Bryant-Denny Stadium. Life has changed significantly for Texas A&M football since then.
Johnny Manziel
won the Heisman Trophy. The Aggies finished the season in the top five of the postseason rankings for the first time since 1956. They came into this season with a preseason top-10 ranking, and should they win on Saturday in their rematch against Alabama, they will vault themselves into the BCS title game discussion.
[+] Enlarge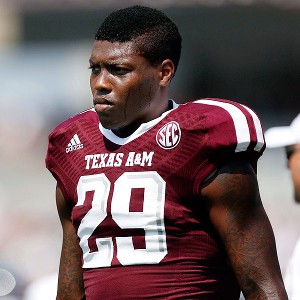 Thomas Campbell/USA TODAY SportsDeshazor Everett made the last big defensive play against Alabama last year, but not the only one.
Everett hasn't become a celebrity like Manziel as a result of the interception, but people do recognize him more often these days.
"I'm not going to say I got too much fame now, but more people know who I am," Everett said. "As the season keeps progressing, people keep recognizing me across campus and on Twitter, Instagram and things. It hasn't blown up too much, but more people know me, definitely."
While the interception is the most memorable aspect of that final four-minute sequence, Everett pointed out that there were many other factors at work that led to that opportunity.
On the first play of that Alabama drive, McCarron found an open
Kenny Bell
for a 54-yard completion. But defensive back
Toney Hurd Jr.
chased Bell down from behind and tackled him at the Texas A&M 6-yard line.
Sean Porter and
Kirby Ennis
stopped a scrambling McCarron for no gain on first-and-goal. Ennis tackled Eddie Lacy for just a yard on the next play. And on third down, cornerback Dustin Harris might have made the second biggest play in that series, when McCarron scrambled from pressure and found open field, darting for the goal line. Harris collided with McCarron at the 2 to set up the fourth-and-goal play.
"They made a few plays, but I knew when we got down around the goal line that it was going to be about how bad our defense wanted it," Everett said. "As you see, everybody stepped up and made plays, got pressure on the quarterback and Dustin Harris stopped him [near] the goal line. A lot of people don't realize that. Toney Hurd made the saving tackle before Bell got into the end zone."
The interception didn't happen by chance. Everett and defensive coordinator Mark Snyder attributed it to weeks and weeks of practice.
The play that Alabama ran, flooding three receivers to the right flat, is a frequently used play for two-point conversions by teams across the country, according to Snyder. So the Aggies worked on defending it weekly. In this case, it was
Amari Cooper
and Bell who flooded the right side.
Christion Jones
, who lined up next to Cooper on the right side of the formation, appeared to run a short hitch route, not toward the right sideline like Cooper and Bell.
From the play design, it appeared that Cooper was supposed to pick Everett, which would leave Bell open. But Everett recognized the play, avoided the pick from Cooper and stepped in front of Bell.
"It was a two-point play that we've been working on every week up until that week," Everett said. "Coach [Snyder] was constantly making us run it and practice it in practice because, he said, everyone runs the play for a two-point play. Fortunately enough, they ran it as their fourth-down play and not a two-point play, and I just recognized it and jumped the route pretty much, and that's how it went."
Snyder was proud to see the Aggies' practice made for a perfect play in a crucial situation.
"We practice that every week," Snyder said. "It was great. Like I said after that game, it was one of the finest coaching moments I've had, because you see something that you actually work on come to fruition, and in a game like that, it was pretty special."
Everett wanted to run it back for a score to leave no doubt in the result but lost his balance after intercepting the pass, which was intended for Bell on a quick out route.
"I felt like everything went in slow motion after I caught it," he said. "I was trying to stay on my feet [laughs]. It was a lot of excitement. I just wish I would have returned it, so I wouldn't have to worry about the offense getting in punt formation [later] or being pushed back so far on the goal line. But, it was a good play. I felt good, definitely."
And having a player like Everett back for the rematch is huge for the Aggies.
"He brings a wealth of experience," Snyder said. "He's been on the big stage, he's played against the team we're getting ready to play against and performed pretty well, not great, but pretty well. And it's great to have him back because this corps of receivers will be the best we see all year. They're really good, and they're really fast."
September, 10, 2013
9/10/13
1:40
PM ET
COLLEGE STATION, Texas — Texas A&M shocked the college football world when it went into Tuscaloosa, Ala., and upset the No. 1 Alabama Crimson Tide last November. It was a game for the ages, with the Aggies jumping out to a 20-0 lead, Alabama charging back to make it close and a nailbiter finish that included a turnover near the goal line.
With the Crimson Tide coming to Kyle Field for a rematch with the Aggies, anticipation has built throughout the offseason. The Tide are again No. 1, defending their BCS championship from a year ago and the Aggies still have their linchpin, Heisman Trophy winner
Johnny Manziel
, who made his most compelling case for the trophy that afternoon at Bryant-Denny Stadium.
As the heavily hyped clash approaches, let's look back at some of the keys to last year's game and how they might affect the rematch.
1. Credit to the Texas A&M defense
When dissecting Texas A&M's upset of Alabama last season, many cite the Aggies' offensive explosion en route to a 20-0 first-quarter lead as one of the most difficult things for Alabama to deal with. And while the Aggies used creative playcalling and personnel packages, their fast pace and precision execution to score three touchdowns on their first three drives, the Aggies' defensive effort had as much -- or more -- to do with their ability to take that kind of commanding lead.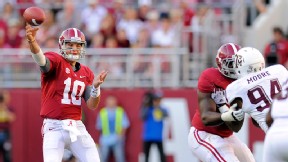 John David Mercer/US PresswireAJ McCarron threw his first interceptions of the season in Alabama's loss to Texas A&M last season.
The first play from scrimmage helped the Aggies set the tone as Alabama handed off to running back Eddie Lacy on an off-tackle play to the left side. Tight end Michael Williams motioned to that side of the formation to help open a hole for Lacy, but Texas A&M linebacker Sean Porter eluded Williams and sliced into the gap between Williams and left tackle
Cyrus Kouandjio
and made a strong tackle to stop Lacy for no gain. Alabama went three-and-out on that drive and punted.
The Crimson Tide's next offensive drive started on a much better note for Alabama, with Lacy gaining 23 yards on his first two carries. But everything halted as the Aggies created a turnover when quarterback
AJ McCarron
tried to find
Kenny Bell
in the middle of the field. As a McCarron pass hit Bell in the chest, safety
Howard Matthews
delivered a hard, clean hit to Bell, who dropped the pass. Porter was there to intercept the pass, and that set up the A&M offense with great field position after a 16-yard return to the Alabama 41.
One of the key players throughout the day for the Aggies' defense was defensive tackle Spencer Nealy. A former defensive end who moved to defensive tackle at the start of the 2012 season despite lacking what would be considered "SEC size" for a tackle, Nealy played an integral role in the Aggies' run defense. Evidence of that was on display at the start of the Crimson Tide's third drive of the game.
On the first play of the drive, Alabama handed off to
T.J. Yeldon
on the left side and the 6-foot-5, 277-pound Nealy, who lined up at nose tackle on that play and for much of the day, used his quickness to beat center Barrett Jones and tackled Yeldon for a loss of 4 yards. The Crimson Tide went three-and-out on that drive as well as the Aggies forced McCarron's hand with a safety blitz and Matthews got into the backfield untouched, forcing an incomplete pass. The defensive effort by the Aggies forced McCarron to start the game 1-of-5 passing for 5 yards.
And even though the Tide were able to gather their bearings and make a strong comeback with some big plays on offense, the Aggies still found ways to make plays on defense. Matthews plugged a gap on third-and-2 when Yeldon tried to cut back for first-down yardage, holding the Crimson Tide to a third-quarter field goal. Safety Steven Terrell stripped Yeldon in the fourth quarter on the play after a 50-yard pass from McCarron to
Amari Cooper
. And of course, cornerback
Deshazor Everett
picked off McCarron on the Tide's final offensive play with 1:36 remaining.
The drawback for Texas A&M in the rematch is that many of the above names are gone. Nealy, Porter, Terrell and other key players -- such as defensive end Damontre Moore and linebacker Jonathan Stewart -- have graduated. They've been replaced by younger, more inexperienced players who have taken their lumps in the first two games. The Aggies also haven't had their full complement of defensive players because several served suspensions in the first two games. Saturday will be the first opportunity for all of their key guys to play together this season.
Lacy is gone for the Tide, as are several offensive linemen. The Tide struggled in that area in their season-opening win against Virginia Tech. So there will be adjustments on both sides with the differences in personnel.
2. Finding the "Y"
Manziel went to receiver Ryan Swope, the "Y" receiver who lines up in the slot on the right side of the offensive formation, early and often against the Crimson Tide. Early in the game the passes were of the short, quick variety, hitch routes that gained incremental yardage, almost like running plays.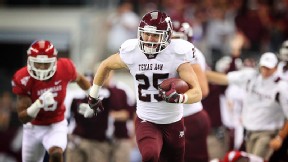 Matthew Emmons/US PresswireRyan Swope, a senior last season, made 11 catches against Alabama.
As the game wore on, Manziel went downfield to Swope, who made some of the biggest catches of the season. One was in the middle of the field for 28 yards as he was nailed by safety
Ha Ha Clinton-Dix
in the third quarter. In the fourth, Manziel found Swope down the right sideline for 42 yards.
Swope graduated as well, but look for the guy who made the catch on the play after Swope's 42-yard reception --
Malcome Kennedy
-- to be a factor. Kennedy caught a 24-yard touchdown pass on the next play and having experience in a game like that can only help him this Saturday. The question is, can Kennedy bring the kind of consistency that Swope did in catching 11 passes for 111 yards and a touchdown against Alabama?
And should he be healthy for the game, 6-foot-5 freshman receiver
Ricky Seals-Jones
could be a factor at that position as well. Seals-Jones missed the Sam Houston State game last Saturday with a knee injury.
3. McCarron can scramble, too
While Manziel is known for his scrambling, McCarron showed he has good mobility as well.
McCarron isn't nearly as fleet of foot, but he did show the ability to escape pressure and make quality throws. On two instances in the Crimson Tide's first scoring drive, he evaded the Aggies' pass rush and found Cooper for a first-down completion.
In the second half, McCarron scrambled and tried to find Cooper. He avoided an interception from Everett (who was ruled out of bounds on the catch), but nevertheless, scrambling is a tool McCarron can use if the Aggies dial up extra pressure Saturday.
4. Defending Manziel on the ground
[+] Enlarge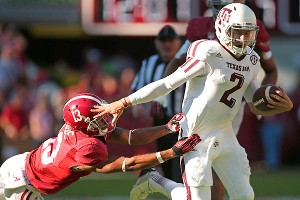 AP Photo/Dave MartinJohnny Manziel had great success running in the first half against Alabama, but the running lanes closed a bit in the second half.
In the first half last year, Manziel was electric with his feet. Then-offensive coordinator Kliff Kingsbury was comfortable in calling designed quarterback draws. They were successful as Manziel piled up 82 yards on nine first-half carries.
But the Tide did a much better job containing Manziel in the final two quarters. In the second half, he finished with 10 rushing yards on nine attempts.
This season, Manziel is making an effort to improve as a pocket passer without taking away his playmaking ability. The Aggies have a new offensive coordinator and playcaller (Clarence McKinney) and a new quarterbacks coach (Jake Spavital). It will be interesting to see how much running Manziel does Saturday and how Alabama handles it.
5. Big plays in the Alabama passing game
Cooper, now a sophomore for the Tide, had a huge game in last year's matchup, catching six passes for 136 yards.
He had a catch of 50 yards and a 54-yard touchdown reception, both in the fourth quarter. The first came on an out-and-up, when he beat Everett one on one. The next one came when the Aggies sent Everett on a cornerback blitz and Cooper beat Matthews deep for a touchdown.
August, 30, 2013
8/30/13
5:30
PM ET
The season is here. Finally, there's real football to talk about! Here's this week's SEC mailbag:
Daniel, via Twitter (@badger_daniel):
After seeing what (LaQuon) Treadwell can do in last night's game, does Ole Miss have the best SEC receiving duo?

Sam Khan Jr.:
First of all, allow me to say this:
Laquon Treadwell
looks like he's going to be a star, and really quickly. His size (6-foot-3, 215 pounds) and hands are terrific -- the one-handed catch he made was wonderful. After catching nine passes for 82 yards last night, I suspect Hugh Freeze and Co. will try to continue to get the ball in his hands. Most of his damage was done on two third-quarter drives, but those were both crucial drives because it helped Ole Miss narrow a 21-10 deficit to 28-25, setting the stage for the dramatic finish.
To answer your question, I think it's too early to definitively call Treadwell and junior
Donte Moncrief
the best receiving duo in the conference, because I want to see Treadwell play more and show that he can bring good production consistently, something Moncrief did last season. I think it's safe to say they'll be one of the best and if Treadwell continues to progress, they could take that title. Alabama's going to have an argument with
Amari Cooper
and a number of others you could fill-in-the-blank with (it could be
Kevin Norwood
,
Christion Jones
,
Kenny Bell
,
DeAndrew White
or even a newcomer). Vanderbilt has
Jordan Matthews
and we'll see if senior
Jonathan Krause
can develop into a reliable No. 2 -- the Commodores are without normal No. 2 receiver
Chris Boyd
, who is suspended after being indicted earlier this month in connection with the rape case that involved four other Vanderbilt players. Keep an eye on Georgia (
Malcolm Mitchell
,
Michael Bennett
) and Texas A&M (
Mike Evans
,
Malcome Kennedy
or perhaps
Ricky Seals-Jones
if they break out) too. But you might be on to something, because Moncrief is already a star. If Treadwell becomes one too, look out SEC West.
Carlos, via Twitter (@catorano):
Which new coach will have the most success in his first year in the SEC?
Sam Khan Jr:
Personally, I think it will be Gus Malzahn at Auburn. One advantage he has is familiarity with the program, since he was with the Tigers for three seasons and helped them to a BCS title. He was only gone for a year, so he's certainly familiar with much of the personnel too. His offense is effective and the cupboard isn't bare in terms of talent; Auburn has recruited well, turning in top 20 classes each of the last four years. There's a lot of buzz about the arm strength starting quarterback
Nick Marshall
has and if he can get the Tigers tempo moving fast early on, I think Auburn might be able to make a little bit of noise.
Matthew, via Twitter (@MVPenergy):
% likelihood we will see ALL 3 TAMU QBs when #JohnnyFootball is sat down 1/2 (way through the) 4th QTR
Sam Khan Jr.:
I'm docking you points for not first asking "Who's going to start?" because that's what everyone wants to know. But you're forgiven. I think there's a decent chance we see all three of Texas A&M's scholarship quarterbacks in the Aggies' season opener against Rice. Coach Kevin Sumlin has been tight-lipped about who will get the nod and I know the coaching staff has been discussing different plans, but my hunch is that junior
Matt Joeckel
gets the start because he already has some game experience. True freshman
Kenny Hill
is the current "quarterback of the future" for the Aggies, however. I've never known Sumlin to be a two-quarterback guy or rotate them, but this could be a special case because of the circumstances. And I would not be surprised at all if it was Hill who trotted out first. Either way, once the third quarter arrives, we all know who comes in:
Johnny Manziel
. And I think, even if it's a blowout, Manziel will play at least a quarter.
Josh, via Twitter (@JoshAgof11):
Realistic chance of (Aggies) running the table? Like what I've heard for both sides of the ball.
Sam Khan Jr.:
I think it's going to be difficult, but not impossible. Of course, Texas A&M must first get through the showdown on Sept. 14 with Alabama. If they get through that, the toughest obstacles left in the regular season, in my opinion, are road games at Ole Miss and LSU. I'm sure many remember what it took for the Aggies to escape Oxford, Miss., with a win after turning the ball over six times and Death Valley is nothing to mess with, particularly for a night game (which, I suspect it would be if the Aggies were to roll into the LSU game undefeated). Then if you get through all that, you have to beat an SEC East team in the SEC title game, probably Georgia, South Carolina or Florida. It's really difficult to do. Alabama has won three of the last four national titles and two of those seasons they lost a regular season game. I won't count it out because Manziel is that special and that offense is powerful. But with a lot of youth and newcomers seeing the field on defense and whether there's improvement in the kicking game are the wild cards.
August, 26, 2013
8/26/13
11:00
AM ET
Game week has arrived. No more waiting for the action because it all starts this week. Here are some links from around the SEC to whet your football appetite as game day nears:
August, 8, 2013
8/08/13
12:20
PM ET
"College Football Live" and its Summer Tour stops in Alabama today. Tom Rinaldi and Todd McShay will check in on Nick Saban, AJ McCarron and Co. Catch them throughout the day on "SportsCenter" and on CFB Live at 5 p.m. ET on ESPNU.
Here are some other things from around the SEC that you may find interesting.
December, 14, 2012
12/14/12
11:00
AM ET
GigEmNation is counting down the top five moments of Texas A&M's 2012 season this week. No. 1 ...
Texas A&M had hit Alabama with blow after blow. But the defending BCS champions weren't going down easy or without a fight.
Despite trailing 20-0, the Crimson Tide climbed back into the game and on their final offensive possession, had the chance to take the lead with fewer than two minutes remaining. The Aggies' defense stood tall in a goal-to-go situation and eventually forced fourth-and-goal at the 2.
For all intents and purposes, this was A&M's chance to end it. Get a stop and go home with a win.
Alabama quarterback A.J. McCarron lined up in the shotgun and sent receiver
Kenny Bell
in motion. He ran a quick route into the flat, and fellow receiver
Amari Cooper
also flooded that area, running a quick out behind Bell. Safety
Steven Terrell
shadowed Bell, and when he went in motion, Terrell shifted as well. Everett originally was lined up against Cooper, but the recognized the play and made and adjustment. As soon as McCarron fired a pass to Bell, Everett made an instinctive play, stepped in front and intercepted the pass.
Everett fell at the 4 and the A&M sideline erupted. As the Aggies celebrated, the Crimson Tide cringed in shock.
The call, by CBS play-by-play man Verne Lundquist is simple but one Aggies fans will probably never forget.
"McCarron will throw it...it's intercepted! Deshazor Everett at the goal line!"
After an offsides penalty on Alabama on fourth down of the ensuing possession, the Aggies ran the clock out and secured an upset of No. 1 Alabama, 29-24. It was a game that solidified
Johnny Manziel
's Heisman Trophy candidacy, established the Aggies as a real factor in the SEC and will be remembered in Aggie lore for years to come.
November, 12, 2012
11/12/12
5:00
PM ET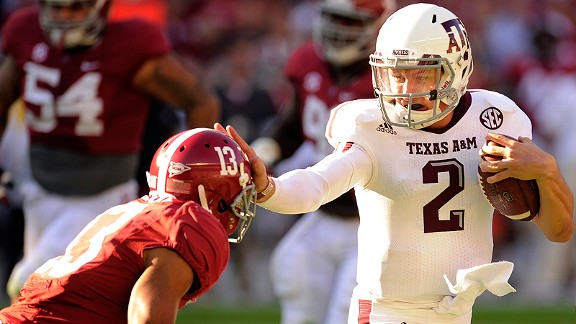 John David Mercer/US PresswireJohnny Manziel's ability to improvise and keep plays alive keeps Aggies receivers on alert.
Texas A&M pulled out a thrilling 29-24 win over then-No. 1 Alabama on Saturday at Bryant-Denny Stadium. It took a complete effort, and the Aggies were effective on both sides of the ball. Here are three examples of notable plays where the Aggies' shined:
Situation:
Texas A&M ball, third-and-goal at the Alabama 10 (8:09 left, first quarter)
Score:
Texas A&M 7, Alabama 0
November, 11, 2012
11/11/12
8:00
AM ET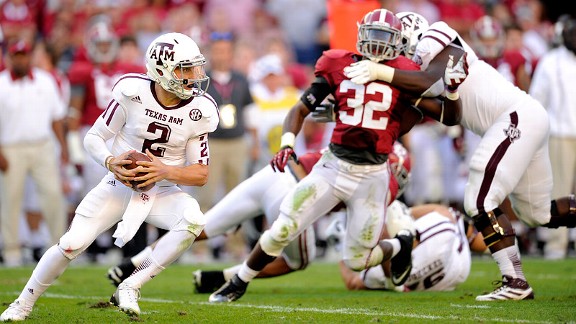 John David Mercer/US PresswireJohnny Manziel stunned the college football world as he led the Aggies past Alabama.
Texas A&M did what many thought they couldn't, going into Tuscaloosa, Ala., and stunning the nation's No. 1-ranked team by pulling out a 29-24 victory over Alabama on Saturday at Bryant-Denny Stadium. It was a game with a lot of twist, turns and thrills for both squads. Let's see the good and the bad for the No. 15 Aggies in their win:
THREE UP
1. Johnny Manziel:
The redshirt freshman quarterback might have just thrown himself fully into the Heisman Trophy race with his performance. He finished 24-of-31 passing for 253 yards, 2 touchdowns and no interceptions. On the ground, he had 92 yards on 18 carries and even showed the speed necessary to get away from the Crimson Tide's vaunted defense on occasion. He also made some big-time throws from the pocket.
To continue reading this article you must be an Insider
November, 10, 2012
11/10/12
9:54
PM ET
TUSCALOOSA, Ala. -- Standing tall in a crowded little media room tucked away deep inside Bryant-Denny Stadium,
Ryan Swope
could barely find the right words when asked about the statement Texas A&M made Saturday before
Sean Porter
spoke for him.
"We can play with anybody," the senior linebacker nonchalantly said with his eyes still looking at the ground as he slowly slid his gloves off.
Porter didn't even have to utter those five words because everyone in the room knew it. And everyone in the country knows it.
A team that was thought to be outmanned and overmatched with its move from the Big 12 to the SEC made all of the doubters look very silly with its
29-24 win over No. 1 Alabama
. And this wasn't a letdown loss for the Tide following an emotional win over LSU last week. The 15th-ranked Aggies dominated Alabama for four quarters.
The Tide were supposed to wear down A&M, but the players in the crimson tops were the ones huffing, puffing and panting deep into the fourth quarter, as the Aggies' up-tempo offense left Alabama's defense dazed, confused and susceptible to a handful of big plays.
Alabama was supposed to protect the ball after it entered the game plus-15 in turnover margin, while the Aggies were minus-7. Instead, A&M won the turnover battle 3-0.
Alabama quarterback
AJ McCarron
's streak of 292 passes without an interception ended in the first quarter and his team's national championship hopes all but ended when his second pick went to sophomore cornerback
Deshazor Everett
with 1:36 left in the fourth.
[+] Enlarge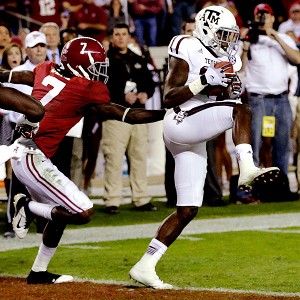 AP Photo/Dave MartinDeshazor Everett's interception at the goal line with 1:36 left in the fourth quarter ended Alabama's hopes of remaining No. 1.
We thought the Aggies would get pushed around and would be lucky to limp their way into a bowl game. Now, they've pushed the No. 1 team out of the limelight and are two wins away from possible BCS consideration.
"It goes to show that we can compete with anyone in this league," said Swope, who finished with a game-high 11 catches for 111 yards and a touchdown.
"We practice with confidence and you have to be a confident football team to do those kinds of things. You can tell guys played with heart tonight. It was unbelievable."
What might be more unbelievable is how this team did it without having to rely completely on
Johnny Manziel
.
Sure, this team has excelled on both sides of the ball in recent weeks, but Johnny Football has been the center of every conversation.
On Saturday, he was just one part of A&M's win.
"Not to take away from Johnny, but for us to come to Alabama and win, that is a complete team effort," coach Kevin Sumlin said.
Manziel's 253 passing yards, 92 rushing yards and two total touchdowns certainly helped, but his supporting actors were outstanding.
His receivers made a handful of tough plays, most of which came with players outmuscling Alabama defenders for the ball or to get extra yardage, like
Mike Evans
scratching and clawing toward the first-down marker in the first half.
And look at the defense. No one outside of College Station was quite sure if this unit was capable of containing Alabama's running game or flustering McCarron, but it did both.
Alabama ran just 14 times in the second half and totaled just 122 rushing yards.
Of course, the play of the night was by the often overlooked Everett, who snatched away McCarron's telegraphed fourth-down pass to the end zone after
Kenny Bell
had set up the Tide with first-and-goal at the 6-yard line with his 54-yard catch.
Texas A&M also didn't succumb to the second-half failures that have routinely plagued this program. After squandering most of a 20-point first-quarter lead -- thanks to a 17-0 Alabama run -- this team held strong and didn't panic after a two-quarter lull.
Manziel, who might have thrown his name right back into the Heisman picture while simultaneously pushing McCarron out, dazzled with his arm and legs in the first half, but picked his spots in the second. After racking up 200 total yards of offense and a touchdown in the first half, he was held to just 145 yards in the final two quarters.
Alabama contained him more efficiently, but he stayed calm and delivered some clutch fourth-quarter throws. Manziel made two beauties on the Aggies' two-play, 66-yard drive in which he hit Swope for 42 yards down the right sideline before putting A&M up for good with a perfectly thrown flag pass to
Malcome Kennedy
for a 24-yard score.
"We did a lot of things that a lot of people said we couldn't do," defensive end
Damontre Moore
said. "Now, to prove them wrong does a lot for the program."
It shows the SEC that the new kid on the block isn't going to be a pushover. The Aggies were supposed to hit their stride with more time under Sumlin. They've hit that stride now, and teams are lucky A&M only just started playing so well.
The SEC chants that rained down from the Aggies' student section with 8:37 remaining in the fourth quarter probably never sounded so right.
"We're glad to be here and prove that we belong here and we're not some other team that people made us out to be," Moore said. "We proved that today."
November, 10, 2012
11/10/12
7:01
PM ET
Down goes No. 1.
The defending BCS champions and the nation's top-ranked team, the
Alabama Crimson Tide
were upset by No. 15 Texas A&M
29-24
on Saturday at Bryant-Denny Stadium.


The Aggies jumped out to a 20-0 lead behind their high-powered, up-tempo offense and a strong defensive start and hung on in the second half, never relinquishing the lead even when it appeared the Crimson Tide were on the verge of going ahead. Let's take a look at the high points from the thriller:
It was over when:
Alabama linebacker
Tyler Hayes
committed a neutral-zone infraction when the Aggies were lining up to punt it away to the Crimson Tide with 40 seconds left. The penalty gave Texas A&M a first down and the Aggies took a knee to seal the win, as the Crimson Tide had no timeouts to stop the clock.
Game ball goes to:
Johnny Manziel
. Really, you could give it to a lot of guys (the Aggies' offensive line, senior receiver
Ryan Swope
and the defense made some big plays) but Manziel is the straw that stirred Texas A&M's drink -- and has all season. He finished 24-of-31 passing for 253 yards, 2 touchdowns and, most importantly, zero interceptions. He also made plays with his feet, rushing for 92 yards on 18 carries (he has now surpassed 1,000 rushing yards on the season). He took care of the ball, made good throws, extended plays and played about as well as you can expect a redshirt freshman to in that environment.
Key stat: 3-0.
The turnover margin. Alabama quarterback
AJ McCarron
threw two interceptions, including one on the Crimson Tide's final offensive drive, and the Tide also fumbled once when
T.J. Yeldon
coughed it up at the Aggies' 38, killing a potential scoring drive. The Aggies scored on the ensuing drive to take a 29-17 lead. The Aggies' loss to LSU on Oct. 29 was marred by five turnovers. This time, they flipped the script.
Key play:
Sophomore cornerback
Deshazor Everett
's interception with 1:36 to go. On fourth-and-goal from the 2 and needing a touchdown, McCarron tried to hit receiver
Kenny Bell
on a short out route near the pylon, but Everett stepped in front of Bell and intercepted the pass to get the ball back for the Aggies and kill the Crimson Tide's drive.
What it means:
The Crimson Tide's (9-1, 6-1 SEC) BCS Championship Game hopes took a huge hit with this loss. Three teams -- Oregon, Kansas State and Notre Dame -- could remain undefeated after their games on Saturday night and jump Alabama in the BCS standings. And on the flip side: Welcome to the SEC, Texas A&M. Many wondered whether the Aggies could compete in the SEC when they made the move to the country's premier football league. Not only have the Aggies (8-2, 5-2) shown they can compete, they've shown they can beat the best teams the league has to offer. Kevin Sumlin has this team peaking, and it could jump into the top 10 with this win. It's definitely a new era in College Station, Texas.
And this could also be a formal introduction into the Heisman Trophy race for Manziel.
July, 11, 2012
7/11/12
6:36
PM ET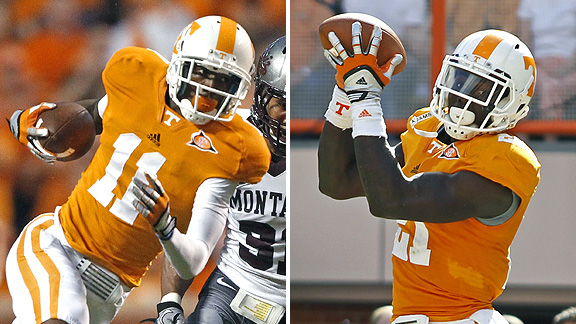 AP Photo/Wade PayneJustin Hunter (11) and Da'Rick Rogers (21) are considered to be the best receiving duo in the SEC.
Our SEC position rankings continue with a look at schools' wide receiver and tight end groups.
Past rankings:
On to the league's wide receiver/tight end groups:
1. Tennessee:
The Vols are equipped with two of the top wideouts in the league with
Da'Rick Rogers
, who was second in the SEC in receiving last year, and
Justin Hunter
, who might be the SEC's top deep threat. It sounds like Hunter will be 100 percent this fall after his ACL injury last year. Junior college transfer Cordarrelle Patterson is big, fast and possesses the big-play gene. The speedy
Zach Rogers
is back and is so is talented tight end
Mychal Rivera
.
2. Arkansas:
Cobi Hamilton
is now Arkansas' primary receiver, and he might be the league's most complete wideout. He can make the big-play and elude defenders along the way. While
Marquel Wade
's status is still unclear, if he does return, he'll be a major lift for this offense because of his playmaking ability in the slot.
Julian Horton
and
Javontee Herndon
have always impressed coaches in practice and now will get their chances to in games. Tight end
Chris Gragg
should be even more involved and is the league's top tight end.
3. Georgia:
While
Malcolm Mitchell
could go back and forth between receiver and corner, when he's at receiver he's Georgia's top offensive threat and was one of the league's best as a rookie. There are vets behind him, starting with reliable senior
Tavarres King
, who had a very good spring, senior
Marlon Brown
, who seemed to take a big step in his game this spring. Sophomores
Michael Bennett
and
Chris Conley
combined for 48 catches for 608 yards and seven touchdowns last year. Unproven tight ends
Arthur Lynch
and
Jay Rome
will replace Orson Charles and Aron White.
4. Texas A&M:
This isn't the fastest group out there, but there are some pretty reliable weapons, starting with star
Ryan Swope
, who could have left for the NFL after catching 89 passes for 1,207 yards and 11 touchdowns last year.
Uzoma Nwachukwu
was third on the team with 50 catches for 639 yards and three tight ends --
Nehemiah Hicks
,
Michael Lamothe
and
Hutson Prioleau
-- return. Keep an eye on junior
Nate Askew
, who could be a downfield threat this fall.
5. LSU:
Odell Beckham
Jr. was one of the top rookies last year and could be even better in Year 2. He'll be joined by potential deep threat and big-play target
Jarvis Landry
, who developed some good chemistry with quarterback
Zach Mettenberger
this spring.
Russell Shepard
is talented, but he's been wildly inconsistent. Keep an eye on junior
James Wright
and incoming frosh
Avery Johnson
, who is the younger brother of Patrick Peterson. Also, tight end
Chase Clement
is on the John Mackey watch list.
[+] Enlarge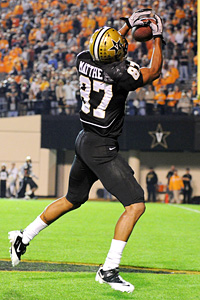 Don McPeak/US PresswireWide receiver Jordan Matthews is one player the Commodores will be counting on this fall.
6. Vanderbilt:
This group surprised last year and returns most of its components, starting with
Jordan Matthews
, who was fourth in the SEC in receiving last year. Sophomore
Chris Boyd
was solid last year, hauling in 31 catches and eight touchdowns.
Jonathan Krause
is very good in space and should see his role increase this fall after a solid spring. The coaches are excited about former QB
Josh Grady
moving to receiver. Replacing tight end Brandon Barden won't be easy.
7. Alabama:
There is more speed out wide in Tuscaloosa, but there's a lot more youth. The Tide could turn to freshmen Chris Black, Amari Cooper and Eddie Williams to help develop a more downfield passing game. More will be expected from veterans
Kenny Bell
and
Kevin Norwood
, while sophomore
DeAndrew White
possesses a ton of speed. Still no word on
Duron Carter
. Tight end
Michael Williams
was solid last year, but will be used even more this fall.
8. Mississippi State:
There is a lot of experience here, but this group has still underperformed at times, especially senior
Chad Bumphis
, who has yet to live up to all the hype that followed him from high school. Seniors
Chris Smith
and
Arceto Clark
combined for 65 catches last year, while the staff is very excited about the big-play potential redshirt freshman
Joe Morrow
possesses. Tight end
Malcolm Johnson
serves as a very reliable tight end target, as well.
9. Missouri:
The Tigers lost two starting receivers and stud tight end Michael Egnew, but three of the top five pass catchers are back, including inside threat
T.J. Moe
, who led Mizzou in receiving last year. Big things are expected from
Marcus Lucas
, who can stretch the field with his speed and physicality, and the coaches think
L'Damian Washington
can also be a downfield threat. Also, Dorial Green-Beckham, last year's top recruit, should make an immediate impact.
Eric Waters
is replacing Egnew, but has just two career catches and suffered a knee injury this spring.
10. Auburn:
Emory Blake
is one of the league's top downfield threats and has been one of Auburn's most consistent offensive weapons. So has tight end
Philip Lutzenkirchen
, who should be more of a passing threat with the addition of transfer fullback
Jay Prosch
. There is a lot of depth, but it's unproven.
Trovon Reed
was supposed to be a star, but had a lackluster second year. Seniors
Travante Stallworth
and
DeAngelo Benton
have 15 and 14 career catches, respectively.
Quan Bray
has shown potential and could have a bigger role this season and keep an eye on freshman Ricardo Louis.
11. Florida:
The Gators have struggled here since 2009 and still lack proven playmakers.
Andre Debose
is probably the best bet to be one, but he's been very inconsistent.
Quinton Dunbar
has the speed to be an outside threat, but caught just 14 passes last year. And the coaches are still waiting for senior
Frankie Hammond
Jr. to turn things up. True freshman Latroy Pittman had a great spring and the coaches are excited about his potential. Tight end
Jordan Reed
is one of the most athletic players in the league and will be a bigger target with two young quarterbacks throwing the ball.
12. South Carolina:
Now that Alshon Jeffery is gone, the Gamecocks have questions and inexperience here. The fast, athletic
Ace Sanders
is the only returning pass catcher with at least 20 catches from last year (29). The hope is
Bruce Ellington
will be more of a factor this fall. Tight ends
Justice Cunningham
and
Rory Anderson
combined for 26 catches and four touchdowns.
Damiere Byrd
has blazing speed, but caught just one pass last year.
DeAngelo Smith
had a solid spring, and the coaches hope he can be a downfield threat. A lot will be expected from incoming freshman Shaq Roland.
13. Ole Miss:
Sophomore
Donte Moncrief
is a budding star in this league and thinks he'll be even better in Hugh Freeze's spread offense.
Ja-Mes Logan
caught 20 passes last year, but had a very good spring. But Nickolas Brassell was an academic casualty and
Randall Mackey
had to move over from quarterback. The coaches are looking for consistency from
Terrell Grant
and
Vince Sanders
, who are both pretty unproven. Tight end
Jamal Mosley
is expected to do more in the spread and averaged 13.8 yards per catch last year.
14. Kentucky:
Joker Phillips' goal this spring was to find more playmakers and he thinks he did with sophomore
Demarco Robinson
, who had five receptions last year, and redshirt freshman
Daryl Collins
. The hope is that they'll take some pressure off of
La'Rod King
, who is really the only proven receiving threat on the team. Tight ends
Ronnie Shields
and
Tyler Robinson
did well this spring, but combined for just 10 catches last year.
Recruits Miss Lone Star Showdown
SEC SCOREBOARD
Thursday, 9/3
Saturday, 9/5