Texas A&M Aggies:

Kansas Jayhawks
June, 13, 2014
6/13/14
9:00
AM ET
Finally, football is back. Well, fútbol, actually.
The
World Cup
will consume sports fan across the globe for the next month, taking us right up to the outskirts of the college football season.
Many in Big 12 country know little about the World Cup, or what team to pull for outside the United States. So to give you soccer novices a rooting choice, we've come up with the fútbol counterparts for every team in the Big 12 (thanks to soccer aficionados
Royce
and Russ for their help in putting this list together):

BAYLOR
Belgium:
Baylor has been the up-and-coming squad in the Big 12, winning its first conference title last year. The Belgians are the up-and-comers of this World Cup, and a popular sleeper pick to win it all. Both have lethal offensive attacks, but still must prove their staying power this year.

IOWA STATE
South Korea:
On its home soil in 2002, South Korea pulled off three of the bigger upsets in World Cup history, knocking off Portugal, Italy and Spain to reach the quarterfinals. The Cyclones under coach Paul Rhoads have also been a giant killer at home, most recently upsetting second-ranked Oklahoma State to bounce the Cowboys from the 2011 national title race. With 21-year-old forward Son Heung-min leading the charge, South Korea boasts a potentially formidable offensive attack. And with nine offensive starters back this year, Iowa State has the chance to feature its best offense in a long time.

KANSAS
Australia:
Both had their finest moments around the same time -- the Aussies advancing out of its World Cup group in 2006; the Jayhawks winning the Orange Bowl in 2007 -- but the hearts of both fan bases lie in another sport (basketball for Kansas, rugby for Australia).

KANSAS STATE
Greece:
Greece is not flashy. But emulating the Bill Snyder playbook to success, the Greeks grind out victories (and ties) with stout defense, fundamental play and by avoiding mistakes. Like K-State, the Greeks have been defined by their coach (Otto Graham/Fernando Santos) more than any star player. And Greece's improbable 2004 Euro Cup title run might be the soccer equivalent of K-State's Manhattan Miracle.

OKLAHOMA
Germany:
The Germans have been the epitome of consistent success, advancing to the semifinals in eight of the last 11 World Cups. The Sooners have matched that level of consistency during the Bob Stoops era, with eight conference titles and a dozen double-digit win seasons over the last 14 years.

OKLAHOMA STATE
Portugal:
In recent years, both have piled up the wins and have featured plenty of star power. But they have failed to breakthrough when the spotlight has been the brightest. Portugal's "golden generation" flopped in the 2002 World Cup, losing to the U.S. in the opener before failing to advance out of the group stage. Oklahoma State could have clinched the 2010 and 2013 Big 12 titles, but slipped at home against rival Oklahoma. The Cowboys and the Portuguese have also had to exist in the shadow of two preeminent powers in their sports (Sooners/Spain). Still they have become two clubs nobody wants to play, and have reached enviable levels of year-to-year success.

TCU
Uruguay:
Uruguay is a small country surrounded by some of the giants in World Cup soccer. The same goes for TCU, which doesn't have the enrollments or resources of the likes of Oklahoma or Texas. But just like Uruguay, TCU has carved out success with a hardnosed style of play. Furthermore, Uruguay won the first World Cup ever played in 1930, while both of TCU's national championships came in the same decade (1935, 1938).

TEXAS
England:
All the tradition, history and resources. And yet in recent years, these two have been massive underachievers. In South Africa in 2010, the English surrendered the top seed in its group to the Yanks, then got obliterated 4-1 by Germany in the first game of the knockout round. The Longhorns, meanwhile, have failed to win more than eight regular-season games the last four seasons. Because of these struggles, both squads are flying somewhat under the radar, and the talent is still there for either to ignite a run. But first, someone -- anyone -- has to light the fuse.

TEXAS TECH
Mexico:
After an emotional roller-coaster ride through the qualifying stages, Mexico is feeling optimistic following a manageable World Cup draw and cleaner play of late. Texas Tech rode the roller coaster of a five-game losing streak last season, but is feeling confident these days coming off its dominating bowl performance against Arizona State.

WEST VIRGINIA
Ivory Coast:
Les Éléphants bring the fireworks with Didier Drogba and Yaya Touré the same way the Mountaineers have through the Pat White and Geno Smith eras. But while West Virginia dominated the Big East the way Ivory Coast has Africa, neither has been able to take that next step against the big boys. In its first two appearances in the World Cup in 2006 and 2010, Ivory Coast failed to advance out of its group. Likewise, the Mountaineers have struggled their first two years in the Big 12. Both have the individual talents of a championship-caliber club, but neither will contend until the depth improves.
July, 24, 2012
7/24/12
11:57
PM ET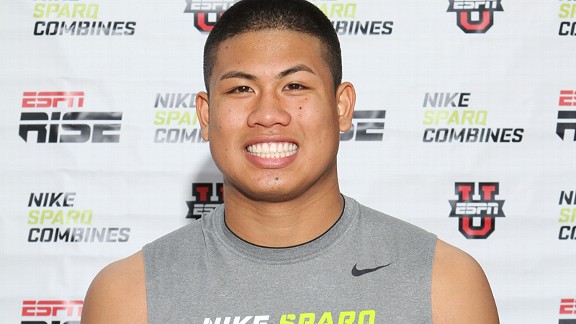 Tom HauckSt. Louis (Honolulu) wide receiver Jeremy Tabuyo also had scholarship offers from Kansas, Wyoming, Utah, Hawaii and was heavily courted by a number of Pac 12 programs before committing to A&M Tuesday evening.
During SEC media days, Texas A&M head coach Kevin Sumlin spoke of the Aggies expanding their recruiting nationally.
On Tuesday, they stretched that footprint out about as far west as possible, reaching into Hawaii to score their latest commitment.
The Aggies got a commitment from Honolulu/St. Louis receiver
Jeremy Tabuyo
on Tuesday, their second commitment in as many days.
"I'm very excited," Tabuyo said. "It's a relief. Now I can just focus on my senior season and not worry about what school I want to go to."
Tabuyo, who is 5-foot-11, 182 pounds, runs the 40-yard dash in 4.43 seconds. That speed will fit the Aggies' new Air Raid offense, which is designed to get the ball to receivers quickly to let them make plays. Tabuyo said the offense that coach Kevin Sumlin and offensive coordinator Kliff Kingsbury orchestrated at Houston had an impact on his decision.
"It caught my eye to see that they've had three receivers have 1,000-yard seasons (in one year)," said Tabuyo, who was recruited by receivers coach David Beaty. "It played a huge role."
Tabuyo had offers from Utah, Hawaii, Kansas and Wyoming. He was receiving interest from Oregon and Oregon State as well and had attended camps at each of those two campuses.
Even if those schools came calling with offers, Tabuyo said he's firm to the Aggies.
"It wouldn't effect my decision," Tabuyo said. "I made a commitment to the coaches and I'll stay true to the coaches."
Recruits Miss Lone Star Showdown
SEC SCOREBOARD
Thursday, 9/3
Saturday, 9/5