Texas A&M Aggies:

Jonathan Wiggins
September, 26, 2013
Sep 26
1:00
PM ET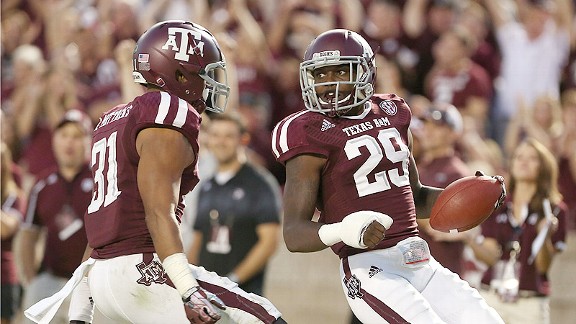 Thomas B. Shea/Getty ImagesTexas A&M's willingness to use starters such as safety Deshazor Everett (right) on special teams has allowed the Aggies to have one of the best units in the SEC.
COLLEGE STATION, Texas — When Alabama receiver and return specialist
Christion Jones
carried the ball out of the end zone on the Crimson Tide's first kickoff return against Texas A&M on Sept. 14, he was quickly faced with a host of defenders.
The first Aggie to make contact was cornerback
Tramain Jacobs
. Defensive back
Toney Hurd Jr
. followed him by wrapping up Jones for a tackle. If Hurd would have been unable to wrap him up, cornerback
Deshazor Everett
was nearby, and so was linebacker
Steven Jenkins
.
The common thread among the above names? They're all either regular starters or players who have started before for the Aggies.
Special teams -- kickoff and punt coverage units in particular -- are a place where many non-starters find their homes, and Texas A&M is no different. But the Aggies' coaching staff is also liberal about using its best players when the need arises.
The Alabama game was a prime example. With the threat of a return man such as Jones, who returned a punt and a kickoff for a touchdown in the Crimson Tide's season-opening win against Virginia Tech, Texas A&M special teams coordinator Jeff Banks wanted to ensure he had the best players available to prevent Jones from making a game-breaking play. The Aggies got the desired result, as Jones finished with 83 yards on four kickoff returns and just 5 yards on his one punt return.
"We're
always
going to use the best players," Banks said. "Coach Sumlin's an advocate of 'Jeff, you just tell me who you need and who you want and that's how we're going to do things.'"
Banks said offensive coordinator Clarence McKinney, defensive coordinator Mark Snyder or any of the other A&M assistants also have no qualms about the policy. Since he has been at Texas A&M, Banks said not one coach has said a word about who he can use or not use on special teams, whether it's in the return game or punt or kick coverage.
That luxury is something Banks, who is in his first year in Aggieland, hasn't always had in his career as a special teams coach.
"Usually you get a deal where it's 'Hey, take that guy off of there,' or 'Hey, don't use that guy,'" Banks said. "And here's my deal with that: That's fine. Because I try to be as flexible as I can because we're dealing with 60-80 people and players that have to go in and out, seniors, veterans, juniors, sophomores, freshmen, true freshmen, you've got to coach what you can get and get the best on the field.
"But you also have to be careful because if you practice them in training camp for 30 days and then you get them in the first week and someone says 'Oh no, he can't play on that many special teams,' now you're playing a guy with no experience.'"
So the planning has to begin in August when preseason training camp starts. Banks tries to get a feel for which newcomers have the size, speed or physicality to contribute, and the first week of camp is largely spent trying out numerous players in different roles to get a feel for who he can rely on. The rest of training camp is about getting those that are going to make his two-deep on special teams as many repetitions as possible so that he's comfortable with who is out there come the start of the season.
Playing offensive and defensive starters is nothing new for a Sumlin-coached team. It was something done regularly at Houston when he was there. One of the Cougars' special teams aces in their 12-1 season in 2011 was running back Michael Hayes, who played a major role in the Cougars' backfield, but could regularly be seen making tackles in punt coverage.
That attitude has carried over to Texas A&M. McKinney, who also coaches running backs, made it clear to his position group in the spring of 2012 that they would be expected to contribute on special teams. Players accepted the challenge, and
Ben Malena
and
Trey Williams
became key players on special teams.
Malena eventually emerged as the starting running back for the Aggies last season and remains that this season but can be seen on the kickoff return team making blocks and last season spent time covering kicks and punts at times, too.
"You have to realize that special teams wins and loses games," Malena said. "You need the best players out there, whether you're a starter or just a special teams guy. If you're the best player at that position, we need you on the field to help us win. I just took that to heart and will do anything for my team to win."
The example set by players with that attitude has an effect on the younger players, many of whom have a role on special teams. Many true freshmen such as
Darian Claiborne
-- who started at linebacker last week -- linebacker
Shaan Washington
, safety
Jonathan Wiggins
and cornerbacks Alex Sezer and
Tavares Garner
are already playing key roles on coverage units, and the example set by their elders is important.
"It's huge," Banks said. "They see Ben in practice, they see Jenkins in practice, they see those guys doing special teams drills at a high level.
Howard Matthews
,
De'Vante Harris
, Floyd Raven when he was healthy. That's huge. That's bigger than anything I can say. When they go out there and they give us great effort as a staff, that sells it and now you get the buy-in of the younger guys."
Banks said it helps increase the desire for the younger players to contribute, particularly in high-profile games.
"You see the Alabama game and go 'Man, I want to be out there,'" Banks said. "Tavares Garner's a prime example. He gets substituted in for Deshazor Everett and he's like 'Man, I know Deshazor's a veteran guy and he's going to make the play, but I want to be in there.' Then he gets in there and makes a tackle."
There's a balance to be struck, however. Playing starters constantly on coverage teams can fatigue them, especially if they're playing a large amount of snaps on offense or defense. So Banks is conscious to employ the personnel wisely.
"You can't wear a guy out because a Deshazor Everett or a Toney Hurd is so good at everything, you can't overuse them and start them on four special teams and expect them to play 60-80 snaps on defense," Banks said. "There's kind of a responsibility on my end, because I've gotten the leeway from the head football coach and the coordinators to use whoever we want. I think it's really important that you don't take advantage of that deal either."
Complementing players such as
Sam Moeller
, who has been the Aggies' special teams player of the week twice already this season and doesn't have a major role on defense, with some of these starters are what help the Aggies find a mix that Banks and Sumlin hope lead to one them having one of the best special teams units in the SEC.
"With Coach Sumlin being as awesome as he is about letting us use whoever we need to in order to be the No. 1 team, special teams-wise, in the conference, I think we've got a good mix of him and I of making sure we have the right guys on there, but also give an opportunity to guys who maybe aren't starting on offense or defense," Banks said.
September, 4, 2013
Sep 4
10:00
AM ET
COLLEGE STATION, Texas -- Silence isn't a word typically synonymous with a stadium hosting more than 86,000 rabid fans, particularly at Kyle Field, where Texas A&M is known to hold a tremendous home-field advantage.
But silence is a key word in describing some of the growing pains the Aggies had to go through in their season-opening win against Rice on Saturday, as they played 16 true freshmen, 11 of which were defensive players.
A&M coach Kevin Sumlin illustrated that point thusly:
"We had a couple situations where a couple guys actually froze up out there and wouldn't even open their mouths and couldn't get lined up," Sumlin said after Saturday's 52-31 victory. "The D-line said they couldn't hear and then one of them admitted to me "Coach, I just didn't say anything. I was just standing there.'"
Not exactly what a coach is looking to hear from defensive players, particularly when facing a no-huddle offense. Communication, especially in those situations, is key for a defense.
[+] Enlarge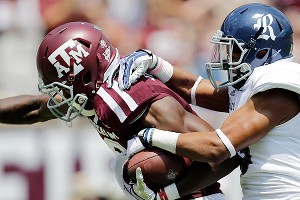 AP Photo/Eric GayFreshman wide receiver Ricky Seals-Jones made an impact in his college debut, hauling in a 71-yard touchdown pass.
But that was the position the Aggies were put in, missing eight players to start the game, six on defense -- including five defensive players who were listed as starters on the week's depth chart -- because of suspensions. There were true freshmen playing in every defensive position group, plus some at receiver. That doesn't include a handful of redshirt freshmen and junior college players who were making their debuts as well.
The Aggies coaches did what they could to prepare their newcomers, but some lessons are only learned the hard way.
"It's like anything else," Sumlin said. "As a coach, you try to prepare guys for all situations, but until the live bullets are flying, you don't know. It'll get better as it goes on, but I think the experience that we gained from today will help us down the road, a bunch. Particularly [in the front seven] because that's where most of the guys are gone."
The struggles were clear. As the defense tried to find its footing, Rice showed the ability to move the ball with ease. The Owls finished the game with 509 total offensive yards, including 306 rushing. The last time they gave up that many offensive yards was in their marathon battle against Louisiana Tech last October (615) and they haven't allowed that many rushing yards since a 66-28 drubbing at the hands of Oklahoma on Nov. 8, 2008.
True freshman played on the defensive line (
Jay Arnold
,
Isaiah Golden
,
Daeshon Hall
and
Hardreck Walker
), at linebacker (
Darian Claiborne
,
Jordan Mastrogiovanni
,
Shaan Washington
) and defensive back (
Noel Ellis
,
Tavares Garner
,
Alex Sezer Jr
. and
Jonathan Wiggins
).
"There's no way to duplicate the tempo and the emotion [of a game]," Sumlin said on Tuesday. "You know what you're doing, but the pressure to perform in that environment can be very, very difficult on a young guy, and that's what experience is all about."
Offensively, the Aggies were much better off. Even though
Matt Joeckel
made his first career start at quarterback, he's a junior who has spent more than a year practicing in the offense and he had at least seen some game time. Center
Mike Matthews
, who received high praise from Sumlin on Tuesday, also played in games and traveled with the team last season.
The true freshmen who saw the field for the first time on offense were all receivers:
Ricky Seals-Jones
,
Jeremy Tabuyo
,
LaQuvionte Gonzalez
and
Ja'Quay Williams
. But because there were more experienced players surrounding them on Saturday, not to mention Heisman Trophy winner
Johnny Manziel
entered the game in the third quarter, the transition was smoother for the Aggies' offense.
In total, 21 newcomers saw the field for Texas A&M on Saturday, many in significant roles. Plenty will log significant time this Saturday against Sam Houston State, as four players received two-game suspensions and won't be back until Sept. 14 against Alabama. With a signing class of 31 players in February, there was no question the Aggies were going to need some of the newcomers to contribute. By being forced to play so many in the first game, Sumlin feels like it could be a positive later in the season.
"[It's] a real, real learning experience," Sumlin said. "I think for those guys, that's going to pay dividends for us down the road."
March, 2, 2013
Mar 2
5:15
PM ET
When it comes to defensive backs, the class of 2014 is a strong one in the Lone Star State.
And Texas A&M is doing quite a job locking down several as commitments, adding two more to their 2014 haul on Saturday in the form of ESPN Watch List safety
Dylan Sumner-Gardner
and Forney (Texas) North Forney athlete
Armani Watts
.
To continue reading this article you must be an Insider
February, 27, 2013
Feb 27
8:00
AM ET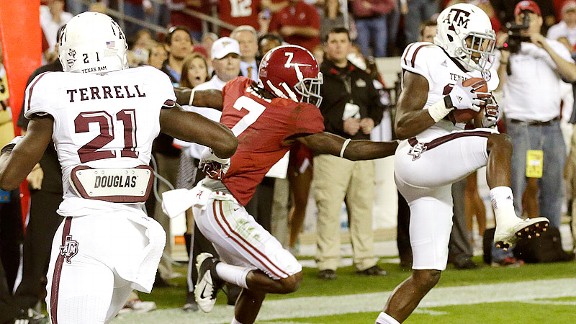 AP Photo/Dave MartinDeshazor Everett's interception against Alabama will go down in A&M lore.
Having the same combination of players in the secondary from week to week wasn't a common occurrence for Texas A&M in 2012.
Whether it was an injury or simply trying fit the right pieces into the right places, the defensive backfield was an area where the Aggies moved a lot of pieces.
The unit had its ups and downs but returns plenty of experience for 2013.
To continue reading this article you must be an Insider
February, 6, 2013
Feb 6
12:22
PM ET
By
GigEmNation staff
| ESPN.com
Welcome to GigEmNation's live coverage of national signing day for the Texas A&M Aggies. We'll be with you throughout the day providing up-to-the minute updates on A&M's class of 2013.
Watch
live coverage
on ESPNU |
2013 Texas A&M recruiting class
February, 6, 2013
Feb 6
12:13
PM ET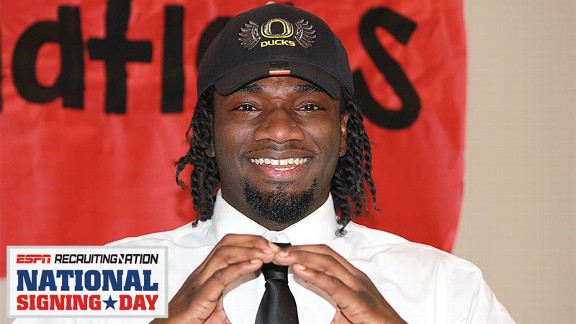 Sam Khan Jr./ESPNESPN 300 defensive end Torrodney Prevot pulled a bit of a surprise by announcing for Oregon on Wednesday. Prevot had been committed to USC and was considering Texas A&M.
HOUSTON -- For the last two weeks, ESPN 300 defensive end
Torrodney Prevot
has kept everyone guessing.
College coaches. The media. Even his own high school coaches and teammates. Prevot has been the silent star, at least when it came to his recruitment.
Wednesday, the silence was broken. Prevot is headed to Oregon.
The former USC commitment from Houston Alief Taylor ended his recruitment in dramatic fashion, announcing that he's signing with the Ducks in front of family, friends, coaches and teammates during a ceremony at Alief Taylor High School.
Prevot said that he changed his mind even today and that he considered signing with each of his three finalists: USC, where he has been committed since July, Texas A&M and Oregon.
"When I woke up this morning, I just kept praying," Prevot said. "I honestly didn't know what to do."
Prevot, who is the No. 236 player in the ESPN 300 and the 19th-ranked defensive end in the country, took an official visit to Oregon on the weekend of Jan. 18. His final visit was on the weekend of Jan. 25 to Texas A&M.
The four-star prospect was to visit Notre Dame on the final weekend before signing day, but canceled the trip. He had seen enough. Some thought Prevot would wind up with the Aggies, since that was his last visit. He was among those that thought that.
"Today I thought I was going to A&M," Prevot said. "Today I thought I was going to USC, today I thought I was going to Oregon."
It was an emotional day for Prevot, who had tears in his eyes after announcing his decision. He said that even as he walked down the hallway at Alief Taylor to the theatre, where the signing ceremony was taking place with four other teammates who were signing with BCS conference schools:
Duke Ejiofor
(Wake Forest),
Trevorris Johnson
(TCU),
Ogbonnia Okoronkwo
(Oklahoma) and
Jonathan Wiggins
(Texas A&M).
Even with the coaching change at Oregon, Prevot said he has confidence that things will be good in Eugene. He said he got a good vibe from fellow Ducks when he went on his official visit.
"Just the players and the people around me, I felt comfortable with them," Prevot said. "Bralon Addison, Chance Allen, I just felt comfortable with them. I felt like everything was right."
Prevot said he sat down with his family on Tuesday night and scored how he felt about several aspects of each of his three finalists, giving a three for the one he liked the best and a one for the least. At the end of tallying, all three schools were tied at 28.
In the end, Prevot said he wanted to be different and not follow a crowd.
"I don't like following a crowd because it's not cool," Prevot said. "I don't want to just be another guy in the crowd. I want to step away and be different."
"What is the impact of Prevot's decision?"
To continue reading this article you must be an Insider
February, 4, 2013
Feb 4
12:30
PM ET
"Coach's take" is a series which allows GigEmNation to offer readers a closer look at the incoming recruits in Texas A&M's 2013 class by visiting with someone who coached the player or coached against him. Today, we take a look at Houston/Alief Taylor safety Jonathan Wiggins by visiting with his head coach, J.D. Jordan.
To continue reading this article you must be an Insider
January, 28, 2013
Jan 28
1:30
PM ET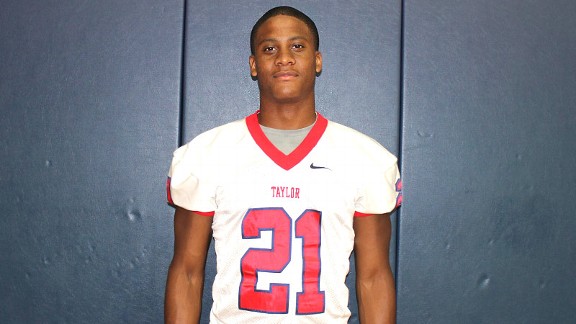 Sam Khan Jr./ESPN.comBy signing day, nearly a year will have passed since Jonathan Wiggins committed to Texas A&M.
"Introducing the class" is a series in which GigEmNation conducts a Q&A session with each of the incoming recruits in Texas A&M's 2013 class to give readers a closer look at each recruit individually. Today, we visit with Houston/Alief Taylor safety
Jonathan Wiggins
.
Wiggins is a 6-foot-3, 200-pound safety who committed to Texas A&M early. He gave the Aggies his pledge on Feb. 19, 2012. A three-star prospect, Wiggins is ranked No. 33 nationally among safeties. He helped lead Alief Taylor to an 8-4 record and a second-round appearance in the Texas Class 5A Division I state playoffs, where it fell to eventual state finalist Houston/Lamar.
In 2012, Wiggins finished with 111 tackles (61 solo), six tackles for loss, nine pass breakups, seven forced fumbles and two fumble recoveries. Here's our Q&A with Wiggins, who completed his official visit to Texas A&M on Sunday:
To continue reading this article you must be an Insider
January, 25, 2013
Jan 25
8:30
AM ET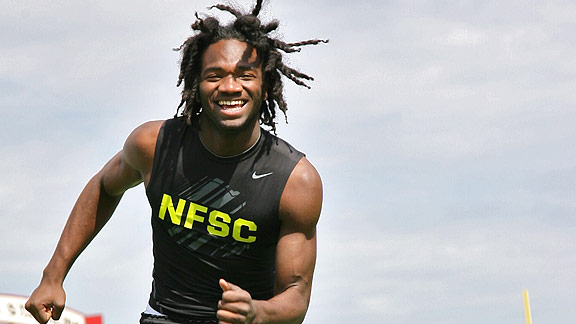 Tom Hauck for ESPN.comTexas A&M has a chance to impress in-state DE Torrodney Prevot who has been committed to USC since July.
There will be no shortage of recruits on the Texas A&M campus this weekend.
From longtime commits who are finally taking their official visits, to one visitor from the class of 2013 who is committed elsewhere and several notable members of the 2014 class.
One of the notable names that will visit is expected in town today: 2014 offensive tackle
Braden Smith
.
The ESPN Watch List prospect from Olathe (Kan.) South High School will be touring the campus today in advance of Mondo Challenge college track and field meet taking place on campus. Smith's sister, Megan, is a thrower for TCU which is competing in the event.
To continue reading this article you must be an Insider
September, 13, 2012
9/13/12
1:00
PM ET
With a crowd of more than 87,000 on hand, a national television crew in the house, ESPN's "College GameDay" providing buildup, and the anticipation for Texas A&M's first Southeastern Conference game, Saturday's season opener was a memorable moment for many Aggies.
It seems the same can be said for the recruits in attendance, many of whom were wowed by the scene in College Station, Texas, that day, despite A&M's 20-17 loss to Florida.
[+] Enlarge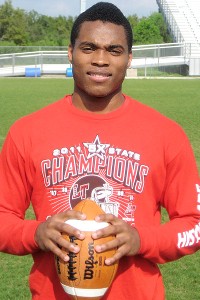 Max Olson/ESPN.comClass of 2014 running back Shaun Nixon said he 'felt like putting pads on' during his trip to Texas A&M.
One 2014 running back was so enamored that he nearly committed to the Aggies right on the spot.
"I talked to [running backs] coach [Clarence] McKinney before the game and he was all stoked to see me," said Austin (Texas) Lake Travis running back
Shaun Nixon
. "He was like 'When you going to commit?' He said 'I don't even have to say anything. Just wait until the game starts.' Sure enough, the game started and right then and there, I felt like I should commit.
"But then I texted my coaches and got their opinion and everything and they said, 'You should just wait it out and see how things go.' "
While Nixon didn't pledge before leaving Aggieland, he did leave feeling good about the Aggies and his relationship with McKinney and the staff.
"That was my first [A&M] game," Nixon said. "All I can say is that the fans were crazy, the players were crazy, everyone was pumped up. That's the moment that I'll never forget. My first A&M game against Florida, and I can't wait to go back and see another one.
"I felt like putting pads on and going out there and playing against [the Gators]."
Nixon has five offers, with Baylor, Clemson, SMU and Texas Tech joining Texas A&M on the list. Is it safe to say that the Aggies have the edge after Nixon's recent visit?
"Yeah, I would say that," Nixon said. "Right now, all my schools are equal. Texas A&M, I just have a better relationship with everybody there. I've talked to them the most. I would say Clemson would come next because I've been talking to Coach [Chad] Morris a lot. I really can't rank them right now. They're all great schools."
Nixon took in Baylor's season opener against SMU and enjoyed it and said he may try to get to a Clemson game before the season is over. As for A&M, he said the Aggies have given him plenty of attention.
"You know after they offered me they kept continuing to show up and letting me know that they want me to come play," Nixon said. "I've got a bunch of letters from them. They're showing a lot of love and showing that I could be a potential starter when I get there. It's been great."
Prevot still USC solid, but listening to Aggies
Texas A&M hosted 20 of its 28 commitments in the 2013 class for the Florida game. But the Aggies also hosted some uncommitted 2013 and 2014 players and even a couple of committed players, including 2013 Houston Alief Taylor defensive end
Torrodney Prevot
, who is committed to USC.
Prevot joined Alief Taylor teammates
Jonathan Wiggins
(2013 Texas A&M commit) and
Chris Hardeman
(2014 LSU commit) for the trip and said he enjoyed his time in College Station.
"Just the whole entire game and the entire experience," Prevot said. "I was just walking and I saw A&M fans and they were like 'Oh, that's Torrodney Prevot,' and stuff like that. So that was pretty cool just to know that they know me and stuff like that and they're following me."
And the Aggies haven't given up on recruiting Prevot. While he says he's still 100 percent to USC, there's a part of him that's listening to Texas A&M.
"It feels pretty good to know that they're still recruiting me even though I'm committed with the USC Trojans," Prevot said. "It's good to see that they're not giving up. I'm pretty much sold on USC right now, but I'm listening. I'm sold, 100 percent [on USC], but then I hear the little voice just talking on my shoulder."
Prevot is being recruited by Texas A&M recruiting coordinator and running backs coach Clarence McKinney. Prevot said the new feel around the program, with the new coaching staff and offensive and defensive schemes, has his attention.
"Probably just the opportunities that are coming up," Prevot said. "They're basically just starting a new program. That's really another thing to listen to."
But Prevot said he is still keeping in regular contact with the USC coaches and still feels good about the Trojans.
"We're pretty close," Prevot said. "I've been talking to a lot of my teammates and we're all trying to get down there for the Oregon game. We're all going to be down there just chilling. I keep in contact with the coaches and stuff and we're really building a relationship, so I'm going to stick with them."
Wiggins, Hardeman enjoy trip
Wiggins and Hardeman were in College Station with Prevot taking in the Texas A&M-Florida game.
Wiggins, who has been to several Texas A&M games, said it was good to see such strong representation from the 2013 class of commitments.
To continue reading this article you must be an Insider
September, 4, 2012
9/04/12
10:12
PM ET
Plenty of eyes from around the country will be on College Station, Texas on Saturday afternoon as Texas A&M begins its first Southeastern Conference campaign against Florida.
Not only is the game of interest to college football fans, it's also going to be a hot spot for recruits who will be visiting Kyle Field and taking in the game.
Here's a list of recruits that are expected to be in attendance for the game on Saturday. As the week goes on and we confirm more visitors, we'll update the list. So far, here's who has been confirmed by RecruitingNation:
2013 WR Quincy Adeboyejo, Cedar Hill (Texas): No. 77 WR; Texas A&M commit
2013 OG Joas Aguilar, North Richland Hills (Texas) Birdville: No. 106 in ESPN 150; Texas A&M commit
To continue reading this article you must be an Insider
August, 29, 2012
8/29/12
8:00
AM ET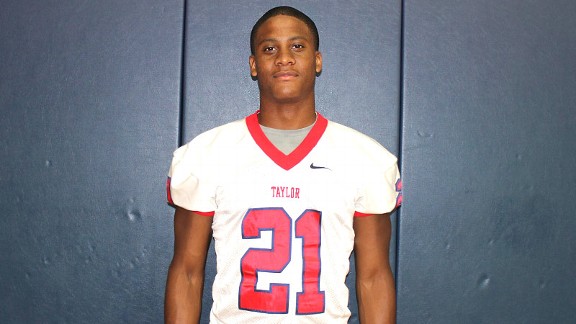 Sam Khan Jr./ESPN.comTexas A&M commitment Jonathan Wiggins is looking forward to the upcoming season and to being an Aggie, as he is solid to Texas A&M.
HOUSTON -- Injuries haven't been kind to safety
Jonathan Wiggins
(Houston/Alief Taylor).
He missed significant time in 2011 with a foot injury and missed spring football with a high ankle sprain. But the 6-foot-2, 195-pound Wiggins has been working this summer to prepare for the fall grind.
"I've just been working on getting back to 100 percent," Wiggins said after a recent practice with his team. "Just bonding with my team and getting all that team chemistry back."
To continue reading this article you must be an Insider
August, 16, 2012
8/16/12
2:52
PM ET
HOUSTON -- Not much has changed for
Reggie Chevis
since he pledged to Texas A&M.
The Houston/Sharpstown linebacker has been working out, preparing for the 2012 season and keeping in regular communication with the two Aggies coaches that recruited him: running backs coach Clarence McKinney and linebackers coach Matt Wallerstedt.
"I talk to my recruiting coach and position coach every day or every other day," Chevis said. "I'm very close to them and I have a good relationship with those guys."
To continue reading this article you must be an Insider
August, 9, 2012
8/09/12
4:13
PM ET
College Football Realignment Scorecard
SEC SCOREBOARD
Saturday, 12/21
Monday, 12/23
Tuesday, 12/24
Thursday, 12/26
Friday, 12/27
Saturday, 12/28
Monday, 12/30
Tuesday, 12/31
Wednesday, 1/1
Thursday, 1/2
Friday, 1/3
Saturday, 1/4
Sunday, 1/5
Monday, 1/6