July, 15, 2014
7/15/14
8:15
PM ET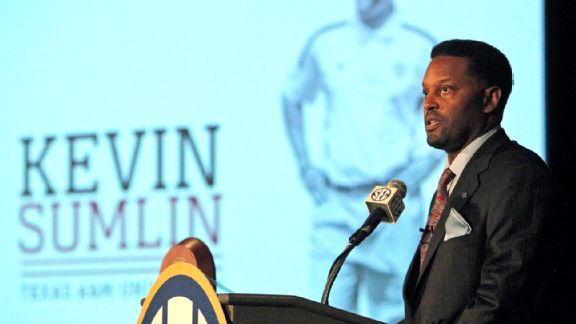 AP Photo/Butch DillAggies coach Kevin Sumlin still found himself answering questions about his departed star quarterback Johnny Manziel at Tuesday's SEC media days.
HOOVER, Alabama -- In the back right corner of Ballroom C of the Hyatt Regency Birmingham, the main interview room for SEC media days, Texas A&M punter
Drew Kaser
sat during his scheduled slot and gladly answered every question that came his way from the handful of reporters surrounding him.
He sat in the same spot that the most popular and polarizing figure in Texas A&M football history did a year ago, when
Johnny Manziel
sat surrounded by seemingly hundreds of reporters asking about every aspect of his offseason. The crowd around Kaser in Ballroom C on Tuesday could sometimes be counted with two hands.
What a difference a year makes.
Last season the Aggies were the center of attention at SEC media days, thanks in large part to Manziel. He was then the reigning Heisman Trophy winner who made news not only with his play on the field but his life off of it, coined "The Summer of Johnny."
Manziel still had a presence Tuesday -- the first question asked to Aggies coach Kevin Sumlin invoked Manziel's offseason, to which Sumlin replied, "That's a great question ... about the
Cleveland Browns
." -- but the Aggies weren't under the microscope quite like they were in 2013.
Even senior cornerback
Deshazor Everett
noticed. Asked what it's like not having Manziel on the team, Everett quipped, "Less media attention," which elicited laughter from the media contingent.
"I love the guy to death but the cameras follow him," Everett said.
In some ways, the Aggies bear a slight resemblance to the group that had so many question marks surrounding it in the summer of 2012, when they were about to begin their life as SEC members.
Two years ago, Sumlin and his players were peppered with questions about how they would survive life in the rugged SEC, who their quarterback was going to be and whether their defense could hold up in a conference built on strong offensive line play. Outsider expectations weren't high then and they aren't terribly high now, either.
On Tuesday, Sumlin proactively addressed the quarterback situation without addressing it, stating flatly that he isn't naming a starter until mid-August. The defense, which was often poor in 2013 and was last in the SEC in numerous statistical categories, was again the subject of numerous questions. And the Aggies have yet to finish higher than third in the SEC West since joining; with three first-round NFL draft picks gone, questions abound about the young players and whether they're ready to meet the challenge.
"I don't believe it's a rebuilding year," Everett said. "We have players that are ready to play."
Maybe it's a good thing for the Aggies. While the publicity was ultimately beneficial for Texas A&M as a football program, the Aggies had marked success in 2012 when they were a largely off-the-radar team coming into the year, one that few thought could be serious contenders in the SEC. Manziel's rare ability and presence was a huge factor in that success, but Sumlin is banking on the talent his two competing quarterbacks (
Kyle Allen
and
Kenny Hill
) have as well as the talent the Aggies have hauled in on the recruiting trail, where the Aggies have scored two top-10 national classes in the past two years and are on track for a third this cycle.
One thing that was similar to last season were the questions about off-the-field "distractions." There might not be Manziel to take the headlines, but the Aggies had nine arrests this offseason and three players dismissed from the team (two of whom contributed to that arrest total), so it's not as though the Aggies have been out of the spotlight.
Sumlin seems to be unaffected by it all. He handled his SEC debut in 2012 smoothly and weathered the storm that surrounded Manziel a year ago. This year, he seemed as comfortable as ever. The Aggies hope to show a similar level of comfort in the SEC this fall by answering those lingering questions.
"It's all part of it," Sumlin said. "The first year was a bit of whirlwind ... last year was obviously a lot different situation ... I'm feeling like a veteran for the first time."
ESPN 300 Recruits: Does Tradition Matter?