Texas A&M Aggies:

John David Crow
December, 7, 2012
12/07/12
3:00
PM ET
Texas A&M redshirt freshman quarterback and Heisman Trophy finalist
Johnny Manziel
has wowed the college football world with his performance this season. With his production (4,600 total yards, 43 touchdowns responsible for), his athleticism and his knack for making highlight-reel-worthy plays, turning the impossible to possible, he has received significant praise from teammates, coaches, opponents and media.
We'll find out Saturday night whether he'll become the first freshman in college football history to take home the sport's most coveted individual award. In the meantime, here's a glance at some of the comments made about Manziel throughout this season:
• "Johnny Manziel is a fantastic athlete." -- Florida coach Will Muschamp, after the Gators' 20-17 win over Texas A&M in the Aggies' season opener Sept. 8.
• "With Johnny, of course, he's Captain Amazing back there, not getting sacked ... Johnny Football, Captain Amazing, I'm pretty sure next week we'll have another [nickname] for him. It's a growing legend going on." -- Texas A&M receiver
Uzoma Nwachukwu
, after a 48-3 win over SMU on Sept. 15.
December, 7, 2012
12/07/12
11:04
AM ET
Down the road, I can already see a catchy promotional campaign in the works.
What will Johnny Football do next?
He rescues kittens from the middle of busy four-lane roads. He breaks out Scooby-Doo costumes for Halloween. He collects touchdowns the way most Americans collect debt. He makes winning in Bryant-Denny Stadium look like a Sunday stroll in the park.
Texas A&M redshirt freshman quarterback
Johnny Manziel
turned the SEC into his own little playground this season, and that's not supposed to happen in a league that prides itself on defense.
[+] Enlarge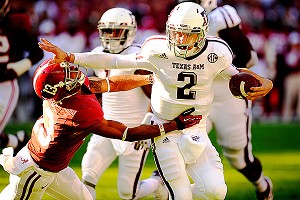 John David Mercer-USA Today SportsPerhaps Johnny Manziel's shining moment this season -- leading Texas A&M's upset over Alabama.
And it's certainly not supposed to happen with a player going against SEC defenses for the first time.
But with Manziel, nothing ever seemed to be too big for him. Watching him play was like watching the fastest kid and most athletic kid in the neighborhood -- but certainly not the biggest kid -- toy with everybody else in a game of backyard football.
The fun didn't begin until he was seemingly in the most trouble.
How many times this season did we see Manziel turn a sack into a big play or a play destined to go nowhere into a play that turned up on "SportsCenter" later that night?
He wasn't always conventional, and he wasn't always perfect. But, boy, was he entertaining.
Take your pick on which of Manziel's plays was your favorite this season. There's a pretty extensive catalog from which to choose.
Manziel's personal choice was the 24-yard touchdown pass to
Malcome Kennedy
in the fourth quarter to help solidify the 29-24 win over Alabama.
"I believe it was one of our most complete team plays all year. You had 11 guys doing their part to the fullest degree," said Manziel, adding that the stage -- taking down Alabama on its own turf -- made it a play and a feeling he'll never forget.
While there's a definite element of showtime to Manziel's game, he is a lot more about substance than style.
The defenders in the SEC who went against him this season certainly don't need to be sold that Manziel is Heisman Trophy worthy.
"I don't think I've ever played against a player who can make a no-play into a big play at any moment the way Manziel can," Alabama senior linebacker
Nico Johnson
said. "He's unbelievable. You're sitting there watching him [on tape] that Sunday after the game and wondering how he does some of those things.
"When they need a play, he makes it."
Manziel has already broken Cam Newton's SEC record for total offense in a season and did so in two fewer games. Manziel has 4,600 yards heading into the AT&T Cotton Bowl matchup with Oklahoma. He is second nationally with an average of 383.3 yards per game and has faced the No. 1, No. 5 and No. 8-ranked defenses.
The more teams tried to take away Manziel's running lanes this season, the more effective he became as a passer. He is the first SEC player and only the fifth Football Bowl Subdivision player ever to pass for 3,000 yards and rush for 1,000 yards in the same season.
Chasing him out of the pocket was a nightmare for opposing defenses. Manziel gained 784 of his rushing yards on scrambles, the most in the SEC. He had 13 scrambles that gained at least 20 yards, including seven touchdowns.
"I never really intend to go out there and run around and freelance," Manziel said. "It's just an instinct that takes over."
Even though he was off-limits to the media during the season because of Texas A&M coach Kevin Sumlin's policy of freshmen not doing interviews, Manziel has seemed to embrace the spotlight that comes with being a Heisman Trophy finalist.
As much as anything, he'd love to win the award because he knows what it would mean to all the people in Aggieland.
"Whatever's meant to be will happen," Manziel said.
Texas A&M has had one Heisman Trophy winner in its history. Halfback John David Crow took home the coveted bronze statue in 1957.
More than a half century later, Manziel is poised to follow in Crow's legendary footsteps, creating the Johnny Football legend along the way.
December, 7, 2012
12/07/12
8:05
AM ET
COLLEGE STATION, Texas -- One of the traits that has made Texas A&M quarterback
Johnny Manziel
a highlight reel waiting to happen is his ability to improvise.
[+] Enlarge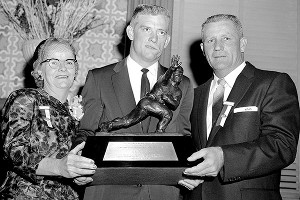 AP PhotoFormer Texas A&M Heisman winner John David Crow said he'll be 'elated' if Johnny Manziel takes home the trophy on Saturday night.
There are things Manziel does that are unscripted. You won't find them in any playbooks or game plans. It's this part of his game that stood out the most to Texas A&M's only Heisman Trophy winner to date, John David Crow.
When he first watched Manziel play, the 77-year-old Crow was in for a surprise.
"I was like everyone else, I guess, other than the coaches. I was shocked," Crow said. "He has a tremendous amount of instinct -- and I'm not trying to take anything away from the coaches because they're doing a great job -- but he's got so much talent and instinct, things that you can't coach, I don't think. And he uses it."
Crow, a former Texas A&M running back who won the Heisman in 1957, lives in College Station and attends Aggies games, so he gets a chance to see Manziel perform in person. It has been 55 years since an Aggie brought home the Heisman Trophy. Manziel, a redshirt freshman considered by many to be the front-runner to win the 2012 award, could become the second Aggie to win it come Saturday night.
Ask Crow to describe Manziel, and it's hard for him to find the right words. But the Heisman winner has no shortage of positive things to say about the potential new Heisman winner.
"It's hard for me to describe how I look at him or what I think of what he does and so forth," Crow said. "I think God gave him a talent and he's using it to the most that he can get out of it and I praise the heck out of him because he's not an 'I' guy. He's a 'We' guy. ... I think he will make a very, very good example for young people if he does win it."
Crow, who played 11 NFL seasons for the Cardinals and 49ers, earning four trips to the Pro Bowl, had the chance to meet Manziel for the first time in person Tuesday during a photo shoot for the San Antonio Express-News. The pair chatted it up at Kyle Field, and Crow came away impressed with Manziel.
"I certainly think that he will fit in with the group and I think that if he continues the way he's going now, he will certainly bring credit to the Heisman," Crow said. "That's what I think everyone that's connected with it wants, that the people that are selected will keep that in mind, how they hope that they can bring more credit to the Heisman."
Has Manziel wowed Crow at all with his on-field play?
"Oh yeah," Crow said. "The one play he did against Alabama where the ball was knocked out of his hand and he caught it and turned around and whipped around and did a reverse deal and wound up finding a receiver and threw the ball in the end zone ... things like that, I don't think that you can coach that. ... Some things you just have to say that the good Lord did that."
Crow, a College Football Hall of Famer who was inducted in 1976 and spent time as Texas A&M's athletic director from 1988 to '93 before retiring from the university in 2001, is not ready to call the race yet and is patiently waiting for the ceremony to see whether the 20-year-old Manziel does indeed bring home the hardware. If he does, it will be an enjoyable moment for the only other Aggie to accomplish the feat.
"I think that we're speculating on a lot of things," Crow said. "I'm not one to say, 'Well, he's won it because there's a poll that was taken,' or something like that. I will be excited and I will be elated -- hopefully -- when they call the winner out on Saturday."
Ranking the new SEC defensive coordinators