Texas A&M Aggies:

John Chavis
March, 26, 2014
3/26/14
12:00
PM ET
Spring storylines abound this week around the SEC. Let's take a quick spin around the league to see what's happening.
November, 25, 2013
11/25/13
3:00
PM ET
Many parts of Texas A&M's first two seasons in its new conference home, the SEC, have been dreamlike.
It has included top-10 rankings, a Heisman Trophy, historic wins, huge crowds, big television ratings and, at times, the eyes of the college football world.
But on Saturday in Baton Rouge, La., the Aggies were dealt a dose of cold, harsh reality during a 34-10 loss to LSU in what were, well, cold and harsh conditions. Life in the SEC is tough. For everyone.
Texas A&M's success in the nation's premier conference came much more quickly than people outside College Station anticipated and even faster than some wearing maroon-colored glasses could have pictured. Coming off a 7-6 season in its final Big 12 Conference campaign, it was widely thought the Aggies would, as Kevin Sumlin has said before, "get their brains kicked in."
[+] Enlarge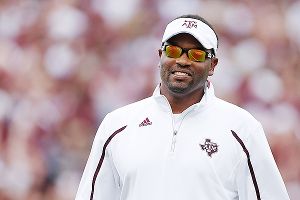 Scott Halleran/Getty ImagesKevin Sumlin has fashioned winning records in Texas A&M's first two seasons in the SEC, but will he stick around for the long haul?
That didn't happen. The Aggies went 11-2 in their first season in the league, beat No. 1 Alabama and took home sports' most prestigious individual award, the Heisman Trophy, which went to quarterback
Johnny Manziel
.
And even though there remained a window of hope this season for attaining a berth to a BCS bowl for the first time since 1998 and potentially a second Heisman for Manziel, LSU ended those hopes emphatically on Saturday.
It helped illustrate two points: (1) The Aggies still have a ways to go to reach the level of the league's very best programs, and (2) once you get to the top, it's hard to stay there.
Take LSU as an example. The Tigers have been consistently among the SEC elite for the last decade-plus. They've won four SEC championships since the turn of the century (2001, 2003, 2007, 2011) and two BCS national championships (2003 and 2007). But the Tigers currently have the same 2013 record as the Aggies (8-3), the team they just beat.
Two weeks prior to Saturday, LSU was beaten and battered at the hands of No. 1 Alabama. The second half of the Crimson Tide's 38-17 win, and in particular the fourth quarter, was intriguing to watch as the Tide asserted its will on both sides of the football.
That was done to a program that's 92-24 in the Les Miles era.
Florida (4-7), is by all accounts, a mess right now. Florida was in the Sugar Bowl last season and was ranked No. 3 before taking a beating from Louisville. It's also a program with two BCS national titles in the last decade (2006 and 2008).
Building a program that succeeds at the level of Alabama and LSU takes time. It takes talent and years of strong recruiting classes. It takes stability in the coaching staff.
Early in their SEC membership, the Aggies are taking steps in that direction. The work on a $450 million renovation of Kyle Field, to turn it into a 102,500-seat palace, is under way and scheduled for completion in time for the 2015 season. The Aggies had the country's eighth-ranked recruiting class in the 2013 cycle, and they currently have the sixth-ranked class in 2014.
After a strong debut season in Aggieland, Texas A&M took care of head coach Kevin Sumlin with a raise to take his annually salary to $3.1 million, so that commitment is in place. Whether Sumlin, whose name is thrown around for other jobs almost annually, chooses to stay or make another move is another matter, but if he chooses to remain at A&M the potential for a power program under his watch appears to be there.
As for the current squad, Saturday's result and the Aggies' losses to Alabama and Auburn earlier this season have made a few things evident. The depth and experience needed on defense for consistent SEC success is not present yet. The Aggies are recruiting heavily on the defensive line, but it will take time for those players to be ready to contribute. The way Alabama, Auburn and LSU were able to run the ball (not to mention several other teams) when they had to shows the need for growth there.
The offense, while usually productive in its first two SEC seasons and even in the losses to the Tide and Auburn, can still improve. Even with a one-of-a-kind player like Manziel, who can mask deficiencies with his playmaking ability, the Aggies weren't able to fool LSU, a team with speed at all three levels on defense and a well-respected defensive coordinator, John Chavis. And Manziel likely won't be around next year, so the Aggies will have to progress with another quarterback, whether it's one of the current backups,
Matt Joeckel
or
Kenny Hill
, or incoming ESPN 300 recruit Kyle Allen.
It's not a given that all of those things will work out. Fortunes can change fast in this league, as Auburn and Florida have shown us this year. But regardless of how the Aggies end this season, they've had two winning campaigns to start their membership in the SEC. Dreams of BCS bowls, SEC championships and national championships apparently have to wait. In this league, it takes time.
November, 24, 2013
11/24/13
9:00
AM ET
Here are five individuals (or groups) from around the SEC who earned helmet stickers for their performances on Saturday.

Missouri's running game:
The backfield committee of
Henry Josey
,
Marcus Murphy
,
James Franklin
and
Russell Hansbrough
led the way, as the Tigers racked up 260 yards rushing to handle Ole Miss on the road. Josey was Mizzou's statistical standout with 95 yards, a 6.3-yard average and two touchdowns. Murphy added 67 yards and a touchdown, and Franklin chipped in 42 yards in his return to the starting lineup. The senior quarterback, who averaged 5.3 yards a carry, showed just what a challenge he presents to defenses when they must account for his snap decisions to run, throw or do both. The Tigers have a reliable offense built on the foundation of their diverse running game. It should come in handy at home next week as they aim for Atlanta.
John Chavis:
With an assist from some nasty weather, LSU's defensive coordinator architected what might have been a Heisman bid-killer in Death Valley on Saturday. Texas A&M's
Johnny Manziel
was gunning for back-to-back trophies but ran smack into a determined Tigers' D. Manziel was only 16-of-41 passing (a career-low 39 percent) for 224 yards with two interceptions and two sacks. He also had only 54 rushing yards on 12 carries. All told, Johnny Football recorded a career-low 14.9 Total QBR on Saturday. Just as it was in a win at College Station last season, Chavis' key was having his front focus on containment in order to limit Manziel's improvisational magic. Mission accomplished.
Jordan Matthews:
Any time Vanderbilt beats instate rival Tennessee in back-to-back seasons (Hint: It hadn't happened since 1925-26), a helmet sticker must be awarded. In a game that was more about two defenses fighting for every yard, the senior wide receiver caught 13 passes for 133 yards and broke the SEC record for career receptions. Matthews now has 246 career receptions and owns the mark previously held by Vandy's Earl Bennett, who caught 236 passes from 2005-07. Matthews also has the SEC record for career yards receiving (3,491).
AJ McCarron:
We'll give a nod to Georgia QB
Aaron Murray
, who similarly feasted on an inferior opponent (four touchdown passes before leaving with an injury). But McCarron had much more on the line in leading the undefeated top-ranked Tide past Chattanooga. Like Murray at Sanford Stadium, McCarron also bore the emotional burden of playing in his final home game at Bryant-Denny Stadium. He was a brutally efficient 13-of-16 passing for 171 yards and two touchdowns (95.9 Total QBR), and he even found time to deliver brother Corey his first career reception. But the most important statistic in McCarron's sterling legacy at Bama is his 36-2 record as a starter, which broke a tie with Jay Barker for the school record.
Terrence Magee:
Sure, the junior tailback has played second fiddle to
Jeremy Hill
all season. But Magee broke out on Saturday with a career-high 149 yards rushing in LSU's win against visiting Texas A&M. The conditions -- cold, wet, blustery and generally miserable -- called for a strong running game. Magee answered the bell early with a 65-yard sprint that put the Aggies defense on its heels and set up the Tigers' first touchdown. Magee led the way for LSU to amass 324 yards on 55 rushes, a ground assault for which A&M had no answer.
November, 24, 2013
11/24/13
2:30
AM ET
BATON ROUGE, La. -- Only now, with two games remaining (unofficially, of course) in
Johnny Manziel
's short but captivating college football career, do we have a handle on what it takes to make Johnny Football look mortal.
Put him on a field with LSU's defense on the other side.
The Tigers swarmed, suffocated and effectively snuffed out Manziel's quest for a second consecutive Heisman Trophy on the kind of wet, windy and cold day that made Texas A&M's 34-10 loss all the more miserable.
[+] Enlarge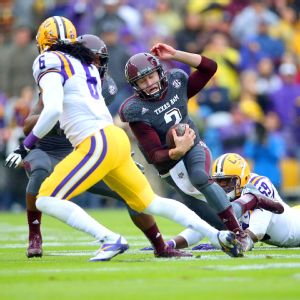 Crystal LoGiudice/USA TODAY SportsJohnny Manziel couldn't find much room to operate as LSU frustrated the Heisman winner once again.
They say it never rains in Tiger Stadium. But it sure rained Saturday, and it rained the hardest on the No. 12 Aggies, who had no answers for an LSU team that put together its most complete game of the season.
"You could sort of see it coming with the way we practiced last week," said LSU receiver
Jarvis Landry
, who had a pair of touchdown catches in the first half to help stake the Tigers to a 21-10 halftime lead.
"We've flirted with this a few times this season and always knew we were capable. I mean, we might have lost a lot of players to the NFL last year, but there's still a lot of NFL-caliber talent on this team. We went out and played like it tonight in every phase of the game."
But LSU's defense stole the show.
It was obvious early that Manziel wasn't real comfortable in the nasty weather conditions, and that was a factor.
A much bigger factor, though, was LSU's energy, speed and discipline on defense, not to mention a scheme that veteran defensive coordinator John Chavis has obviously perfected against these Aggies.
It was also a defense that had grown increasingly tired this past week of hearing about what Manziel was going to do to the Tigers.
"Everybody was talking about how this game was going to be a shootout," LSU defensive tackle
Anthony Johnson
said. "Coach Chavis told us, 'It ain't going to be no shootout.' We weren't going to let that happen."
In many ways, it was a carbon copy of what happened a year ago when these two teams met in College Station. LSU won that game 24-19 and held Manziel without a touchdown -- rushing or passing. He managed just one Saturday, that coming on a 51-yard pass to
Derel Walker
with 1:08 left in the first half when LSU cornerback
Tre'Davious White
fell down.
Chavis' goal was simple: Make Manziel beat the Tigers throwing the football.
"I have great respect for him and know what happens when he's able to get outside, run around and make plays," Chavis said. "As a coach, it's all about putting your kids in a position to make plays. We had to throw some of our younger kids to the fire this year. You don't like to do that, but we didn't have any choice.
"What's so pleasing about this game is to see a lot of those same kids go out against a great player and a great offense and show how far they've come. We needed this. We needed it for our psyche, and we needed to get this done."
Johnson could sense that frustration was starting to set in Saturday with Manziel, who finished 16-of-41 for 224 yards and two interceptions. He was also sacked twice and held to just 54 rushing yards on 12 carries.
It was the first time in Manziel's career that he'd been held to fewer than 300 yards of total offense.
"He wasn't used to not being able to run around and get those plays that he's used to making," Johnson said. "Everybody stayed disciplined. Our defensive backs stayed back on their routes and didn't try to come up and help on the run.
"We stayed true to the scheme, and you saw the results."
The Tigers were successful most of the game in not allowing Manziel to roll right, and their defensive ends did an excellent job of staying home and not giving him any room to scramble outside.
"There's a lot of pride on this defense, and we've haven't always played the way we wanted to this year," LSU linebacker
Lamin Barrow
said. "But we went out there today and took our pride back.
"That's the way LSU defense is supposed to be played."
Manziel, to his credit, wasn't offering any excuses. There was talk of a thumb injury during the television broadcast, but he said it was more a case of the Tigers hitting the Aggies in the mouth and the Aggies never really responding.
"They came out and mixed a lot of things up," Manziel said. "They kept us guessing, and it really took us a while to figure it out."
That makes it two years in a row. The Aggies have now scored just three touchdowns in the past eight quarters against the Tigers.
Until Saturday, they'd scored at least 40 points against everybody they'd played this season.
The Tigers' secret?
"No secrets," Barrow said with a smile. "It's playing LSU football."
November, 23, 2013
11/23/13
7:00
AM ET
Saturday afternoon in Death Valley, it all goes down. No. 12 Texas A&M and No. 22 LSU meet in what should be an entertaining SEC clash at 2:30 p.m. local time at Tiger Stadium in Baton Rouge, La. Here are five things to keep an eye on from the Aggies' perspective:


1. Manziel vs. LSU D and John Chavis:
Last season, LSU did the best job of bottling up Texas A&M quarterback
Johnny Manziel
. He threw three interceptions and had career-worst marks in completion percentage, yards per pass attempt and yards per carry in a 24-19 loss. Well, guess what? Manziel is better this year, LSU's defense is far from what it was last season and Texas A&M's offensive scheme has progressed significantly since last October. But the constant on the LSU side, even though most of the 2012 defense is now playing in the NFL, is defensive coordinator John Chavis. The plan he devised against Manziel was effective. Can he pull it off again with a different level of talent in the front seven? And can the improved Manziel make LSU pay with his arm, as he has other teams this season, not just with his feet?
2. A&M D vs. Jeremy Hill and the LSU running game:
There's no sugarcoating it -- Texas A&M's run defense has been poor this year, except for a couple games. LSU has a traditional scheme when it comes to running the football, with a fullback and a big physical back who has quickness in Jeremy Hill. As Texas A&M defensive coordinator Mark Snyder said, Hill will try to "concuss you" when he has the football. And in this era of the spread, rarely do teams have to deal with big physical fullbacks, but the Aggies will have to deal with fullback
J.C. Copeland
, who is 6-0, 270. A&M's run defense ranks 105th in the country. The unit has had a few good games but most recently allowed 299 rushing yards to Mississippi State. And LSU has more than just Hill to throw at the Aggies. The Tigers average 184.8 yards per game on the ground.
3. Elite receivers on display:
If you like great receivers in college football, this is a game for you. LSU has one of the best two-receiver tandems in the country in
Odell Beckham Jr.
and
Jarvis Landry
. Texas A&M has a guy who has been arguably the nation's best this year, the 6-foot-5
Mike Evans
. All of them are playmakers, productive and fun to watch, so sit back and enjoy when Manziel and
Zach Mettenberger
are pulling the trigger.
4. The turnover battle:
One of the big reasons LSU won this game last year was the turnover battle. The Tigers had 5-0 edge in turnovers last October, and while the Aggies are plus-two this season overall in turnover margin, they aren't immune to them. They committed four against the two ranked teams they played (two each against Alabama and Auburn) and lost the turnover battle both games. LSU on the other hand is minus-four in turnover margin this season.
5. Special teams:
With Les Miles, you never know what you're going to get, special teams included. This is another area where LSU won last year when the teams met. A&M had a poor day placekicking, but that has since been rectified. Both teams have quality return specialists: Beckham is one of the best all-purpose guys around, and running back
Trey Williams
for A&M has been solid lately on kickoff returns. As Kevin Sumlin said, "From the time we get off the bus, our special teams units have to have the hair on the back of their neck up looking for stuff to happen."
November, 20, 2013
11/20/13
10:50
AM ET
Nobody on LSU's defense went into this season with his eyes closed.
That goes for everybody from veteran defensive coordinator John Chavis to senior linebacker
Lamin Barrow
to the horde of younger players the Tigers have played on that side of the ball.
[+] Enlarge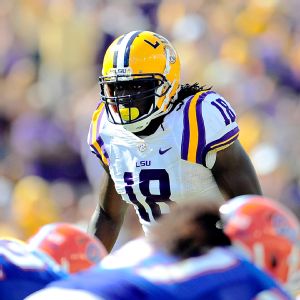 Stacy Revere/Getty ImagesLinebacker Lamin Barrow leads LSU in tackles but feels both he and the Tigers' defense as a whole can improve.
When you lose as many talented football players as LSU did to the NFL draft a year ago, there's going to be a drop-off.
That drop-off has been glaring at times this season, but don't think for a minute that anybody on LSU's defense is feeling sorry for themselves.
They can't afford to, not with
Johnny Manziel
and Texas A&M coming to Tiger Stadium on Saturday.
"It's important for us to end on a good note and get our respect back," said Barrow, who leads LSU and is seventh in the SEC with 75 total tackles.
"This year, we knew we were going to have a younger defense, but that's never an excuse here at LSU. That doesn't change the pride we have here on defense. The experience we got this year is going to help next year, and so will the growing pains. It hasn't been what we're used to, but we also know we're not that far away from being the kind of defense we want to be. We just have to be more consistent."
Chavis said those growing pains have been more pronounced than he expected and have lasted longer. Part of that is that he's playing two true freshmen and two sophomores in his defensive backfield rotation, not to mention the fact that the Tigers are without eight of the defenders that held Manziel to no touchdown passes, intercepted him three times and sacked him three times a year ago in LSU's 24-19 win over Texas A&M.
Of those eight, six were underclassmen who were taken in the NFL draft.
Even with that mass exodus to the pros, it hasn't been a complete disaster for the Tigers on defense. They're still fourth in the SEC in total defense. But the frustrating thing for them is that they simply haven't been able to get off the field this season in too many critical situations.
"It's not just the young guys. It's myself included," Barrow said. "We just haven't made some of the plays we know we can make. I put a lot of pressure on myself coming back for my last year to do a lot of things, and I haven't always played the way I wanted to. But there's still time with these last couple of games to get it right and put it all together.
"We've done it in spurts. We just need to do it for a whole game."
One of the biggest differences with this LSU defense is that it hasn't stopped the run, which has been a staple under Chavis. The Tigers are 10th in the SEC in rushing defense, allowing 152.9 yards per game. That's after giving up just 101.6 yards per game on the ground last season and 90.1 yards in 2011.
Big plays have also been a problem for this LSU defense. The Tigers have already given up 39 plays of 20 yards or more this season with three games to play (counting the bowl). Over the previous three seasons, they averaged giving up 39 "big plays" for the entire season.
"A lot of that has been communication breakdowns, a lack of focus on our part and something we've been dealing with all season," Barrow said. "But we've had fewer mistakes as the season's gone on, and having the extra week to get ready for this game, I think we'll cut down on them even more."
The Tigers smothered Manziel a year ago and never really allowed him to scramble. He was held to 27 yards rushing on 17 carries and threw it a career-high 56 times in the game.
But where he has carved teams apart this season is finding receivers open down the field when he's on the move or simply buying time in the pocket.
"He's a passer first, and people underestimate that about him," Barrow said. "He does a great job getting out of the pocket and scrambling and making a play when he has to, but he can beat you throwing the ball. He draws the defense to him, and that helps his receivers get open, and then he does a great job of finding those open receivers no matter where he is on the field."
The Tigers plan to rotate players two and even three deep at some positions to stay fresh and help combat the Aggies' breakneck pace.
Against Alabama two weeks ago, LSU wore down in the second half on both sides of the ball after tying the game at 17-17 in the early minutes of the third quarter. The Crimson Tide responded with three consecutive touchdown drives of 70-plus yards.
"Coming off the loss to Alabama and already having a three-loss season, the only thing on our mind is coming out and showing everybody that we're still the same Tigers and still a team to reckon with," Barrow said.
"There's a lot of tradition and a lot of pride here on defense, and we don't want to be known as the defense that didn't meet that standard," he added. "We're going to step out on the field like men, and everybody on this defense is going to take it upon themselves to step it up to another level."
Given the way Johnny Football is mowing through defenses in this league, they might want to take it up a few levels.
November, 20, 2013
11/20/13
9:00
AM ET
COLLEGE STATION, Texas — In Texas A&M's brief history in its new league,
Johnny Manziel
and the Aggies have had the opportunity to beat every SEC opponent they've faced, except two: Florida and LSU.
[+] Enlarge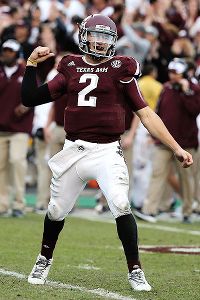 Scott Halleran/Getty ImagesLSU will see a different Johnny Manziel than the one it faced last October in College Station.
A&M's two losses this season came to teams -- Alabama and Auburn -- that it defeated last season. Florida wasn't on the schedule this fall and won't be next season so it will be some time before the Aggies get another shot at the Gators.
But if Manziel and Co. want redemption against LSU, the opportunity affords itself on Saturday in Death Valley. The Tigers are the dragon that Johnny Football has yet to slay.
The 2012 season was a wild one for Manziel, who became the first freshman in college football history to take home Heisman Trophy. Team after team seemed to struggle to find an answer for the unpredictability that Manziel possesses.
LSU was not one of those teams.
The Tigers are the team that held Manziel to career-worsts in several areas. according to ESPN Stats and Information. His completion percentage was the lowest he has ever had (51.8) in a game. So were his yards per pass attempt (4.9). His minus-3 touchdown-to-interception ratio was a career low as was his Total QBR (25.8). His signature running ability? That was bottled up too, as LSU held him to 27 yards, a season-low in 2012 and a career-low 1.6 yards per carry.
A lot of factors went into that performance and much has changed since the two teams met on Oct. 20, 2012 at Kyle Field.
LSU's defensive front was filled with elite talent last season. Five players from LSU's two-deep in the front seven were chosen in the first five rounds of the 2013 NFL draft (four of them were juniors who declared for early entry into the draft – defensive ends Barkevious Mingo and Sam Montgomery, defensive tackle Bennie Logan and linebacker Kevin Minter).
While the Tigers are still talented up front, they're not quite as experienced and might not be up to the caliber that last season's group was.
"I think their defense last year, you had a bunch of NFL guys [who] were pass rushers," Texas A&M offensive coordinator Clarence McKinney said. "Not that these guys aren't, but those guys were really, really good. It was just a battle between our tackles and their outside rush guys."
Those battles were key in LSU's success. Tigers defensive coordinator John Chavis appeared to craft an effective plan against Manziel, who had a tendency to escape the pocket and devastate teams with his running ability. Combine the strategy Chavis and his assistants employed with the speed and athleticism of guys like Mingo, Montgomery and others, and you had the desired result for the Tigers.
Earlier this season, Texas A&M offensive line coach B.J. Anderson recalled specific strategies used by the LSU defensive ends.
"They rush hard vertically, then you can tell Chavis has given them spots [on the field to pause]," Anderson said. "When they get to [the spot, they] stop and they squeeze and press those [offensive] tackles. They want him to feel the pressure, but they know if they blow up the field, he'll just run underneath him and there he goes. We had to adjust to that."
LSU head coach Les Miles said that there are elements of the 2012 attack that the Tigers will employ, but it won't necessarily be the same game plan.
"We're going to do similar things," Miles said. "We're going to not necessarily do what we did a year ago, but I think some of the principles will be the same."
The Tigers also appeared careful not to "over-rush" too hard vertically up the field off the edges to prevent open running lanes for Manziel. However, they were still able to get good pursuit, often times bringing a quick linebacker or even a safety off the edge to utilize their speed and catch Manziel before he could escape. That helped them limit him to a career-low 2.6 yards per play on plays outside the pocket, according to ESPN Stats and Information.
"You'd like for him to be pressured, not only by a rush lane, but by coverage," Miles said. "In other words, not necessarily say hold, but you would push the pocket at him, and hopefully his running opportunities would minimize as his time to throw it grew short, he had to make a decision. And that's what you'd like to have happen.
"And then cover during that time. At those other times, where you add a guy to the rush, now you'd better cover it very quickly and then you'd better be able to chase. I think chase is a part of the game, as well."
This will be a grand stage and a challenging setting, as LSU is an elite home team that's 25-1 at Tiger Stadium since 2010. Manziel, however, has thrived on the road, where he's 9-0 and has been responsible for 31 touchdowns with just eight turnovers, while averaging 417.2 yards of offense.
Manziel has improved significantly since the teams' meeting in 2012, the seventh game of his career. Miles noted earlier this week that Manziel is "bigger, faster, stronger," and it's clear that he has improved as a passer, something that should help him this week.
Texas A&M coach Kevin Sumlin noted that not much stock should be put into last season's game because of the difference in the teams, as well as the fact that the Aggies progressed and even changed some after the 24-19 loss to the Tigers last October.
"I'll be honest with you, there's two different football teams on the field this year," Sumlin said. "They lost a bunch of guys, particularly edge players defensively. I think it goes without saying that offensively, schematically, we changed as the season went on after that football game. Last year's video is important, but not nearly as important as the last seven or eight weeks of video."
September, 30, 2013
9/30/13
11:00
AM ET
Anybody hot … or not?
It's that time again as we review the week that was in the SEC.
GLOWING EMBERS
Alabama's intel:
Alabama's defense was already fired up thanks to what the Tide perceived as smack talk by some of the Ole Miss players leading up to the game. Let's face it: There's a fine line sometimes between a player answering a question honestly and his comments mushrooming into full-blown bulletin board material. Either way, the Alabama defense was amped by some of the things Ole Miss quarterback
Bo Wallace
was quoted as saying earlier in the week, even though what Wallace said was pretty tame. We're not exactly talking about any "Archie who?" banter here. But where the Crimson Tide really stuck it to the Rebels was with a little inside intel thanks to Tyler Siskey, Alabama's assistant director of football operations. Siskey was on the Ole Miss staff last season as director of recruiting development. He was in the Alabama coaches' booth for the game with a set of binoculars, and even though Ole Miss changed up its signals, there weren't many times that the Tide were fooled by what the Rebels were doing offensively. As ESPN analyst Todd Blackledge noted during the broadcast, Siskey's knowledge of the Ole Miss offense was a big asset to an already imposing Alabama defense in its preparation for the game. The Tide might not have had the Rebels' signals, but they were sure locked in to the Rebels' tendencies on offense and played lights-out in shutting out a Hugh Freeze-coached team for the first time in his college career.
[+] Enlarge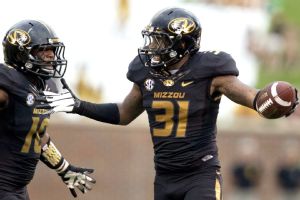 Shane Keyser/Kansas City Star via Getty ImagesDefensive back E.J. Gaines, 31, was a standout on Missouri's defense in 2013.
HOT
Missouri cornerback E.J. Gaines:
When you start reeling off the top cornerbacks in this league, don't forget about Gaines. He's off to a terrific start to the season. In the 41-19 win over Arkansas State, he had nine total tackles, including one for loss, and his third interception of the season to set up Missouri's final touchdown. Gaines is more than just a cover guy. He leads the Tigers with 19 solo tackles.
NOT
LSU's defense:
The Tigers have a way to go defensively. When you lose as many good defensive players early to the NFL draft as they have over the last couple of years, that kind of talent drain has a way of catching up with even the best defenses. Veteran coordinator John Chavis knew this defense would be a work in progress, but seeing all the blown coverages in the 44-41 loss at Georgia and wide-open receivers running free in the LSU secondary was difficult for anybody on that LSU staff to stomach.
HOT
Georgia quarterback Aaron Murray:
So much for the "can't win the big game" label. Murray has been fabulous in Georgia's two wins over top-10 teams this season, with eight touchdown passes and just one interception. There's no substitute for his experience, and it shows in the way he's carving apart defenses right now.
NOT
SEC defenses:
Only one SEC team (Florida at No. 2) is ranked in the top 10 nationally in total defense this week. For that matter, only two are ranked in the top 20. Mississippi State is 20th. In scoring defense, Alabama is still among the national leaders at No. 13. The offenses have taken center stage this season in the SEC, and suddenly the defenses are trying to catch up. Keep in mind, too, that six of the seven national champions during the SEC's streak have finished in the top 10 nationally in total defense.
HOT
South Carolina running back Mike Davis:
He's the SEC's rushing leader heading into the month of October and seemingly gets better every week. He carried the Gamecocks in the 28-25 win over UCF after
Connor Shaw
went down, and finished with a career-high 167 yards and three touchdowns. He has had a run of 50 yards or longer in three of his four games.
NOT
Schedule balance:
Talk about a contrast in October schedules. Alabama doesn't play anyone that should come within 20 points of the Crimson Tide (and that's being kind) until LSU comes to town on Nov. 9. Arkansas, meanwhile, has Florida, South Carolina and Alabama over the next three weeks, and Florida and Alabama are on the road. Tennessee gets Georgia, South Carolina and Alabama in October. Ole Miss also has a tough October stretch that will go a long way toward shaping the Rebels' season. They travel to Auburn this weekend and then come back home for back-to-back games against Texas A&M and LSU. Georgia gets a little bit of a break, although the Bulldogs do have to go on the road to face both Tennessee and Vanderbilt in October. Given their September gantlet (three top-10 opponents), nothing should seem too daunting the rest of the way.
FREEZER BURN
Staying healthy:
Geez, what a bad week on the injury front for a handful of SEC teams and players. Florida was already reeling after losing starting quarterback
Jeff Driskel
to a season-ending injury two weeks ago against Tennessee. And then last week in practice, star defensive tackle
Dominique Easley
was lost for the season with a torn ACL. Easley was playing as well as any defensive lineman in the league. This past weekend, we saw South Carolina quarterback Shaw go down with a right (throwing) shoulder sprain that will sideline him for two to three weeks. Alabama will be without starting center
Ryan Kelly
for two to three weeks after he suffered an MCL injury to his knee, and Georgia running back
Todd Gurley
injured his ankle in the win over LSU. Georgia coach Mark Richt said Gurley would be "day-to-day" in preparation for Saturday's game at Tennessee and wouldn't need any kind of surgery. The Bulldogs played the final three quarters without Gurley. Texas A&M defensive tackle
Kirby Ennis
had to leave the Arkansas game with a left knee injury. Depending on the severity of Ennis' injury, he will have some extra time to recover. The Aggies are off this week before traveling to Ole Miss on Oct. 12.
August, 12, 2013
8/12/13
12:30
PM ET
Here's some required SEC reading to help get you through the rest of your Monday.
April, 26, 2013
4/26/13
9:30
AM ET
With the spring evaluation period underway, Texas A&M is making sure to cast its recruiting net far and wide.

Assistant coaches began to hit the road this week and with the majority of the 2014 prospects in Texas undergoing mandatory state-standardized testing this week, it was an opportune time for coaches to get outside of the Lone Star State to see prospects.


Recruits Miss Lone Star Showdown
SEC SCOREBOARD
Thursday, 9/3
Saturday, 9/5