Texas A&M Aggies:

Jameis Winston
June, 27, 2014
6/27/14
4:00
PM ET
Here's a good way to survive the dog days of summer -- relive the glory of last year's best college football games.
ESPNU will count down the top 25 games and air all but four of them July 21-Aug. 3. Of course the SEC is well-represented. Game Nos. 6-25 have already been determined. Here's a look.
No. 23 -- Alabama 49, Texas A&M 42
Re-airdate:
July 22, 7 p.m. ET
This Week 3 contest was a much-anticipated grudge match after Johnny Manziel and the upstart Aggies had upset the mighty Tide in Tuscaloosa, Ala., in 2012. The return engagement had fireworks from the start, as A&M's 628 yards were the most given up in Alabama's history.
No. 20 -- Georgia 44, LSU 41
Re-airdate:
July 23, 10 p.m. ET
Two teams ranked in the top 10 slugged it out to the tune of nearly 1,000 combined yards, as the quarterback performances by Georgia's Aaron Murray and former teammate Zach Mettenberger were among the best of their careers.
[+] Enlarge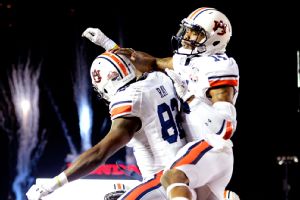 Robert Hanashiro/USA TODAY SportsNick Marshall & Co. were involved in four of the season's top 25 games, including three within the top 4.
No. 17 -- Auburn 45, Texas A&M 41
Re-airdate:
July 25, 7 p.m. ET
Looking back, this huge upset on the road might have fueled Auburn's amazing season. One year after being beaten 63-21 by the Aggies, the Tigers roared back to national prominence behind QB
Nick Marshall
and RB Tre Mason. The Auburn defense gave up more than 500 yards to Manziel but came through in the end to preserve the win.
No. 15 -- Georgia 34, Tennessee 31 (OT)
Re-airdate:
July 28, 7 p.m. ET
Just think of how differently we would have viewed UT's season had the Vols pulled off this upset. Georgia withstood injuries and a determined Tennessee team, and rallied to tie the game with five seconds left when Murray found Rantavious Wooten for a touchdown. UT's
Alton Howard
fumbled a sure touchdown in overtime, which set up UGA's game-winning field goal.
No. 11 -- Ole Miss 39, Vanderbilt 35
Re-airdate:
July 29, 10 p.m. ET
The opening game of the season set a clear tone for high-scoring offense and thrilling late-game heroics. Vandy raced to a 21-10 halftime lead and then gave up 29 points, including a back-breaking 75-yard touchdown run by Jeff Scott with just over a minute to play.
No. 7 -- South Carolina 27, Missouri 24 (OT)
Re-airdate:
July 31, 10 p.m. ET
Gamecocks QB Connor Shaw came off the bench to score 17 fourth-quarter points to send this one into overtime, where the teams traded touchdowns before USC won it with a kick. Missouri was slapped with its first loss of the season, but the Tigers won the rest of their games and the SEC East crown.
Now we
need your help choosing a top five
, and again the SEC is prominent with four choices available. Voting ends Monday. If you need help deciding, here's how I would rank 'em.
No. 5 -- Texas A&M 52, Duke 48
Manziel penned a memorable swan song in the Chick-fil-A Bowl, as the Aggies and Blue Devils piled up more than 1,200 yards of offense. Manziel passed for 382 yards and four touchdowns, ran for 73 yards and one TD, and led his team back from a 21-point halftime deficit.
No. 4 -- Florida State 34, Auburn 31
The Tigers' miracle season came crashing down when FSU rallied from an 18-point deficit, the largest ever overcome in a BCS championship game. A thrilling fourth quarter closed with Heisman winner
Jameis Winston
leading the Noles 80 yards in 66 seconds for the win.
No. 2 -- Auburn 43, Georgia 38
Any time a game evokes a nickname it has also earned a place in college football lore. This game got two of them -- "The Prayer at Jordan-Hare" and "The Immaculate Deflection" -- thanks to a 73-yard Hail Mary touchdown that Bulldogs safety Josh Harvey-Clemons tipped to Auburn's
Ricardo Louis
.
No. 1 -- Auburn 34, Alabama 28
Is there any doubt which game transcended the 2013 season into the history books? With his improbable, last-second, missed field-goal return, Chris Davis' 109-yard touchdown run -- the "Kick Six" -- was forever branded on the sport's collective consciousness.
December, 29, 2013
12/29/13
10:30
AM ET
ORLANDO, Fla. -- There are many topics of conversation among prospects playing in the 2014 Under Armour All-America Game. One of them centers around the past two Heisman Trophy winners.
On Saturday, upon checking in for the prestigious game, a number of prospects weighed in on a hot topic involving Texas A&M's
Johnny Manziel
and Florida State's
Jameis Winston
.
If they had to choose between the two, who would the players take as their college quarterback? Here are their responses:
[+] Enlarge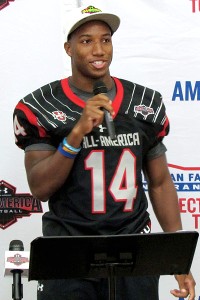 Courtesy of IntersportNo. 9 overall prospect Marlon Humphrey likes how Johnny Manziel makes others around him better.
Five-star cornerback Marlon Humphrey (Hoover, Al./Hoover High)
: Ah man, I think I'm going to have to go with Johnny Manziel. I just feel like he kind of made a team out of nothing. Jameis Winston is a great quarterback too, but he doesn't have the scrambling skills that Manziel has. This year, you could tell that his teams defense wasn't that good, the players around him weren't as good, but he kept making his team better. He's has the fight in him I would want on my team.
Florida commit and No. 20-ranked Dalvin Cook (Miami/Central High)
: I would say Jameis Winston. He's really a pure quarterback, and I think he sets up things more for a running back than Johnny Manziel does.
Auburn running back commit Racean Thomas (Oxford, Al./Oxford High)
: I would probably pick Jameis Winston. The reason behind that is because he is more of a leader for a young quarterback, and I think he can make his team a more mature team. I really think he would be a great quarterback to play with.
Florida wide receiver commit and No. 28 Ermon Lane (Homestead, Fla./Homestead Senior High)
: Whew, I don't know. I think Jameis Winston. I look at how both of them played as a freshman, and I like how Jameis Winston leads his team. He is also more pro-ready than Manziel.
Texas defensive end commit and No. 78-overall Derick Roberson (San Antonio, Texas/William J. Brennan High)
: I guess I would say Johnny Manziel. I like how he plays with his swagger and confidence the most, so I would probably say him.
Notre Dame commit and No. 76-ranked Tyler Luatua (la Mirada, Calif./La Mirada High)
: I would take Manziel just because of the way he plays. If he doesn't have a wide receiver open, he can make plays himself. He can get the ball to his players if and when he wants to, but can also do it on his own when he needs to.
No. 38 overall John Smith (Long Beach, Calif./Long Beach Polytechnic High School)
: That's a hard one. As of right now, I would go with Jameis Winston. Overall, he's a great player. I think Winston has an awesome football IQ. Johnny had his year too, but I think Winston is just a great player. Outstanding.
Dylan Sumner-Gardner
: Jameis Winston, man. I feel comfortable with Jameis Winston as my quarterback because he's smart and accurate. Johnny is accurate too, but Johnny is Johnny. How he runs around, people may get nervous. I would just feel more comfortable with Jameis as my quarterback.
No. 22 overall Laurence Jones (Monroe, La./Neville High)
: That's a hard one right there. Let me think ... maybe Johnny Manziel because I don't think I've ever seen a white boy get down like that. It would have to be Johnny Manziel.
Penn State wide receiver commit Chris Godwin (Middletown, De./Middletown High)
: I think Jameis Winston. I think overall he's a better passer. I want a quarterback back there that can get me the ball on a consistent basis, but Johnny Manziel is a great player, too. I'm actually a big fan of both of them.
Five-star and Virginia defensive tackle commit Andrew Brown (Chesapeake, VA
Oscar Frommel Smith High)
: Dang, that's a good question, man. I would go with Jameis Winston. His leadership qualities, coming in as a freshman and doing the things he is doing is definitely uncommon. It just foreshadows what he is going to do in the future, too. He's already established a great foundation for himself, and I would definitely take him in the future.
Maryland commit Will Ulmer (Washington, D.C./Saint John's High)
: I'm going with Johnny Manziel. I think he's more dynamic, and more of a game-changer. Jameis Winston is a great quarterback too, but you have to think about all the dudes he has around him at FSU -- all the great receivers and good running backs. I would go with Manziel because if you put him on the Florida State team, or a stacked team like that, it would be a scary sight.
December, 23, 2013
12/23/13
2:00
PM ET
In a week, the bowl season for the SEC will kick off when Ole Miss takes on Georgia Tech in the Franklin American Mortgage Music City Bowl on Dec. 30 in Nashville, Tenn.
It's the first of 10 postseason games involving SEC teams, culminating with Auburn facing Florida State in the VIZIO BCS National Championship.
Who in the SEC has the most to prove this season in the bowl games? We're talking head coaches, assistant coaches, players, teams and particular units on teams.
Here's a look:
Alabama:
It's been a while since Alabama has played in a BCS bowl game when there wasn't a national championship at stake. Not that Alabama fans need to be reminded, but it was the 2009 Allstate Sugar Bowl following a tough loss to Florida in the SEC championship game. The Crimson Tide looked uninspired from the start and were throttled 31-17 by Utah. This year, Oklahoma awaits in the Sugar Bowl, and that bitter loss to Auburn in the Iron Bowl won't seem quite so bitter if the Crimson Tide can take care of business in the Big Easy.
Ole Miss' offense:
The Rebels managed just one offensive touchdown in their last two games -- both losses -- after putting up big numbers all season long. They were in the red zone three times against Missouri and came away with a grand total of three points, and twice they were at the goal line. They get a chance against Georgia Tech to show what they genuinely are offensively, and you know quarterback
Bo Wallace
can't wait to get back onto the field after losing that fumble in overtime against Mississippi State.
[+] Enlarge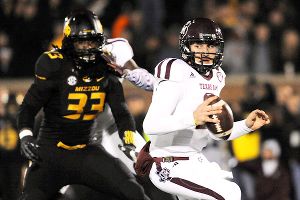 Denny Medley/USA TODAY SportsJohnny Manziel will likely end his college career against Duke in the Chick-fil-A Bowl.
Auburn's secondary:
Talk about a tall order. The Tigers ranked last in the SEC in pass defense this season, allowing an average of 260.2 yards per game. Now, they have to go up against
Jameis Winston
,
Kelvin Benjamin
and a Florida State attack that has generated 40 touchdown passes.
Johnny Manziel:
Johnny Football's last collegiate stand will come in the Chick-fil-A Bowl against Duke. He gets a chance to go out with a flourish after a pair of un-Johnny Football-like performances in his last two regular-season games.
Mike Davis:
South Carolina's sophomore running back was one of the SEC's breakout stars with 1,134 rushing yards and 11 touchdowns. But he was slowed by bruised ribs during the final few weeks of the season. He missed the Coastal Carolina game and was held to 76 rushing yards in the two games against Florida and Clemson. Davis should be back to full strength against Wisconsin and will be looking to upstage the Badgers' one-two rushing punch of
Melvin Gordon
and
James White
.
Les Miles:
The Mad Hatter has had a lot of success at LSU, but the Tigers' last two postseason experiences haven't been particularly memorable. They collapsed against Clemson in the Chick-fil-A Bowl last season and were shut out against Alabama in the BCS National Championship two years ago. Nobody on the Bayou wants to see that bowl drought extend to three consecutive years.
Vanderbilt's fans:
James Franklin
has brought unprecedented success to Vanderbilt's program in the last two years, but the Commodores haven't necessarily been a commodity in the eyes of the bowls. The only way that's going to change is for the Commodores to keep winning and for their fans to turn out in force in Birmingham, Ala.
Missouri's defense:
When last seen, Missouri was being shredded by Auburn to the tune of 545 rushing yards in a 59-42 SEC championship game loss. The hard part for the Tigers was that they had been stout defensively all season and went into that game allowing just 119 rushing yards per game. They get a chance for redemption in the AT&T Cotton Bowl against an Oklahoma State team that scored 38 or more points in five of its last six games.
Anthony Jennings and Hutson Mason:
Fans are always wanting to know what the future looks like. Because of injuries to
Zach Mettenberger
and
Aaron Murray
, we'll get to see the future at quarterback at both LSU and Georgia in their respective bowl games. LSU's Jennings and Georgia's Mason have already shown that they have plenty of game, but the lights will be a little brighter in the postseason.
December, 13, 2013
12/13/13
11:00
AM ET
After Texas A&M's
Johnny Manziel
became the first freshman to win the Heisman a year ago, it appears another freshman, Florida State's
Jameis Winston
, is poised to take the trophy. But which quarterback had the better freshman campaign?
David Hale and Sam Khan Jr. take the debate to the Interwebs for your reading pleasure:
Take 1: Hale: Winston was consistent, even in biggest games
No matter what Winston accomplishes this season, there's one thing Manziel will always have over him. Only one player can be the first freshman to win a Heisman, and that was Manziel. He was, to be sure, a worthy winner.
But beyond the history, the debate on which quarterback had the better freshman campaign is easy. It's Winston.
[+] Enlarge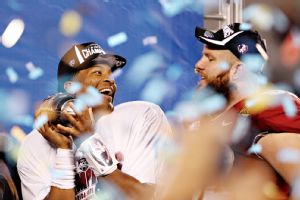 Streeter Lecka/Getty ImagesIf winning matters, Jameis Winston has won a conference title and has his team in the national championship game: two things Manziel has not done.
Compare passing numbers through 13 games and Winston comes out well ahead. He threw for a freshman-record 38 touchdowns, compared with 26 for Manziel. Winston threw for more yards, averaged significantly more yards per attempt (10.9 to 8.5 for Manziel) and had a quarterback rating (190.1) that dwarfs Manziel's (155.3). Winston had seven 300-yard games; Manziel four. Winston accounted for four or more touchdowns six times.
And before anyone makes the strength-of-schedule argument, remember that Winston had a slightly higher adjusted QBR -- which takes into account myriad factors, including competition.
Sure, Manziel came out of nowhere to become a Heisman winner. But wasn't there a lot more pressure on the much-hyped Winston to live up to those immense expectations?
Then let's look at how each player fared in his biggest games.
Manziel played six games against ranked teams, and he won four. He completed 67 percent of his throws -- same as Winston -- but the rest of his stats were utterly pedestrian. He averaged just 7.5 yards per attempt, threw for seven TDs and had five interceptions.
Winston, on the other hand, won all four of his games against ranked teams handily. He averaged 11.8 yards per attempt and threw for 12 touchdowns with five INTs.
Winston wasn't only at his best in big games, he simply never had a bad game. Manziel struggled mightily against Florida and LSU.
And Winston has the edge in the most important statistic: wins. The Seminoles are 13-0 and playing in the BCS National Championship next month. Manziel's season was great and the Aggies were a surprising 11-2 last year, but they didn't even get to a BCS bowl. Their season ended in the AT&T Cotton Bowl.
OK, so now we get to the obvious check mark in Manziel's corner: his legs.
Admittedly, there's no comparison here, and Manziel's ability to run is the great equalizer in this debate. But it's hardly fair to penalize Winston for looking to throw before he looks to run.
Winston put together a highlight reel of big throws that followed miraculous escape acts. His numbers when under pressure were by far the best in the nation. He managed to extend plays, completing an absurd 16 of 21 passes with four touchdowns and 15 first downs on third-and-10 or longer.
Does that make up for Manziel's 21 rushing TDs and 1,400 rushing yards? Probably not, but a quarterback's primary jobs are to make throws and win games. Winston was head and shoulders ahead of Manziel in both areas.
Take 2: Khan: Manziel did it all, against tougher teams
Winston has lived up to the hype and that's hard to do. In my opinion, he has been college football's most outstanding player in 2013. In every big game, he delivered and he led his team to the BCS title game.
But there's no debate here. As terrific as Winston has been this season, Johnny Manziel's freshman campaign was better.
[+] Enlarge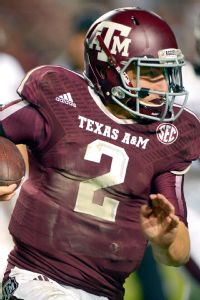 Thomas Campbell/USA TODAY SportsJohnny Manziel is clearly the superior runner.
Manziel was statistically better, had to carry his team more and did it against a tougher schedule. Oh, and as David mentioned, Manziel was the first freshman to do it. Can't beat that.
Yes, Winston's passing numbers are better. However, what Johnny Football did with his legs in 2012 is what set him apart, and it's what made him the toughest player to defend in college football. Winston hasn't run nearly as much because the Seminoles don't need him to (77 carries for 193 yards and four touchdowns), but that was a signature part of Manziel's game. He was a true dual threat. Manziel exploded for 1,410 yards and 21 touchdowns and led the SEC in rushing a year ago.
Not the leading rusher among quarterbacks. The leading rusher, period.
A&M needed that. Without that element of Manziel's game, the Aggies might not have beaten Louisiana Tech. They might not have beaten Alabama. The season would have been different.
Manziel broke Cam Newton's SEC single-season record for total offensive yards in a season, finishing with a whopping 5,116. And while Winston had more touchdown passes, Manziel had more total touchdowns with 47. Winston still has a chance to catch that total if he accounts for five touchdowns against Auburn in January.
And let's not forget A&M's schedule last year. A&M finished third in the country in the NCAA's "toughest schedule" rankings. The Sagarin ratings had the Aggies with the sixth-toughest schedule last year. The NCAA's schedule rankings are unavailable for this season, but for comparison's sake, Florida State's schedule is currently ranked 63rd in the Sagarin ratings. That's a huge difference.
Winston didn't have to face an LSU team that put five players from its front seven alone in the NFL draft. And even with that, Manziel and the Aggies still could have won that game (they lost 24-19). The best defenses Winston has faced were Florida (10th) and Clemson (23rd). Manziel faced three that finished in last year's top eight (Alabama, Florida, LSU).
And the best win -- at least to this point in time -- belongs to Manziel. Texas A&M's upset over then-No. 1 and eventual champ Alabama in Tuscaloosa was the epitome of Manziel's freshman campaign. He was virtually unstoppable. He threw for 253 yards and two touchdowns and ran for 92. Gaining 345 yards individually against a Nick Saban-coached defense? Simply amazing.
Winston has a chance at the crystal football. Manziel can't top that and there's no denying it. But that's more of a team accomplishment and there's not a ton Manziel can do about it.
If you were picking a team to go win a football game and both supporting casts were the same, which QB would you pick: 2012 Johnny Manziel or 2013 Jameis Winston? My guess is you're taking Johnny Football. He's done things on a football field that seemingly nobody else can.
December, 10, 2013
12/10/13
12:05
PM ET
We're still 11 days from the first bowls, but that doesn't mean we can't talk about them. Here's some bowl chatter – and some other stuff – from across the SEC.
November, 30, 2013
11/30/13
7:00
AM ET
Finally, a full slate of SEC games after a couple of weeks of scattered byes and FCS opponents. And what a slate it is.
Seven games remain after Thursday's Egg Bowl and Friday's Arkansas-LSU game, none bigger than No. 1 Alabama at No. 4 Auburn in the annual Iron Bowl. One of the best rivalries in college football has a lot more juice this year, as it's only the second time Alabama and Auburn will play when both are ranked in the top 5 of the AP Poll.
[+] Enlarge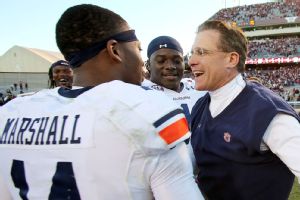 Thomas B. Shea/Getty ImagesCan Gus Malzahn and Nick Marshall lead Auburn past No. 1 Alabama?
Hundreds of RVs started arriving on the Plains last week in anticipation of today's battle for SEC West supremacy and the right to represent the division in Atlanta for the SEC championship game next week. Coming off a bye week, the Tigers have a chance to cap their remarkable turnaround season with an upset many thought improbable before the season began.
And while it might be a victory for AU to simply be in a game of this magnitude after going Oh-for-the-SEC last season, try telling Gus Malzahn or QB
Nick Marshall
to settle for a consolation prize. Alabama's Nick Saban and QB
AJ McCarron
, on the other hand, look to extend their already loaded legacies with another shot at postseason glory.
The next biggest game on today's slate will decide who represents the SEC East in Atlanta, as Missouri plays host to Texas A&M. These Tigers have a turnaround season of their own brewing, having gone 5-7 with a 2-6 conference record in their first shot at the SEC last year. What better way to complete the 180
and
win a division crown than to face the team they came into the SEC with last season?
When the two met for the first time as SEC foes last year in College Station, Texas,
Johnny Manziel
was 32-of-44 passing for 372 yards and three TDs while running for 67 yards and two more scores. The Aggies cruised in a 59-29 romp that sealed Manziel's Heisman Trophy résumé. This season, Johnny Football is again vying for the Heisman, but he's coming off the worst loss of his career and coach Kevin Sumlin's brief tenure at A&M. The Aggies will have to prove they haven't lost their edge as this season's goals have dwindled. Mizzou, on the other hand, expects to be on a high with a sold-out, black-out-attired crowd urging on what would be one of the biggest wins in school history.
Waiting in the wings for Missouri to falter is South Carolina, which plays at home in its annual game against in-state rival Clemson. This Palmetto State showdown is a star-studded affair that features two top-10 teams, but the recent history is lopsided in the Gamecocks' favor. Clemson's record-breaking senior QB
Tajh Boyd
has never beaten South Carolina and will have to shake off the nightmares of last season's game when Gamecocks defensive end
Jadeveon Clowney
set USC's school record for sacks in a game with 4.5. The Gamecocks have a chance to do something they've never done before in a series that began in 1896 -- win five games in a row.
Another SEC-ACC showdown looks far less competitive down in the Sunshine State, where sad-sack Florida has the daunting task of trying to end its epic six-game losing streak against the powerhouse No. 2 team in the nation, Florida State. Aside from an unbeaten season, the prospect of a BCS championship game berth and a Heisman Trophy for redshirt freshman sensation
Jameis Winston
on the line, the Seminoles have a score to settle after last season's 37-26 collapse against the Gators in Tallahassee. Always one of the more physical and intense rivalry games in the nation, Florida-Florida State this year feels more like a mismatch, as the Gators have suffered enough injuries and humiliation to last decades.
The other two SEC-ACC games are also somewhat subdued by recent events, as Georgia visits Georgia Tech and Vanderbilt plays host to Wake Forest. The Bulldogs are still reeling from the loss of star quarterback
Aaron Murray
, who suffered a torn ACL last week. He will be replaced by
Hutson Mason
, a fourth-year junior who has the confidence of his coaches and teammates. The taller task for Georgia today will be stopping the Yellow Jackets' triple-option attack.
After beating three straight SEC East foes, Vanderbilt and coach James Franklin have already made history with a third consecutive season that will culminate in a bowl appearance. Facing the Demon Deacons simply provides another opportunity to extend an amazing streak of wins in the month of November. The Commodores haven't lost in November since 2011 and haven't lost to Wake since 2010, before Franklin arrived.
Rounding out the conference schedule is UK's annual tilt with Tennessee, two of the league's bottom-three teams. Had they upset Vanderbilt last week, Butch Jones' Vols could have been playing for a feel-good bowl berth, but the Dores pulled out a last-second comeback and ripped UT's heart out on a fake jump-pass quarterback keeper. Mark Stoops' Wildcats, on the other hand, would be thrilled with any kind of SEC win. Kentucky is 0-7 this season after going winless in league play last year and hasn't won a conference game in its last 15 tries.
Florida State at Florida, noon ET, ESPN

Wake Forest at Vanderbilt, 12:21 p.m. ET, SEC TV

Alabama at Auburn, 3:30 p.m., CBS

Georgia at Georgia Tech, 3:30 p.m., ABC

Clemson at South Carolina, 7 p.m. ET, ESPN2

Tennessee at Kentucky, 7 p.m. ET, ESPNU

Texas A&M at Missouri, 7:45 p.m. ET, ESPN
November, 12, 2013
11/12/13
9:30
AM ET
Move over Archie Griffin,
Johnny Manziel
is on his way to joining your elite club as the only two-time Heisman Trophy winner.
Manziel's case is crystal clear, but if he isn't at or near the top of your Heisman list, you aren't watching the game correctly.
There just isn't a better, more exciting player to watch. Manziel has the wins, the stats, more stats and the swag to back it all up. But for some reason, Heisman talk has been pretty quiet surrounding Manziel. Sure, he won the award last year, and his in-your-face offseason created some Manziel fatigue, but you can't ignore Manziel's 2013 body of work.
[+] Enlarge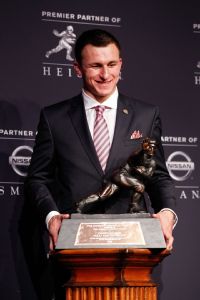 Mike Stobe/Getty ImagesJohnny Manziel is playing better this year than he did in last year's Heisman Trophy season.
Through 10 games, Manziel leads the SEC and ranks third nationally with 3,313 passing yards. He's second nationally with a completion percentage of 73.0 and 31 passing touchdowns, and he is third with an efficiency rating of 186.9. He leads the SEC with 331.3 passing yards per game and is also 12th in the league with 611 rushing yards and eight touchdowns. Manziel has thrown for more than 300 yards six times -- and in four of those he surpassed 400 yards -- and has thrown three or more touchdowns seven times.
He ranks fourth nationally with a QBR of 88.5.
At this point last year, Manziel had 2,780 passing yards and 18 touchdown passes. Yeah, he's thrown for 533 more yards and 13 more touchdowns this season.
No, Manziel isn't slicing up defenses with his feet like he did last year, but he's a much better passer and he's still capable of doing mind-blowing things
like this
.
This was supposed to be a season in which the fame and offseason gallivanting clouded Manziel's on-field vision. No way was he going to sniff duplicating his fantastic freshman campaign. His focus wouldn't be there, and he'd more than likely turn into a shell of his former self.
Well, Johnny Football only got
better
! He goes through his progressions, reads defenses and likes to throw first. Sure, he could carve up any defense at will, but he'd rather throw this year. He'd rather look at his second and third options before taking off. And when he does take off, good luck. The quarterback/ballerina can shimmy and shake his way past a drove of defenders with relative ease, but he has been more guarded this season, and that hasn't been a bad thing.
Manziel also is putting up Playstation numbers with his own defense collapsing around him. The Aggies' defense has been dreadful, giving up a league-high 454.4 yards per game and more than 30 points a contest. Manziel is trampling defenses in spite of his defense.
But Manziel has two losses, you'll shout! He has 11 interceptions, you howl. Yes and yes, but he also had two losses and nine interceptions last year, yet ran away with the Heisman.
Look at his numbers in losses. In the 49-42 loss to No. 1 Alabama, which ranks sixth nationally in total defense, he rallied his team back from a 35-14 deficit with 464 passing yards, five touchdowns and 98 rushing yards. In the 45-41 loss to Auburn, Manziel threw for 454 yards and four touchdowns, while adding 48 rushing yards and another score. What was even more impressive about his play was that he completed 10 passes for 102 yards and ran for a touchdown after an apparent shoulder injury.
Compare his numbers in losses to those of former Heisman frontrunner
Marcus Mariota
in Oregon's loss to Stanford, and it's not even a close race. Mariota threw for 250 yards and two scores against the Cardinal, but he ran for minus-16 and didn't lead the Ducks to a scoring drive until the fourth quarter. Manziel either gets in the end zone or leads his teams to scores while lighting up the stat sheet no matter the outcome.
Injuries don't faze him. You saw it against Auburn, and you saw it when his knee buckled during his 470 total-yard performance in the Aggies' 41-38 win over Ole Miss.
The kid is a machine, and he's darn near impossible to stop.
As the clock winds down on college football season, we finally can get into the nitty gritty of the Heisman race. At this point, it's all about Johnny Football and Florida State freshman quarterback phenom
Jameis Winston
, who trails Manziel by 1,106 total offensive yards and nine touchdowns.
Teddy Bridgewater
and
Tajh Boyd
are mere afterthoughts, while
AJ McCarron
and
Bryce Petty
are making runs that likely will fall short late, but not after a nice
good job, good effort
.
Famous Jameis is great. He's the future of the sport, and the future looks radiant. But he just doesn't put on the show that Manziel does.
In what could be Manziel's final collegiate year, he has turned in a wonderful final act that's more than worthy of that classy bronze statue.
November, 10, 2013
11/10/13
10:00
AM ET
All eyes were on Saturday's Alabama-LSU showdown, but there were plenty of storylines to take away from the rest of the conference, as well. Here are five things we learned from Week 11 in the SEC.
Alabama still king:
For the first 30 minutes, it looked like it was going to be another epic clash between the Tide and the Tigers. However, the nation's No. 1 team imposed its will in the second half and rolled to a 38-17 victory.
AJ McCarron
threw three touchdown passes;
T.J. Yeldon
rushed for 133 yards and two scores, and the defense held LSU to 43 yards on the ground, sacking quarterback
Zach Mettenberger
four times. It was the first challenging game the Tide have played in more than a month, and it proved why they are still the No. 1 team. On a weekend when Oregon suffered its first loss, Alabama not only remained unbeaten but showed why it's the favorite to win a third consecutive national championship.
[+] Enlarge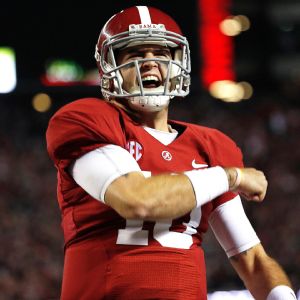 AP Photo/Dave MartinWith three touchdown passes against LSU, is AJ McCarron finally hearing some Heisman buzz?
Heisman hopefuls:
With another solid performance in a big game, is it time we put McCarron back in the Heisman trophy race? It's safe to say that Florida State quarterback
Jameis Winston
has emerged as the front-runner after the weekend, but McCarron certainly helped himself against LSU. And don't forget about
Johnny Manziel
, last year's Heisman winner. The Texas A&M quarterback put up more ridiculous numbers Saturday, throwing for 446 yards and five touchdowns at home against Mississippi State. Manziel is on pace to surpass his numbers from last year, but the Aggies' loss to Alabama early in the season could influence voters. Both McCarron and Manziel have marquee games still left to pad their resumes.
Year of the Tiger:
Who would've guessed Auburn and Missouri would be No. 2 and No. 3 in the SEC, chasing down Alabama? Both Tigers teams have had terrific seasons, and they continued Saturday with impressive road wins. Ninth-ranked Auburn went to Tennessee and blew out a Volunteers team that had been dangerous at home. Quarterback
Nick Marshall
rushed for 214 yards and two scores as the SEC's top-rushing offense put up 444 yards on the ground. Missouri also took care of business against a struggling Kentucky team. Wide receiver
Dorial Green-Beckham
, a former five-star recruit, caught seven passes for 100 yards and four touchdowns. Both teams should remain in the top 10 when the BCS standings come out Sunday.
Trouble in Gainesville:
Florida's season went from bad to worse Saturday. The Gators, who have been decimated by injuries, were on a three-game losing streak but hopeful they could turn it around at home against Vanderbilt. It didn't happen. Despite giving up nearly twice as many yards, the Commodores knocked off Florida 34-17 for their first win in Gainesville since 1945. The Gators turned the ball over four times. What does this mean for head coach Will Muschamp? He should get a pass because of all the injuries, but this is the type of loss that could lead to unemployment. Florida now has to win at South Carolina or at home against Florida State just to reach a bowl game.
Gaining momentum:
It seems like a long time since Ole Miss lost those three consecutive games to Alabama, Auburn and Texas A&M. The Rebels have quietly righted the ship, and they have a legitimate chance to win out. On Saturday, they looked impressive in a 34-24 win over Arkansas. Quarterback
Bo Wallace
finished 26-of-33 and threw for a career-high 407 yards. The win made Ole Miss bowl eligible for the second straight year under coach Hugh Freeze, but this team wants more. They want to finish with nine wins and play in a New Year's Day bowl game. That means the Rebels will have to upset Missouri at home in two weeks and finish the season with a win over Mississippi State in the Egg Bowl. Neither is out of the question.
November, 3, 2013
11/03/13
9:00
AM ET
The SEC might be a quarterback league this season, but it was the running backs who stepped up across the conference on Saturday. But who all deserves a helmet sticker for Week 10? It's time to find out, as we look at the top performances from the day that was.

Tre Mason, RB, Auburn:
Arkansas is supposed to have the smash-mouth offense, but Auburn's Mason gave Bret Bielema a dose of his own medicine in Saturday's 35-17 win. Mason rushed for 168 yards and a career-high four touchdowns on 32 carries. He had the hot hand early against the Razorbacks, and head coach Gus Malzahn rode him to the end. The junior running back scored twice in the first half, once on the opening drive of the second half, and he put the game away with a sensational 12-yard touchdown run in the fourth quarter. He now has 13 touchdowns this season and has at least one rushing touchdown in six straight games. He's been a major reason why the Tigers have the SEC's top rushing offense.
Todd Gurley, RB, Georgia:
Boy was Georgia glad to have Gurley back. The sophomore running back had missed the last three games with a sprained ankle, but it didn't take long for him to return to form. He rushed for 30 yards and a touchdown on the opening drive, and he caught a 73-yard touchdown pass on the Bulldogs' second series. He finished with 17 carries for 100 yards, three catches for 87 yards and the two scores. When things got a little chippy against the Gators, Gurley was in there mixing it up, defending his teammates. With a win, Georgia stayed alive in the SEC East, and the Bulldogs will need Gurley to be healthy from this point forward, especially when they travel to No. 11 Auburn in two weeks.
Gary Pinkel, HC, Missouri:
Any number of Missouri players could be on this list.
Maty Mauk
accounted for 277 total yards and three touchdowns. The defense held Tennessee to three points and forced a turnover for the 39th straight game, the longest current streak in the FBS. But credit Pinkel for getting his team ready to play after a heartbreaking loss to South Carolina the week before. The Tigers could've come out and flat or laid an egg, but they didn't. Instead, they dominated the Volunteers, 31-3. It was Missouri's largest margin of victory in SEC play since joining the conference, and don't forget, they still control their own destiny in the East.
Mike Davis, RB, South Carolina:
How would
Connor Shaw
replicate last week's heroic performance? By throwing four touchdown passes in a 34-16 win over Mississippi State. But despite another impressive performance from the South Carolina quarterback, it was Davis who played the best game. The SEC's leading rusher went for 128 yards on 15 carries, averaging 8.5 yards per carry. He now has 1,058 yards and 10 touchdowns on the season and becomes the first Gamecock to rush for more than 1,000 yards since Marcus Lattimore did it as a freshman in 2010. Shaw was inconsistent at times Saturday, but Davis was as steady as they come.
Johnny Manziel, QB, Texas A&M:
It was only UTEP, but Manziel accounted for 340 yards and six touchdowns as Texas A&M cruised to a 57-7 victory. The Aggies' quarterback finished 16 of 24 for 273 yards and four touchdowns through the air, and he also added 67 yards and two scores on the ground. He's on pace to have a better season than he did a year ago, but the reigning Heisman Trophy winner will have trouble passing Oregon's
Marcus Mariota
and Florida State's
Jameis Winston
for the award. Manziel still has road games at LSU and Missouri to help make his case, but first, the Aggies will host Mississippi State next week.
College Teams Most Needing A Big Spring
SEC SCOREBOARD
Thursday, 9/3
Saturday, 9/5