Texas A&M Aggies:

Ivan Robinson
August, 12, 2014
8/12/14
5:00
PM ET
COLLEGE STATION, Texas -- If one of the two starting quarterback contenders,
Kenny Hill
or
Kyle Allen
, took a step in front of the other after the Texas A&M Aggies' first training camp scrimmage on Saturday, don't bet on Kevin Sumlin telling you.
After having a chance to review video from Saturday's scrimmage, Sumlin was asked late Monday night whether there was any separation between the two signal-callers after their first extended live action of this month.
"No," Sumlin said, "and if there was I wouldn't tell you."
Pressed again if he would at least compare and contrast the two, Sumlin stuck to his script.
"No," Sumlin said to a chorus of laughs. "It's a good question. Ask next week some time."
This week for the Aggies is a critical one. They have what Sumlin called a "mini-scrimmage" on Wednesday and another full scrimmage coming up on Friday. Sumlin said he hopes to have "95 to 98 percent" of the two-deep for the season opener at South Carolina decided once this week of practice is complete. And by this time next week, it's likely the Aggies will have announced their starting quarterback.
Until then, the waiting game continues.
LB Washington breaks collarbone
One loss the Aggies suffered in Saturday's scrimmage was sophomore linebacker
Shaan Washington
, who Sumlin said suffered a broken collarbone. He'll miss an estimated four to six weeks of action.
"Where [Shaan's injury] hurts us is he was really coming on [at linebacker] and was 230-something [pounds] and a great special teams player for us last year," Sumlin said. "So you were counting on that, too. We've got to have somebody step up in that position defensively and also fill that void on special teams until he comes back."
Sumlin said the injury is similar to the one suffered early last season by safety
Floyd Raven
, who returned late in the year. Whether the Aggies explore using a redshirt season on Washington, who has one available, is to be determined.
The Aggies have no shortage of linebackers, though they're mostly young and/or relatively inexperienced. Sumlin mentioned senior
Tommy Sanders
and true freshman
Otaro Alaka
has two players who have had solid training camps that could help pick up some of Washington's playing time. Seniors
Donnie Baggs
and
Justin Bass
can play all three linebacker positions so the Aggies have options to mix and match their linebackers with one constant --
Jordan Mastrogiovanni
remaining at middle linebacker.
DT Robinson sees action
Texas A&M senior defensive tackle
Ivan Robinson
, who missed spring football with an Achilles tendon injury, received playing time in Saturday's scrimmage and is being worked back into the lineup.
Should he be able to contribute, he'll add valuable depth to a defensive tackle unit that is mostly young and suffered the offseason loss of Isaiah Golden, a starter who was dismissed after two offseason arrests.
"Ivan played some for us [Saturday]," Sumlin said. "We're bringing him along slowly. He's going to give us some depth. We've got to continue to bring him along. If he can give us 15-20 plays a game, that's a real boost for us with what we have in there."
November, 19, 2013
11/19/13
11:30
AM ET
COLLEGE STATION, Texas -- When it comes to the presence schools have in their respective home states, few are stronger than LSU in the state of Louisiana.
The Tigers' success, conference affiliation and game day atmosphere are just a few of the unique advantages for natives of the Pelican State.
[+] Enlarge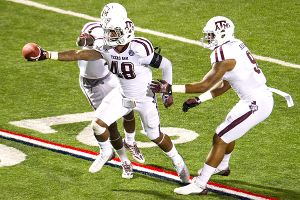 Michael Chang/Getty ImagesTexas A&M freshman Darian Claiborne (48) took over the middle linebacker job before the fourth game of the season.
Port Allen (Louisiana) High School head coach Guy Blanchard vividly remembers the emotions of one of his players,
Darian Claiborne
, when LSU took a tough loss early in 2012.
"When Darian was in January of his junior year (of high school) and LSU lost the national championship game to Alabama, you would have thought his best friend died the next day at school," Blanchard said. "He was a big LSU fan. You can't grow up in Southeast Louisiana and not have some kind of attachment or an eye on the prize, however you want to say it, [to LSU]."
Claiborne, a true freshman, is now the starting middle linebacker for No. 12 Texas A&M, which heads to Death Valley on Saturday to play No. 22 LSU. But Port Allen is fewer than seven miles from the LSU campus, so it's understandable how he could have envisioned a future with the Bayou Bengals.
But Texas A&M's staff developed a strong relationship with Claiborne, a three-star prospect. Furthermore, the Aggies made a strong impression and made it clear they wanted him while LSU didn't officially extend an offer. The Aggies' diligence paid off because Claiborne has played a key part on the A&M defense.
In recent years, Texas A&M has had success recruiting the state of Louisiana. Texas is and will continue to be the home base for Texas A&M recruiting for good reason -- it's fertile recruiting ground that most colleges attempt to pick from, because of the vast number of players and caliber of talent the state produces. But Louisiana is also known for producing high-caliber recruits as well and head coach Kevin Sumlin has made sure to make "The Boot" part of his recruiting footprint.
Currently, the Aggies have nine players that are from Louisiana on the roster and all of them are on the Aggies' two deep. Some of them have been recruited by the current staff, others are holdovers from the previous staff, but all of them currently contribute on the field.
All nine are defensive players and five of them are regular starters: Claiborne, defensive back
Deshazor Everett
, defensive ends
Julien Obioha
, safety Floyd Raven and defensive end
Gavin Stansbury
. The others have played key roles: true freshman cornerback
Noel Ellis
has seen significant time in recent weeks and is the Aggies' future at the nickel cornerback position. Cornerback
Tramain Jacobs
started six games this season while the Aggies' dealt with injuries in the secondary and has been a reliable rotation player among the cornerbacks. True freshman linebacker
Shaan Washington
has found his way onto the field in a special teams capacity but also saw time at linebacker early in the year and defensive tackle
Ivan Robinson
has been a part of the rotation at his position when healthy.
[+] Enlarge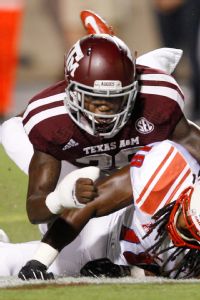 AP Photo/Bob LeveyDeshazor Everett, another Louisiana native, was recruited my Mike Sherman's staff but has been the Aggies' most reliable defensive back.
There's no doubt the Aggies have received bang for their buck with the "Louisianimals," the term former Texas A&M center Patrick Lewis coined for his fellow Louisiana products last season. Claiborne and Everett have been arguably the Aggies' best defensive players this season. Everett has done whatever the Texas A&M coaches have asked, whether it's playing safety while Raven was injured or going back to his traditional position of cornerback, while playing with a broken thumb early in the year. Claiborne got the starting job at middle linebacker -- which is not his traditional position -- before the fourth game of the season and hasn't let go of it.
Stansbury has emerged as a playmaker while Obioha and Raven have each been a steady presence at their respective positions.
Even when he was at Houston, where the Cougars put their primary focus on their own city, Sumlin's staff would travel across the border to recruit talent out of Louisiana. But in the SEC it's a different story, because the caliber of player Texas A&M is searching for is often the same that LSU is trying to keep in state.
With the Tigers being
the
signature program in Louisiana, it makes it all the more difficult to pull a kid out of the state when LSU wants him.
The Aggies are experiencing that in their early SEC years. In this recruiting cycle, the Aggies are going after some of Louisiana's finest, like ESPN 300 athlete
Speedy Noil
and ESPN 300 defensive end
Gerald Willis III
. The Aggies are also trying to make inroads with the top 2015 prospects from the state, like receiver
Tyron Johnson
.
All have LSU offers and the battle for Noil and Willis III has been hotly contested and will be until signing day approaches.
But the Aggies have found success in recruiting prospects from the state that might have been overlooked or not as heavily pursued. If those players continue to play like Claiborne, the in-state powerhouse will start taking notice.
"Yeah, we've run across them at times," said LSU coach Les Miles of seeing A&M recruiting in Louisiana. "We recognize some of the [players] that they have there, and we wish them the very best. It's an opportunity to play in this league, and we're for that."
October, 26, 2013
10/26/13
6:27
PM ET
COLLEGE STATION, Texas -- Just like it has been all season, the attention going into Saturday was on Texas A&M quarterback
Johnny Manziel
.
Was he going to play, or would he sit? How was his shoulder? As he often has this year, Johnny provided a lot of drama.
But the real story from the Aggies' 56-24 win over Vanderbilt at Kyle Field was the performance of the A&M defense. A unit that came into the game ranked 118th in total defense, and was in the bottom 20 nationally in most major defensive statistical categories, put together what was easily one of its best performances of the season.
[+] Enlarge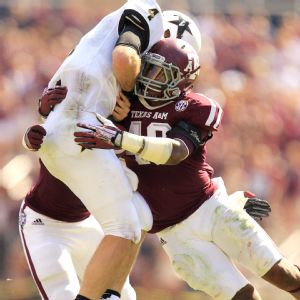 Thomas Campbell/USA TODAY SportsTexas A&M turned Darian Claiborne and its pass rush loose, which resulted in seven sacks against Vanderbilt.
Sure, Vanderbilt was playing with a backup quarterback (freshman
Patton Robinette
made his first start in place of injured
Austyn Carta-Samuels
), but honestly, that mattered little. This is an A&M defense that struggles to stop virtually everybody. The Aggies allowed 306 rushing yards to Rice. They allowed 240 to FCS opponent Sam Houston State.
After taking a gut punch from Auburn last week to the tune of 45 points and 615 yards (379 rushing), any positive sign is acceptable at this point.
"We need an example to show us how we should play, and now we have an example," sophomore defensive end
Julien Obioha
said. "We can always go back to the Vandy tape. This type of production we expect from the defense, and this is the standard that we expect from our defense. So, it was good to have a game like this."
There was an energy there that didn't seem to exist consistently in recent weeks for the Aggies' D.
Howard Matthews
(14 tackles, one interception return for a touchdown) played probably his best game of the season. The pass rush was relentless, led by
Gavin Stansbury
's two sacks, and the 12 tackles for loss. The unit matched its season total for sacks with seven against the Commodores and held an opponent to under 100 yards rushing for just the second time this season. It finally looked like the unit defensive coordinator Mark Snyder envisioned he'd have coming into the season.
"I dialed it up," Snyder said of what generated the consistent pass rush. "We pressured a lot more than we have pressured because we finally could. We felt like we finally got to the point where all the pieces were in place. We had practiced together, and I felt comfortable calling some pressures because everybody knew where they were supposed to be."
Much of that came from a few noteworthy personnel moves. True freshman cornerback
Noel Ellis
got plenty of time in place of
Toney Hurd Jr.
at nickel cornerback. Junior linebacker
Donnie Baggs
, who hasn't started since Sept. 14 against Alabama, got the starting nod at strongside linebacker. True freshman defensive end
Daeshon Hall
didn't start but saw heavy playing time rotating with starting ends Stansbury and Obioha. Starting defensive tackle
Alonzo Williams
missed the game with a foot injury, and junior
Ivan Robinson
replaced him.
The Commodores' best weapon -- receiver
Jordan Matthews
-- had a solid day (eight catches, 92 yards), but his longest reception was 21 yards. The biggest play came from
Jonathan Krause
on a 44-yard reception in the first half. Matthews, to his credit, became the SEC's career receiving yards leader with 3,172.
If the Aggies can build on this performance, the outlook for the rest of the season is bright.
Although the defense showed well, most eyes were on Manziel in the early going. For a guy with an injured throwing shoulder, it sure didn't seem to affect him. He completed his first 10 passes and led the Aggies to four consecutive touchdown drives to start the game.
Coach Kevin Sumlin was tight-lipped about Manziel's status all week leading up to the game, calling the Heisman Trophy winner "hopeful." He never budged from that statement but said Saturday that he wasn't playing coy and that Manziel was truly a game-time decision as he tried to recover from the shoulder injury he suffered last week.
Manziel began throwing Wednesday and participated in 11-on-11 drills Friday and even woke up Saturday with soreness. But he said there was no keeping him off the field.
"In my mind, I was always going to play," Manziel said. "It would take a lot to keep me off the field and away from these guys. They count on me, and they expect me to be there."
He completed 25 of 35 passes for 305 yards and four touchdowns with one interception. He ran much less than he usually does because it wasn't in the game plan, mostly to protect him from further injury.
Although Manziel was able to make every throw necessary to put the Aggies' offense in the right position, he got plenty of support from the running game as the Aggies combined for 189 yards, led by
Trey Williams
' 65 and
Brandon Williams
' 61.
It was far from a clean win. The Aggies committed five turnovers and allowed the game to get closer than it had to in the first half. But it's something they can build off of as they approach the homestretch.
"It's been a little frustrating as of late with some games a little closer than we wanted," Manziel said. "We felt we've played pretty good all around, but we just need to continue to get better. That's the thing. We're not where we were last year in every aspect of our game, but we have a coaching staff that won't quit until we're where we need to be."
October, 25, 2013
10/25/13
11:45
AM ET
COLLEGE STATION, Texas — The words "youth" and "inexperience" are frequently used to describe the Texas A&M defense this season.
The struggles are significant. The Aggies rank near the bottom of the FBS in most defensive statistical categories. According to ESPN Stats & Information, the five teams that have allowed more yards per game than the Aggies -- New Mexico State, Idaho, California, Nevada and Indiana -- have a combined record of 8-27.
Texas A&M is fortunate enough to have a 5-2 record (2-2 in the SEC). It certainly helps to have one of the nation's most high-powered offenses and a reigning Heisman Trophy winner at quarterback (
Johnny Manziel
).
For defensive coordinator Mark Snyder and his staff, it has been a challenge from the start of the season. Suspensions, injuries and ineffectiveness are all to blame.
The Aggies currently have 11 freshmen in their defensive two-deep depth chart. Two true freshmen (defensive tackle
Isaiah Golden
and linebacker
Darian Claiborne
) are starting. The four defensive line first-team spots include Golden and two sophomores. At linebacker, a former receiver who moved to linebacker this offseason (
Nate Askew
) is the starter at strongside linebacker. Of the seven linebackers on the Aggies' two-deep, only one (
Steven Jenkins
) started a full season at the position before this year.
Head coach Kevin Sumlin's first signing class that was completely under his watch had 32 members, 18 of whom were on defense. Of those 18, a dozen have already played this season.
But how did the Aggies get to this point, playing this many freshmen and newcomers? There are some juniors and seniors on the field, but there aren't nearly as many as there were a year ago when the Aggies went 11-2 in their debut season in the SEC.
In 2012, the Aggies were fortunate to have the benefit of some good leaders on defense and others who were productive. At linebacker, Sean Porter and Jonathan Stewart both provided leadership and production. Along the defensive line, Spencer Nealy made the move from defensive end to defensive tackle effectively despite not having the ideal size for the position. Steven Terrell was a steady and heady player at free safety. All four of those players were seniors and part of the 2009 recruiting class. So was Dustin Harris, who didn't always start but played plenty at cornerback and was the team's primary punt returner.
One defensive player still remains from that 2009 class: defensive tackle
Kirby Ennis
, who started last season and this year but suffered a season-ending knee injury on Sept. 28 against Arkansas. But last year's A&M starting defense was more than half made up of what turned out to be a solid recruiting class on the defensive side of the ball.
So to understand why A&M is in the position it is now, take a look at the recruiting classes on defense since then:
In 2010, the Aggies signed seven defensive players and two more that were offensive players but eventually moved to defense. Defensive end Damontre Moore turned out to be a star, but declared for early entry into the 2013 NFL draft with a year of eligibility remaining. For a team that's lacking in its pass rush (only three FBS teams have fewer sacks than Texas A&M's seven this season) a guy like that could help. Of the remainders in that class, three are starting: Toney Hurd Jr. at nickel back, Gavin Stansbury at defensive end and Askew, who was recruited and spent his first three years at receiver, at strongside linebacker. Two others (defensive tackle Ivan Robinson and quarterback Clay Honeycutt, who's now a reserve safety) are playing but not starting. Nehemiah Hicks was considered to be either a defensive end or tight end and became a tight end. The other two players in the defensive class are no longer on the team.
The 2011 class -- the final class signed by former head coach Mike Sherman -- brought 13 defensive players. Deshazor Everett, a cornerback with ability to play safety, is currently the defense's best player. Safeties Howard Matthews and Floyd Raven and linebacker Steven Jenkins also emerged as starters out of that group. One of the big fish landed late in that class, defensive end Brandon Alexander, has rarely played. He's now getting some playing time at tight end. Linebacker Donnie Baggs entered this season as the starting middle linebacker but is now a reserve. Tyrell Taylor is rotating at defensive end. The rest of the group hasn't made any impact at all. Five players in that group are no longer with the program.
The 2012 class, the first one Sumlin signed after essentially two months on the job, had some holdovers that committed to the program under Sherman. It is a mixed bag. Four of those players are starting as either true sophomores (Julien Obioha at defensive end, Alonzo Williams at defensive tackle and De'Vante Harris at cornerback) or in one case, a senior (cornerback Tramain Jacobs, who was a junior college transfer). Defensive end Tyrone Taylor, brother of Tyrell, gets some playing time at defensive end. Edward Pope, who was a receiver/defensive back, is playing receiver for the Aggies. A car accident took away one member from that class -- defensive tackle Polo Manukainiu, who died in a crash in July and is being honored by the team every week this season. A spinal injury took away another member, linebacker Michael Richardson, who played as a freshman. He had successful surgery and was fortunate to not suffer any major physical issues, but is no longer playing football. Defensive back Kenneth Marshall, though on the team, was not part of the 105-man roster during preseason training camp. Linebacker Jordan Richmond transferred to Navarro College in the offseason and one player in the class, defensive tackle Edmund Ray, never made it to campus because of qualifying issues.
October, 11, 2013
10/11/13
2:00
PM ET
COLLEGE STATION, Texas --Texas A&M needs all the help that it can get defensively. The early part of the season has been a struggle in several areas, including stopping the running game.
So when the Aggies discovered that senior defensive tackle
Kirby Ennis
had a torn anterior cruciate ligament in his left knee that would require season-ending surgery, it was a blow. Ennis started most of last season, was a starter this year and his absence mean more youth is injected into a lineup already full of it.
[+] Enlarge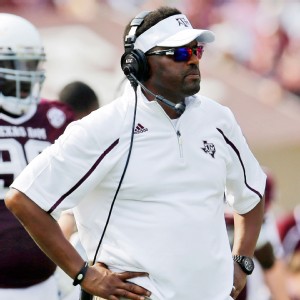 AP Photo/David J. PhillipTexas A&M coach Kevin Sumlin knows injuries are just part of the game. "I can't call Bob Stoops and trade a guy. We've got who we've got."
When the Aggies (4-1, 1-1 SEC) meet Ole Miss (3-2, 1-2) in Oxford, Miss., on Saturday, they'll do so with a true freshman taking Ennis place: defensive tackle
Isaiah Golden
.
The 6-foot-2, 310-pound Golden has the kind of frame you look for in an SEC defensive tackle, he's just lean on playing experience with just four career games under his belt since signing with A&M in February.
"It doesn't matter how comfortable I am with it, it matters how comfortable he is," Texas A&M coach Kevin Sumlin said. "It's not the NFL, I can't call Bob Stoops and trade a guy. We've got who we've got."
The coaches like what they've seen from Golden so far. An ESPN 300 recruit from Carthage (Texas) High School, Golden showed enough during preseason training camp to crack the two-deep depth chart along with another true freshman defensive tackle,
Hardreck Walker
.
But with Ennis out for the remainder of this season, that means the Aggies' young defensive tackles will have to grow up in a hurry. Golden will start next to
Alonzo Williams
, a sophomore who has been a key player for the Aggies' up front this year. Walker and junior
Ivan Robinson
will figure into defensive tackle rotation as well.
Another ESPN 300 signee from the 2013 class, defensive tackle
Justin Manning
, is getting an increase in repetitions at practice. While it doesn't appear he'll see playing time just yet, defensive coordinator Mark Snyder said that the Aggies are an injury away from having no choice but to put Manning into the rotation.
Golden brings size and is "very athletic and a natural playmaker," according to sophomore defensive end
Julien Obioha
.
"He's a very physical kid," Snyder said of Golden. "He's very capable of playing in this league. He's going to be a really good player someday. I actually sat in [defensive line coach] Terry [Price's] meeting [on Monday] in the back of the room like a fly on the wall and he seems excited, which he should be. It's part of college football.
Sumlin said Tuesday that his ideal scenario with freshmen is to have them in a backup role for a season then allow them the chance to become starters for the remaining three years of their careers. But it doesn't always work like that, especially when injuries come into play.
Golden has had a lot to handle already this season. Last month, he had to deal with the unexpected death of his two-month old daughter and missed the Alabama game shortly thereafter. He has appeared in all four of the Aggies' other games, and now a new challenge awaits him.
"Isaiah has been through a lot this season," Sumlin said. "He missed a week with the death of his child. He came on early on and played some good football for us. He's settled back down and emotionally it's been a pretty up-and-down situation for him this year.
"Last week we talked a little bit about where he was. Kirby's situation came to light and now he knows he has to go as a regular guy. Sometimes, different guys react differently. I'd be surprised if Isaiah doesn't do very, very well from here on out."
Williams, who seems to be a cagey veteran compared to the others even though he's just a sophomore, sees time at nose tackle when the Aggies' go to personnel packages of three defensive linemen, and that will continue, Snyder said. But Williams and Golden will be the go-to guys in four down linemen sets moving forward.
Obioha, who started 12 games for the Aggies as a true freshman at defensive end last year, said he told Golden to come to him with any questions since he understands what it's like to be a teenager facing SEC offensive linemen.
"I went through this last year," Obioha said. "There wasn't an injury, I earned my spot, but I was out there 18, 19 years old. I was just telling him, 'Man if you have any questions, come talk to me. I know exactly what you're going through.'"
For a run defense that is last in the SEC and 108th in the country, allowing 214.8 rushing yards per game, it's not the ideal situation. But it's the hand the Aggies' have been dealt and it's an opportunity recruits dream of when they're being recruited by a program.
"We hope guys come to play," Snyder said. "They get their opportunity now. I was pleased with what I saw [in practice] ... I think Isaiah's excited, I really do."
October, 8, 2013
10/08/13
3:30
PM ET
Texas A&M's struggling defense was dealt a blow when news surfaced on Tuesday that starting defensive tackle
Kirby Ennis
will miss the remainder of the season because of a knee injury.

Ennis, a 6-foot-4, 310-pound senior,
tore the anterior cruciate ligament in his left knee
against Arkansas on Sept. 28 and will have season-ending surgery, head coach Kevin Sumlin said on Tuesday.
The Aggies' run defense is last in the SEC, allowing 214.8 yards per game. The unit has struggled as a result of the combination of shifting personnel, as well as youth and inexperience on the depth chart. Now the Aggies must turn to a true freshman to take Ennis' place: Carthage (Texas) High School product
Isaiah Golden
.
Golden, who has appeared in four of the Aggies' five games this season, will make his first career start Saturday at Ole Miss. The ESPN 300 recruit, who signed with the Aggies in February, has 11 tackles and two tackles for loss to his credit so far this season.
He'll start next to sophomore
Alonzo Williams
, who has started all five games at the other defensive tackle position. True freshman
Hardreck Walker
and junior
Ivan Robinson
will also be a part of the defensive tackle rotation moving forward.
Ennis is a four-year letterman who started in 11 games in 2012. He appeared in four games this season, recording six tackles, a half tackle for loss and a quarterback hurry.
March, 1, 2013
3/01/13
5:44
PM ET
COLLEGE STATION, Texas --
Johnny Manziel
took home the Heisman Trophy last season, but what Texas A&M coach Kevin Sumlin wants to see from him this spring is the same thing he wants to see from the rest of the Aggies when they begin spring practice on Saturday: Improvement.
Manziel and the Aggies return to the practice field this weekend to begin work towards the 2013 season after a memorable 2012. The talented signal-caller from Kerrville (Texas) Tivy has had a busy offseason that included an award ceremony, photo ops with celebrities, courtside seats at NBA games and of course, classwork and time in the weight room.
Sumlin said he isn't worried about where Manziel's focus is heading into spring.
"That's part of it," Sumlin said of the things that have come with Manziel's new fame. "We start practice tomorrow. That has nothing to do with his performance level."
Earlier this year, Texas A&M athletic director Eric Hyman did call a meeting that included Manziel, his family, Sumlin and A&M compliance officials to make sure everyone was on the same page as public scrutiny on Manziel increased.
July, 31, 2012
7/31/12
11:29
AM ET
Many things have come to define the SEC's success.

Among those factors is the size, strength and depth of defensive lines across the conference. And as Texas A&M embarks on its first season in the league, it's the one area where the Aggies are playing a little catch-up.

As the Aggies transition away from the 3-4 alignment to a 4-3 this year and for the foreseeable future, head coach Kevin Sumlin and defensive coordinator Mark Snyder say that the defensive line is a focal point.
Recruits Miss Lone Star Showdown
SEC SCOREBOARD
Thursday, 9/3
Saturday, 9/5